If you're looking for an easy, heartwarming soup that's full of nourishing ingredients, this is it! At first glance, this soup may look a little complicated, but it's probably one of the easiest soups you'll ever make.
I came across this soup combo the last time I was sick. I was craving a something that was nourishing, creamy and sweet in flavor. And the ginger in this soup adds the perfect little kick when you're feeling under the weather.
This soup is dairy-free, gluten-free, sugar-free and full of fiber. Kids love it too! My daughter gobbled it right up and asked for seconds. If you have a picky eater in the house, just omit the toppings (coconut milk and seeds) and only give them the carrot soup.
CARROT GINGER SOUP INGREDIENTS
CARROTS: Carrots are the foundation of this soup. They will give it the sweetness and creaminess that you're really going to love. Because of that, go with good quality farmer's market carrots if you can. The flavor is worth it!
Carrots are known to be a good source of fiber, beta carotene, potassium, vitamin K1 and antioxidants (1). Your body converts beta carotene into vitamin A which helps to promote a stronger immune system and better vision (2).
GINGER: Don't skip the fresh ginger in this soup. It's the perfect "zing" that this soup needs. Just a hint of hit will go a long way, but if you love ginger you can always add more!
Ginger is an anti-inflammatory and antioxidant and is widely used to help relieve sore throats and congestion when you're feeling under the weather. (3) I love to add ginger to as many things as possible when I'm feeling a cold coming on. But really, it's a wonderful ingredient to add when you're feeling healthy too!
TURMERIC: The turmeric powder is what will make this soup a delicious golden hue. Turmeric is a wonderful warming spice that has been used for thousands of years in India. It's the perfect spice to add to soups during the cold wintery months. Turmeric contains a compound called curcumin which is known to have anti-inflammatory effects and is also a strong antioxidant. (3)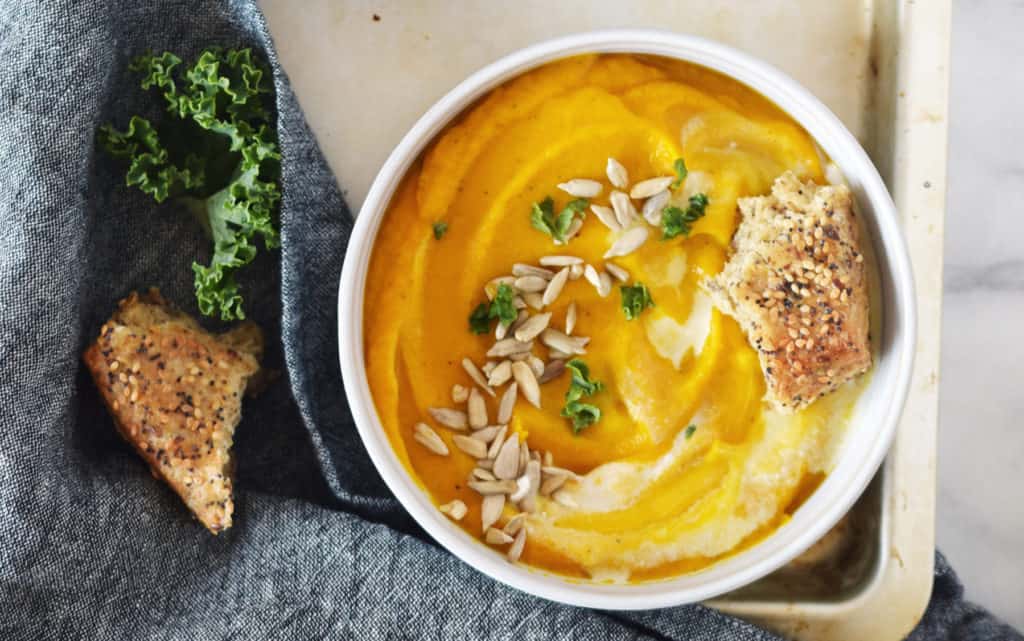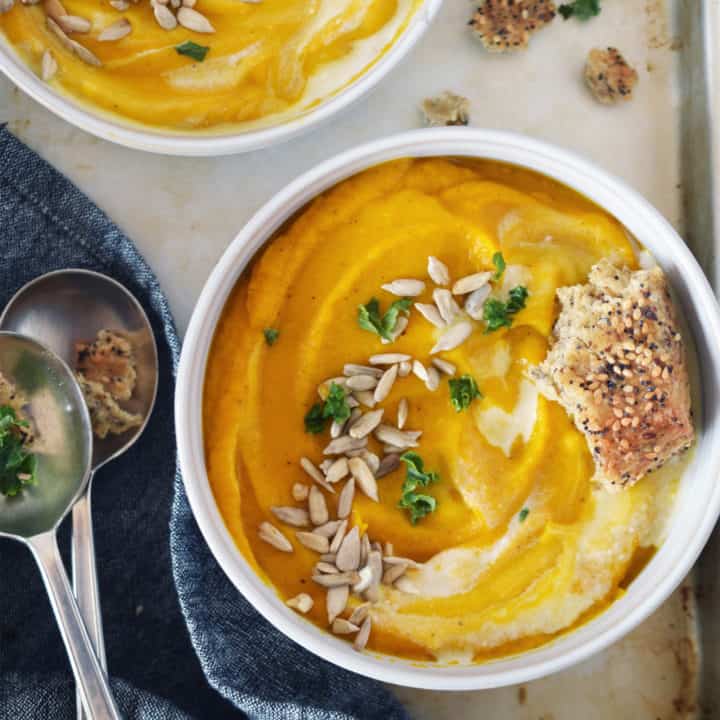 Carrot Ginger Soup
Ingredients
Coconut oil
1 yellow onion, chopped
2 Tbsp ginger, diced
2 cloves garlic, minced
5 cup carrots (8-10 carrots)
2 cups vegetable broth (you can also learn how to make your own broth)
1 can of coconut milk
1-2 tsp turmeric powder
sea salt and ground pepper
Instructions
In a large pot or dutch oven, heat coconut oil and chopped red onion and saute onions until they become translucent. Add in ginger and garlic and cook for an additional 60 seconds.
Add in all other ingredients: carrots, vegetable broth, coconut milk, turmeric powder, sea salt and ground pepper. Bring to a boil, then let simmer for 15-20 minutes, or until carrots are soft when poked with a fork. Divide the soup into three sections and carefully add it into your high-speed blender to puree until smooth (You can also use an immersion blender). Pour into bowls and serve with your favorite toppings like crusty bread, coconut milk and seeds (this part is optional).
Notes
See more family-friendly recipes on our website: www.andianne.com
Nutrition Information:
Yield:

4
Serving Size:

1
Amount Per Serving:
Calories:

322
Total Fat:

25g
Saturated Fat:

22g
Trans Fat:

0g
Unsaturated Fat:

2g
Cholesterol:

0mg
Sodium:

607mg
Carbohydrates:

25g
Fiber:

7g
Sugar:

9g
Protein:

4g
Please note: This nutrition information is only an estimate and was created using Nutritionix