Fish Tacos With Mango Salsa
Disclosure: This post may contain affiliate links.
Looking for a healthier version of Taco Tuesdays? These fish tacos are not only delicious and easy to make, but so healthy for your family! A flaky pan-fried tilapia fillet is combined with creamy avocado slaw and refreshing mango salsa. You'll be surprised at how filling these fish tacos are. And not only that, you'll be left feeling far more satisfied after eating all the nutrients inside these nuggets of goodness.
This recipe is broken into 3 main parts, the mango salsa, avocado slaw, and fish. I break it down for you below.
MANGO SALSA
I would have no problem eating this as a salad on its own, or using it as a summery salsa with nachos, it's just that delicious! The salsa is very easy to make, it consists of some freshly chopped mango, avocado, tomato, and red onion. The key is to gently mix the salsa so the avocado doesn't turn into a mushy mess. I like to use an avocado that's still a little firm – that way it'll keep its form better.
Also, let this salsa sit for about 15 minutes so that all the flavors mix together.
AVOCADO SLAW
I used my creamy avocado dressing from this post to create this slaw. Simply combine all the dressing ingredients in a blender and then pour over freshly chopped red cabbage, and mix together. So easy and so yummy! It's hard not to snack while you're making this meal.
TILAPIA FISH
The last step is to cook your tilapia fillet! I'm really bad for overcooking my fish, so I've learned the hard way that I have to focus on just cooking the fish by itself. That's why I like to prepare the salsa and the slaw beforehand.
To season the fish, I combined cumin, salt, and chili powder together in a bowl. Next, I sprinkled the seasoning on to both sides of the fish and rubbed it in with hands to get a nice even coat.
This fish will cook fast on your skillet – so stay close! Also, it will be deliciously crispy on the outside and tender on the inside… your family will love it!
Now that you've got all the main components together, all you need to do is add them to the dinner table and let your family assemble their tacos themselves (that's the fun part right!?)
You can warm your tortillas in the microwave or oven before you get started. For my tacos, I started with the avocado slaw, then added flaked fish and topped with mango salsa. But you could do whatever you like!
Fish Tacos with Mango Salsa
Ingredients
Mango Salsa Ingredients:
1 avocado, peeled and cut into small chunks
1 mango, peeled and cut into small chunks
1 large tomato, cut into small chunks
2 Tbsp red onion, finely chopped
1 lime, juiced
1 Tbsp chopped fresh cilantro
sea salt and pepper
Avocado Slaw:
1/2 ripe avocado
1/4 cup lime juice
1/4 cup water
2 Tbsp olive oil
1/2 cup fresh cilantro
1 clove garlic, minced
1/2 tsp cumin
salt and pepper
2 cups purple cabbage, shredded
Fish Ingredients:
1 lb tilapia fillets
1 tsp cumin
1 tsp sea salt
1/4 tsp chili powder
8 whole wheat tortillas, warmed
Instructions
MANGO SALSA:
Gently mix all ingredients together in a medium-size bowl. Let sit for 15 minutes so the flavors can mix together.
AVOCADO SLAW:
Combine avocado, lime juice, water, olive oil, cilantro, garlic, cumin and sea salt and pepper together in a blender. Blend until smooth. Add more water if you want a thinner consistency.
Add chopped coleslaw to a medium bowl, pour avocado dressing over top and mix together. Let sit for 15 minutes so the flavors can mix together.
FISH:
Mix together cumin, salt, and chili powder in a cup, sprinkle over fish and rub in.
Heat oil in a skillet over medium-high heat. Add fish and cook until just opaque in the center, approx 3-4 minutes per side.
Transfer fish to a plate and let sit for a few minutes, then flake the fish into big chunks using a fork.
TACO ASSEMBLY:
Add avocado slaw, fish and mango salsa to a warmed tortilla. Fold over to eat and enjoy!
Notes
See more family-friendly recipes on our website: www.andianne.com
Nutrition Information:
Yield:

6
Serving Size:

1
Amount Per Serving:
Calories:

447
Total Fat:

20g
Saturated Fat:

5g
Trans Fat:

0g
Unsaturated Fat:

13g
Cholesterol:

43mg
Sodium:

824mg
Carbohydrates:

44g
Fiber:

11g
Sugar:

12g
Protein:

28g
Please note: This nutrition information is only an estimate and was created using Nutritionix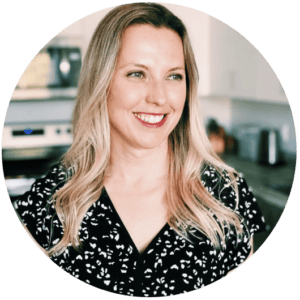 About Andi Anne
Welcome to Andi Anne! Here we focus on simple recipes that are easy to follow with lots of images to guide you along the way! We've created over 500 recipes for you to explore and try out in your own kitchen.