Have you ever tried bone broth before? During the winter months when the weather is chilly, I regularly have a batch of this nourishing liquid simmering in my crockpot. It's the perfect thing to sip on for extra protein. Bone broth is comforting and soothing, and easily digestible. So if you're looking for a nourishing food to try that's relatively inexpensive, then read through this post and start simmering your batch of bone broth this week!
What is bone broth?
Bone broth is a savory, nourishing liquid made by simmering animal bones for long periods. When you simmer in a slow cooker for at least 9 hours, the marrow-rich bones will release gelatin and create a broth that is a rich source of protein.
In the past, making homemade bone broth was a very regular routine in our ancestors' households. A pot of bone broth would be simmering on the stove almost daily with scraps of vegetables and leftover bones. Back then it was all about frugality and using everything you could. But we now know that there are some incredible benefits to making bone broth at home for you and your family, including it being a good source of protein in the form of gelatin.
Why you should make bone broth
So you might be wondering why on earth you should try making bone broth at home for your own family? I mean, you're probably not concerned about the frugality part of saving every scrap of food. But on the healthy side, bone broth is incredibly nourishing for everyone in your family, kids included.
Bone broth has become a popular trend these days. It's pretty common to see it in healthy restaurants, and there are also powdered versions available at health stores. And while it's great that these options are becoming more readily available, the truth is that the majority are way too expensive for what they are. You can create your bone broth at home for a fraction of the price. And it's also surprisingly easy to make.
If you're new to bone broth and find the process a little intimidating, don't worry I did too when I first started. But this post will share everything you need to know about making homemade bone broth yourself. So let me go through some details about why broth can be a wonderful addition to your routine.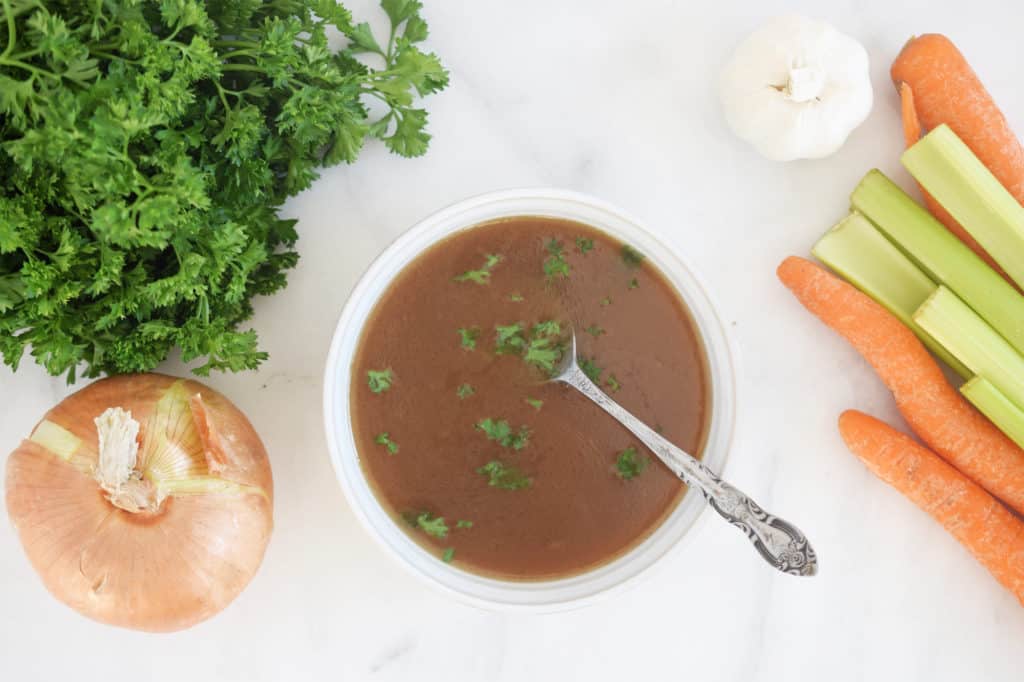 Which bones should you use for bone broth?
When I first started making my bone broth I had no idea what bones to use. This was the biggest hurdle that held me back from getting started.
Luckily, you can purchase bones from organic grocery stores or local farmers' markets that are labeled for bone broth. Check the freezer section for bags of bones, or ask the butcher at your farmers market. Most of the time they're inexpensive.
You can also save the bones from good quality meat that you've been eating – just store them in a freezer baguntil you have a good amount to get started with.
Usually, I like to use grass-fed beef bones that I find in the freezer section of the organic grocery store. But you can also use bones from chicken, pork, and fish.
There is one very important detail that you need to know before you start making bone broth. The quality of bones you use matters. Go for the best quality bones from animals that are grass-fed, pasture-raised or wild-caught. This is because you want to reap the most nutritional benefits from these bones as possible.
What is the difference between store-bought broth and homemade bone broth?
Bone broth has been around forever. Our ancestors used to prepare broth at home using leftover scraps of food – nothing went to waste.
But in the last 100 years, food companies started to create store-bought versions to help consumers save time in the kitchen. And while they did this, they stopped using actual animal bones and started using processed ingredients instead.
The store-bought cartons of chicken stock, beef broth or vegetable broth are loaded with preservatives, artificial ingredients and are high in sodium. They're nothing like the traditional food that our ancestors used to create regularly in their kitchens.
But nowadays, all thanks to the bone broth trend, you can buy pre-made bone broth at your local health food stores. It's usually located in the frozen section. So if you prefer to skip the process of making it yourself (or just don't have the time that day), then this is another option for you.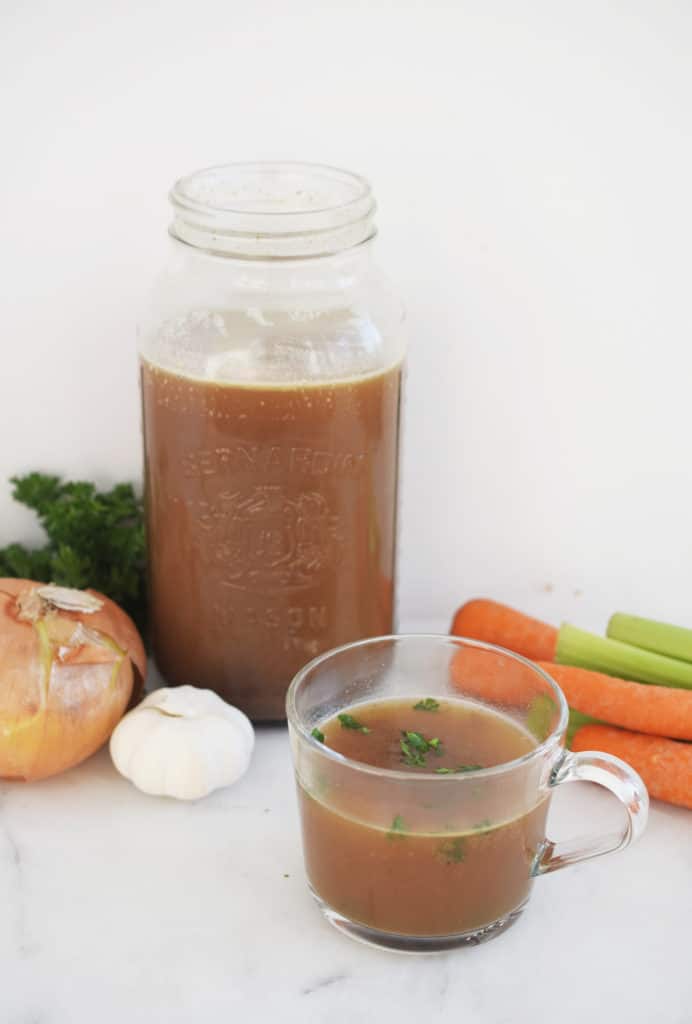 What are the health benefits of bone broth?
Bones are high in vitamins, calcium, magnesium, and phosphorus. And cooking the cartilage and bones helps to release collagen, that when cooked turns into gelatin, an amino acid that is the building blocks of protein. Eating more gelatin may help increase the amount of collagen in our joints and tissues (1).
Another amino acid found in bones is glutamine, which studies have found can help to heal the gut and aid in better digestion (2).
And because bone broth is high in protein, it can help you feel more satisfied and fuller longer, which can help aid in weight loss.
The level of nutrients found in bone broth will vary greatly due to the quality of bones that you're using. So it's important to select organic, grass-fed, pasture-raised and wild-caught bones whenever possible to get the most out of your bone broth.
Tips for making great bone broth
Making your bone broth is pretty straightforward. However here are a few details to help you create the perfect bone broth.
Many people roast their bones before they make the broth to enhance the flavor. I used to do this, but don't do it right now because I'm a busy mama and that's just one extra step I don't have the time for. So if you have time, give it a try. But if you're busy, it's okay if you don't.
Use a slow cooker to make your bone broth. Because you need to simmer your broth for a minimum of 9 hours, a slow cooker is a perfect tool to use for this. All you need to do is add all the ingredients to the slow cooker and set it on low. Some people use a pot on the stove, but I would much rather set it and forget it.
Spoon off any scum or foam that rises to the top. Depending on the bones you use, you'll get some scum rising to the surface as your broth simmers. This is normal and it isn't bad for you to eat. But if it grosses you out, just scoop it off with a soup spoon.
Add garlic and onion at the beginning of your simmer. Adding vegetables can enhance the flavor in your bone broth. You'll want to add the heartier vegetables, like garlic, onion, and carrots, at the beginning.
Add leafy herbs like parsley in the last 10 minutes. Fresh herbs are more fragile and the flavors will break down faster, so add these ingredients at the very end.
Strain your broth into glass jars using a fine mesh strainer. This is my least favorite part, but it's worth it to get that nourishing bone broth afterward. Using a ladle, spoon your broth into a large glass canning jar through a fine-mesh strainer. This will help keep your broth as clear as possible. You can discard the leftover bones and vegetables in the compost bin.
Let your broth sit in the fridge to allow fat to float to the top and coagulate. When you let the broth fully cool in the fridge, a layer of fat will form at the top – this is called tallow and was traditionally used as a cooking oil. It can be scooped out and saved for later in your cooking (like stir-fry veggies, eggs, etc) or you can discard it.
How to use your bone broth
Bone broth can also be used as a base for your soups and stews. You can add it as the liquid to cook your whole grains like rice and quinoa for a greater depth of flavor. Many people like to pour broth into ice cube trays to freeze, and then add the cubes to a freezer bag for quick and easy use in cooking.
For the most part, I like to treat my bone broth as a healing food. I warm it up in a pot on the stove, add a few herbs or green onions, pour it into a mug, and drink it the same way I would a cup of tea. I usually only drink about 1 cup of bone broth per day.
My daughter used to enjoy broth when she was a toddler, but now that she's four with a mind of her own and a little more selective about her food. Still, I always offer her a small cup and tell her how nutritious it is for her body. I'm okay if she doesn't like it right now. Hopefully, she will down the road.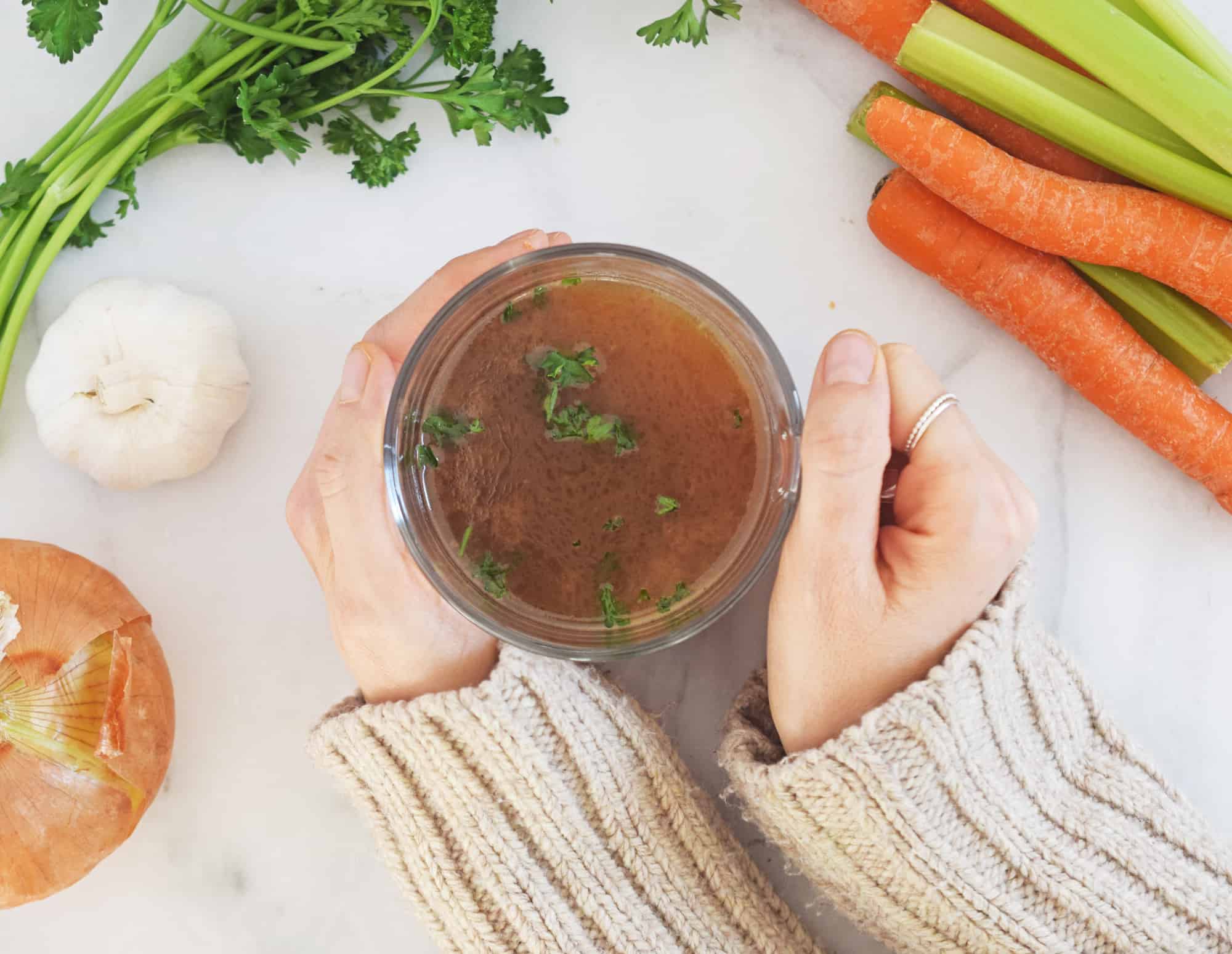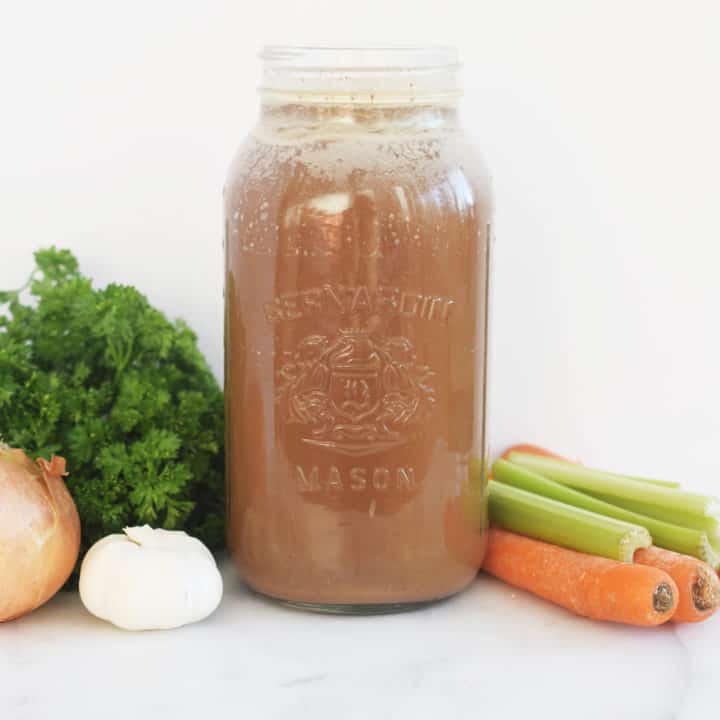 How To Make Bone Broth
Ingredients
1 pound bones (grass-fed, free-range or wild-caught)
1 pound bones (grass-fed, free-range or wild-caught)
1 onion, skin removed and quartered
1 onion, skin removed and quartered
4 cloves of garlic
4 cloves of garlic
2 carrots, washed and peeled
2 carrots, washed and peeled
2 celery stalks, washed
2 celery stalks, washed
1 handful of parsley
1 handful of parsley
Instructions
Add the bones, onion, garlic, and carrots to the slow cooker. Fill the slow cooker with water about 2 inches from the top. Turn slow cooker on low and let simmer for 9-48 hours. I usually simmer mine for 24-36 hours.
At the end of the simmer, add parsley or other fresh herbs and let the liquid cool until it's warm and easy to handle.
Start ladling the liquid into the glass jar through a fine-mesh strainer. Discard the leftover bones and vegetables in the compost.
Place the broth in the fridge and let fully cool - at this point, the fat will form at the top called tallow. Scoop this out and use as an oil for cooking or discard it in the compost.
My favorite way to use bone broth: Pour into a small pot and let simmer until heated through. Feel free to season with salt and pepper, spices, fresh herbs, and chopped green onions. Pour into a bowl or mug and sip like you would a cup of tea.
Notes
See more family-friendly recipes on our website: www.andianne.com
Nutrition Information:
Yield:

8
Serving Size:

1
Amount Per Serving:
Calories:

17
Total Fat:

0g
Saturated Fat:

0g
Trans Fat:

0g
Unsaturated Fat:

0g
Cholesterol:

0mg
Sodium:

22mg
Carbohydrates:

4g
Fiber:

1g
Sugar:

1g
Protein:

1g
Please note: This nutrition information is only an estimate and was created using Nutritionix