Pumpkin Spiced Latte
Disclosure: This post may contain affiliate links.
This healthy pumpkin spiced latte is so delicious that you'll want to make it all Fall and Winter long. It's similar to the store-bought versions but made with no refined sugar. This beverage is also dairy-free and nut-free.
Unfortunately the Starbucks grande pumpkin spiced latte has 50 grams of sugar, 14 g of fat, and 240 mg of sodium (1)! And admittingly I used to love these drinks as soon as Fall rolled around. But it's hard to go back once you know how much sugar is inside this stuff and what it's doing to your body (for me excess refined sugar triggers bad migraines).
But this healthy pumpkin spiced latte recipe is the perfect real food version! It's made with healthier ingredients and is something even the kiddos can enjoy at home if you make it without coffee. I'm not a huge coffee drinker, so I like to make mine with either oat milk or tea as a base. But this recipe is really easy to modify to your own preferences – basically no matter what you choose it will still taste great.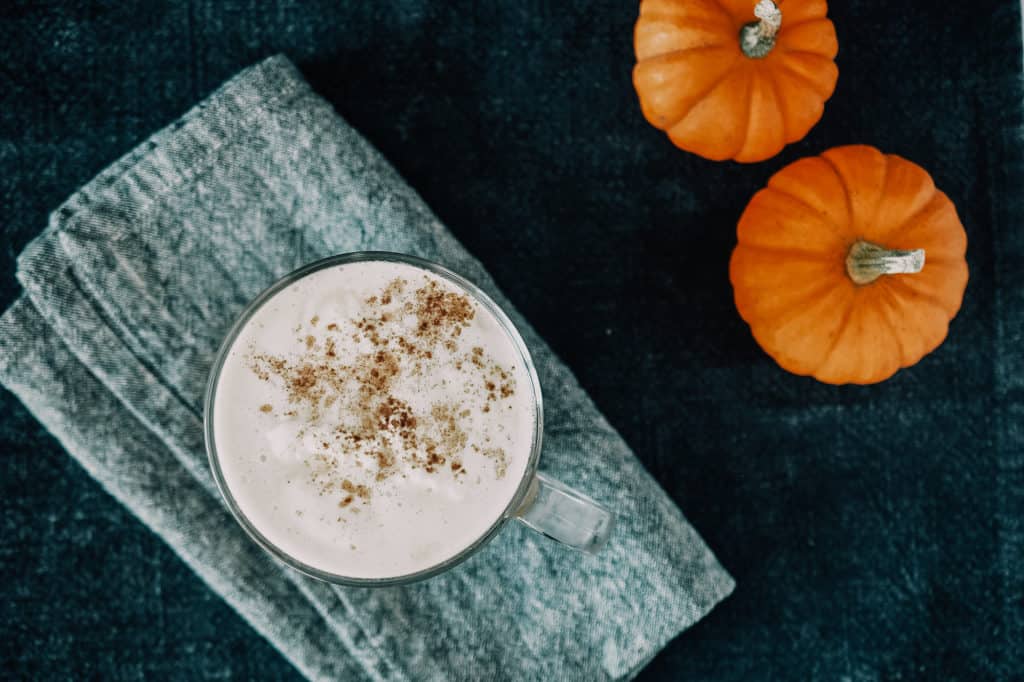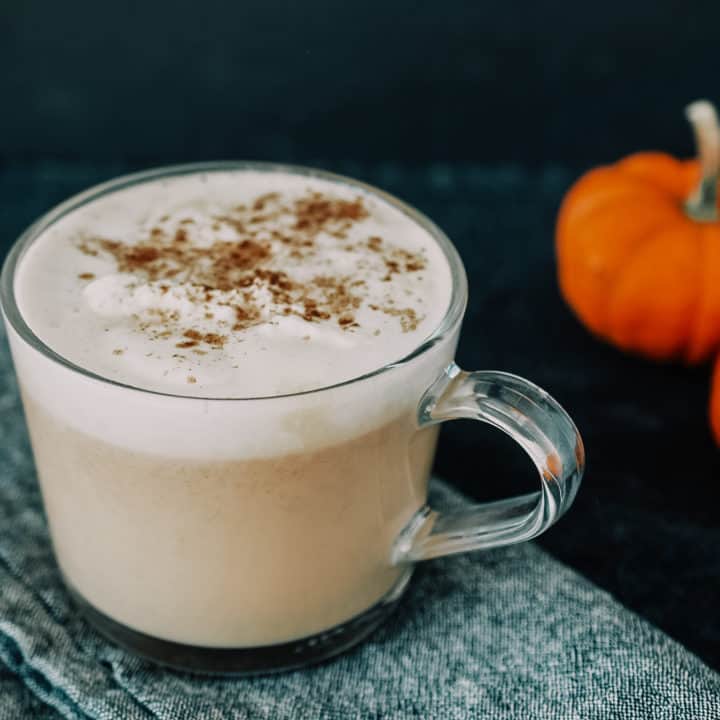 Pumpkin Spiced Latte
Ingredients
1 cup coffee, water or milk of your choice
1 Tbsp pumpkin puree
1 tsp pumpkin pie spice mix*
1/2 tsp vanilla extract
1/2 Tbsp maple syrup
1/4 cup of coconut milk
Instructions
To make the healthy pumpkin spiced latte: Add milk (or coffee or tea), pumpkin puree, pumpkin pie spice mix, vanilla extract, and maple syrup to a small saucepan. Bring to a boil, then reduce heat and let simmer for 2-3 minutes. Pour into a mug and let cool if it's too hot. Add a dollop of whipped coconut milk on top and sprinkle with more pumpkin pie spice mix. Serve immediately and enjoy!
To create the whipped coconut topping (Optional): Add a can of coconut milk to the fridge the night before making this recipe. The next day, remove the can and with a spoon, scoop out the solid coconut portion into a bowl (discard the liquid or save it to use in your smoothies). Now, use an electric hand mixer and mush everything down. Add in 1-2 tsp of maple syrup. Then whip the coconut until it starts to form peaks. Add a small dollop to your latte and store the rest in an airtight container for later.
Notes
*If you don't have pumpkin pie spice mix, you can make your own version by using: 1/2 tsp cinnamon, 1/4 tsp nutmeg, 1/4 tsp allspice, and 1/8 tsp ground ginger.
Coconut milk and whipped coconut can cause tummy troubles if you're new to it. It tastes delicious, so it can be easy to want to go overboard and eat lots and lots. But I recommend that you start with a small amount and then slowly work your way up to allow your digestive system to get used to it.
> For more recipes visit our website www.andianne.com
Nutrition Information:
Yield:

1
Serving Size:

1
Amount Per Serving:
Calories:

282
Total Fat:

17g
Saturated Fat:

14g
Trans Fat:

0g
Unsaturated Fat:

2g
Cholesterol:

20mg
Sodium:

152mg
Carbohydrates:

23g
Fiber:

1g
Sugar:

7g
Protein:

10g
Please note: This nutrition information is only an estimate and was created using Nutritionix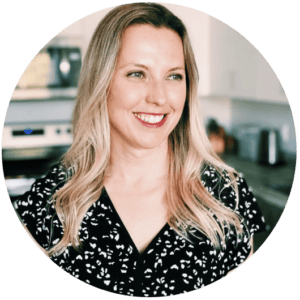 About Andi Anne
Welcome to Andi Anne! Here we focus on simple recipes that are easy to follow with lots of images to guide you along the way! We've created over 500 recipes for you to explore and try out in your own kitchen.