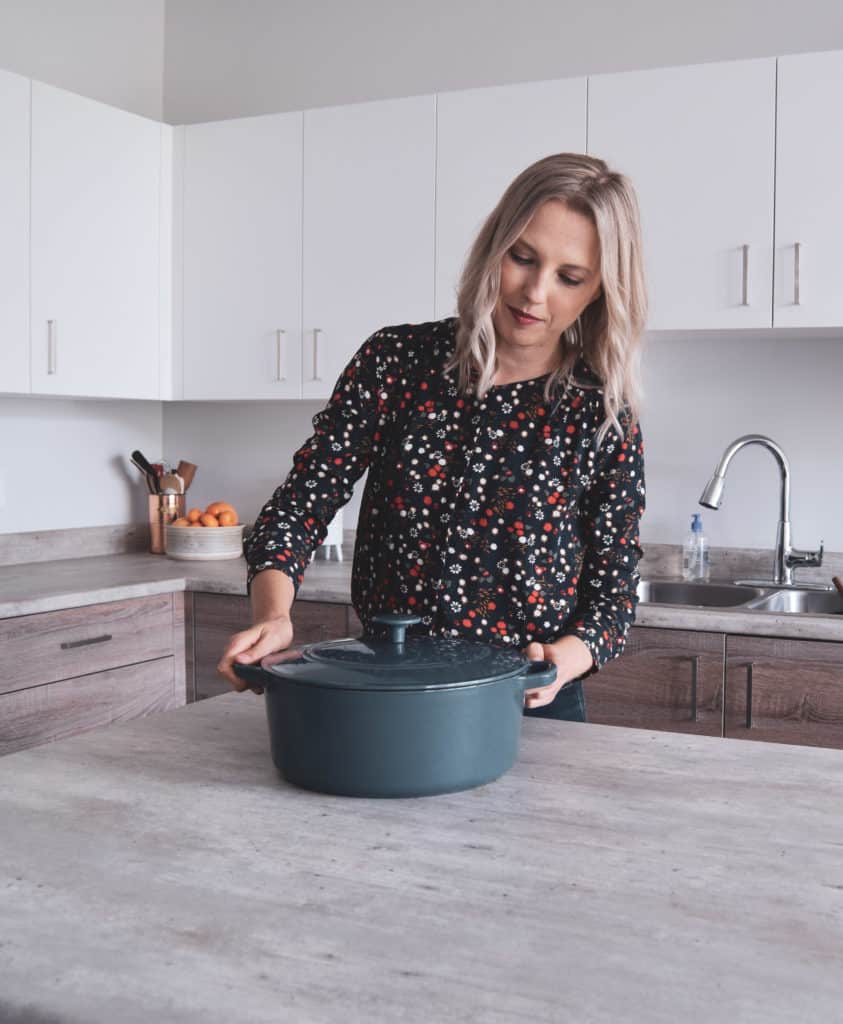 Mom life can be tricky when you're trying to juggle all the things you need to get done in a day. And while being a work-at-home mom to a preschooler has its perks, like being able to give your child squeezes all day long, it also has its downsides – like getting distracted every 5 minutes with a million questions.
This usually leads to my work taking a little longer than I'd hoped and my plans for dinnertime being put on the backburner. If you can relate to hectic schedules, and trying to somehow fit all the mom-life tasks in, like cooking a healthy dinner for your family, then I've got some simple cooking hacks that have worked amazingly for me to share.
The last thing I want at the end of the day is to feel too tired, or going into dinnertime without a plan. So knowing these have really helped to cut down on cooking time, and still eating healthy.
Here are three tools I use to make easier meals and cook in shorter time.
01. Batch Prepping
Batch prepping is exactly as it sounds. Instead of making enough of something for one meal, I make a large batch of it to use throughout the week. The best way to utilize this is by making the things you eat a lot of.
A good example of this that I make every week is quinoa. I will make a large bowl of it one day and use it throughout the week in a variety of meals. We'll use it for morning breakfast as an alternative to oats, sprinkled in salads at lunch, or as a side with our main meal at dinner. My daughter also likes to eat it plain with sea salt and pepper.
Batch prepping is different than meal prep because you're not making an entire meal or recipe. Instead you're making a larger amount of one specific ingredient.
Some other examples of how I use batch prepping are by hard boiling eggs for lunches, peeling and slicing carrots to keep for snacks in the fridge, prepping kale for salads, cooking buckwheat groats (can be eating the same way as you would quinoa or rice), and mashing sweet potatoes.
02. Sheet Pan Meals
I'm not a fan of elaborate meals with lots of side dishes. I think this is a method that takes a lot of time and creates a lot of dirty dishes. For me, I like to make everything in one pot or pan. This is why I love sheet pan meals so much! Everything is baked on the sheet pan. It's perfect for roasting vegetables along with chicken, fish, beef or pork.
Here are some recipes:
03. The Slow Cooker
Last but not least is my favorite lazy meal method… the slow cooker! It's the perfect method for creating healthy soups and stews. I'll add all of my ingredients earlier in the day which clears up my time at dinner.
Here are some recipes to try:
Making the time to cook healthy meals for yourself and your family is important. You will be investing in your health and future self if you do. But it doesn't have to be hard or complicated. And with a few simple skills, like batch cooking, sheet pan meals, and using a slow cooker, you will be saving yourself time and still enjoying the rewards of healthy food.