Chickpea Flour Banana Bread With Chocolate Chips
Disclosure: This post may contain affiliate links.
Chickpea flour banana bread is a wonderful way to enjoy banana bread without the refined flour. This recipe is gluten free and high in protein, all thanks to the chickpea flour. Add chocolate chips to make it a delicious treat the whole family will love.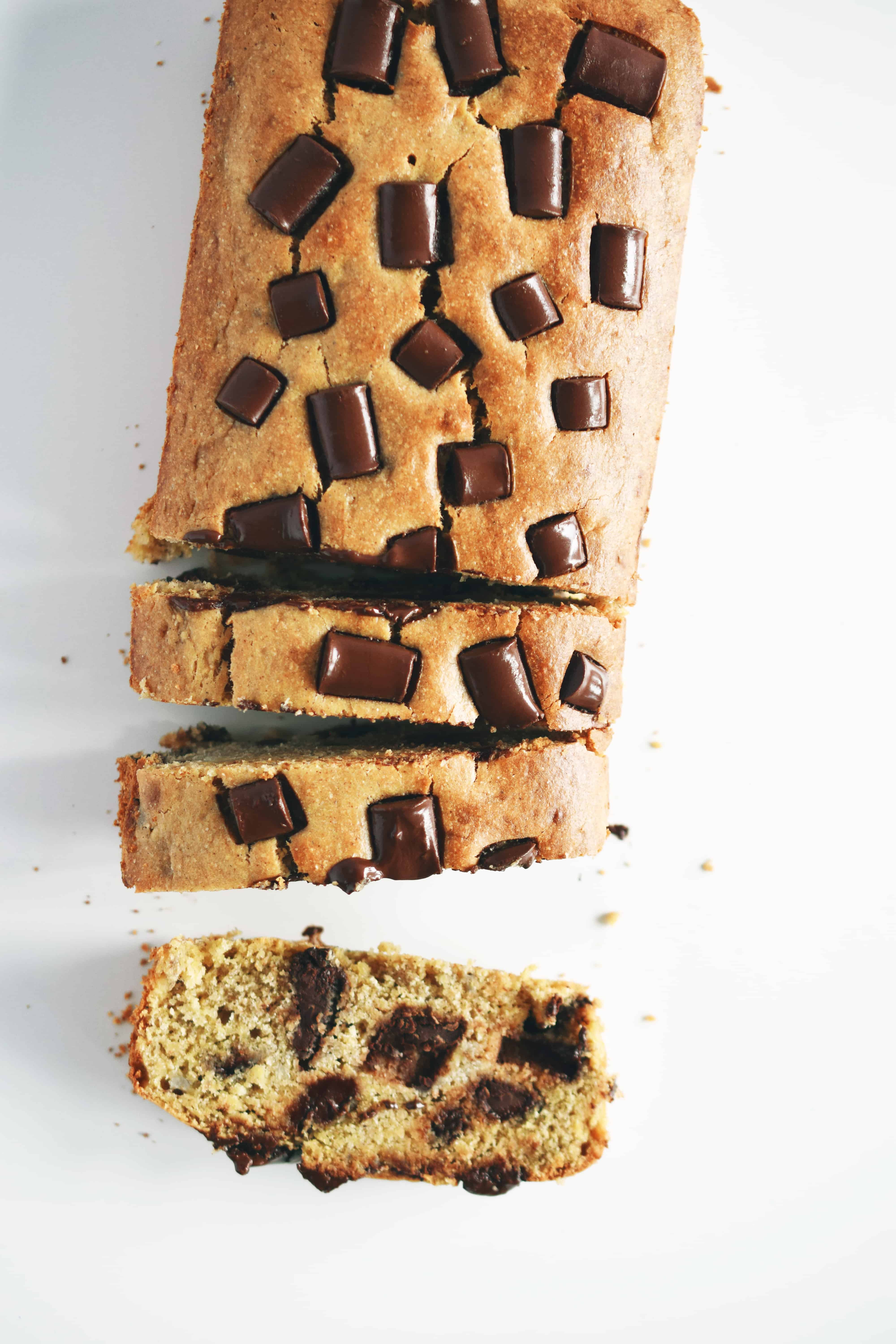 Chickpea Flour Banana Bread
I have a motto: when you cook at home you can choose smart ingredients.
That means no added preservatives or refined sugar, and no skimping out on the nutritional value. Basically, you can load up on the good stuff and cut out the bad.
Well, this chickpea flour banana bread is a perfect example of that.
This is a recipe that I know your family is going to love. If you're new to trying alternative flours, don't let the chickpea flour stop you from giving this a try.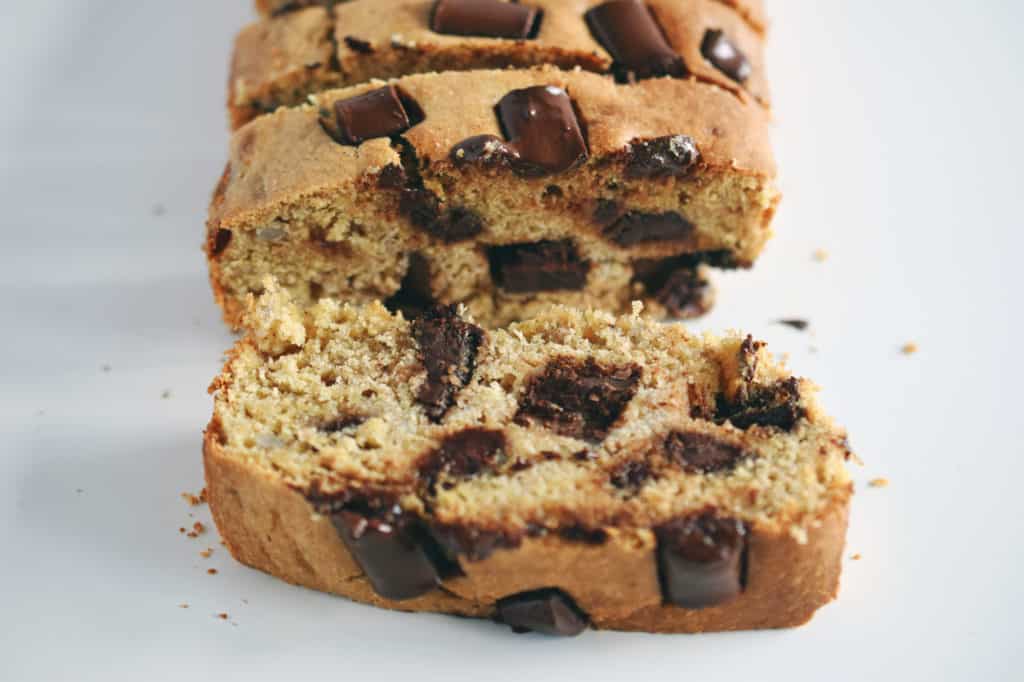 What Is Chickpea Flour?
Let's talk about traditional refined flours for a quick sec. The stuff that most of us are used to and grew up on (aka. white flour and whole wheat flour).
These aren't actually all that good for us. Why? because they've been refined – meaning, they're stripped of some of the natural parts of the whole grain to create the refined flour. It's okay to eat them from time to time, but I try to use alternative flours as well to limit how much we eat.
Whole grain flours are different, they are created with the whole grain. These are more nutritious, higher in fiber and in some cases, like chickpea flour, also high in protein. So, with that said, it's much more nutritious for your family to start trying whole grain flours – and this chickpea flour banana bread is the perfect way to explore this idea.
Chickpea flour is like a superhero – in just one serving, it contains 6 grams of protein and 5 grams of fiber! This is a big deal because fiber and protein will slow down the digestion of this food in your system. This will help to avoid that sugar spike that can be caused from refined flours.
So yes, chickpea flour is an amazing little ingredient that I hope you will give a try.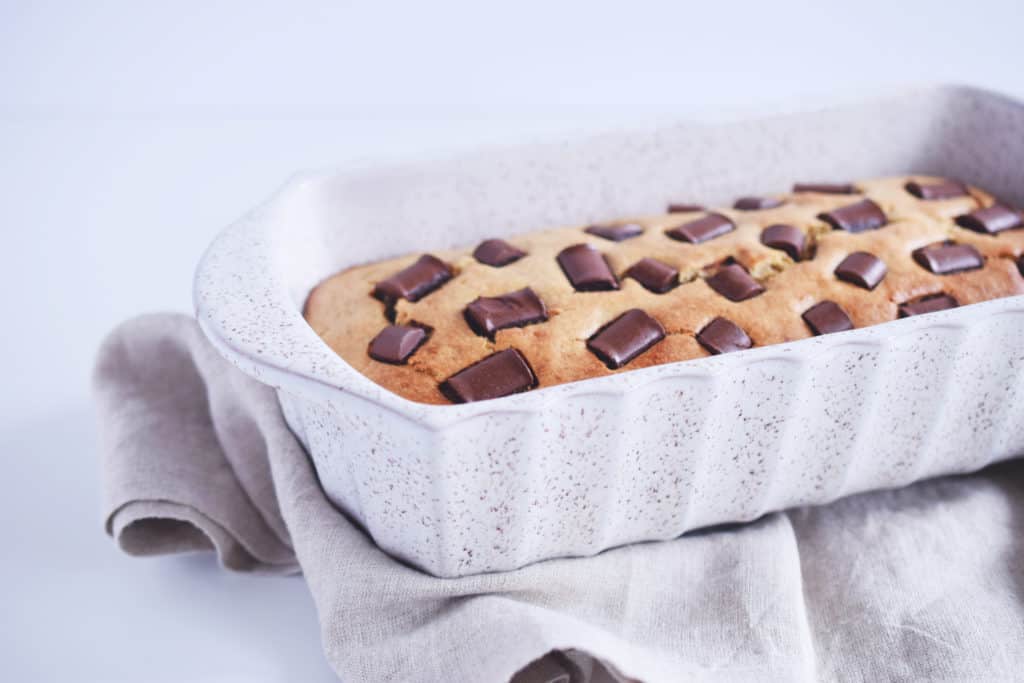 Where Can You Buy Chickpea Flour?
If you have a local natural food market, you can usually find chickpea flour in the bulk food section. (It's sometimes also called garbanzo bean flour). But if you don't have a store nearby you can easily buy it online.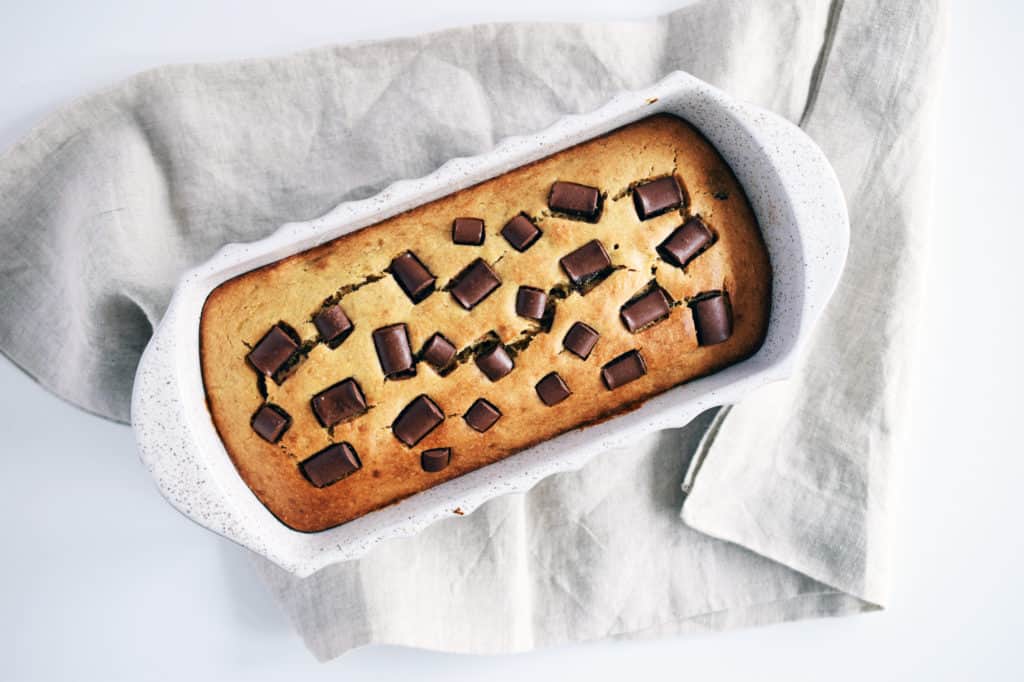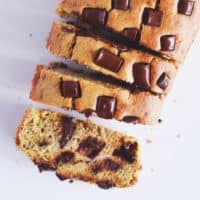 Chickpea Flour Banana Bread With Chocolate Chips
A healthy gluten-free banana bread recipe made with chickpea flour.
Print
Pin Recipe
Instructions
Preheat the oven to 350°F. Spray a loaf pan with non-stick cooking spray or line it with parchment paper.

In a medium bowl, whisk together the dry ingredients: chickpea flour, baking soda, sea salt, cinnamon.

In another bowl, whisk together the wet ingredients: mashed ripe bananas, eggs, apple cider vinegar, vanilla extract, maple syrup, and melted coconut oil.

Add the dry ingredients to the wet ingredients and mix until everything comes together. No need to over mix here. Gently fold in the chocolate chips and mix lightly.

Pour the batter into the loaf pan and sprinkle a few extra chocolate chips on top. Bake for 40-50 minutes or until edges are golden brown and a toothpick comes out clean.

Remove from oven and let cool. Run a butter knife down the sides to help release the banana bread, then flip over on a cutting board to let cool. Cut into slices and serve. This chickpea flour banana bread tastes delicious warm or cold. You can spread nut butter on top for even extra protein if you'd like!

Storing Banana Bread: Let cool completely, then store the banana bread in an airtight container in the fridge for up to 1 week or the freezer for up to 3 months.
Nutrition
Calories:
223
kcal
|
Carbohydrates:
28
g
|
Protein:
5
g
|
Fat:
11
g
|
Saturated Fat:
9
g
|
Cholesterol:
1
mg
|
Sodium:
162
mg
|
Potassium:
326
mg
|
Fiber:
3
g
|
Sugar:
15
g
|
Vitamin A:
27
IU
|
Vitamin C:
3
mg
|
Calcium:
54
mg
|
Iron:
1
mg