Easy Baked Overnight French Toast Casserole
Disclosure: This post may contain affiliate links.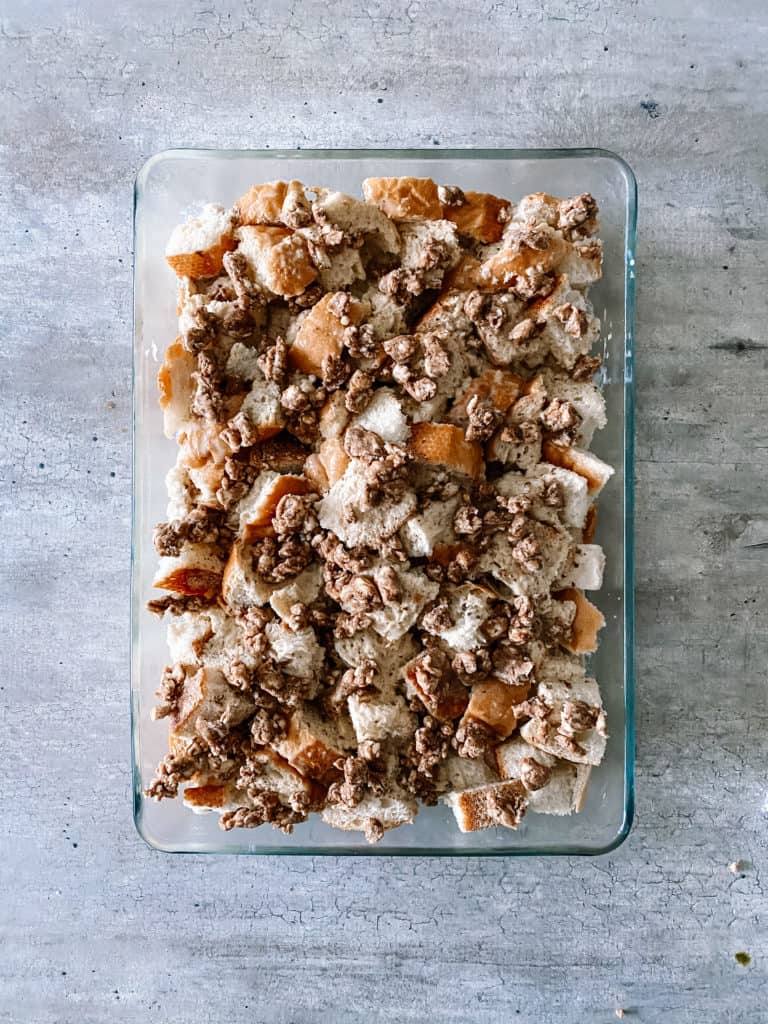 French Toast Casserole
This easy flavorful french toast casserole recipe has an incredible cinnamon crunchy crust. Prep all the ingredients in advance to make this overnight casserole for breakfast the next day. It's the perfect Saturday morning tradition!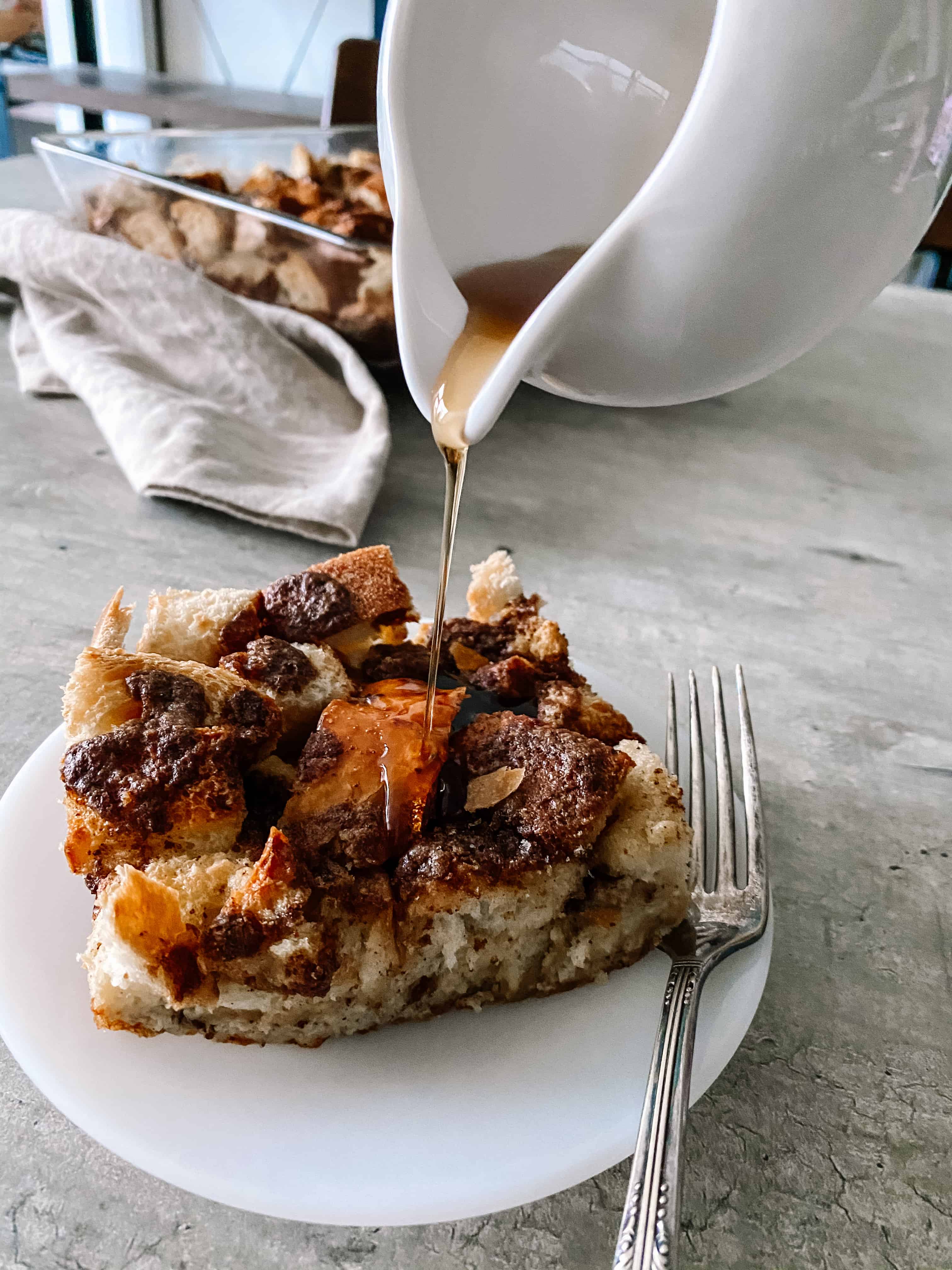 Skip the hassle of making french toast two at a time over a frying pan, with this no-fuss overnight recipe.
Instead, you can quickly put together this recipe at night, keep it in the fridge to soak up all that goodness, and then bake in the morning for the perfect breakfast treat.
You'll save time and still get the best parts of french toast that you're craving but with much less effort. Basically, french toast casserole is the perfect hack to
What Kind Of Bread Do You Use For French Toast Casserole?
It's important to note that a dense bread will give you better results for this recipe. I used french bread, but you could also use sourdough, challah, or brioche bread. If you use regular sliced bread, then your french toast casserole might turn out soggy.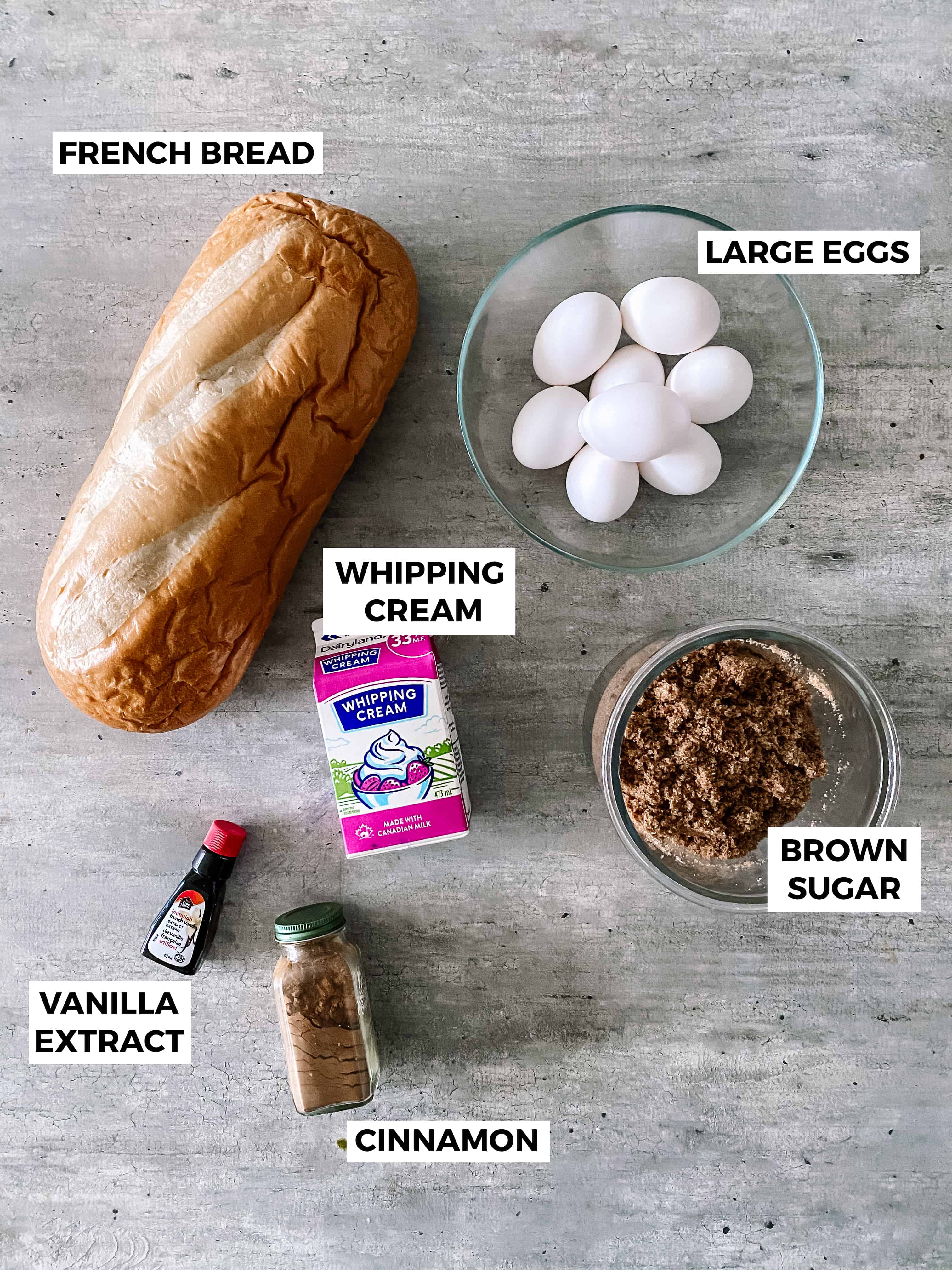 What Ingredients Do You Need?
French bread (or sourdough bread)
Eggs
Liquid whipping cream (or buttermilk)
Brown sugar
Cinnamon
Butter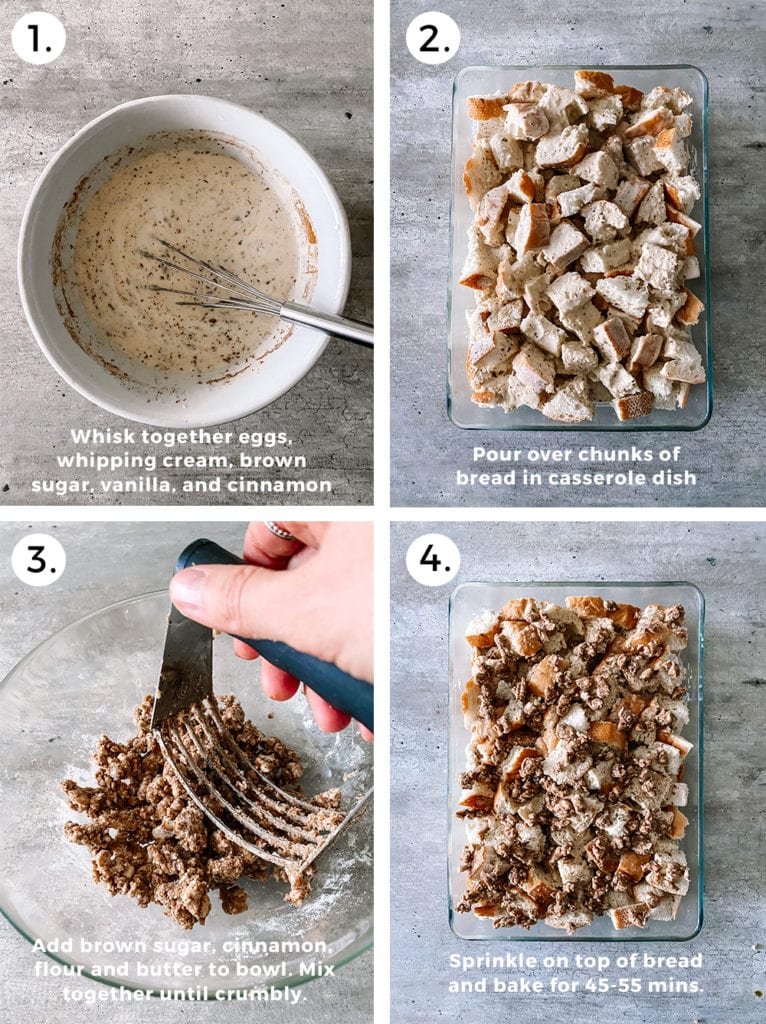 How Do You Make French Toast Casserole?
Prepare the french bread by cutting into square chunks with a serrated bread knife. Add to the casserole dish.
Beat the eggs with a fork in a large bowl. Add the other liquid ingredients including whipping cream, brown sugar, vanilla extract, and cinnamon
Pour egg mixture over top of french bread in a casserole dish
Prepare the topping by adding all of the ingredients to a bowl and mixing to a crumbly texture with a pastry cutter or fork
Sprinkle the cinnamon butter crumble mixture over top bread. Cover with plastic wrap and let sit in the fridge overnight.
Why Is My French Toast Casserole Soggy?
The french toast should be crisp on top and soft on the bottom. This is what makes it so incredibly delicious. But if you're finding that your french toast casserole is soggy, then try these tips.
Be sure to use the right kind of bread. Not every bread will work for this recipe. Regular sliced bread will probably turn out soggy because it won't be able to hold the egg mixture as well. You want to choose a more dense bread like french bread, sourdough, challah, brioche, or pullman loaf.
Make sure you soak the bread long enough. If you only soak it for a couple hours, then the bread might not have enough time to properly absorb all the egg mixture. This is why I highly recommend you prepare it in the evening, then the casserole can soak overnight in the fridge and create that soft custard texture, instead of a sloppy mess.
Soak the bread in a bowl instead of casserole dish. If all else fails, add the ingredients to a bowl and let soak overnight. Then just before baking, pour the soaked bread into the casserole dish leaving the extra egg mixture in the bowl. Top with the sprinkle with cinnamon butter topping and bake.
Can I Make This Recipe In Advance?
Yes you can. And this is definitely the secret to a great french toast casserole consistency. Prepping your ingredients at night will allow for everything to fully absorb, and also make things easier for you in the morning.
This french toast casserole can also be baked in advance and frozen. When ready to eat, thaw overnight in the fridge, then reheat in the oven at 350°F until it's warmed through.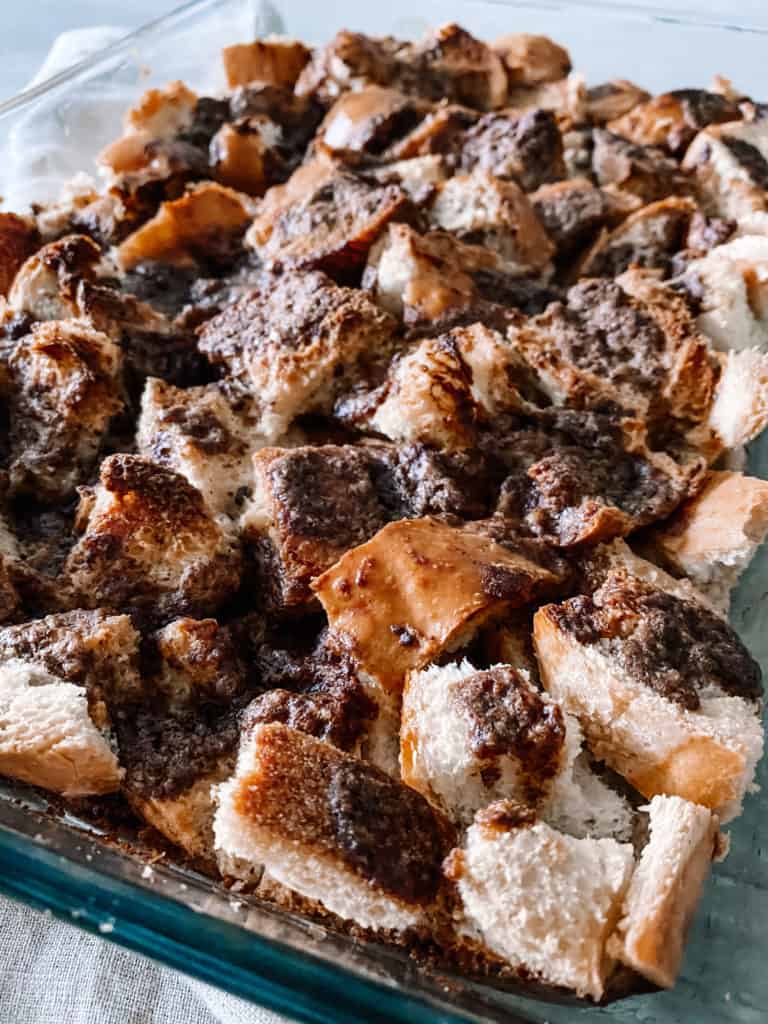 Serve French Toast Casserole With These Sides
This french toast tastes incredible on it's own, but here are some options for sides and toppings.
Drizzle on maple syrup, honey, or sprinkle powdered sugar
Top with blueberries, strawberries, raspberries or sliced bananas
Add a dollop of whipped cream (see my whipped coconut cream recipe here)
Add a spoonful of cream cheese or cottage cheese while the french toast is still warm
Top with your favorite yogurt (I love greek yogurt)
More Delicious Breakfast Recipes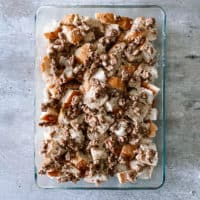 French Toast Casserole
Cinnamon Baked French Toast Casserole: easy to make and so incredibly good! Chunks of french toast bread are soaked in a cinnamon egg mixture and topped with cinnamon butter. It's crispy on the outside and soft on the inside. Perfect for a holiday make-ahead breakfast or brunch.
Print
Pin Recipe
Instructions
Grease a 9"x13" casserole dish with non-stick spray or cooking oil.

Using a bread knife, slice bread into 1-inch chunks. Spread evenly in the bottom of the casserole dish.

In a medium bowl, beat the eggs. Stir in brown sugar, cinnamon, liquid whipping cream (or half and half cream) and vanilla extract. Drizzle evenly over all of the bread pieces.

To make the topping, add brown sugar, cinnamon, all purpose flour and cut up butter pieces to a bowl. Use a pastry cutter or fork to mix everything together and help crumble the butter. Use your hands to sprinkle over top of the casserole.

Cover with plastic wrap and let sit in the fridge for at least four hours, but preferably overnight.

When ready to cook, preheat the oven to 350°F. Remove plastic wrap and bake for 45-55 minutes or until it has reached the desired consistency (the more you bake, the less moist – so it depends on preference here).

Serve with whipped cream, fresh berries and syrup.
Nutrition
Serving:
8
g
|
Calories:
573
kcal
|
Carbohydrates:
45
g
|
Protein:
13
g
|
Fat:
39
g
|
Sodium:
447
mg
|
Potassium:
196
mg
|
Fiber:
2
g
|
Sugar:
15
g
|
Calcium:
108
mg
|
Iron:
3
mg
---
Did you enjoy this recipe? Save it to Pinterest!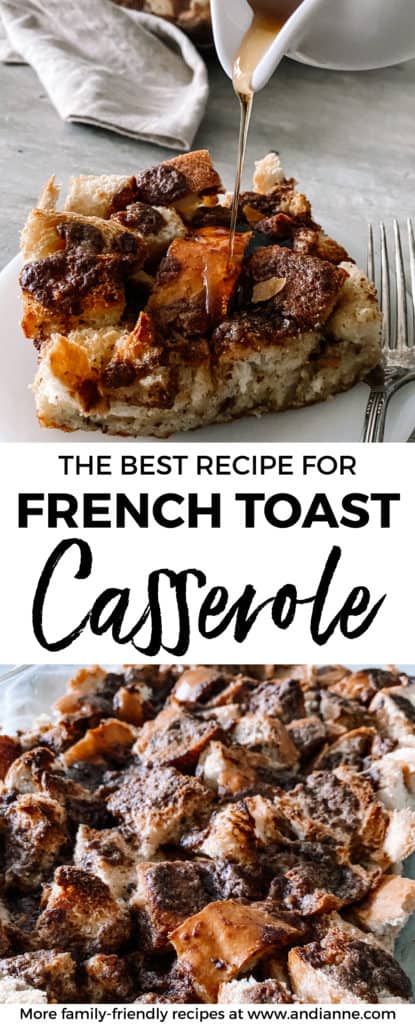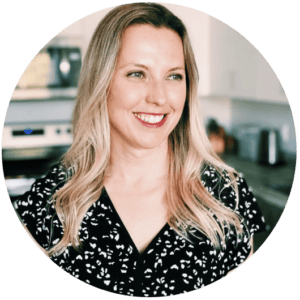 About Andi Anne
Welcome to Andi Anne! Here we focus on simple recipes that are easy to follow with lots of images to guide you along the way! We've created over 500 recipes for you to explore and try out in your own kitchen.