Ready for a new tradition in your house? Because if you do this once, I guarantee your kids will be asking if they get birthday sprinkle pancakes again year after year. Learn just how easy it is to make these celebration pancakes below.
Birthday Sprinkle Pancakes
How do you make a birthday special for breakfast? With birthday sprinkle pancakes of course! These pancakes are an easy recipe that will make your child feel incredibly special.
I'm sure you already know this, but kids don't need fancy things on their birthdays. They love the simple stuff. This year my daughter asked for her birthday to make a craft with me, blow up balloons and bounce them around the house – that's it.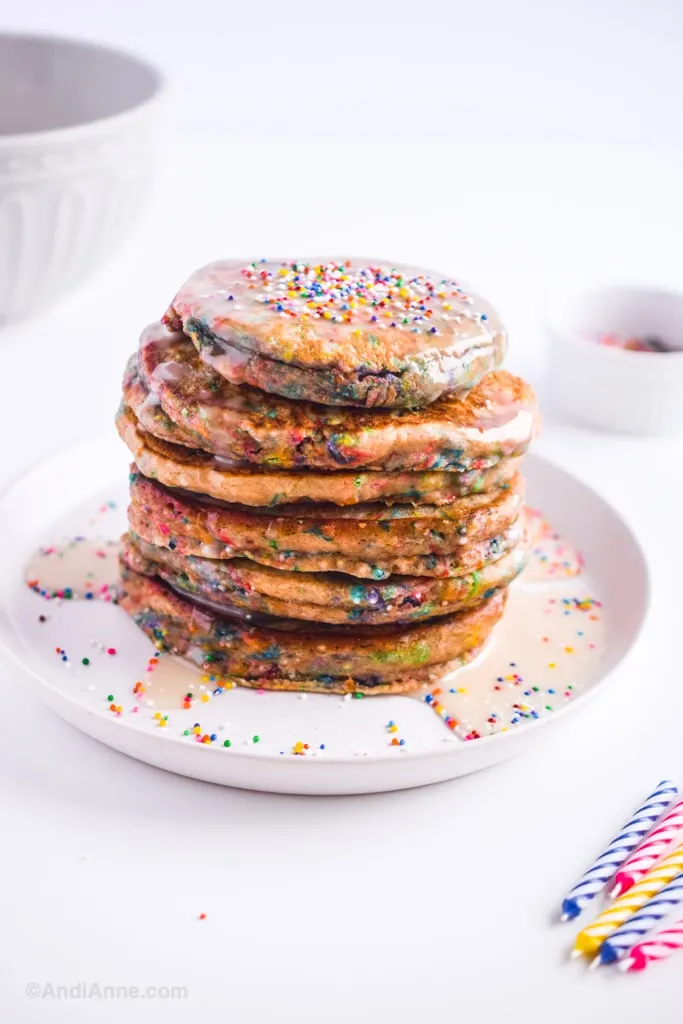 Because we weren't having a big party, the last thing I wanted to do was make a birthday cake as I might normally.
So instead, I made sprinkle pancakes the night before, reheated them in the microwave in the morning on her birthday, and topped them with whipped cream and birthday candles. She was absolutely thrilled and delighted when she saw the surprise! That little face all lit up makes me the happiest momma – I know that we'll for sure be doing this again next year.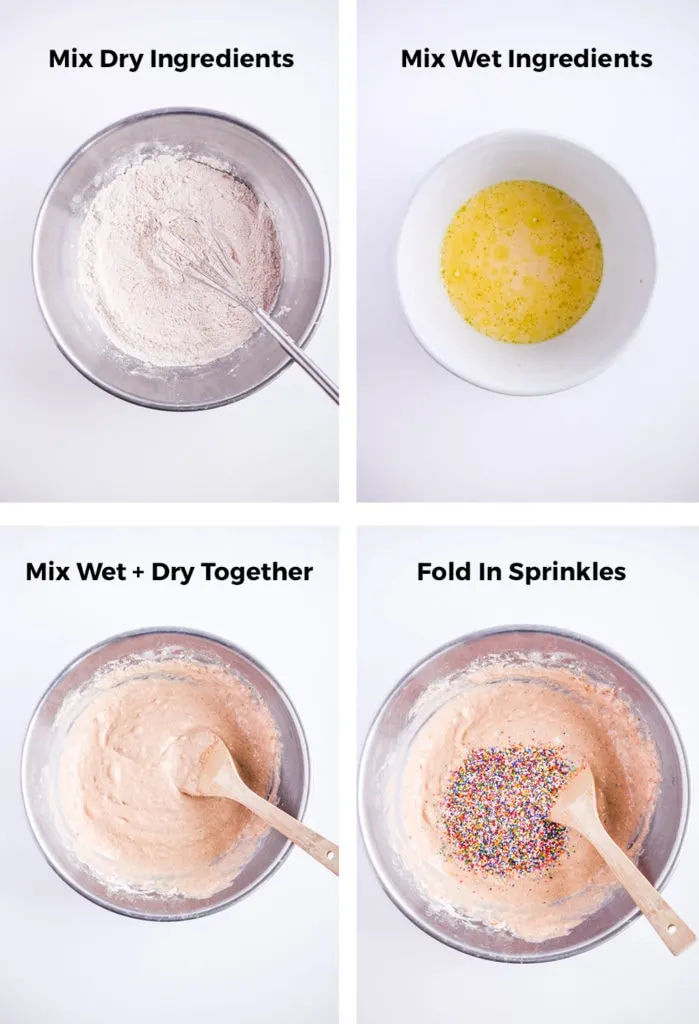 How To Make Birthday Sprinkle Pancakes From Scratch
It's really easy to make sprinkle pancakes. To save even more time you can meal prep using my pancake mix recipe and make a batch from there.
Here are the basic steps for sprinkle pancakes:
Mix dry ingredients – add flour, sugar, baking powder, cinnamon and sea salt to a bowl and whisk together.
Mix wet ingredients – Beat eggs, then add milk, oil, and vanilla. Mix together then stir into dry ingredients. If batter is too thick you can add more milk 1/4 cup at a time until you reach a desired consistency.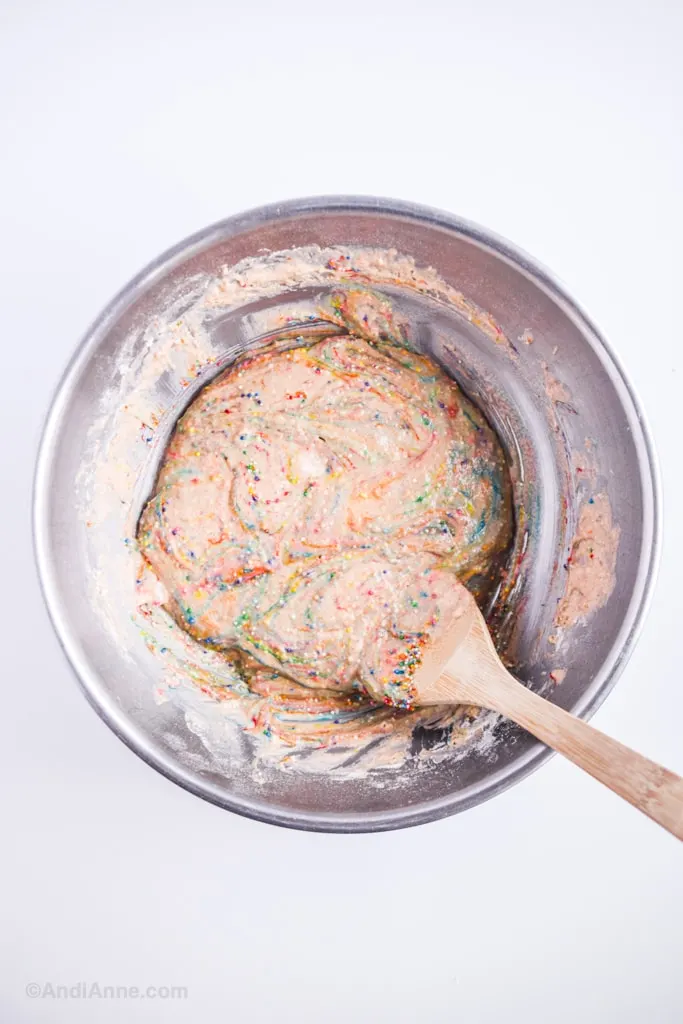 Fold in sprinkles – Gently stir in sprinkles just enough to evenly coat the batter. Don't overmix in this step as the sprinkles will bleed their colors easily.
Start cooking – add 1/4 cup batter to the skillet and cook until bubbles start to form and pop. Flip to the other side and cook until golden brown.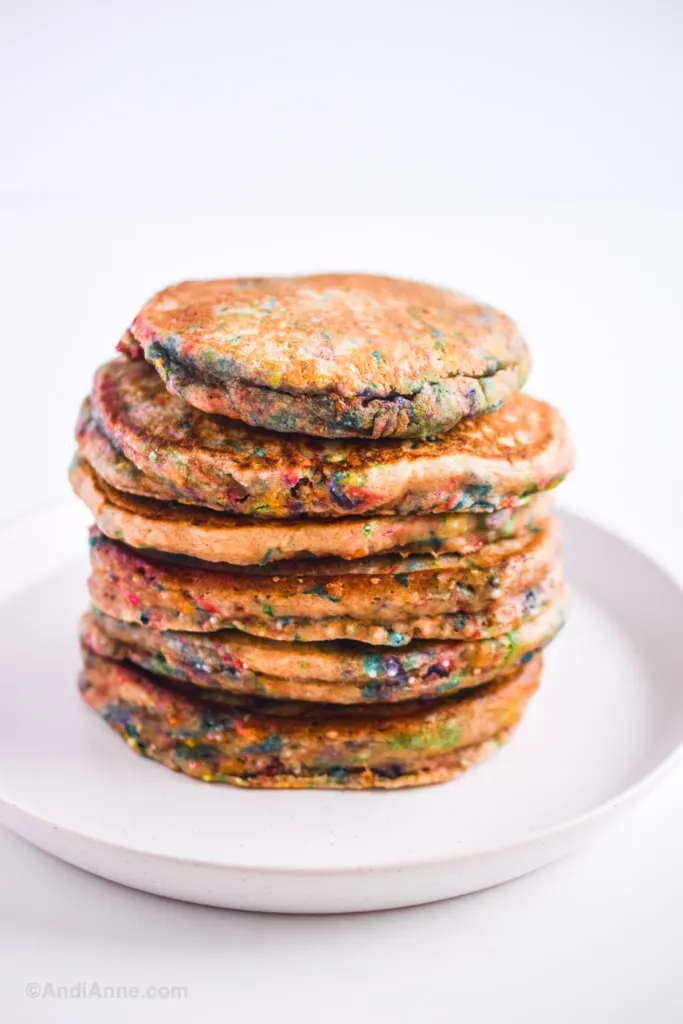 What sprinkles should you use?
I used rainbow round sprinkles, mostly because that's what I had in my pantry. But you can also use the longer rainbow sprinkles, also known as jimmies, as well. I honestly don't think it matters what type of sprinkles you use as your kids will love this no matter what.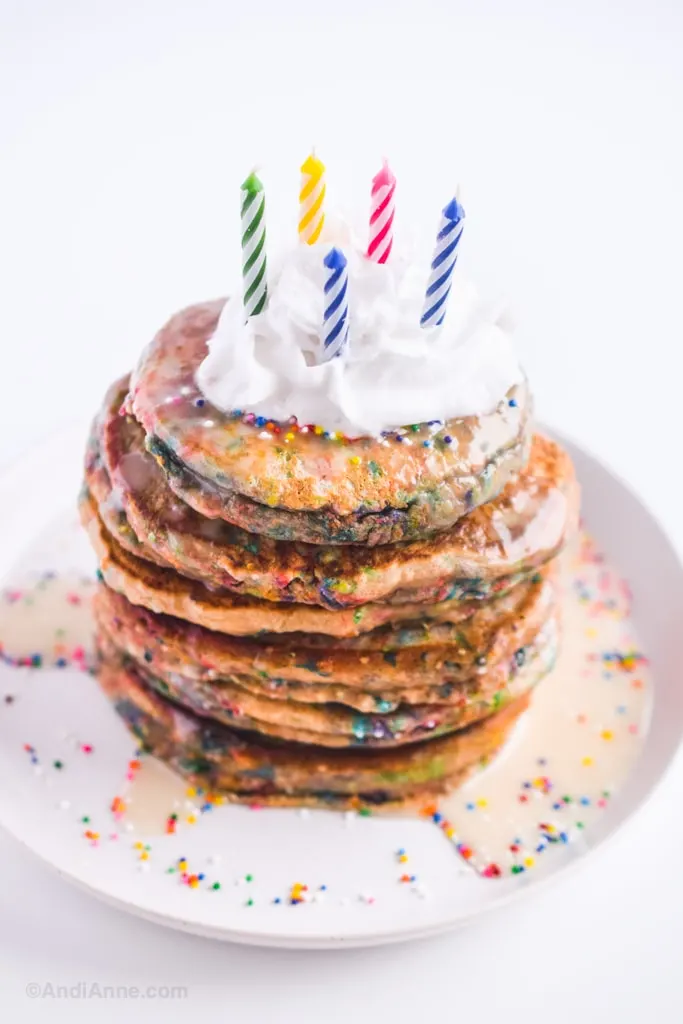 Try making pancakes with my homemade pancake mix recipe to help save time!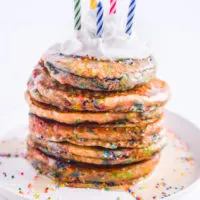 Instructions
In a large bowl, mix together all purpose flour, sugar, baking powder, cinnamon, and sea salt.

In a separate bowl, beat egg with a fork, then mix in milk, cooking oil, and vanilla.

Add wet ingredients to dry ingredients and mix together. The batter should be somewhat runny. If it feels too thick, add 1/4 cup more milk or water.

Gently stir in rainbow sprinkles and mix together just enough that they're combined. Don't over mix on this step as sprinkles bleed their colors easily.

Heat a skillet over medium-high heat with a bit of oil. Add 1/4 cup of pancake batter and cook until bubbles form and begin to pop. Flip pancake to the other side and cook until golden brown.

Store on a plate under a clean dish towel until ready to serve. Pancakes can be stored in the fridge in a sealed container for up to one week.

Serve with whipped cream, maple syrup and more sprinkles!
The nutritional information provided is an estimate and is per serving.