My daughter is going through a stage where she likes her food to be simple. If I'm roasting veggies, there can't be any spices on top. If she's eating crackers, they have to be one color without any flecks of pepper. It's frustrating, but I'm starting to learn ways to get around it.
Same goes for sweets like these brownies. Because they're one color only, my little girl gobbled them up! Well, first she picked off the chocolate chips one by one and then she at the brownie, but that's part of the fun right?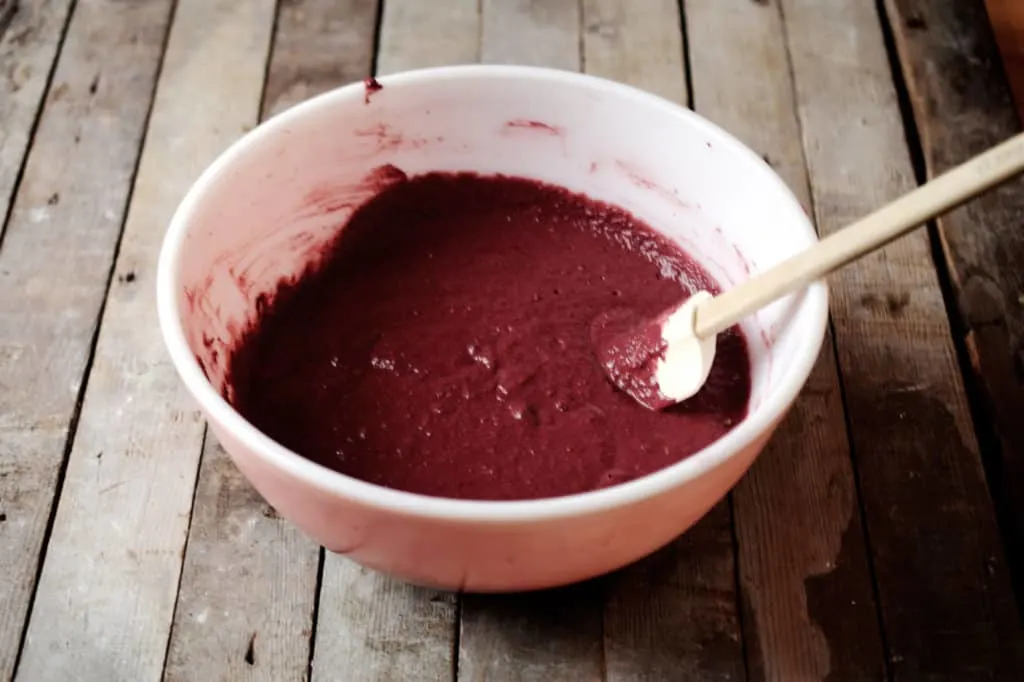 As a mom, I can feel a little guilty feeding my daughter sweets – but these are an exception. I really enjoy baking in ways that I can sneak a little bit of extra nutrition in there, without the little people knowing. These brownies are made with buckwheat flour, beets, and a very small amount of maple syrup for sweetener. And instead of overloading them with chocolate chips, I only added 1/2 cup sprinkled on top. So there's way less sugar than many other conventional brownie recipes out there. Plus, there's a serving of veggies too!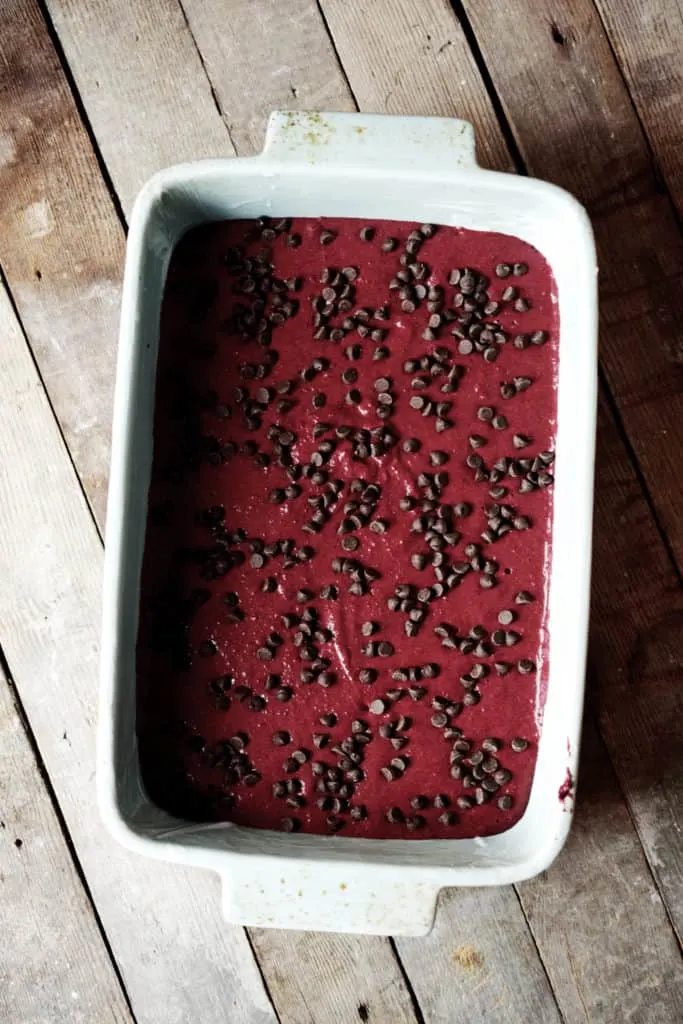 Now, if you've never tried adding a veggie to your baking before, don't knock it until you try it. The beets give these brownies a red velvet color and add moisture making them soft and fluffy.
When I first popped these brownies out of the oven, I had to give them a try right away. While they were hot, I really noticed the beet-ey flavor, but once they cooled down I could barely taste it. I used two cups of beets in the recipe, but you could easily use one cup if you think that might be too much.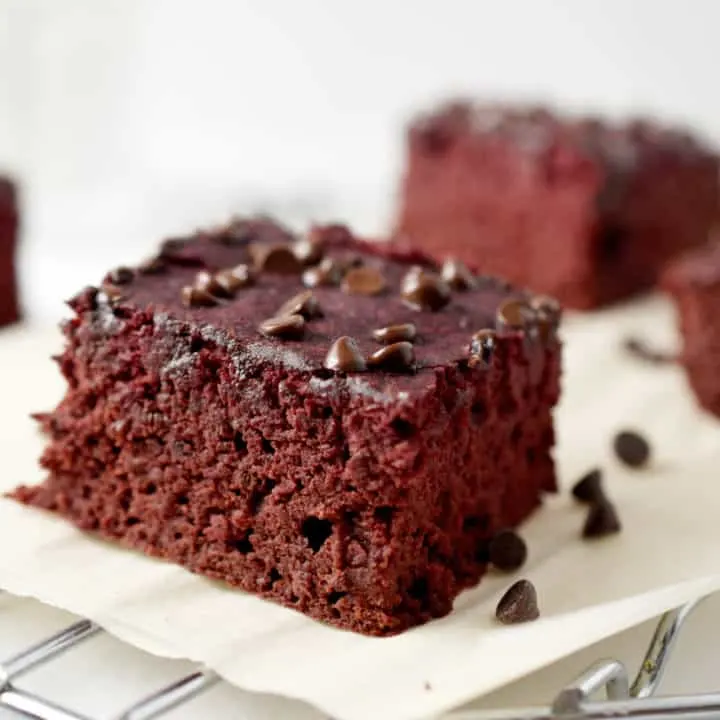 Double Chocolate Beet Brownies
Ingredients
1 cup buckwheat flour
1/2 cup cocoa powder
2 tsp baking powder
1/2 tsp baking soda
1/4 tsp sea salt
2 eggs
2 tsp vanilla extract
2 cups cooked mashed beets
1/4 cup coconut oil
1/2 cup maple syrup
1/2 cup milk
Chocolate chips
Instructions
Preheat oven to 350ºF and spray a square baking pan with non-stick cooking spray.
In a large bowl, combine buckwheat flour, cocoa powder, baking powder, baking soda, and sea salt. Whisk together and set aside.
In a medium bowl, combine eggs, vanilla extract, cooked mashed beets, coconut oil, maple syrup, and milk. Whisk together.
Add wet ingredients to the large bowl of dry ingredients. Mix together until combined.
Pour into the greased square pan. Sprinkle chocolate chips on top. Bake for 25-30 minutes or until a toothpick pulls cleanly from the middle of the batter.
Let cool before cutting. Cut into squares and enjoy. Brownies can be stored in an airtight baking container on the counter or in the fridge.
Notes
* I found these brownies to taste more "beety" when they were fresh out of the oven, and the taste of beets disappeared as they had time to cool down. If you want you can use 1 cup of cooked mashed beets instead of 2 cups to reduce the taste. But I really like them with 2 cups. To save time you can just buy a can of cooked beets instead of boiling them yourself. The chocolate chips on top will take time to cool down. You can always pop the full baking pan in the fridge to help speed up the process.
Nutrition Information:
Yield:

12
Serving Size:

1
Amount Per Serving:
Calories:

172
Total Fat:

7g
Saturated Fat:

5g
Trans Fat:

0g
Unsaturated Fat:

2g
Cholesterol:

32mg
Sodium:

224mg
Carbohydrates:

24g
Fiber:

2g
Sugar:

13g
Protein:

4g
Please note: This nutrition information is only an estimate and was created using Nutritionix