Okay, I have a real treat for your kiddos today. These homemade gummy candies are super fun to make and eat. Plus the process is so easy.
What I love about this recipe is that you're giving your kids nourishing ingredients that are actually good for their bodies versus the preservatives and empty calories that we find in regular candy.
To make these gummy treats, you'll need a few fruits and vegetables, maple syrup and gelatin. That's it!
WHAT IS GELATIN?
First, let's quickly talk about gelatin. There is a wide variety of different types of gelatin you can use. When you think of gelatin you probably think of things like jello, right?
But did you know that gelatin was originally made from collagen from the skin and bones of animals? This may sound kind of gross, but actually collagen is quite good for us! If you've ever made homemade broth, you're getting huge benefits of animal collagen. And traditionally, animal collagen has been a staple in the diet of many traditional cultures around the world. Basically, our great great grandmothers knew the benefits and would be cooking up a batch of broth regularly.
Gelatin is made up primarily of two amino acids: glycine and proline. These are both needed for our skin, hair and nail growth. They also help to support immune function and natural weight regulation.
To get the benefits of gelatin, personally I like to use beef gelatin powder. This is full of really good collagen which is great for your skin, hair, and bones. And it's made from grass-fed + pasture-raised beef. As I said, collagen from animals is something our ancestors have been using traditionally for centuries.
Note: You should always check with your doctor to make sure something is the right fit for you personally, especially if you have a medical condition. I am not a doctor nor do I provide medical advice here on my website.
Also, if you're vegan, and would prefer not to go the gelatin route, another option you could use is agar agar powder which is derived from seaweed.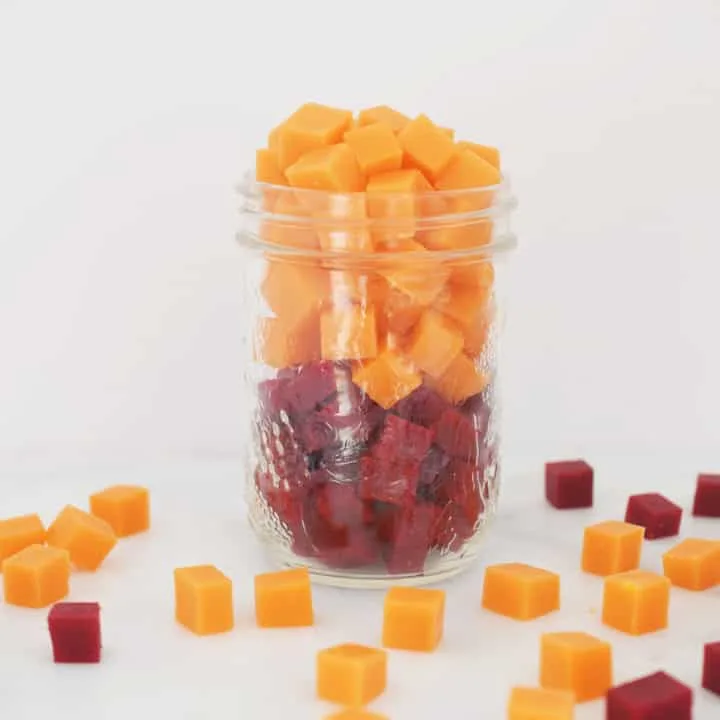 Gelatin Gummies Made With Real Fruits and Veggies
Ingredients
FOR THE ORANGE GELATIN GUMMIES
2 cups diced mango chunks (you can use frozen or fresh)
1 medium carrot, roughly chopped
1/4 cup water
1/4 cup maple syrup
5 Tbsp beef gelatin powder (or gelatin of your choice)
FOR THE RED GELATIN GUMMIES:
2 cups cherries (or berries)
1 small beet, roughly chopped
1/4 cup water
1/4 cup maple syrup
5 Tbsp beef gelatin powder
Instructions
First, spray two glass containers with non-stick cooking spray. I like to use avocado oil spray.
Add the fruit, veggies, and water to a high-speed blender and blend until everything is completely pureed. (Depending on the power of your blender, you might want to steam the vegetables to soften them in advance. This will allow them to puree easier)
Add in maple syrup and blend for another 10 seconds until fully mixed.
Pour the pureed mixture in a saucepan, then sprinkle the gelatin on top. Do not mix it in yet - Let this sit for 5 minutes before stirring.
Now, turn on your stove to medium heat and start whisking the gelatin in. Keep stirring constantly until the mixture becomes smooth and has been warmed all the way through (do not boil).
Pour the mixture into a square container. Scrape the sides of the saucepan with a spatula to get it all out.
Place in the fridge overnight to chill. The next day, use a knife to loosen the sides and a spatula to help remove from the container. Cut into small cubes and store them in a glass container in the fridge for up to 1 week.
Notes
See more family-friendly recipes on our website: www.andianne.com
Nutrition Information:
Yield:

12
Serving Size:

1
Amount Per Serving:
Calories:

108
Total Fat:

2g
Saturated Fat:

1g
Trans Fat:

0g
Unsaturated Fat:

1g
Cholesterol:

10mg
Sodium:

17mg
Carbohydrates:

18g
Fiber:

1g
Sugar:

15g
Protein:

5g
Please note: This nutrition information is only an estimate and was created using Nutritionix