It's been the weirdest, hardest year for so many of us. We are all struggling with it in our unique ways. But ever since my daughter was born, I used the Christmas season to bring me joy and distract me from what tends to be hard time of year for me mentally (aka. the dark days of Winter). I would use Christmas parties, events, santa visits and anything else I could find to bring that joy into our lives. It had become a tradition to seek out Christmas and tradition.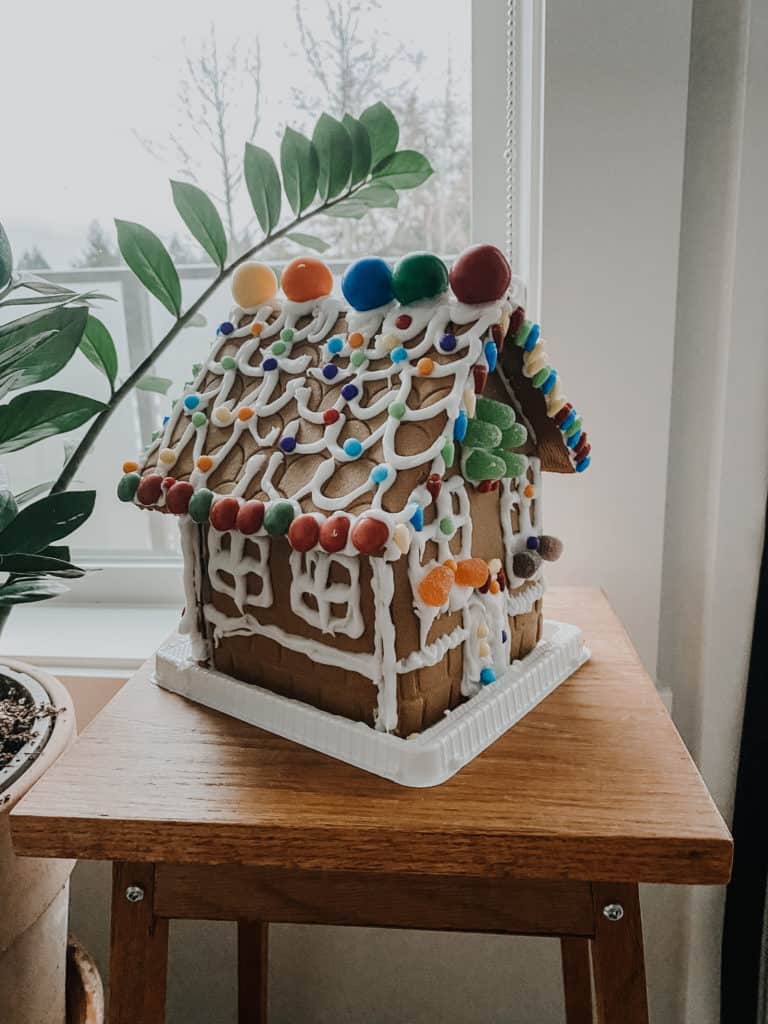 But this year is so different. We are living in a new city and experiencing Christmas for the first time here. And it feels strange because what would normally be a much more festive season, is now feeling like it's canceled. The Santa photos, the Christmas parties, and the holiday festivities – I can't help but feel sad about missing it all but I know that people are struggling with far worse than this.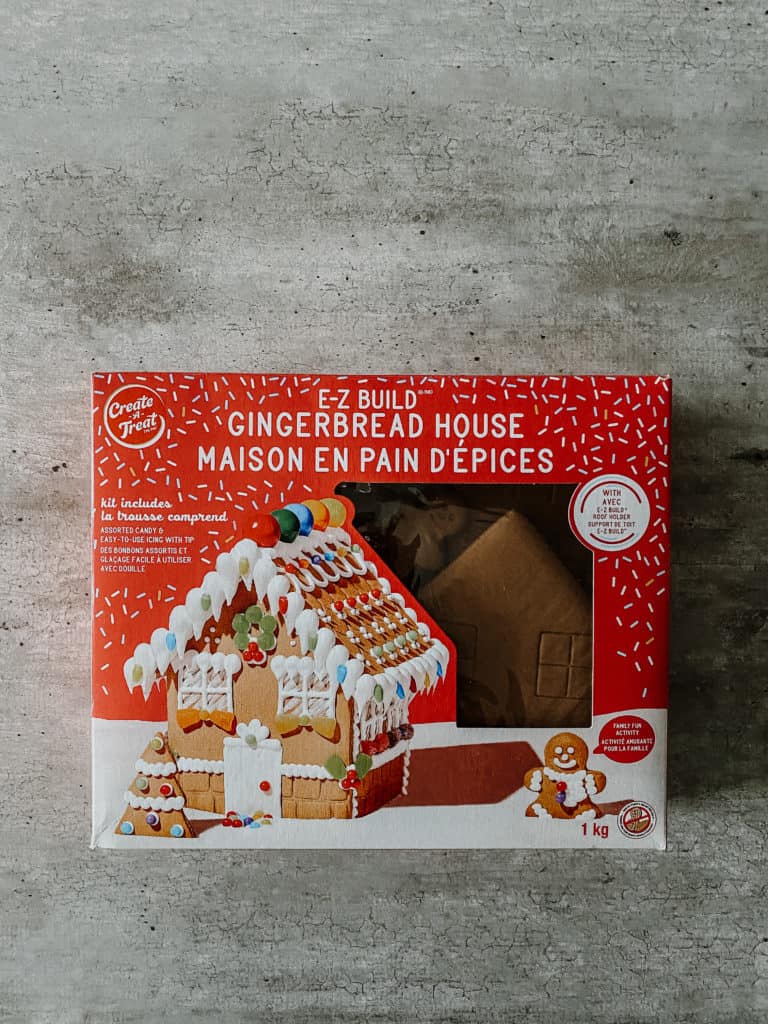 It's not a big thing, but this gingerbread house really helped to bring a little Christmas spirit into our home this year.
I bought it for $10 (Canadian) at our grocery store and we had sooo much fun putting it together. I pulled out the Christmas records and we listened to Charlie Brown, Raffi, and The Beach Boys. Then Lu and I got to work. For that hour it felt like a normal Christmas. We giggled, we tasted the materials, we drank hot cocoa, and we had so much fun.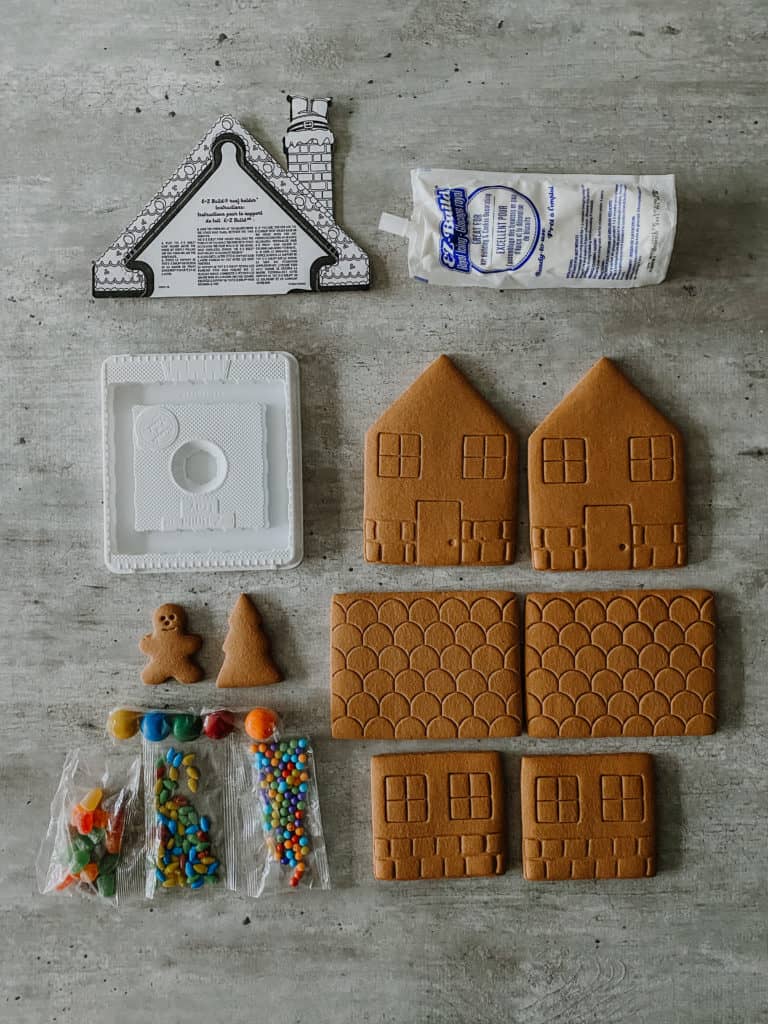 I liked this gingerbread house kit because it had everything you needed. You don't have to buy anything else… all the decisions of what candy and icing to use have already been planned for you. There were even tiny Christmas light candies to decorate the house. Those and the giant gumballs were probably my favorite.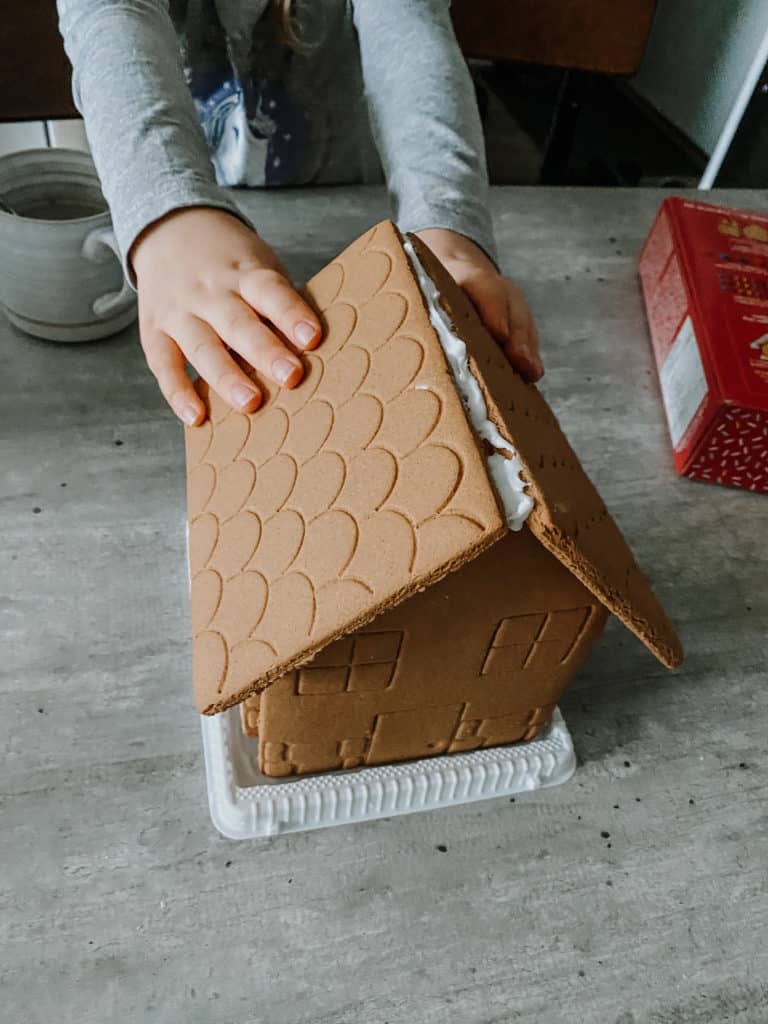 Getting the gingerbread house to actually stick together is probably the hardest part, right!? Ours fell apart once, but after adding more icing, it all came together easily.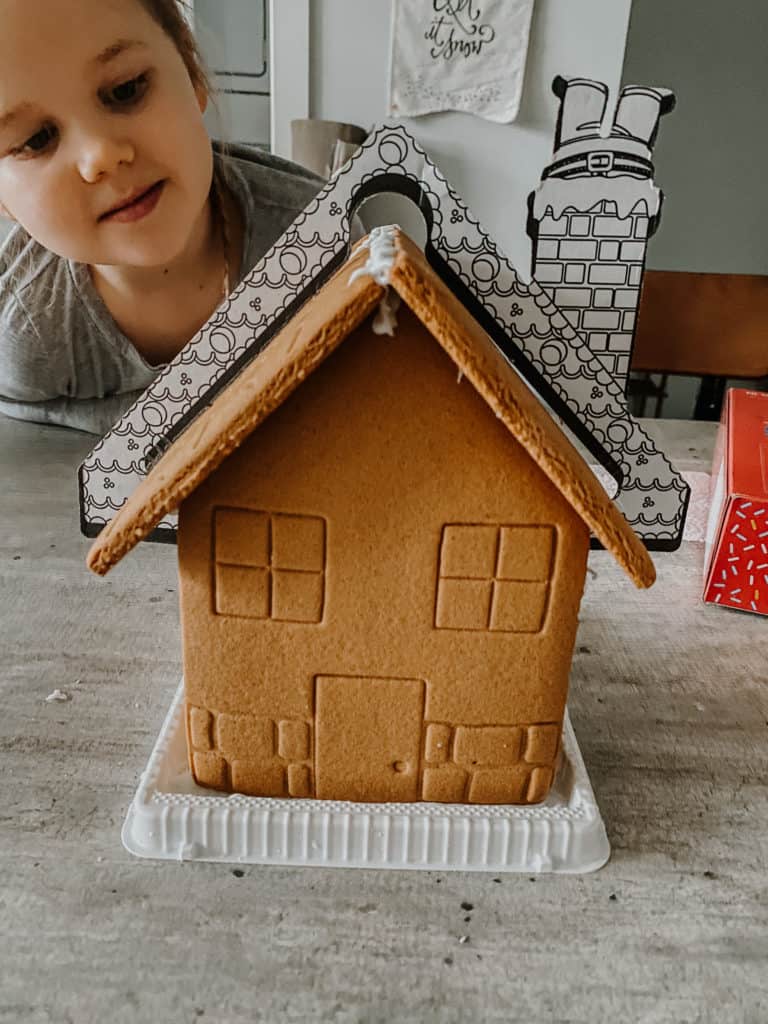 I just want to say that this cardboard roof piece is genius! It holds the gingerbread house together while the icing is drying. That way you can still decorate without the house falling apart on you. So smart. Your kids can even color it afterward and keep it on for decoration.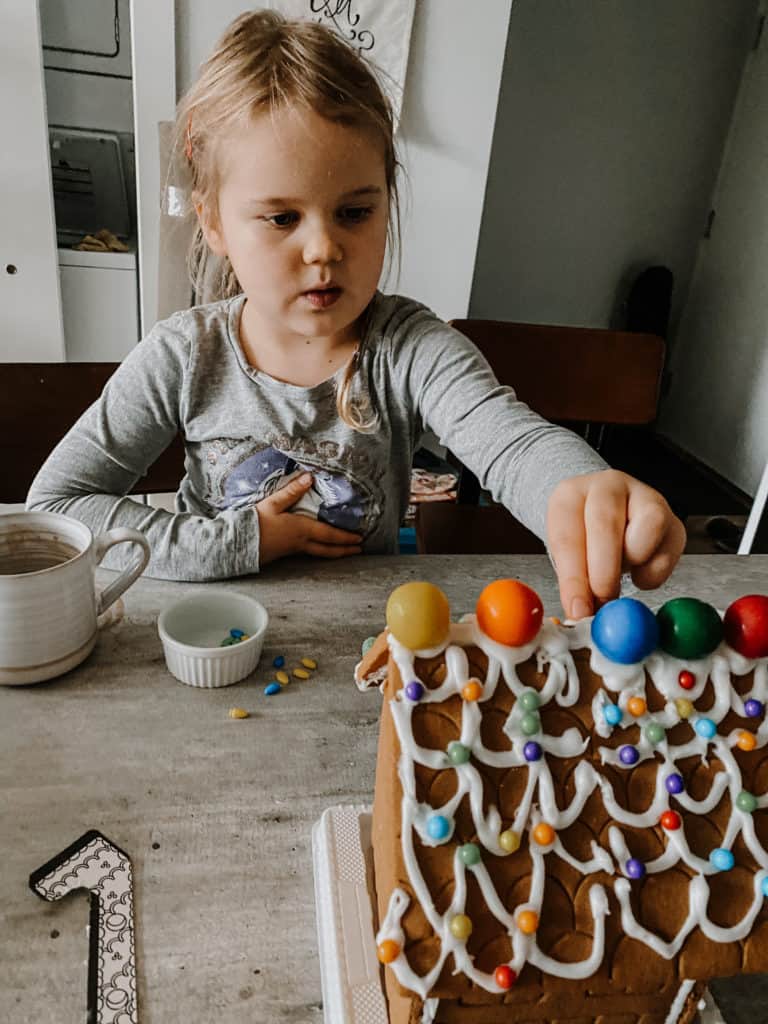 I love how hard kids concentrate when they're working on something. We drank homemade hot cocoa and talked about what our favorite candies were, and what santa's north pole would be like if we could go and visit.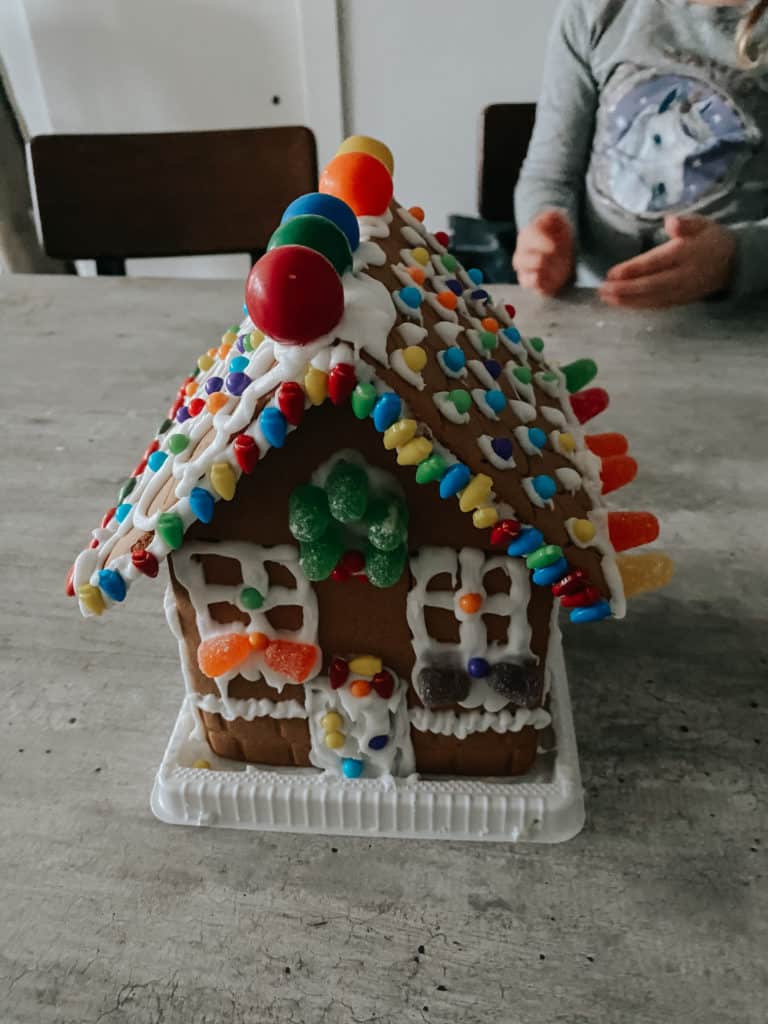 She was sooo proud of the finished gingerbread house! This is the first one we've ever built together (insert mama tears here) and we will definitely be doing this again next year. I just love this sort of stuff, and I just love Christmas so much. How about you?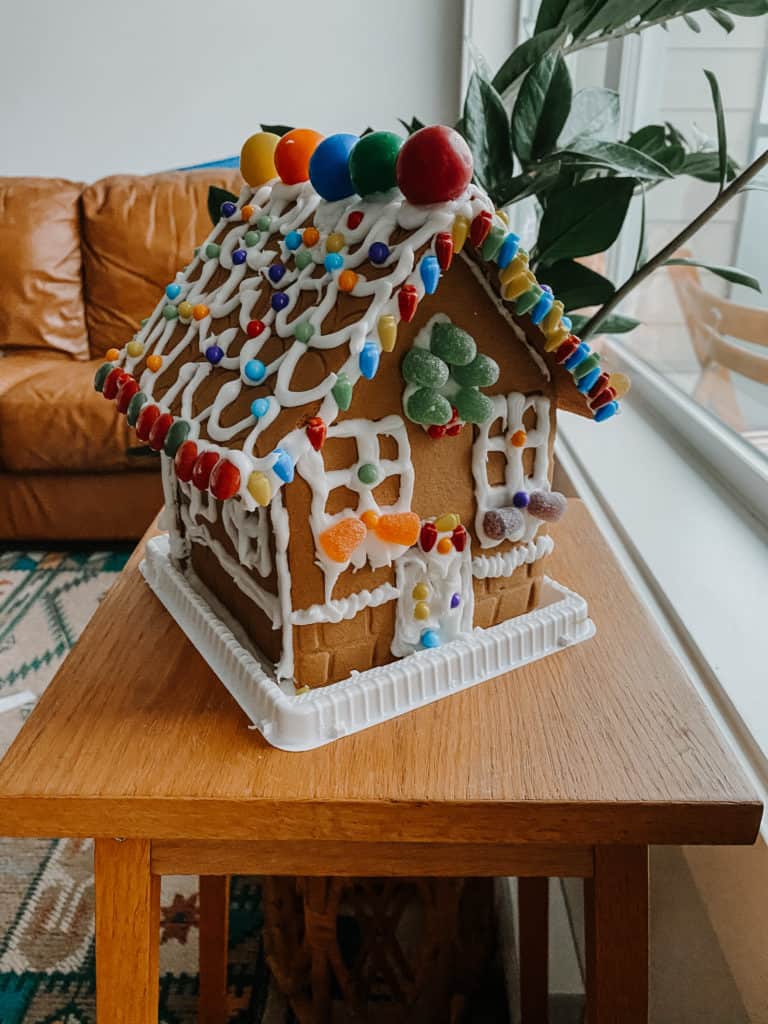 Happy holidays friends! I know that it's different this year, but I hope that you're finding tiny pockets of tradition to fill it with as well.