How To Bake Delicata Squash
Disclosure: This post may contain affiliate links.
Want to learn how to bake delicata squash? The process is very easy. I'll walk you through all the details including frequently asked questions below.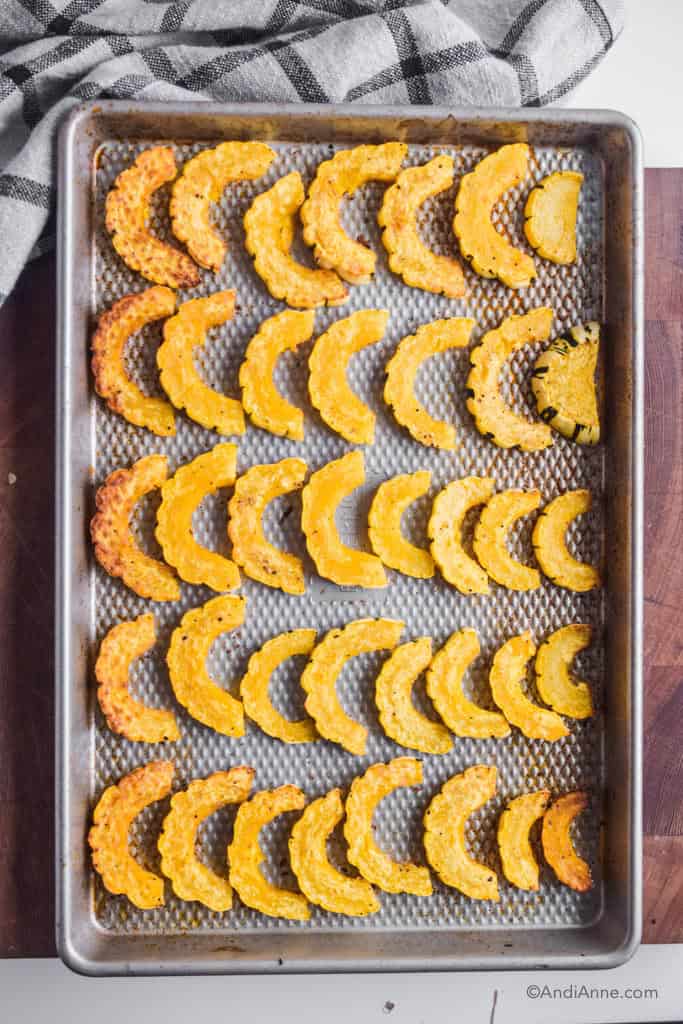 How To Bake Delicata Squash
Welcome to the beginning of Fall! You know the season is upon us when the squash is aplenty at the grocery stores and farmers' markets.
I LOVE cooking with all varieties of squash. They're wonderfully versatile and also budget-friendly. I was surprised to buy two gorgeous delicata squash from my local organic grocery store (that tends to be a little overpriced) for under $5! Yes, my friends. Choosing squash at this time of year is a good way to load up on healthy nutrients.
Delicata squash is a little unique – why? because you can eat the skin on this one. All other winter squashes have skin that is too tough to eat (think pumpkin, butternut, acorn, spaghetti squash etc.) But delicata squash has a softer skin and can be eaten after being roasted. This makes it an easy squash to bake in the oven. Technically, delicata squash is a summer squash (like zucchini) but it's harvested later in the season making it seem like winter squash.
The last wonderful thing about delicata squash is that it's quite sweet. I would describe it as similar to sweet potatoes.
Health benefits of delicata squash
I'm such a huge fan of root vegetables, including squash because they're high in nutrition and low on budget. In fact, I think they're one of the cheapest vegetables at the grocery store.
Delicata squash is incredibly good for you. It's high in fiber, vitamin A and C. It's also low in carbohydrates and can help to reduce osteoporosis, and potentially enhance eyesight.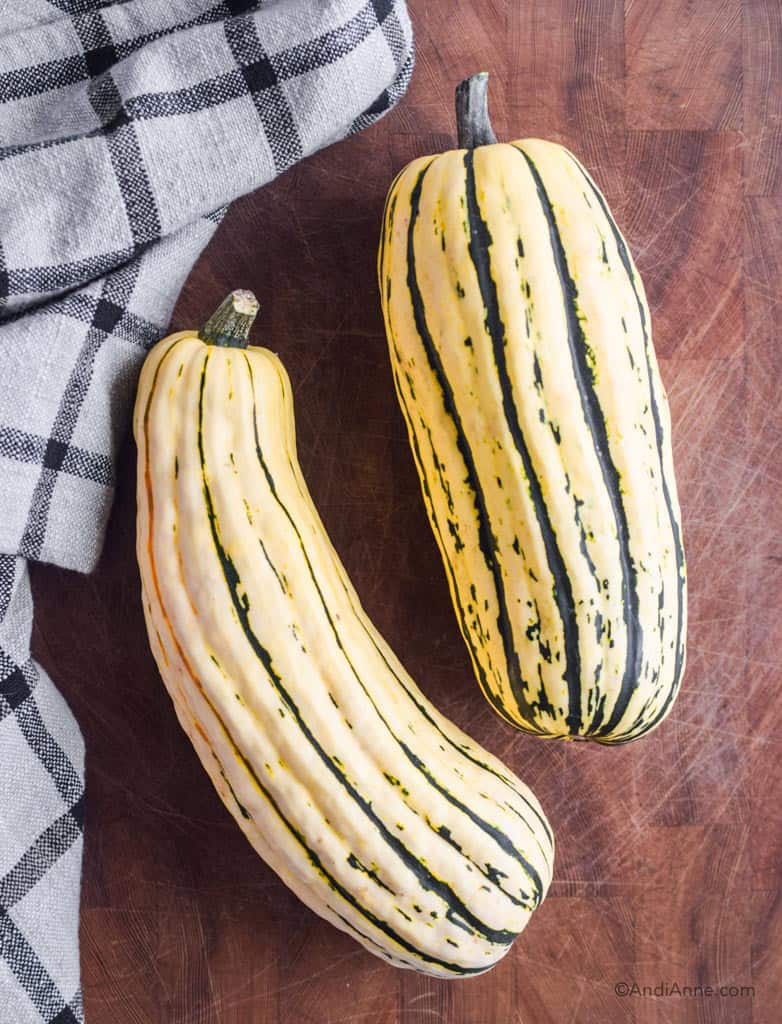 Can You Eat The Skin On Delicata Squash?
Yes! Delicata squash is actually a summer squash. It's harvested later in the season so it can be confused with other winter squash. But the outer skin is soft once baked and can be eaten easily.
What Does Delicata Squash Taste Like?
Delicata squash is sweet tasting. It reminds me of the taste of sweet potatoes. Personally, it's probably my favorite of all the squash flavors (but really, I love them all).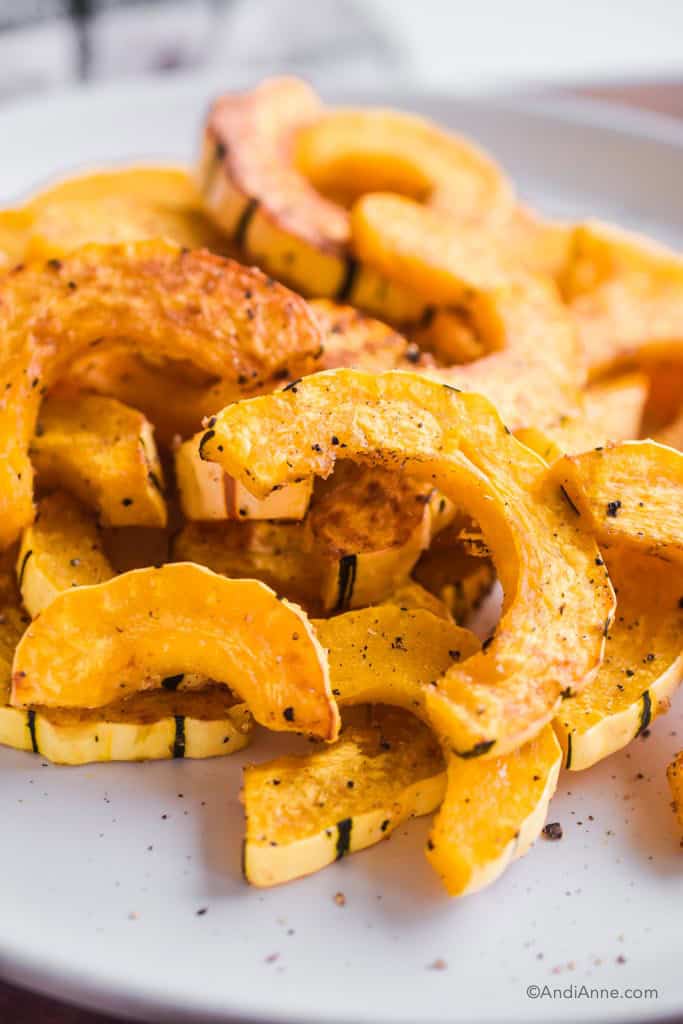 The Easiest Way To Cut Delicata Squash
Squash can be a bit tricky to cut. So can any other root vegetables. Always use a sharp knife (dull knives can cause more accidents than sharp ones). Here are the steps to cut it:
Using a sharp knife, slice the top (with stem) and bottom off first.
Slice the delicata squash in half lengthwise. If the squash is a twisty shape, slice it in half before slicing lengthwise.
Scoop out the insides of the squash with a metal spoon. Scrape until all the stringy bits and seeds are removed. These can be composted (Note: seeds can be roasted like pumpkin seeds if you wish to save them!)
Next, slice into thin u-shape strips, about 1-inch thick.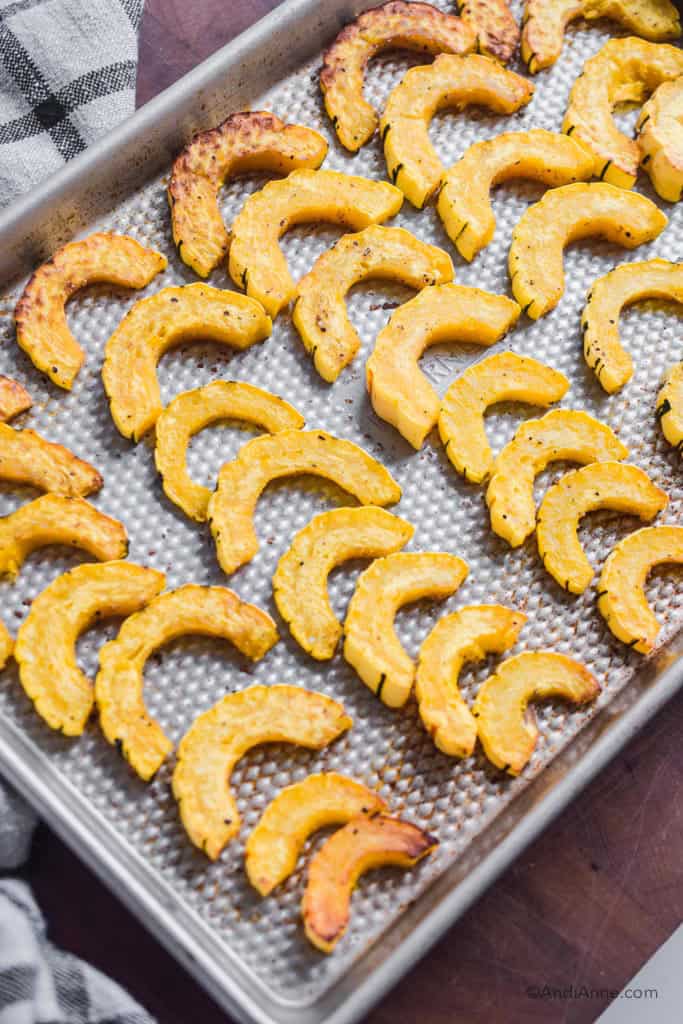 How To Bake Delicata Squash – Easiest Way:
Here's an overview of how to bake the squash (scroll down to see full detailed instructions including the recipe card):
Prep: Wash the squash. Slice the top and bottom off, then slice lengthwise. Scoop out the insides and discard. Next, slice the squash in thin u-shape strips.
Season: Add squash to a bowl with spices and toss together.
Preheat Oven: Spray a baking sheet with non-stick cooking spray and preheat the oven to 425°F.
Bake: Place the squash in a single layer on to the baking sheet. Bake for 20 minutes.
Flip and Bake Again: Remove squash from the oven and flip with a pair of tongs or fork. Bake for another 10-12 minutes or until the edges start browning and squash is soft when poked with a fork.
Serve: Use a spatula to scoop on to plates and serve.
Cooked Delicata Squash – Storage Tips
Cooked delicata squash can be stored in an air-tight container in the fridge for up to 1 week. I like to reheat mine in the oven at 425°F for 10 minutes before eating. These can also be microwaved to reheat.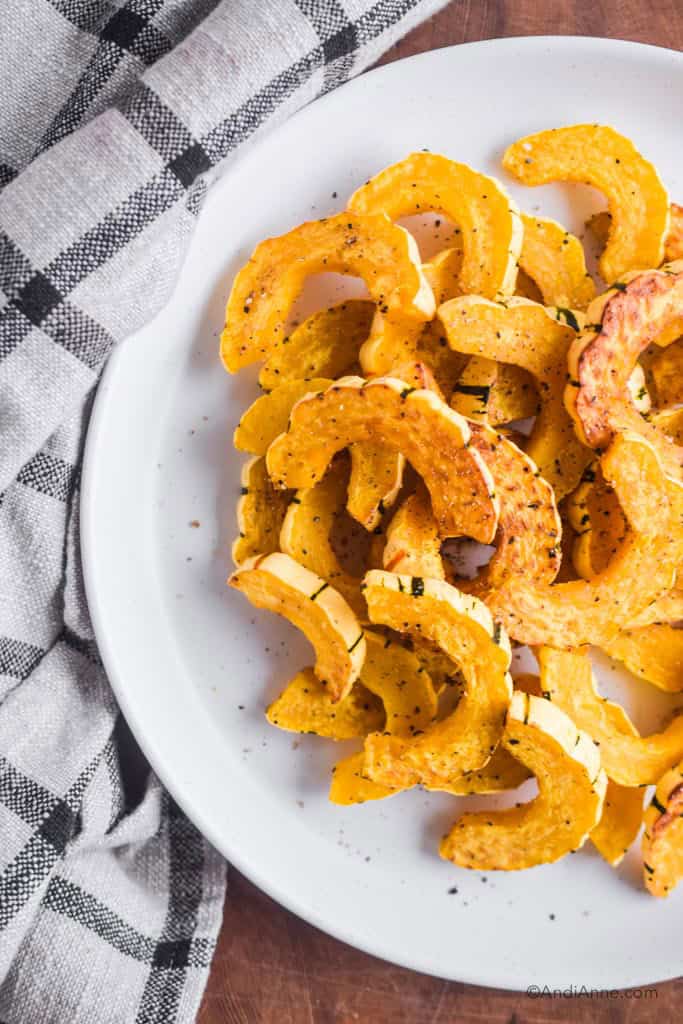 FOLLOW ALONG: Subscribe to my newsletter and follow along on Youtube and Facebook and for the latest updates, recipes and content! If you love this recipe, give it a star rating ★ below.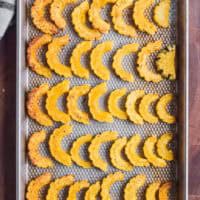 How To Bake Delicata Squash
This recipe uses simple spices and roasts them on a baking sheet for a delicious, sweet flavor.
Print
Pin Recipe
Instructions
Preheat the oven to 425°F. Spray a baking sheet with non-stick cooking spray and set aside.

Slice the top and bottom off of the delicata squash, and then slice it in half lenghtwise.

Use a metal spoon to scrape out the inside stringy parts and seeds. These can be discarded. Slice the squash into thin strips.

Add cooking oil and garlic powder to a large bowl and mix together. Add in the sliced squash. Season with salt and pepper and toss until the spices are evenly coated.

Place the squash slices onto greased baking sheet in a single layer.

Bake for 20 minutes then flip with a pair of tongs or a fork. Cook another 10-12 minutes.

Squash will be cooked when edges start to brown and squash is soft when poked with a fork.

Add to a serving dish and enjoy! The skin on delicata squash can also be eaten.
Nutrition
Calories:
103
kcal
|
Carbohydrates:
10
g
|
Protein:
1
g
|
Fat:
7
g
|
Sodium:
5
mg
|
Potassium:
405
mg
|
Fiber:
2
g
|
Sugar:
3
g
|
Vitamin C:
14
mg
|
Calcium:
32
mg