Sheet Pan Eggs are fast and easy to make. Perfect for meal planning as you can eat them throughout the week or freeze the rest. See recipe below to make this sheet pan sweet potato and spinach omelet.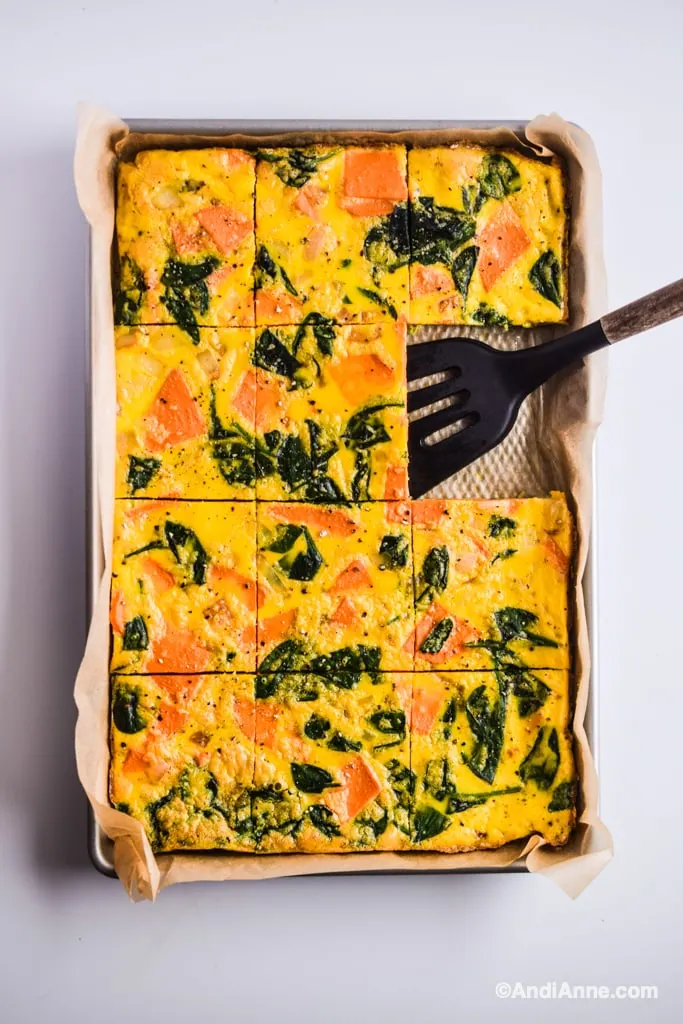 Sheet Pan Eggs
If you've ever wondered, "what can you do with a bunch of eggs?" Baking them in a sheet pan is the answer.
Sheet pan eggs are incredibly easy to make and an excellent meal prep recipe for breakfast or lunch. They're healthy too – eggs are a great source of protein and will provide long-lasting energy.
I love this recipe because I can easily meal prep a batch and save the rest in the fridge or freezer for later. If you plan on eating one slice for breakfast every morning, then it's easy to stack them in a container in the fridge. And if you want to save them for once in a while, then the freezer is a perfect option – I'll share more of my freezer tips below.
Sheet Pan Omelet Pro Tip:
To avoid spilling the liquid egg mixture all over the place, don't pour it into the baking sheet just yet…
Instead, preheat your oven to 350°F. Then once it's heated, open the oven and pull out the oven rack so that it's still in place but you have more access to it. Place the baking sheet on the rack, and THEN pour the egg mixture on to it. Carefully smooth out the sweet potatoes and spinach evenly with a spatula, then close the oven and bake. This will save you from any potential mishaps and make life a little easier.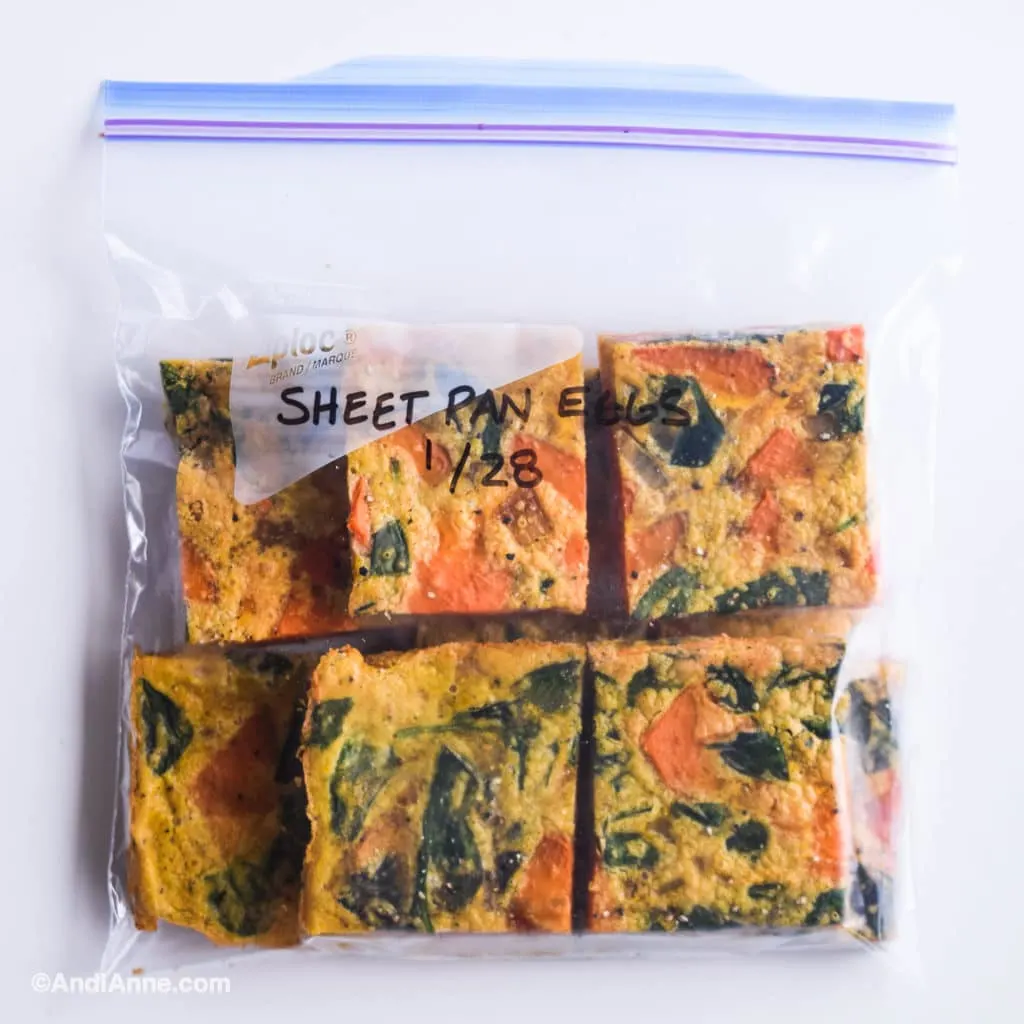 How To Freeze The Sheet Pan Omelet
I love to talk about freezer meals because they are a huge time saver for busy moms! And once you get a simple freezer meal routine going, you will have meals that are ready to go all the time. It's like the best-kept secret to save time and sanity in the kitchen. Learn how to make six healthy crockpot freezer meals here.
The process to freeze these sheet pan eggs is simple. First, make sure you've sliced them into portion sizes. Let them cool completely on the counter. Once cool, add the entire baking sheet with cooked eggs into the freezer to flash freeze for 1-2 hours. Once that's done, remove them from the freezer and place them in a good quality freezer bag. These eggs can be stored in the freezer for up to three months if sealed well.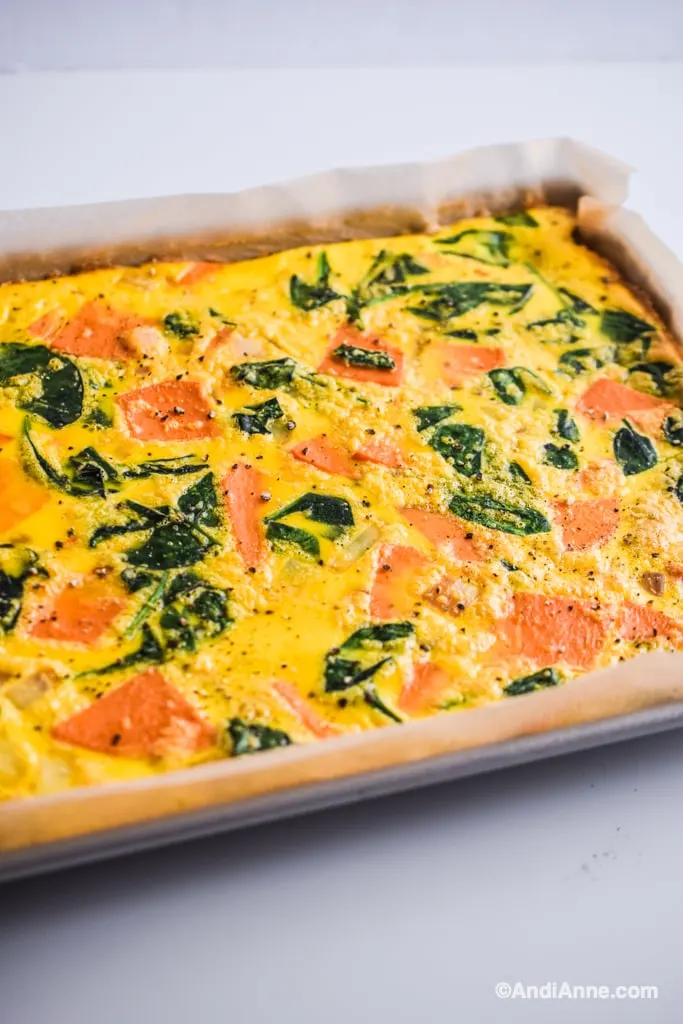 What Can You Eat Sheet Pan Eggs With?
Eggs are so verstatile. You can easily customize these sheet pan eggs to create your favorite breakfast combination. Here are some ideas:
Sheet pan eggs on toast: Egg on toast is always a delicious option.
With a side of avocado and cherry tomatoes: Avocado is an excellent healthy fat source, which provides longer-lasting energy throughout the day.
Topped with salsa or hot sauce: These would be delicious with salsa, hot sauce, or any other dressing that you love.
Sprinkled with cheese: Heat them up in the microwave with a sprinkle of cheese on top – yum!
Served with a side salad: Have you ever had a salad for breakfast before? I first tried this at a small breakfast restaurant and after that, I was hooked.
What Kind of Sheet Pan Should You Use?
This part is important. You want to use a sheet pan with at least a 1-inch lip on the outer rim. Otherwise, the liquid egg mixture will probably spill. I recommend using a sturdier baking sheet for this recipe, I used the paderno professional baking sheet and I can definitely notice a big difference in how strong it is compared to the cheap dollar store versions I've had in the past. Plus the edge is enough to properly hold the egg mixture in place.
Should You Scramble Eggs In The Pan?
No. This will just cause spilling and scratch your pan. To scramble the eggs, I recommend using one of these options:
Option A: Adding eggs to a large bowl and beating with fork or whisk. This option will take longer as there are 16 eggs to beat, but it will still work.
Option B: Save time and effort by using the blender to beat the eggs for you. Crack all eggs into the blender and blend on the lowest setting possible for just a few seconds until they are mixed. The more that you blend them, the frothier they'll get so try to eliminate that as much as possible.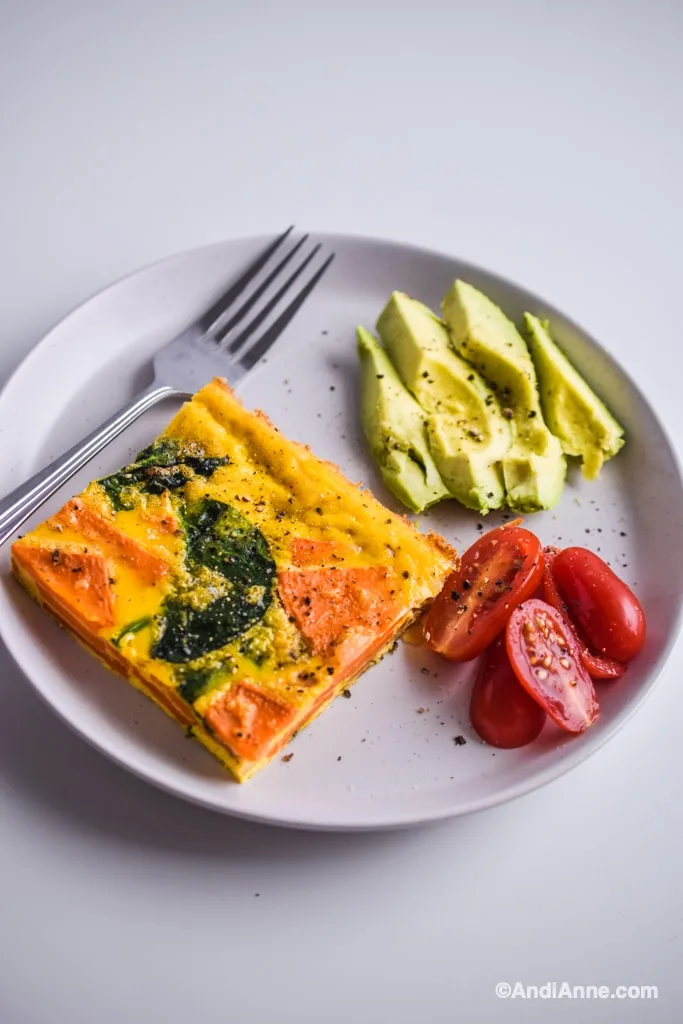 More Breakfast Recipes To Save Time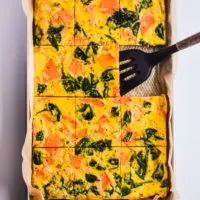 Sheet Pan Sweet Potato and Spinach Omelet
Sheet Pan Eggs are fast and easy to make. Perfect for meal planning as you can eat them throughout the week or freeze the rest. This recipe adds extra nutrition with spinach and sweet potato.
Save Recipe!
Saved!
Pin This
Print It
Ingredients
1

large

sweet potato, peeled and sliced thin

-

(about 3 1/2 cups sliced)

2

cups

baby spinach

1

Tbsp

olive oil

½

medium onion, diced

7

eggs

Salt and pepper
Instructions
Slice sweet potato thin, I used a mandolin slicer. Add sweet potatoes to a pot with water and bring to a boil. Reduce heat and let simmer, until sweet potatoes soften. About 5 mins.

Preheat oven to 350°F. Spray a rimmed baking sheet with cooking spray. Then place parchment on top (this will help it stick easily). Spray the top of parchement with more cooking spray and set aside.

In a skillet over medium high heat, add oil and onion. Cook until onion becomes translucent. Add in spinach and toss with onion. Let cook 2-3 minutes until spinach becomes wilted. Remove from heat.

In a bowl, beat all eggs and generously season with salt and pepper. Optionally, you can also add all eggs to a blender and blend on the lowest setting for a few quick seconds.

Pour egg into a large bowl and stir in sweet potatos, onion and spinach. Generously season with salt and pepper.

Open the oven, pull out the oven rack one notch (it should still be sturdily in place) and place the baking sheet on the rack. Then pour the omelette mixture onto the baking sheet. Use a spatula to move the vegetables around gently. Push the oven rack back into place and bake for 20-25 minutes, or until edges are golden brown and center is fully cooked.

Remove from oven and let cool. Slice into squares and serve with your favorite toppings such as hot sauce, salsa, avocado, sour cream etc.
Recipe Notes:
How To Store In Fridge: This sheet pan omelet can be stored in an air tight container in the fridge for up to 1 week. These make great meal prep breakfasts or lunches! How To Store In Freezer: Let cool completely, then place the whole baking sheet in the freezer to flash freeze for 1 hour. Remove and place individual omelet slices into a freezer bag. Label bag with name and date, then seal tightly. These omelets will keep nicely in the freezer for up to 3 months.
Nutrition
Serving:
12
g
|
Calories:
74
kcal
|
Carbohydrates:
6
g
|
Protein:
4
g
|
Fat:
4
g
|
Sodium:
56
mg
|
Potassium:
166
mg
|
Fiber:
1
g
|
Sugar:
1
g
|
Vitamin C:
2
mg
|
Calcium:
29
mg
|
Iron:
1
mg
The nutritional information provided is an estimate and is per serving.