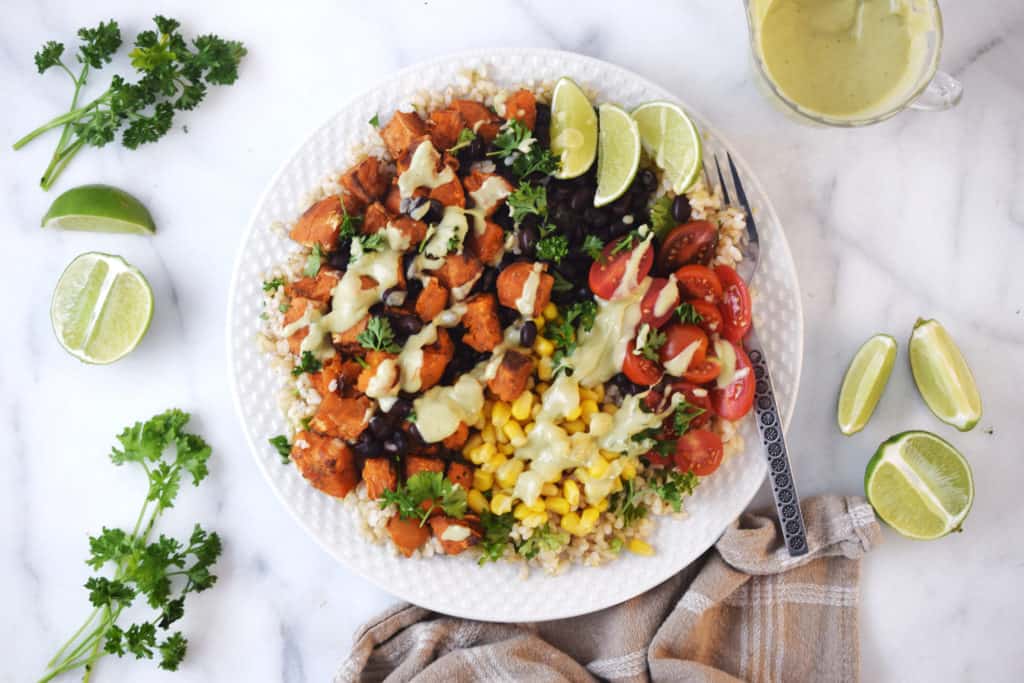 One big goal for my family is to incorporate a lot more meatless meals into our weekly routine. Let's be honest, good quality meat is expensive! So to be able to eat less of it is nice for the budget. Plus, I love the idea of creating affordable dishes full of grains and vegetables!
This sweet potato taco bowl is great because it's not only affordable, but full of healthy ingredients, and really really delicious! This yummy bowl is full of color – roasted sweet potato, corn, tomatoes, black beans, and parsley – all on a bed of brown rice. If you're planning on making this sweet potato taco bowl for dinner, it's important to do a little prep in advance with your sweet potato, and possibly the rice. This'll ease the workload come dinner time.
You'll need to soak the sweet potato first before you start baking them. This will help to release the starch which is the key to getting those crispy potatoes that we all love! They'll need to soak for at least an hour, so it might be easy to do this step earlier in the day when you've got a bit of extra time.
Once the sweet potato has had time to soak, dry them thoroughly with a clean tea towel. The more moisture you remove, the better. This will help with the crispiness!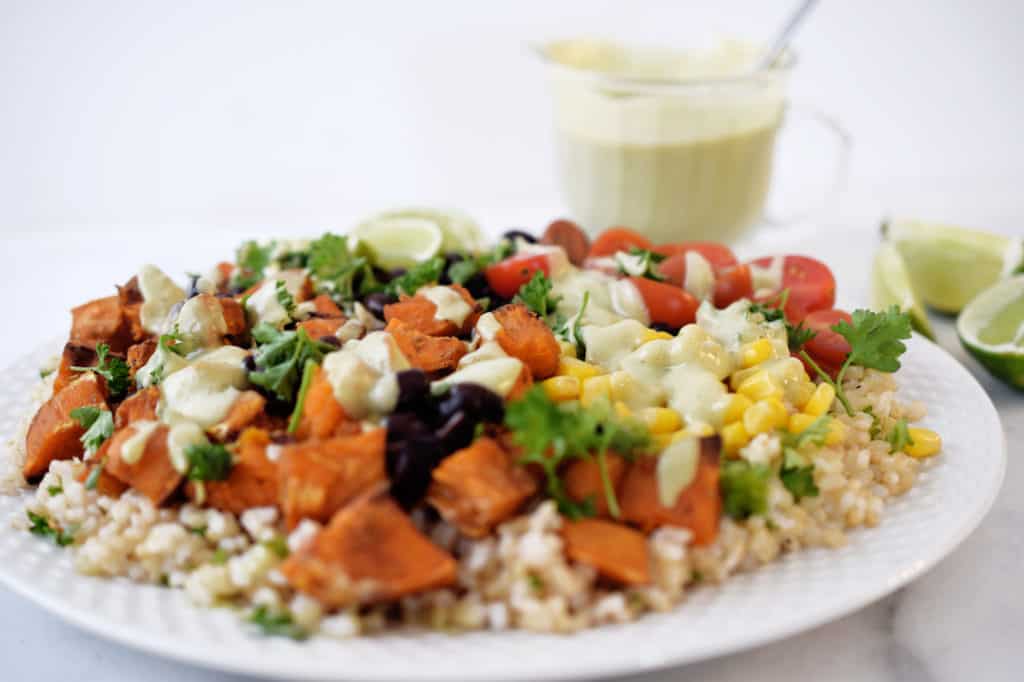 The avocado dressing is really simple to make! It's a little different from the version I created for my 6 simple salad dressing recipes post – but just as tasty! In this version, you'll be using the leftovers from the spice mix you prepared for the sweet potatoes, a ripe avocado, and a little bit of water all mixed in a blender. And voila! A delicious, healthy dressing.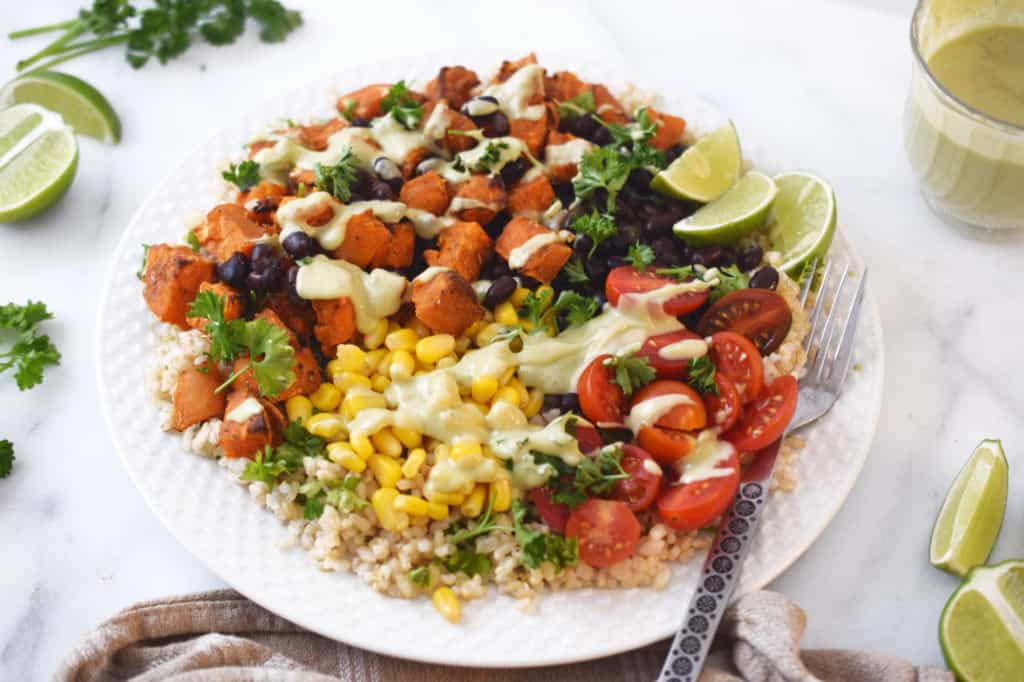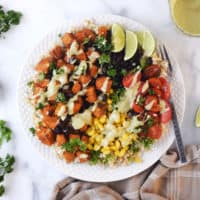 Instructions
Roast The Sweet Potato
Wash, peel and chop the sweet potato into small cubes. Place in a bowl of and cover with water. Let sit for 1 hour to help release starch. Strain the sweet potato from water and dry thoroughly with paper towel.

Preheat the oven to 425°F. Line a baking sheet with parchment paper. Set aside.

In a medium bowl, combine garlic powder, onion powder, oregano, paprika, cumin, salt and pepper. Toss together, set aside.

Spread the sweet potatoes on a baking sheet. Sprinkle half of the seasoning mixture over sweet potatoes and mix (save rest of seasoning for dressing).

Bake in the oven for 60 minutes, flipping them around 20 minutes, then flipping after another 20 minutes. Bake until sides are golden brown and become crispy.
Rice Instructions:
While the sweet potato is baking in the oven, cook the rice according to package instructions. Once cooked, toss with lime juice and chopped parsley.
Dressing Instructions:
Add 1 ripe avocado, water, and the rest of seasoning mixture to a high-speed blender. Blend for a few seconds until fully combined.
Taco Bowl Assembly:
Add cooked rice to serving bowls. Arrange black beans, corn, grape tomatoes and sweet potatoes on top of rice.

Drizzle avocado lime dressing on top of everything and sprinkle with lime juice. Serve immediately.
Recipe Notes:
This recipe will make 2-3 servings. If you have a hungry family of four eating, then I recommend doubling up on the sweet potato and rice.
Nutrition
Calories:
340
kcal
|
Carbohydrates:
57
g
|
Protein:
6
g
|
Fat:
11
g
|
Saturated Fat:
2
g
|
Sodium:
58
mg
|
Potassium:
847
mg
|
Fiber:
11
g
|
Sugar:
5
g
|
Vitamin A:
11226
IU
|
Vitamin C:
22
mg
|
Calcium:
74
mg
|
Iron:
2
mg
Nutrition Info Note: The actual number of servings will depend on your preferred portion sizes and the size and number of what you make. The nutritional values provided above are just an estimate. Actual numbers will vary based on brands you choose and the ingredients you use.
If you're looking for more specific details (for example, to track your macros) then I recommend adding specific brand ingredients and this recipe to a food tracker app on your phone.
Did you enjoy this post? Share the ❤️ and Pin it to Pinterest!