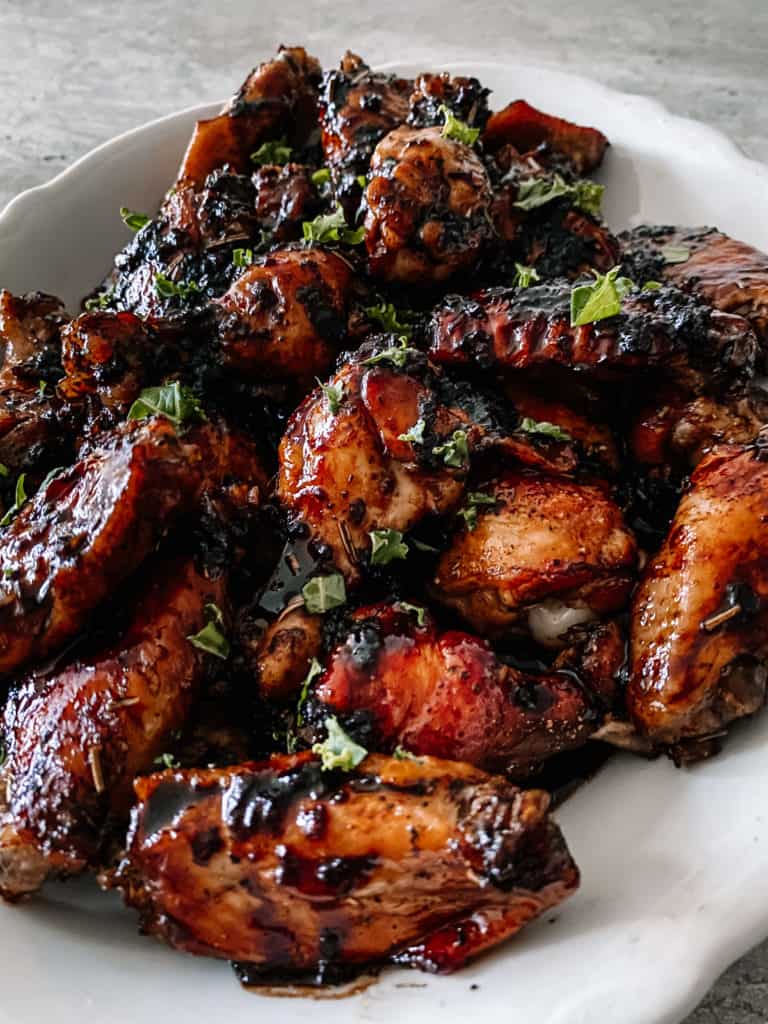 Balsamic glazed chicken wings are a delicious and easy dinner idea. Made with balsamic vinegar, brown sugar, and dried rosemary, this recipe is simple and flavorful. And to save you time, the sauce doubles as a marinade and glaze. Learn how to make these balsamic glazed chicken wings below!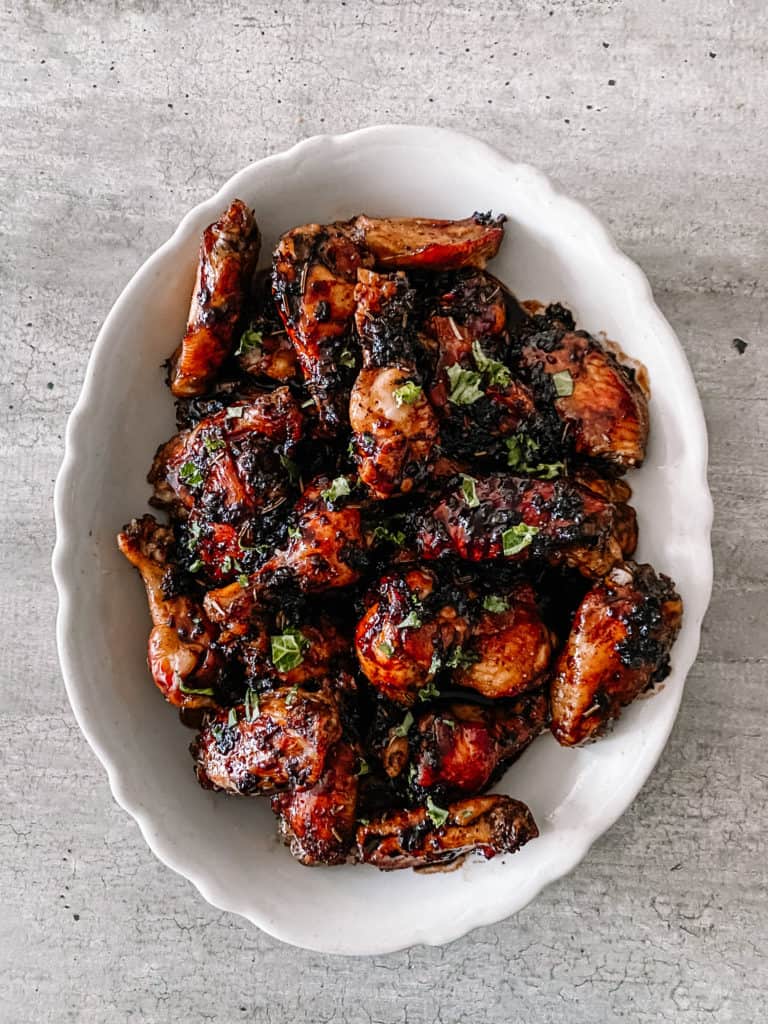 You might also want to check out my blog post, Six Healthy Chicken Marinade Recipes for Easy Dinners. Inside that post, I share six versatile marinades you can use to flavor your chicken.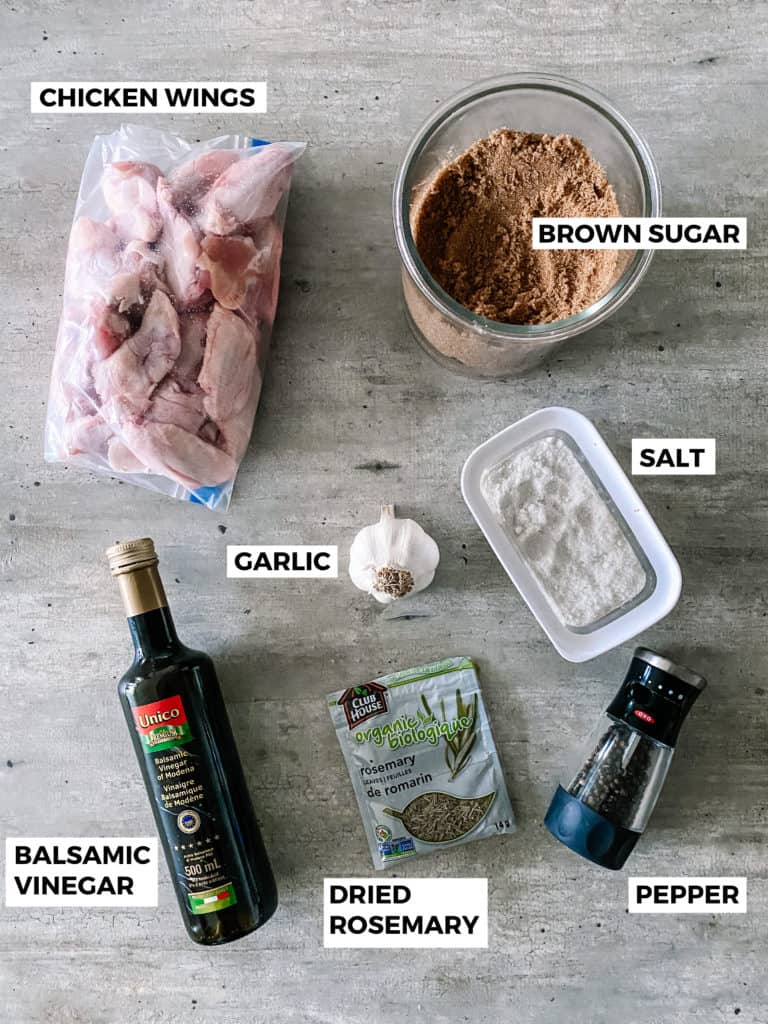 You only need six ingredients to create the marinade and sauce which is why I love this recipe so much. I always want my dinners to be as simple as possible, but also something my family will actually eat and enjoy. And yep, this one covers all the basis.
The six ingredients used to make the marinade for balsamic glazed chicken wings are:
Balsamic vinegar
Brown sugar
Minced garlic
Dried rosemary
Salt and pepper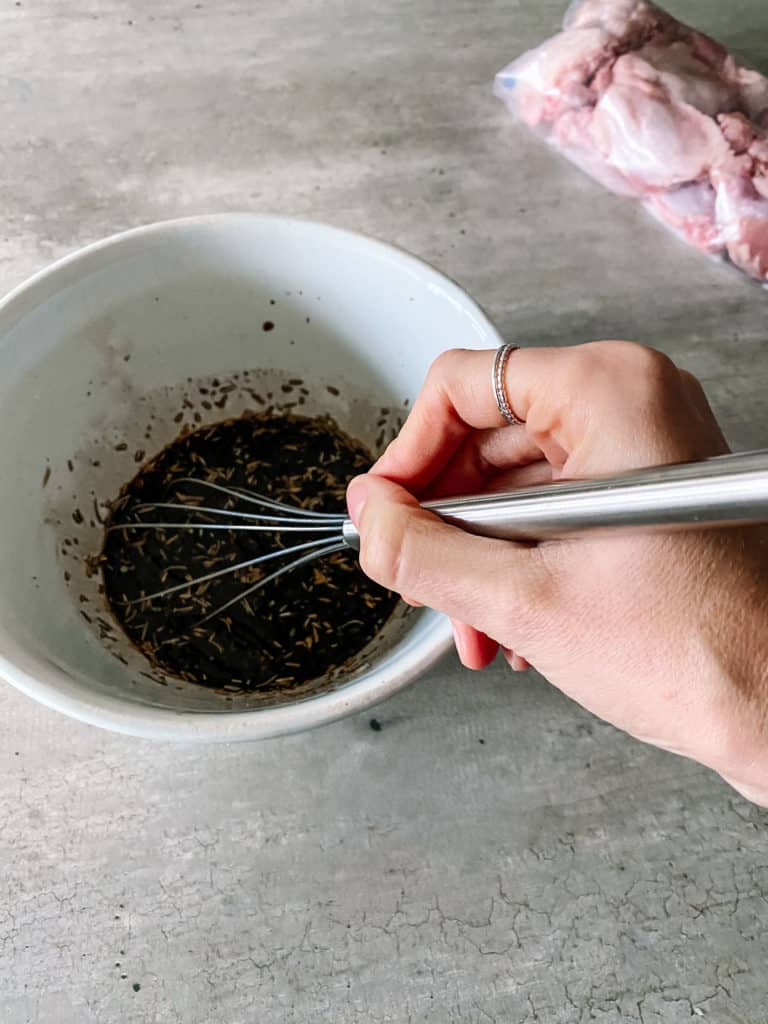 Step one: Add the balsamic vinegar, brown sugar, minced garlic, dried rosemary, salt and pepper to a bowl and whisk together. Do not dump these ingredients straight into the freezer bag. You'll be saving 1 cup of this mixture for the sauce and don't want it to touch the raw chicken.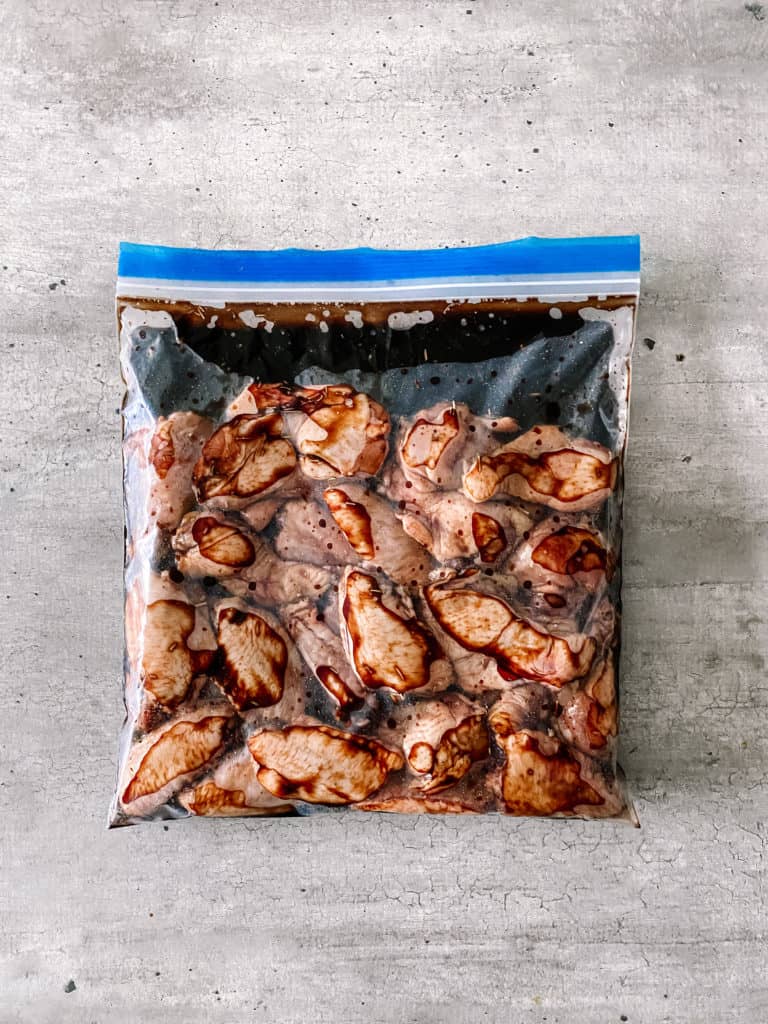 Step Two: Add 1/2 cup of the marinade to a bag with the raw chicken wings. Seal tightly (I always triple check the seal to make sure that there's no leaking). Then store in the fridge for at least an hour. But you can also let it sit overnight. This will let the marinade do its job and create flavorful chicken.
The rest of the marinade left in the bowl can be covered with plastic wrap and stored in the fridge until you're ready to bake the chicken.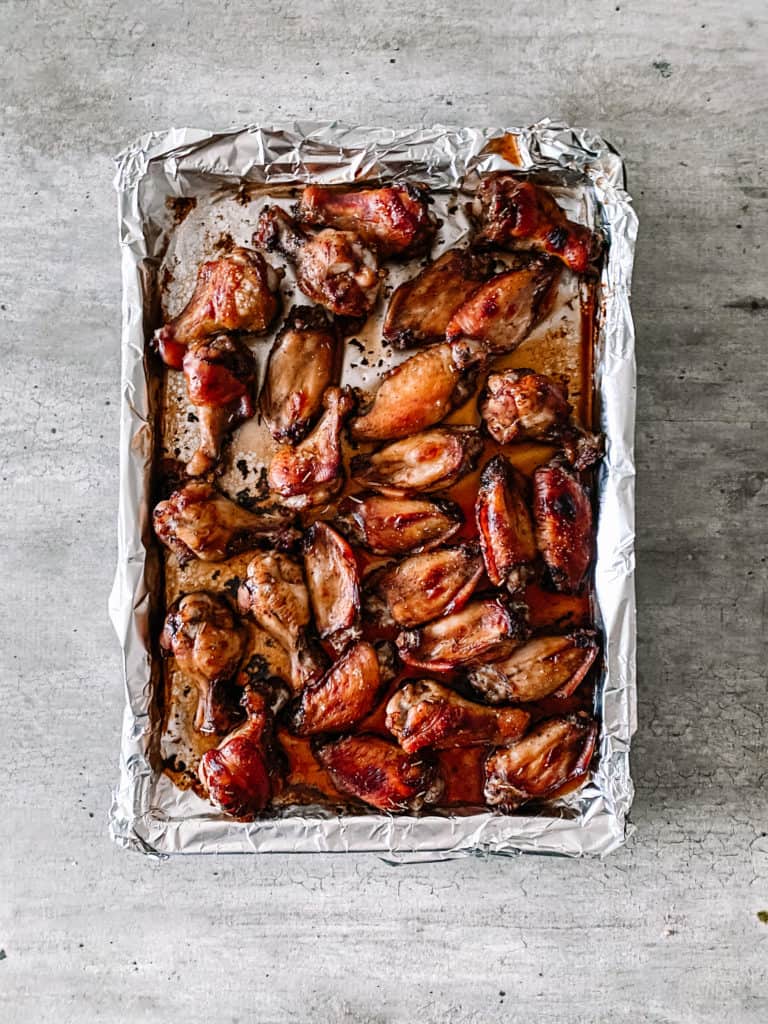 Step three: Add aluminum foil to a baking sheet and bake the chicken at 375°F for 40-50 mins or until the chicken is fully cooked. Once the chicken wings have cooled a bit, you can place them on your serving dish.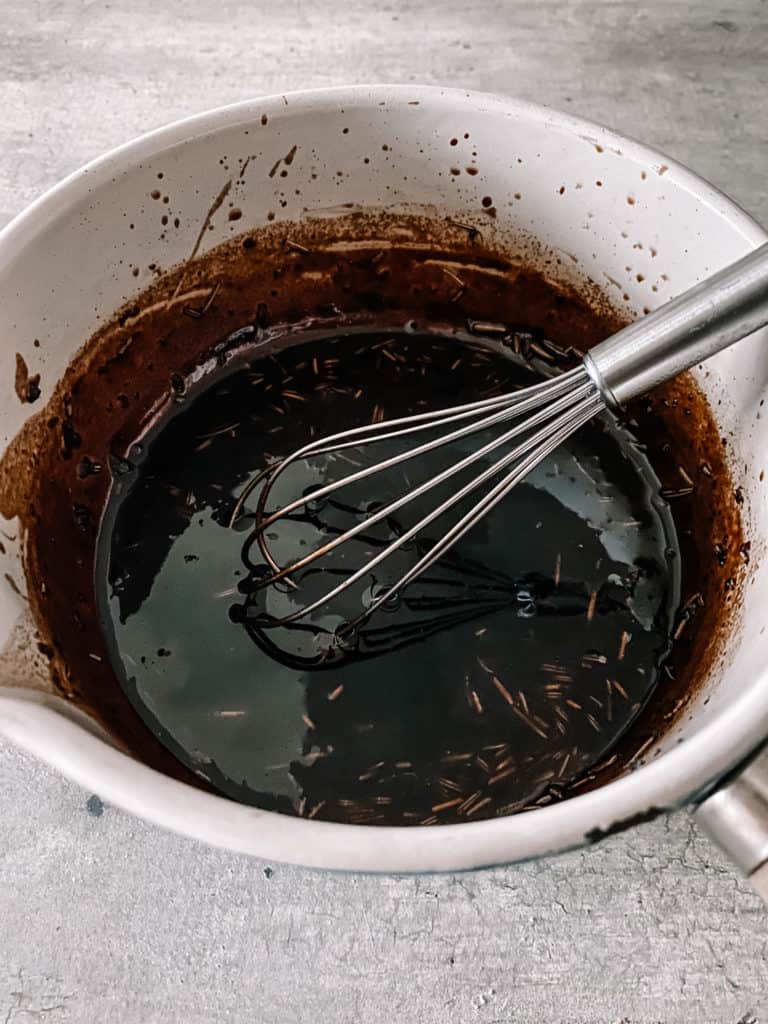 Step four: While the chicken wings are baking, you can create the balsamic glaze. Take the leftover sauce mixture that you stored in the fridge and pour it into a saucepan. Stir in 1 tsp of flour. Bring to a boil and then let simmer, stirring frequently so that it doesn't burn. The sauce will start to thicken. When it does you can pour it right over the top of the chicken wings.
And that's it! These wings have great flavor and can be dipped in homemade ranch dressing, served with rice, roasted vegetables or a side salad.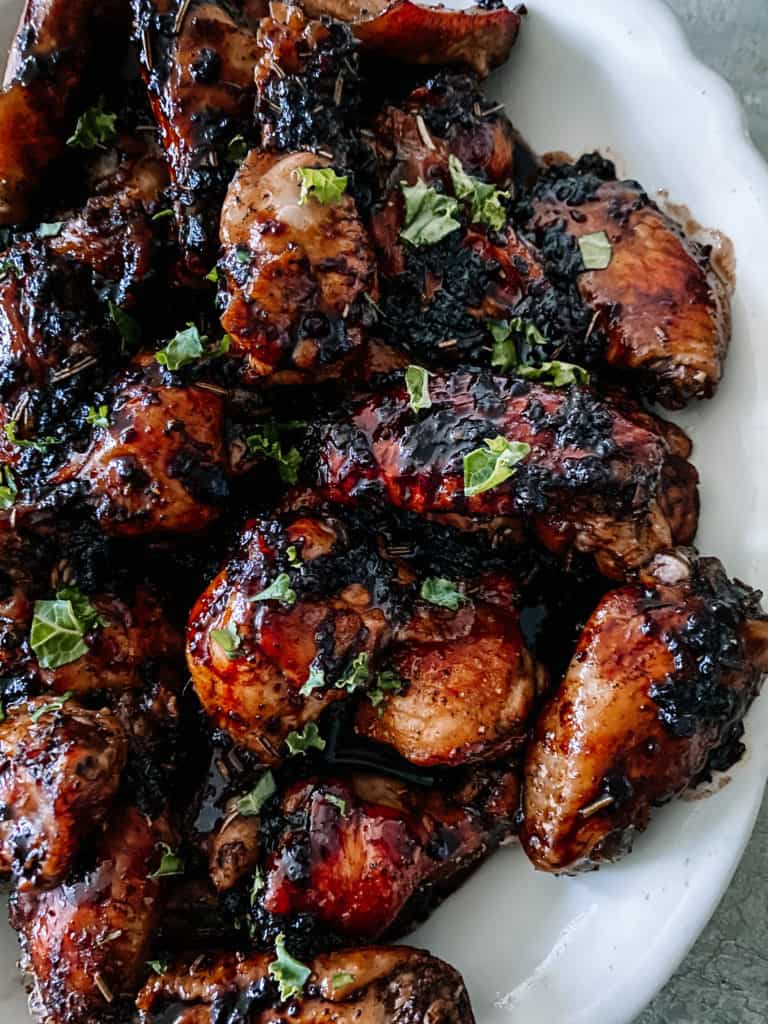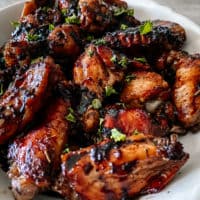 Balsamic Glazed Chicken Wings
The perfect family dinner! These flavorful balsamic glazed chicken wings are an easy weeknight option. With a homemade balsamic vinegar marinade, this chicken dinner is delicious and totally satisfying.
Print
Save Recipe
Saved!
Instructions
In a bowl, whisk together balsamic vinegar, minced garlic, dried rosemary, brown sugar, salt and pepper.

Add chicken wings to a large freezer bag and pour in 1/2 cup of sauce mixture. Seal the bag tightly and mix around so the chicken gets fully coated. Place bag flat in the fridge for 1-hour minimum, or overnight.

Preheat oven to 375°F. Line a baking sheet with aluminum foil. Bake chicken wings for 40-50 mins or until the chicken is fully cooked.

While the chicken is baking, add the rest of the marinade to a saucepan. Stir in the flour. Bring to a boil, then let simmer until it starts to thicken. Stir frequently so it doesn't burn.

Place cooked chicken wings in a serving bowl and drizzle the balsamic glaze overtop.
Nutrition
Serving:
4
g
|
Calories:
412
kcal
|
Carbohydrates:
31
g
|
Protein:
23
g
|
Fat:
20
g
|
Sodium:
116
mg
|
Potassium:
323
mg
|
Fiber:
1
g
|
Sugar:
28
g
|
Calcium:
55
mg
|
Iron:
2
mg
Nutrition Info Note: The actual number of servings will depend on your preferred portion sizes and the size and number of what you make. The nutritional values provided above are just an estimate. Actual numbers will vary based on brands you choose and the ingredients you use.
If you're looking for more specific details (for example, to track your macros) then I recommend adding specific brand ingredients and this recipe to a food tracker app on your phone.