Roasted tomato basil soup is made by roasting fresh tomatoes in the oven until they are soft and juicy, then blending them with fresh basil and other ingredients to create a delicious and comforting soup.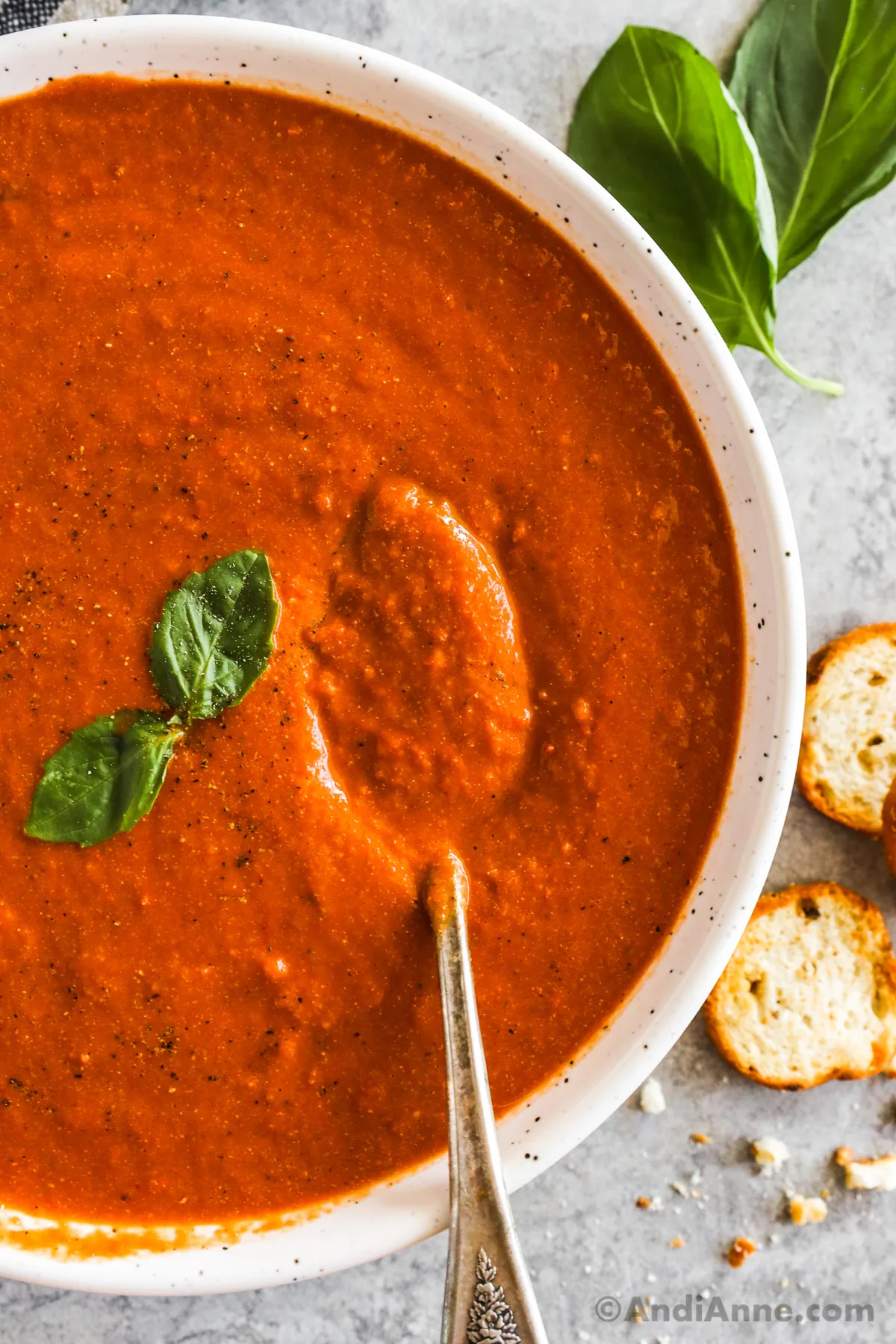 Tomato Soup With Basil
Tomato soup is one of my all-time favorite soups. It's such a classic comfort recipe that's perfect for any season, and it's incredibly easy to make.
What I love most about roasted tomato basil soup is its simplicity. With just a few ingredients, you can create a rich and flavorful soup that is perfect for a cozy night in or a dinner party with friends.
Another aspect of this soup that I love is its versatility. It can be served hot or cold and can be adjusted to fit a variety of dietary restrictions. Whether you are vegan, gluten-free, or dairy-free, this soup is a great option for any time of year.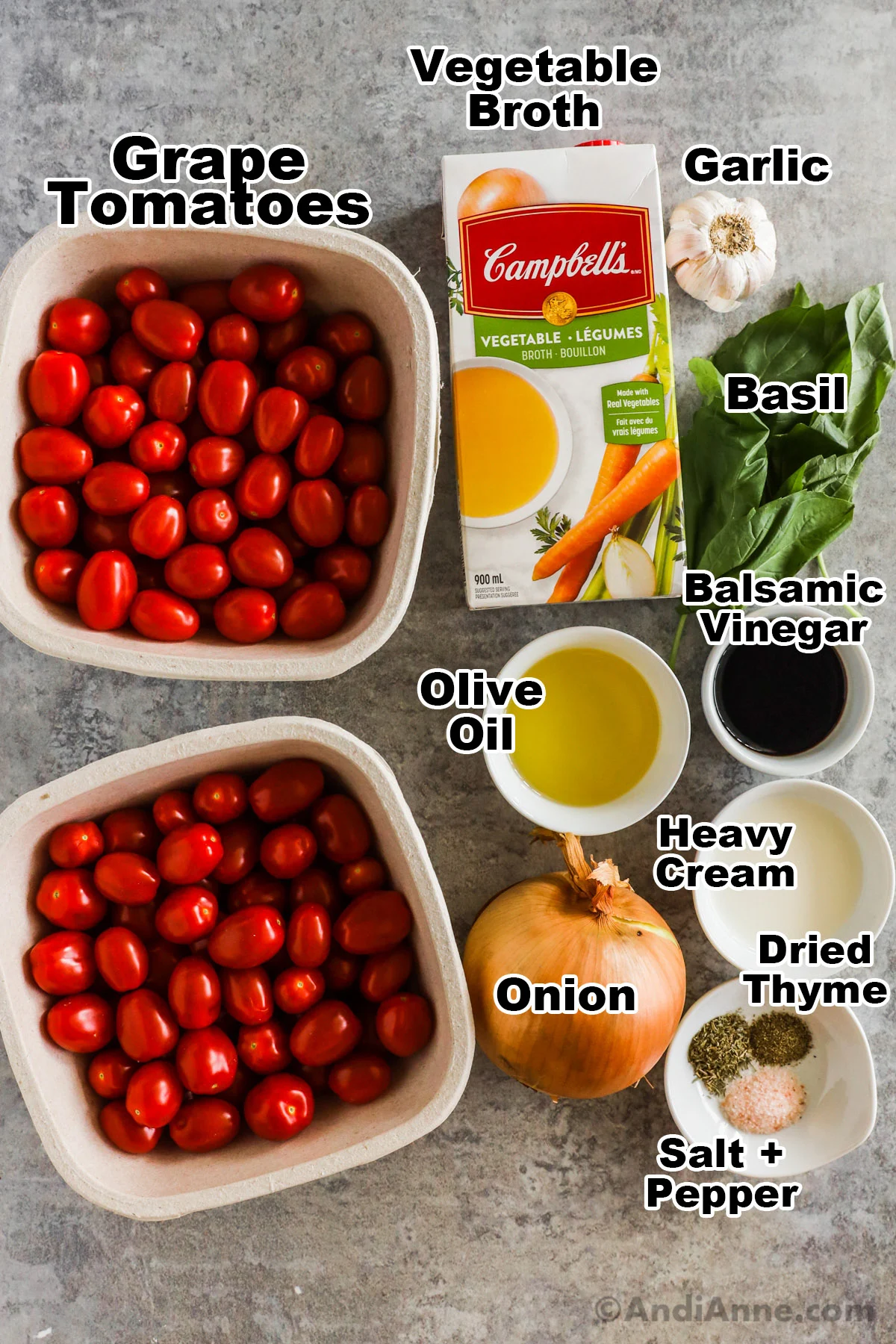 Recipe Ingredients
When it comes to making a delicious roasted tomato basil soup, using fresh ingredients is key. Here's an overview of what you'll need with the full details in the recipe card at the bottom of this post.
TOMATOES – I prefer using grape tomatoes for their convenience and sweet flavor. You'll need about 3 pounds of tomatoes for this recipe.
BASIL – Fresh basil is a must for this recipe. Dried basil can also be used but it just won't taste the same. You'll need about ½ cup of lightly packed fresh basil leaves.
GARLIC – Roasting garlic with tomatoes adds a depth of flavor to the soup. Use 6 cloves of garlic for this recipe, or one garlic bulb.
OLIVE OIL – Use a good quality extra-virgin olive oil to coat the tomatoes before roasting.
ONION – I like using yellow onions for their mild, sweet flavor. You'll need 1 medium yellow onion, that is roughly chopped. This will be pureed at the end so need to chop it small.
THYME – Dried thyme adds a bit of extra flavor here.
BALSAMIC VINEGAR – This adds depth of flavor to the pureed tomatoes, once everything is mixed together.
BROTH – Use 1 cup of low-sodium vegetable broth. You can also use chicken broth.
SALT AND PEPPER – Season the soup to taste with salt and black pepper.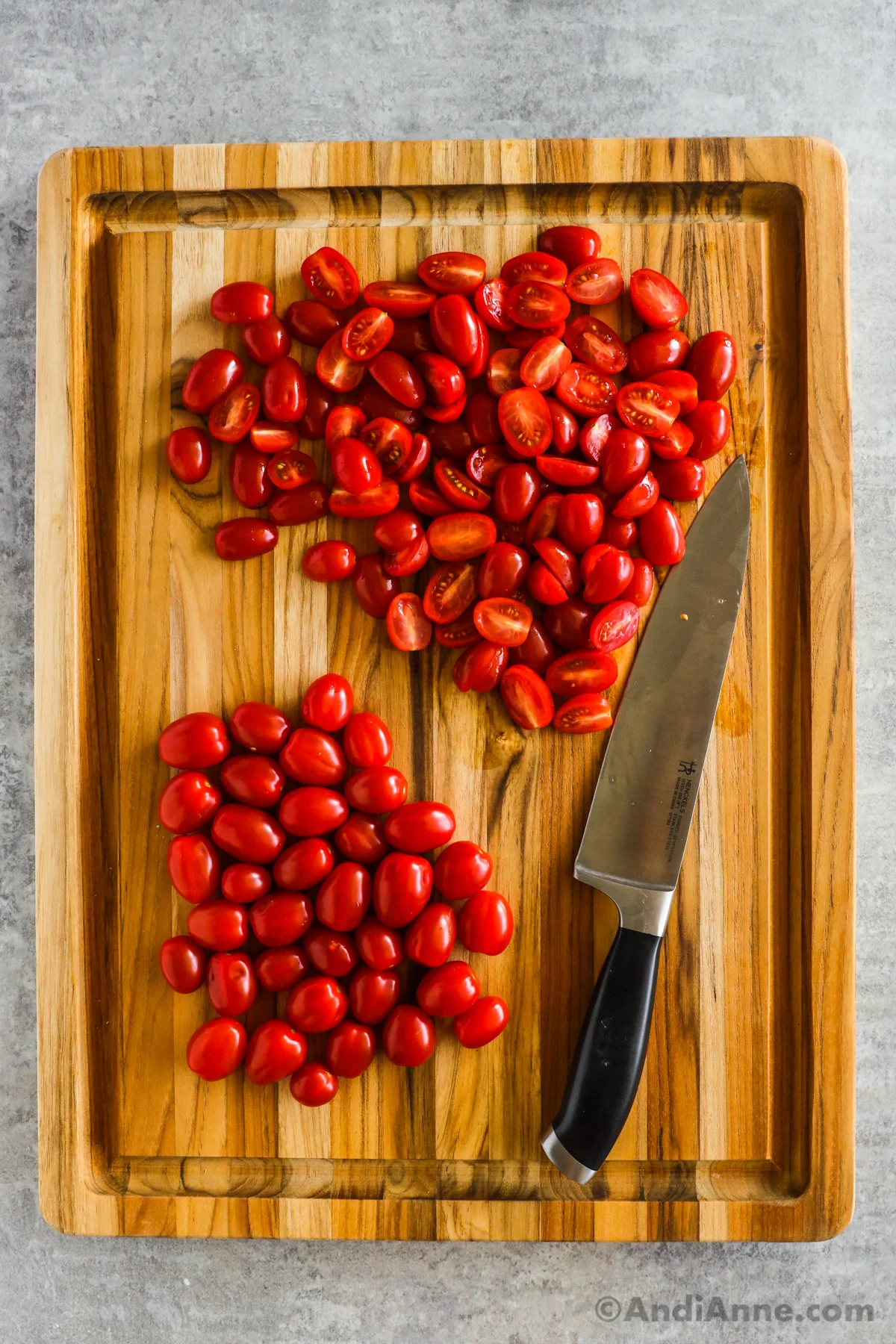 Variations
When it comes to making roasted tomato basil soup, there are many variations that you can try. Here are a few that I have experimented with:
MAKE IT CREAMIER – To make the soup creamier, you can add some heavy cream or coconut milk to the recipe. Simply blend the cream and soup together. This will give the soup a richer, more indulgent flavor.
MAKE IT SPICIER – Add some red pepper flakes or cayenne pepper to give the soup a spicy kick.
ADD ROASTED RED PEPPERS – Reduce the amount of tomatoes and roast some red peppers in the oven until they're soft and charred. Add them to the blender when pureeing the other ingredients. This will give the soup a slightly smoky, sweet flavor.
ADD PESTO – Add some pesto to the soup for a burst of fresh flavor. Simply spoon some pesto over the soup and swirl it around to combine. This will give the soup a bright, herbaceous flavor.
GRILLED CHEESE CROUTONS – To make the soup more filling and satisfying, serve it with some grilled cheese croutons. Simply make a grilled cheese sandwich, cut it into bite-sized pieces, and sprinkle it over the soup before serving.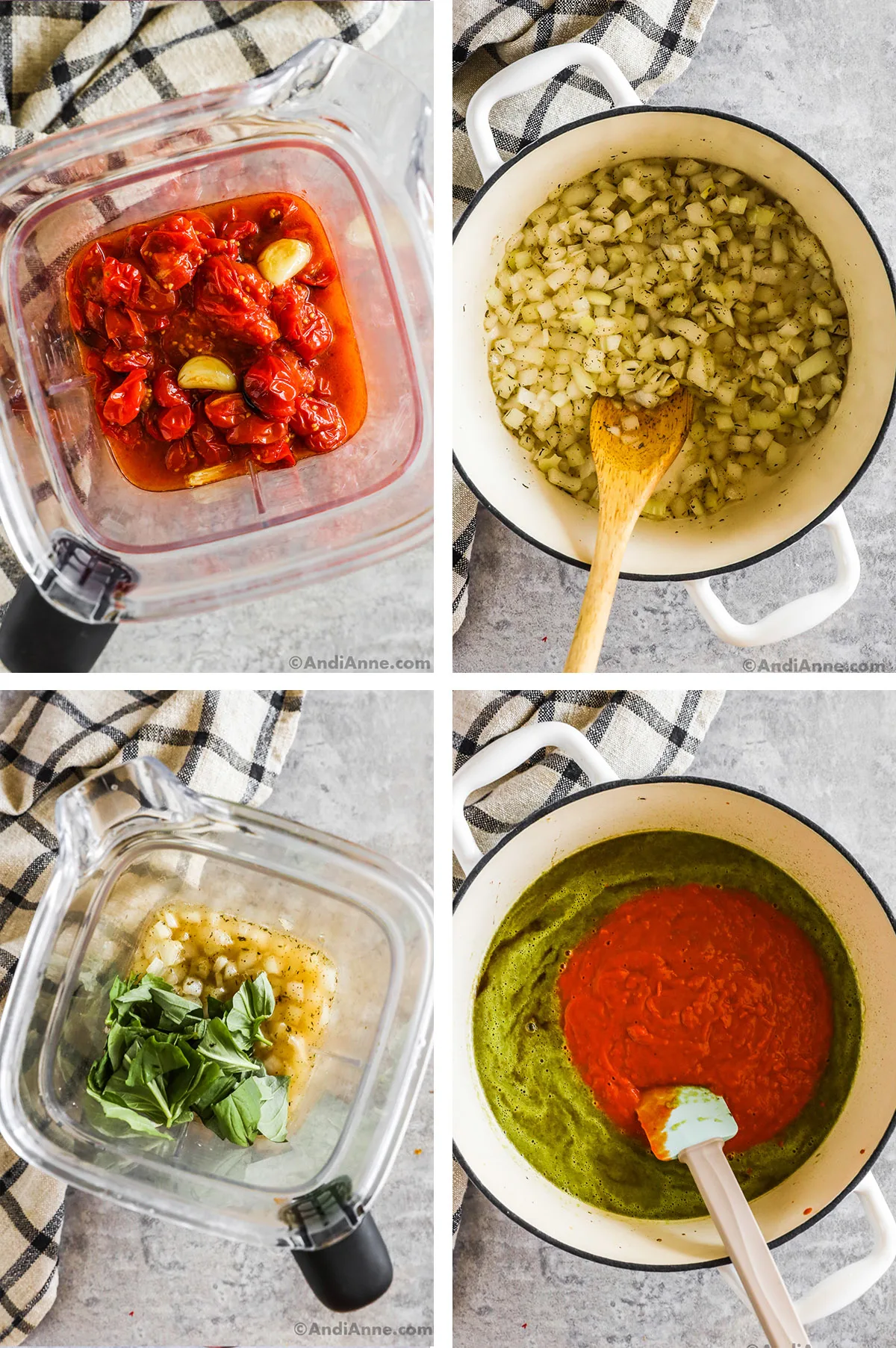 How To Make Tomato Basil Soup
Making tomato basil soup is a simple and satisfying process that can be done in just a few easy steps. Here's how to make it with full instructions in the recipe card at the bottom of this post:
ROAST TOMATOES – Cut the tomatoes in half and place them on a baking sheet lined with parchment paper. Drizzle the tomatoes with olive oil and sprinkle them with salt and pepper. Roast the tomatoes in the oven for 30-40 minutes, or until they are soft and slightly caramelized.
SAUTE ONIONS – While the tomatoes are roasting, heat a tablespoon of olive oil in a large pot over medium heat. Add the chopped onion and garlic to the pot and sauté until the onion is translucent and the garlic is fragrant.
BLENDER – Add the tomatoes, sauteed onions and broth to the blender, in batches if needed.
MAKE SOUP – Add balsamic vinegar to the empty but heated pot. Scrape up any bits on the bottom o the pan. Cook for 1 minute, then pour the blended vegetables into the pot.
HEAT – Cover the soup and heat for 2-3 minutes. Remove from the heat and stir in the cream and serve. Season with additional salt and pepper to taste.
And that's it! Serve your tomato basil soup hot with a crusty piece of bread or a grilled cheese sandwich for a comforting and delicious meal.
What are some different ways to garnish tomato basil soup?
When it comes to garnishing tomato basil soup, the possibilities are endless. Here are some of my favorite ways to add a little extra flavor and texture to this classic soup:
CROUTONS – Croutons taste great with soup! They add a satisfying crunch and extra flavor. You can easily make your own croutons by cutting up some bread, tossing it with olive oil and herbs, and baking it in the oven until crispy. Crushed crackers are a classic and work too!
PARMESAN CHEESE – A sprinkle of grated Parmesan cheese on top of your tomato basil soup can take it to the next level. The salty, nutty flavor of the cheese pairs perfectly with the sweet, tangy flavor of the soup.
BALSAMIC – Drizzling a little balsamic glaze over your tomato basil soup can add a touch of sweetness and extra acidity. You can make your own balsamic glaze by reducing balsamic vinegar on the stove until it thickens and becomes syrupy.
FRESH BASIL – Garnish the soup with more fresh basil to add a pop of color. You can also sprinkle some chopped parsley or chives on top just before serving for a bright, fresh finish.
CREAM – A dollop of sour cream or crème fraîche on top of your tomato basil soup can add a creamy, tangy element. It's a great way to balance out the acidity of the tomatoes.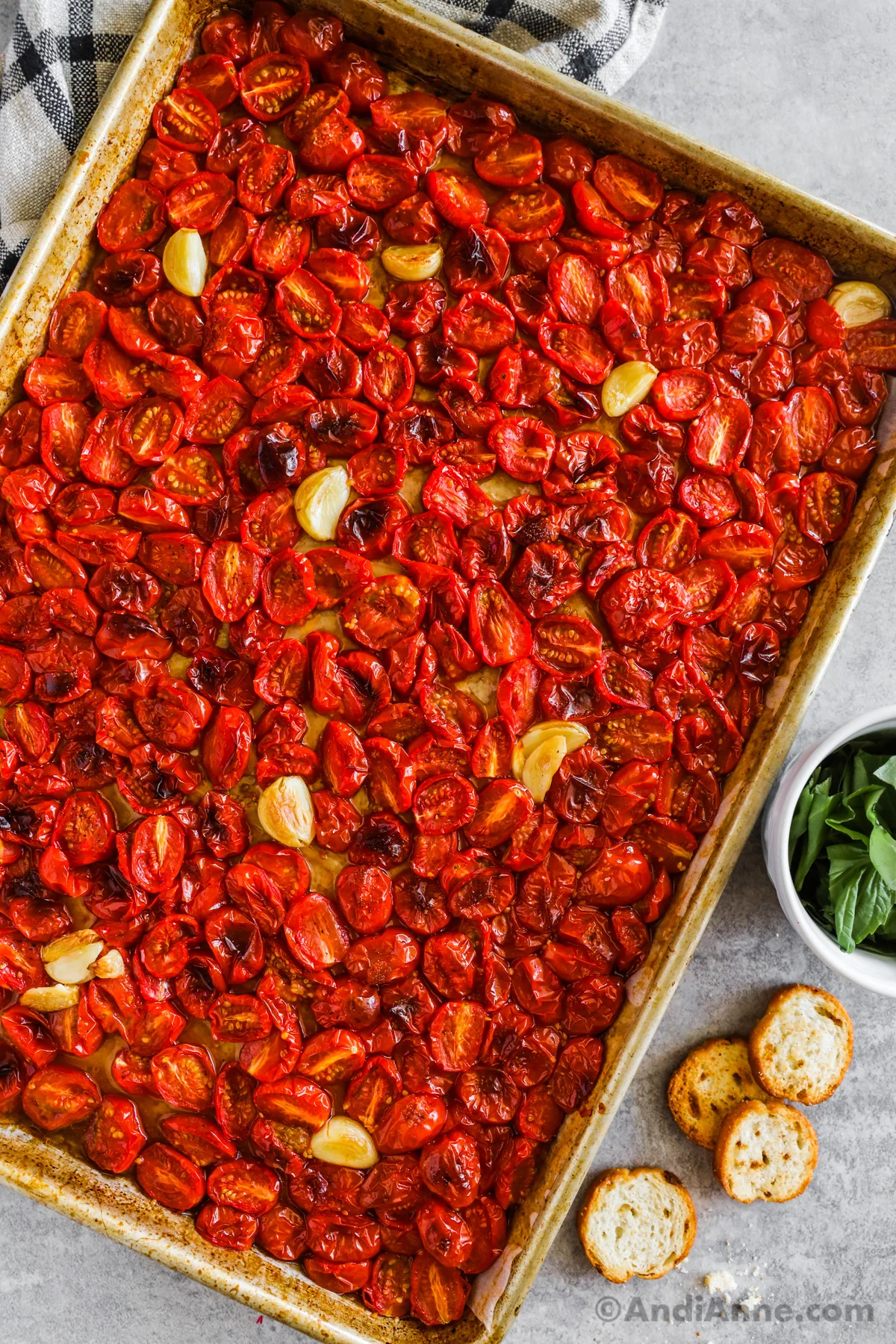 How To Store
Here are a few tips to help you keep your soup fresh and tasty for as long as possible.
First, let the soup cool down to room temperature before storing it. This will prevent the formation of condensation inside the container, which can lead to spoilage.
How To Refrigerate Soup
Once the soup has cooled, you can transfer it to an airtight container. I like to use glass containers with tight-fitting lids, as they're easy to clean and don't absorb odors like plastic containers can.
If you're planning to eat the soup within a day or two, you can store it in the refrigerator. Roasted tomato basil soup will keep for up to five days in the fridge, but I recommend eating it sooner rather than later for the best flavor.
Can You Freeze Leftover Tomato Basil Soup?
If you're making a big batch of soup and want to freeze some for later, you can do that too. I like to freeze soup in individual portions, so I can defrost just what I need. You can use freezer-safe containers or even plastic bags for this purpose. Just be sure to leave some room at the top of the container or bag, as the soup will expand as it freezes.
When you're ready to eat the frozen soup, simply defrost it in the refrigerator overnight. You can then reheat it on the stove or in the microwave, stirring occasionally, until it's heated through. Be sure to taste the soup and adjust the seasoning as needed before serving.
Finally, make sure to label your container with the date you froze the soup. Tomato basil soup can last in the freezer for up to three months, so it's important to keep track of when you put it in the freezer.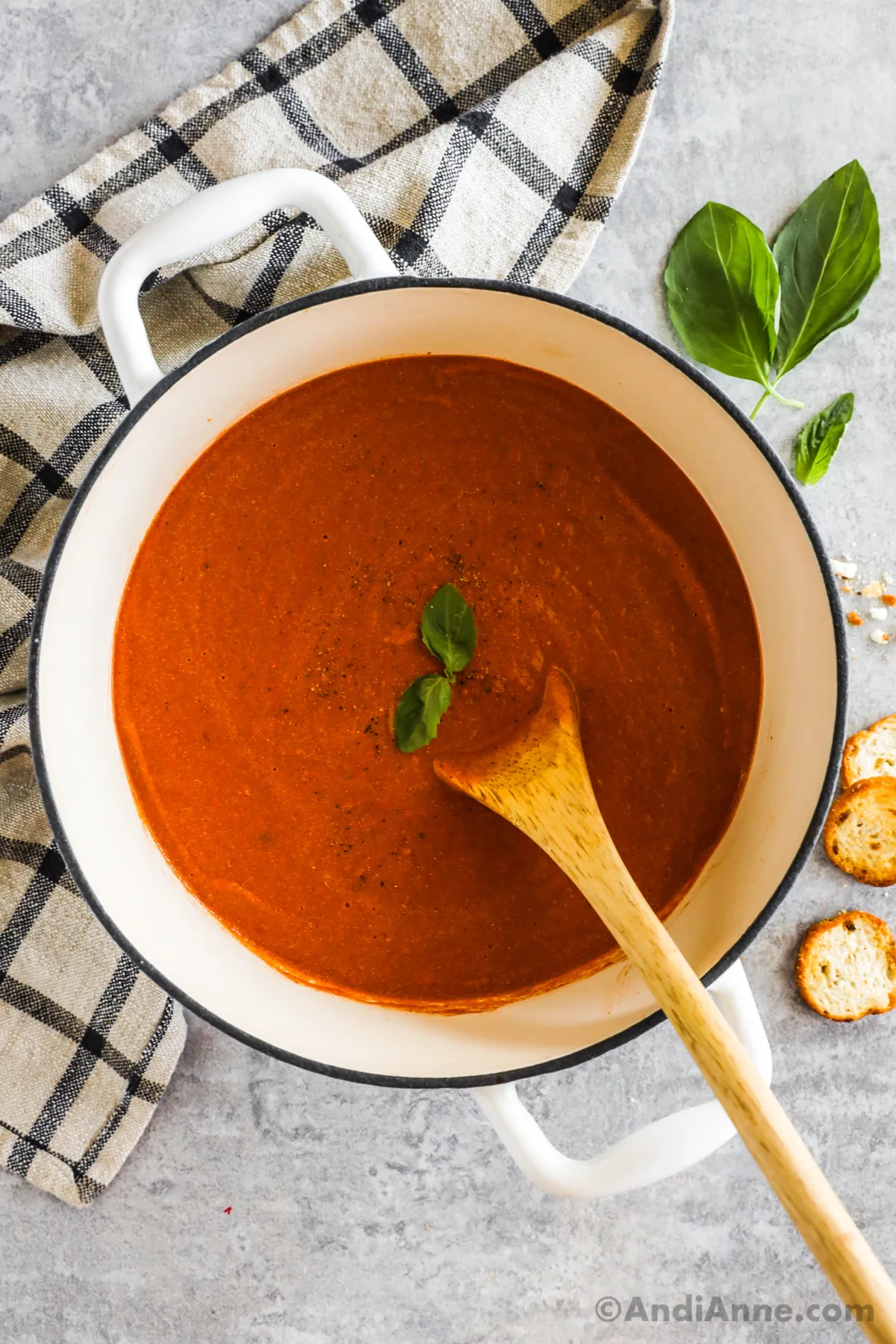 What To Serve With
This soup can be served as an appetizer or as a full meal alongside a side dish. Here are a few ideas:
BREAD – A warm, crusty bread is always a classic choice to serve with tomato soup. Try it with a baguette or sourdough bread that's sliced with a drizzle of olive oil. Bread can be lightly toasted in the oven with some minced garlic for extra flavor.
GRILLED CHEESE – Grilled cheese is always a classic! Serve it on the side as a sandwich or slice it into small cubes and serve on top of the soup as croutons! You can take your soup up a notch by combining cheddar and mozzarella cheese. You can even sprinkle in some crispy bacon for a little extra crunch!
ROASTED VEGGIES – Serve a plate of roasted veggies as a side for this soup. Prepare a separate baking sheet of roasted veggies including sweet potatoes, broccoli, cauliflower and bell peppers. These can be cooked at the same time as you are roasting the tomatoes for the soup.
SALAD – A simple mixed greens salad with a light vinaigrette dressing would be delicious!
Recipe Tips
USE FRESH TOMATOES – I highly recommend using fresh tomatoes for this recipe. While canned tomatoes can certainly work in a pinch, the flavor of the soup will be much more robust and fresh when using ripe, juicy tomatoes.
ROAST TOMATOES – Roast the tomatoes and garlic until they are caramelized and slightly charred. This will add a depth of flavor to the soup that can't be achieved by simply simmering the ingredients on the stove.
TOPPINGS – Adding fresh toppings really go along way with flavor. A dollop of sour cream, a sprinkle of croutons, or a drizzle of balsamic glaze can really take this soup to the next level.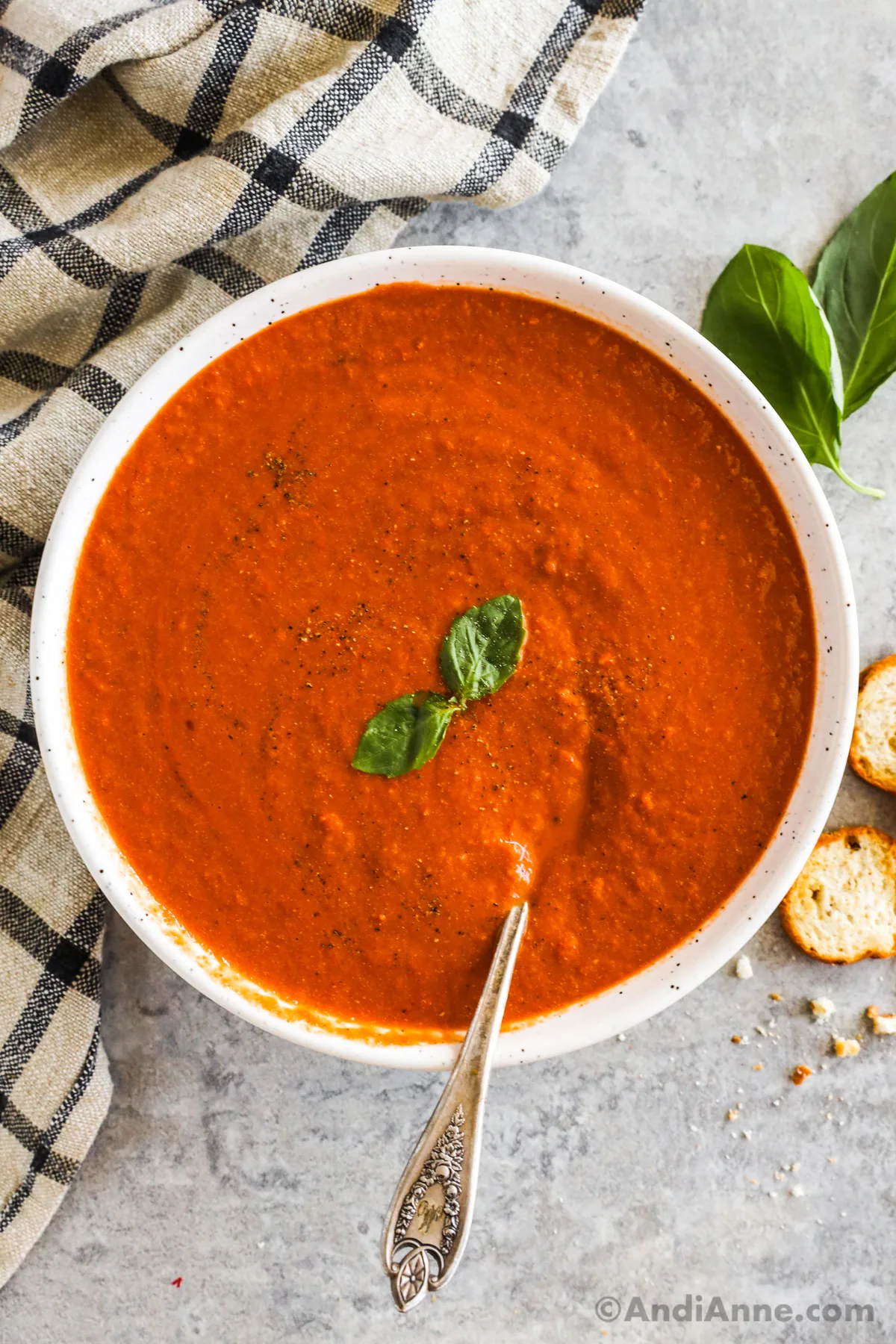 You're going to love this delicious roasted tomato basil soup recipe. With just a handful of ingredients, it is easy to make and yet still packed with flavor. Roasting the tomatoes and garlic before adding them to the soup gives it a depth of flavor that is hard to beat.
More Tomato Soup Recipes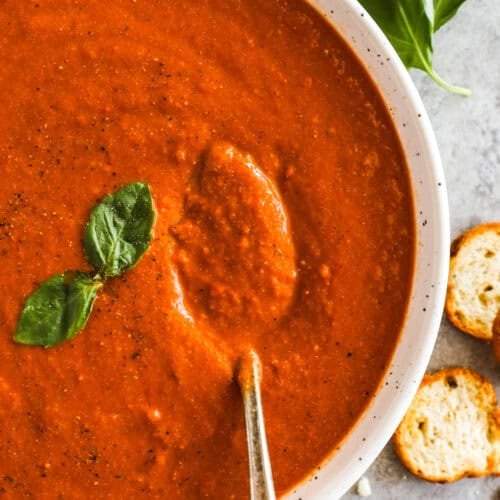 Roasted Tomato Basil Soup
Made by roasting fresh tomatoes in the oven until they are soft and juicy, then blending them with fresh basil and other ingredients to create a delicious and comforting soup.
Save Recipe!
Saved!
Pin This
Print It
Instructions
Preheat the oven to 400°F. Line a baking sheet with parchment paper.

Slice the grape tomatoes in half. Peel each garlic clove.

Place in the oven to bake for 30-35 minutes, until soft and golden brown.

Use a spatula to scoop the garlic and tomatoes into a blender or a food processor. Puree until smooth and creamy.

Heat a large pot with a bit of cooking oil. Add the onion, dried thyme, salt and pepper and mix together. Cook until the oven turns translucent, about 2 minutes.

Add the onion, fresh basil and vegetable broth to a blender or food processor. Blend until smooth and creamy.

Add the balsamic vinegar to the heated pot and gently stir, scraping up any bits from the bottom of the pan. Cook 1 minute, until it reduces in half.

Add in the pureed tomatoes and pureed onion mixture and stir together. Cover and let simmer for 10 minutes.

Add the milk and stir it in.

Scoop into bowls and serve.
Nutrition
Calories:
170
kcal
|
Carbohydrates:
13
g
|
Protein:
3
g
|
Fat:
13
g
|
Saturated Fat:
4
g
|
Polyunsaturated Fat:
1
g
|
Monounsaturated Fat:
8
g
|
Cholesterol:
11
mg
|
Sodium:
561
mg
|
Potassium:
591
mg
|
Fiber:
3
g
|
Sugar:
8
g
|
Vitamin A:
2228
IU
|
Vitamin C:
33
mg
|
Calcium:
42
mg
|
Iron:
1
mg