Consider this one of the easiest dessert recipes you will ever make. With just 9 main ingredients, you will be surprised at how much incredible flavor it has! This chocolate quinoa bark recipe is sweet, salty, and crunchy.The combination of these three things made it REALLY hard for everyone in my house to eat just one!
I'm such a big fan of rustic looking desserts. I love the simplicity and ease of being able to make something delicious from scratch without worrying about screwing up its appearance at the end.
Plus, this recipe deserves bonus points because I made this with my two and a half-year-old. We had so much fun during the entire process. She loved helping me pour all the ingredients into the bowl, and was very excited to lick the spatula covered in chocolate. So in toddler terms, that's a pretty successful day.
To make this recipe, you're using some pretty healthy ingredients! The entire bottom layer is created from healthy seeds including quinoa, sunflower seeds, hemp seeds, and chia seeds.
But the secret is in the quinoa… it's not actually cooked beforehand. Instead, the quinoa is toasted in the oven. This gives the dessert an amazing crunch that your whole family is gonna love!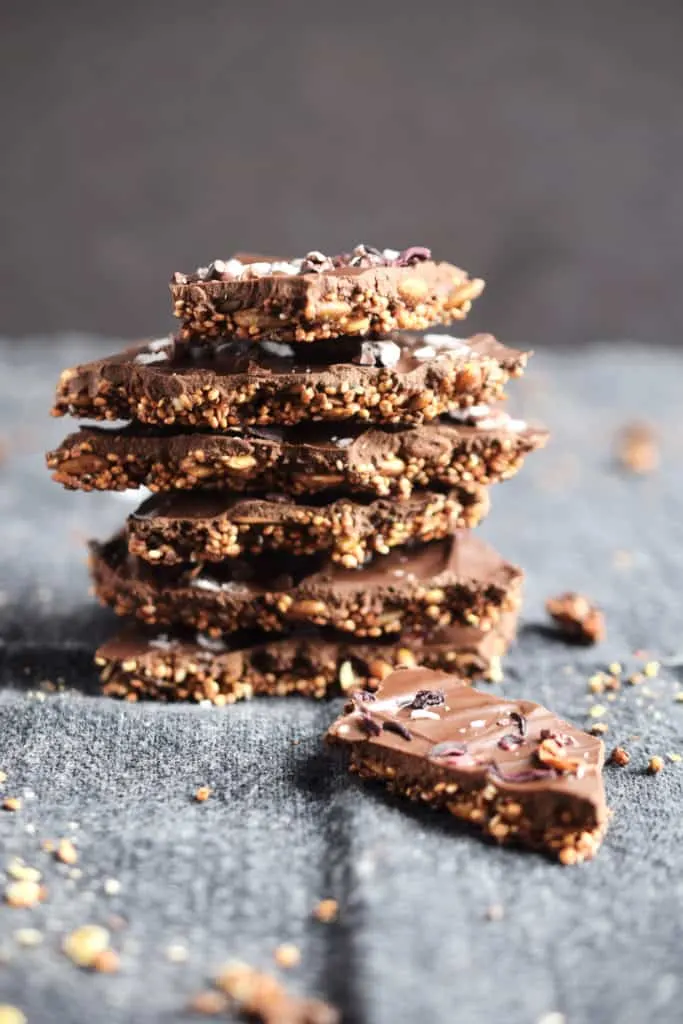 I recommend you use a really good quality dark chocolate – something that has minimal added ingredients. That way you're keeping this recipe as healthy as possible for your family. Lastly, by adding flaked salt (or sea salt) on top, you will create a beautiful hint of saltiness that is the final piece to this incredible flavor.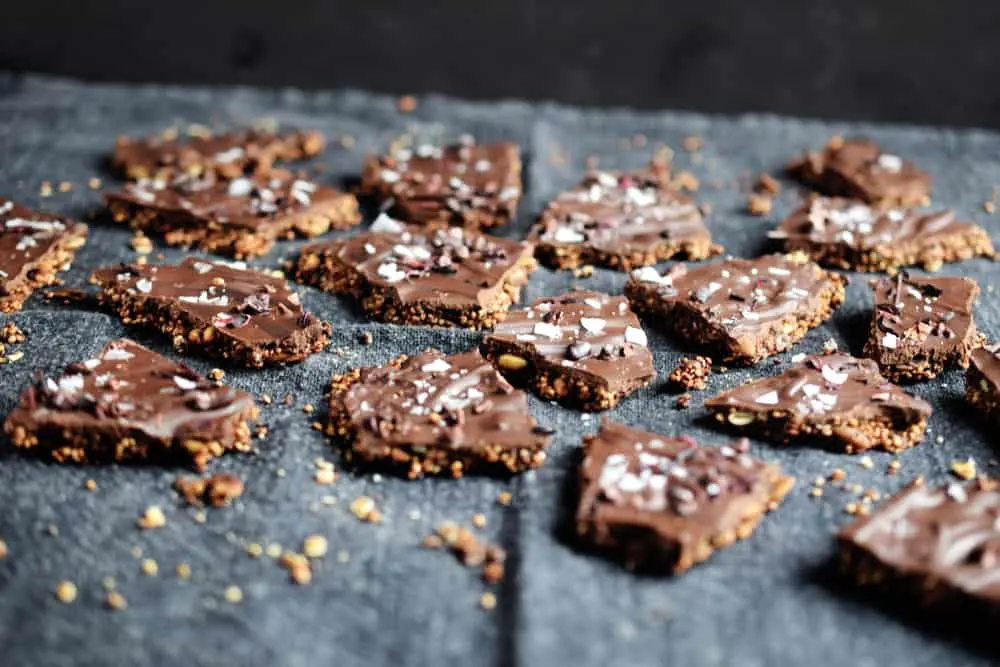 How the Chocolate Quinoa Bark Recipe Is Made:
The recipe is created in two main parts. First, you mix together the seed layer, and then spread it onto a baking sheet to cook for approximately 15-20 minutes. While that's cooking, you melt chocolate in a double boiler method and spread it on top using a spatula.
You can sprinkle a few fun toppings like cacao nibs, and flaked sea salt ( but it's totally optional) and then pop it in the fridge to chill for 30 minutes.
After that comes the fun part of breaking the bark into small pieces (your kids will love this step). And voila! Your tasty treat is ready to go! You can store these in the fridge or freezer and grab one whenever you're craving something sweet and salty with crunch.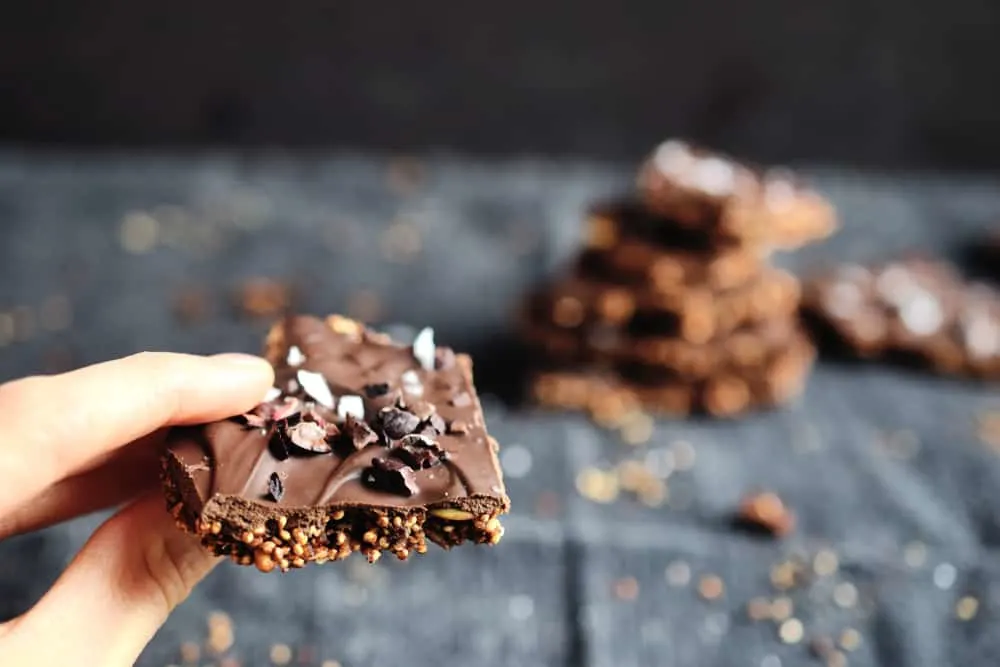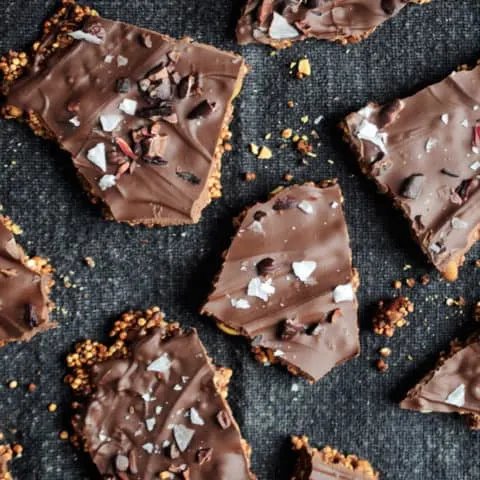 Chocolate Quinoa Bark
Ingredients
1 Tbsp coconut oil
1/4 cup maple syrup
1 cup uncooked quinoa, rinsed and dried with a towel
1/2 cup shredded coconut
1/2 cup pumpkin seeds
1 Tbsp hemp seeds
1 Tbsp chia seeds
1 Tbsp cocoa powder
250 g or 9 ounces dark chocolate chopped
Cacao nibs and flaked sea salt for topping (optional)
Instructions
Preheat oven to 350°F. Line a baking sheet with parchment paper.
In a small saucepan, heat coconut oil and maple syrup until melted. Add in quinoa, shredded coconut, pumpkin seeds, hemp seeds, chia seeds, and cocoa powder. Stir until all ingredients are well mixed.
Spread mixture onto a baking sheet into a thin layer using fingers or flat wooden spoon.
Bake for 15-20 minutes or until quinoa and pumpkin seeds begin to golden. Remove from oven and let cool.
In a double boiler, melt chocolate and then spread evenly over top of seed mixture. Sprinkle with cacao nibs and flaked sea salt (optional).
Place in fridge and let sit for 30-45 minutes or until chocolate hardens. Remove from fridge and break into smaller pieces with your fingers. Store in the fridge or freezer in an airtight container.
Notes
See more family-friendly recipes on our website: www.andianne.com
Nutrition Information:
Yield:

12
Serving Size:

1
Amount Per Serving:
Calories:

237
Total Fat:

11g
Saturated Fat:

6g
Trans Fat:

0g
Unsaturated Fat:

4g
Cholesterol:

2mg
Sodium:

66mg
Carbohydrates:

31g
Fiber:

4g
Sugar:

16g
Protein:

4g
Please note: This nutrition information is only an estimate and was created using Nutritionix