Corn tomato avocado salad is made with corn, avocados, grape tomatoes, red onion, and cilantro. All tossed together in a delicious dressing made from olive oil, lime juice, lime zest, and garlic.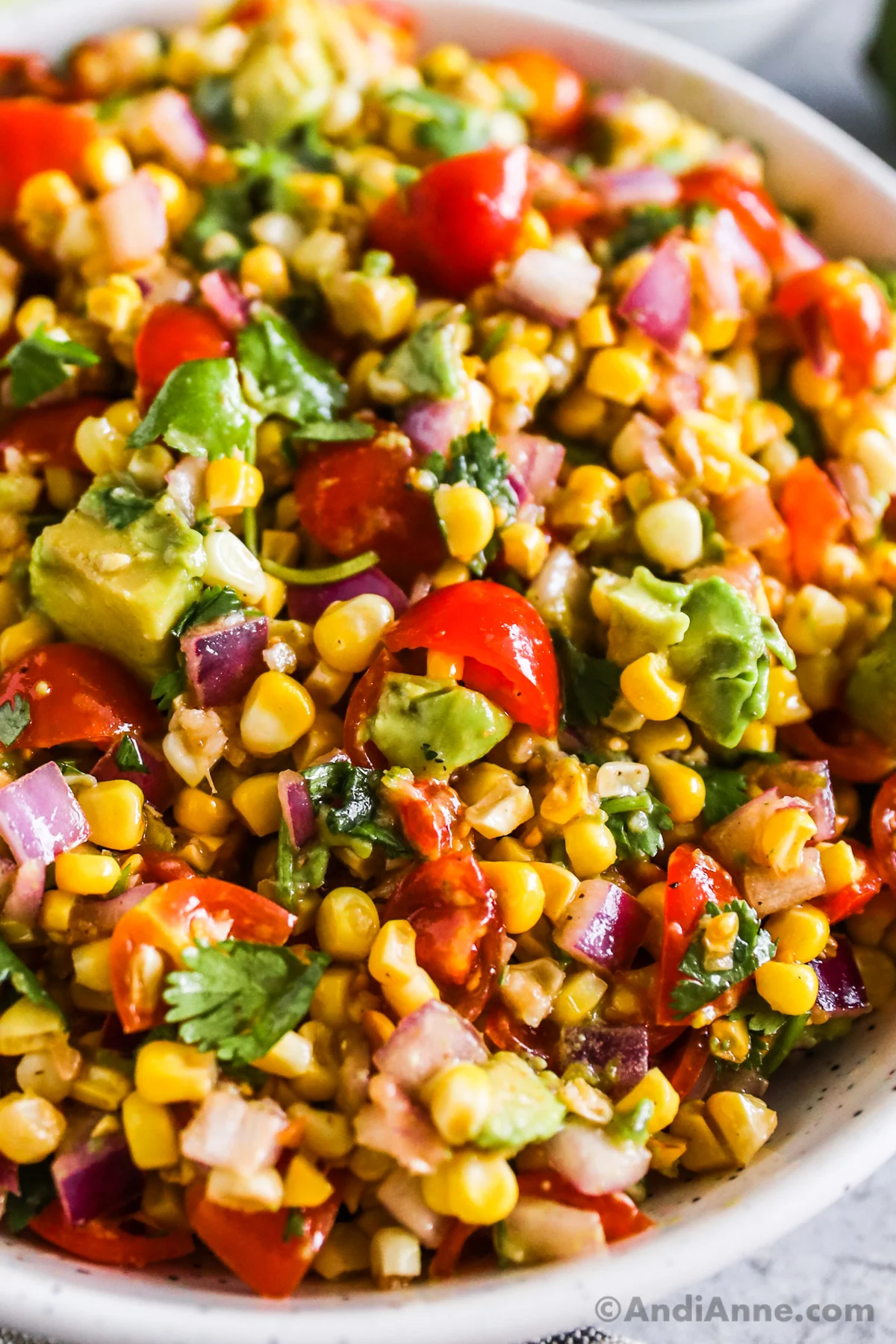 Summer Corn Salad
I absolutely love this corn avocado salad! It's such a delicious and colorful dish. Perfect for a summer barbecue or picnic. Whether you're looking for a tasty side dish for your next potluck, or just want to enjoy a healthy and satisfying meal, this whole corn avocado salad is a great choice.
One thing I love is how versatile this is! You can use fresh or canned corn, and you can add other easy ingredients for your own tastes.
Try adding chicken or shrimp for some extra protein, and a sprinkle of basil for some added flavor. Or, if you're looking for a vegan option, this salad is perfect as is!
The combination of ripe avocado, juicy tomatoes, and sweet corn is so absolutely delicious that you won't even miss the meat.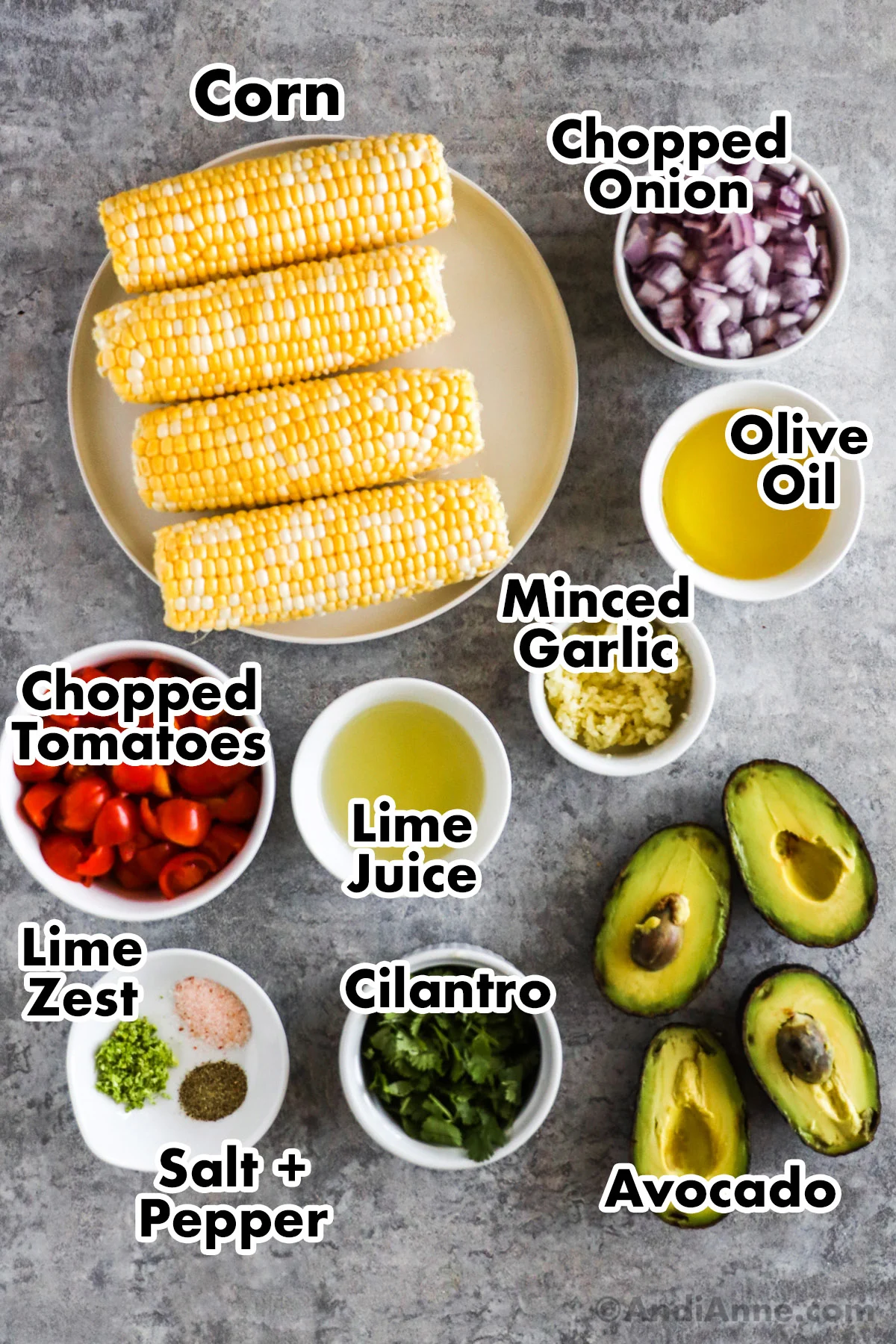 Recipe Ingredients
One of the great things about this tomato salad recipe it's so easy to make. You can have it ready in under 10 minutes, which makes it perfect for those busy weeknights when you don't have a lot of time to cook.
The freshest ingredients can make all the difference here. This is what you'll need but full details are in the recipe card at the bottom of this post.
For The Salad
CORN – You'll need 4 ears of corn that are shucked and cooked. You can boil or grill the corn. But you can also use canned or frozen corn (it just needs to be thawed).
TOMATOES – I find that grape or cherry tomatoes work best for this recipe. I prefer to slice them into quarters, but you can also slice in half.
AVOCADO – Choose two ripe avocados and slice them into small cubes.
ONION – Chopped red onion adds the perfect sweetness and tanginess! Some people don't like the bite of raw onion, so you can skip it. Or try soaking the chopped raw onion in cold water for 1 minute then pat dry thoroughly. This helps to remove some of that spicy kick.
CILANTRO – Fresh chopped cilantro adds a nice taste, but can be omitted if you're not a cilantro fan. You can swap it for parsley too.
For The Dressing
OLIVE OIL – You'll need olive oil or avocado oil for the base of the salad dressing.
LIME JUICE – I used one freshly squeezed lime for the lime juice.
LIME ZEST – Zest the lime before you juice it. Lime zest adds wonderful flavor here.
GARLIC – Add 1-3 minced garlic cloves to the dressing, depending on how much you like garlic.
SALT AND PEPPER – a little bit of salt and pepper adds flavor. I prefer to use sea salt in my salad dressings, but kosher salt will also work.
What are some variations of corn tomato avocado salad?
When it comes to this corn tomato salad, there are endless variations to try out. Here are a few ingredient options:
BLACK BEANS – These taste great with red onion and cilantro.
SPICES – Add chili powder and red pepper flakes to the salad dressing ingredients for a spicy kick.
FRESH HERBS – Swap out the fresh cilantro for fresh basil or parsley.
BELL PEPPERS – These will add a nice crunch and always taste great in fresh salads.
ADD PROTEIN – Make this salad a meal with sliced chicken, steak bites, shrimp, or hard-boiled eggs.
Can you add feta cheese to a corn tomato avocado salad?
Tangy salty feta cheese would have amazing flavor and pair perfectly with this recipe. Try adding about 1/4 cup of crumbled feta cheese on top, just before serving. Goat cheese, queso fresco, or even shredded cheddar cheese can all work well.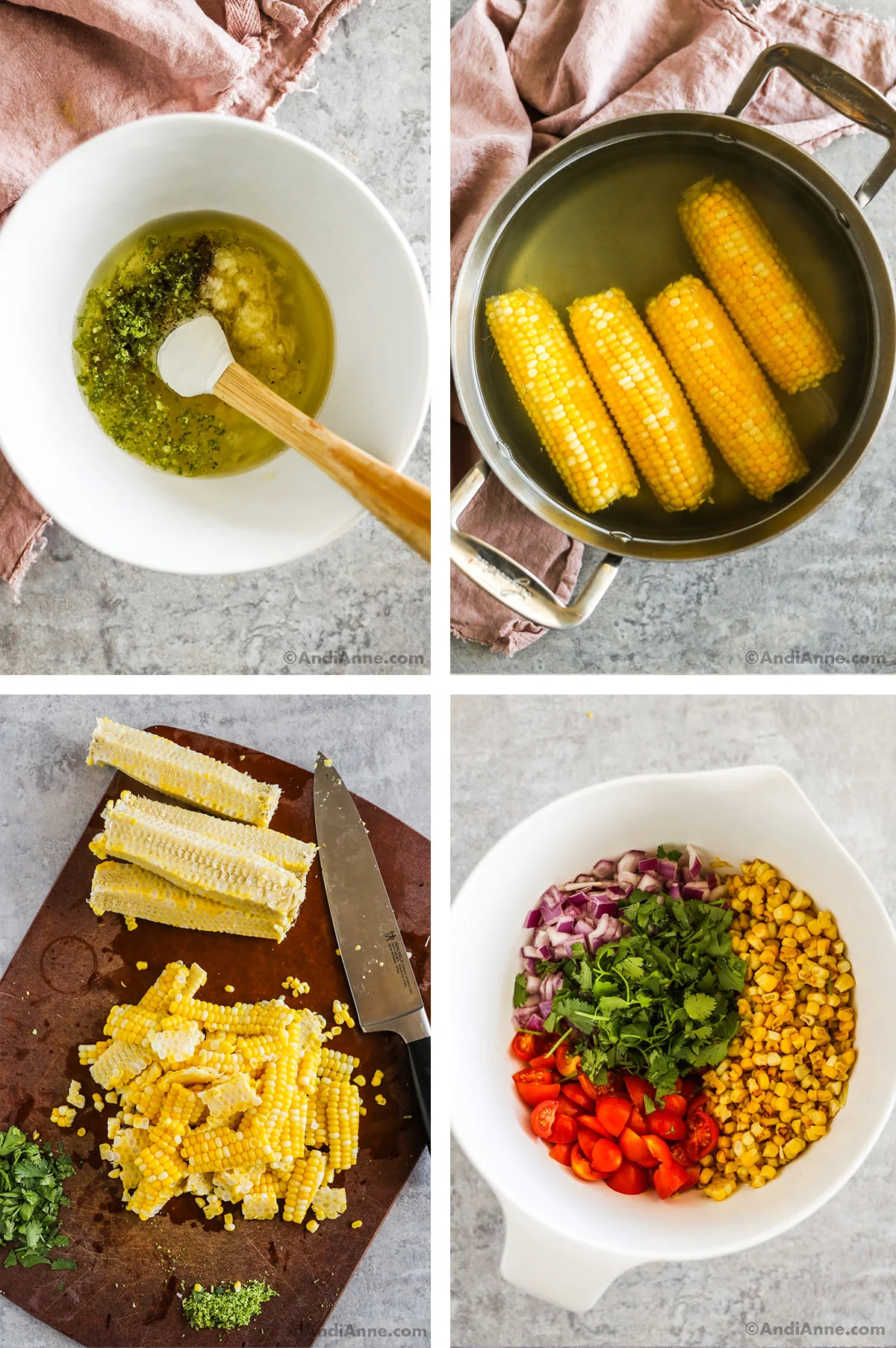 How To Make Corn Tomato Avocado Salad
This method is simple and easy. First, boil or grill the corn, make the dressing, then assemble the salad. Here's an overview of how to make it with all the ingredients and full instructions in the recipe card at the bottom of this post.
COOK CORN – Add the corn to a pot of boiling water and cook until it turns a bright yellow color. Remove from the water and let it cool enough to slice off the corn with a knife. Add to a frying pan with a bit of oil and cook for a few minutes to turn crispy. Let the corn cool.
PREP DRESSING – Add dressing ingredients to a bowl including olive oil, lime juice, lime zest, minced garlic, salt and pepper. Mix everything together.
ASSEMBLE SALAD – Add corn, tomatoes, red onion, avocados and cilantro to a large bowl. Drizzle the dressing overtop and toss gently. Serve immediately or place in the fridge until ready to serve.
Can I Grill The Corn Instead?
Yes! You can grill the corn. I simply brush the corn with some olive oil and grill it for about 10 minutes, turning occasionally. If you don't have a grill, you can also cook the corn in a pan or microwave it. Once it's cooked, let it cool for a few minutes before cutting the kernels off the ear.
Storing Leftovers
This corn salad recipe stores well in the fridge, so you can enjoy it for a few days after making it.
REFRIGERATE – Transfer it to an airtight container with a tight-fitting lid which will help keep the salad fresh for longer. You can store this salad with dressing in the fridge for up to 2 days for the best freshness.
SERVING LEFTOVERS – When you're ready to serve, take the container out of the fridge and toss it together to redistribute the ingredients. You can also add a drizzle of olive oil or a squeeze of fresh lime juice to help revive the flavors.
Leftovers can be served as a side dish with grilled chicken, fish or steak! You can also spread it over some mixed greens for a quick easy lunch idea. Or try adding to warm crusty bread similar to bruschetta.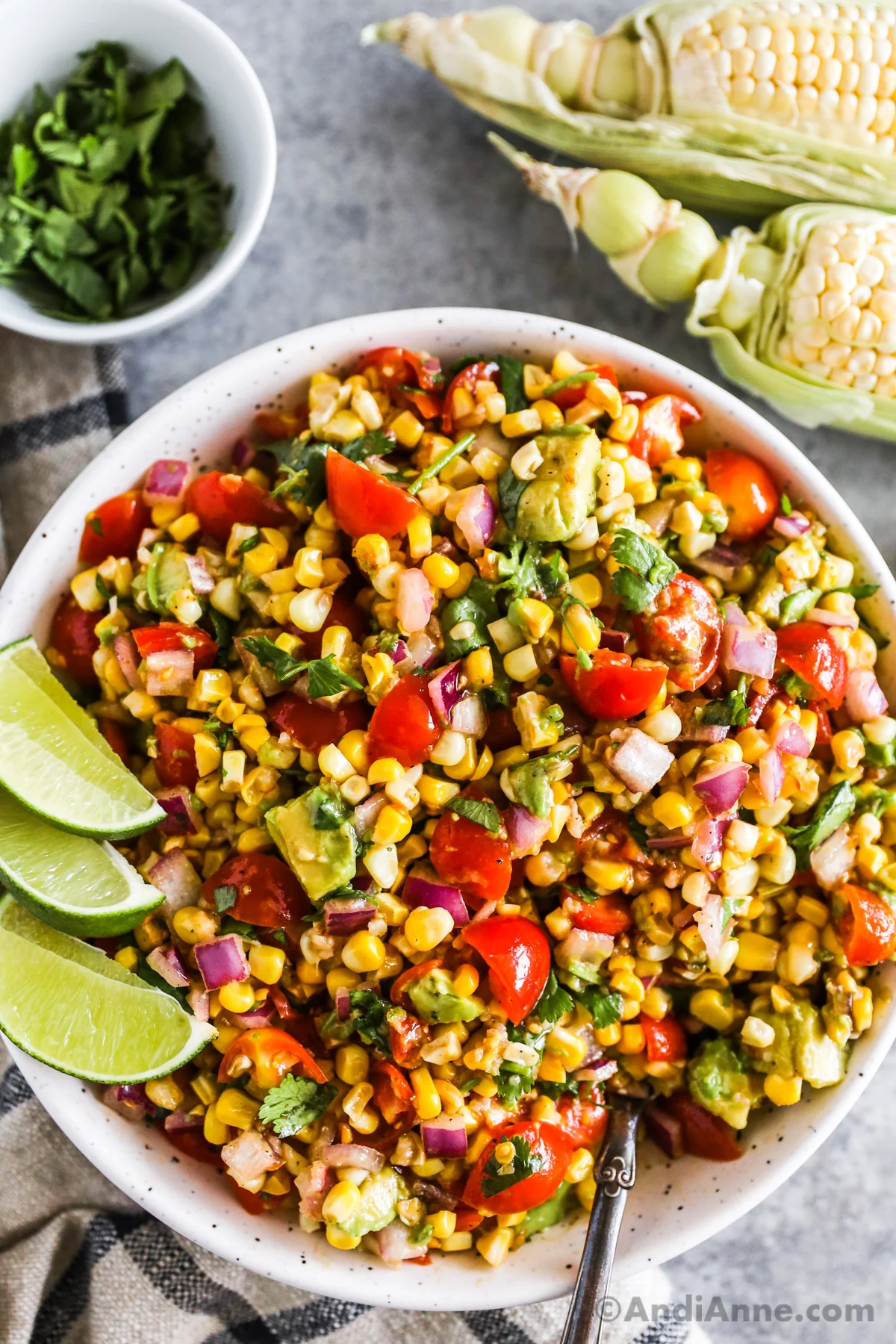 What Goes Well with Corn Tomato Avocado Salad?
You can easily pair this with any dishes that complement its flavors and textures. Here are a few ideas:
GRILLED CHICKEN – The smoky flavor of the grilled chicken pairs well with the sweetness of the corn kernels and the creaminess of the avocado. I like to marinate the chicken in a mixture of olive oil, lime juice, garlic, and spices before grilling it to perfection.
BLACK BEANS AND RICE – For a heartier meal, you can mix black beans and cooked rice into the salad.
GRILLED SHRIMP – Try marinating shrimp and then grilling it for a sweet and smoky flavor. Shrimp can also be cooked in a frying pan.
TORTILLA CHIPS AND SALSA – Scoop tortilla chips into this corn salad for a classic appetizer that goes well with just about anything.
TACOS – Scoop this recipe into hard or soft tacos with a protein like shrimp, steak, or chicken. Sprinkle your favorite cheese on top for an easy meal idea!
Overall, corn tomato avocado salad is a versatile dish that pairs well with a wide variety of foods.
Can I Use Canned Corn For This Salad?
Yes! canned corn is a great option if you're short on time or fresh corn on the cob just is not available. Canned corn is already cooked and ready to use, which can save you a lot of time in the kitchen.
Canned corn can be a bit softer than fresh corn, which can affect the texture of the salad. To avoid this, you can pan-fry the canned corn in a little olive oil on the stovetop and allow it to cool down completely before tossing it into the salad. This will give it a smokier flavor and a firmer texture.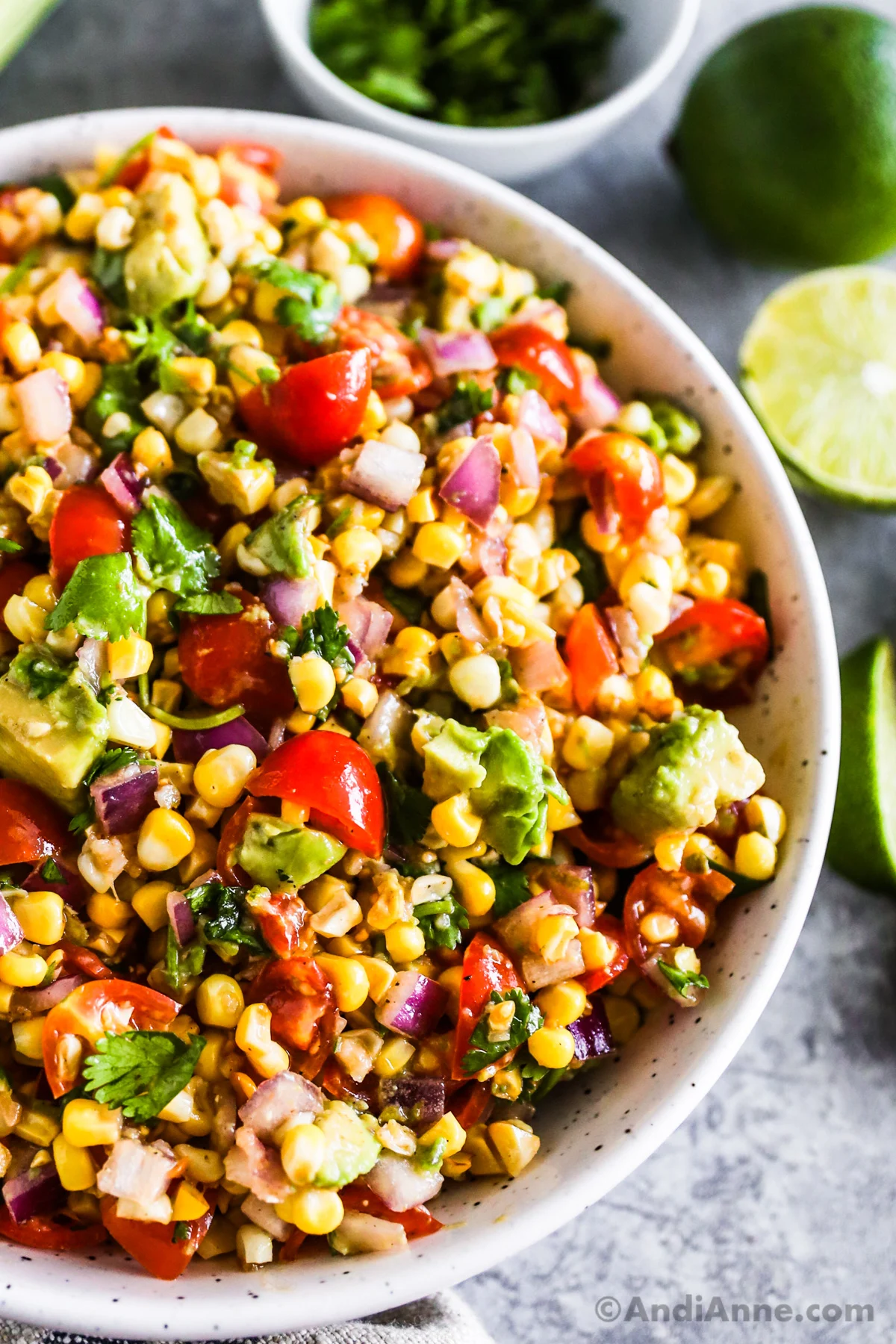 I love a good salad! Especially a delicious one like this grilled corn tomato avocado salad. It's so easy to make, it's colorful, and it's packed with fresh flavors.
Consider this the perfect salad for a summer cookout. The combination of sweet corn, juicy tomatoes, and creamy avocado is irresistible. With just a few simple ingredients and a quick lime dressing, you'll have it ready in no time!
More Summer Salad Recipes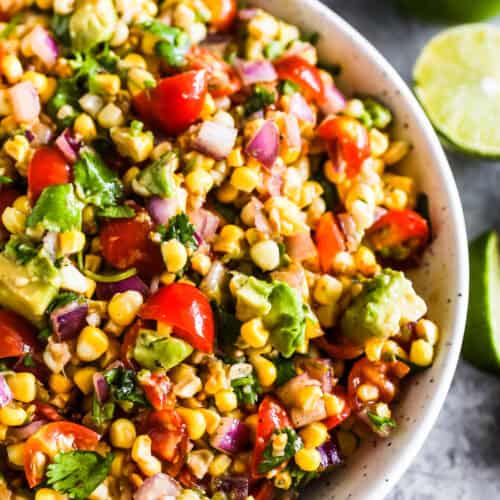 Ingredients
4

ears of corn

-

shucked and cooked

1

pint

grape tomatoes, quartered

-

approx. 2 cups worth

1

cup

diced red onion

-

chopped small

⅓

cup

chopped fresh cilantro

2

ripe avocados

-

cut into cubes
Salad Dressing:
¼

cup

olive oil -

or avocado oil

1

freshly squeezed lime

-

save all lime juice for dressing

1

tsp

lime zest

-

use the same juiced lime

1

garlic clove

-

minced

1

tsp

salt

¼

tsp

ground black pepper
Instructions
Cook The Corn:
You can boil or grill the corn. I boiled mine until the corn turned a bright yellow. This took about 2 minutes. Let the corn cool enough to handle, then slice off the corn using a sharp knife.

This is an optional step: Heat a bit of cooking oil in a frying pan over medium high heat. Add in the corn and lightly pan fry for 2-3 minutes. This will remove excess moisture and create a bit of crispiness on some of the corn.

Once the corn is done, it will still be warm. Place it in a bowl in the fridge for 45 minutes to cool.
Prep The Salad Dressing:
Add the olive oil, lime juice, lime zest, minced garlic, salt and pepper to a medium bowl and mix everything together. Set aside.
Assemble The Salad:
Once corn has cooled, add it to a large bowl along with the cherry tomatoes, red onion, and fresh cilantro.

Drizzle the salad dressing over top and toss everything together. Lastly, add in the chopped avocados and toss the salad together gently. This will help to prevent the avocado from getting too mushy.

Chill the salad for up to 3 hours or serve immediately. Gently toss the salad just before serving.
Nutrition
Calories:
268
kcal
|
Carbohydrates:
24
g
|
Protein:
4
g
|
Fat:
20
g
|
Saturated Fat:
3
g
|
Polyunsaturated Fat:
3
g
|
Monounsaturated Fat:
13
g
|
Trans Fat:
0.01
g
|
Sodium:
407
mg
|
Potassium:
732
mg
|
Fiber:
7
g
|
Sugar:
8
g
|
Vitamin A:
934
IU
|
Vitamin C:
27
mg
|
Calcium:
29
mg
|
Iron:
1
mg