This creamy ranch chicken is cooked in a pot on the stove in a delicious creamy sauce with simple ingredients. Chicken pieces are seared to create crispy outsides, and then are mixed in a creamy sauce made of ranch dressing, sour cream and milk.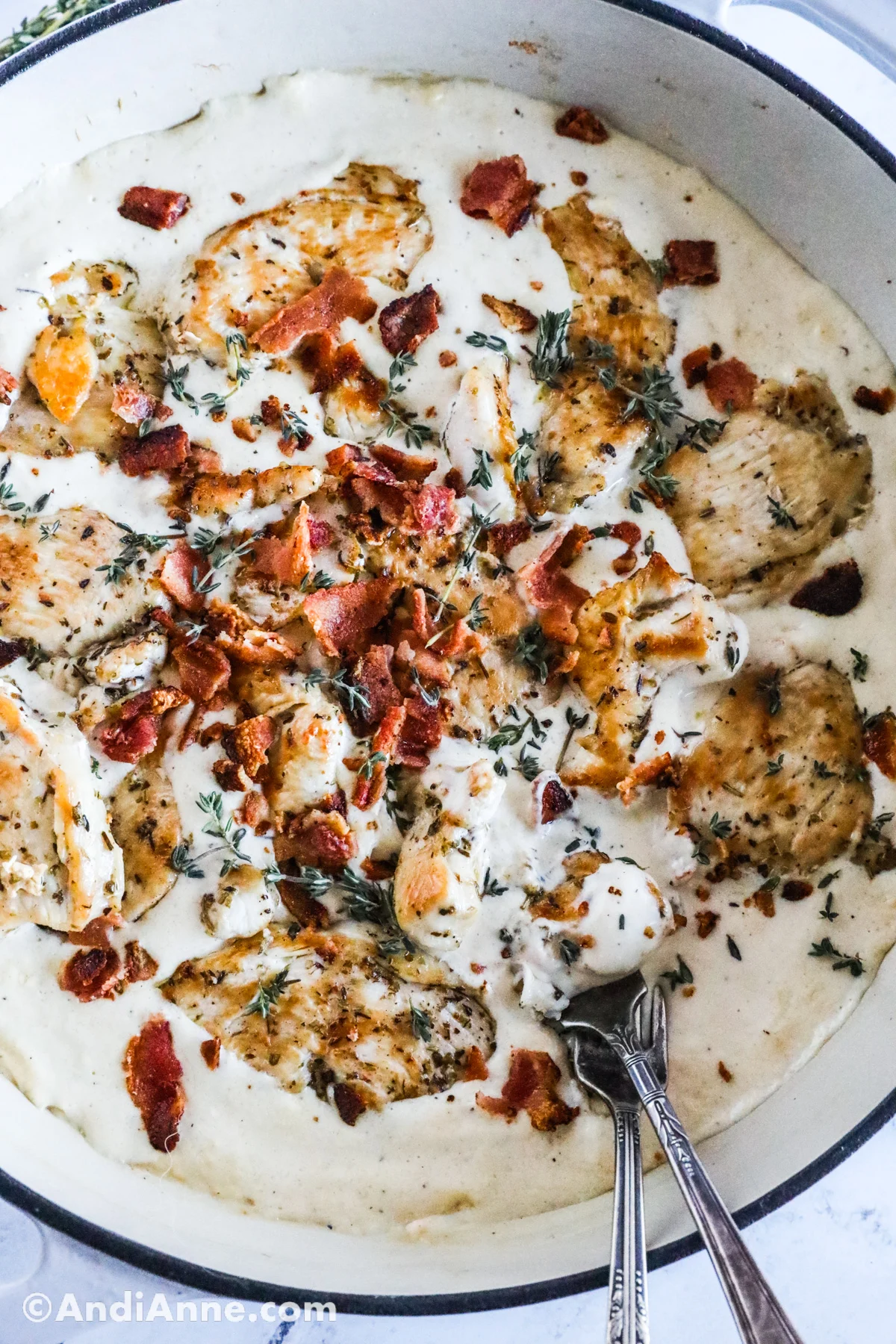 Easy Chicken Recipe
This dinner uses two main steps to create crispy flavorful chicken. It's perfect for filling up a family, and the leftovers can be used for easy lunches. Just like our chicken thighs with tomatoes and sweet potatoes, all ingredients are cooked in one pot making clean-up much easier!
CHEAP – All ingredients are simple and available at your grocery store. We always purchase our chicken breasts in bulk from Costco to help save money. Ranch dressing, sour cream and milk all make up the creamy sauce and only cost a few dollars.
SIMPLE PREP – You just need to sear the chicken and then cook it in the creamy sauce. It's such an easy recipe!
FAMILY-FRIENDLY – Family members will love this ranch-flavored recipe. Add some cooked rice and it's a full meal!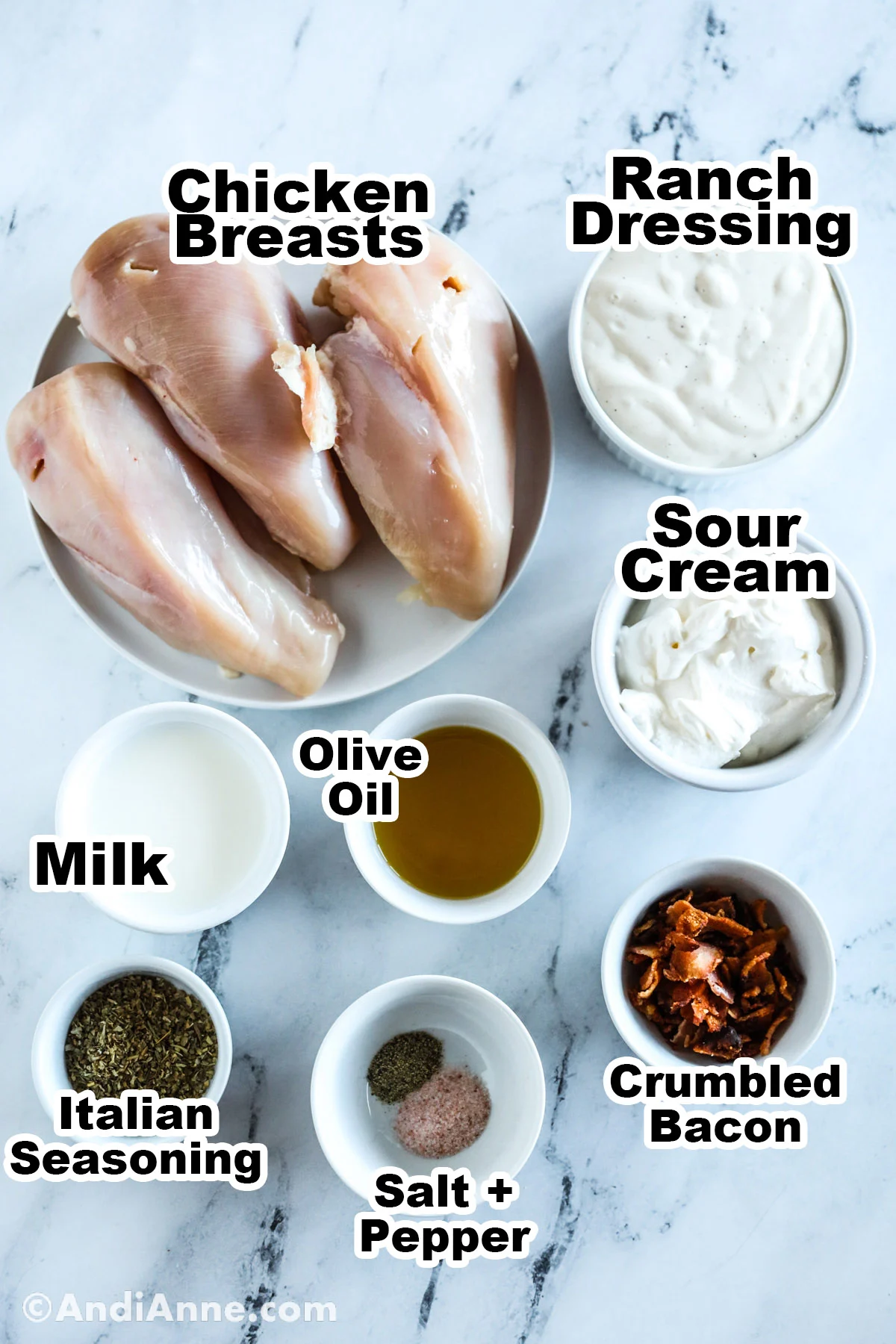 Recipe Ingredients
The chicken requires a bit of prep but it's totally worth it. The secret to this recipe is chicken and crunchy bacon crumbles. Here are the ingredients used in the recipe:
CHICKEN – This recipe uses 3-4 chicken breasts depending on how big they are. About 1 lb of chicken breasts should work.
BACON – This is optional but adds saltiness and crunch. You can cook the bacon in advance and then crumble it (this is what I did), or buy pre-packaged crumbled bacon.
THYME – Fresh thyme adds fragrance and flavor to the recipe. Dried thyme can also be used in replacement.
SEASONINGS – A bit of olive oil, salt and ground pepper are used to flavor the chicken while cooking.
SAUCE – Only three ingredients make up this easy sauce, ranch dressing, milk and sour cream.
Variations
This recipe is easy to adapt. You can add more vegetables or substitute the meat.
GREEN ONION – Add fresh chopped green onion on the finished meal.
MUSHROOMS – Try sauteeing mushrooms in the pot just before adding the creamy sauce.
ONION – Carmelized onion slices would be lovely served on top.
PORK – Switch things up and use pork chops instead of chicken breasts.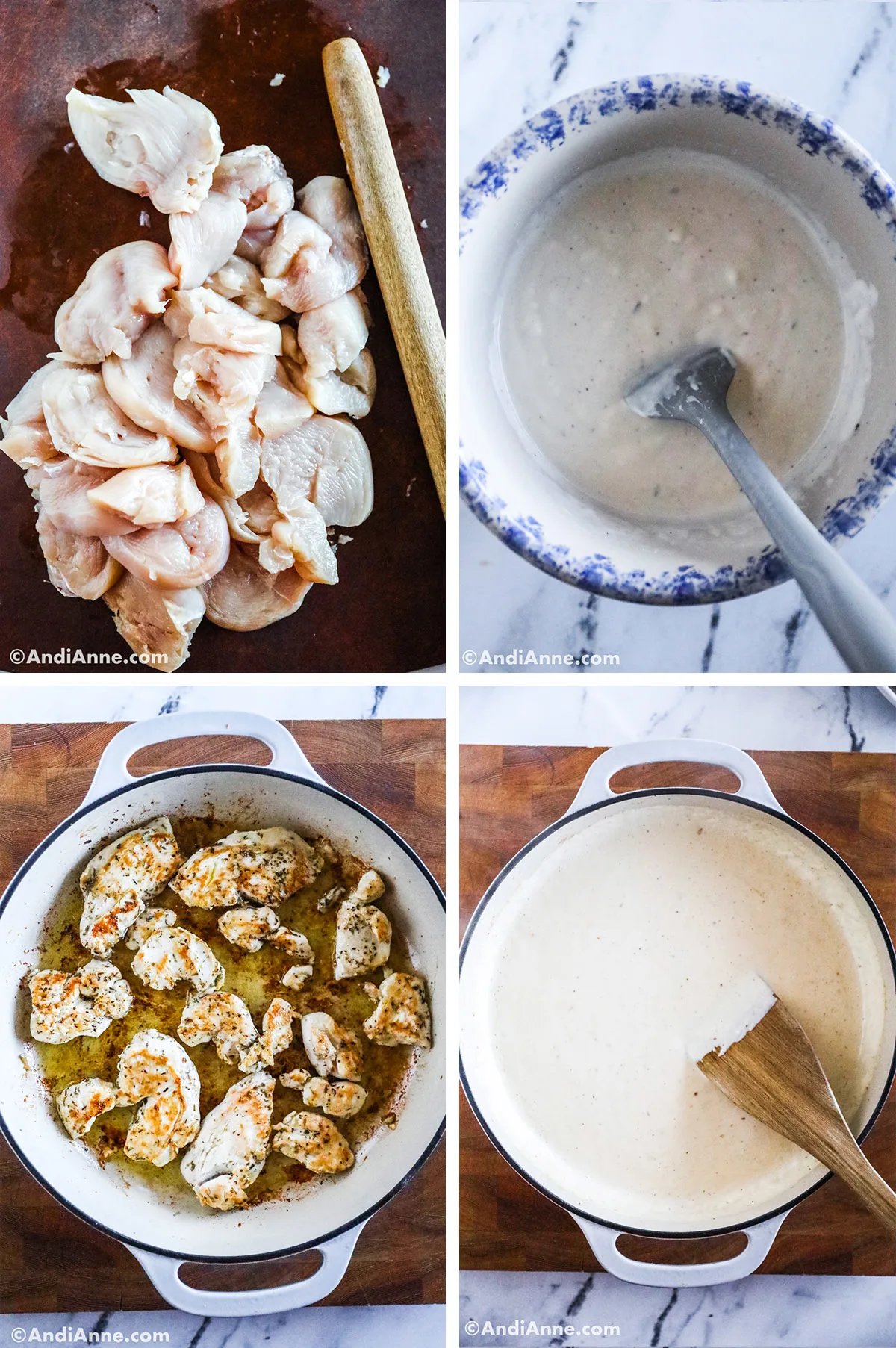 How To Make Creamy Ranch Chicken
This recipe requires two main steps, cooking the chicken, then adding the creamy sauce. Here's an overview with full instructions at the bottom of this post:
PREP – Slice the chicken into strips, then use a meat tenderizer to pound the strips to ½" thick. Drizzle the chicken pieces with olive oil and season with salt and pepper.
COOK CHICKEN – Cook half the chicken in a hot pan with olive oil for 3-4 minutes on each side. Add to a plate and repeat with the other half of the chicken.
SAUCE – Mix together ranch dressing, milk and sour cream in a bowl. Add it to the pot (with chicken removed) and heat through.
ASSEMBLE – Once sauce is bubbling, lower the heat and add the chicken and chopped bacon. Mix together and heat through for 1-2 minutes. Remove from heat and sprinkle in fresh thyme (optional). Serve and enjoy.
Serve With
This chicken is rich and creamy. I personally prefer to serve it with an easy side:
RICE – I served this recipe with white basmati rice. The creamy sauce tastes delicious on top.
QUINOA – Light and fluffy quinoa is an easy grain-free alternative. Quinoa is not a grain, it's actually part of the rhubarb family. We eat quinoa at least once a week in our house to change things up.
PASTA – Creamy sauce and pasta always go well together. Any style of pasta noodles would work here.
MASHED POTATOES – Regular mashed potatoes drizzled with creamy sauce and chicken would be so good!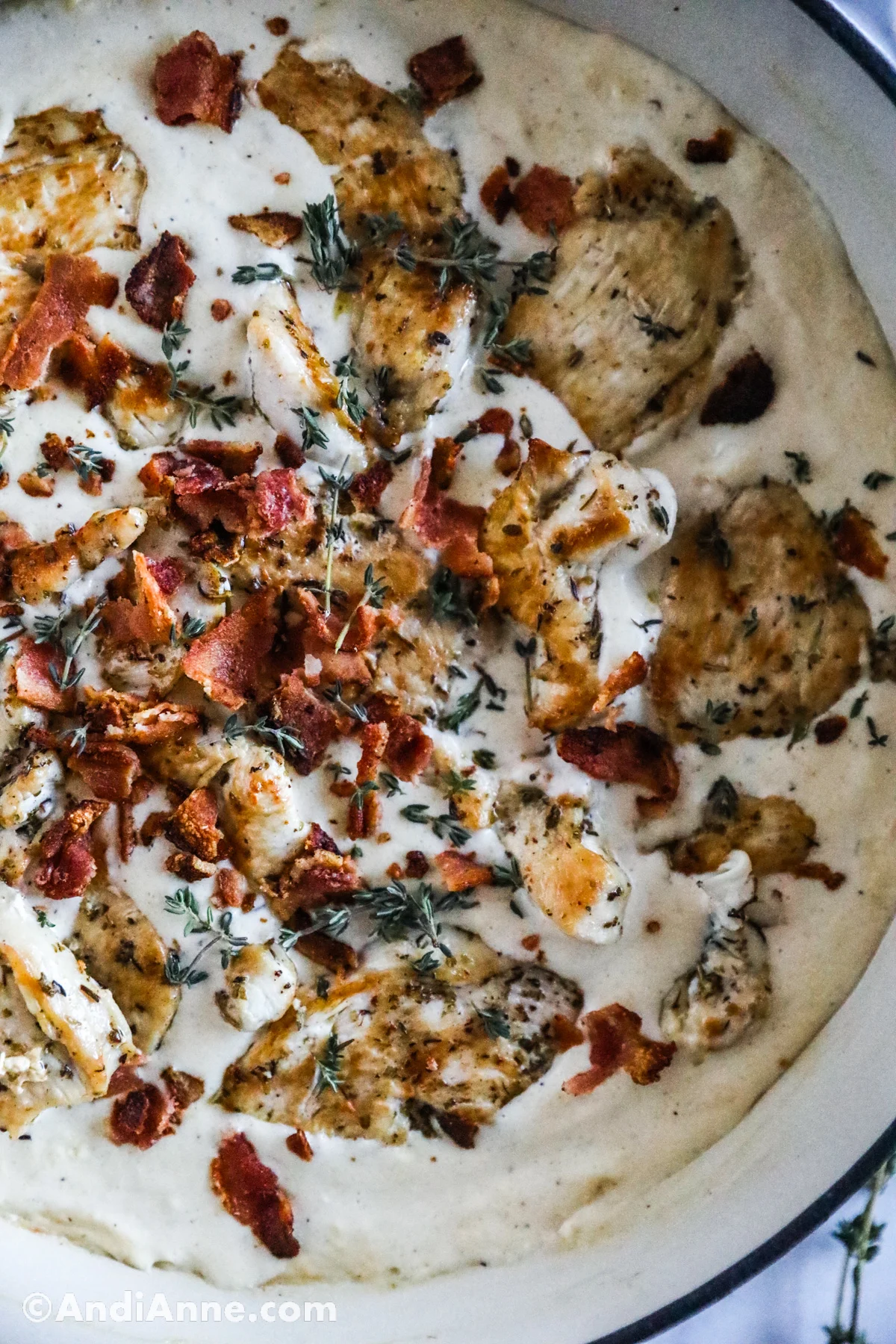 Storing Leftovers
This recipe is easy to store for leftovers:
REFRIGERATE – Store the chicken with sauce in an airtight container, or tightly wrapped in plastic for 3-4 days.
TO FREEZE – I don't recommend freezing the cooked meal because the creamy sauce will change in texture and turn a bit grainy.
TO REHEAT – The chicken can be reheated for a minute or two in the microwave, heated in a skillet on the stove, or in the oven until warmed through.
Common Questions
Do I have to use a meat tenderizer?
If your chicken breasts are already thin, you can probably get away with skipping this step. I used chicken breasts from Costco and they were thick and huge. I only needed three because they were so big. I used an old rolling pin to pound them into thinner pieces. The thin slices will cook more evenly and you'll get crispy outsides and tender insides.
Do I have to use fresh thyme?
No definitely not. However, I really enjoyed the flavor it added to the meal. You could also add dried thyme and mix it with the creamy sauce for a similar flavor.
Do you have to use fresh bacon?
No. But fresh bacon will provide the most flavorful results. Store-bought crumbled bacon will also work great here.
What brand of ranch dressing should I use?
It doesn't matter which brand. Just use your favorite.
A big pot of creamy chicken with crispy bacon is the best comfort food! Serve this with a side of rice or mashed potatoes for a delicious and filling meal.
More Chicken Recipes
If you love easy one-pot chicken recipes, then you are sure to love these ones: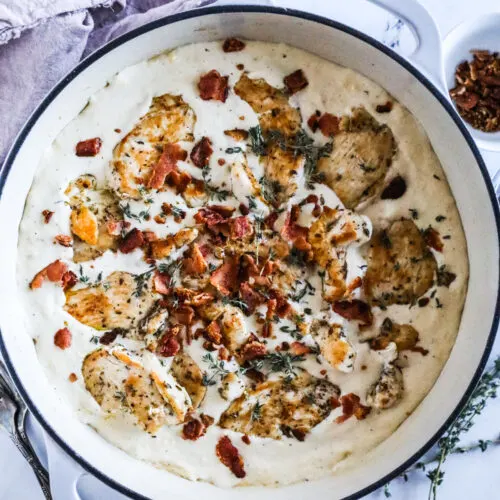 Creamy Ranch Chicken
A big pot of creamy chicken with crispy bacon is the best comfort food! Serve this with a side of rice or mashed potatoes for a delicious and filling meal.
Save Recipe!
Saved!
Pin This
Print It
Instructions
Slice the chicken breasts into strips. Pound with a meat tenderizer (or rolling pin) until each one is about ½" thick.

Add the chicken to a bowl and drizzle with olive oil, Italian seasoning, salt and pepper. Toss together until chicken is evenly coated.

In a medium bowl, mix together the ranch dressing, sour cream and milk. Set aside.

Heat a large pan with olive oil over medium-high heat.

Once the pan is hot add enough chicken to fill the pan in a single layer. Saute the chicken for 3-4 minutes on each side, letting the chicken get golden brown and crispy. Transfer the cooked chicken to a plate.

Repeat with the other half of the chicken until all chicken cooked.

Scrape the bottom of the pan with wood or plastic spatula, and remove any excess olive oil using a paper towel. Next, pour the cream sauce into the pan and heat through for 2-3 minutes.

Add back in the chicken and let simmer for 1-2 minutes until warmed through. Sprinkle crumbled bacon and fresh thyme if using. Serve with rice, quinoa or mashed potatoes.
Recipe Notes:
Leftovers – Store the chicken with sauce in an airtight container, or tightly wrapped in plastic for 3-4 days.
Nutrition
Calories:
492
kcal
|
Carbohydrates:
7
g
|
Protein:
17
g
|
Fat:
44
g
|
Saturated Fat:
10
g
|
Polyunsaturated Fat:
17
g
|
Monounsaturated Fat:
13
g
|
Trans Fat:
0.01
g
|
Cholesterol:
84
mg
|
Sodium:
961
mg
|
Potassium:
343
mg
|
Fiber:
0.5
g
|
Sugar:
5
g
|
Vitamin A:
379
IU
|
Vitamin C:
3
mg
|
Calcium:
99
mg
|
Iron:
1
mg
The nutritional information provided is an estimate and is per serving.