Dutch Oven Bread
Disclosure: This post may contain affiliate links.
This dutch oven bread is no-knead bread that's crusty on the outside, chewy and fluffy on the inside. It tastes similar to sourdough bread but without the "sour". With only four ingredients needed and a dutch oven pot, this recipe is the perfect companion to any meal you're serving!
This method is no kneading. Many types of bread require kneading before baking. Not this one. You just mix the ingredients and let the dough sit overnight then bake it the next day.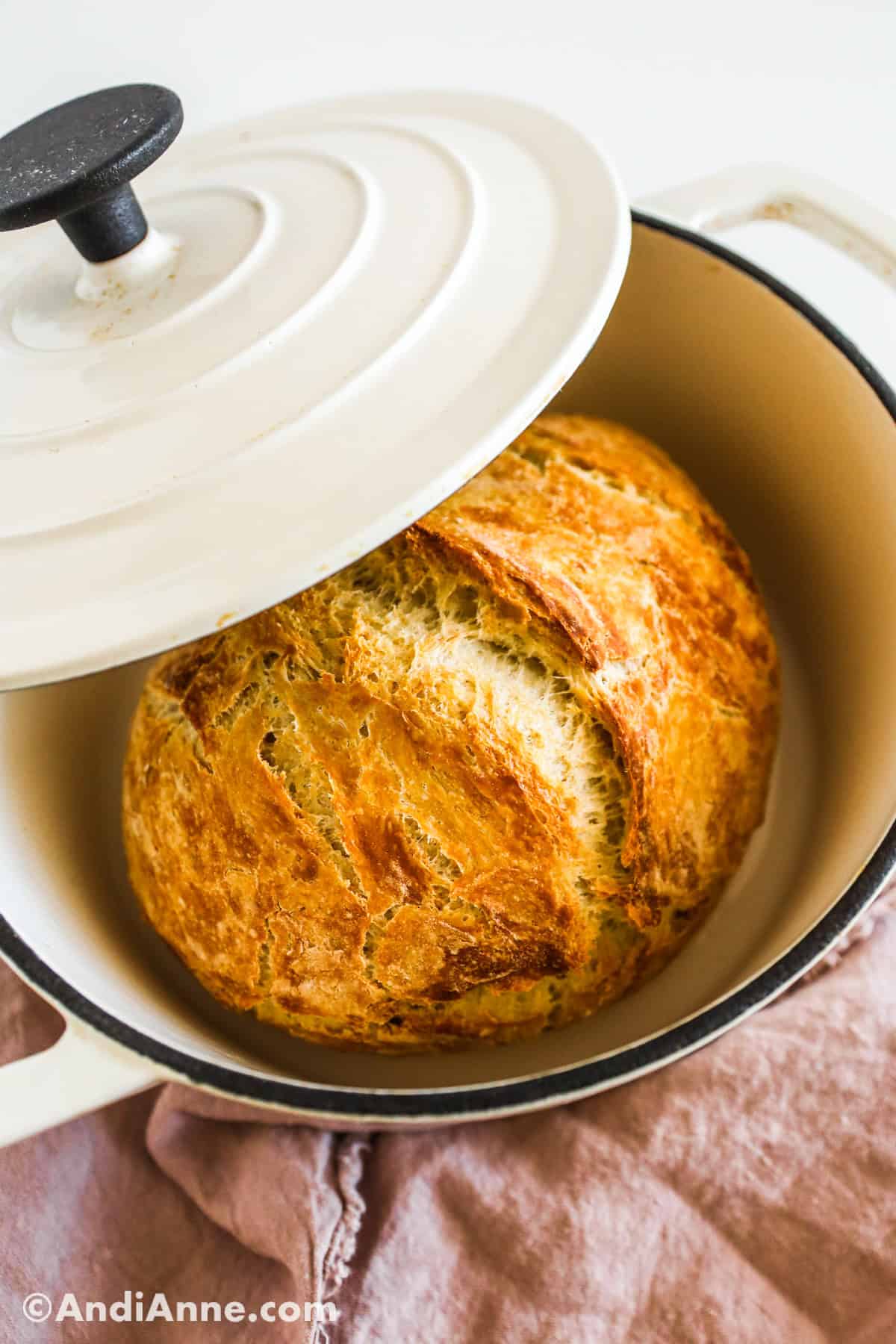 No Knead Bread In A Dutch Oven
This is the perfect bread-making recipe for beginners! You only need four ingredients and about 5 minutes of prep! The result is a beautiful round crusty bread that looks as good as if it were from the bakery!
SIMPLE – If you've been wanting to start making bread at home, this is the perfect recipe to begin with!
PERFECT CRUST – High heat and a dutch oven created the perfect combination. Steam will trap inside the pot creating crusty bread.
NO KNEAD – You only need 5 minutes of prep time. There's no kneading required.
ARTISAN QUALITY – This loaf could easily compete with artisan bread from your local bakery. It truly is beautiful!
Why Should You Cook Bread In A Dutch Oven?
A dutch oven is a wonderful vessel to cook bread in because it distributes heat all around the dough as it bakes, creating an even crunchy crust. The steam inside the dutch oven helps to create the perfect bread too! I love this method because it's easy for anyone who isn't a pro bread maker (like myself). This method is basically foolproof.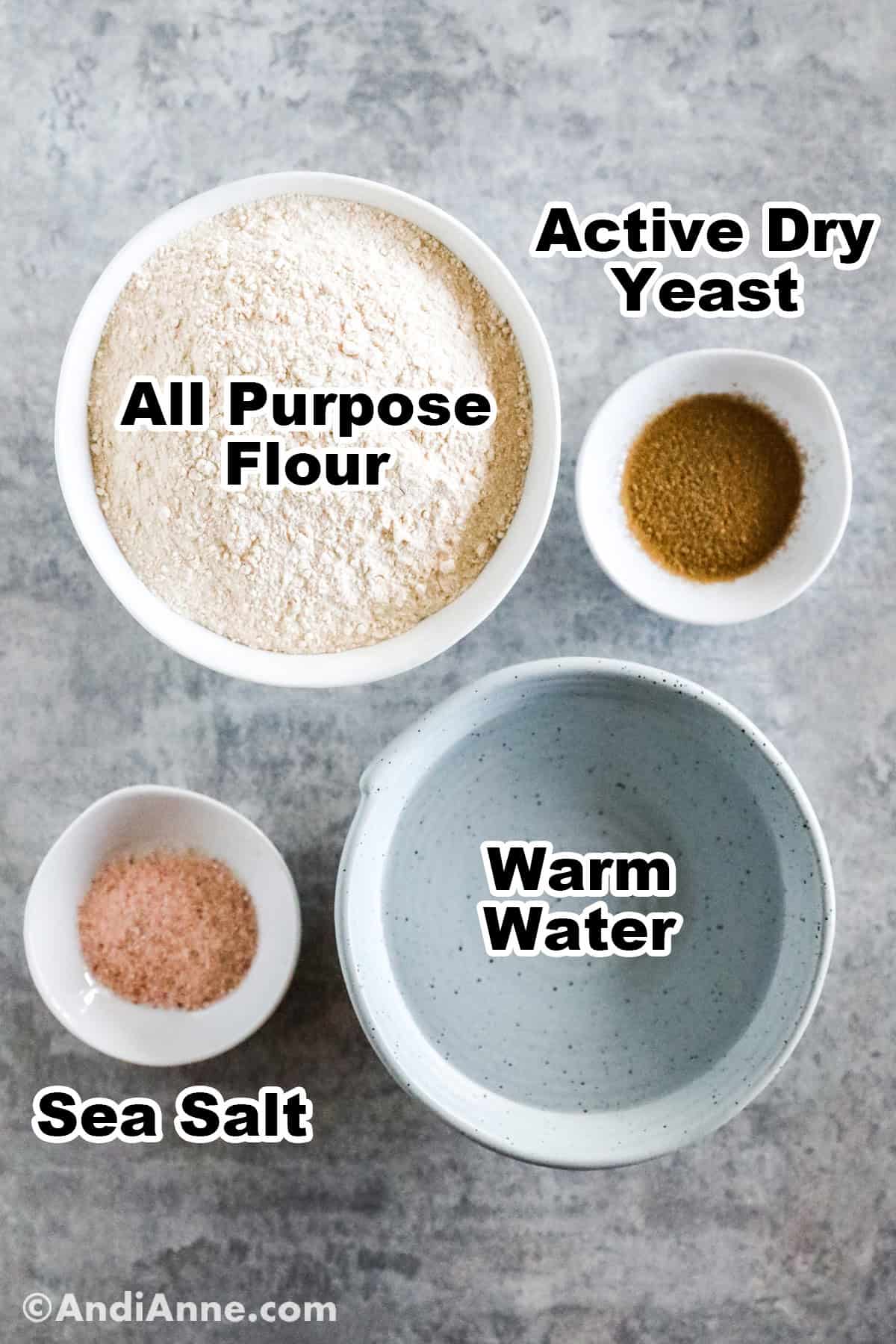 Recipe Ingredients
ALL-PURPOSE FLOUR – You don't have to use bread flour for this recipe. You can use all-purpose flour.
YEAST – Use active dry yeast for this recipe. This will help the bread to slowly rise, which is the key to creating a no-knead bread. Be sure to use a fresh package of yeast to help ensure that the dough will rise.
SEA SALT – Adds flavor to the bread. I recommend sea salt for better flavor but regular salt will also work.
WARM WATER – The water should be room temperature, not hot and not cold. Hot water will kill the yeast and the dough won't rise properly.
Pro Tip: Make a whole wheat loaf by adding half whole wheat flour and half all purpose flour to the recipe.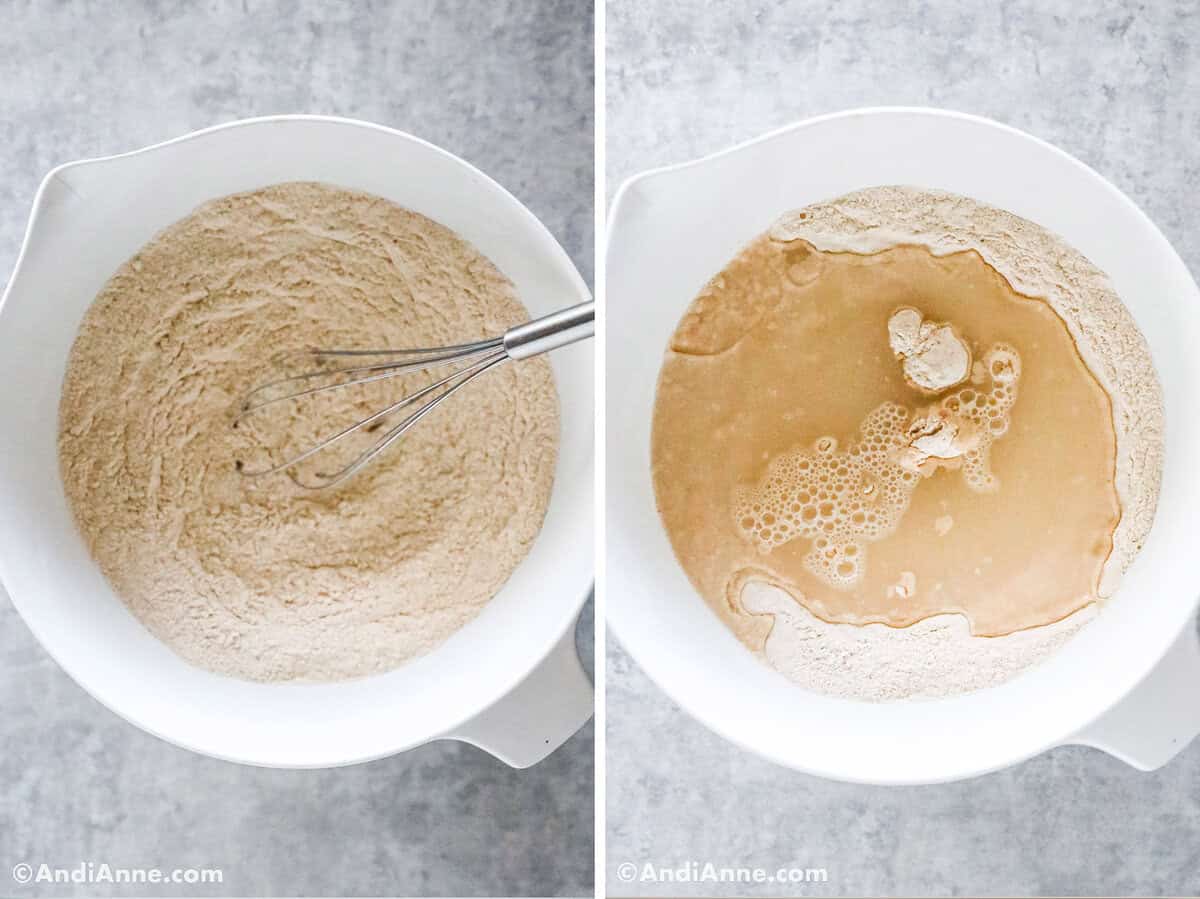 Mix The Ingredients
The first step is to combine the ingredients together. First mix the all-purpose flour, active dry yeast, and salt together. Next pour in the warm water.
Pro Tip: Be sure to use warm water and not hot water. Anything hotter than 105°F (40°C) could potentially kill the yeast. If this happens the dough will not rise.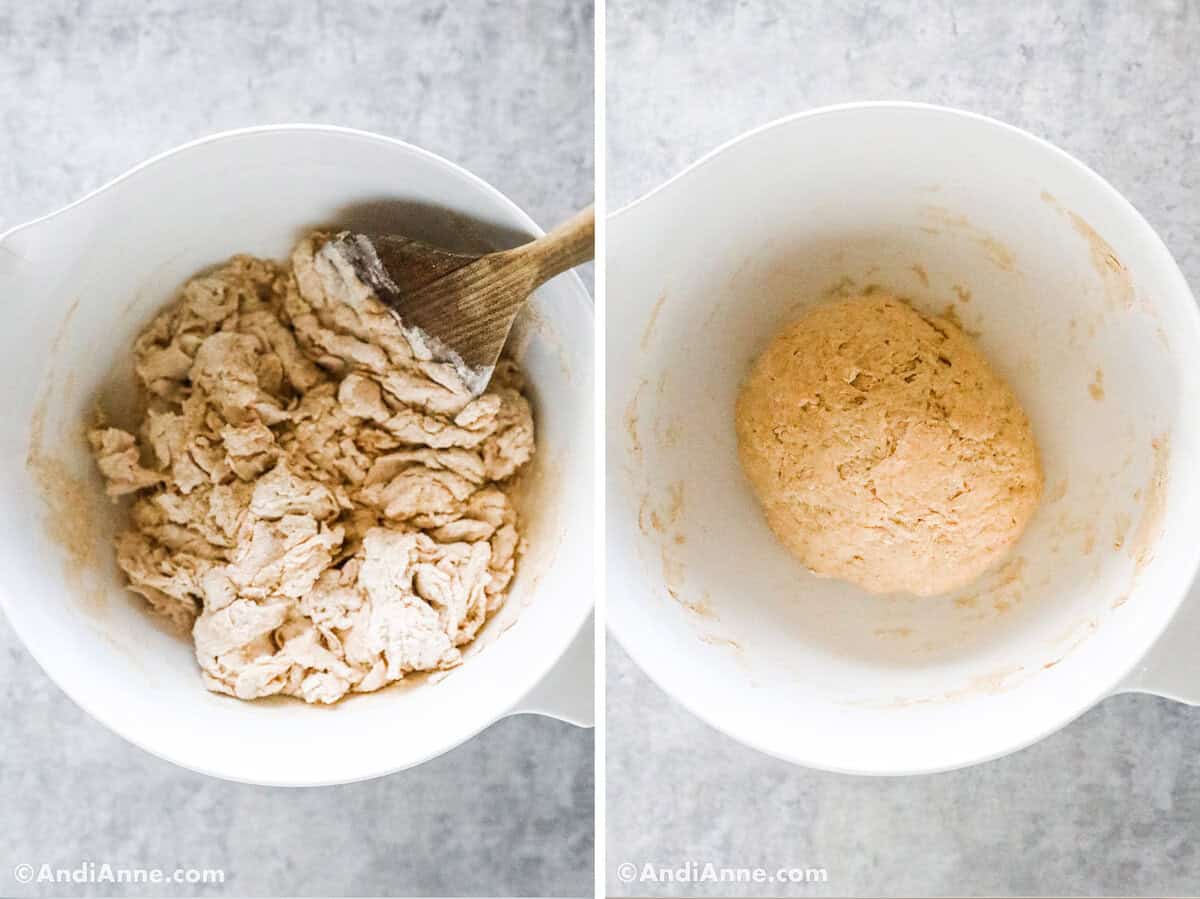 Make The Bread Dough
Start mixing the ingredients together. At first it will be sticky. This is the perfect time to get in there with your hands and form it into a dough ball. At this point, the dough will be sticky and bumpy.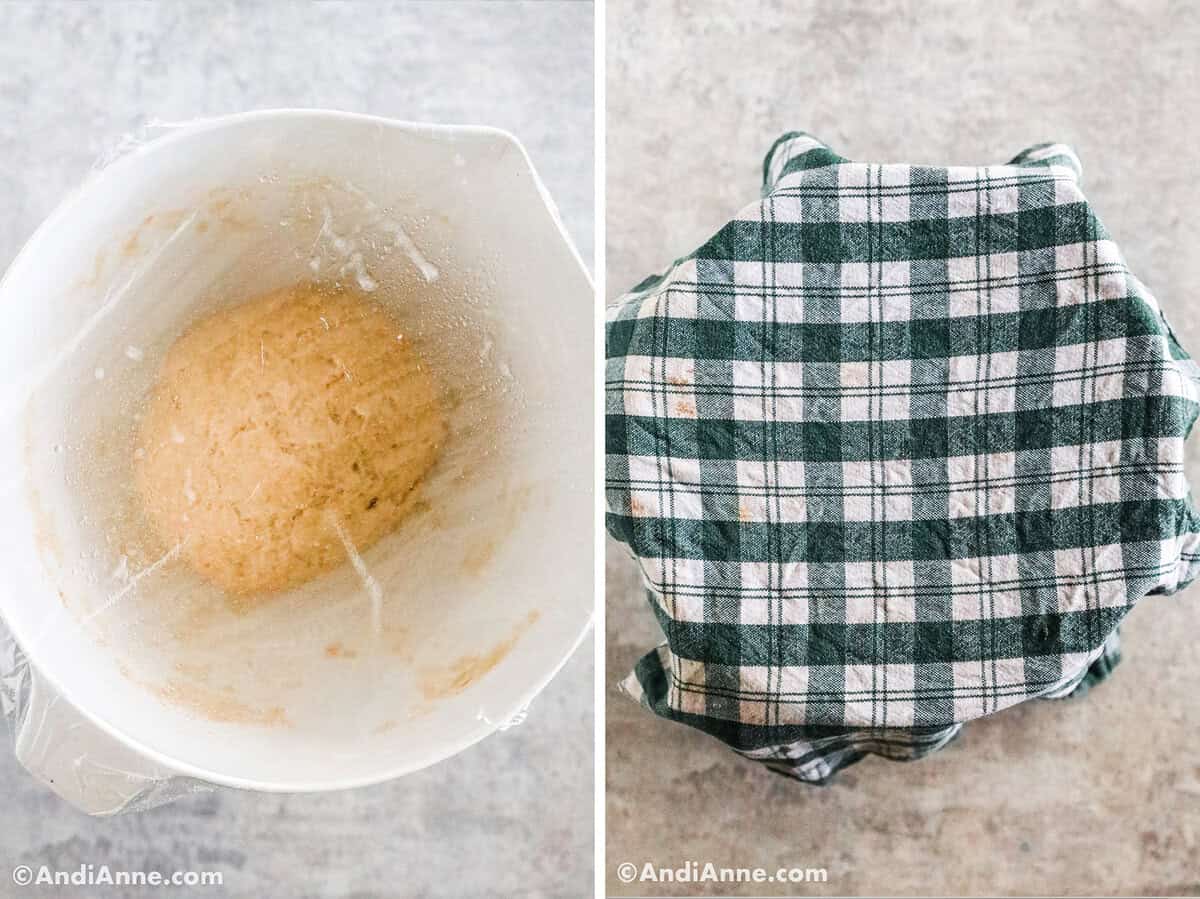 Store for 18-24 Hours
Next, spray the bottom side with a bit of cooking spray. Place it on top of the bowl and wrap tigthly.
Take a clean kitchen towel and run it under water. Squeeze out the excess so that it is only damp. Drape over top of the bowl.
Now place the bowl in a cool dark place in your kitchen. Away from any heat including the sun, stove, microwave etc.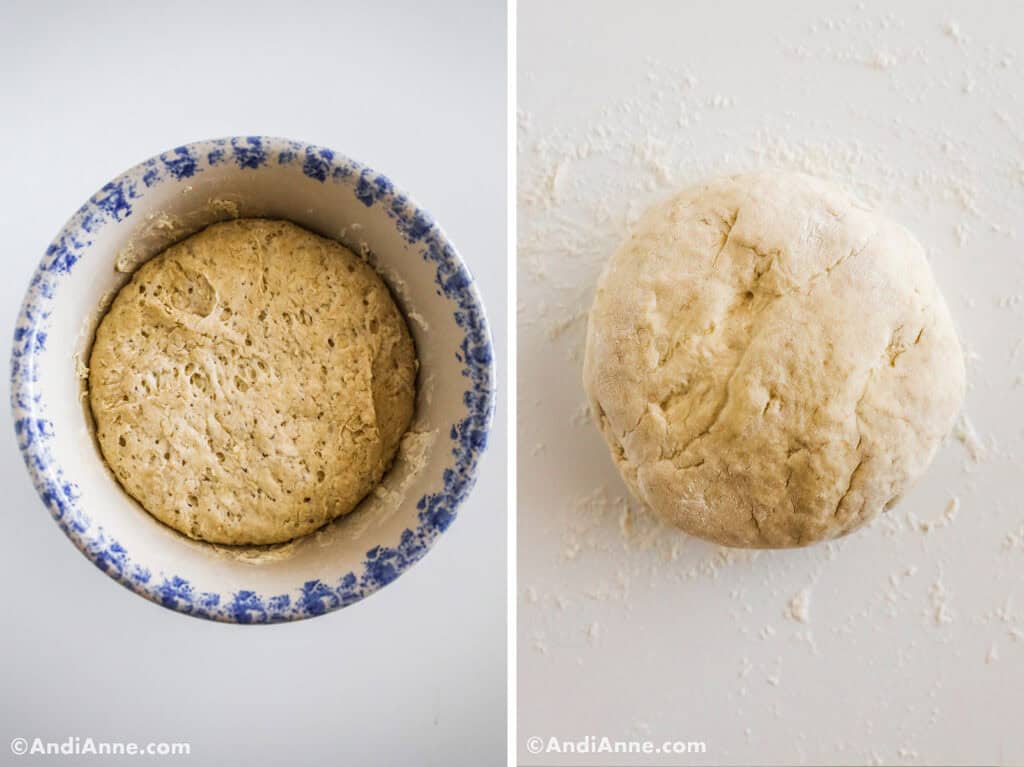 Form Into A Dough Ball
After 18-24 hours, the dough will look similar to the picture on the left. It will have expanded and there will be many holes on the surface.
Sprinkle some flour onto a clean counter surface then use your hands to form the dough into a ball shape. The dough will still be sticky at this time. It's okay if the flour is on the outside of the dough ball.
Note: Cover the dough with a clean kitchen towel while the oven is preheating.
Preheat The Oven
Place the dutch oven pot inside the oven. Next, preheat the oven to 450°F. The dutch oven will heat up with the oven so that it is nice and hot and perfect for cooking the bread and creating that crispy crust.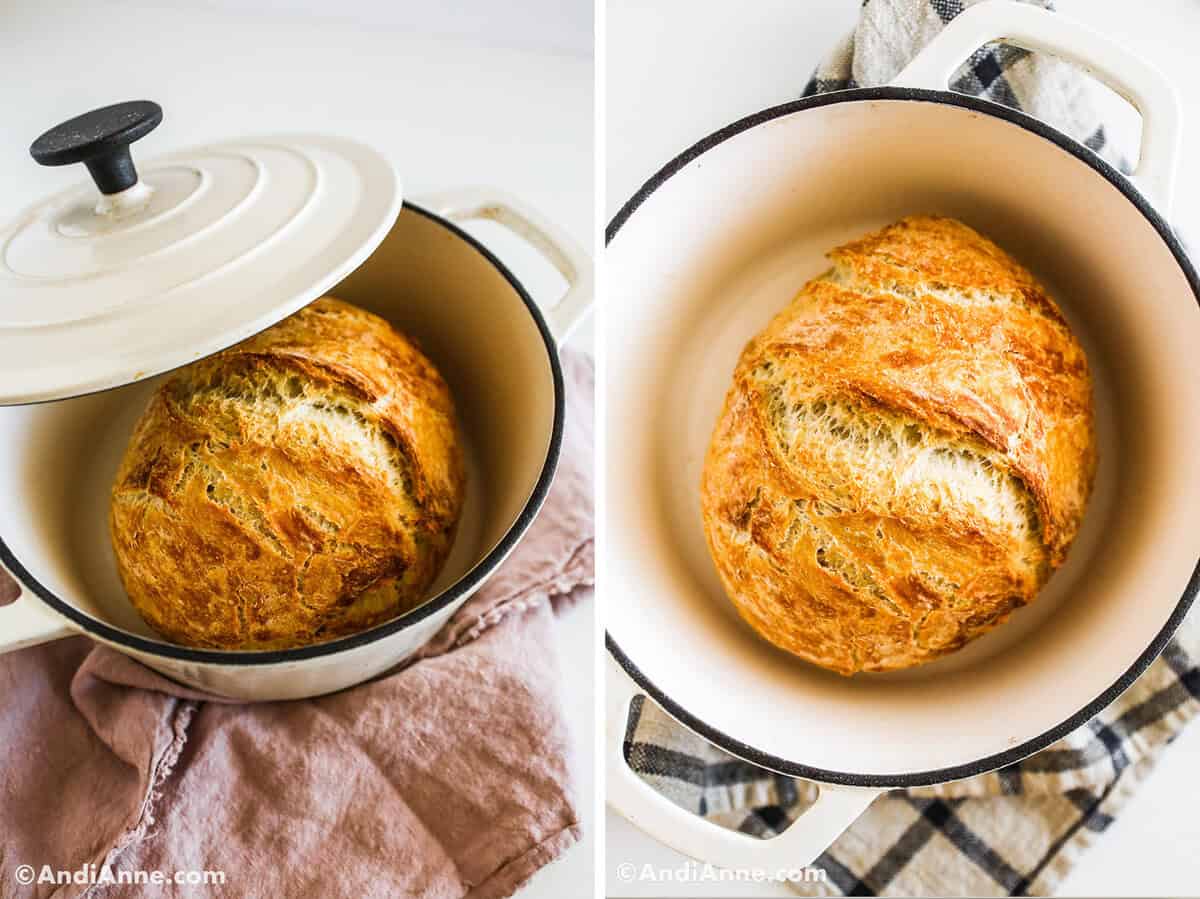 Bake Bread In A Dutch Oven
Once the oven is ready, carefully remove the dutch oven pot from the oven using oven mitts. The pot will be hot!
Spray the inside with a light coating of non-stick cooking spray. Place the dough in the center and cover it with the lid. Use the oven mitts to place the pot back in the oven to bake for 30 minutes.
After 30 minutes, remove the lid and cook for another 15 minutes. The bread with bake for a total of 45 minutes.
Remove from the oven and place on a rack to cool. You can serve this bread while it's still warm. This is probably the best time to serve!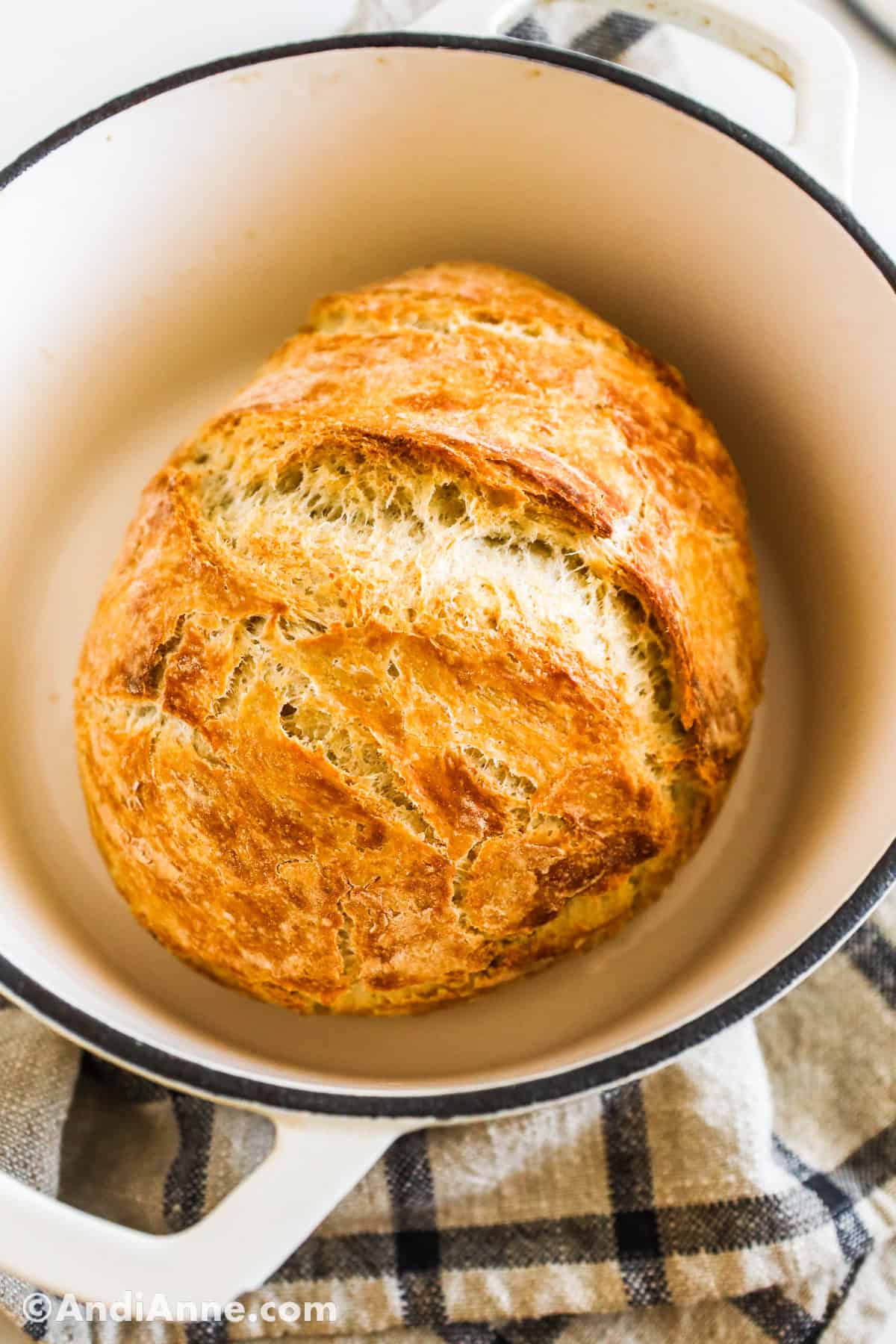 Storing The Bread
TO STORE – This bread will can be stored at room temperature wrapped tightly in plastic wrap. It will stay freshest for up to two days, and will start to go stale after that. Stale bread makes great toast, french toast and bread crumbs!
TO FREEZE – I recommend slicing the bread first before freezing. Wrap the bread tightly with plastic wrap and in a freezer bag. Remove as much air as possible and the loaf can be stored in the freezer up to 3 months.
TO THAW – It will take about 10-12 hours for the loaf of bread to fully thaw on the counter at room temperature.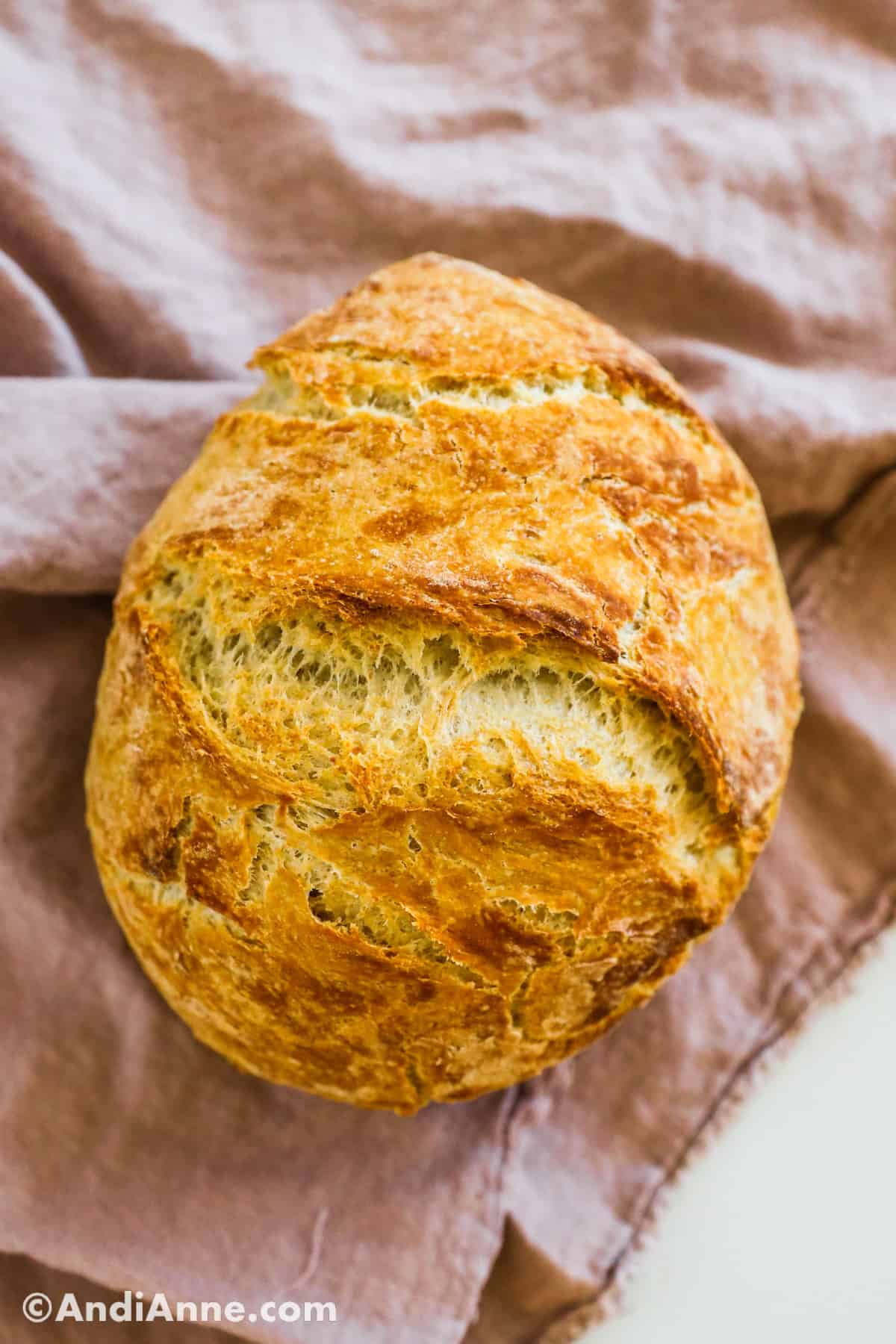 Common Questions
What size dutch oven for bread?
I used a 3 qt dutch oven for this bread. I haven't tried a large dutch oven yet, but I plan to test that out next to see how it works.
Do I have to use a dutch oven?
No, you can use any oven-safe pot with a lid! I haven't tried it personally, but I've heard many people have with success. Some lids are not oven safe so be sure to check your pot before using. The pot must be deeper with a fitted lid.
Do I let the dough rest overnight on the counter?
Yes. Do not place it in the fridge while it's rising. It is safe to store on the counter for up to 18 hours.
Can I use a gluten-free flour for this recipe?
I haven't tried a gluten-free flour for this recipe so I can't recommend it. This recipe will not work with alternative flours such as almond flour, coconut flour, chickpea flour etc.
Do I have to let the dough rise 12-18 hours?
Yes. It takes time for the yeast to work its magic. Without this slow rise you won't get the right shape of bread.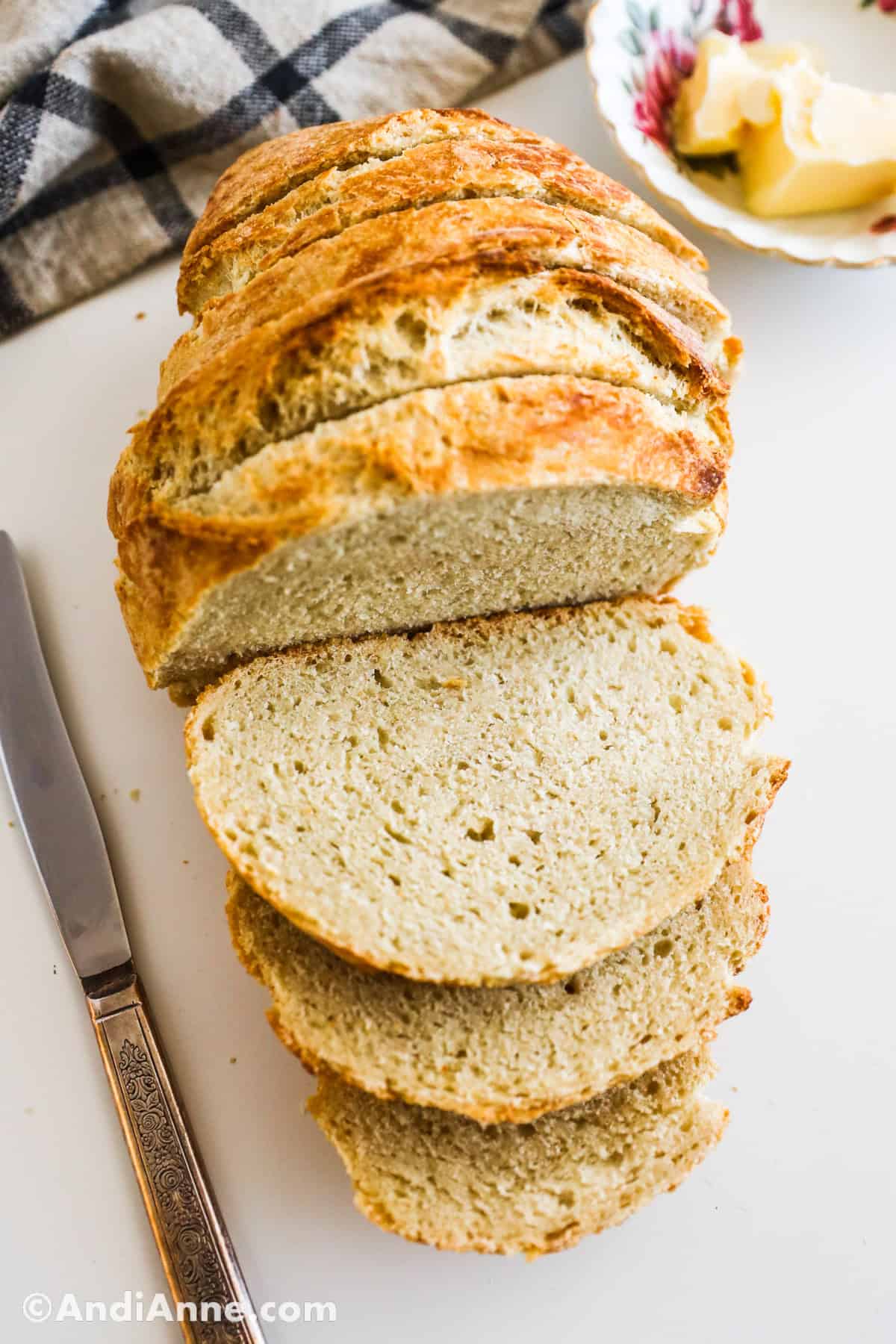 What I love most about this dutch oven bread is its simplicity. Nothing beats the aroma of freshly baked bread!
More Bread Recipes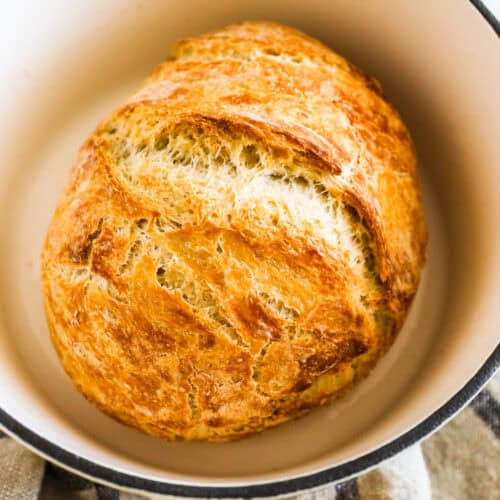 No-Knead Dutch Oven Bread
No knead and only 4 ingredients! This artisan bread is one of the easiest methods you'll ever make!
Print
Pin Recipe
Instructions
Mix together the flour, active dry yeast, and sea salt. Add in the warm water.

Mix the ingredients together until they form a dough ball.

Cover with plastic wrap that is sprayed with a little cooking spray on the bottom. Then cover with a damp tea towel. Let this sit at room temperature for 18-24 hours.

Once the dough has rested for 18-24 hours, preheat the oven to 450°F. Add the dutch oven pot in the oven while it is preheating.

Add the dough to a floured counter and form it into a ball. Cover it with a dry towel while oven preheats.

Remove the dutch oven pot from the oven and spray the inside with nonstick cooking spray. Place the dough inside and cover with the lid.

Bake for 30 minutes, then remove lid and bake additional 15 minutes. Place bread on a rack to cool. Slice with a bread knife, serve and enjoy!
Nutrition
Calories:
144
kcal
|
Carbohydrates:
30
g
|
Protein:
5
g
|
Fat:
1
g
|
Saturated Fat:
0.1
g
|
Polyunsaturated Fat:
0.2
g
|
Monounsaturated Fat:
0.1
g
|
Sodium:
351
mg
|
Potassium:
63
mg
|
Fiber:
2
g
|
Sugar:
0.1
g
|
Vitamin C:
0.01
mg
|
Calcium:
7
mg
|
Iron:
2
mg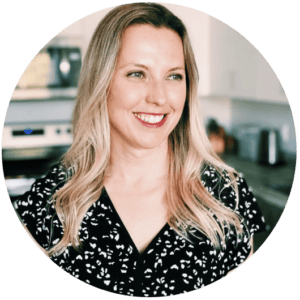 About Andi Anne
Welcome to Andi Anne! Here we focus on simple recipes that are easy to follow with lots of images to guide you along the way! We've created over 500 recipes for you to explore and try out in your own kitchen.