Easy fudgy brownies are no-fuss brownies with no fancy ingredients. They're a classic, chewy brownie loaded with chocolate chips on top. Kids love these, they're easy for you to make so it's basically a win/win! Learn how to make this incredibly easy fudgy brownie recipe below.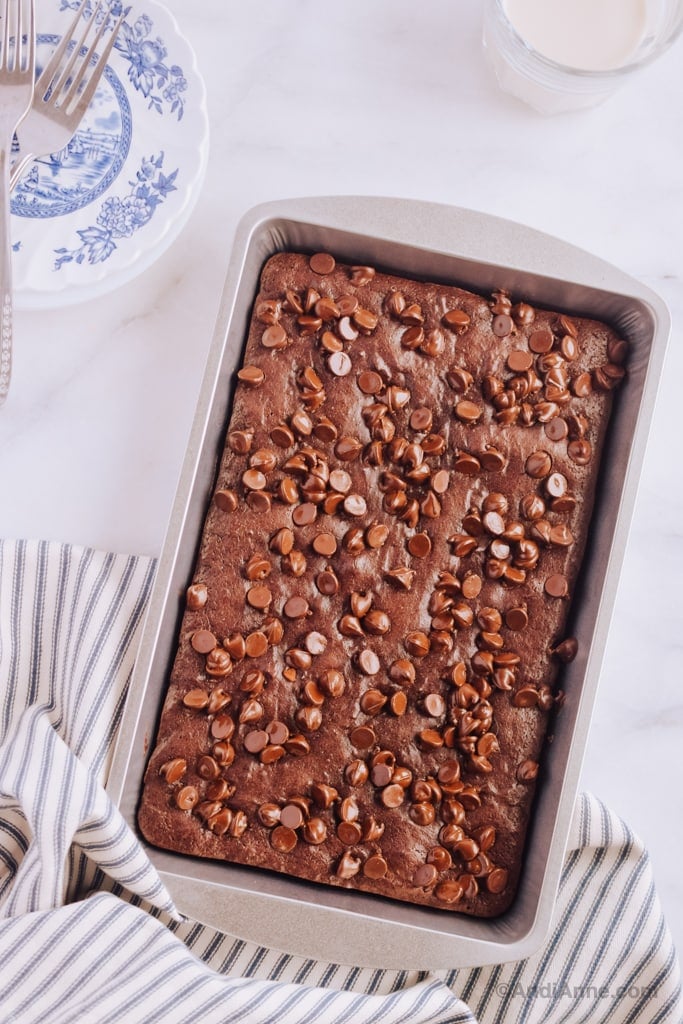 Easy Fudgy Brownies
Sometimes we just need a fast and easy fudgy brownie recipe to put together, am I right!? Whether it's for a kid's school event, party, or because sometimes we just want a dang brownie. Whatever it is, this recipe will come to the rescue for you!
How To Make Brownies From Scratch
Many of us have never made brownies from scratch. You've probably used a boxed brownie before, and thought "why bother with from scratch?"
That's a really good question! As a mom I'm always focused on two things at the grocery store – saving money as much as possible, and choosing the healthiest options for my family.
When you buy a boxed brownie mix, you aren't getting the best quality of ingredients. That brand's main goal is profit – so they're using the cheapest ingredients they can to do that. This means that many boxed mixes contain too much white sugar, preservatives and other low quality ingredients.
When you make them yourself, you get to choose what ingredients go into those brownies. That means better quality flour, oils and you can use less sugar.
And if you've ever avoided from scratch brownies because you thought they took too long to make, after you make these I think you'll change your mind!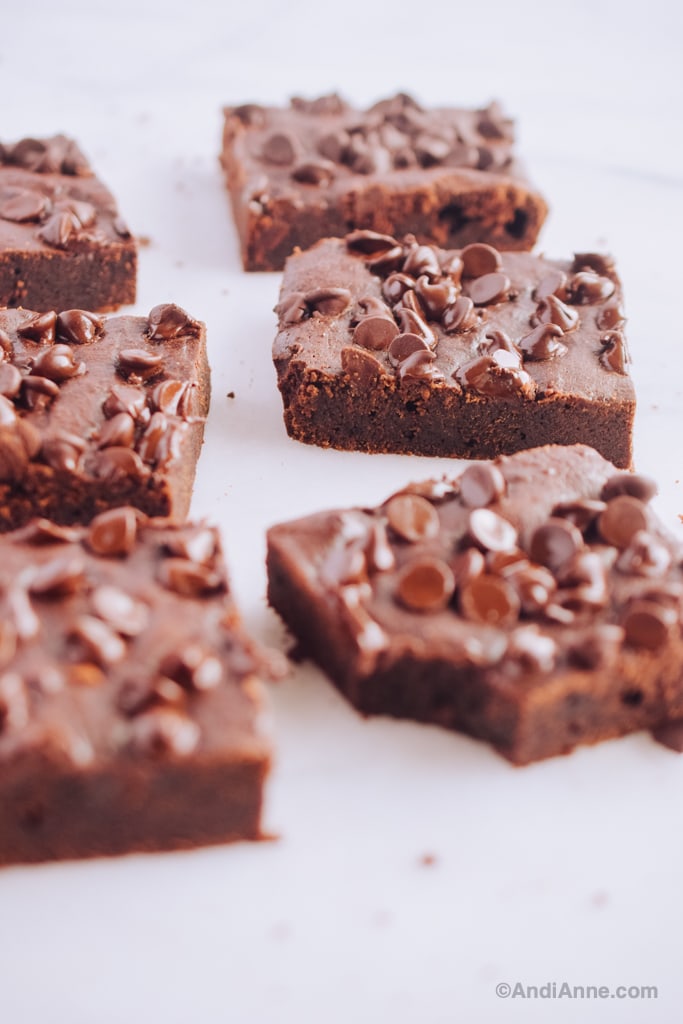 How To Freeze Easy Fudgy Brownies For Later
Ok so yes, you might want to gobble these all up in one sitting… that is also okay, and I've been there.
But these easy fudgy brownies also freeze really well. Why would you freeze them? Well, this is great for having them last longer. I especially love freezing the treats I make for my daughter. For example, I could stretch out this batch of brownies for almost a month for her treats if I cut them small and save them just for her.
We allow our daughter one small treat per day. Everyone is different on this topic, which is totally fine. But she's allowed one small treat after her lunch. These brownies would be great for this if cut into small portions.
Easy Fudgy Brownies Freezing Instructions
Make sure you let the brownies fully cool on the counter first.
Once the brownies are cooled (the chocolate chips will still be melted), I like to add the baking pan with brownies to the fridge for 1 hour. This will chill the chocolate chips on top completely so that I can easily slice brownies into small squares.
After that, remove them from the fridge and slice them into desired sizes. Then place the whole baking sheet into the freezer for 1-2 hours. This will flash freeze the brownies so that you can easily add them to a freezer bag without sticking together.
Label the freezer bag with the name and date created. Then seal brownies tightly inside and store in the freezer. These fudgy brownies will keep nicely in the freezer for up to 3 months.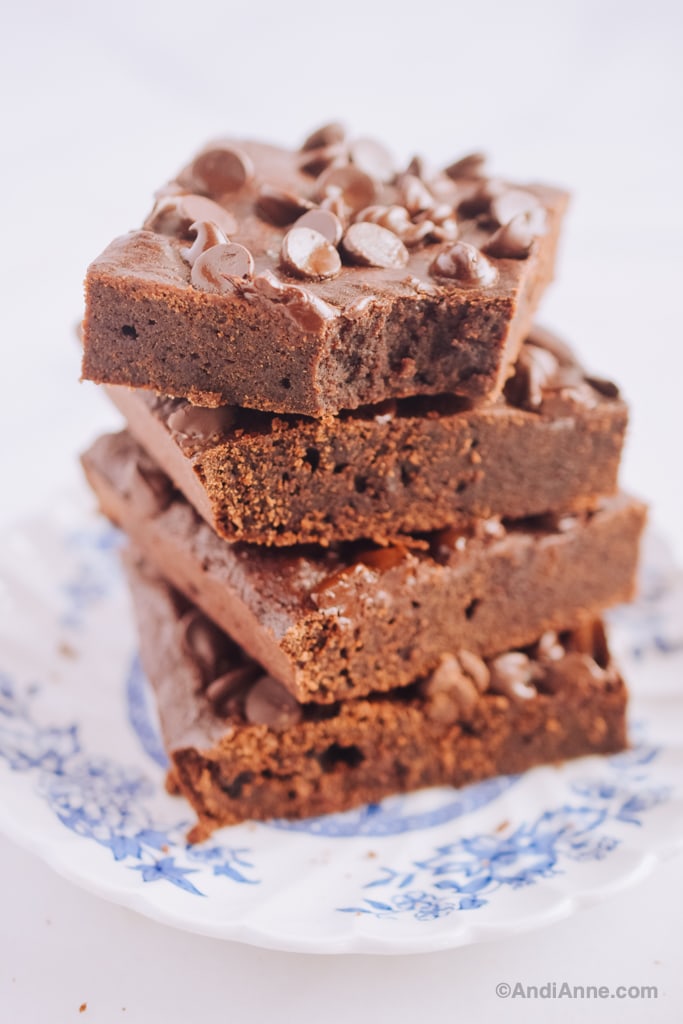 Ready to up your brownie game? I also have a seed butter oat brownies recipe and double chocolate beet brownies that you might want to try.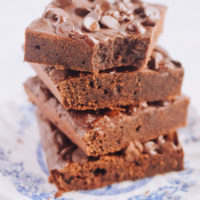 Instructions
Add flour, sugar, cocoa powder, and salt to a bowl. Whisk together and set aside.

In a separate bowl, beat the two eggs with a fork. Add in milk, cooking oil, and vanilla and mix together.

Pour dry ingredients into wet in small amounts at a time, stirring as you go, untill everything is mixed into a smooth batter.

Pour batter into greased pan, and gently spread to edges with a spatula. Sprinkle chocolate chips on top and bake for 30 minutes or until toothpick comes out clean when poked in the center.

Let cool 10 mins, then slice and serve (the chocolate will be gooey at this point). If you want chocolate chips to harden before slicing, let browines cool 20 mins, then place in fridge for 1 hour to chill completely.
Nutrition
Serving:
12
g
|
Calories:
235
kcal
|
Carbohydrates:
34
g
|
Protein:
3
g
|
Fat:
11
g
|
Sodium:
204
mg
|
Potassium:
102
mg
|
Fiber:
2
g
|
Sugar:
18
g
|
Calcium:
31
mg
Please note these nutritional values provided above are just an estimate. Actual numbers will vary based on brands and ingredients you choose, and your preferred portion sizes.
Get The Free AndiAnne Newsletter
Subcribe To My Newsletter For New Recipes Delivered To Your Inbox Weekly.