Fluffy Pancakes Recipe
Disclosure: This post may contain affiliate links.
This fluffy pancake recipe uses the simplest ingredients to create the perfect breakfast treat. All you need are a few pantry basics and some handy tips (which I'll share below) to create easy fluffy pancakes.
And let's face it. Nobody can resist a buttery, syrup-drizzled, steaming stack of pancakes! You are sure to impress your hungry family with this easy homemade recipe.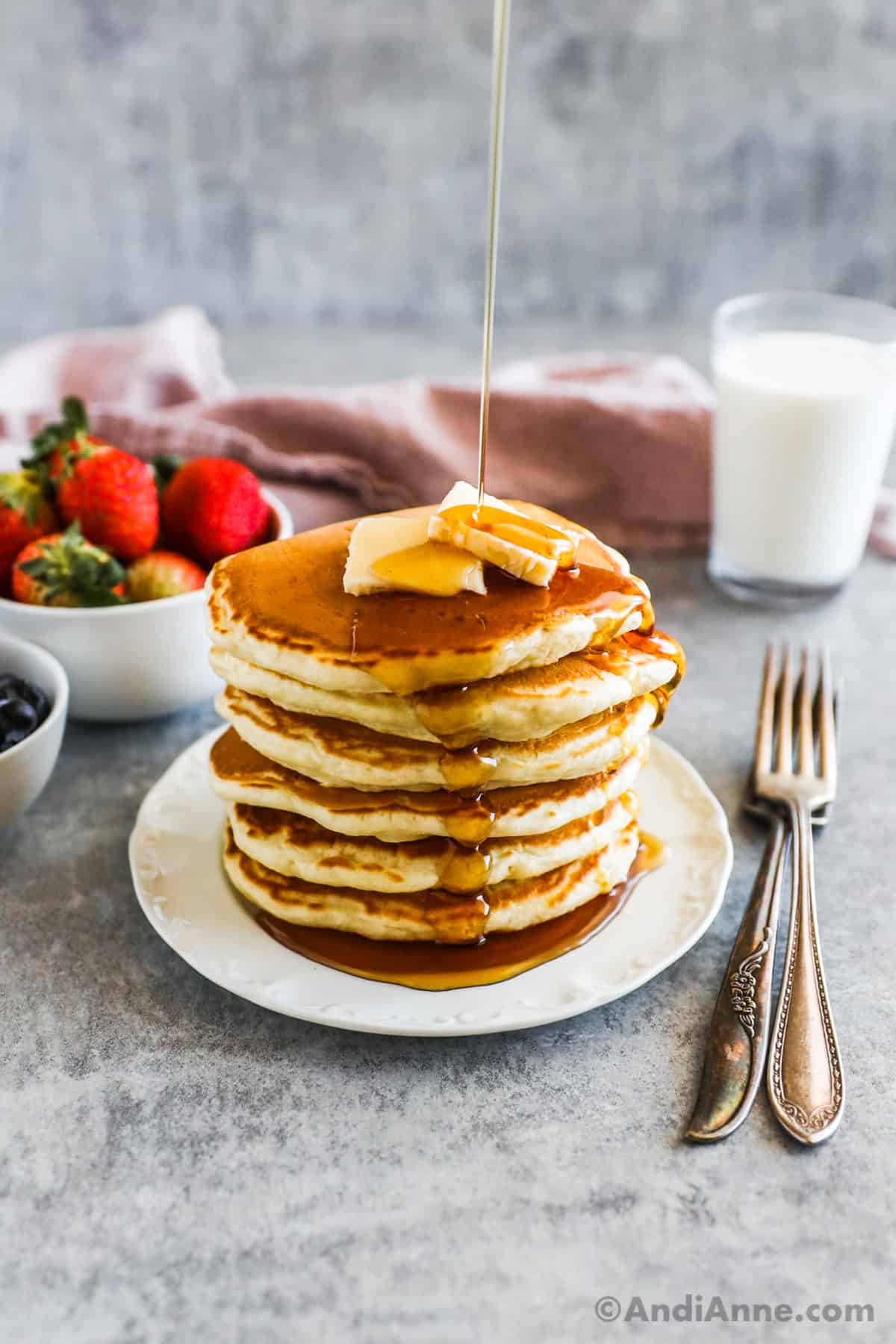 Best Fluffy Pancakes
Our family loves weekend brunch recipes as much as the next, from our sheet pan sweet potato omelette to french toast casserole. If you are a fan of classic recipes that keep things simple, then these fluffy pancakes are perfect!
SIMPLE INGREDIENTS – You won't need to go far to shop for these ingredients… most of them are already in your fridge and pantry!
CHEAP – Homemade pancakes are an easy and inexpensive way to fill up when you're hungry! All the ingredients used are cheap and budget-friendly.
FAMILY FRIENDLY – Kids love pancakes! This recipe is perfect to get the kids involved with as they can easily combine the ingredients while you cook.
VERSATILE – It's easy to customize the base recipe below with fun toppings like fresh berries, chocolate chips, dried fruit, drizzled peanut butter and more!
You can also use this recipe to bake in the oven like our easy sheet pan pancakes (baked on a baking sheet) or added to a muffin pan like our pancake mini muffins.
A day of family activities starts best with a hearty breakfast made with love. Get the kids involved because this recipe is so easy to prepare and simple to cook.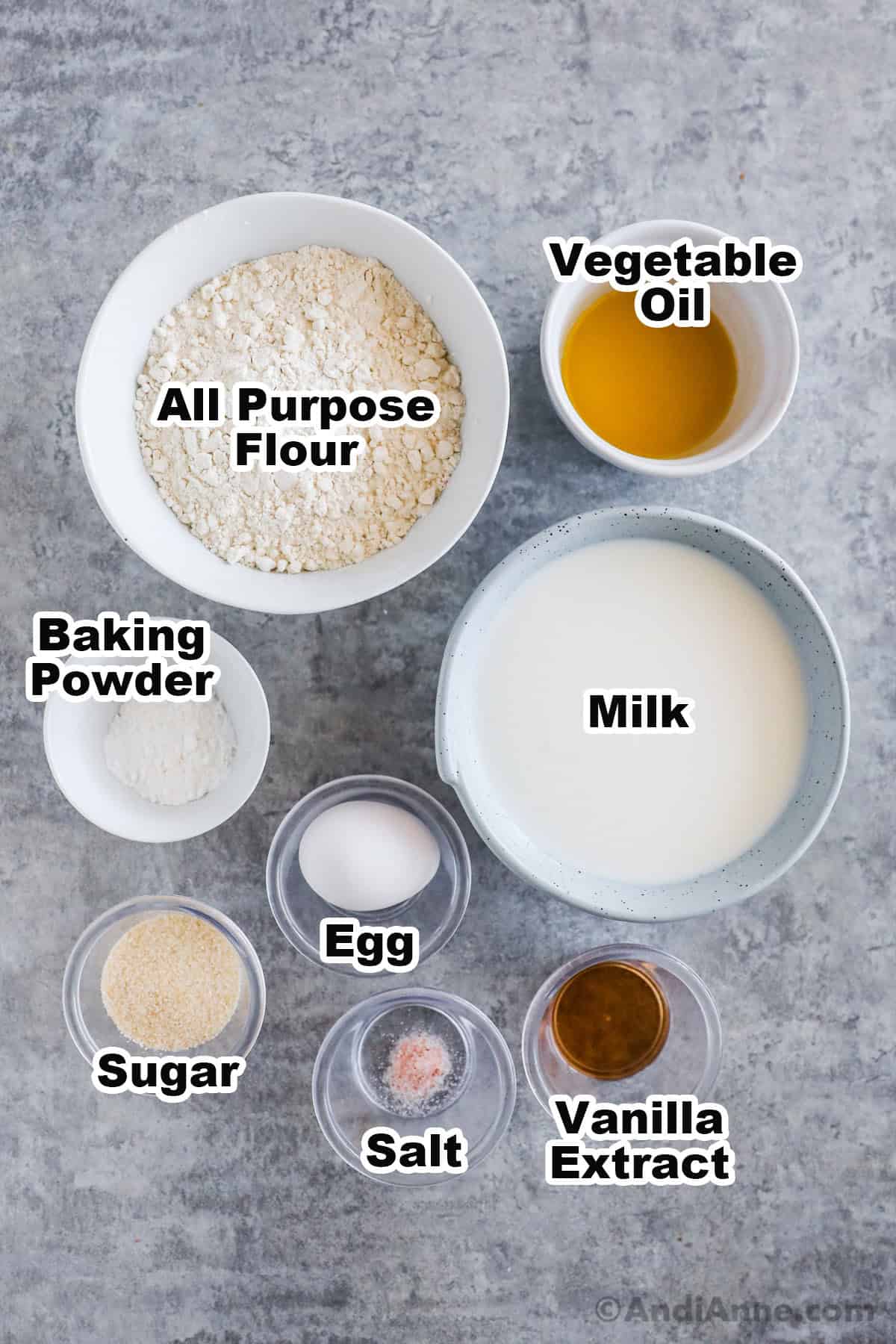 Recipe Ingredients
You don't need a lot of fancy ingredients to make perfectly fluffy pancakes! In fact, the majority of the ingredients required for this recipe are probably already in your pantry and fridge. Here's a quick overview with full details in the recipe card at the bottom of this post.
ALL PURPOSE FLOUR – All purpose flour is the base of the recipe and will produce the best fluffiest results. Whole wheat flour can also be used and will add more fiber. Alternative flours will change the texture and consistency but still work great. For example, our quinoa flour pancakes are still fluffy but with a different taste.
GRANULATED SUGAR – I used granulated sugar but brown sugar, raw sugar and coconut sugar can also be used.
BUTTER – Unsalted butter or vegetable oil will work.
LARGE EGG – This will help bind the ingredients and add to the fluffy texture.
WHOLE MILK – The fat in whole milk will help to create a richer taste. Dairy-free alternatives like almond milk and oat milk can also be used.
BAKING POWDER – 3 tsp of baking powder is what will make these pancakes so fluffy!
SALT – If using salted butter, cut the salt measurement by half.
VANILLA EXTRACT – Adds flavor and brings a warm sweetness to the palate.
Pro Tip: Sift your flour before measuring or spoon small amounts into a larger measuring device and level. This method will give you the precise amount needed and will avoid a dense batter.
Additions To The Batter
These pancakes are customizable! Easily substitute a few of the ingredients using the list below:
MASHED BANANA – Adds sweetness and moisture. This is one of my personal favorites to add to pancakes. You can add 1 mashed banana straight into the batter.
BERRIES – Add blueberries, raspberries, or sliced strawberries to the batter. About 1 cup of berries should do the trick.
CHOCOLATE CHIPS – Regular chocolate chips, mini chips or white chocolate chips are perfect for a sweet treat. You can sprinkle a few onto the wet batter in the frying pan just before flipping.
NUTS AND SEEDS – Try adding chopped walnuts, pecans, almonds, sunflower seeds, pumpkin seeds, or hemp seeds for added crunch.
SPRINKLES – Sprinkle Pancakes with whipped cream and maple syrup is my daughter's favorite tradition on her birthday morning.
Tip: Swap Sugar For Mashed Bananas
Mashed bananas can be used as a natural sweetener in pancakes. You'll need 1-2 overripe bananas and you can mash them easily with a fork. This can be added straight to the batter just like we did with our blender oatmeal banana pancakes recipe.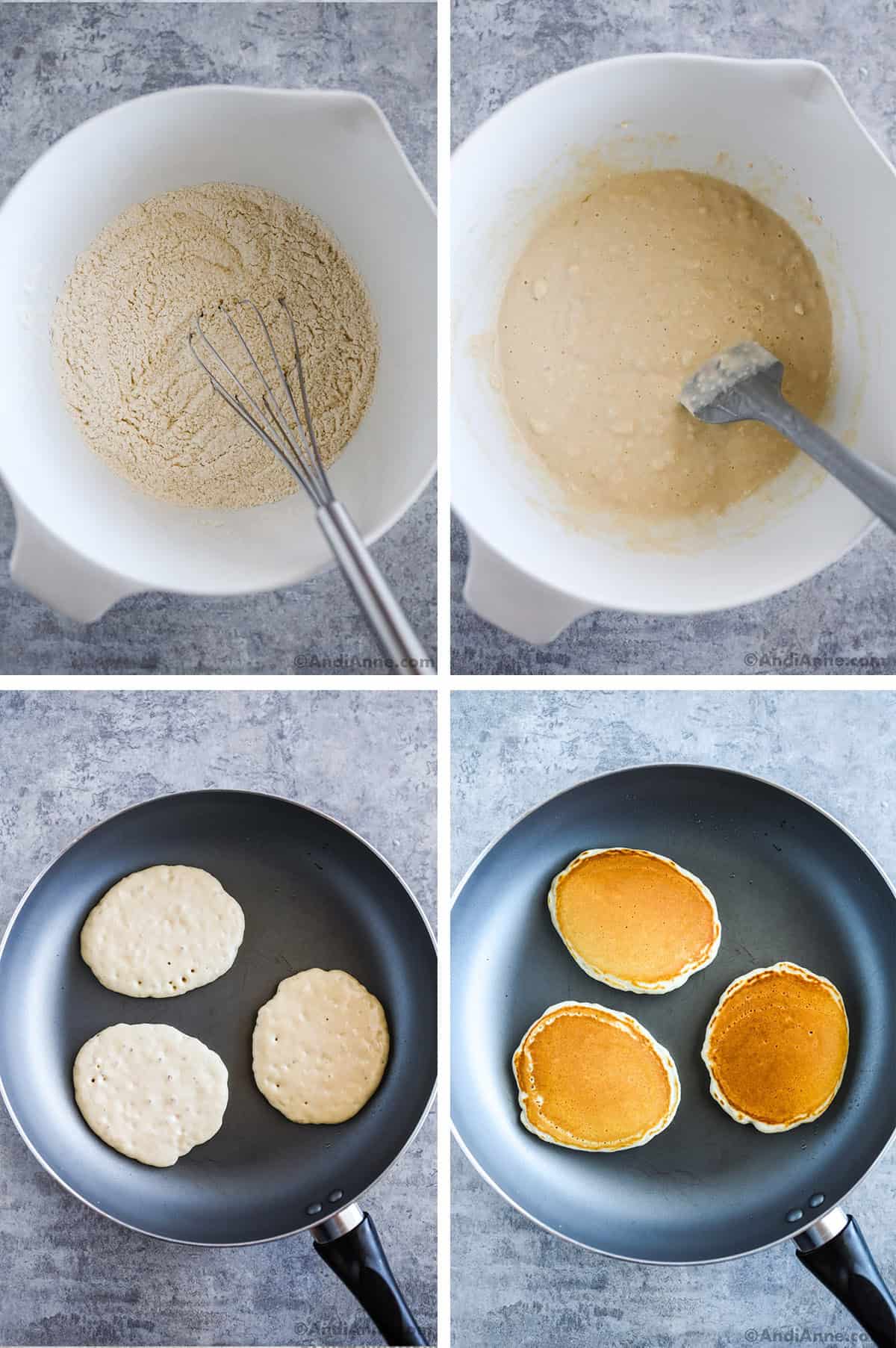 How To Make Fluffy Pancakes
Cinch your housecoat, grab a couple mixing bowls, follow the steps below and let the aroma of fresh griddle cakes gently wake up the family.
WET INGREDIENTS – Using a mixing bowl, combine the whole milk, vegetable oil, egg, and vanilla extract.
DRY INGREDIENTS – In a separate mixing bowl, combine all-purpose flour, baking powder, granulated sugar, and salt.
COMBINE – Make a well in the middle of the dry ingredients bowl and pour the wet ingredients in. Now lightly mix the two until just incorporated. Do not overmix. The batter will still be lumpy. Let batter rest for 5 minutes.
PREHEAT – Heat a large skillet or an electric griddle to medium-high heat with a bit of oil.
COOK – Once heated, add a small amount of vegetable oil or butter. Pour ¼ cup of the batter into the pan to make each pancake. Cook for 2-3 minutes, until bubbles begin to appear on top. Flip and cook for another 1-2 minutes. Repeat these steps with remaining batter.
Pro Tip: Avoid overmixing in step #3. It is ok to have some lumps in the mixture. Too much mixing will result in dense pancakes that are NOT fluffy!
How To Store
Leftovers make the perfect grab-and-go breakfast or snack idea. Here are the best ways to store the pancakes:
COUNTERTOP – These pancakes can be stored in an airtight container or bag and will keep up to 2 days.
REFRIGERATE – Can be stored in an airtight container in the fridge for up to 4 days.
TO FREEZE – I prefer the flash freeze method: Using a cookie sheet, freeze each pancake individually for about 2 hours. ThenpPlace the frozen pancakes into a large freezer bag removing as much air as possible. These can be kept frozen for up to 3 months for maximum freshness.
TO REHEAT – Once thawed, pancakes can be popped into the microwave for 15-30 seconds. We like to add ours to the toaster to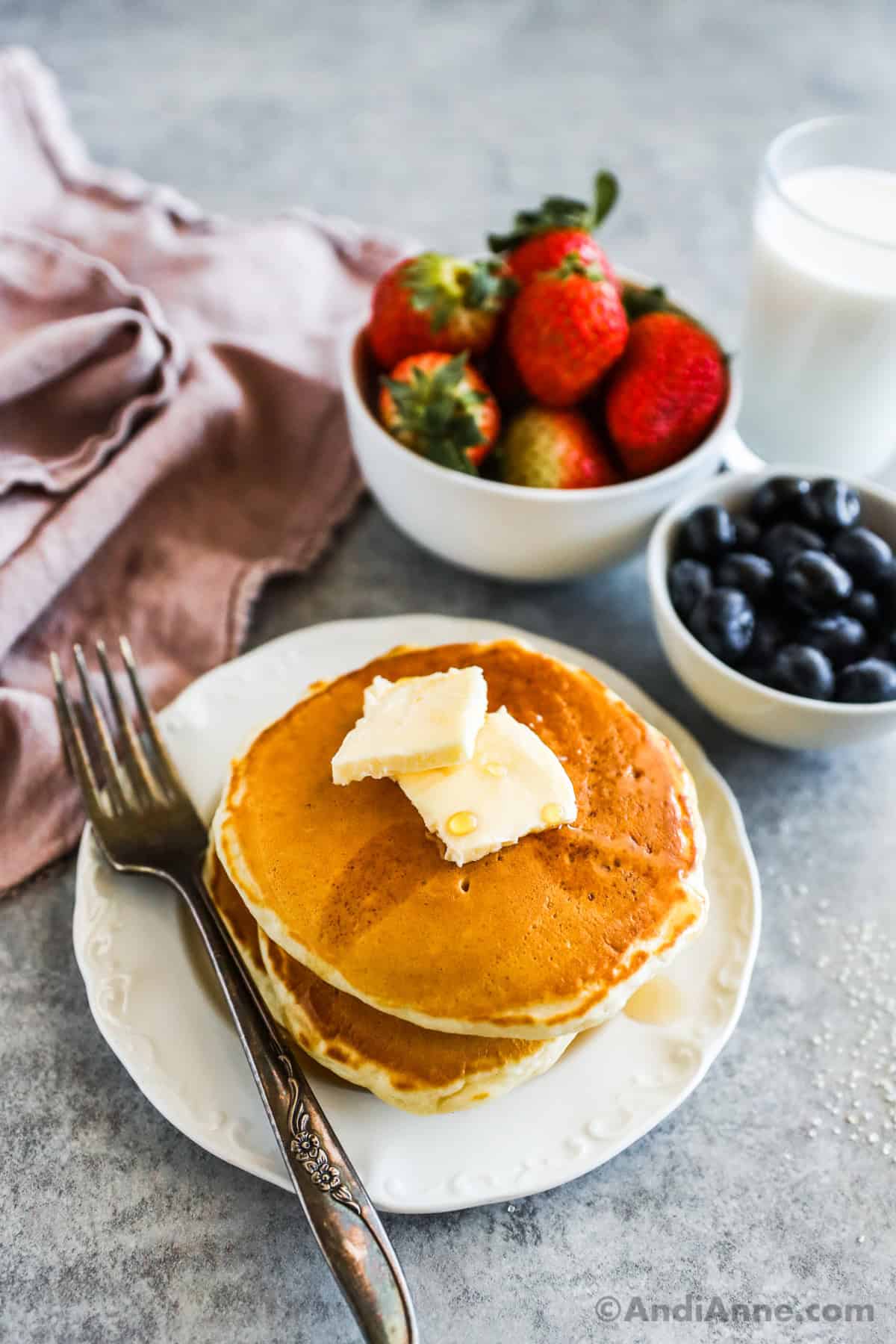 Topping Ideas
Toppings can be added to the batter in the frying pan or sprinkled on top of cooked pancakes. Here are some ideas:
CHOPPED NUTS – Try chopped walnuts, almonds, pecans or peanuts. Mix them into the batter or sprinkle a few on while the pancakes are cooking.
CHOCOLATE CHIPS – Try regular chocolate chips, mini chocolate chips, white chocolate chips or peanut butter chips.
FRESH FRUIT – Add fresh berries or mashed banana to the pancake batter in the pan. Or serve melon, strawberries, and oranges on the side.
LEMON ZEST – Can be sprinkled on the top of the pancakes for a citrus flavor, or mixed into the batter (is especially delicious with blueberries). This pairs well with a drizzle of syrup and a dollop of butter.
SEEDS – Added to the batter or used as a topping, pumpkin seeds, sunflower seeds, or hemp seeds will add crunch and protein.
YOGURT – A dollop of greek yogurt in any flavor on top of pancakes tastes delicious.
WHIPPED CREAM – Who doesn't love whipped cream on pancakes? For a dairy-free version, try our whipped coconut cream. For a special treat, try a scoop of vanilla ice cream.
PEANUT BUTTER – Warm a bit of peanut butter, almond butter or sunflower seed butter in the microwave then drizzle it on top of hot pancakes.
BERRY SAUCE – Try these pancakes using my strawberry sauce recipe. It's delicious!
MAPLE SYRUP – I recommend using pure maple syrup for the best flavor.
Common Questions
How do I make my pancakes golden brown color?
Be sure to turn your stove on and heat the frying pan with a bit of oil before adding the pancake batter. This will help to ensure even cooking.
How do I know when to flip pancakes?
Once the pancakes start to produce lots of bubbles they can be flipped over and cooked for another 2-3 minutes on the other side.
How do you make sure pancakes are fluffy?
You can sift the flour for a more accurate measurement. Avoid overmixing the batter and allow it to rest for a minimum of five minutes before cooking.
What ingredient makes pancakes rise or fluff up?
Baking powder is the secret ingredient to making the fluffiest pancakes! It will increase the volume and create that fluffy texture.
Is it better to make pancakes with milk or water?
Both will work but you will have different results. Whole milk will add a richer flavor and silky texture. Water will not produce the same results but certainly works in a pinch.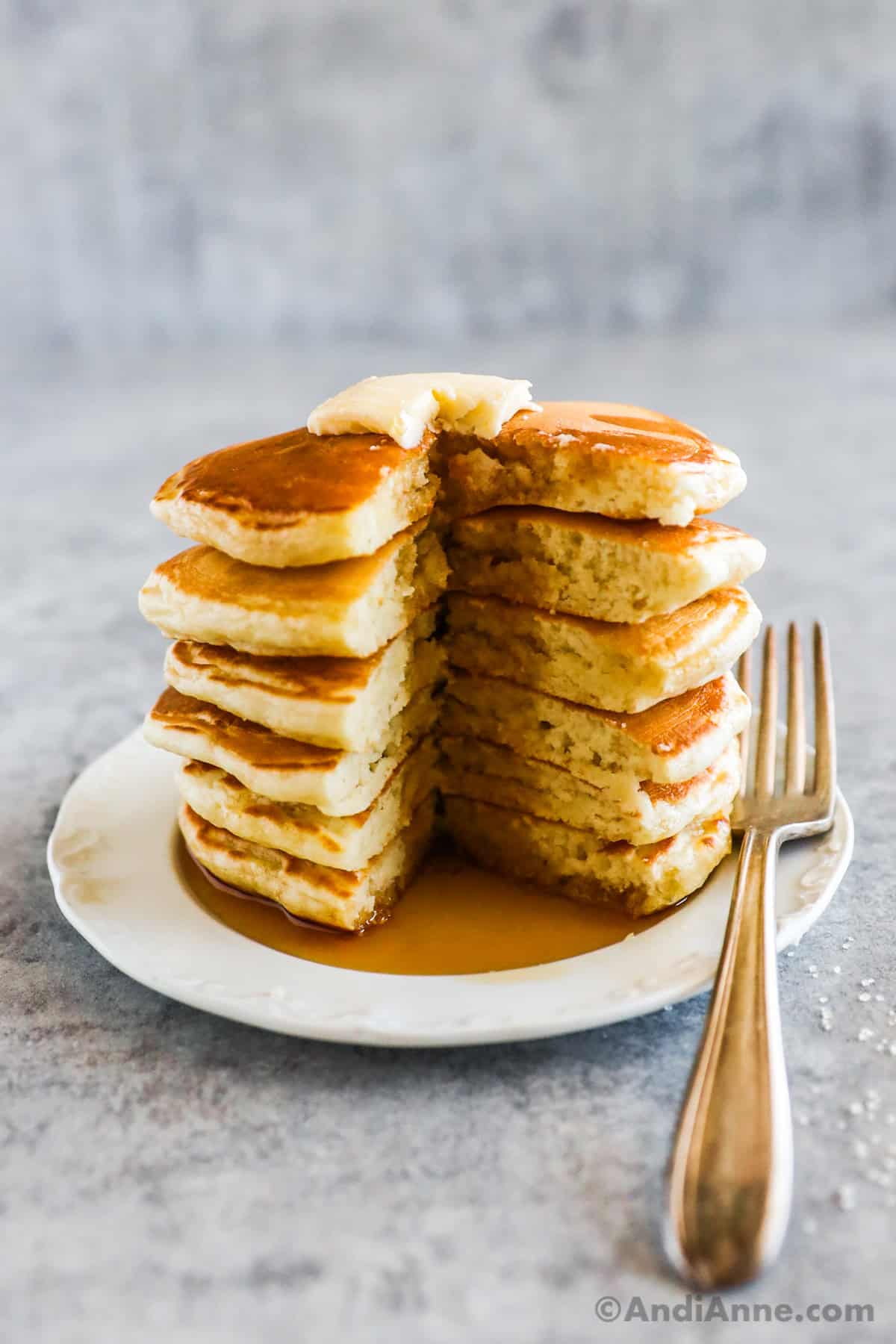 If you're looking for an easy recipe for light and fluffy pancakes, this is definitely it! With simple pantry and fridge ingredients, a batch of this fluffy pancakes recipe can be ready in no time.
More Delicious Breakfast Recipes
If you love easy breakfast recipes as much as we do, then you are sure to love some of these ideas: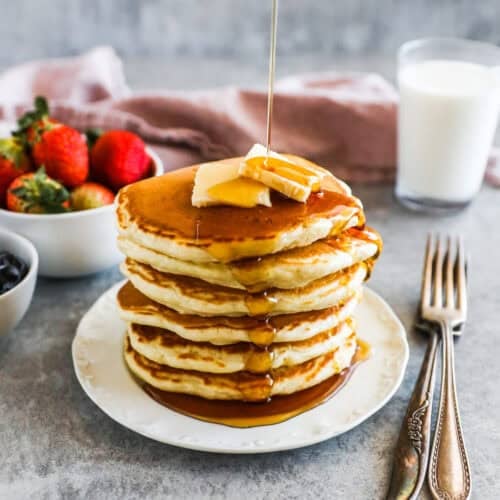 Instructions
Add the egg, vegeable oil, whole milk and vanilla extract to a large bowl and mix everything together.

In a medium bowl mix together the all purpose flour, baking powder, granulated sugar and salt.

Pour the dry ingredients into the wet ingredients bowl. Lightly mix the ingredients together until just combined. Do not overmix. The batter should have small lumps. Let it sit for 5 minutes.

Heat a pan or electric griddle to medium-high heat. Add a bit of vegetable oil or butter to coat the surface. Pour ¼ cup of batter to make each pancake. Let it cook until bubbles start to form on the surface.

Flip over and cook 1-2 more minutes on the other side. Remove to a plate and cover with a clean kitchen towel. Repeat with the rest of the batter until all pancakes are cooked.

Serve warm with butter, real maple syrup or any other favorite toppings.
Recipe Notes:
Storing Leftovers: Pancakes can be stored in an airtight container in the fridge for up to 5 days and freezer up to 3 months. 
Nutrition
Calories:
90
kcal
|
Carbohydrates:
16
g
|
Protein:
3
g
|
Fat:
1
g
|
Saturated Fat:
1
g
|
Polyunsaturated Fat:
0.2
g
|
Monounsaturated Fat:
0.4
g
|
Trans Fat:
0.002
g
|
Cholesterol:
17
mg
|
Sodium:
172
mg
|
Potassium:
68
mg
|
Fiber:
0.4
g
|
Sugar:
4
g
|
Vitamin A:
69
IU
|
Calcium:
101
mg
|
Iron:
1
mg