Looking for a healthy, easy lunch recipe? Then this grilled zucchini hummus veggie wrap is for you! This wrap is packed full of nutritious vegetables – it's sooo tasty – and the crunchy outside gives it the perfect kick!
This grilled zucchini with hummus veggie wrap is sooooo good! Really.
What I like about it is that it's easy to make and uses really simple ingredients. You can make it ahead of time and pack it for an on-the-go lunch (just reheat for 30 seconds in the microwave), or make it at home.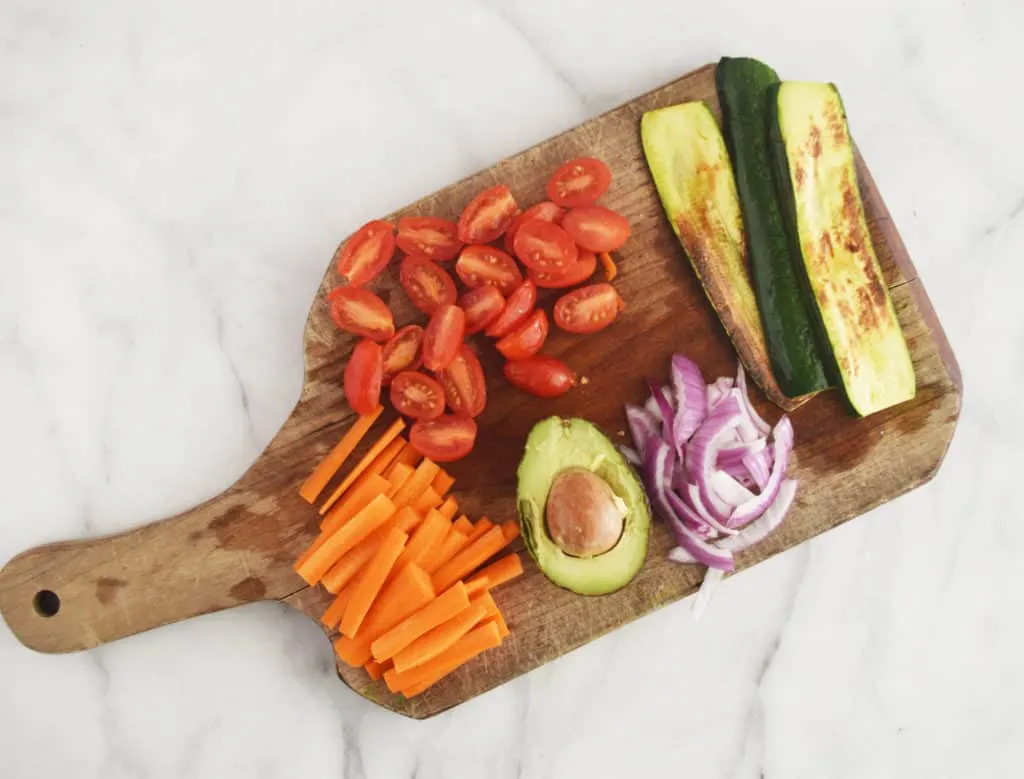 Inside the grilled zucchini wrap I'm using a variety of incredible vegetables that are so so good for nourishing your body. And you'll be getting protein from the hummus.
BENEFITS OF VEGETABLES
ZUCCHINI: An excellent source of vitamin A, and vitamin C and a good source of manganese. It helps to boost immunity and fight infection.
CHERRY TOMATOES: Excellent source of vitamin C and a good source of vitamin A and vitamin K. Tomatoes can help to reduce inflammation and promote heart health.
AVOCADO: These are a good source of fiber, folate, and vitamin K. Avocados promote heart health, lower cholesterol, aid in digestion and promote glowing skin. Avocados include a variety of nutrients and are an excellent source of healthy fats.
CARROTS: An excellent source of vitamin A, and a good source of vitamin C, vitamin K, and fiber. Carrots help to improve eye health, boost immunity and aid in digestion.
RED ONION: A good source of vitamin C. Onions can help boost immunity and promote heart health.
MESCLUN GREENS: This is a type of salad mix that includes a variety of different types of lettuce leaves. They are high in vitamin A, vitamin C, and folate.
HUMMUS: Hummus is made from chickpeas, which are an excellent source of fiber and folate. They're also a good source of iron, magnesium, phosphorus, and protein. About 1/2 cup of chickpeas contains 7 grams of protein! Chickpeas help to support satiety (that "full and satisfied" feeling after a meal), they can help with weight loss, aid in digestion, and can help to regulate blood sugar levels.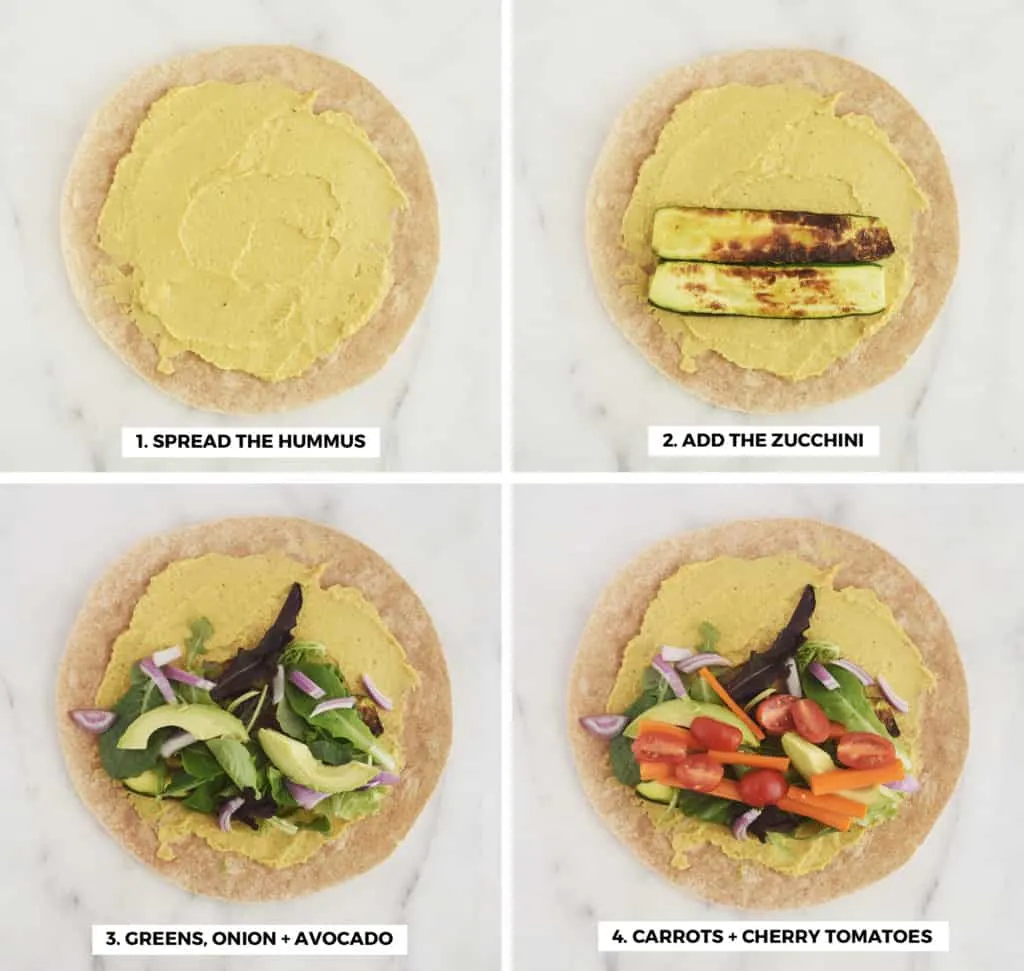 HOW TO MAKE THE ZUCCHINI HUMMUS VEGGIE WRAP
To make this wrap, you'll be grilling zucchini and then topping it with delicious raw vegetables like carrots, avocado, tomatoes, and onion. What makes the wrap super tasty is the hummus – so don't skip this step! And feel free to add as much as you like. It adds so much flavor to this tasty lunch.
You do not need a fancy grill to make this wrap. I just used my cast-iron frying pan. And you can change up the veggies depending on what you have in your fridge. Feel free to experiment and customize according to your own personal tastes.
To make this wrap I used homemade hummus, but you can also use a store-bought version to save yourself some time. Hummus is a very versatile dip to have on hand in your fridge. You can use it for so many things – as a snack with sliced raw veggies, in a wrap like this recipe, or add a big dollop to the top of a salad you're making. It's so yum and so good for you.
Alright, enough talking, let's get to the tasty recipe, shall we!?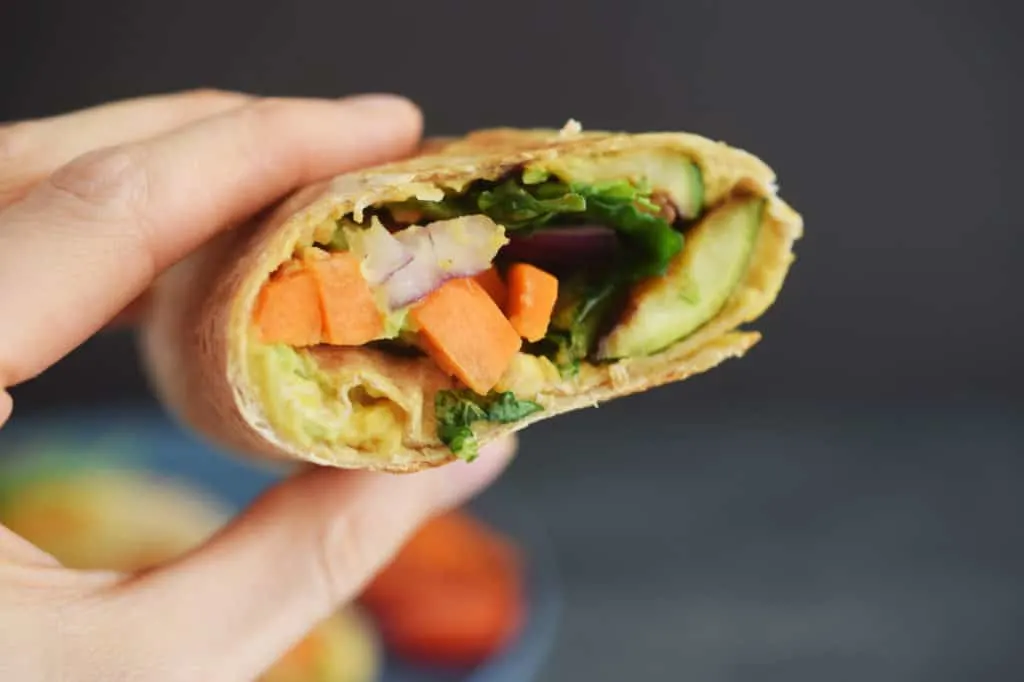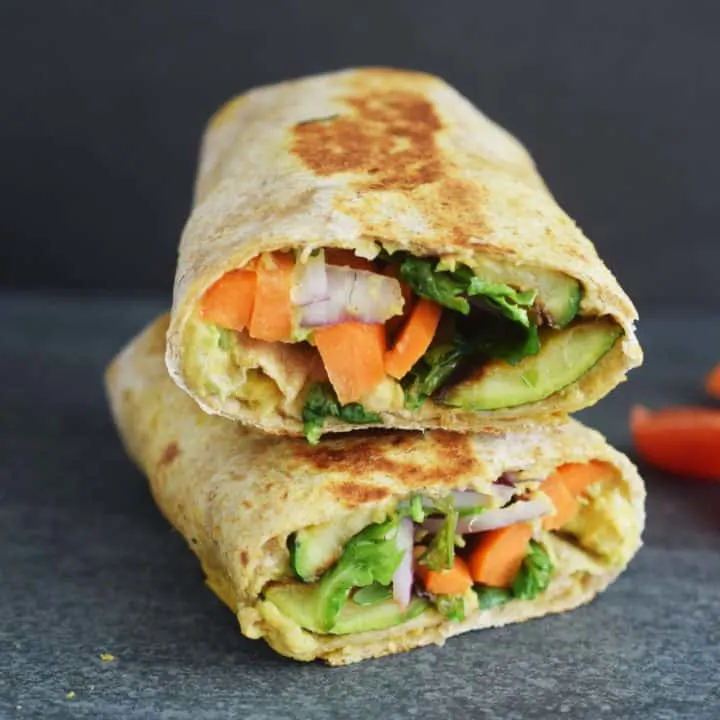 Grilled Zucchini Hummus Veggie Wrap
Ingredients
1 zucchini, sliced and ends cut off
1 Tbsp coconut oil
Sea salt and ground pepper
1 cup mesclun greens
2 carrots, peeled and sliced thin
1/2 ripe avocado, sliced
5-6 cherry tomatoes, sliced in half
1/4 red onion, sliced thin
1/4 cup hummus
2 gluten-free tortillas
Instructions
Heat up your frying pan over medium-high heat. Add the coconut oil and cook zucchini until it's slightly brown and cooked all the way through. Season with sea salt and ground pepper as you're cooking it.
Take your wrap and spread a layer of hummus overtop. Place 2 slices of grilled zucchini and then add in the toppings: mesclun greens, carrots, avocado, cherry tomatoes, and red onion. Roll the wrap and place back on the frying pan to grill for 1-2 minutes on each side until crisp.
Slice in half and serve with a salad for lunch.
Notes
See more family-friendly recipes on our website: www.andianne.com
Nutrition Information:
Yield:

2
Serving Size:

1
Amount Per Serving:
Calories:

405
Total Fat:

21g
Saturated Fat:

8g
Trans Fat:

0g
Unsaturated Fat:

11g
Cholesterol:

0mg
Sodium:

684mg
Carbohydrates:

47g
Fiber:

11g
Sugar:

6g
Protein:

10g
Please note: This nutrition information is only an estimate and was created using Nutritionix