Aren't these Halloween mummy chickpea brownies the cutest? They're actually quite easy to make. These brownies are gluten-free and use no refined sugar. The cream cheese icing is made without powdered sugar – instead using coconut sugar to sweeten. The candy eyeballs add the perfect touch to this spooky, delicious treat that will be a hit with the kids!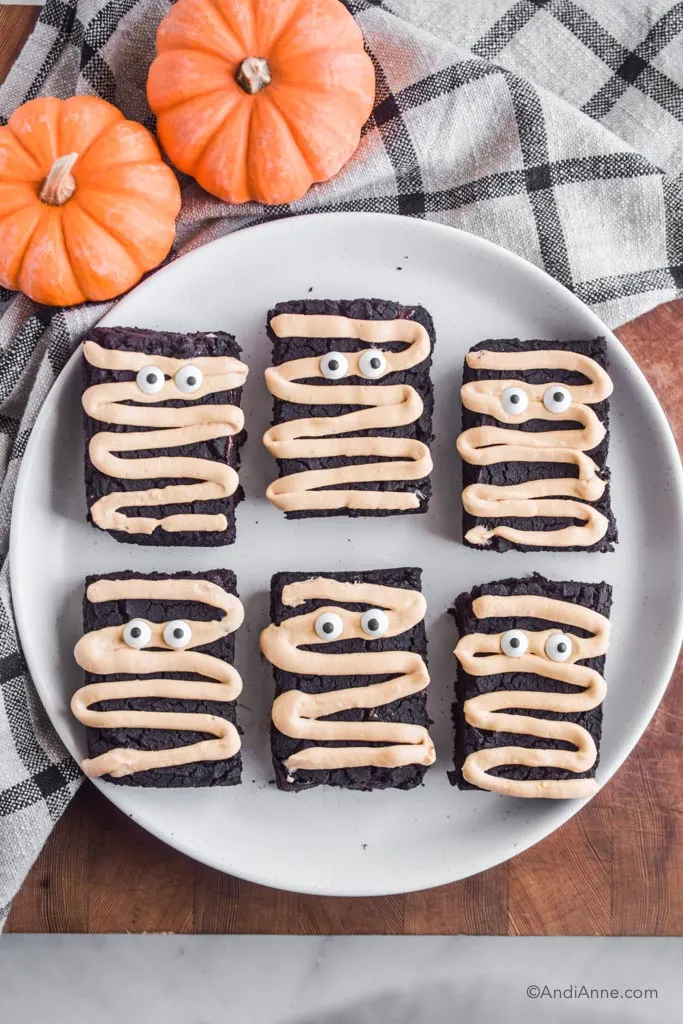 Halloween Mummy Chickpea Brownies
You guys, my daughter LOVED these! She's not always big on the textures of my healthy baking (for example, she really didn't like my quinoa flour pancakes)… but these chickpea brownies were a total hit! It's probably because they were masked in chocolate. Anything hidden in chocolate is always a good thing to her.
She loved the cream cheese icing on top too. All in all, these were a lot of fun to make and enjoy for Halloween.
What I love about this recipe is that you can choose better-quality ingredients that are more natural. There's less sugar and no unwanted preservatives or artificial ingredients. This always makes me feel better when feeding it to my family.
While I love making all the recipes on my blog, it's the creative ones where I get to have some fun that really excite me! I guess I like to play with my food!
I highly recommend making these with your kids or grandkids. What a great Halloween activity to enjoy together.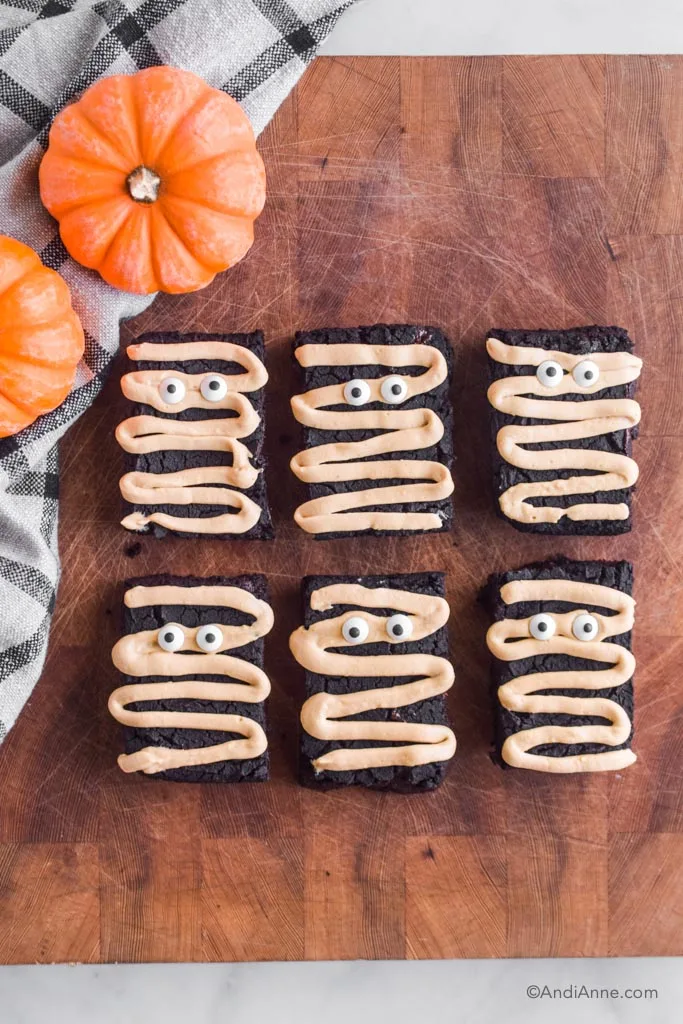 Halloween Chickpea Brownies Ingredients
Here's a list of what you'll need to make these Halloween mummy chickpea brownies including a few substitutions:
Chickpeas – These are acting as the base of the recipe. We aren't using any flour. Don't worry, you can't taste the chickpeas. But they do act as the perfect fudgy consistency.
Cacao Powder – Did you know that cacao powder is healthier than cocoa powder!? Yes, they look the same but they're actually not. Cacao powder can be a healthier substitute for your baking recipes. It's a source of protein, magnesium, iron, potassium, and fiber. You can usually find this in the "health foods" section of your store, or you can purchase it online. If you prefer to use cocoa powder, that will also work in this recipe. Choose unsweetened cocoa powder though. Sweetened cocoa powder contains refined sugar.
Coconut Sugar – I love to use coconut sugar in my baking because the sweetness is far more subtle and won't overpower the natural flavors of other ingredients. Don't worry, It doesn't taste like coconut at all! You could also use lakanto monkfruit sweetener which is a great sugar-free alternative.
Chocolate Chips – Look for 70% dark chocolate chips which will have minimal refined sugar added to them and will be primarily made from cacao.
Other Baking Ingredients – You'll also need two eggs, baking powder, baking soda, and vanilla extract.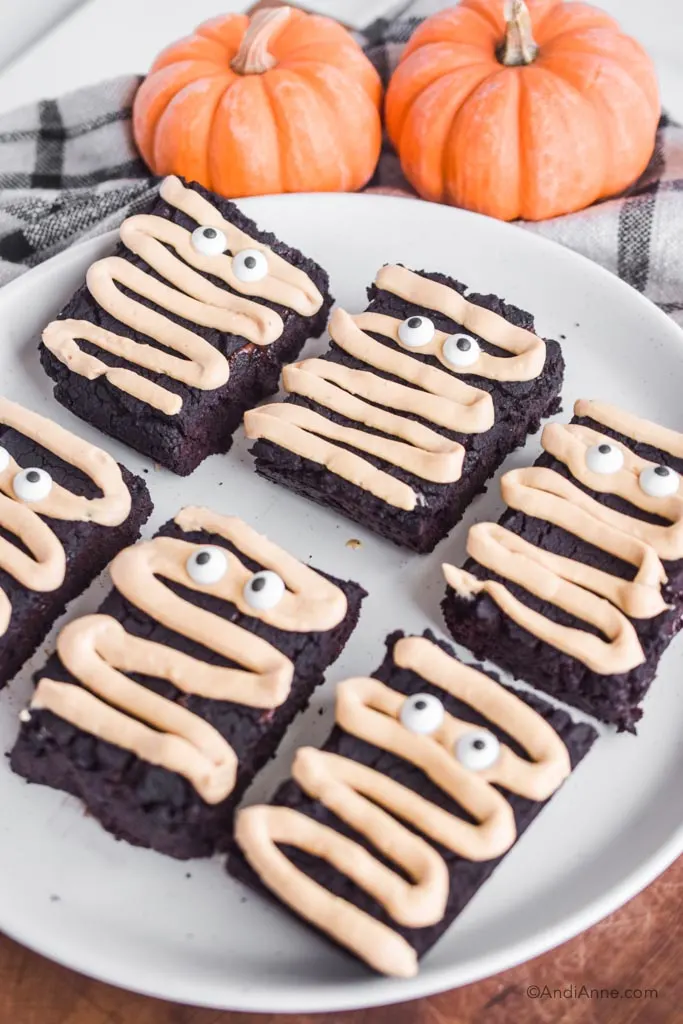 How To Make Cream Cheese Frosting Without Powdered Sugar
You can make beautiful cream cheese frosting without powdered sugar! I was happy to figure this out because I don't want any refined sugar in my family recipes – this is just a personal preference.
I have a whole blog post on how to make a big batch of cream cheese frosting here. You can use this icing for your cupcakes and cakes too.
But here's the cliff's notes version of how to make the cream cheese frosting for you:
Before you start, leave the cream cheese and whipping cream at room temperature for an hour before use. The cream cheese should be soft before you make the icing.
Add the whipping cream, coconut sugar and vanilla to a large bowl. You can use a hand mixer or stand mixer. Blend for 2-3 minutes, or until the whipping cream starts to thicken and form peaks.
Slice the cream cheese into small pieces. Add a few pieces at a time into the whipping cream mixture and blend. Repeat until all the cream cheese is mixed.
If you see lots of tiny bumps, let the frosting sit for 30-60 minutes, then mix again. The cream cheese might still be a bit cold and just needs to warm up. However, it's also okay to have a few small bumps. This will vary in different brands of cream cheese.
How To Make A Piping Bag
Here's a handy tip: There's no need to own a piping bag for this recipe. You can use a simple sandwich bag instead. All you need to do is add the frosting to the sandwich bag and seal it tightly. Then snip off a very tiny piece of one corner. Squeeze the icing into the corner and it will start to come out. Use this to create the zig-zags of the mummy design.
Where Do I Buy Candy Eyeballs?
I was able to find some in the baking section of my grocery store. However, that's not always the case. You can also buy them online here.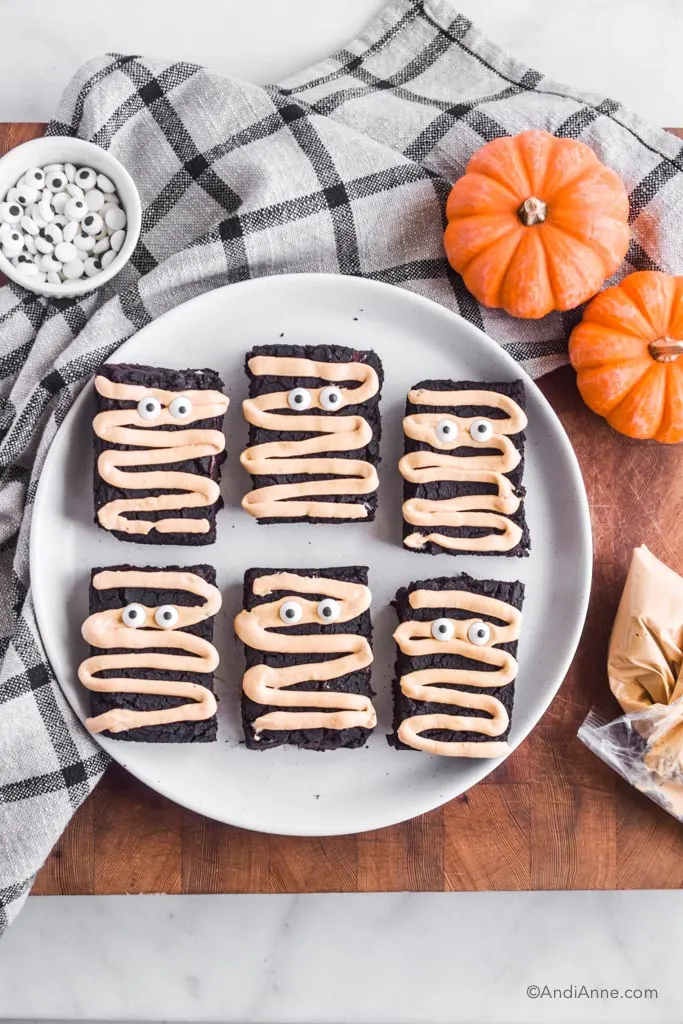 More Recipes For Kids
I love sharing kids' recipes. Here are just a few more you might want to try:
Pumpkin Chocolate Chip Muffins – These muffins are gluten-free, easy to make and store well in the freezer. It's easy to pop a frozen one into kids lunches.
Pancake Mini Muffins – An easy way to cook a batch of pancakes and keep them in the fridge for bite-size snacks. Perfect for little kids hands.
Ladybug Cupcakes – The cutest little cupcakes with no refined sugar. These would be great for a party.
Homemade Oreos with Cream Cheese Icing – They're basically heaven in a cookie. Kids love them, parents can't stop eating them… they're totally addictive and worth making from scratch.
Animal Breakfast Toast – This list has tons of variety and includes a lot of fresh fruits and vegetables like strawberries, blueberries, avocado, tomatoes, and cucumber to make sure you're getting healthy ingredients first thing in the morning.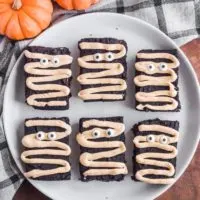 Halloween Mummy Chickpea Brownies
These Halloween brownies are gluten-free and use no refined sugar. The cream cheese icing is made without powdered sugar – instead using coconut sugar to sweeten. The candy eyeballs add the perfect touch to this spooky, delicious treat that will be a hit with the kids!
Save Recipe!
Saved!
Pin This
Print It
Instructions
Preheat the oven to 350°F. Spray a square baking dish with cooking spray (I use avocado oil spray).

Add all ingredients to a food processor and blend until smooth and creamy. You might need to use a spatula to scoop down the sides halfway through.

Batter should be smooth, creamy and chocolatey with chickpeas fully broken down.

Grease a square baking dish with nonstick cooking spray (I use avocado oil spray). Add the batter and smooth the top with a spatula. Bake for 28-32 minutes.

Slice into six rectangular pieces. Let the brownies cool completely before moving on to next step. To speed up the process, place them in the fridge once they're warm (not hot).

Make the cream cheese frosting: add the whipping cream, coconut sugar and vanilla to a large bowl with mixer. Mix until it turns a thick consistency, about 2-3 minutes. Add in the cream cheese in small pieces at a time. Blend until smooth and creamy. (see troubleshooting tips here)

Place cream cheese frosting in a plastic sandwich bag. Seal the top tightly and snip a tiny piece of the corner to create a piping bag.

Run the frosting overtop of each brownie to create a zig zag shape.

Place two candy eyeballs in the center.

Serve, and enjoy! These chickpea brownies can be stored in an airtight container in the fridge for up to 1 week.
Nutrition
Calories:
256
kcal
|
Carbohydrates:
26
g
|
Protein:
4
g
|
Fat:
17
g
|
Saturated Fat:
12
g
|
Polyunsaturated Fat:
1
g
|
Monounsaturated Fat:
3
g
|
Cholesterol:
39
mg
|
Sodium:
271
mg
|
Potassium:
243
mg
|
Fiber:
3
g
|
Sugar:
15
g
|
Vitamin A:
450
IU
|
Vitamin C:
1
mg
|
Calcium:
121
mg
|
Iron:
1
mg
The nutritional information provided is an estimate and is per serving.