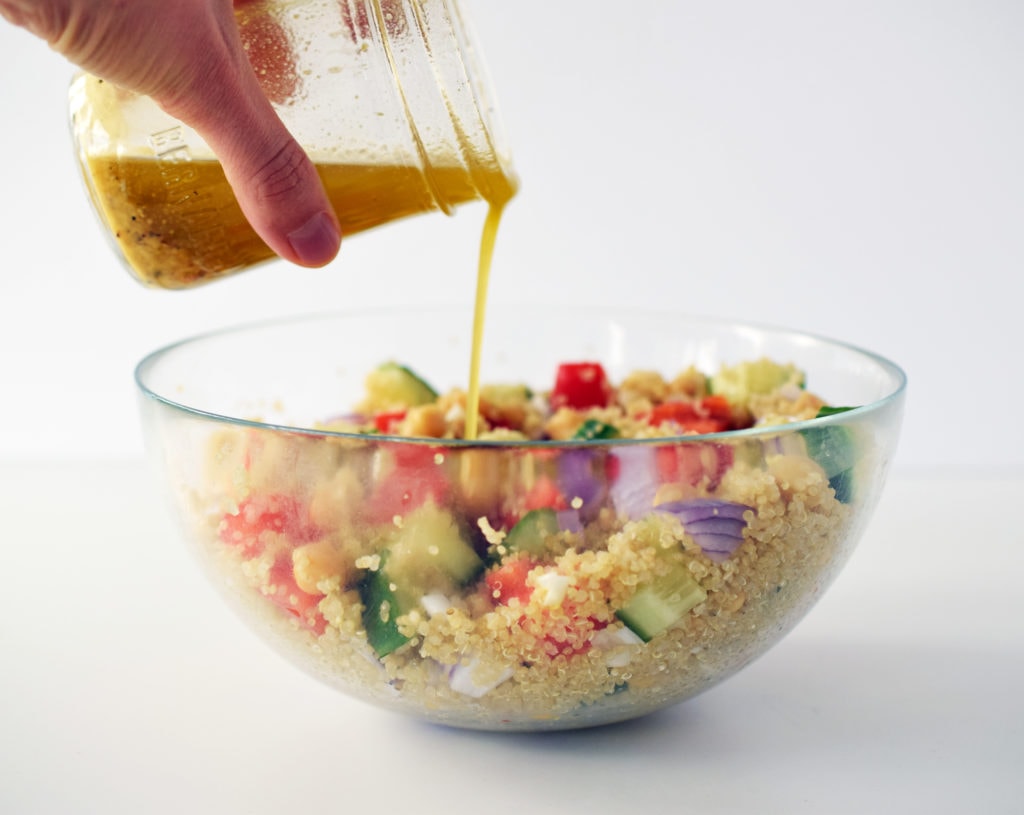 Honey Dijon Quinoa Salad
Honey dijon quinoa salad is an easy salad that is perfect for lunch or dinner. Once you cook the quinoa, it all comes together quite quickly. So whether you need a salad for a summer picnic, a healthy weeknight dinner, or packed in a mason jar for lunch on-the-go, this salad is a great option.
I am on a salad kick lately! This is coming from a girl who grew up hating vegetables. I think my childhood left me with a bad impression of salads. I didn't realize that there is so much more to them – they can be incredibly flavorful and you don't have to be stuck eating the same iceberg lettuce salad every night at dinner.
This honey dijon quinoa salad is healthy and tastes great. You'll be getting protein from quinoa and chickpeas, and loads of vitamins and minerals from red pepper, cucumber, and red onion.
What is Quinoa?
Quinoa is often referred to as a "superfood" and is a great ingredient to add to almost every meal. Contrary to popular belief, quinoa isn't actually a grain. It's a seed that is often consumed like a grain. Quinoa is a good source of protein, fiber, and antioxidants.
When you're preparing quinoa, it's important to soak it in water for at least 30 mins prior. This will help to release the phytic acid – an enzyme in quinoa that our bodies have a hard time digesting.
money saving tip: Skip the packaged quinoa and buy in bulk to save money. My favorite tip is to soak the grains in water overnight, then cook a large batch the next day and store it in the fridge. You can use the quinoa in a variety of meals throughout the seek.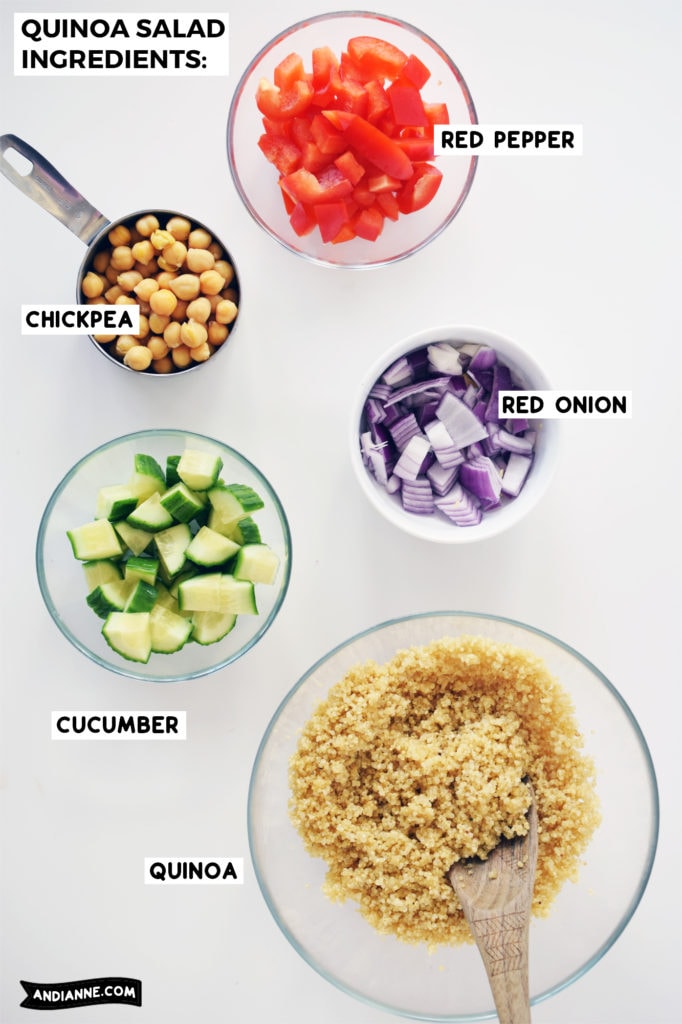 Honey Dijon Quinoa Salad Ingredients
There's not a lot to this recipe, but that's what I love about it.
Quinoa: This acts as the base of the salad that holds everything together.
Veggies: This recipe uses cucumber, red onion, and red pepper.
Dressing: So easy to put together. The dressing is a combination of olive oil, dijon mustard, apple cider vinegar, and honey.
Chickpeas: I love chickpeas because they're also high in protein, so great for fueling your body with more energy.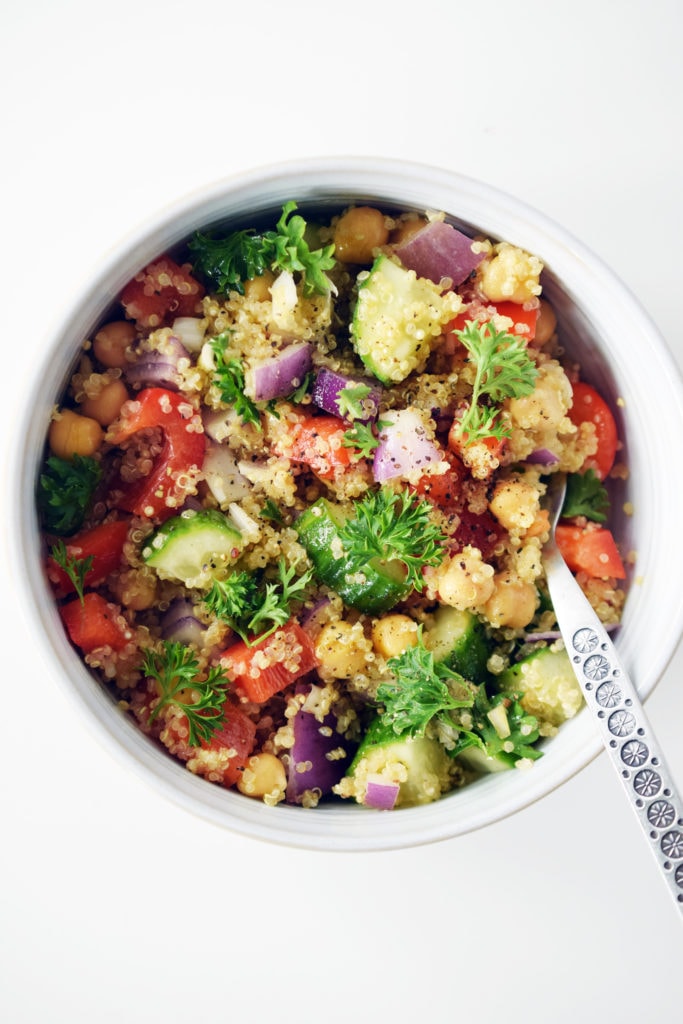 How To Make Honey Dijon Quinoa Salad
Cook The Quinoa: The ratio for cooking quinoa is 2:1. Two cups water to one cup quinoa. In a pot, bring the water to a boil, then reduce to simmer until quinoa absorbs all the water.
Make The Dressing: In a mason jar combine the dressing ingredients. Seal with a lid and shake it up.
Prep and Assemble The Salad: Mix up the salad ingredients in a bowl. Drizzle the dressing overtop. Toss everything together and serve.
Pro Tip: How To Make Fluffy Quinoa That Isn't Mushy
It's easy to make mushy quinoa that doesn't taste very good. I've done it in the past and when I do, I rarely want to eat it. But there's actually a simple trick to making quinoa that is fluffy and the perfect consistency.
While the quinoa is cooking on the stove, don't stir it. Not even a bit!
Let the quinoa cook and absorb all the water, but don't mix. Seriously!
When it looks like the water is almost fully absorbed, take a spoon and gently move the quinoa to the side to see if there's any water at the bottom of the pot.
If the water is all gone, remove the pot from the heat and let it sit for 5 minutes.
After 5 minutes, take a fork and fluff the quinoa. This will create the perfect consistency!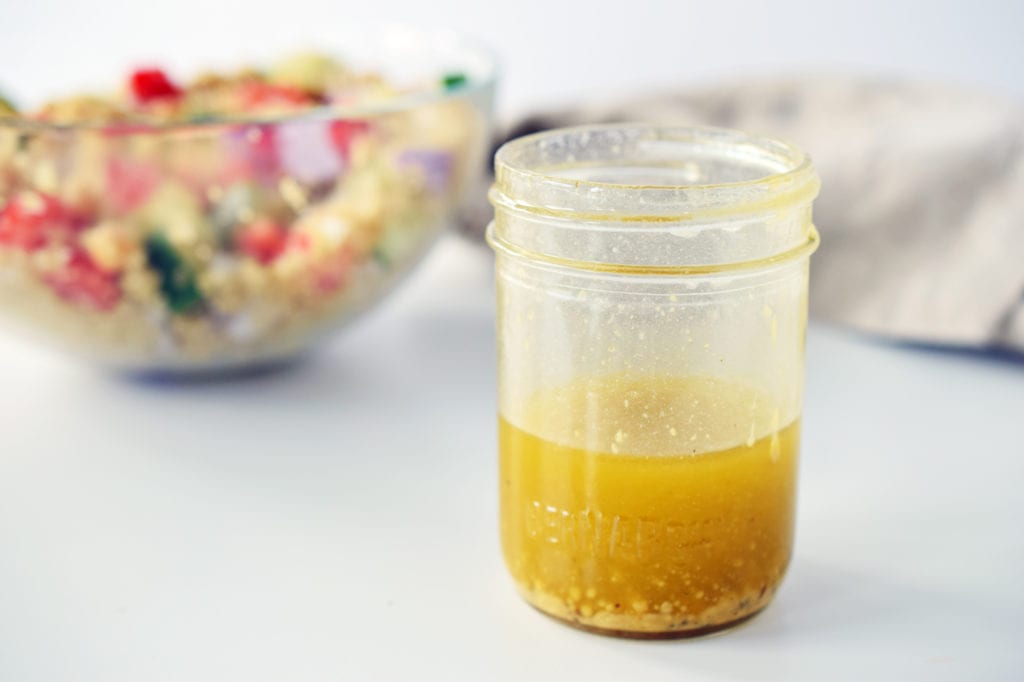 How Do You Make Honey Dijon Salad Dressing?
For this quinoa salad recipe, you'll be making your own honey dijon dressing. If you've never tried to make your own salad dressing, it's my goal in life to convert you to it. That means no more store-bought dressings that are loaded with preservatives and refined sugar (well, most of the time at least).
I can totally relate to being intimidated by making my own salad dressings – I thought they were far more complicated than they actually are. It turns out they're super easy to whip up at home, and way cheaper too!
I like to keep 8 oz small mason jars handy in my kitchen for my homemade sauces and dressings. I just dump all the ingredients in, seal the lid and give it a good shake. Then pour over the salad and ta-da! So easy.
What Can You Serve Quinoa Salad With?
This salad can be eaten on its own for lunches or a light dinner. But it also works well as a nutritious side salad with dijon thyme baked chicken, balsamic glazed chicken wings, or any pork or beef recipe your family enjoys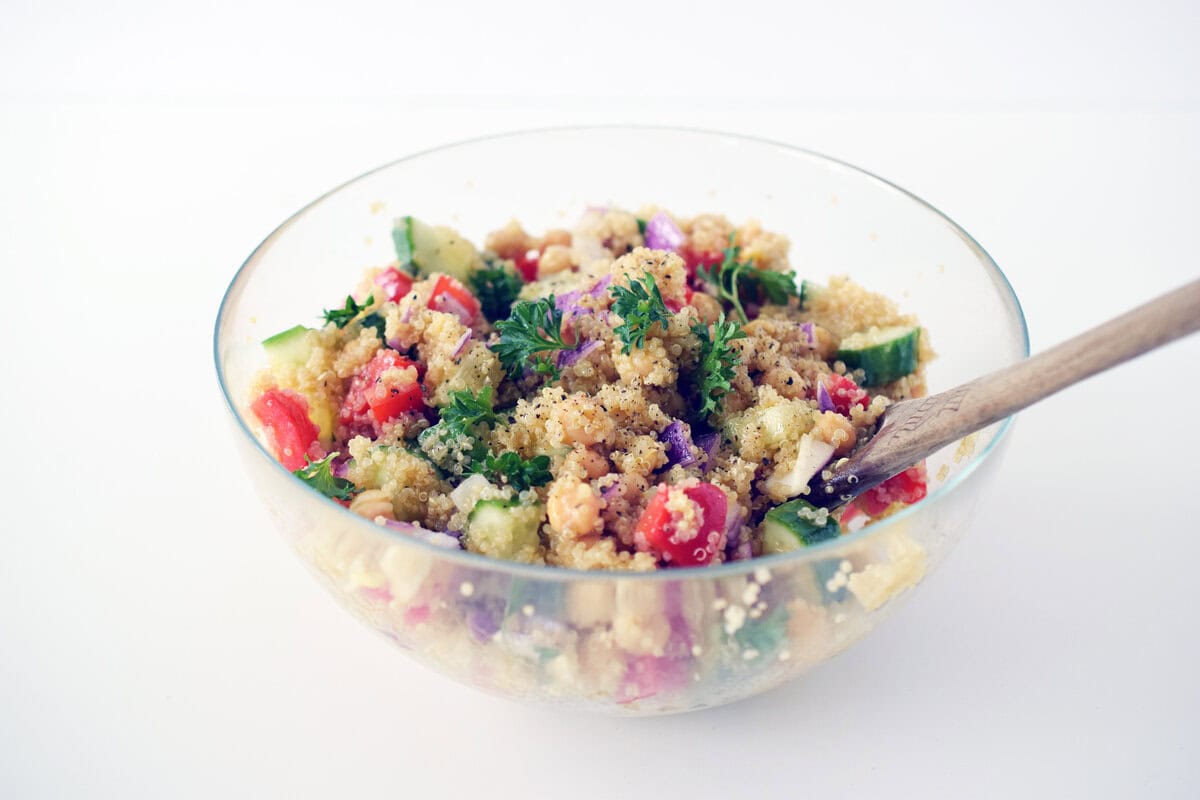 More Salad Recipes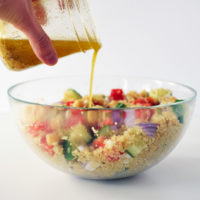 Ingredients
1

cup

dry quinoa

-

rinsed and drained

2

cups

of water

1

cup

canned chickpeas -

rinsed and drained

1

cup

red bell pepper

-

chopped

½

red onion

-

diced small

½

of a cucumber

-

chopped
Instructions
Cook The Quinoa:
In a medium pot, heat 2 cups of water along with 1 cup quinoa, bring to a boil, then reduce to simmer until quinoa absorbs all the water. Be careful not to overcook when it's close to the end. To get light and fluffy quinoa, instead of mushy quinoa, stir very little during the cooking process. Once quinoa is cooked, remove from heat and let sit for 5 minutes then fluff with a fork.
Prep The Salad:
In a large bowl, toss together the cooked quinoa, chickpeas, red bell pepper, red onion, and cucumber. Set aside.
Make The Dressing:
In a mason jar (or small bowl) combine the dressing ingredients: olive oil, dijon mustard, apple cider vinegar, honey (or maple syrup), sea salt, and pepper. Seal with a lid and shake it up.
Assembly:
Drizzle the dressing over the salad and toss everything together. Serve right away, or store in an airtight glass container until ready to use. This salad can be kept in the fridge of up to one week.
Nutrition
Serving:
4
g
|
Calories:
392
kcal
|
Carbohydrates:
42
g
|
Protein:
9
g
|
Fat:
22
g
|
Sodium:
168
mg
|
Potassium:
459
mg
|
Fiber:
6
g
|
Sugar:
7
g
|
Calcium:
52
mg
|
Iron:
3
mg
Nutrition Info Note: The actual number of servings will depend on your preferred portion sizes and the size and number of what you make. The nutritional values provided above are just an estimate. Actual numbers will vary based on brands you choose and the ingredients you use.
If you're looking for more specific details (for example, to track your macros) then I recommend adding specific brand ingredients and this recipe to a food tracker app on your phone.