Bursting with flavor, these homemade blueberry muffins will produce light and fluffy muffins you're going to love. These tender muffins are made using sweet berries and simple pantry basics like all-purpose flour, sugar, oil, eggs, milk, and sour cream. Perfect for packed lunches or as a light dessert, you may want to consider making a double batch!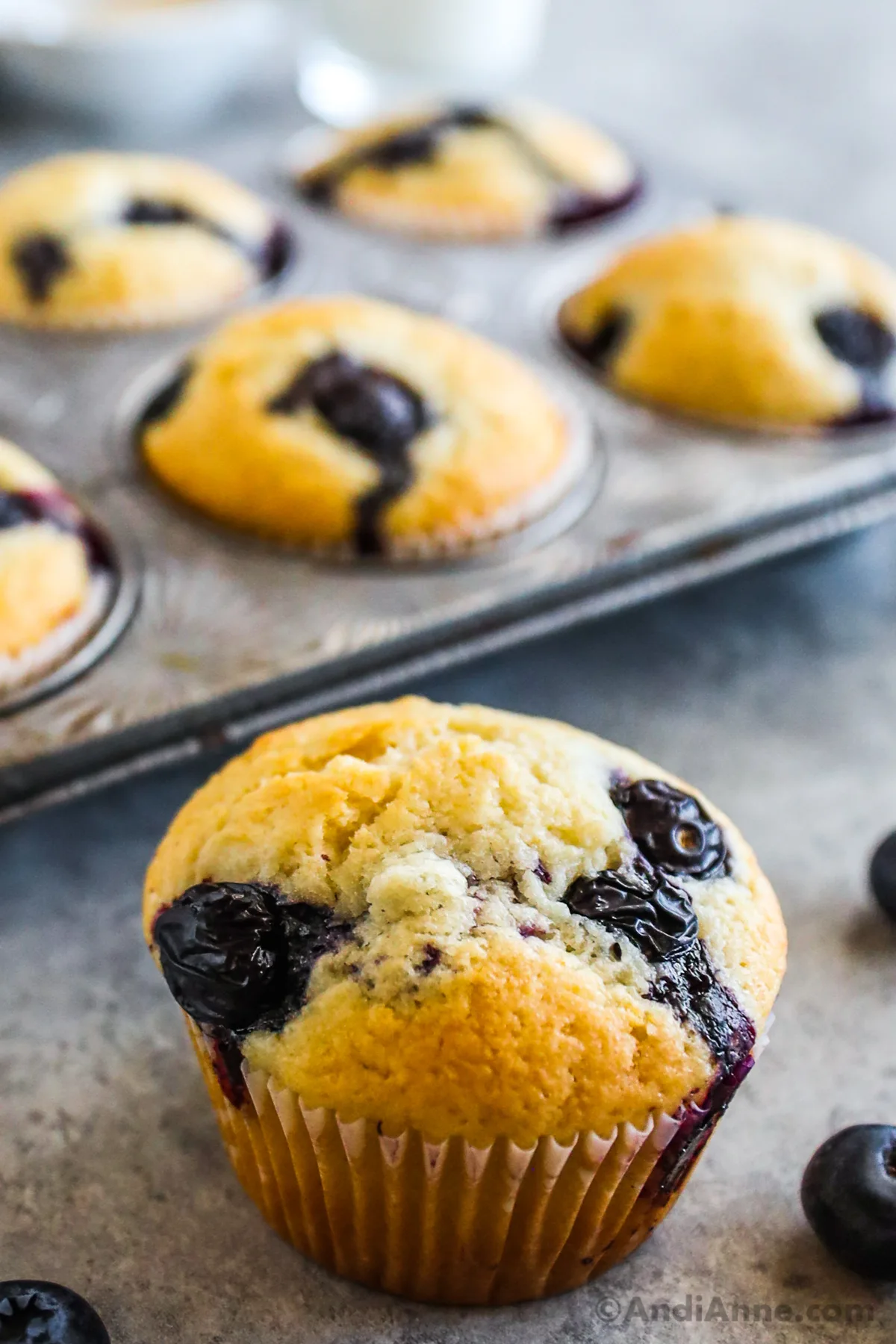 Light and Fluffy Muffins
We're big fans of muffins over here. The classics never fail us, like our whole wheat apple muffins, and easy streusel buttermilk muffins.
Well, you can consider these the perfect blueberry muffin! Great for a quick snack, an easy breakfast recipe, or an impromptu visit with friends. Serve with coffee or a cold glass of milk and everybody will be asking for more!
EFFORTLESS – So easy to prepare, just mix in a bowl, pour and bake!
DELICIOUS – These classic blueberry muffins are sweet, moist and tender.
CHEAP – With simple ingredients, these make a great budget-friendly recipe.
FAMILY FRIENDLY – Use them as a grab-and-go breakfast or snack option, they're something the whole family will love.
Pro Tip: I like to make a few different muffin recipes and freeze them. That way there's a bit of variety for breakfasts and snacks. These muffins would be great along with my cottage cheese muffins and banana oatmeal muffin recipes.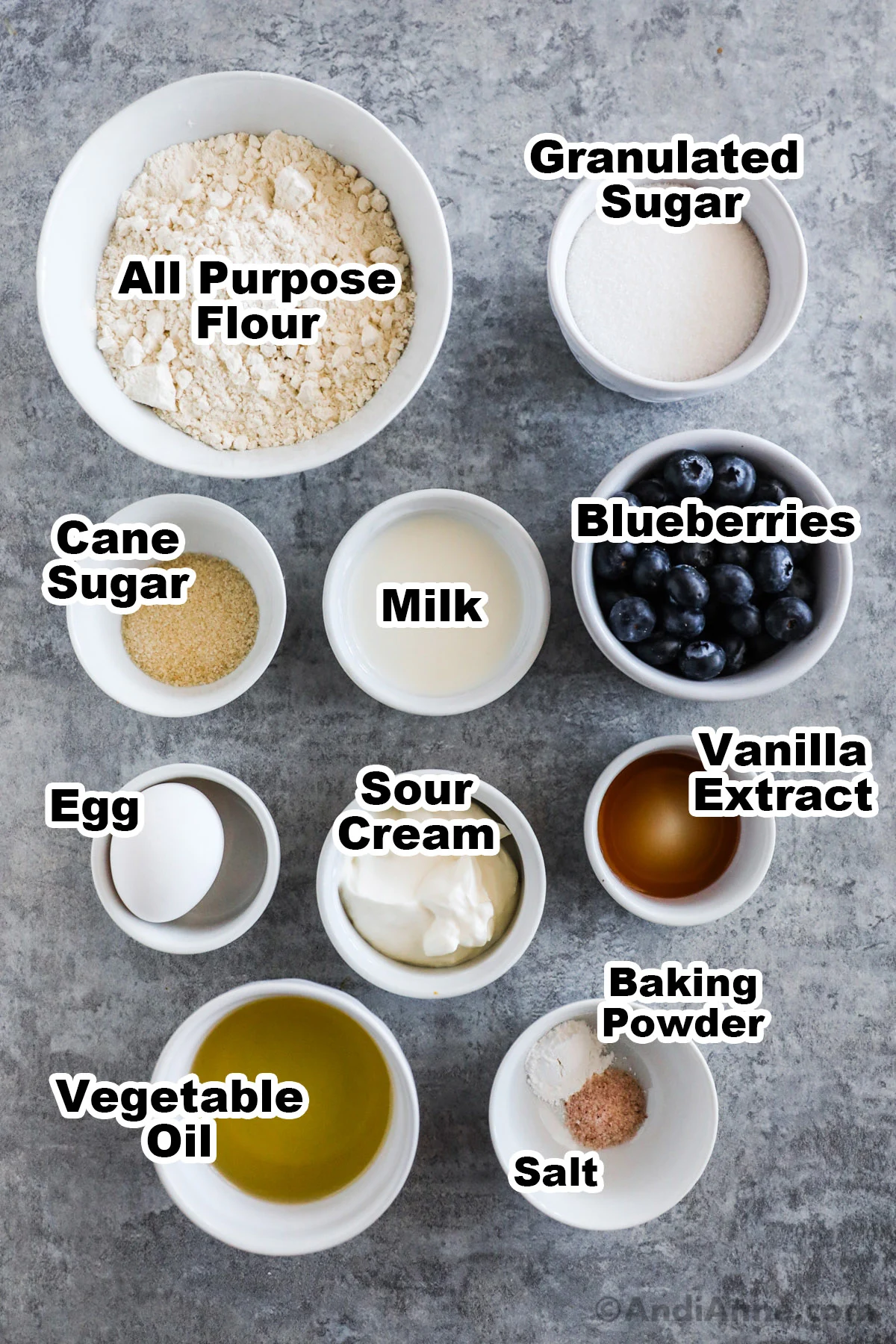 Recipe Ingredients
Check these items off your list the day before you bake them. And don't forget the blueberries!
BLUEBERRIES – Head down to the nearest farmers market or frozen aisle of your local grocer and pick up an arm full of blueberries! Fresh or frozen will both work.
ALL-PURPOSE FLOUR – We used all-purpose flour. You could also divide it in half and add whole wheat flour for more fiber.
SUGAR – Offsets the tartness of the Blueberries and adds flavor. You can also use brown sugar.
WHOLE MILK – Whole milk has the perfect fat content for baking. If you can't have dairy try oat milk or almond milk. Plain yogurt should also work.
SOUR CREAM – Sour cream is needed but greek yogurt would also work.
EGG – Helps to hold everything together.
VEGETABLE OIL – Melted butter or coconut oil can also be used as an alternative.
VANILLA EXTRACT – Brings a warm sweetness.
BAKING POWDER – This is where the fluffy texture comes from.
Additions and Variations
Want to change up the flavor? You can easily substitute a few of the ingredients using the list below:
LEMON ZEST – Adds a lovely citrus flavor. You can mix 2 tsp of grated lemon rind with the wet ingredients.
CHOPPED NUTS – Fold in 1/2 cup of chopped walnuts when you add the blueberries (use 3/4 cup blueberries), and sprinkle a few on top before baking!
MIXED BERRIES – Use raspberries, blackberries and blueberries together for more variety. It should still only be 1 cup worth.
CHOCOLATE CHIPS – Fold 1/2 cup of chocolate chips in with 3/4 cup of blueberries.
How To Prep Frozen Blueberries For Baking
Frozen blueberries can turn the batter a purplish-grey color. You can help to prevent this by rinsing the frozen blueberries in cold water until the water changes to a lighter color. Dry the blueberries thoroughly by patting them with a paper towel. Then fold the blueberries into the batter gently. Do not overmix.
Toppings
Toppings on a muffin add wonderful flavor! Try something sweet and try something savory. Here are a few suggestions:
BACON BITS – Fry up a few strips of bacon till crispy, chop into small pieces and sprinkle.
CHOCOLATE CHIPS – Sprinkle a few on top of the muffins just before baking.
HONEY DRIZZLE – Dip a spoon in the jar and let it slowly drizzle over each baked muffin.
LEMON ZEST – Lemon zest or orange zest adds a nice citrusy flavor. Sprinkle on top of unbaked muffins before placing in the oven. This can also be sprinkled on top of baked muffins for a fresher flavor.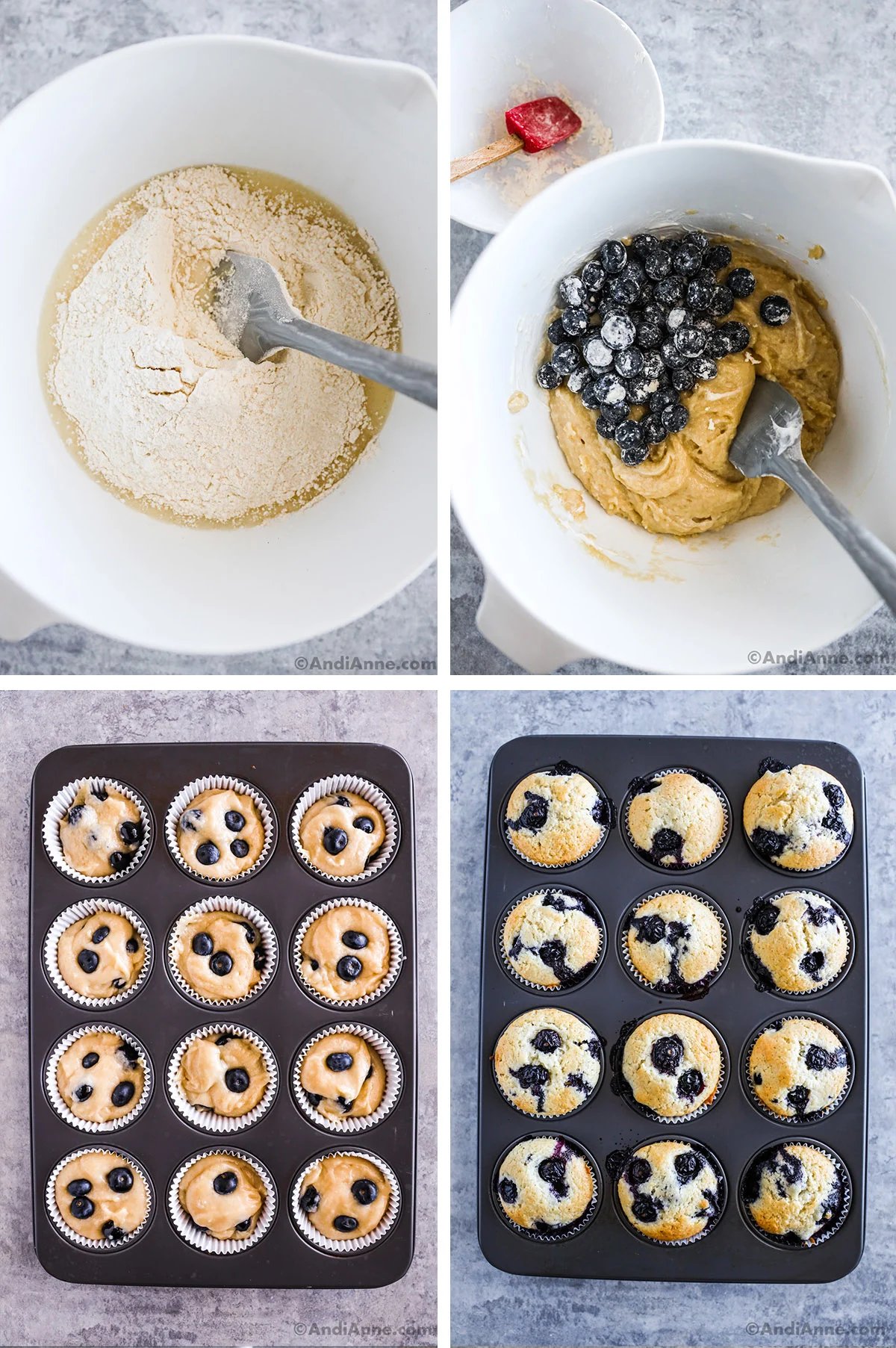 How To Make Blueberry Muffins
A classic for good reason, this great recipe will never grow old. Here's an overview of how to make this easy blueberry muffin recipe with full instructions in the recipe card below:
PREP – Start by preheating your oven to 375°F and line a muffin pan with paper liners.
WET INGREDIENTS – In a large mixing bowl, combine sugar, oil, vanilla extract, and egg.
DRY INGREDIENTS – Using a separate medium mixing bowl, combine the all-purpose flour, baking powder and salt.
MIX – Pour the dry ingredients into the wet ingredients and mix until just combined. Do not overmix.
ADD SOUR CREAM – Now add the sour cream and stir gently just until it has mixed through.
BLUEBERRIES – Next, gently fold in the blueberries.
MUFFINS – Spoon the batter into the muffin cups. Sprinkle the tops with sugar (optional).
BAKE – Bake for 20-22 minutes then place on a wire rack to cool to room temperature before storing.
Pro Tip: If you are left with any empty muffin pan cups, fill each one halfway with water. Empty muffin pans will heat more than intended and the water will help regulate the temperature.
How To Store Muffins
COUNTERTOP – Leftovers can be stored in an airtight container or with plastic wrap on the counter up to 3-4 days.
REFRIGERATE – Use a sealed container or zip-lock bag for storage up to a week.
TO FREEZE – Wrap each muffin individually if freezing. Add to a freezer bag and remove as much air as possible then seal tightly. These will keep in the freezer for up to 3 months.
TO REHEAT – Muffins can be popped frozen or thawed into the microwave for 15 seconds to heat up.
Storage Tip: Blueberries carry a lot of moisture. To avoid mushy muffins, be sure to add a paper towel liner to your storage container.
Ways To Serve
You certainly don't need to serve a fresh-out-of-the-oven blueberry muffin with anything, but here are a few ideas:
BUTTER – When served warm, a dollop of butter will melt through the cracks and crevices. Yum!
BEVERAGES – A cup of coffee, tea, or a cold glass of milk.
SPICES – Sprinkle cinnamon or nutmeg on the top for a holiday feel.
FRESH FRUIT – Serve alongside a tray of freshly sliced fruit.
ICE CREAM – Yup, this would be amazing served with vanilla ice cream!
Common Questions
Should I use fresh or frozen blueberries in muffins?
You can use either. Frozen blueberries will change the color of the batter slightly. But they will still work fine. The texture of fresh blueberries is slightly different than frozen as well. Personally, I feel that fresh is always best, but when blueberries are out of season the frozen ones are perfect to enjoy instead!
Should I coat the blueberries in flour for muffins?
Coating the blueberries with flour will help to prevent them from sinking in the batter while cooking. It's an optional step and is not required.
Why should you not overmix the muffin batter?
Over-mixing can result in dense muffins that may not bake evenly. This can also cause them to form peaked tops.
Should I chop blueberries for muffins?
You do not need to chop the blueberries for this recipe. They can be added whole straight to the batter.
What spices enhance blueberries?
Try a hint of basil in the batter of your muffins and you won't regret it. You can also try lavender, rosemary and even mint to bring out the natural characteristics of the blueberry.
Can you put too many blueberries in muffins?
Yes! Adding too many will make the muffins fall apart and prevent them from rising properly. Always be sure to follow the measurements in a blueberry baking recipe.
Recipe Tips
Use a cookie scoop or ice cream scoop to help divide the batter between muffin liners. This makes it easier to transfer the sticky batter and divide it evenly.
Use fresh blueberries if you can. Frozen blueberries are trickier – they tend to turn the batter a dark purple-ish color.
Feel free to use any type of sugar that you prefer. I used white granulated sugar but you can also use brown sugar, coconut sugar or monk fruit sweetener (it's sugar-free).
Serve the muffins while they're still warm. This truly is when they taste the best!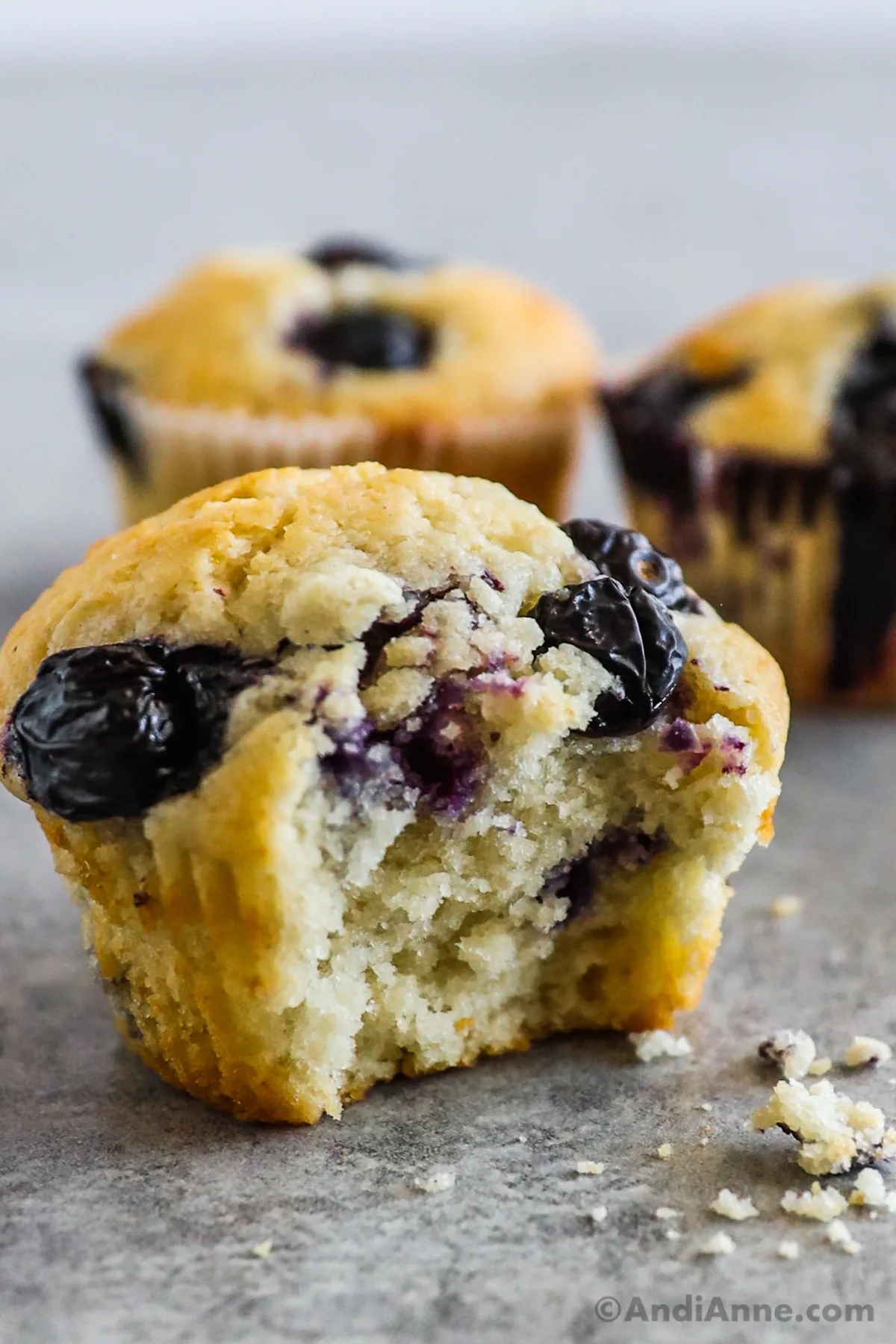 Nothing beats a freshly baked blueberry muffin right out of the oven. These muffins are a classic for a good reason! Make a double batch and freeze half for future breakfasts and snacks.
More Muffin Recipes
If you love muffins as much as we do, then you are sure to love some of these other favorites: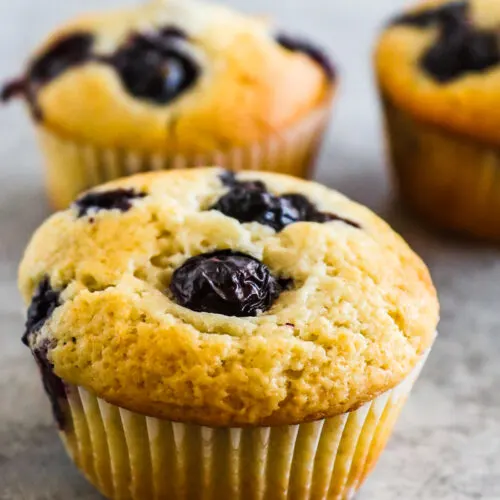 Instructions
Heat oven to 375°F. Line a muffin pan with paper cupcake liners and set aside.

In a large bowl beat together the sugar, egg, vegetable oil, milk and vanilla extract.

In a separate medium bowl, mix the all purpose flour, baking powder and salt.

Add the flour mixture to the wet ingredients. Mix until just combined. Do not overmix.

Now add in the sour cream and stir until it is just evenly mixed through. Do not overmix.

Next fold in the blueberries. Do not overmix.

Divide the batter among 12 muffin cups. Sprinkle the top of the muffins with turbinado sugar (optional). Bake for 20-22 minutes, or until a toothpick comes out clean from the center.

Place muffins on a rack to cool completely before storing.
Recipe Notes:
Leftovers can be stored in an airtight container or with plastic wrap on the counter up to 3-4 days. These also freeze well!
Nutrition
Calories:
125
kcal
|
Carbohydrates:
25
g
|
Protein:
2
g
|
Fat:
2
g
|
Saturated Fat:
1
g
|
Polyunsaturated Fat:
0.2
g
|
Monounsaturated Fat:
0.5
g
|
Trans Fat:
0.002
g
|
Cholesterol:
18
mg
|
Sodium:
143
mg
|
Potassium:
49
mg
|
Fiber:
1
g
|
Sugar:
14
g
|
Vitamin A:
77
IU
|
Vitamin C:
2
mg
|
Calcium:
40
mg
|
Iron:
1
mg
The nutritional information provided is an estimate and is per serving.