If your child is in a nut free school and you are navigating this for the first time, it can be really overwhelming! But don't panic, because I've compiled a list of healthy nut free school snacks that your child can enjoy, and are easy to make.
First, I want to point out that all the recipes here on my blog are nut free! Every single one. That's because I'm severely allergic to nuts and have been my whole life. When I was in school, kids were still allowed to bring nuts. And I had a few scary reactions from sharing snacks with other kids. But I was the only one in my classes with this allergy. But there are a lot more children with severe nut allergies now than there ever were back in the 80's and 90's.
This might seem stressful for parents of children who don't have a nut allergy, and I get it.
But things are SO MUCH BETTER today because companies are finally starting to recognize this common allergy and are manufacturing their products in nut free facilities. This is amazing and I want to share some of my favourite nut free snacks to buy with you below.
I also want to point out that having these options is still such a new thing in the world of food products. Even just 5 years ago, there wasn't nearly as much available that was nut free. So it will just keep getting better and better!
NOTE: While doing research for this blog post, I surveyed moms on facebook what other allergy foods are not allowed in their kids schools. I also came across an article for a school in B.C. that requires no nuts, sesame, legumes, flax, wheat, barley, rye, gluten, shellfish, fin fish, snap and snow peas. Phew! That's a lot!I am going to follow this guideline in my suggestions below and to keep things easier for anyone reading this list. I'm also paying attention to anyone who requires dairy free, egg free, or gluten free school snacks. If there is anything below that might be a possible concern, I have added an asterisk (*) so that you know.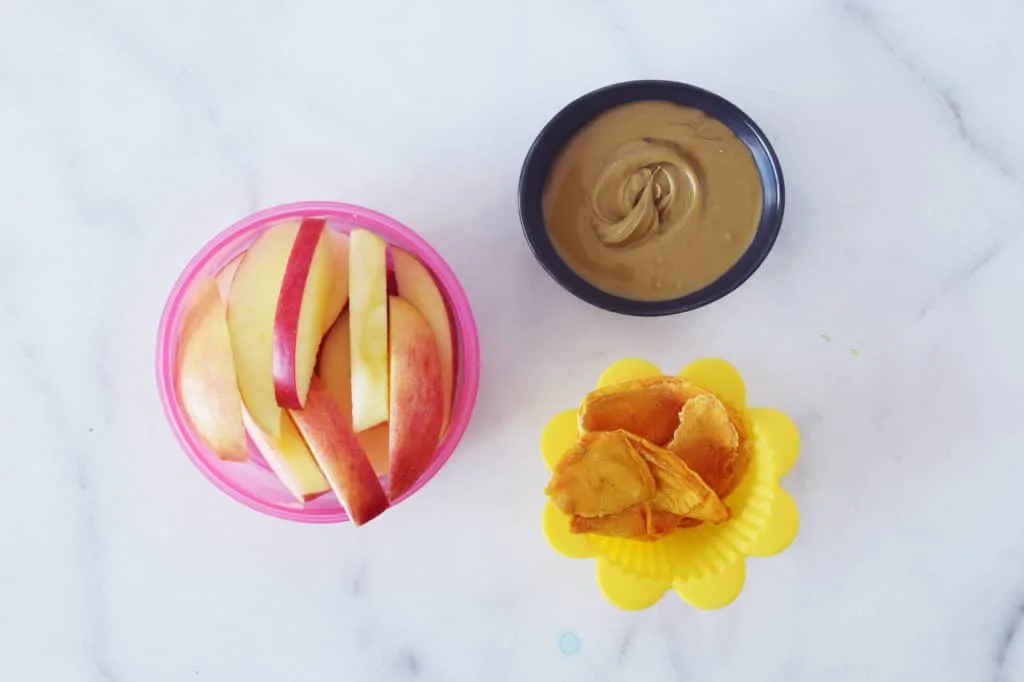 STEP ONE: KNOW HOW TO READ THE FOOD LABELS
Knowing how to read your food labels is an important first step of nut free school snacks. Depending on what country you live in, there will be different food labelling regulations. Some schools will require that all snacks are made in a nut free facility.
In Canada the food labelling requirements state that companies clearly have to report priority allergens in plain language. For example, the word "gluten" must clearly be stated if an ingredient such as triticale or barley is included. This makes it much easier to decipher.
If you're in the United States, "the FALCPA's labelling requirements do not apply to the potential or unintentional presence of major food allergens from "cross-contact" situations during manufacturing."
This means that it is NOT required to include warning of "may contain traces of nuts" or "manufactured in a facility that processes peanuts and tree nuts". To see the most up to date information please visit the FALCPA's website. It's possible that their regulations may have changed since writing this blog post and they are a good resource of information.
So, basically, it isn't required to state whether or not a product is made in a nut free facility in both Canada and the United States. But luckily many companies are choosing to disclose this information anyways – so I recommend using your buying power and choosing them. A great example is Sunbutter sunflower butter. Their label is included above and you can see that they fully disclose that they are "processed in a facility free from the top 8 allergens." I like to look for these labels when I'm shopping at the grocery store and support these companies.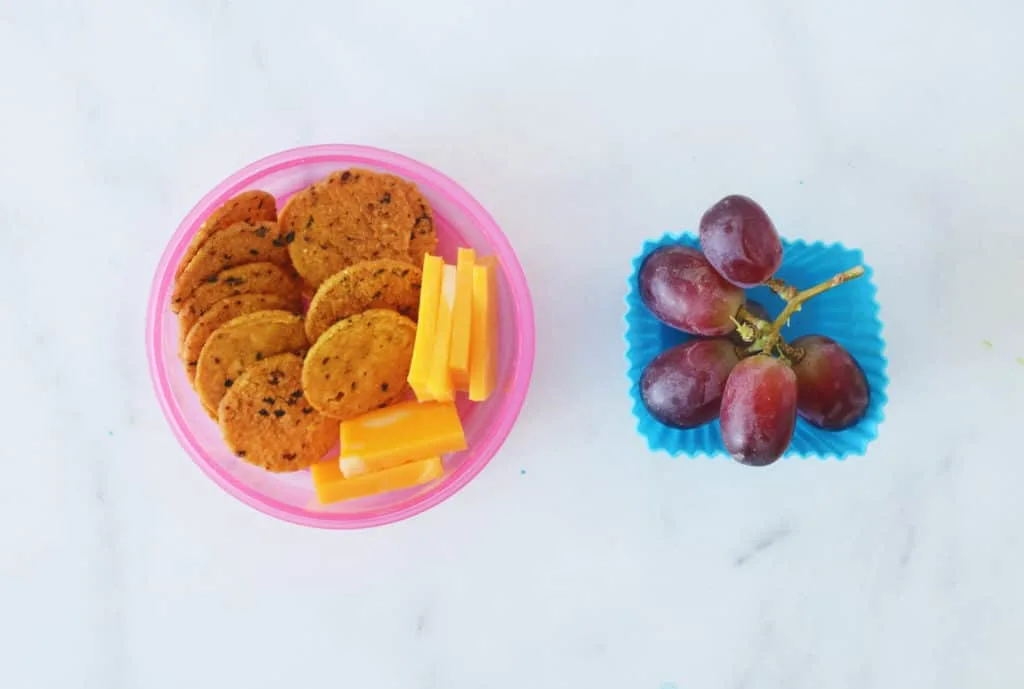 STEP TWO: FINDING NUT-FREE SNACKS AT THE GROCERY STORE
Navigating the grocery store for nut free school safe snacks can feel a little intimidating at first. But the more you do it, the easier it will become.
So let me share with you some of my favorite nut free brands and other alternatives that are now available!
But first, I want to disclose that last year I took a health coaching certification. It was a one-year program that provided extensive knowledge in health and nutrition from the School of Integrative Nutrition. Although, I am not a practicing health coach, I do use this knowledge for my own family and here on the blog to provide healthier solutions for you and your children.
Depending on your grocery store, you may or may not be able to find these brands. If you can't find them at your regular grocery store, I recommend checking your local organic grocery stores or buying them online through amazon. What I like to do first is to ask the manager at your local store to bring the new brand into the store! Many stores are happy to bring in new products if they know that there is a demand for it.
Below are my top three brands for nut-free school snacks. We buy all three of these brands regularly and love them. You can order these brands online through amazon and I've linked them to Amazon using my affiliate links below:
STEP THREE: IMPORTANT NOTES ABOUT BUYING NUT FREE SCHOOL SNACKS
Avoid the bulk bins! The items inside bulk bins can easily be cross-contaminated with nuts and other allergens. If you are making a homemade nut-free school snack for your child's class, it's important to avoid using any ingredients from the bulk bin!
Read all labels carefully before purchasing. Luckily there are many brands that have become completely nut-free and are made in a nut-free facility. Look for the companies that fully disclose this information on their packaging
Avoid "may contain traces of nuts" on labels: These foods don't use nuts in their ingredients list, but they might be cross-contaminated with nuts. If you're making snacks for other children with allergies always avoid anything that has "may contain traces of nuts" on the label. Also, be sure to use clean cutlery and wash your counters thoroughly to avoid any cross-contamination as well.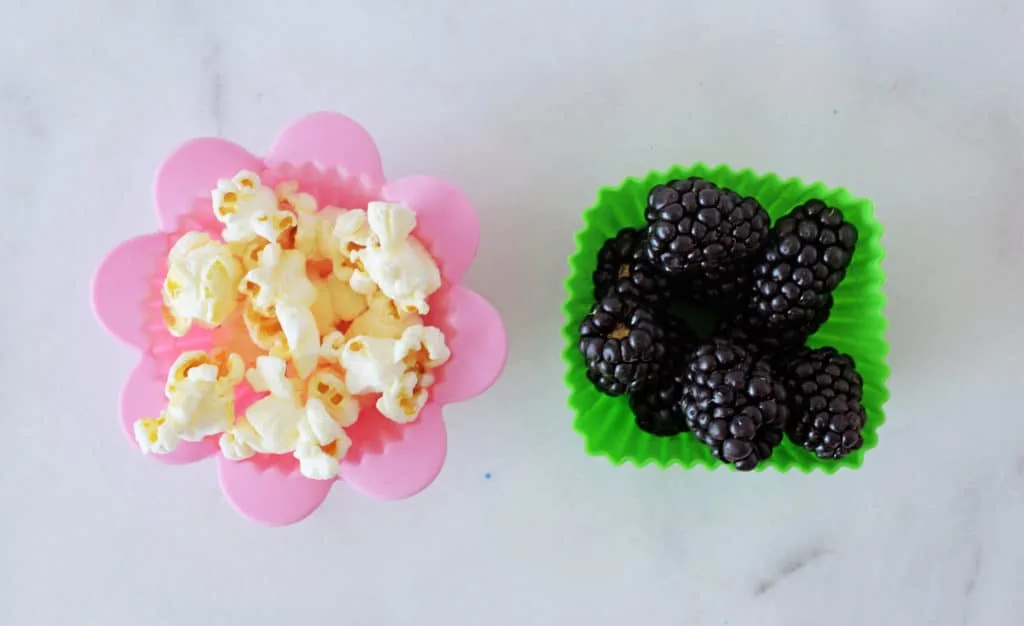 NUT FREE SNACKS FOR SCHOOL:
Now let's talk about homemade nut free school snacks! There's a wide variety of simple snacks you can make at home for your kids. They're full of healthy ingredients that will keep your kids energized to take on the day.

NUT-FREE DIPS AND SPREADS:
Dips and spreads go a long great with a snack. They're the perfect addition to tortilla chips, crackers, sliced veggies and more. Here are a few of my personal favorites that kids love.
HUMMUS*: This is a great protein source for kids and is great with crackers and veggies. (*Hummus contains chickpeas which are legumes, so may or may not be allowed at some schools). You can make hummus from scratch at home, or buy a premade version from the store.
GUACAMOLE: Guacamole is a yummy dip and a great source of healthy fats from the avocados. It goes perfect with crackers or simple tortilla chips. You can make your own, or buy from the store to save time.
SUNBUTTER or WOWBUTTER* : Sunbutter is made from sunflower seeds, and is a great protein source to use as a dip with sliced apples or veggies. Wowbutter is made from soy and can also be used as a nut-free alternative. Both are manufactured in nut-free facilities and state this on their labels (make sure to always double-check ingredients as companies are always changing these things). I recommend adding a label on the lunchbox to let caregivers know that it's nut-free spread if your child's school still allows this as an option. My personal preference is sunbutter over wowbutter as soy can be another common allergy. *Note: These may or may not be allowed in your child's school, as some schools are banning peanut butter lookalikes.
YOGURT* : Some yogurts (like greek yogurt) contain a good amount of protein. They are great with fresh fruit, chia seeds, shredded coconut, sunflower seeds, and pumpkin seeds. I like to buy the plain version and sweeten them naturally with a bit of cinnamon and maple syrup. *Also, there are also plenty of vegan and dairy-free yogurts now available: If you need a dairy free yogurt alternative, look for Ripple Greek Yogurt alternative, So Delicious coconut yogurt, or Daiya dairy and soy free yogurt. You might have to go to an organic grocery store to find them, or ask the store manager to bring them in. Make sure to read the labels as there are also many non-dairy yogurts made with nuts like almonds and cashews!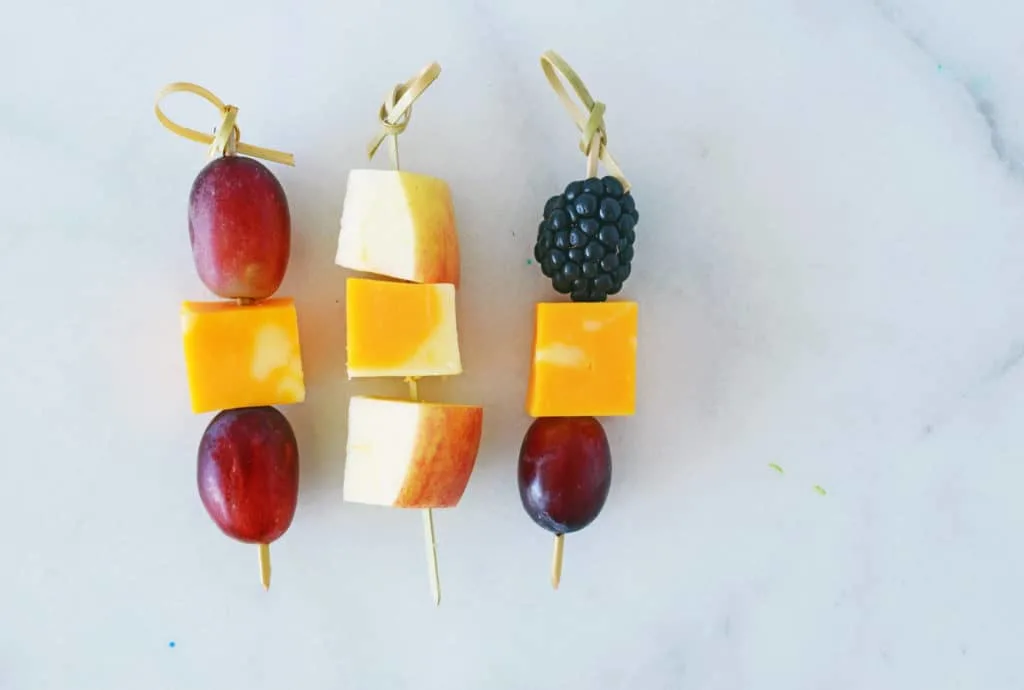 NUT-FREE SNACKS FOR SCHOOL:
Making nut free snacks at home is easy! Sometimes all you need is a little bit of inspiration. I've compiled a list below to help get you started. All of these snacks are easy to prepare, even on the busiest of days.
Apples and Sunbutter
Carrots and hummus
Cheese and apples
Sunbutter on celery with raisins
Hard boiled eggs with sea salt
Gerbs Nut Free Seeds (pumpkin seeds or sunflower seeds)
Popcorn (pop your own or try this brand)
Pretzels
Veggies and dip: carrots, celery, cherry tomatoes with ranch dip or hummus
Rice crackers and hummus/guacamole
Tortilla chips and salsa/guacamole
Crackers and cheese (we like Garcia crackers for their wholesome ingredients)
Fresh fruit: grapes, apple, orange, grapefruit, watermelon, cantaloupe, berries, pomegranate seeds etc.
Fresh veggies
Applesauce with cinnamon
Berries and greek yogurt (I prefer plain yogurt and then sweeten it with maple syrup)
Dried fruit: mangos, raisins, apples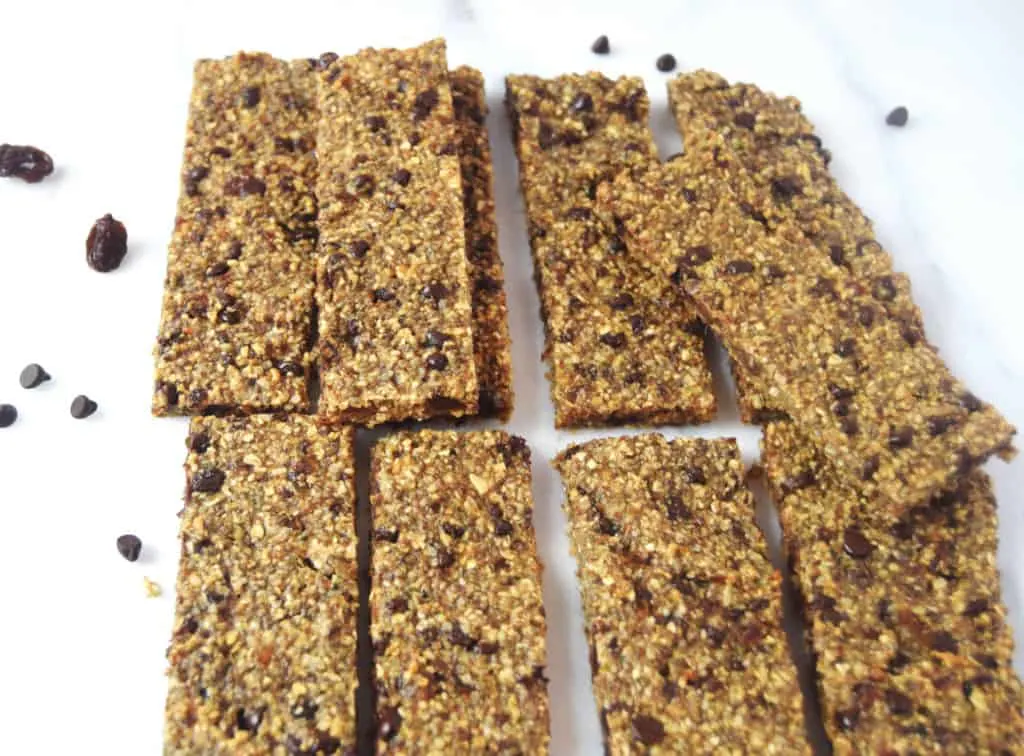 NUT-FREE SNACK RECIPES TO MAKE:
Nut free granola recipe – Try these nut free granola bars! They're one of my most popular recipes on the blog. The bars are wonderfully chewy and packed with fiber and protein (even without the nuts!).
Roasted chickpeas
Kale chips
No bake birds nest cookies – Kids love these because they're shaped like little birds nests. You'll love them because they're full of healthy ingredients and are basically the easiest cookie recipe that you'll ever find.
BEING CONSIDERATE OF KIDS WITH OTHER ALLERGIES:
Last but not least, there are so many different types of food allergies in children. And many of them can still be severe, but aren't banned from schools. For example, dairy, soy and eggs.
We live in a day and age where food allergies are very prevalent. And I think it's really important for all of us to teach our children to be aware of other children's allergies. The best way to do that is to always ask, and avoid sharing food with others.
Teach your kids to respect other children's allergies and limit sharing snacks unless they know for sure that it's okay to share.
When friends come over, ask them what their food allergies are beforehand so that you can be aware and provide snacks accordingly.
In an environment, where there are so many diverse children together, like school, I see respecting other children's allergies as being no different than respecting our diversity in cultures and lifestyles. We are all different from each other and that makes the world such a wonderful place. Learning how to pack a lunch for your child that will end up helping other children with allergies is a really wonderful way to show that we all care about one another. It isn't just about us and what makes our lives convenient. It's about what makes life better for everyone around us.
And yes, it might seem frustrating in the beginning when you've got a million other things on the go, but with a little practice, you'll get the hang of it and will be able to do this easily in no time. You will develop a routine that works for you.
I hope you enjoyed reading this post about nut-free snacks for school! I'd love to hear your thoughts on it. Do your kids have allergies and you are struggling to navigate it all? Perhaps there is a common allergy that I missed that you think should be added? If so, email me and let me know! I always love chatting with you guys!