This Chocolate avocado pudding has a velvety-smooth texture and a decadent chocolaty flavor that is hard to beat. Using only 4 ingredients and 10 minutes of time, you'll be satisfying chocolate cravings by the spoonful.
If you've never tried avocado in a dessert before, it adds the perfect creaminess without any extra taste. Basically, you can enjoy a rich chocolatey pudding with healthy ingredients too!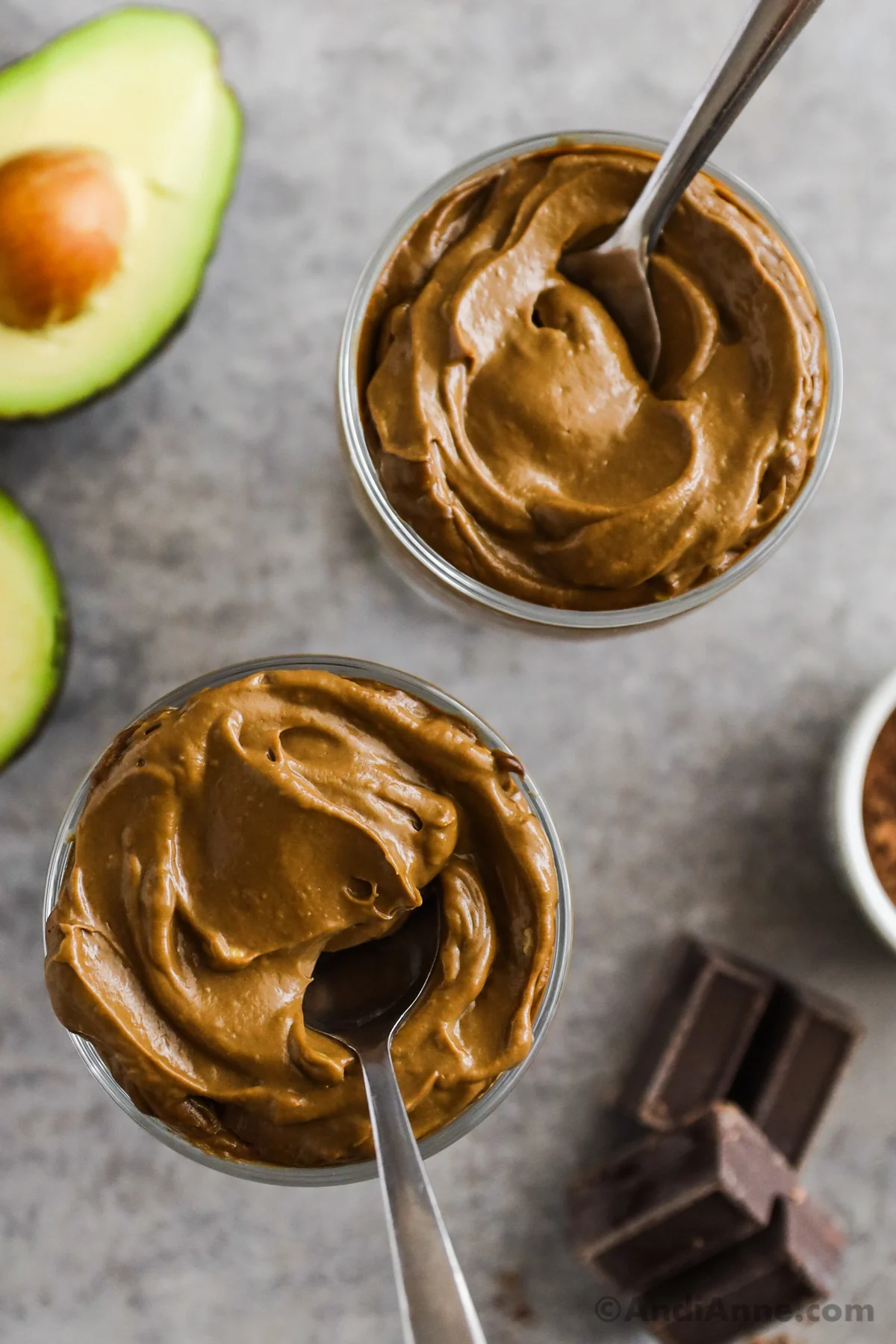 Healthy Chocolate Pudding
Traditional chocolate pudding is loaded with sugar and not-so-good ingredients. But this homemade recipe is full of healthy fats and antioxidants.
This recipe is so easy to make, uses four easy ingredients and you'd never guess it was made with avocados.
QUICK – Quickly prepare this entire recipe in only 10 minutes!
CHEAP – It's healthy and budget-friendly, what's not to love!?
DELICIOUS – You'll be wondering if this truly is healthy because it's so chocolaty smooth and silky sweet.
If you've tried any of our dessert recipes before you know that I love chocolate! From easy chocolate quinoa energy balls to the double chocolate beet brownies, I'm always trying to make sweet treats with a healthy twist.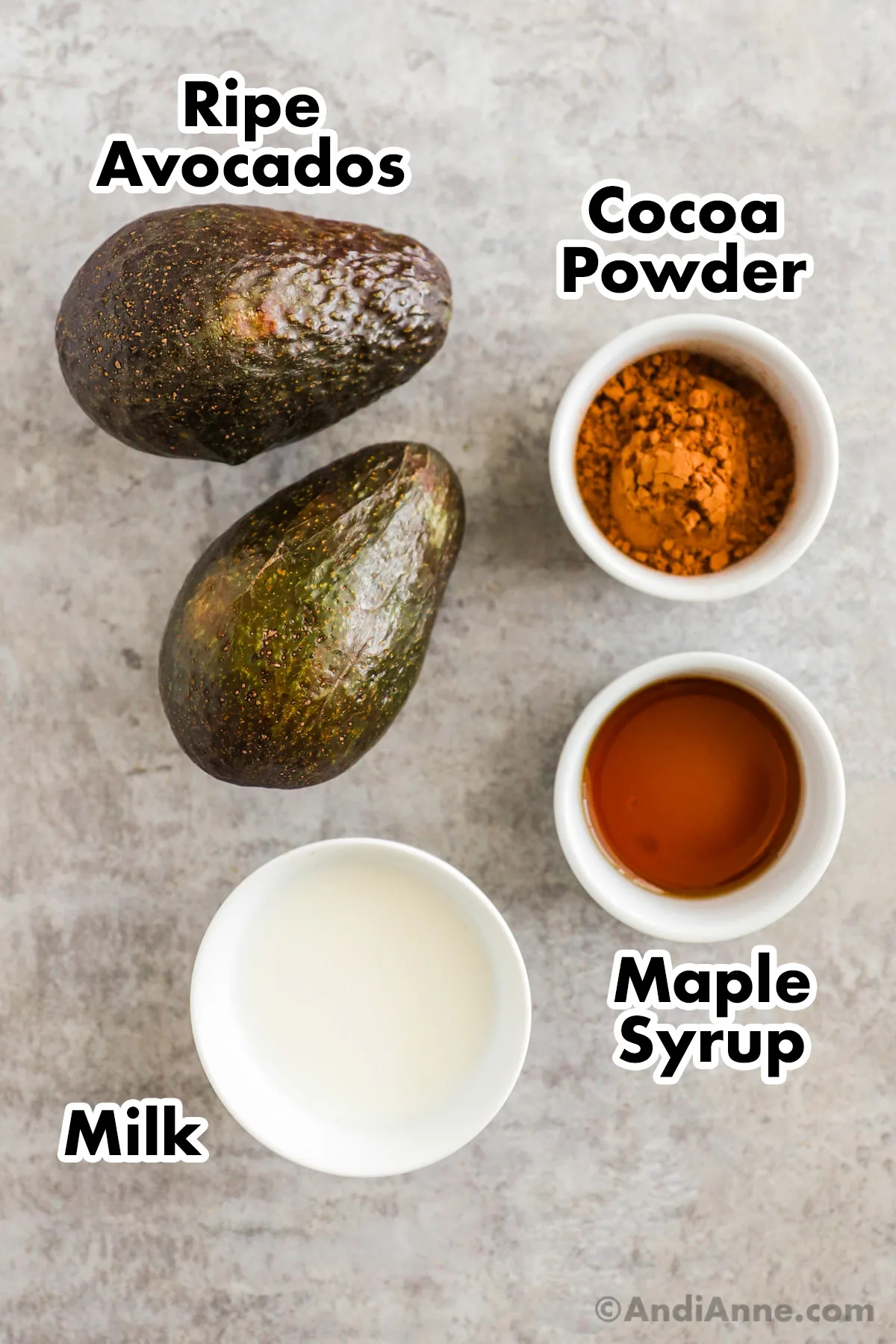 Recipe Ingredients
Smooth, rich, and creamy, it's the perfect way to enjoy a dessert, but still, eat healthily. This delicious pudding is whipped up with just four ingredients:
AVOCADOS – You'll need two ripe avocados to make this recipe.
COCOA POWDER – Unsweetened cocoa powder will add the chocolaty flavor. I prefer Hershey's cocoa brand.
WHIPPING CREAM – Whipping cream or coconut cream will create a silky-smooth texture. You can also use regular milk, cashew milk, almond milk, or oat milk.
MAPLE SYRUP – Maple syrup will add sweetness to the recipe. You can also use honey or 8 pitted dates, adding them straight to the food processor.
Pro Tip: For the perfect avocado, purchase while still firm. Store on the countertop until you can just barely make a dent in the rind with your finger. You can slow the ripening process by storing them in your fridge.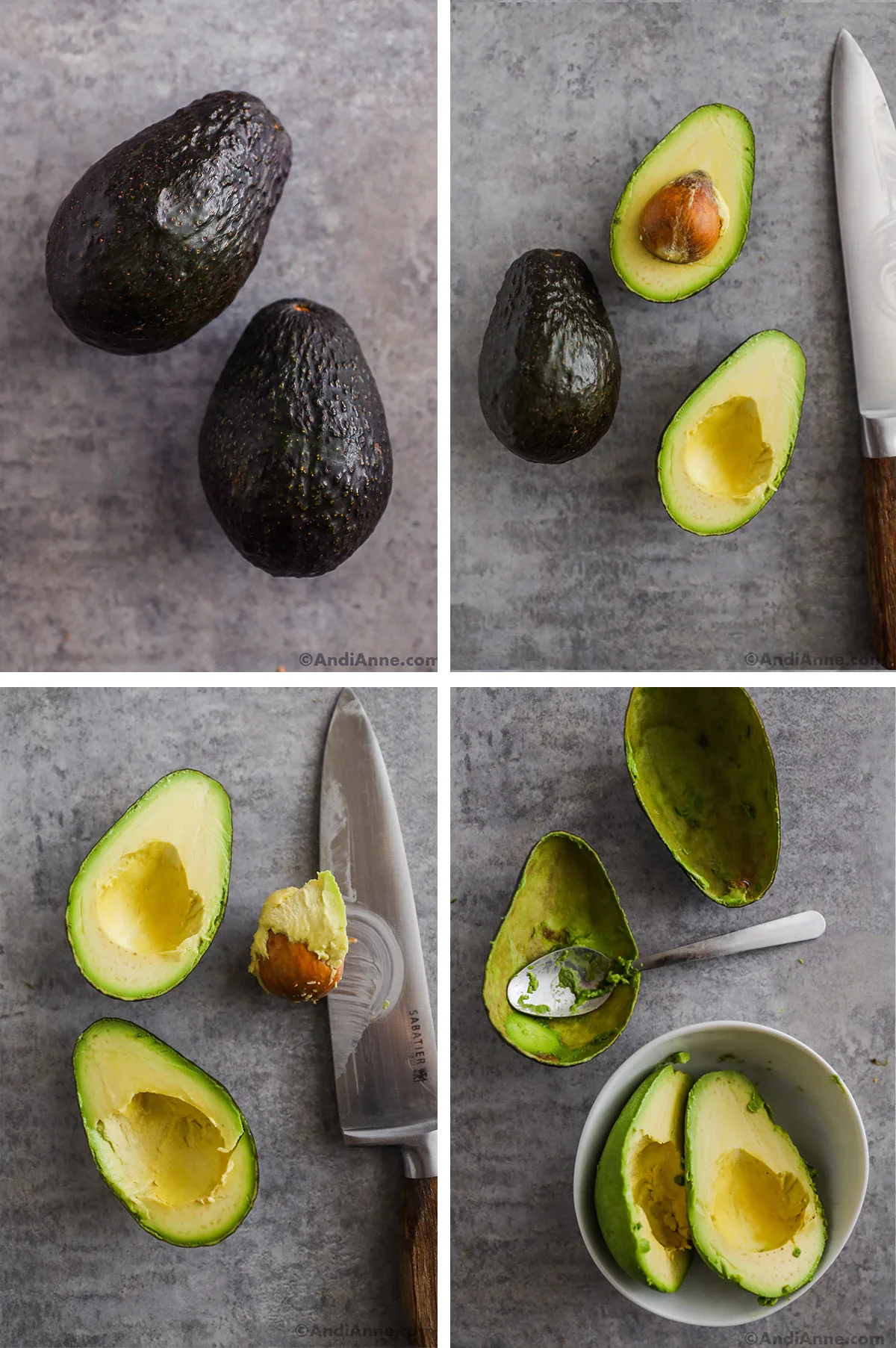 How To Slice An Avocado
If you've never sliced avocado before, I recommend watching this quick avocado slicing video. It's actually quite easy but can be intimidating the first time you do it. Here are the steps on how to slice an avocado:
SLICE – Slice the avocado in half around the inner pit using a sharp knife.
PIT – Use a sharp knife and press into the pit gently. Wiggle it until the pit removes with the knife. Carefully remove the pit from the knife with a paper towel. You can also use a spoon to scoop around the pit and remove it.
SCOOP – Use a spoon to scoop under the avocado flesh and skin. It should come out easily if the avocado is ripe. Scoop it right into a food processor or blender.
How To Tell When Avocados Are Ripe
Ripe avocados have darker skin and will be soft when you squeeze them. If the avocado is too squishy then it will probably be overripe and brown inside. I like to buy my avocados when they're firm but a little soft when squeezed. They'll be perfectly ripe in a day or two.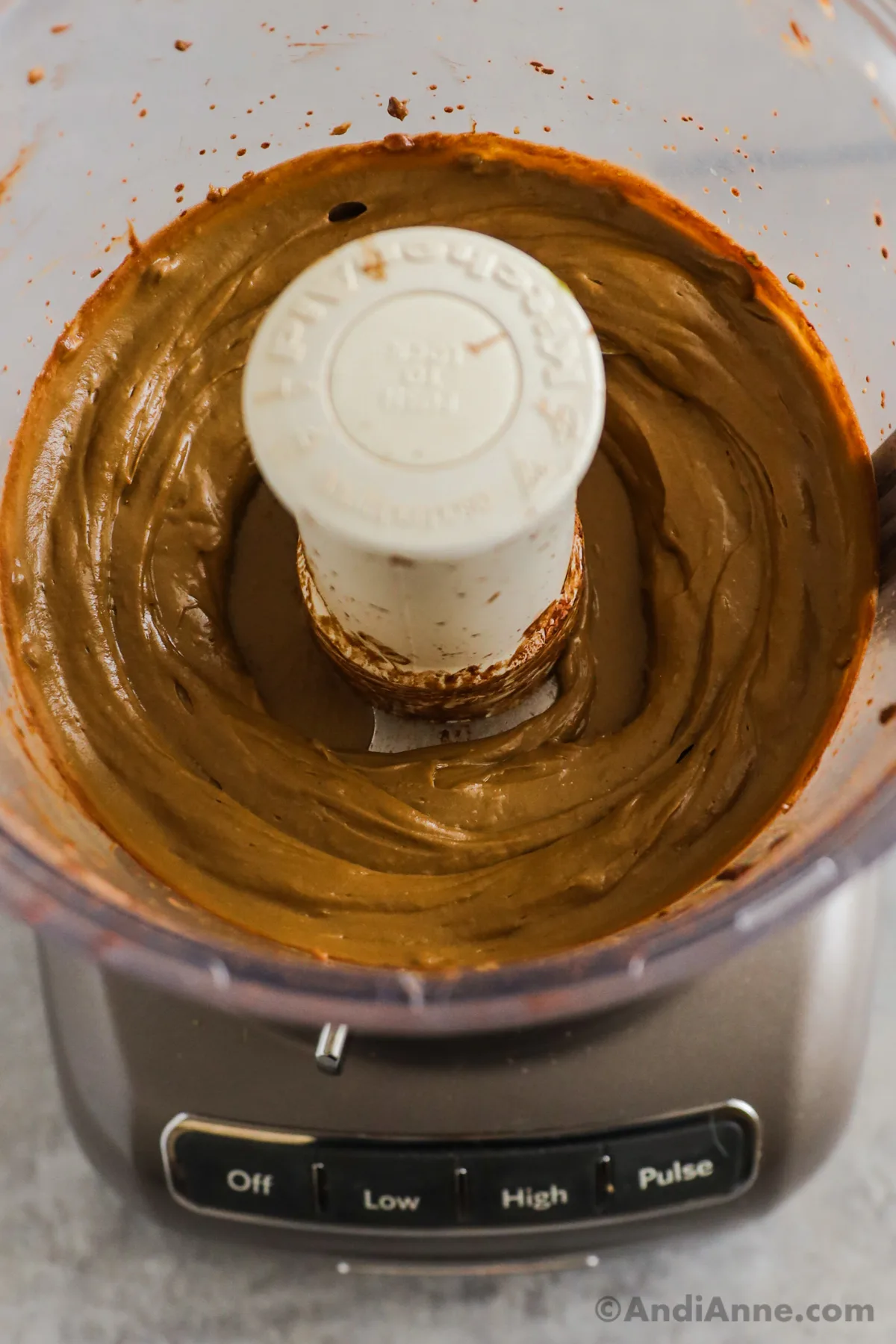 How To Make Chocolate Avocado Pudding
This recipe takes less than 10 minutes to whip up but should be refrigerated for an hour before serving for the best taste. Here's how to make it with the full instructions in the printable recipe card at the bottom of this post:
BLEND – Using a food processor, add the avocados, cocoa powder, milk and maple syrup. Blend for 30 seconds, stop, and use a spatula to scrape down the sides then continue blending for a total of 2 minutes until smooth. This can also be done in a blender.
REFRIGERATE – Scoop the pudding into bowls and allow to set in the refrigerator for 1-3 hours before serving.
You can top the avocado chocolate pudding with my whipped coconut cream, fresh berries, and chocolate chips. The result is a decadent dessert that anyone will love!
Pro Tip: To make a thicker pudding, add coconut cream, heavy whipping cream or chia seeds to the mixture. To thin, use regular or dairy-free milk.
How To Store
I recommend eating this pudding the same day that you make it. Avocados will naturally turn brown over time and I find this recipe tastes best when served fresh.
REFRIGERATE – Keep in a sealed container for up to 4 hours for the best taste.
FREEZE – I do not recommend freezing this recipe.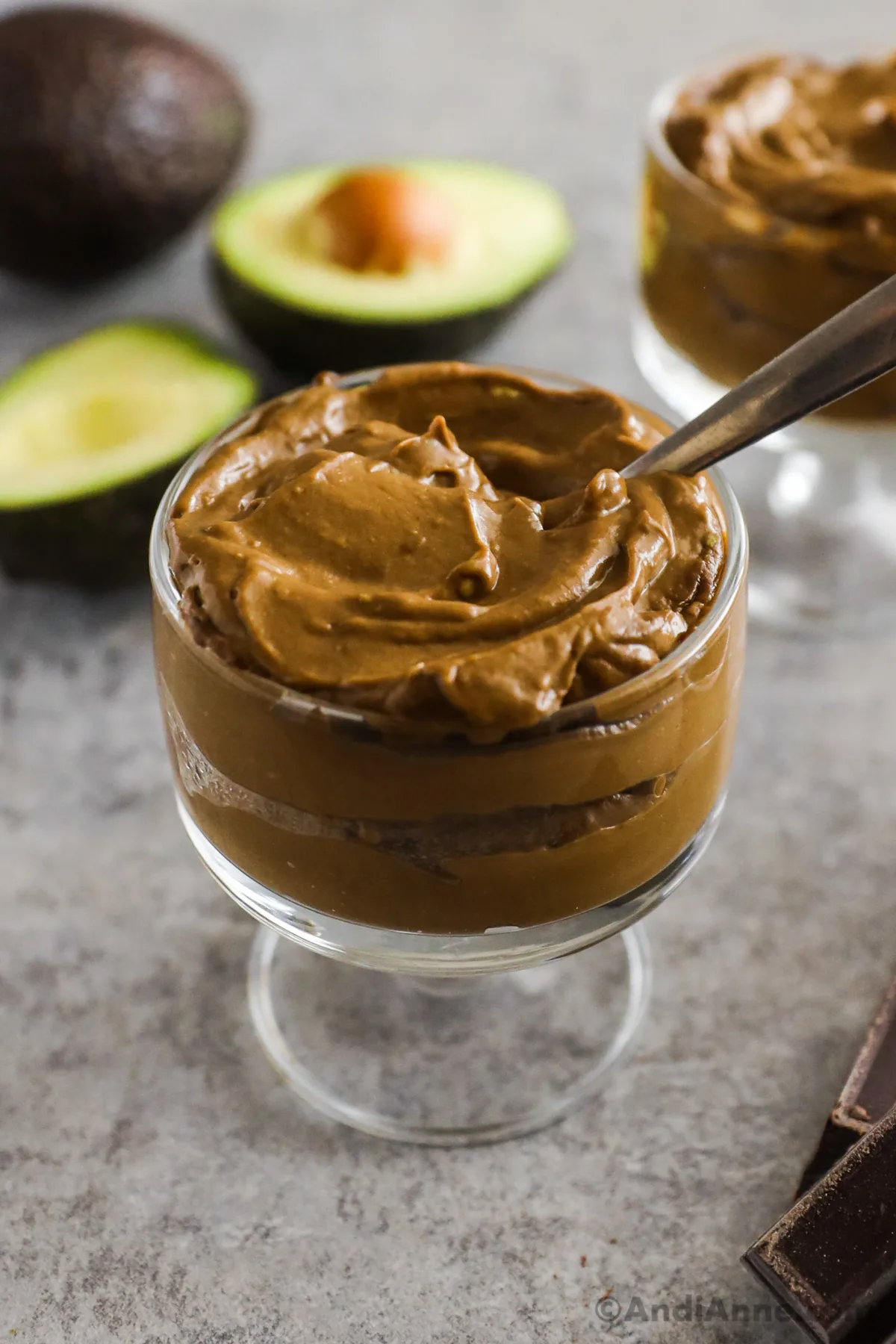 Chocolate Pudding Toppings
Chocolate is always an excellent dessert choice and the best part about this recipe is that it doubles as a dip. There are so many fun ways to serve this dish.
FRESH FRUIT – Strawberries, sliced pear, or apples are perfect for dipping.
MINT – A fresh sprig of mint is a great garnish and is also edible.
CHOCOLATE CHIPS – Chocolate chips sprinkled over this pudding adds great texture.
NUTELLA – You can add this for a hazelnut flavor. Just slightly melt it in the microwave and drizzle it on top with a spoon.
HAZELNUTS – If you like Nutella, you'll want to try sprinkling a hand full of crushed hazelnuts on top.
WHIPPED CREAM – A dollop of whipped cream goes well with any dessert! For a dairy-free option, try my easy whipped coconut cream recipe.
ICE CREAM – A scoop of vanilla ice cream would be perfect here.
SEEDS – For more protein, sprinkle pumpkin seeds, sunflower seeds or hemp seeds on top.
SEA SALT – Sprinkle a few large flakes of sea salt on top for a sweet and salty flavor.
SAUCE – Make a strawberry sauce or add a scoop of jam for some berry flavor.
Common Questions
What happens if I don't use ripe avocados?
It will be hard to slice and scoop unripe avocados. Hard avocados won't blend as smoothly either. Perfectly ripe avocadoes will create a creamy texture and lack any sort of smell. Overly ripe avocados can be stringy and sometimes mushy with more of an earthy smell.
Can I serve the pudding right after making it?
Allowing the pudding to sit in the fridge for 1 hour will help to form a more pudding like texture. But if you're in a hurry, you will still enjoy it right out of the food processor.
Can I use frozen cubes of avocado from a bag?
Yes, you can use frozen avocado, just be sure to allow them to thaw before blending. 2 ½ cups of frozen cubes should come close to 2 full avocados.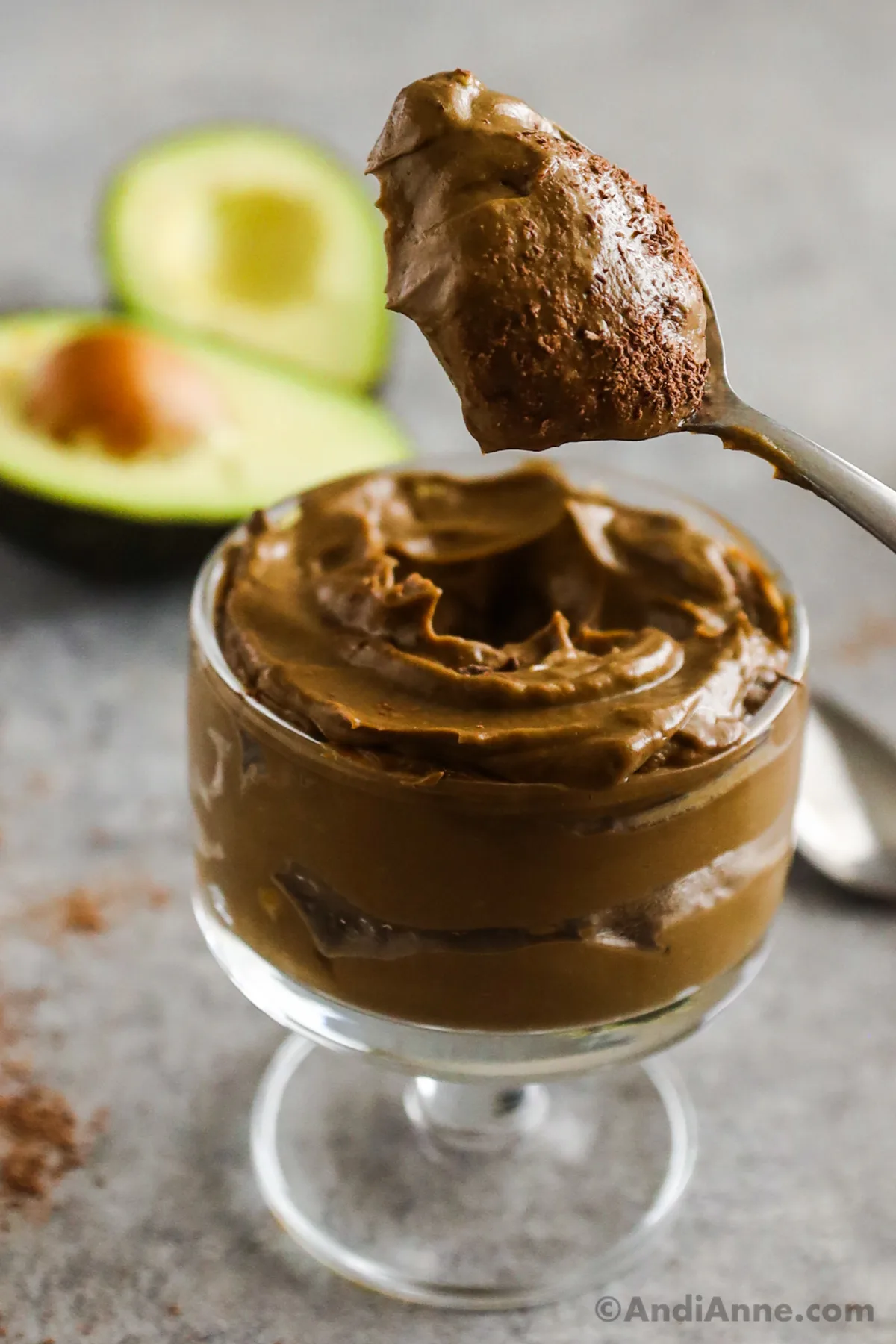 This chocolate avocado pudding is probably one of the easiest desserts you'll ever make. And you don't even have to feel guilty eating it because it's healthy too.
More Dessert Recipes
If you love easy healthy recipes, then be sure to see these other favorites: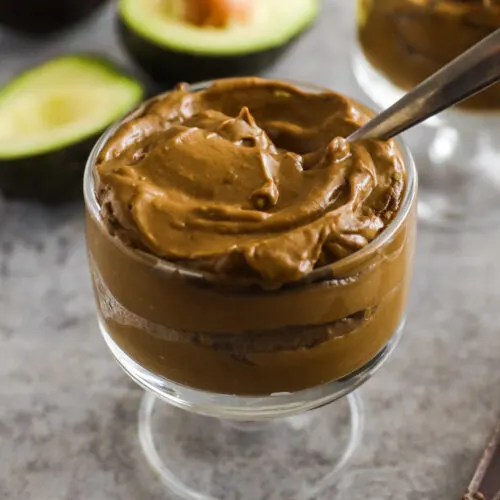 Chocolate Avocado Pudding
An easy 4-ingredient pudding with velvety-smooth texture and a decadent chocolaty flavor. Takes only 10 minutes to make!
Save Recipe!
Saved!
Pin This
Print It
Ingredients
2

ripe avocados

-

peeled and pitted

2

Tbsp

cocoa powder -

unsweetened

¼

cup

heavy cream

-

coconut cream, regular milk or plant-base milk

¼

cup

maple syrup -

or honey, or 8 pitted dates
Instructions
Add the avocados, cocoa powder, heavy cream, and maple syrup to a food processor. (This can also be done in a blender)

Blend for about 2 minutes total, scraping down the sides at least once during the process.

Taste test for sweetness. If desired add more maple syrup and mix again.

Scoop into bowls and refrigerate for 1 hour before serving. Top with fresh berries, chocolate chips, or a dollop of whipped cream.
Recipe Notes:
Be sure to taste the pudding to check for sweetness after blending. Add more maple syrup (or honey) if needed and blend again.
Avocados will naturally turn brown over time and I find this recipe tastes best when served fresh. Keep in a sealed container for up to 4 hours for the best taste.
Nutrition
Calories:
230
kcal
|
Carbohydrates:
24
g
|
Protein:
3
g
|
Fat:
16
g
|
Saturated Fat:
3
g
|
Polyunsaturated Fat:
2
g
|
Monounsaturated Fat:
10
g
|
Cholesterol:
2
mg
|
Sodium:
15
mg
|
Potassium:
594
mg
|
Fiber:
8
g
|
Sugar:
13
g
|
Vitamin A:
171
IU
|
Vitamin C:
10
mg
|
Calcium:
56
mg
|
Iron:
1
mg
The nutritional information provided is an estimate and is per serving.