Healthy banana splits are so easy to make and totally delicious. You can create a breakfast bar of different toppings in separate bowls for every family member to assemble their own.
Healthy banana splits are high in antioxidants, protein, and healthy fats! I like to serve these as a fun breakfast or energizing afternoon snack.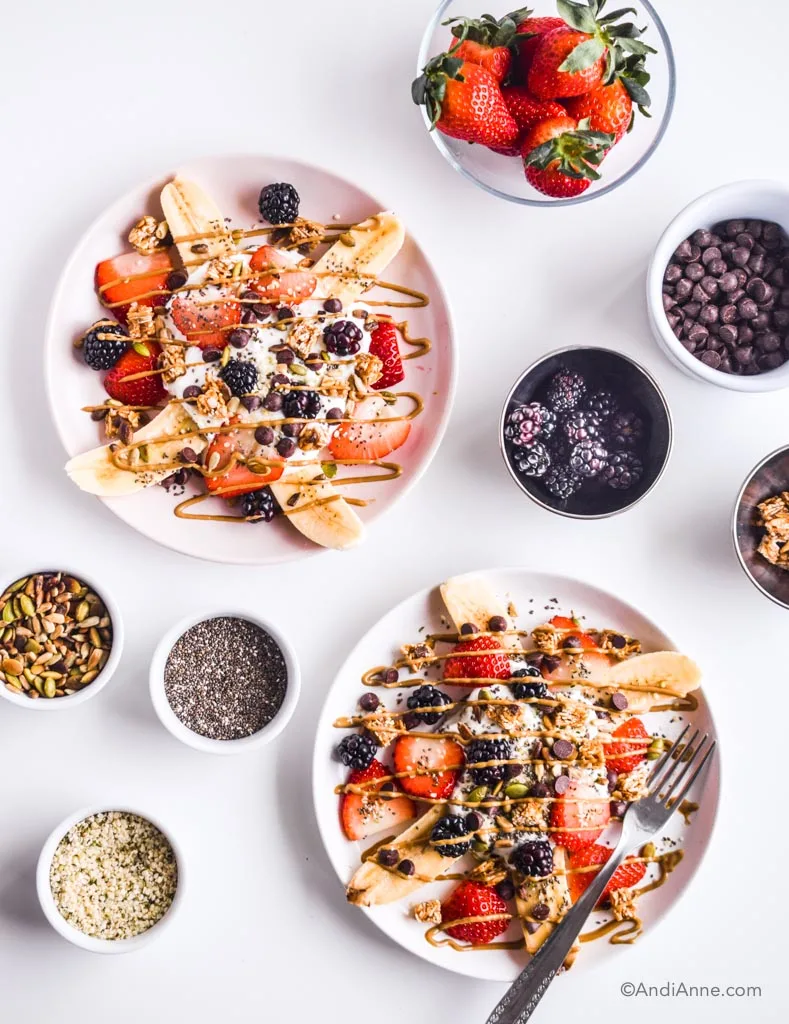 Healthy Banana Splits
What I LOVE about banana splits are that they feel like you're having dessert, but without the processed ingredients and refined sugar. You can load your banana split up with healthy toppings like nuts and seeds, homemade granola, berries, and dark chocolate chips.
If you have a big sweet tooth – or your kids do (but really who doesn't) – then try this more nutritious option. Your body will thank you and you'll be surprised at just how delicious it is!
Love this banana split idea? Then you'll really LOVE my banana nice cream flavors that are a fun alternative to regular ice cream.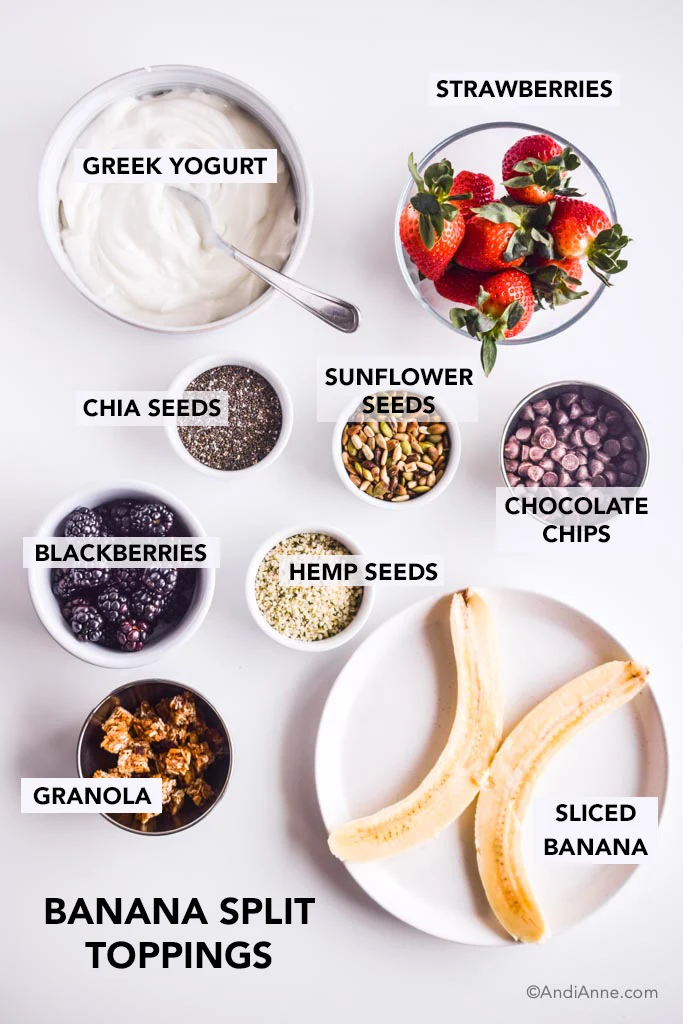 Healthy Banana Split Ingredients
BANANA – The base of this treat is the banana. I sliced mine in half lengthwise. This reminds me of the old banana splits I used to get as a treat from Dairy Queen. You could also slice the banana into smaller pieces, it really doesn't matter.
YOGURT – I'm using skyr yogurt. It's an Icelandic-style yogurt that's even thicker than Greek yogurt. I'm a big fan! I love the creaminess and could eat a whole container of it myself. You can use any kind of yogurt that you like here. If you're trying to eat less refined sugar, then using a "plain yogurt" without any added flavoring is the best option.
BERRIES – Fresh berries are my favorite part of this special dessert. You can use sliced strawberries, raspberries, blackberries, and blueberries.
GRANOLA – Avoid the extra sugar and lower quality ingredients that store-bought versions will have and make your own instead! My homemade superfood granola is loaded with healthy ingredients including rolled oats, shredded coconut, sunflower seeds, pumpkin seeds, hemp seeds and cacao nibs. It's the perfect crunchy treat to add to your favorite snacks.
NUTS AND SEEDS – You can use any kind of nuts and seeds you like. A little goes a long way. Almonds, pumpkin seeds, sunflower seeds, hemp seeds and chia seeds are my favorites.
CHOCOLATE CHIPS – I like to use 70% dark chocolate chips (or darker) because they'll contain less sugar and are higher in antioxidants.
NUT BUTTER – Add a dollop of nut butter or seed butter or drizzle it on like I did for extra protein and healthy fats.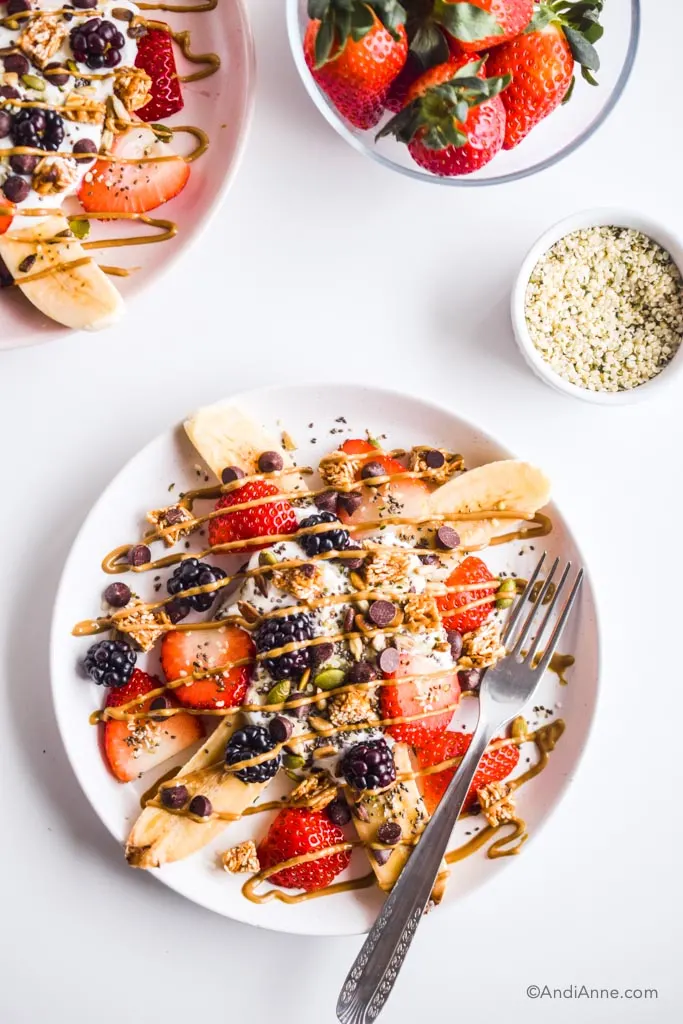 Are Banana Splits Healthy?
Traditional banana splits are often to high in sugar and over processed ingredients like canned whipping cream and ice cream. Eating this type of dessert will only lead to a high energy spike from the artificial sugars followed by an energy crash.
This banana split recipe is different. It only uses real food ingredients that contain natural sugars. These ingredients are all highly nutritious. So you'll be providing your body with antioxidants, healthy fats, protein, vitamins and minerals.
So, yes! These banana splits are healthy. They're an easy way to enjoy a fun breakfast or use as an afternoon snack.
Are Banana And Yogurt A Good Breakfast?
Bananas on their own are still high in natural sugar, so adding greek yogurt or skyr yogurt is a great idea because they're both high in protein. The protein will help to give you longer-lasting energy for the day.
Personally, I like to drink a green smoothie in the morning for my breakfast, but having a banana and yogurt is also a healthy option!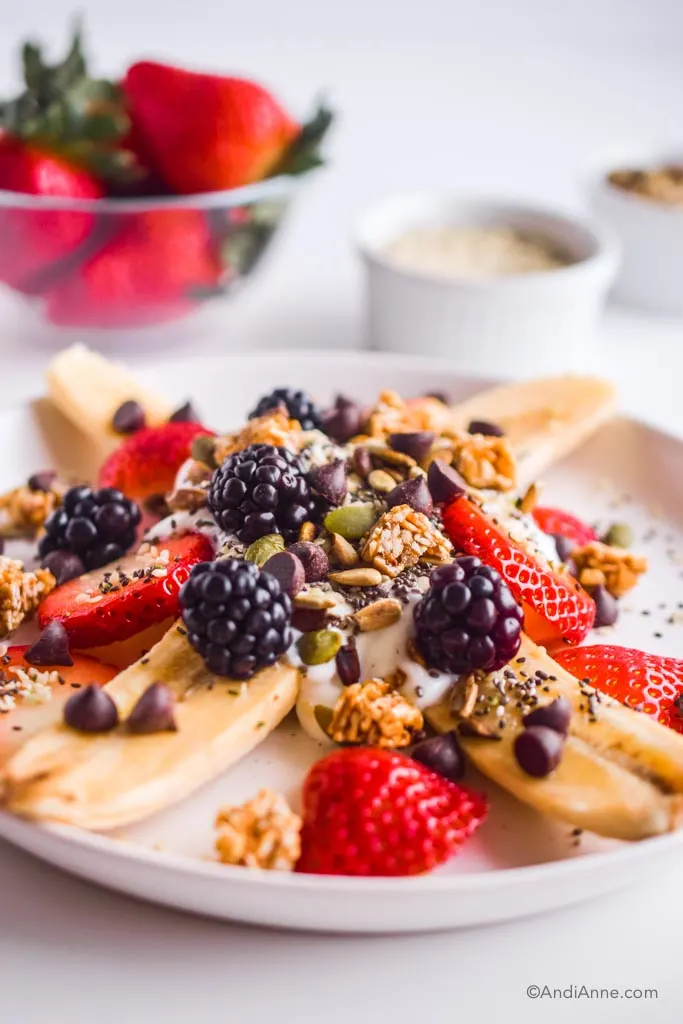 How To Make Healthy Banana Splits
SLICE THE BANANA – Slice the banana in half lengthwise. Lay in on a small plate or in a bowl.
ADD YOGURT – Add a dollop of plain yogurt to the center.
ADD SEEDS – Sprinkle on any nuts and seeds you like, including hemp seeds, chia seeds, pumpkin seeds, shelled sunflower seeds, and almonds.
BERRIES – Top with sliced strawberries, blackberries, raspberries, and blueberries.
GRANOLA – Add a spoonful of granola mix.
Grab a spoon and dig in! These healthy banana splits couldn't be more easy and are so yummy!
More Healthy Recipes To Try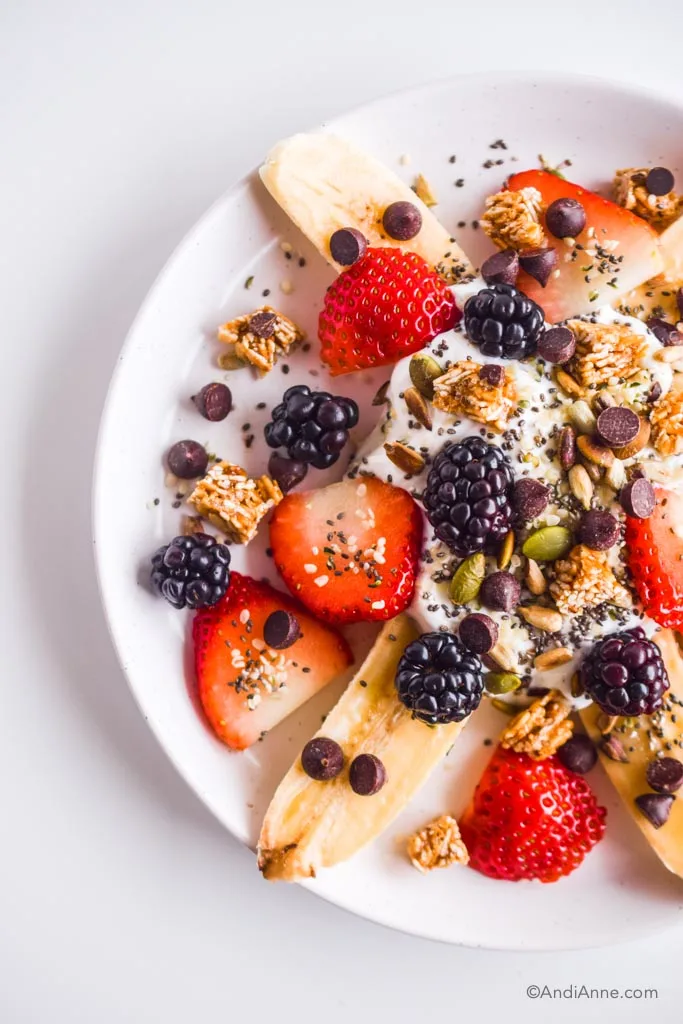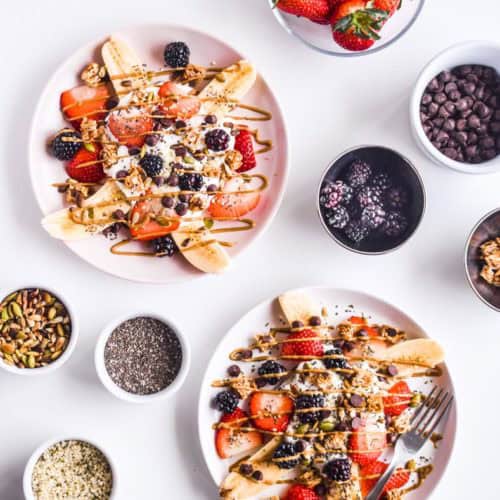 Healthy Banana Splits
Healthy banana splits are a good source of antioxidants, protein, and healthy fats! I like to serve these as a fun breakfast or energizing afternoon snack.
Save Recipe!
Saved!
Pin This
Print It
Instructions
Slice a ripe banana in half lengthwise and place on a plate or bowl. Add the greek yogurt in the center of the split banana.

Top with sprinkled chia seeds, hemp seeds, pumpkin seeds and sunflower seeds.

Top with sliced fresh berries.

Add granola and dark chocolate chips.

Add ½ Tbsp of nut butter or seed butter to a small plastic bag. Seal tightly and snip a tiny piece of the corner off with scissors.

Slowly drizzle the bag with nut butter over top of the entire banana split in any design that you'd like. Serve and enjoy!
Nutrition
Calories:
392
kcal
|
Carbohydrates:
51
g
|
Protein:
19
g
|
Fat:
15
g
|
Saturated Fat:
4
g
|
Trans Fat:
1
g
|
Cholesterol:
5
mg
|
Sodium:
51
mg
|
Potassium:
876
mg
|
Fiber:
9
g
|
Sugar:
26
g
|
Vitamin A:
184
IU
|
Vitamin C:
39
mg
|
Calcium:
218
mg
|
Iron:
3
mg