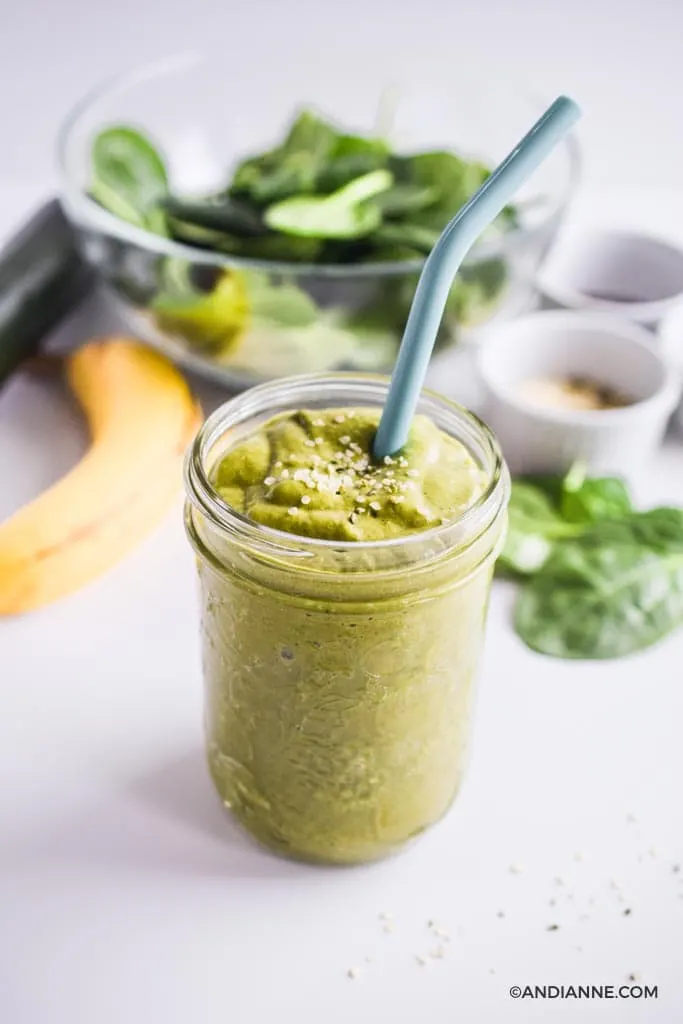 My Favorite Green Smoothie Recipe
I'm really excited to share with you my most-used recipe… the green smoothie! This recipe has been adapted over the years to become what it is today. I drink it every single morning and I love it! It's probably my favorite "meal" of the day.
I'm not a big breakfast eater. But this hasn't always been the case. In the baby/toddler phase of when my daughter was younger, I couldn't go without breakfast. So I made creamy oatmeal every morning to fill me up.
Nowadays I find that a filling smoothie is all I need for energy to start the day. I try to limit my sugar intake as much as possible, which is why I don't use any berries or sweetener in this recipe. The only sweetener is coming from the banana.
This green smoothie is super creamy, all thanks to the avocado. There's an entire raw zucchini in it – which might seem weird but actually, you can't even taste it. There's spinach too! So it's full of vegetables that I wouldn't normally be eating first thing in the morning if they weren't blended into a smoothie. And it makes my body really happy.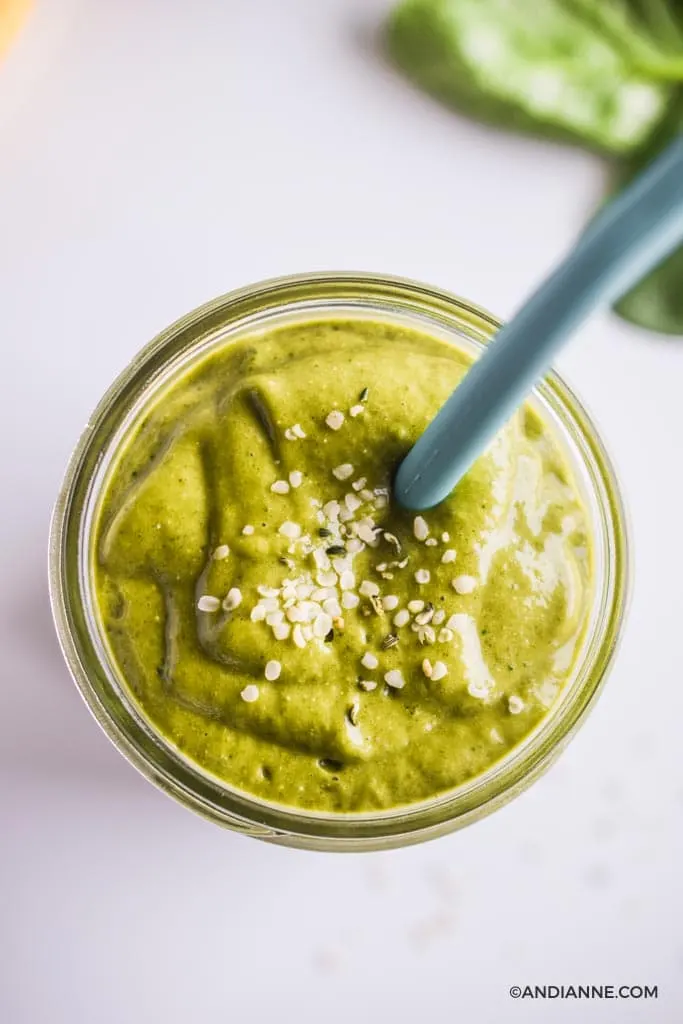 Smoothie Tips and Tricks
FOR CREAMINESS – Avocado, zucchini and frozen banana slices all add creaminess to a smoothie. A little can go a long way. For example – in one smoothie serving, 1/4 or 1/2 of a ripe avocado is all you need.
FOR LIQUID – You can use water, dairy or non-dairy for the liquid to help blend the smoothie. I typically just use water. Start with 1/2 cup liquid if you're making one serving.
ADD VEGGIES – There are veggies that can easily be hidden in smoothies for extra nutrition! Spinach, baby kale, greens, parsley and zucchini are great to experiment with. If you're not used to greens in smoothies, start with just a little bit then increase over time.
MAKE FREEZER PACKS – To save time in the morning, you can meal prep smoothie packs in advance. Add single-serving portion sizes of all ingredients to small bags and pop in the freezer. Then in the morning, you can add these frozen ingredients and a liquid to the blender to make your smoothie.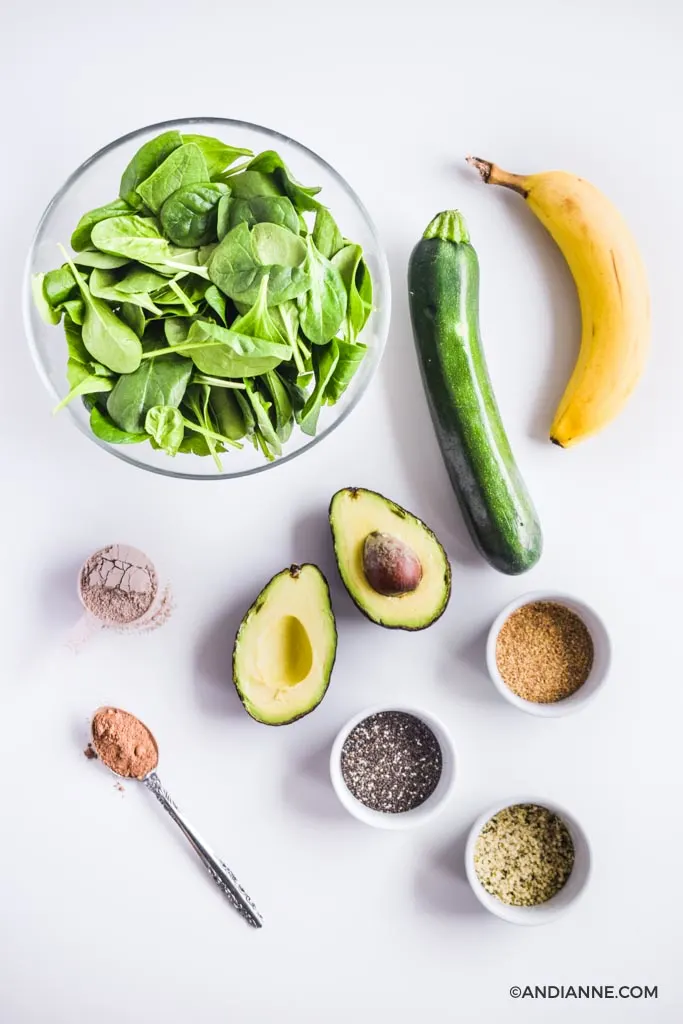 Ingredients for The Green Smoothie
I try to load up my green smoothie with as many healthy ingredients as possible. I use a variety of vegetables, seeds and powders…
SPINACH – The great thing about spinach in smoothies is that you can't taste it! So it's the perfect green to add to any type of smoothie you're making.
ZUCCHINI – At first, you might be thinking this is a strange addition. But zucchini blends beautifully into a smoothie and doesn't have any major taste to it. It's high in antioxidants, benefits digestion, and can help to reduce blood sugar levels.
BANANA – Banana is used to sweeten the smoothie. I prefer to use green bananas (they act as a prebiotic) or yellow bananas (no brown). Overripe bananas are too sweet for me, but they will work for this recipe as well. You can use fresh or frozen bananas. Typically I use fresh, however, sliced frozen bananas add an extra creaminess to the recipe!
AVOCADO – Avocados are a great source of healthy fats, which help to fuel our bodies with energy. I love eating them in the morning for this reason! If you find my recipe to be too creamy, add 1/2 an avocado instead of a full one.
CHIA SEEDS – Chia seeds are a great source of fiber, omega-3 fatty acids and protein. I like to add 1 Tbsp into my smoothies.
HEMP SEEDS – Hemp seeds are another great source of protein. They're an easy superfood to add to salads, on yogurt and in smoothies. I usually add 2 Tbsp to my smoothies.
GROUND FLAXSEED – Ground flaxseed is great for fiber and helping with digestion. I like to sprinkle a small amount (about 1/4 Tbsp per serving) into my smoothies. Too much results in a weird consistency.
CACAO POWDER – Real cacao powder is high in antioxidants and tastes sooo good. It's different than the baking cocoa powder you can buy. You can add a spoonful of cacao powder to this smoothie for a chocolate craving.
PROTEIN POWDER – I always love to add protein powder to my smoothies. This ingredient is optional but I find it provides me with added energy. Not all protein powders are created equal! Some might cause bloating or digestion problems – so you might have to try a few before you find one that works for your body. I really love the Iron Vegan Sprouted Protein Powder and I alternate between their unflavored, vanilla and chocolate flavors.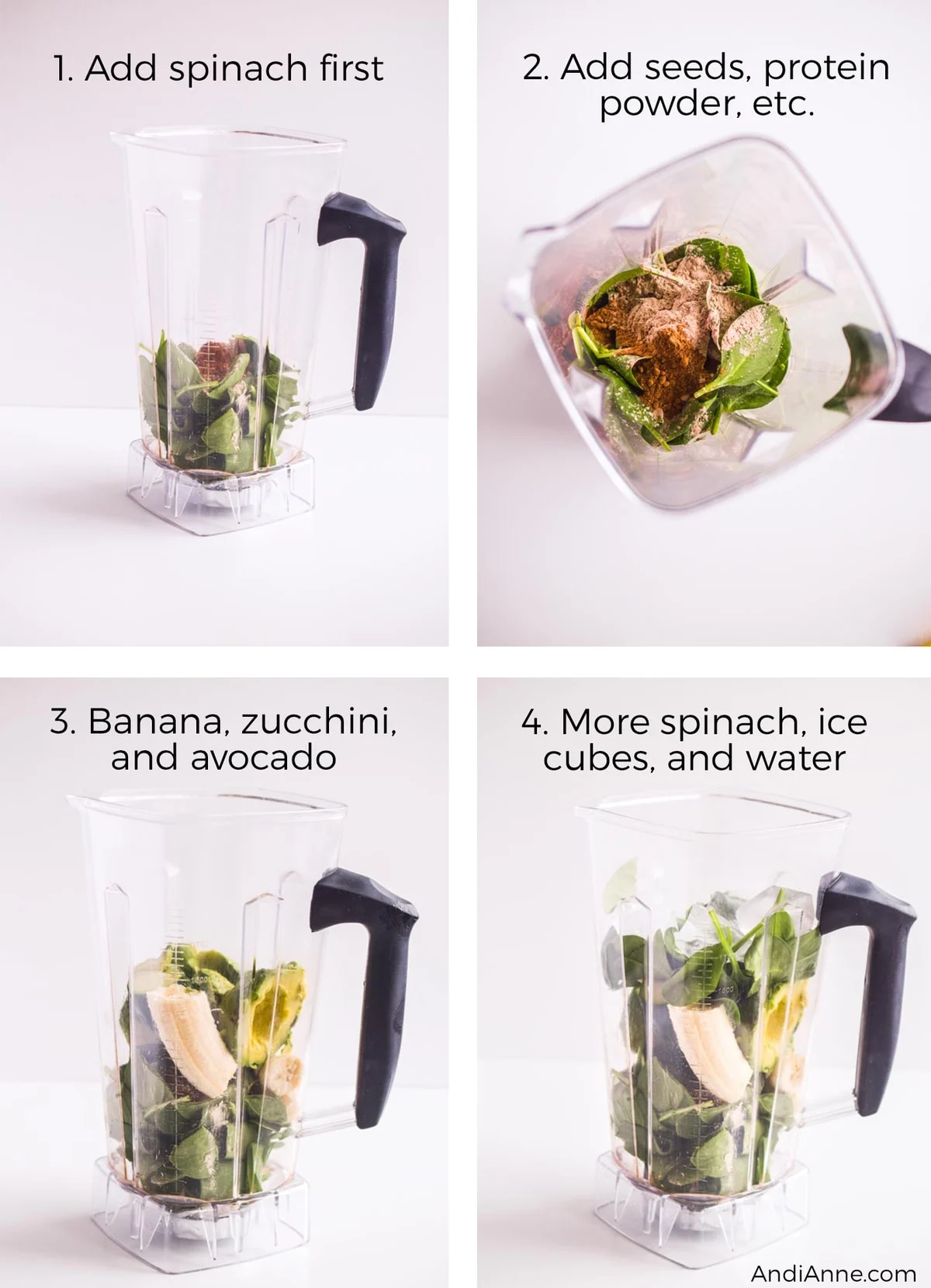 Green Smoothie Instructions
Making a smoothie is easy peasy, but there are definitely some tricks to helping it blend easier. You want to put the ingredients in a certain order, starting with the liquid and the softest ingredient possible. This will help get everything to blend faster.
Add water and spinach to the bottom of the blender.
Pour all powders and seeds on top of spinach. This helps to stop them from sticking to the sides when blending.
Add banana, avocado, and chopped zucchini.
Top with ice cubes.
Blend until smooth.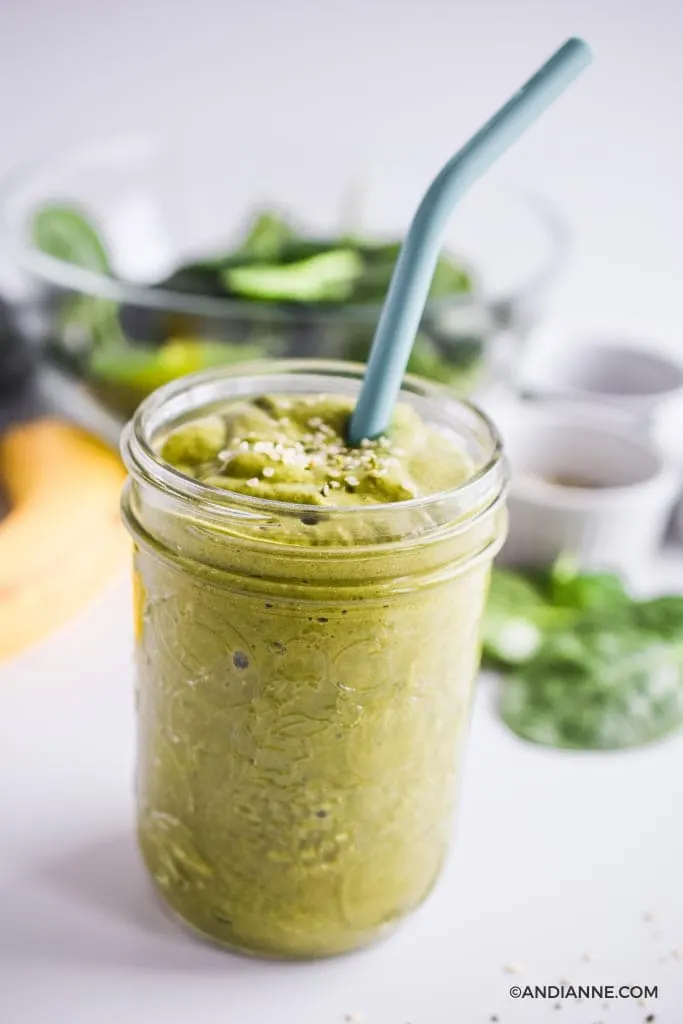 More Recipes To Try: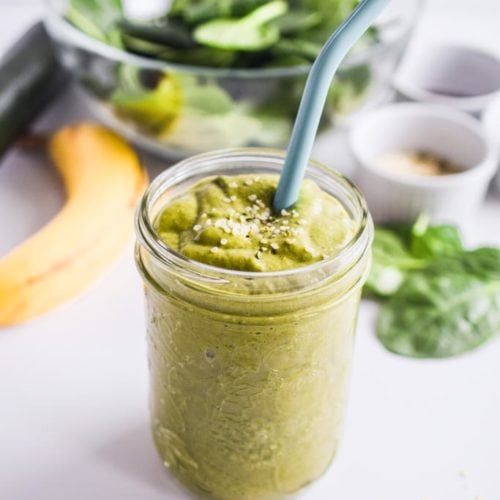 Ingredients
2

cups

baby spinach

1

small zucchini

-

ends removed and chopped

1

banana

-

cut in half

1

ripe avocado

-

sliced in half and scooped with a spoon

1

scoop

protein powder -

optional

2

Tbsp

hemp seeds -

optional

1

Tbsp

chia seeds -

optional

1

Tbsp

cacao powder -

optional

½

Tbsp

ground flax seed -

optional

5

ice cubes

1

cup

water

-

or milk of your choice
Instructions
Add 1 cup of water to blender, then add the spinach. Pour protein powder, hemp seeds, chia seeds, cacao powder and ground flax seed on top of spinach.

Add the zucchini, avocado, and banana. Top with 5 ice cubes.

Blend on high until everything turns into a smoothie consistency. Pour into 2 glasses and serve immediately.

Freezing Smoothies: After this smoothie is made, you can optionally freeze it in a sealed mason jar. When ready to use, thaw overnight in the fridge and place back in the blender in the morning to refresh it.
Nutrition
Serving:
2
g
|
Calories:
370
kcal
|
Carbohydrates:
32
g
|
Protein:
12
g
|
Fat:
25
g
|
Saturated Fat:
3
g
|
Trans Fat:
1
g
|
Sodium:
49
mg
|
Potassium:
1199
mg
|
Fiber:
14
g
|
Sugar:
11
g
|
Vitamin A:
3275
IU
|
Vitamin C:
41
mg
|
Calcium:
132
mg
|
Iron:
5
mg