Homemade superfood granola is loaded with healthy ingredients including rolled oats, shredded coconut, sunflower seeds, pumpkin seeds, hemp seeds and cacao nibs. It's the perfect crunchy treat to add to your favorite snacks.
Avoid the extra sugar and lower quality ingredients that store-bought versions will have and make your own instead!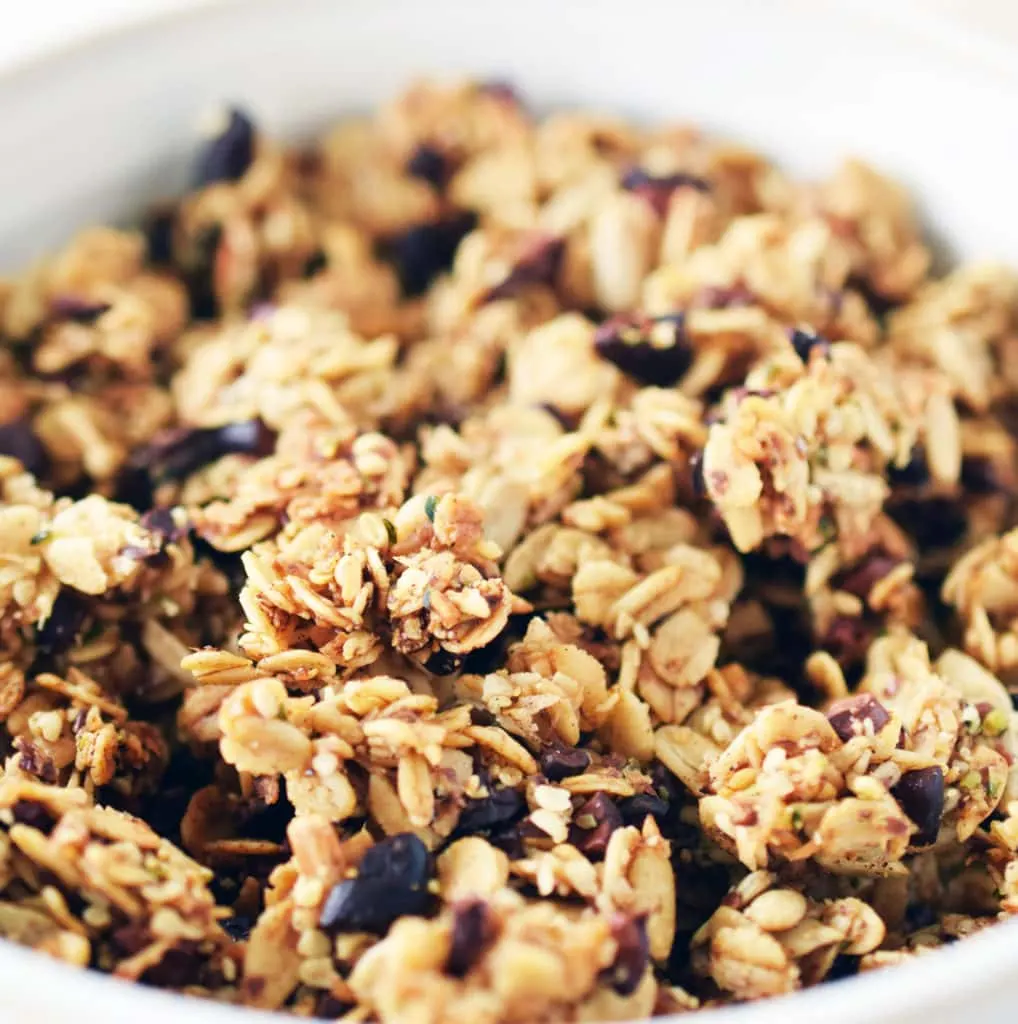 Homemade Superfood Granola
We are big fans of homemade granola over here. My husband will eat the entire batch in one day if he could. He enjoys his in a bowl with coconut milk. I like mine sprinkled on top of a smoothie bowl or with plain greek yogurt, and my daughter will happily eat it alone with a spoon.
This is an easy recipe to add to your monthly meal prep. If you do, I recommend doubling or tripling this recipe so that you have a large batch that can last a while. Store the rest in a bag in the freezer until ready to use.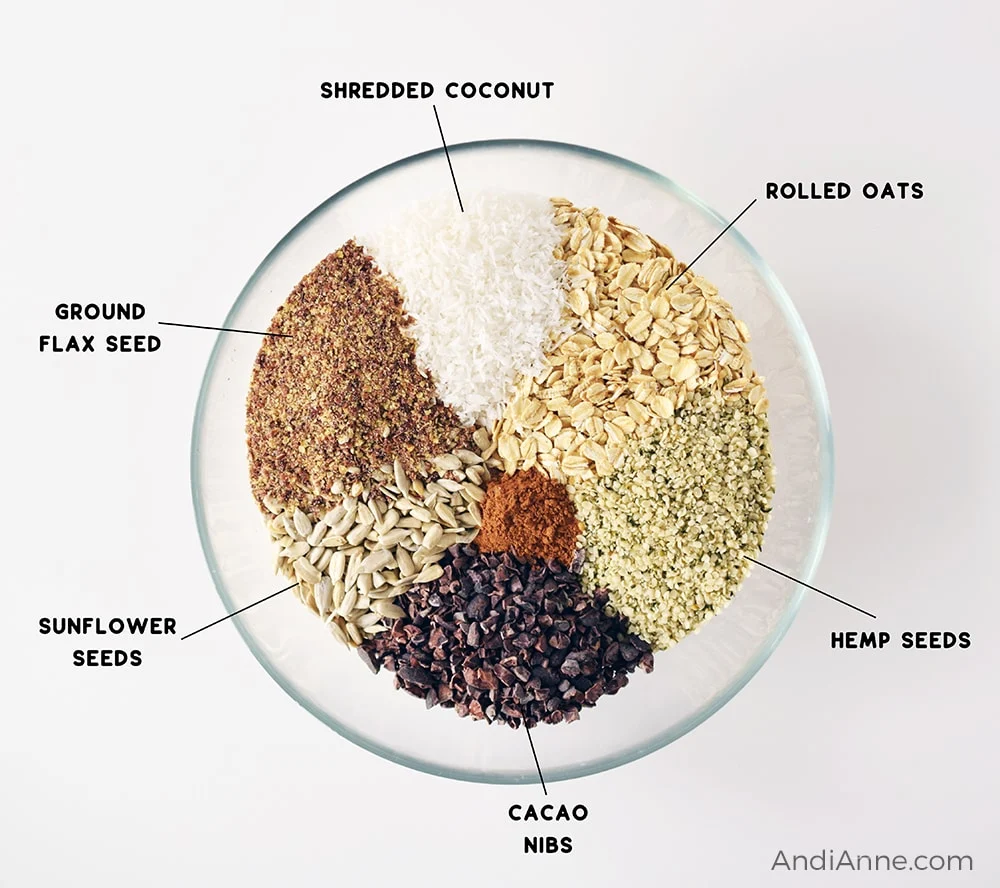 Superfood Granola Ingredients
ROLLED OATS: Look for large flake old fashioned rolled oats for this recipe. Quick oats just won't taste the same. (If you want this recipe to be gluten-free, make sure the oats you choose state that they're gluten-free on the package)
SEEDS: This granola is loaded with superfood seeds! Pumpkin seeds, sunflower seeds, hemp seeds, and flax seeds. All of which are a good source of protein, omega 3 fatty acids, antioxidants, and fiber.
SWEETENER: Maple syrup or honey can be used as sweetener for this recipe.
SHREDDED COCONUT: Be sure to use unsweetened shredded coconut.
CACAO NIBS: These are optional. Cacao nibs are healthy and high in antioxidants. They're made from crushed cocoa beans. If you've never tried them before, they are not sweet. They're actually bitter tasting and very crunchy. I love them sprinkled on top of smoothie bowls, in my oatmeal, or in homemade granola.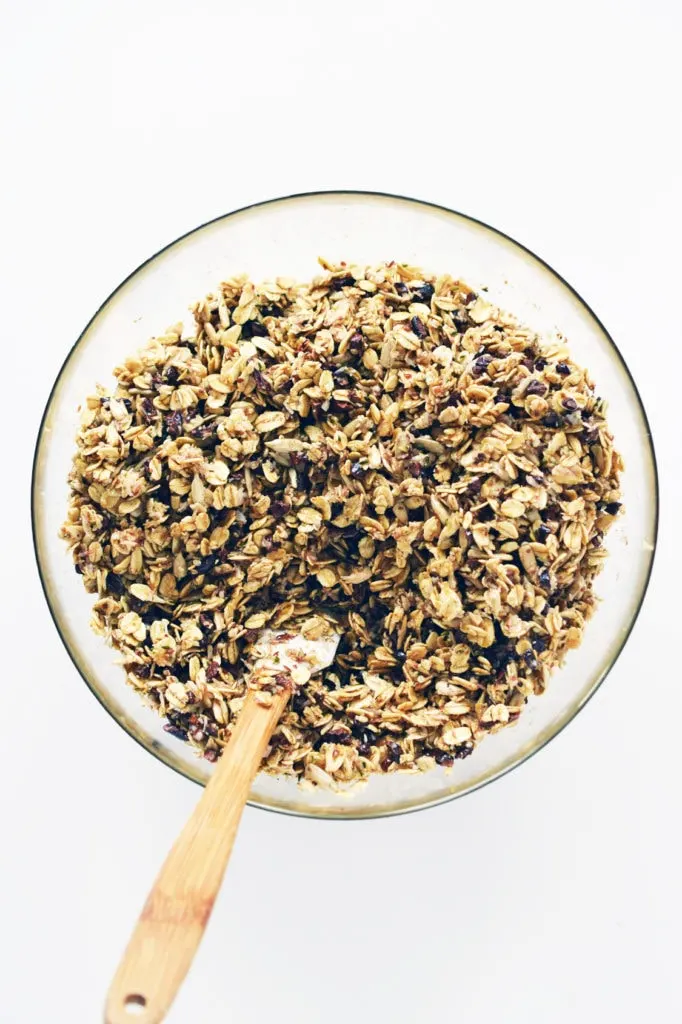 Is Homemade Granola Healthier Than Store-Bought?
I really believe that homemade granola is much better than any store-bought versions, even the organic healthier options, and here's why…
If you've ever looked at the ingredients list on store-bought granola, you'll notice that almost every brand (organic ones included) are always FULL of sugar. Much more sugar than you actually need!!
And if you're going to eat this in the morning as fuel for your day, the last thing you want to do is load up on unnecessary sugar because that will just lead to an energy crash.
Plus making a homemade version will give you the ability to really load up on the good stuff like nuts, seeds, cacao nibs, shredded coconut, and dried fruit. Store-bought versions won't do this because they're usually trying to keep their costs down to a minimum, so you won't get added things like hemp seeds, and chia seeds which are incredible for overall health.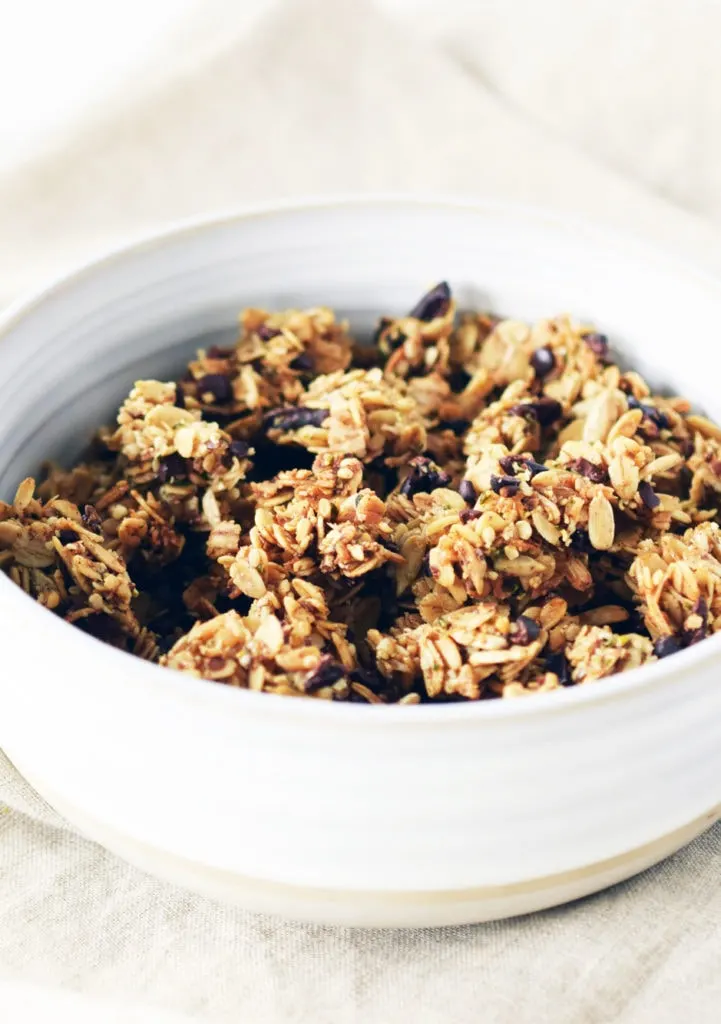 How To Make Homemade Superfood Granola From Scratch
This homemade superfood granola will be one of the easiest recipes you make! You can easily prep the ingredients and bake in 30 minutes.
MIX: Mix all your ingredients together in a bowl – about 3 minutes
BAKE: Bake granola on a baking sheet – about 30 minutes
TA-DA! That's it – no really… I told you it was simple. Now you can store it in an airtight glass container on the counter, in a bag in the freezer, or grab a big ol' scoop and eat it with greek yogurt for an easy healthy snack (greek yogurt is high in protein which gives you energy).
More Healthy Recipes: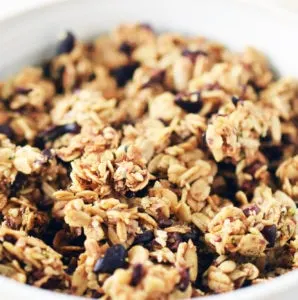 Homemade Superfood Granola
The perfect homemade granola filled with healthy ingredients. Easily customizeable. Sprinkle on smoothie bowls, yogurt, or grab a handful for a crunchy snack.
Save Recipe!
Saved!
Pin This
Print It
Instructions
Preheat oven to 300°F. Line a baking sheet with parchment paper.

In a small bowl, melt coconut oil and maple syrup together in a microwave for a few seconds. Set aside.

In a medium bowl, mix together oats, shredded coconut, sunflower seeds, pumpkin seeds, hemp seeds, flax seeds, cinnamon, and sea salt. Add the coconut oil mixture in and stir everything together.

Spread the mixture onto a baking sheet and bake in the oven for 30 minutes or until granola begins to turn golden brown. Give granola a quick stir halfway through baking.

Let cool completely, then store in an airtight jar on the counter.

How To Use: Sprinkle as a topping on smoothie bowls. Eat with a dollop of plain yogurt. Eat like cereal with a bit of milk. Or grab a handful for a crunchy snack.
Recipe Notes:
Feel free to play around with ingredients. You can add nuts, dried fruits, chia seeds, dark chocolate chips etc. And if you don't have an ingredient in the recipe, skip it. This recipe is easy to adapt!
Nutrition
Serving:
8
g
|
Calories:
315
kcal
|
Carbohydrates:
27
g
|
Protein:
8
g
|
Fat:
20
g
|
Sodium:
91
mg
|
Potassium:
174
mg
|
Fiber:
5
g
|
Sugar:
9
g
|
Calcium:
45
mg
The nutritional information provided is an estimate and is per serving.