Homemade pumpkin seed butter is high in protein and healthy fats. It's a nut-free spread that can be used for kid's snacks and lunches. The process to make it is incredibly easy and it's more budget-friendly to make from scratch than buy from the store. Spread it on toast, apple slices or use in baking like seed butter brownies! This is a healthy hack that you'll definitely wish you knew about sooner.
What Do I Need To Make Pumpkin Seed Butter?
Creating homemade pumpkin seed butter is an incredibly simple process. And in my humble opinion, homemade nut and seed butters should be a staple in any healthy eating household.
For this recipe, all you need are raw pumpkin seeds, a little bit of oil (coconut, avocado or olive oil), and a food processor. Once you try this method for yourself, you'll be wondering, "Why on earth would you use the expensive store-bought versions?"
What Equipment Do I Need To Make Pumpkin Seed Butter?
To make this recipe you'll either need a high speed blender or a food processor. This will blend the seeds into a creamy smooth consistency. Today I'm using a food processor to make this recipe.
Is Pumpkin Seed Butter Healthy?
Yes! Pumpkin seeds are very nutritious. They're a great source of protein, healthy fats and are high in antioxidants (1). Protein and healthy fats are two of the biggest things that give our bodies energy.
This is why I love pumpkin seed butter for kids snacks! Got a soccer game coming up? Give your child sliced apple with pumpkin seed butter on top!
Pumpkin seed butter works as a great protein source for snacks because it can be spread on apple slices, celery and carrot sticks, stuffed into medjool dates for a sweet craving, spread on toast or a bagel, drizzled on to chia pudding, homemade salad dressings or as PB&J baked oatmeal cups (so yummy).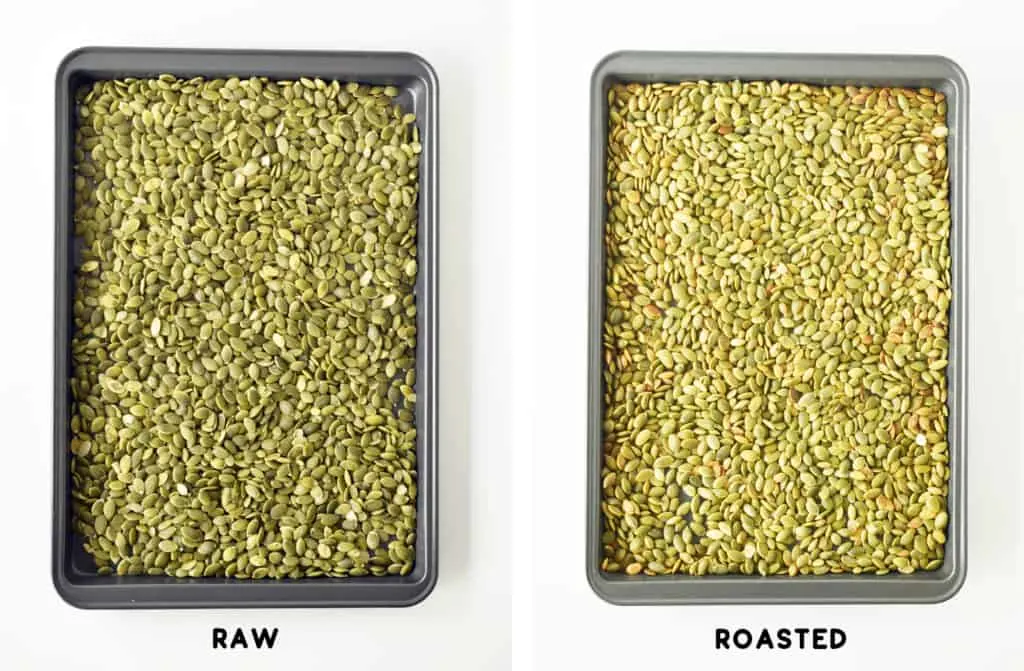 How Do You Make Pumpkin Seed Butter?
To make your pumpkin seed butter, you want to start with raw pumpkin seeds. Don't buy salted pre-roasted pumpkin seeds because you don't want the additives that they've used to prepare the seeds (like salt and cooking oil). Try to find organic raw pumpkin seeds if possible. I usually buy mine from the bulk section at my grocery store, or at the local buy-in-bulk store in my city. Raw organic pumpkin seeds are also available online.
Roast The Pumpkin Seeds First
To roast your pumpkin seeds, all you need to do is spread them onto a baking sheet and cook for 10-12 minutes at 350°F. During this time, you might hear them make popping sounds in the oven, and the kitchen will become fragrant with a lovely roasted smell. Once they're done, let them cool completely, then move on to the next step below.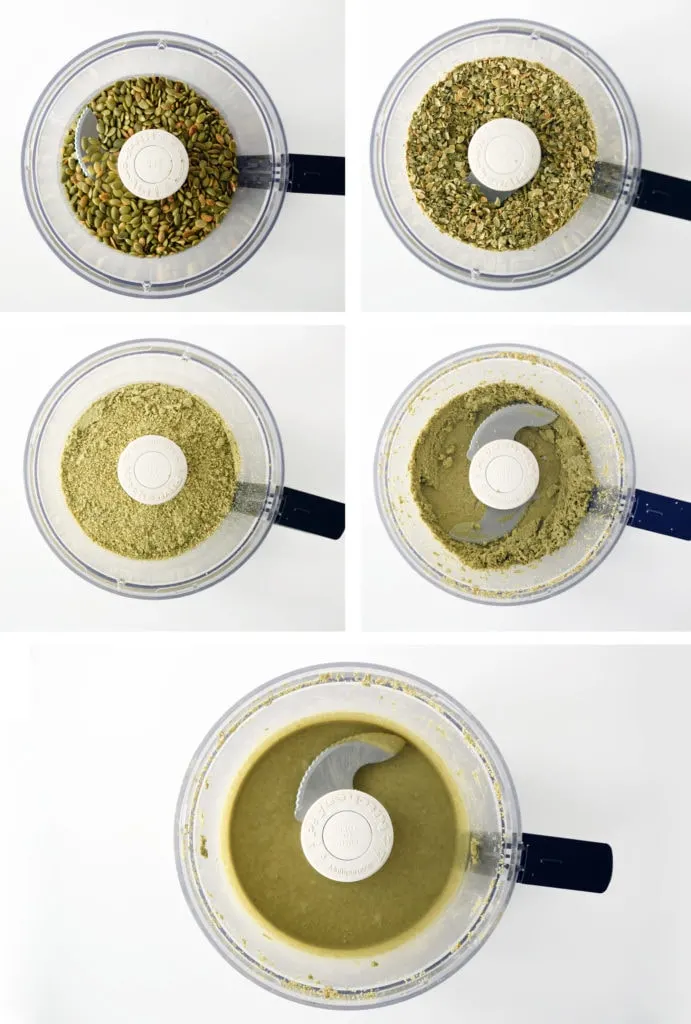 How To Blend Pumpkin Seeds In A Food Processor
The process of seed to seed butter happens in a few stages. And during those stages, you might be thinking to yourself, "Is this working?" The answer is yes.
It actually takes about 5 minutes to make your seed butter. First, the food processor will chop the seeds into chunks, then into crumbs, then into a clumpy sticky mixture (you'll probably need to stop and scoop down the sides with a spatula during this stage). This is a good time to add the first tablespoon of oil. See how it goes, then if needed add the second tablespoon.
Can You Use Fresh Seeds From A Pumpkin?
Although pumpkin seeds are incredibly delicious, I do not recommend using them to make pumpkin seed butter. Fresh pumpkin seeds are still wrapped in their outer shell – this is why they look different than the pumpkin seeds you buy from the store. And while you can eat this outer shell, it's not easy to blend into a smooth creamy consistency. So you'll probably have chunks in the seed butter that won't be very good.
So instead of making seed butter, roast your fresh pumpkin seeds for a nutritious snack – I have four delicious flavors of roasted pumpkin seeds you can try the next time you carve a pumpkin.
Does Pumpkin Seed Butter Need To Be Refrigerated?
To make your pumpkin seed butter last longer and preserve freshness, I recommend keeping it in the fridge. You can store it in an airtight mason jar for up to three weeks in the fridge.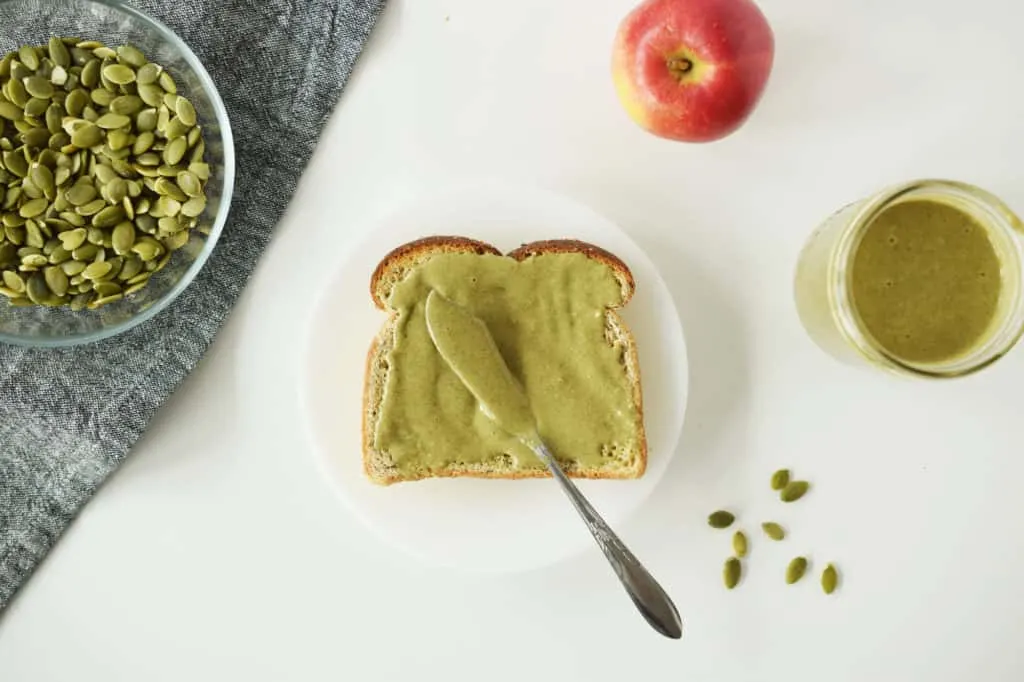 How Can I Use My Pumpkin Seed Butter?
There are so many delicious options! Here are just a few ideas: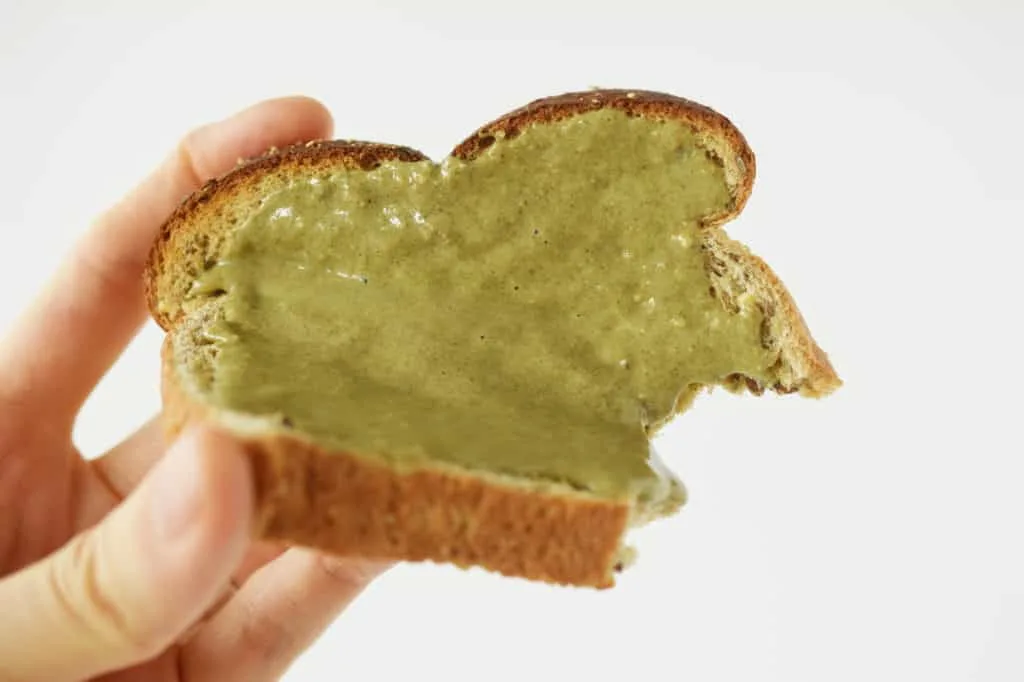 Recipes Made Using Pumpkin Seed Butter: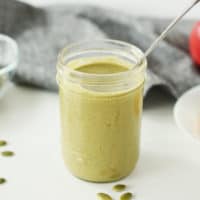 Homemade Pumpkin Seed Butter
Homemade pumpkin seed butter is high in protein and healthy fats. Spread pumpkin seed butter on toast, apple slices or use in baking like seed butter brownies!
Save Recipe!
Saved!
Pin This
Print It
Instructions
Spread raw pumpkin seeds onto a baking sheet and bake for 10-12 minutes, or until light golden color. The seeds might make popping sounds while roasting in the oven. Remove, and let cool completely.

Add the pumpkin seeds and 1 Tbsp olive oil (or avocado oil) to the food processor and let it run for about 5 minutes. If more oil is needed, add another 1 Tbsp along the way. You will need to stop and scrape down the sides with a spatula once or twice. At first, the seeds will form clumps – keep going. Over time they will begin to melt into a butter-like texture.

Once you receive the desired consistency, scoop out into a mason jar, and store in the fridge for 2-3 weeks.
Nutrition
Serving:
12
g
|
Calories:
141
kcal
|
Carbohydrates:
4
g
|
Protein:
5
g
|
Fat:
13
g
|
Saturated Fat:
1
g
|
Sodium:
2
mg
|
Potassium:
144
mg
|
Fiber:
2
g
|
Sugar:
1
g
|
Vitamin A:
11
IU
|
Vitamin C:
1
mg
|
Calcium:
17
mg
|
Iron:
1
mg