Six Easy Overnight Oats Flavors
Disclosure: This post may contain affiliate links.
Overnight oats are healthy, full of flavor, and one of the easiest breakfasts you'll ever make. This ultimate overnight oats guide will walk you through everything you need to know in order to make the best overnight oats!
Below are six delicious flavor options (plus 15 more), steps on how to make your overnight oats, troubleshooting tips, FAQs, and recipes with or without yogurt, and with or without chia seeds. There's something here for everyone no matter what your tastes or dietary concerns are!
These overnight oat recipes have quickly become a staple in my house. My husband loves them too! Keep reading to see how you can easily prep these for yourself.
If you like these overnight oats, you might also enjoy my popular banana oatmeal muffins and chia puddings with 6 flavors. Both are great for grab-and-go breakfasts.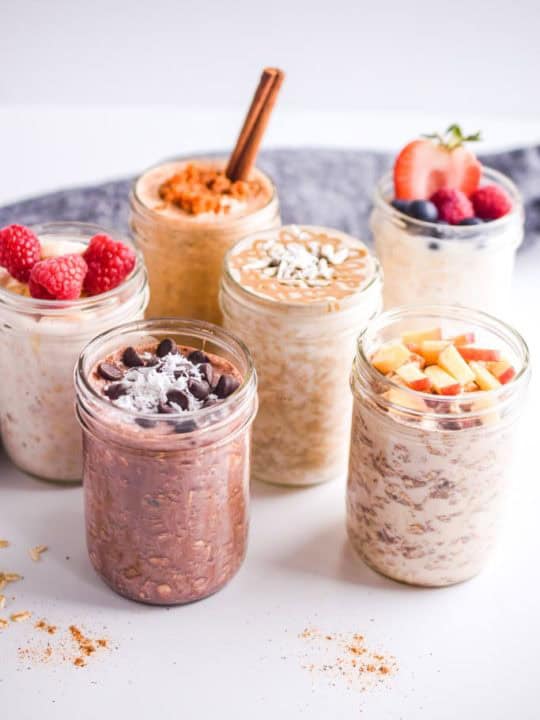 What Are Overnight Oats?
Overnight oats are made by using a combination of whole rolled oats, milk and yogurt. When you leave the oats chilled in the fridge overnight, the oats get a chance to absorb the liquid. This creates a soft, chewy, and creamy texture that's very filling and eaten cold with a spoon.
Overnight oats are so easy to meal prep in advance and store in the fridge. They last a long time if you assemble them properly (I go through that in detail below). Plus, they're full of healthy nutritious ingredients including protein and fiber that will help to increase your energy.
If you've ever seen overnight oats at local markets or coffee shops, they usually sell for $8-$10. But if you make them at home, they will only cost you about $1-$2. I don't know about you, but I love a good budget-friendly breakfast!
Free Overnight Oats Cookbook
Make sure you grab my free overnight oats recipe cookbook. Inside you'll get the six delicious flavor recipes you see here plus all the best tips and tricks for making this delicious breakfast.
**Get My FREE Overnight Oats Recipes Guide: All six healthy overnight oat recipes in one easy-to-print formate – sign up here to get it
Health Benefits Of Overnight Oats
Whole rolled oats contain fiber, protein, magnesium, potassium and omega-3 fatty acids. And soaking them overnight allows for the oats to absorb the liquid, making them easier to digest (source). Choosing healthy ingredients like plain greek yogurt (high in protein), fruit, nuts and seeds will also add nutritional benefits.
What I personally love about overnight oats is that they help to avoid a poorer food choice first thing in the morning. When you prepare them at night, you have breakfast ready to go. And if they're in a sealed mason jar, they're so easy to grab as you head out the door. You won't be tempted to grab a sugary snack mid-morning because you'll feel fuller longer, all thanks to the fiber and protein in this breakfast. So if you're used to eating sugary cereal, or a pastry, then substituting for overnight oats is a good upgrade.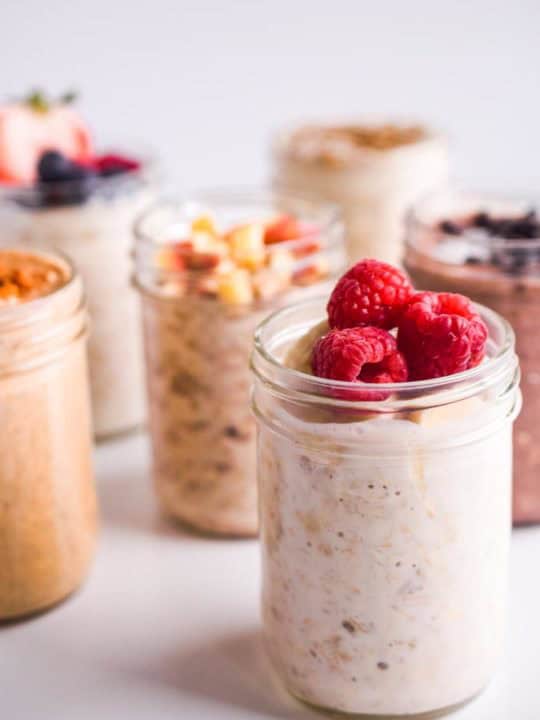 What Ingredients Do You Need For Overnight Oats Recipe?
To get the healthiest overnight oats that will provide you with more energy and avoid that mid-morning sugar crash, here are some recommendations:
Old Fashioned Rolled Oats: Whole rolled oats will definitely give you the best results. I don't recommend using instant oats because of their lower nutritional quality. > Buy Favorite Oats Here
Yogurt: For the healthiest results, use plain yogurt (flavored yogurt will always have added sugar). You can use regular yogurt, greek yogurt, skyr yogurt, or a dairy-free option like cashew yogurt. Each kind of yogurt will give a little different consistency to the overnight oats. In general, the thicker the type of yogurt, the thicker the overnight oats will be.
Milk: You can use any kind of milk you prefer. I used regular milk for this recipe, but you can also use a dairy-free alternative like almond milk, cashew milk, soy milk, oat milk or hemp milk.
Sweetener: I'm a big maple syrup fan, which is what I used in these recipes. However, not everyone feels the same way. You can also use honey, stevia, or 1/4 of mashed banana to sweeten your oats.
Flavor Add-Ons: There are so many flavor additions you can try. Chocolate, peanut butter and jelly, pumpkin spice, banana raspberry and apple cinnamon recipes are all included below. Just keep reading and scrolling to see how to make each of these delicious flavors. The full recipes are at the bottom of this post.
NOTE: If you don't like yogurt, I have a dairy-free overnight oats recipe at the bottom of this post using chia seeds.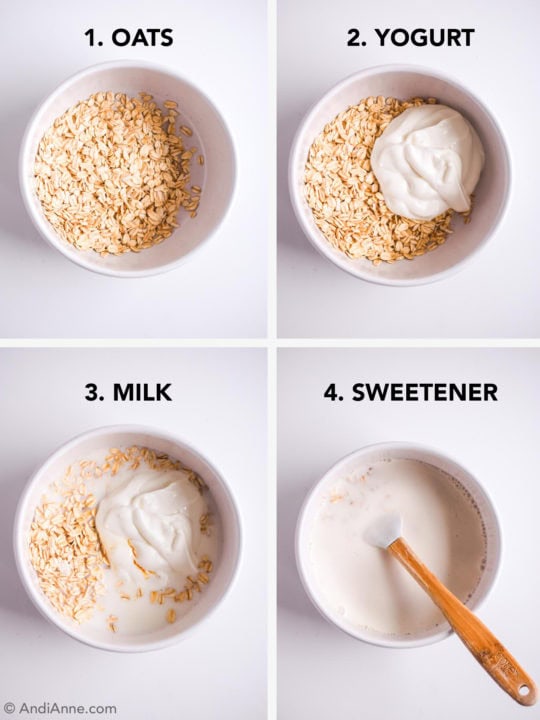 How To Make Overnight Oats
This is the base recipe that we'll be using for all of our flavors:
The overnight oats ratio is: 1/2 cup rolled oats + 1/2 cup milk + 1/3 cup yogurt + 1 Tbsp sweeter + pinch of salt = the best overnight oats
Making overnight oats is really simple and can be done in four easy steps:
Mix Ingredients: First, mix all the base ingredients together in a bowl. These are the rolled oats, milk, yogurt, sweetener and pinch of salt. Add in any flavor additions.
Pour Into Mason Jar: Pour the oat mixture into an airtight container, my favorite option is an 8 oz mason jar like I use in the photos. This is not mandatory, you can use any container you have as long as you seal it with a lid or cover with plastic wrap.
Chill Overnight: Place the overnight oats in the fridge overnight to let the oats fully absorb all the liquid.
Serve With Toppings: In the morning, add your favorite toppings including, berries, sliced banana, shredded coconut, raisins, apple slices, dark chocolate chips, nut butter and anything else you like!
Tips For Making The Best Overnight Oats
Prep Ingredients The Night Before: Overnight oats are really easy to assemble. But you want to give the oats some time to fully soak up the milk and plain yogurt, the best time to do that is the night before.
Eat Overnight Oats Cold: Most people prefer to eat their overnight oats cold – this is what makes them an easy on-the-go breakfast. This might take a bit of getting used to. So if you think that eating cold oats is just too weird, you can warm them up in the microwave. I go over that in the FAQs section.
Add Your Favorite Toppings: Some toppings I recommend trying are berries, bananas, apples, oranges, nuts, hemp seeds, sunflower seeds, pumpkin seeds, sunbutter (it's nut free), shredded coconut, raisins, and anything else you feel like experimenting with.
When You're Ready To Eat, Stir It Up and Enjoy: Overnight oats are pretty straightforward to eat. Take a spoon and stir them up – then take a bite. They're wonderfully satisfying and delicious.
Make Your Overnight Oats Enjoyable For Your Own Tastes: Once you try out a few recipes and learn what you like, start playing around with different combinations. Be sure to share them in the comments at the end of the post for others to see! These overnight oats are easily adaptable – try different fruits, nuts or seeds, don't be afraid to swap any ingredients out. Or if you want to add some superfoods like chia seeds or hemp seeds, go for it.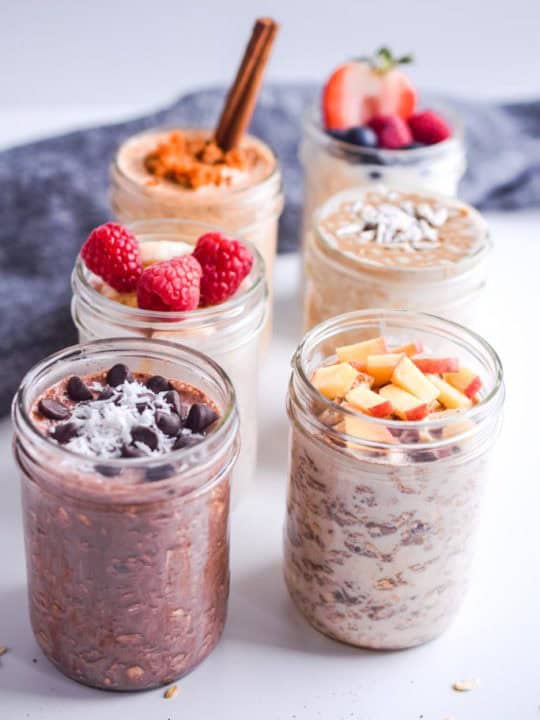 How Long Do Overnight Oats Have To Sit?
Having the patience to wait for overnight oats is hard. I've tested these recipes after 30 minutes, 1 hour, 2 hours, 4 hours, and overnight.
I can honestly say that you need a minimum of 4 hours for the overnight oats to fully soak up the liquids and do their job. If you wait overnight they will be at their best consistency.
Oats after only 1 hour will taste sloppy and kind of gross. So even though it can be tough to wait overnight, it's worth it.
Do I Eat Overnight Oats Cold?
Yes! Just pull them out of the fridge, grab a spoon and give a quick stir. Then dig in. The oats do not need to be heated. This might seem a little strange at first, but after you get used to it, you'll love eating them cold!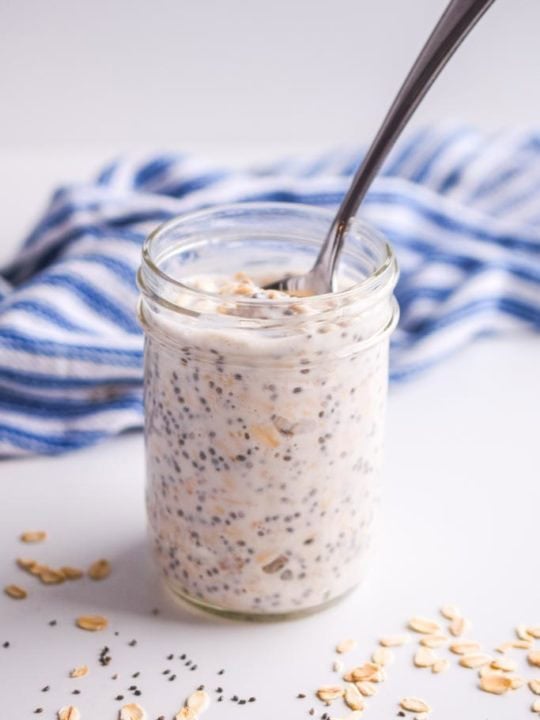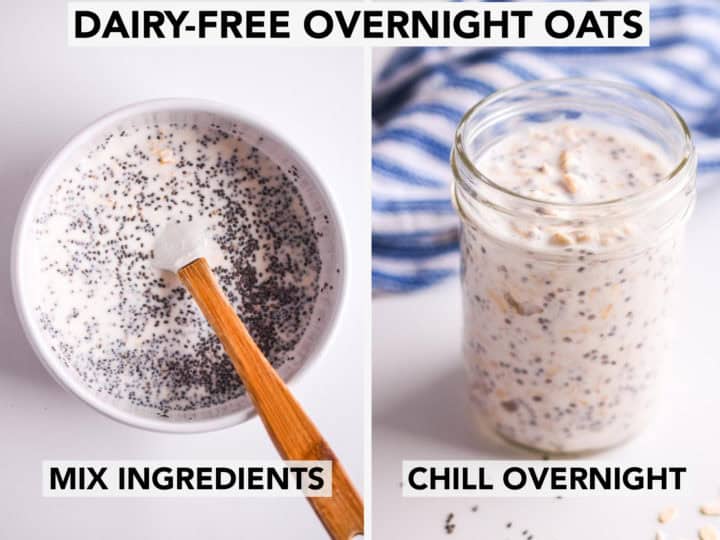 Overnight Oats Without Dairy
Don't like Yogurt? Lactose intolerant? No problem – this recipe combination can be used to create delicious oat base alternatives. Then just add the flavor additions to create any that you like:
Overnight oats without milk – Instead of milk you can use water. Here's the recipe combination: 1/2 cup rolled oats + 1/2 cup milk + 1/3 cup plain yogurt and 1 Tbsp sweetener (honey or maple syrup).
Overnight oats without yogurt – If you're not a fan of yogurt, then you can try the chia seed recipe below.
Overnight oats with chia seeds (Dairy-Free) – Instead of using yogurt, the chia seeds are used to thicken it up. Here's the recipe combination: 1/2 cup rolled oats + 1/2 cup dairy-free milk (almond, cashew, oat, hemp, soy etc) + 2 tsp of chia seeds. Mix together and add any flavor additions. These will need to chill overnight as well.
On a side note, I really like adding chia seeds to my overnight oats! Chia pudding can sometimes be hard for me to eat because of the consistency of chia seeds. But when you mix them with oats they're much more pleasant. 1-2 tsp of chia seeds can be added to any of these recipes, even with yogurt added as well.
Overnight Oats FAQs
Can I Eat Overnight Oats After 1 Hour?
Nope. The overnight oats won't be ready yet. They'll still be runny and the liquid won't be properly absorbed into the oats. I recommend a minimum of four hours, but preferably overnight because that's where you're going to get the best results.
How Long Do Overnight Oats Last?
The overnight oats will last about a week in the fridge if stored in an airtight container. You can meal prep a batch of oats on Sunday night, store in the fridge and eat for breakfast throughout the week.
Can You Eat Overnight Oats Hot?
Typically overnight oats are eaten cold. But I get that this might seem strange when you're used to eating them warm. I tested this recipe and yes, you can heat it up for about 1-2 minutes in a microwave-safe container (I recommend pyrex or glass). The oats will be super chewy and the yogurt and milk will have evaporated. It's not my favorite way to eat overnight oats, but it still works. Truthfully though, there's no point to making the oats this way when you could just cook them normally and add toppings afterward.
Can You Use Steel Cut Oats?
You can, but they won't have the same consistency. Steel cut oats take longer to cook in general, they have an outer shell. So they will probably be chewier and may not fully absorb all the liquid. I haven't tested using steel cut oats yet, but if you do let me know how it goes in the comments!
Can You Use Instant Pack Oats?
Yes you can, but I don't recommend it. Here's why… instant pack oats are quite different from the whole grain rolled oat version. They're usually not the only thing included in the pack either – many have added salt, sugar and preservatives. For more energy and to avoid that mid-morning sugar crash, whole rolled oats are a better option.
How Many Calories Do Overnight Oats Have?
Each overnight oats recipe will vary depending on the toppings added, milk used, yogurt used, etc. But to give you a reference, the base recipe using rolled oats, plain greek yogurt, 2% milk, and honey will make 1-2 servings (depending on how hungry you are) and is a total of 342 calories.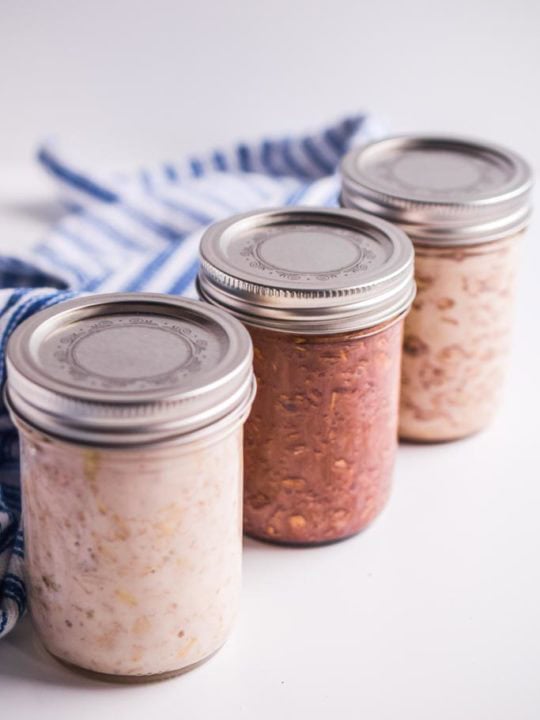 How To Store Overnight Oats
The easiest way that I've found to make overnight oats is by using 8 oz mason jars (250 ml). This recipe will sit perfectly in this size of jar. It's easy to seal and stack in individual-sized portions in the fridge. If you begin to love eating overnight oats regularly, then purchasing a 12 pack of these mason jars for $20 is a great (and affordable) option for storage. I also use these 8 oz mason jars for making homemade chia puddings. They're really versatile.
Do Overnight Oats Have To Be In A Glass?
No definitely not. You can use any containers that you already have at home. The overnight oats should be covered while in the refrigerator. You can use an airtight container with lid or wrap the top of the container with plastic wrap.
More Oat Recipes
Lovin' the oats these days? These are some of my favorite oat recipes on the blog.
Did you love these overnight oats recipes? Be sure to leave a rating below!
Ingredients
Instructions
In a bowl, add the rolled oats, milk, plain yogurt, sweetener (honey or maple syrup), and a pinch of salt. Add any additional flavor ingredients listed above. Mix everything together thoroughly.

Pour the oats into a container and seal with a lid. Place in the fridge for a minimum of 4 hours, but preferrably overnight to let oats absorb all the liquid.

In the morning, take out from the fridge and give a quick stir. Add your favorite toppings. These oats are eaten cold with a spoon.