If you are looking for a healthy breakfast option that tastes like dessert, then you should try strawberry cheesecake overnight oats. This delicious breakfast is a combination of rolled oats, milk, Greek yogurt, strawberries, crushed graham crackers, and cream cheese, which are left to soak overnight in the refrigerator.
The oats absorb the liquid overnight and become soft and creamy, while the strawberries add sweetness and texture. The cream cheese and Greek yogurt give the oats a rich, tangy flavor that is reminiscent of cheesecake.
If you love overnight oats as much as we do, then you must check out our 10 Overnight Oats Flavors and Recipes Guide!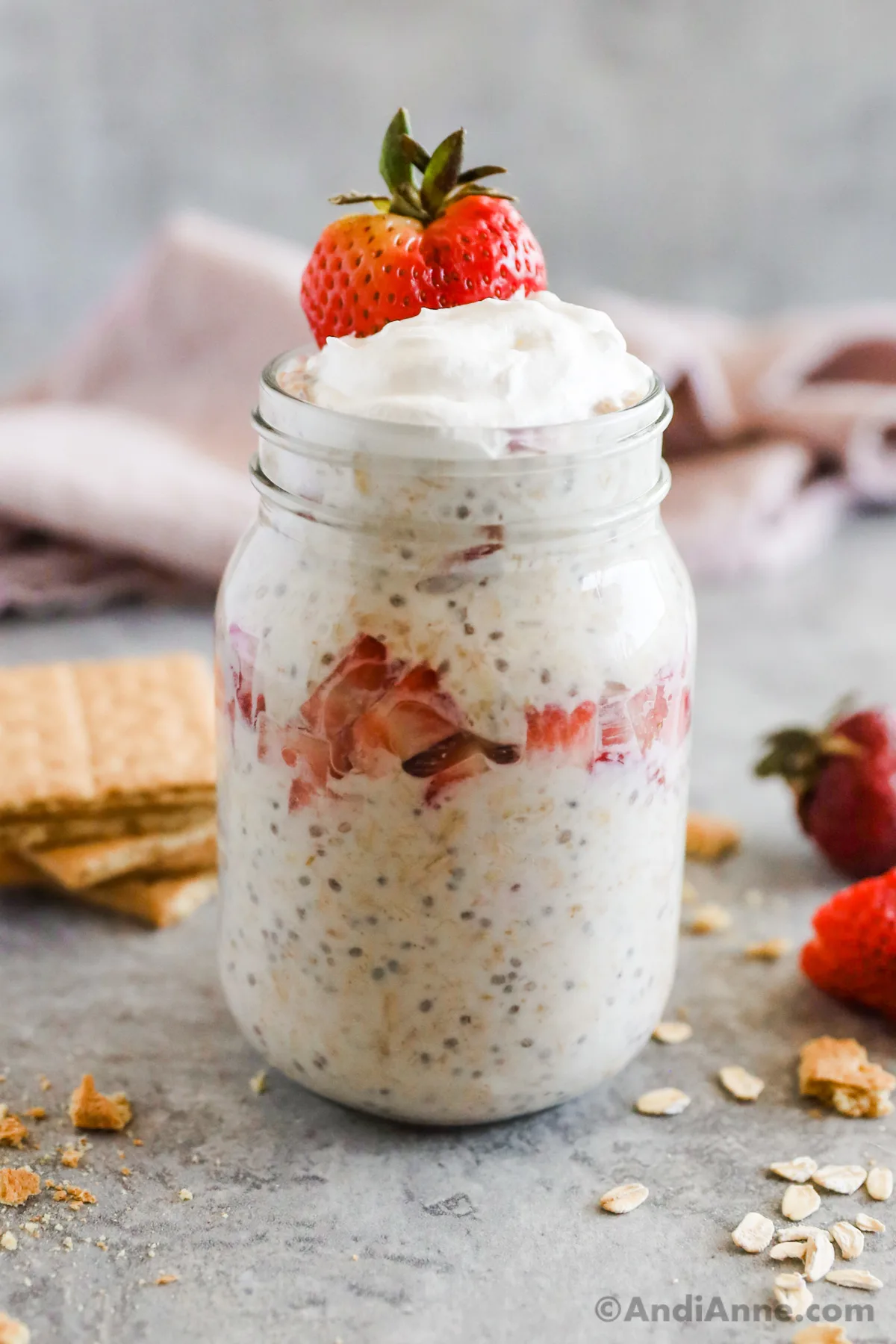 Strawberry Overnight Oats
If you love strawberry cheesecake then you are going to love this recipe! These oats are a delicious breakfast option and easy to make, but it's also perfect for meal prep.
Spend just a few minutes in the evening, and you'll have a grab-and-go breakfast in the morning! Plus, it's packed with protein and fiber to keep you feeling full and energized throughout the day.
There are plenty of other overnight oat healthy recipes to try, like carrot cake overnight oats, banana bread oats, decadent chocolate oats, lemon blueberry overnight oats, rich and creamy strawberry cheesecake oats, classic peanut butter overnight oats, and warming apple cinnamon oats. It comes down to personal preference and variety.
Easy To Make
One of the best things about this delicious recipe is how easy to make it is. You can assemble the ingredients in a bowl or a mason jar, stir them together, then cover and leave them in the refrigerator overnight.
In the morning, you can enjoy your oats straight from the jar or bowl, or you can add some toppings to make them even more delicious.
Overnight Oats are a healthy and delicious breakfast option that is perfect for people who are always on the go. They are easy to make, customizable, and packed with healthy nutrients that will keep you feeling full and energized throughout the day.
Convenience
One of the biggest benefits of these oats is the convenience. You can prepare them the night before, which means you don't have to spend time making breakfast in the morning. This is especially helpful if you have a busy schedule or if you're not a morning person.
All you have to do is grab your jar of oats from the fridge, dig in with a spoon and you're good to go.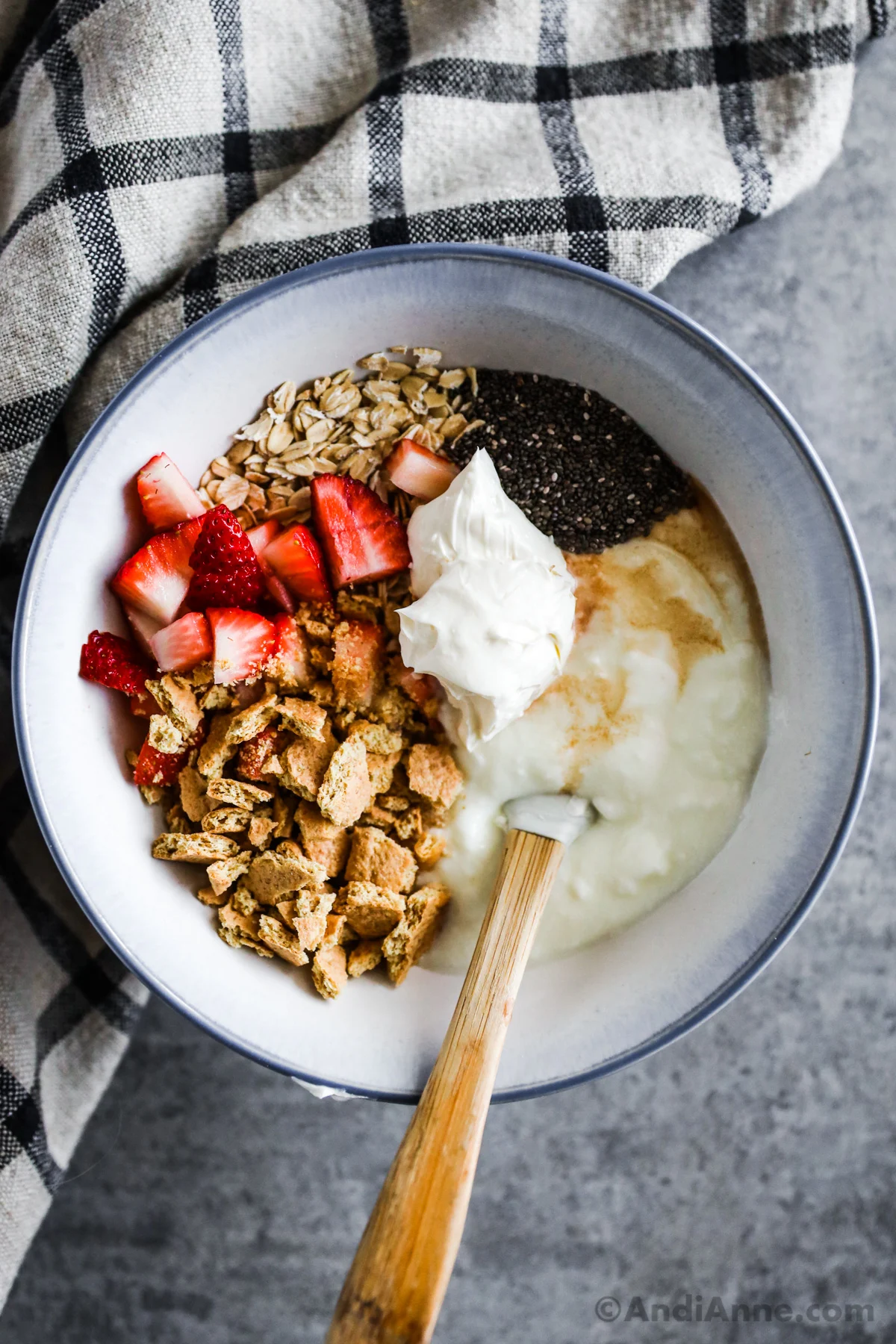 Recipe Ingredients
The ingredients to make this recipe are pretty simple. Here's an overview of what you'll need with more details in the recipe card at the bottom of this post:
ROLLED OATS – I find that using old-fashioned oats (these are large flake oats) will give you the best results. They will provide a chewy texture and nutty flavor without being too mushy. Yes, you can use steel-cut oats and quick oats, but the texture will be quite different.
CHOPPED STRAWBERRIES – Fresh strawberries are the best for this recipe. They will add sweetness and a fruity flavor to your oats. Be sure to chop them into small bite-sized pieces. You can also use frozen strawberries if fresh ones are not available.
CREAM CHEESE – This adds a rich and creamy texture, just like cheesecake! You can use regular or low-fat cream cheese.
MILK – Any kind of milk will work for this recipe, including cow's milk, or dairy-free milk like almond milk, cashew milk, soy milk, coconut milk, or oat milk. Choose your favorite!
PLAIN YOGURT – Plain Greek yogurt adds the best creaminess. You can also use regular yogurt or plant-based yogurt.
CRUSHED GRAHAM CRACKERS – These will add a hint of graham cracker crust flavor to the oats. You can substitute them with crushed digestive biscuits or even gingersnaps.
HONEY – Use honey to sweeten the recipe. If you don't have honey, you can use maple syrup, brown sugar or agave syrup instead.
CHIA SEEDS – These tiny seeds are packed with fiber, protein, and omega-3 fatty acids. They will add a gel-like texture to the oats and help to make a thicker texture for the oats.
VANILLA EXTRACT – A little bit of vanilla extract adds a nice flavor. You can also use almond extract or even lemon extract for a different twist.
SALT – A pinch of salt will enhance the flavors of your oats and balance out the sweetness.
Optional Toppings
Toppings can be added just before you plan to eat the recipe. First, give the overnight oats a good stir, then add your favorite toppings. Here are a few ideas:
BERRIES – You can add more fresh berries like blueberries, raspberries, or blackberries to your oats. They will add more flavor and a pop of color to your breakfast.
NUTS AND SEEDS – You can add some crunch to your oats by adding nuts and seeds like almonds, pecans, walnuts, or pumpkin seeds. They will also add healthy fats and protein to your meal.
GRANOLA – If you want to add more texture to your oats, you can sprinkle some granola on top.
CHOCOLATE CHIPS – If you have a sweet tooth, you can add some chocolate chips to your oats.
HONEY – If you want to add more sweetness to your oats, you can drizzle some honey on top.
GRAHAM CRACKERS – Sprinkle crushed graham crackers on top just before you serve/.
STRAWBERRY JAM – Add a dollop of strawberry jam
NUT BUTTER – Drizzle a bit of warmed nut butter overtop, just before serving. Try almond butter, cashew butter, or sunflower seed butter.
COCONUT FLAKES – You can add some tropical flavor to your oats by adding some coconut flakes on top. They will also add some healthy fats and fiber to your meal.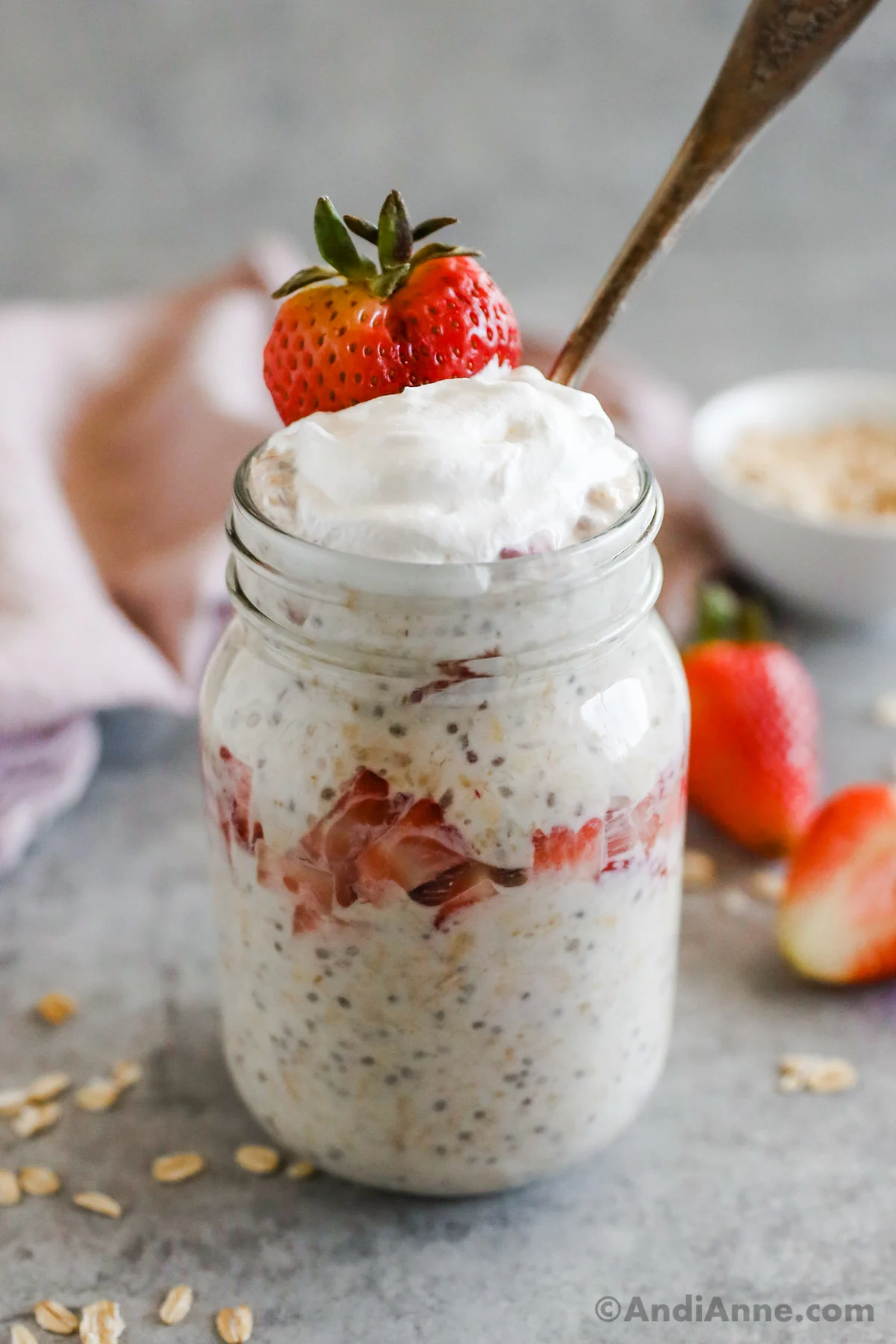 How To Make Strawberry Cheesecake Overnight Oats Recipe
Making overnight oats is incredibly easy and requires no cooking. You can prepare it the night before and have a delicious and wholesome breakfast ready to go in the morning.
Here's how to make this healthy overnight oats recipe with the full instructions in the recipe card at the bottom of this post.
COMBINE THE INGREDIENTS – In a medium bowl, mix together rolled oats, milk, yogurt, strawberries, graham crackers, honey, cream cheese, chia seeds, vanilla extract and salt. Stir until well combined.
DIVIDE THE MIXTURE – Divide the mixture evenly between two jars or containers with lids. Make sure to leave some space at the top of the jar for toppings.
REFRIGERATE – Put the lids on the jars and refrigerate overnight or for at least 2 hours.
ENJOY – In the morning, give the oats a good stir. Add your favorite toppings to the jars, including sliced strawberries, graham cracker crumbs, and a dollop of whipped cream cheese. Dig in with a spoon and enjoy your delicious and healthy breakfast.
How To Store
USE AIRTIGHT CONTAINERS – Store your overnight oats in airtight containers to prevent air and moisture from getting in. This will help keep your oats as fresh as possible.
STORE IN THE FRIDGE – Overnight oats should always be stored in the back of the fridge, where the temperature is more stable.
SERVING LEFTOVERS: Simply give the creamy oats a stir before serving to redistribute any liquid that may have separated. Add any desired toppings and serve.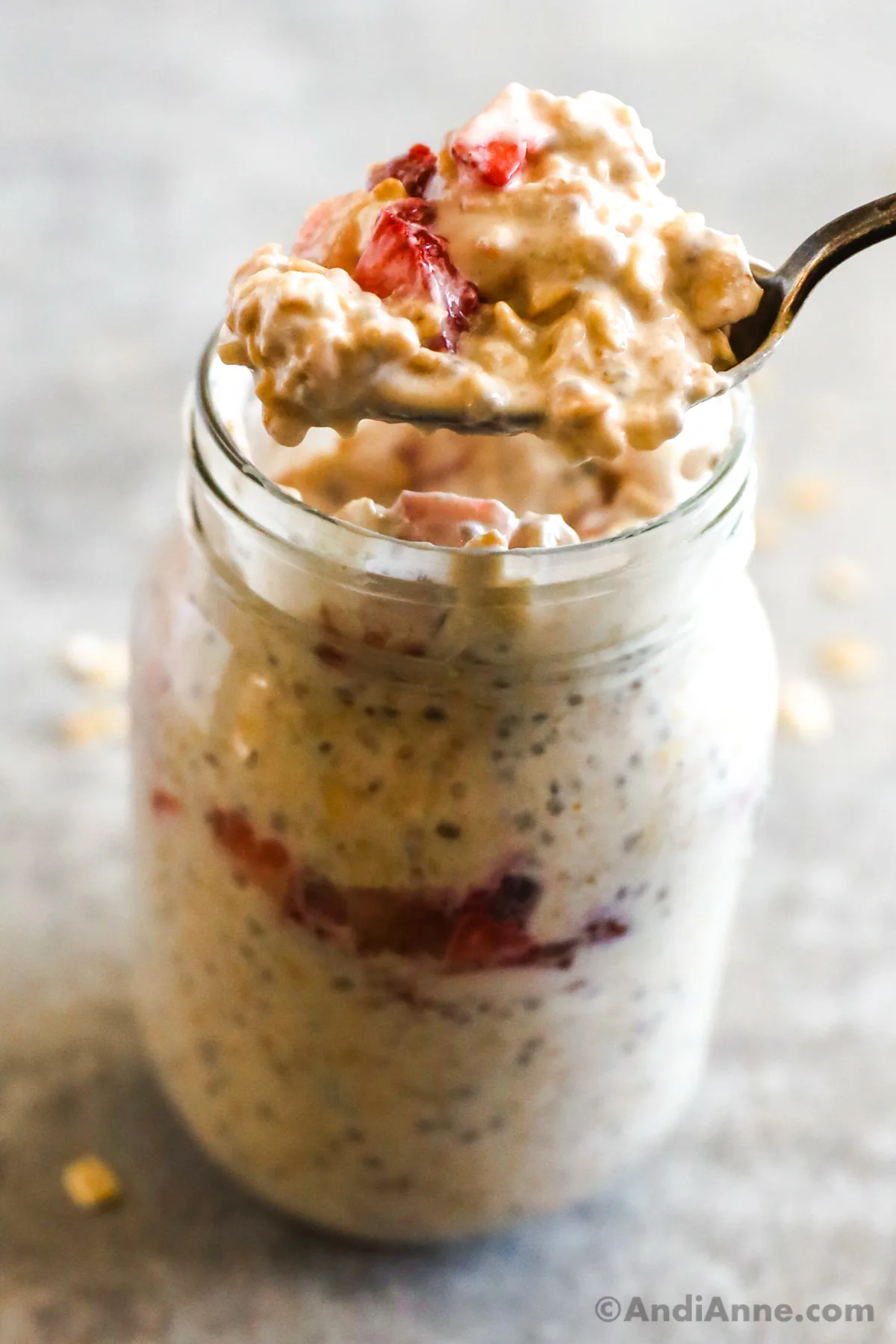 Recipe Tips
USE THE RIGHT OATS – Old fashioned rolled oats just work best for overnight oats. These are sometimes called large flake oats. Quick oats can produce mushier results and steel-cut oats won't absorb as much liquid and soften as well.
ADD SOME PROTEIN – A source of protein will help to keep you feeling full throughout the morning. Greek yogurt, chia seeds, protein powder and nuts are all great sources.
LIQUID TO OATS RATIO – The amount of liquid you add to your oats is key. Too much liquid will result in soupy oats, while too little will result in dry oats. A good rule of thumb is to use a 1:2 ratio of oats to liquid.
LET IT SOAK – It's important to let the oats soak for at least 6 hours, but preferably overnight. This will allow the oats to fully absorb the liquid and create the right creamy texture.
CONSUME WITHIN 3-4 DAYS – While overnight oats can be stored in the fridge for up to 5 days, it's best to consume them within 3-4 days for optimal freshness. This will ensure that your oats are still tasty and safe to eat.
ADD TOPPINGS RIGHT BEFORE EATING – If you plan to add toppings to your overnight oats, such as fresh fruit or nuts, it's best to do so right before eating. This will help prevent the toppings from becoming soggy or losing their crunch.
Frequently Asked Questions
How do I eat overnight oats?
Overnight oats can be eaten cold or hot, depending on your preference. Traditionally they are eaten cold, however many people prefer to warm them up. You can either eat overnight oats cold straight out of the fridge, or you can heat them up in the microwave for 30-60 seconds.
Can I use quick oats instead of rolled oats?
Yes, you can use quick oats instead of rolled oats. Just keep in mind that the texture may be slightly different, as quick oats are more processed and will absorb liquid faster than rolled oats, creating a mushier texture. If you prefer a thicker, chewier texture, stick with large flake oats.
Can I use frozen strawberries?
Yes, you can use fresh or frozen strawberries but the texture will be different. You will need to chop the frozen strawberries into bite-size pieces before mixing them in. Frozen strawberries may also be slightly softer than fresh strawberries, which could affect the texture of your oats.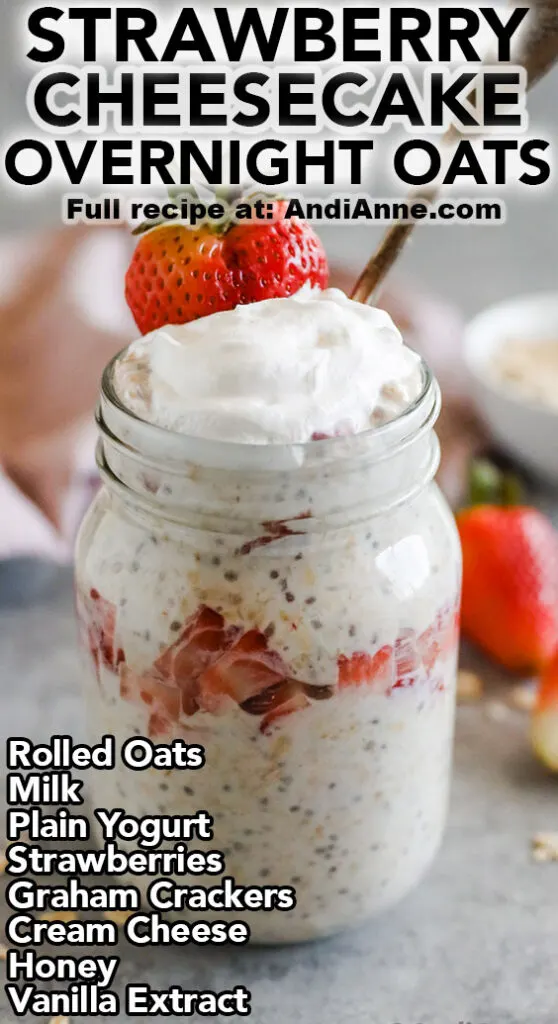 Strawberry cheesecake overnight oats are a perfect blend of sweet and tangy flavors that will leave you feeling satisfied and energized throughout the day.
With just a few simple ingredients, you can make a batch of these oats in just a few minutes and have breakfast ready to go for the entire week. Plus, you can customize them to fit your dietary preferences, whether you're vegan, gluten-free, or just looking for a healthier breakfast option.
More Overnight Oats Recipes
There are so many ways to customize your overnights to create incredible flavors! Here are just a few recipes to give a try:
Carrot Cake Overnight Oats
Apple Cinnamon Overnight Oats
Tiramisu Overnight Oats
Chocolate Overnight Oats
Peanut Butter Overnight Oats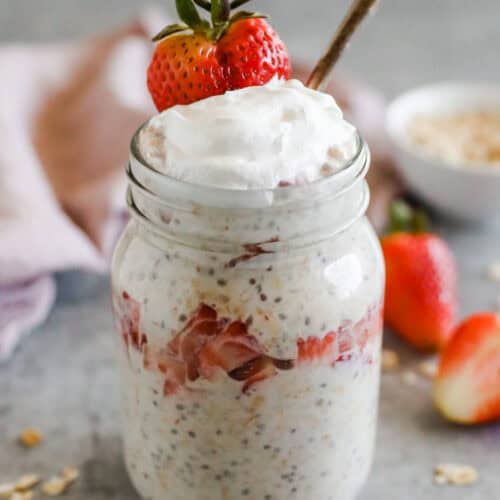 Strawberry Cheesecake Overnight Oats
These oats are a delicious breakfast option and easy to make, but it's also perfect for meal prep. Spend just a few minutes in the evening, and you'll have a grab-and-go breakfast in the morning!
Save Recipe!
Saved!
Pin This
Print It
Ingredients
1

cup

rolled oats

1

cup

milk -

dairy milk or plant-based milk

⅔

cup

plain yogurt

-

greek yogurt works best

⅓

cup

chopped fresh strawberries

¼

cup

crushed graham crackers

1

Tbsp

honey -

pure maple syrup, or other sweetener

1

Tbsp

softened cream cheese

2

tsp

chia seeds -

optional

1

tsp

vanilla extract

¼

tsp

salt
Instructions
In a bowl, add all the ingredients: rolled oats, milk, plain yogurt, chopped strawberries, crushed graham crackers, sweetener (honey or maple syrup), softened cream cheese, chia seeds, vanilla extract and a pinch of salt. Mix everything together until smooth and creamy.

Pour the oats into a container and seal with a lid. Place in the fridge for a minimum of 4 hours, but preferrably overnight to let the oats absorb all the liquid.

In the morning, take out from the fridge and give a quick stir. Add any fresh toppings before serving (but you don't need to). Overnight oats are eaten cold with a spoon.
Nutrition
Calories:
411
kcal
|
Carbohydrates:
58
g
|
Protein:
14
g
|
Fat:
14
g
|
Saturated Fat:
6
g
|
Polyunsaturated Fat:
2
g
|
Monounsaturated Fat:
3
g
|
Trans Fat:
0.01
g
|
Cholesterol:
33
mg
|
Sodium:
470
mg
|
Potassium:
546
mg
|
Fiber:
6
g
|
Sugar:
23
g
|
Vitamin A:
381
IU
|
Vitamin C:
15
mg
|
Calcium:
315
mg
|
Iron:
3
mg