Apple cinnamon overnight oats are not only a scrumptious way to kickstart your day but also a convenient time-saving meal. Mix everything together the night before, and grab your meal and go!
If you love overnight oats as much as we do, then you must check out our 10 Overnight Oats Flavors and Recipes Guide!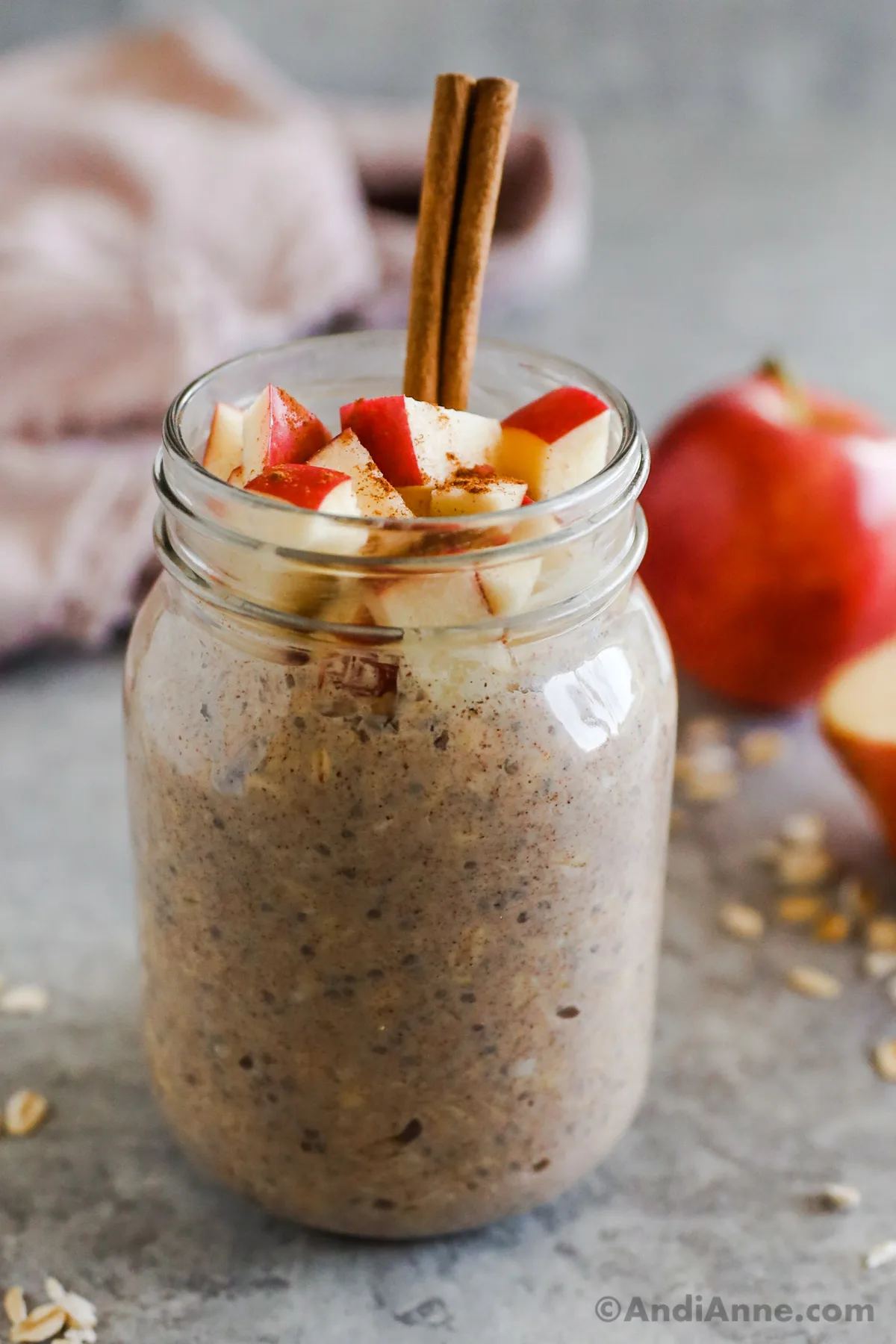 Apple Cinnamon Overnight Oat Recipe
Apple cinnamon oatmeal is a popular and delicious flavor combination, thanks to the sweet and tart taste of apples and the warm spice of cinnamon. It's the perfect make-ahead breakfast, making it an excellent choice for a healthy and filling meal.
EASY TO MAKE – The recipe requires minimal preparation, which means you can enjoy more time in the morning for other activities. Simply mix your ingredients together the night before, and let the oats soften and thicken in the refrigerator overnight. When you're ready to eat, give it a stir, and you're good to go.
CUSTOMIZABLE – You may also adjust the amount of cinnamon and other spices to find the perfect combination for your taste buds.
There are plenty of other overnight oat healthy recipes to try, like carrot cake overnight oats, banana bread oats, decadent chocolate oats, lemon blueberry overnight oats, rich and creamy strawberry cheesecake oats, classic peanut butter overnight oats, and warming apple cinnamon oats. It comes down to personal preference and variety.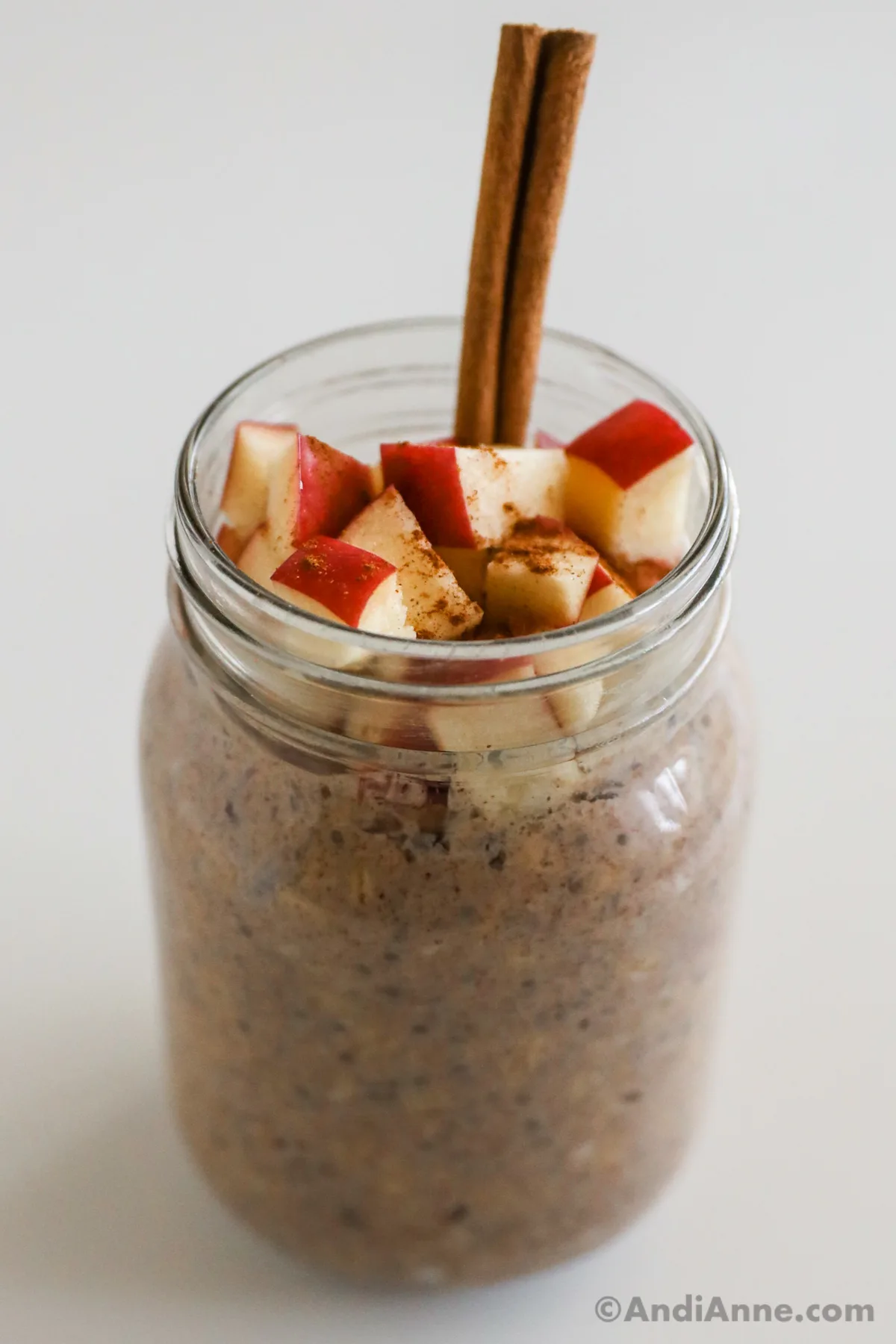 Recipe Ingredients
This apple pie overnight oats recipe is not only delicious but also a nutritious breakfast option. Here are the ingredients you'll need, along with some possible substitutions, to create this yummy meal:
ROLLED OATS – Old-fashioned rolled oats are gluten-free and a hearty and nutritious base for your overnight oats, providing fiber and a slow-digesting carbohydrate source to keep you going. If you prefer, you can also substitute with quick oats or steel cut oats.
FRESH APPLES – Adding crispy chopped apples gives these oats natural sweetness and refreshing texture. You can experiment with different types of sweet apples, such as Honeycrisp or Granny Smith. Feel free to peel or keep the skin on.
YOGURT – A creamy and protein-rich addition to your overnight oats, Greek yogurt adds thickness and richness to the recipe. To make this vegan or dairy-free, you can use a plant-based yogurt alternative.
MILK – You can use any milk of your choice, such as dairy-free coconut milk, regular milk, cashew milk or unsweetened almond milk.
CHIA SEEDS – These add a gel-like texture to the oats and are a great source of fiber. If you don't have chia seeds, you can use ground flaxseeds instead. Or just leave them out, the oats will still work.
HONEY – A natural sweetener that complements carrots and cinnamon. You can substitute honey for maple syrup, agave nectar, coconut sugar, or brown sugar if you prefer.
GROUND CINNAMON – Warm spices adds warmth and depth to the oats. You can also use apple pie spice or nutmeg for a different flavor.
VANILLA EXTRACT – Adds a bit of sweetness and flavor.
SALT – This brings out the flavors of the other ingredients.
Recipe Variations
COOKED SPICED APPLES – Add a layer of apples cooked with a bit of butter, sugar, and cinnamon to mimic a warm apple pie filling. Cook the apple mixture until they are tender and let them cool before adding them to your overnight oats.
ALMOND BUTTER – Adding a dollop of almond butter not only elevates the taste but also contributes healthy fats and creaminess. Feel free to substitute with your favorite nut or seed butter.
GROUND FLAX SEEDS – Boost the nutrition and healthy fats in your oats by adding ground flax seeds. They'll also provide extra texture to the mixture.
FRESH FRUIT – Top with any other fresh fruit favorites like sliced banana just before serving! Dried fruit would also make a great topping. Consider raisins or dried cranberries.
PROTEIN POWDER – Add a scoop of your favorite protein powder to make this a pre-workout meal.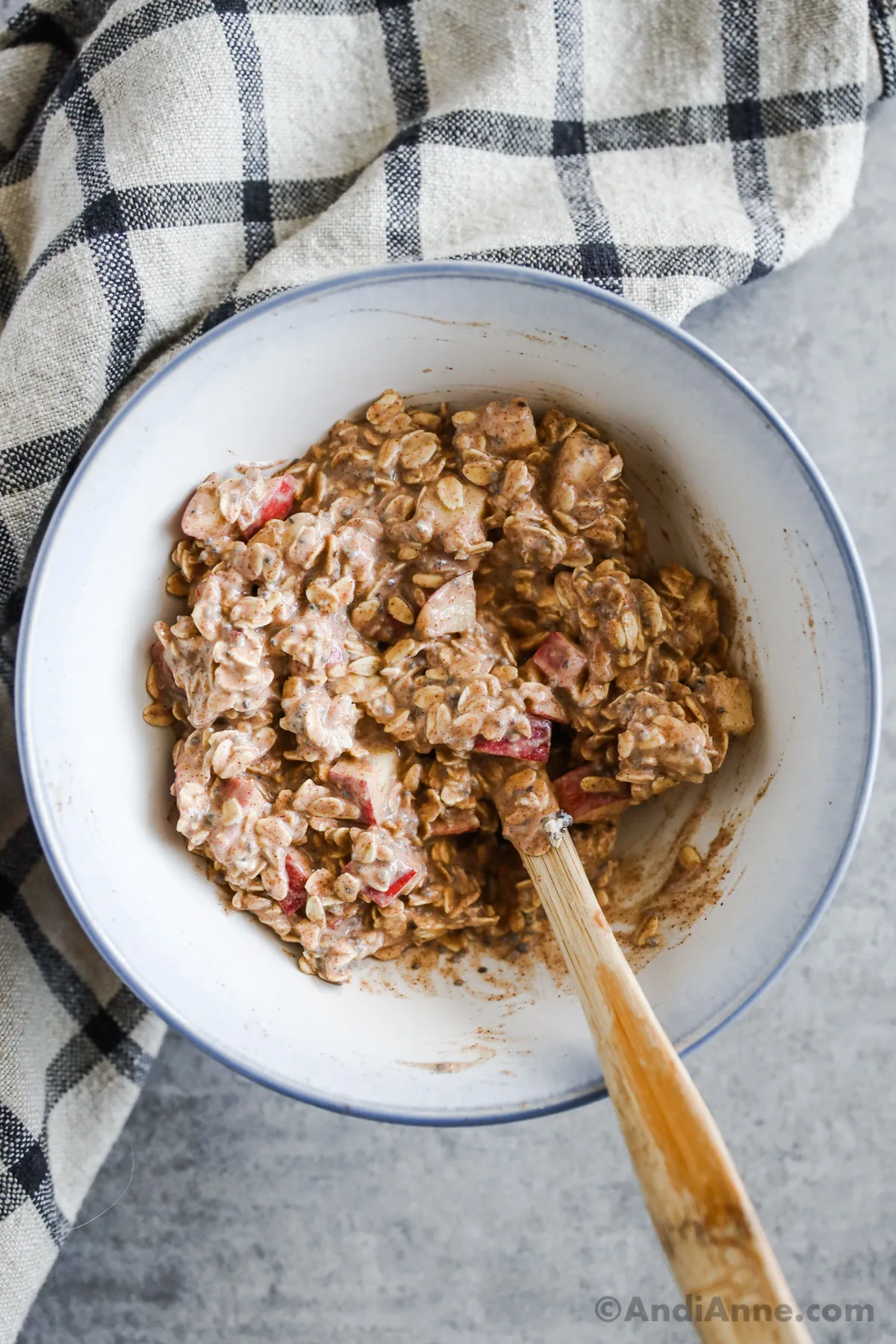 How To Make Apple Cinnamon Overnight Oats
Overnight oats are a convenient and delicious breakfast option that requires minimal preparation. Making cinnamon apple overnight oats is a breeze by following these simple steps:
MIX INGREDIENTS – In a pint-sized mason jar or similar container, combine the rolled oats, chopped apple, honey, cinnamon, chia seeds, vanilla extract, a pinch of salt, and your choice of milk or yogurt.
STIR – Once all the ingredients are in your container, mix them well using a spoon to make sure everything is well-combined. Divide the oat mixture into two mason jars or small containers. Seal each one tight with a lid or plastic wrap.
REFRIGERATE – Now that your oat mixture is ready, it's time to let it do its magic. Place the container in the refrigerator and let it sit for at least 4 hours, preferably overnight. The oats will soften, and the flavors will meld together, creating a delicious and satisfying breakfast.
SERVE AND ENJOY – In the morning or whenever you're ready to eat, take your container out of the refrigerator, give it a quick stir, and dig in. Feel free to add toppings, such as nuts, granola, or a drizzle of honey or warmed almond butter if you like.
Remember, this recipe is versatile, and you can easily customize it with different fruits, spices, or sweeteners to suit your taste.
How To Store Oats
REFRIGERATE – After preparing your overnight oats, store them in an airtight container in the fridge. These can last in a sealed container for up to 4-5 days in the fridge. If you plan on using these for meal prep, make sure to seal them in a mason jar tightly.
SERVING LEFTOVERS: Simply give the creamy oats a stir before serving to redistribute any liquid that may have separated. Add any desired toppings and serve.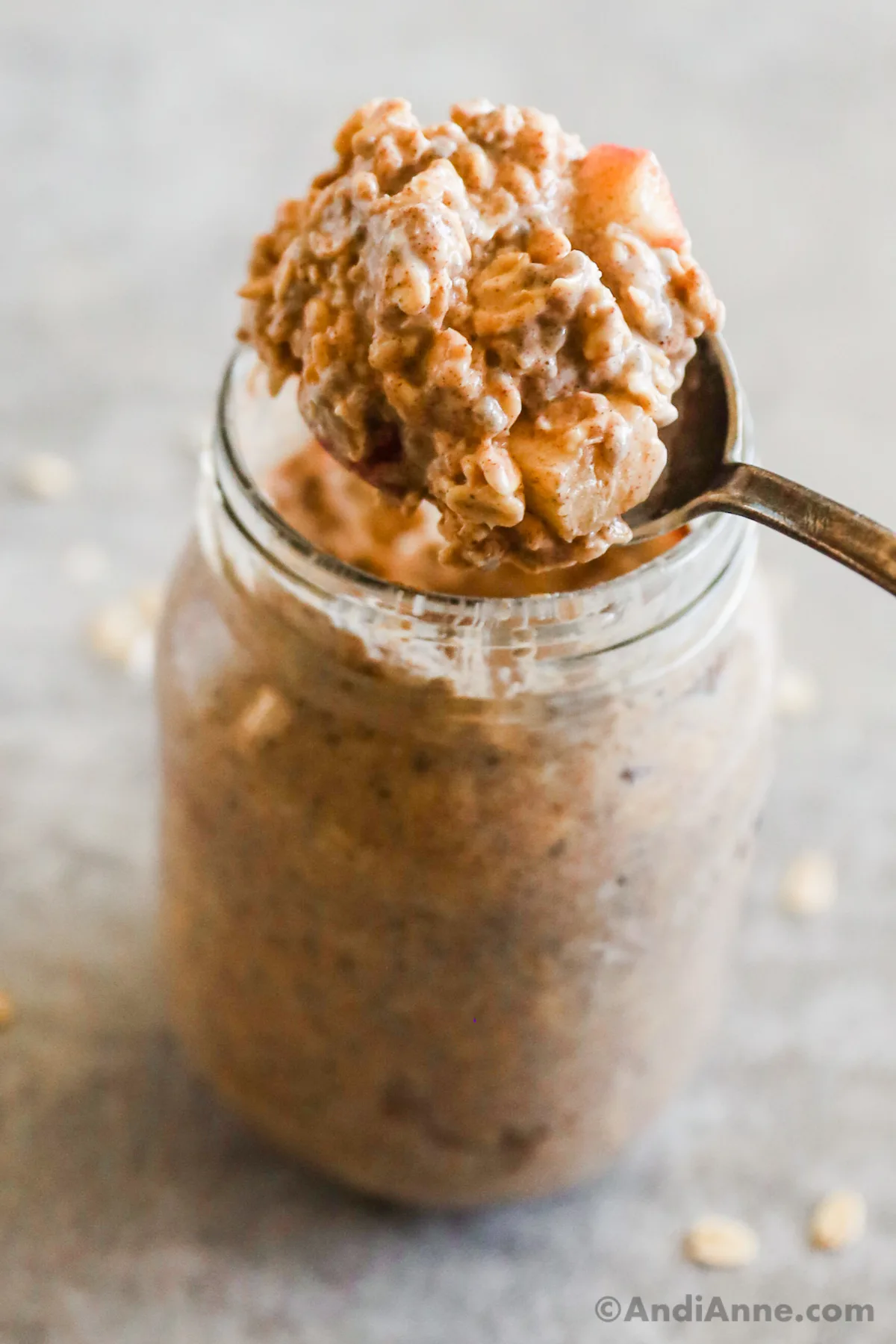 Frequently Asked Questions
How do I eat overnight oats?
Overnight oats can be eaten cold or hot. Traditionally they are eaten cold, however, some people prefer warm oats. You can either eat overnight oats cold straight out of the fridge, or you can heat them up in the microwave for 30-60 seconds. Stir them up just before eating.
Can overnight oats be made with stewed or grated apples?
Yes, you can make overnight oats with stewed or grated apples for extra flavor and texture. Simply replace the diced apples in the recipe with stewed or grated apples and follow the same steps. Stewed apples may add additional moisture, so adjust the milk amount if needed. Feel free to experiment with both methods to find the version you like best.
What is the ideal soaking time for overnight oats?
The ideal soaking time for overnight oats is at least 4-5 hours, but they can be soaked for longer. Many people choose to prepare the oats the night before and refrigerate overnight for a convenient and delicious breakfast the following morning. Soaking oats overnight results in a creamier and softer texture compared to a shorter soak time.
Can I use quick oats instead of rolled oats?
Yes, you can use quick oats instead of rolled oats. Just keep in mind that the texture may be slightly different, as quick oats are more processed and will absorb liquid faster than rolled oats, creating a mushier texture. If you prefer a thicker, chewier texture, stick with large flake oats.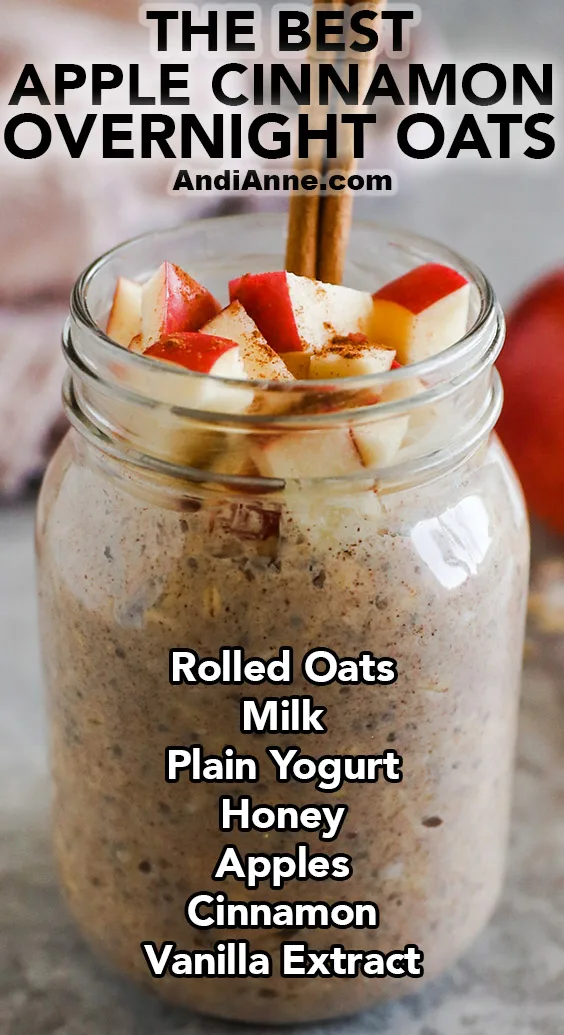 Conclusion
The next time you're looking for a quick and healthy breakfast that you can prepare ahead of time, try making apple cinnamon overnight oats.
With just a few ingredients and minimal prep time, you can enjoy a healthy breakfast that will keep you feeling full and energized throughout the morning.
Prep them the night before, and you'll have a convenient, on-the-go breakfast that's perfect for busy mornings and meets your nutrition goals.
Remember, the variations are endless, so don't hesitate to experiment with different types of fruit, nuts, and spices to find your perfect overnight oats combo. Enjoy!
More Overnight Oats Recipes
There are so many ways to customize your overnights to create incredible flavors! Here are just a few recipes to give a try:
Tiramisu Overnight Oats
Chocolate Overnight Oats
Peanut Butter Overnight Oats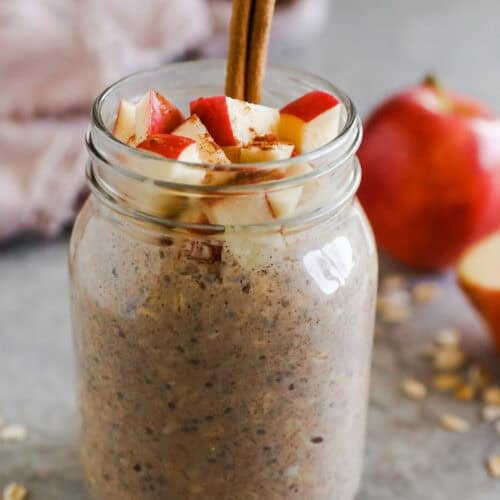 Apple Cinnamon Overnight Oats
With a combination of hearty rolled oats, creamy Greek yogurt, and the warm flavors of cinnamon and apples, this meal is truly a wholesome choice that will keep you satisfied all morning long.
Save Recipe!
Saved!
Pin This
Print It
Instructions
In a bowl combine all the ingredients: rolled oats, milk, plain yogurt, chopped apple, honey, cinnamon, chia seeds, vanilla extract, sea salt. Mix everything together thoroughly.

Pour the oats into a container and seal with a lid. Place in the fridge for a minimum of 4 hours, but preferrably overnight to let oats absorb all the liquid.

In the morning, take out from the fridge and give a quick stir. Add any toppings just before serving if desired. Overnight oats are eaten cold with a spoon.
Recipe Notes:
STORE IN THE FRIDGE: Once you've made your oats, store them in an airtight or sealable container in the refrigerator. This will keep them fresh and ready to eat whenever you need them. These will keep up to 4-5 days in the fridge. SERVING LEFTOVERS: Simply give the creamy oats a stir before serving to redistribute any liquid that may have separated. Add any desired toppings and serve.