Chocolate overnight oats combine only a handful of healthy ingredients you likely already have in your pantry to make a fabulously simple yet decadent breakfast. This recipe combines rolled oats, milk, yogurt, cocoa powder, chocolate chips, honey, and chia seeds for a low-cost grab-and-go meal.
If this overnight oats meal prep breakfast recipe sounds like the delicious affordable breakfast you've been looking for, you'll also love our 10 best overnight oats recipes!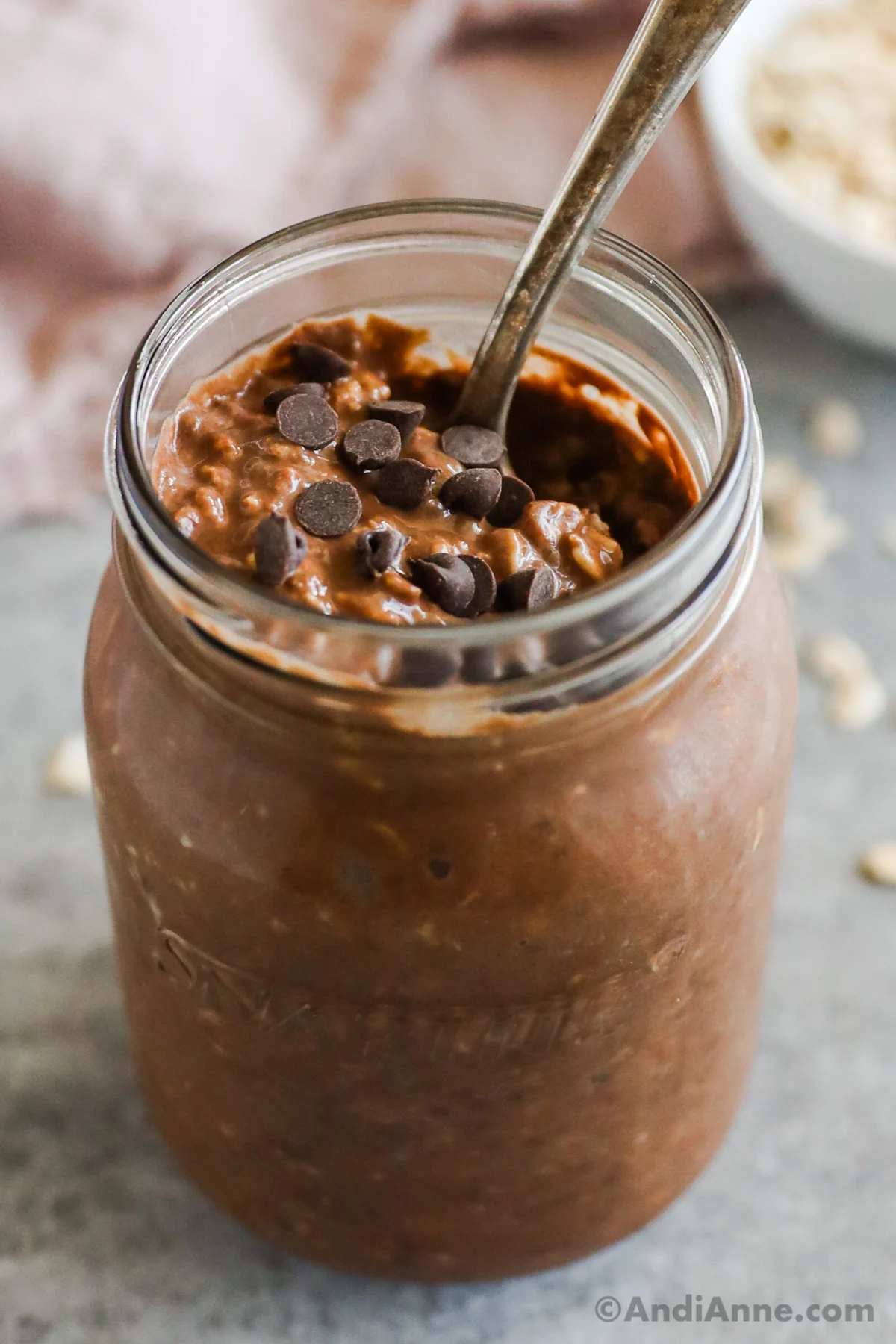 Chocolate Overnight Oats Recipe
If you love to eat chocolate, saving time, and money, then this easy-to-make recipe will take care of you while remaining a healthy choice for you and the whole family.
Let's not forget the chocolate overnight oats recipe is delicious, this combination of ingredients makes a creamy, chocolatey sweet treat you'll be looking forward to in the morning for breakfast, or as a grab-and-go snack. Another benefit of this recipe; it leaves you feeling satisfied thanks to the protein-packed chia seeds, milk and yogurt.
Prepare a large batch and store them in the fridge for up to 5 days and your breakfast meal prep for the week is done! If you like variety, switch it up each morning by topping off your overnight oatmeal with your favorite fruits, nuts, or seeds.
There are plenty of other overnight oat healthy recipes to try, like carrot cake overnight oats, banana bread oats, decadent chocolate oats, lemon blueberry overnight oats, rich and creamy strawberry cheesecake oats, classic peanut butter overnight oats, and warming apple cinnamon oats. It comes down to personal preference and variety.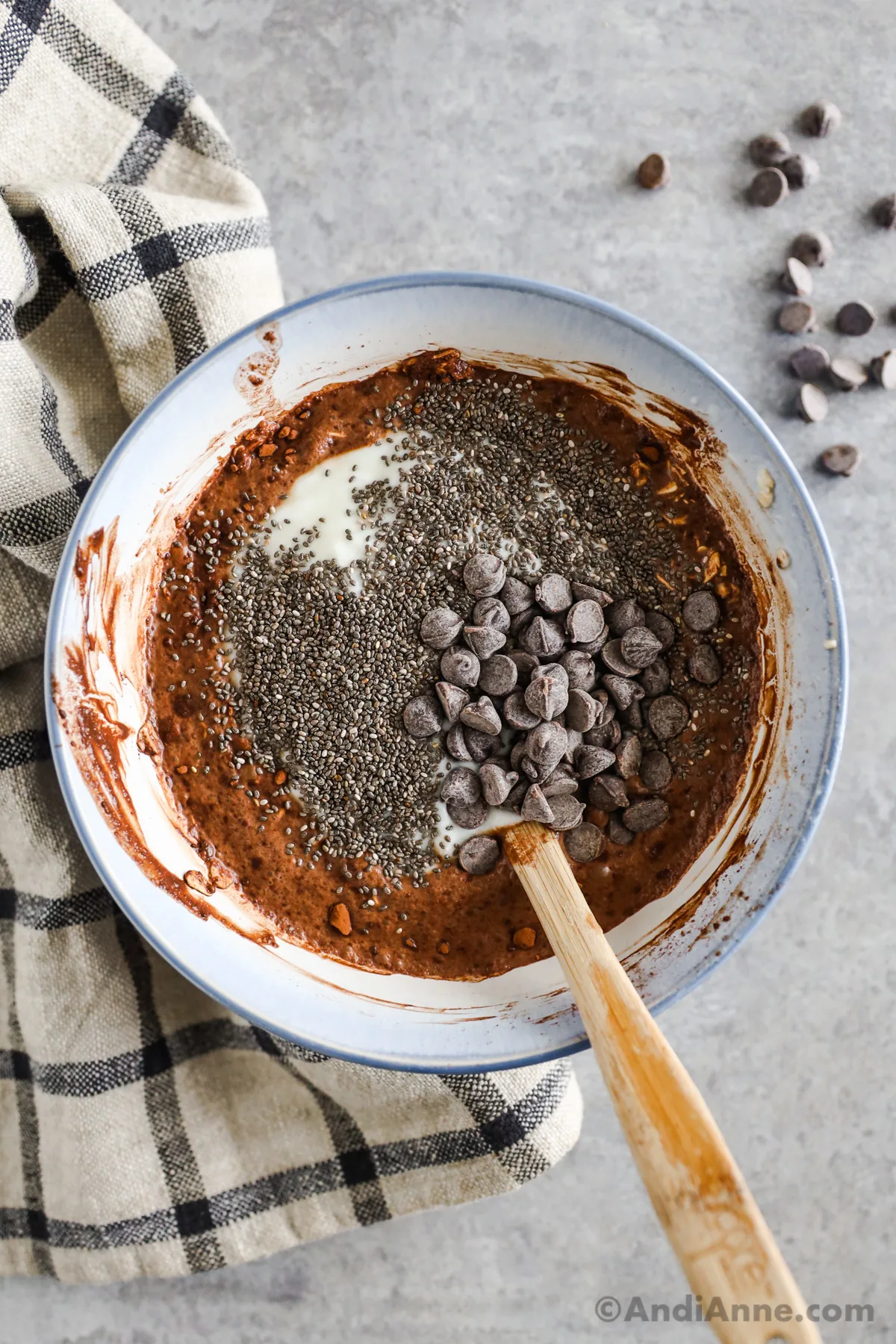 Recipe Ingredients
The ingredients in this recipe are easy and affordable to stock up on, so they're usually hanging around in your kitchen. For something so simple and delicious it's no wonder this has become such a popular go-to recipe.
To make chocolate overnight oats here's an overview of the fundamentals you'll need.
Full instructions are in the recipe card at the bottom of this post.
ROLLED OATS – Using old-fashioned oats (large flake oats) will give you the best results. They will provide a chewy texture and nutty flavor without being too mushy. Yes, you can use steel-cut oats and quick oats, but the texture will be quite different.
MILK – Any kind of milk will work for this recipe, including cow's milk, goat's milk, or dairy-free milk such as almond milk, cashew milk, soy milk, coconut milk, or oat milk. Choose your favorite!
PLAIN YOGURT – Plain Greek yogurt adds creaminess and tanginess to the recipe. You can also use regular yogurt or plant-based yogurt.
COCOA POWDER – We use unsweetened cocoa powder because there's no need for extra sugar when chocolate chips and honey are being used.
CHOCOLATE CHIPS – Use sweetened or unsweetened based on your preferences. These are of course optional but they do add a really nice texture making your oats that much more satisfying.
HONEY – Use honey to sweeten the recipe. If you don't have honey, you can use maple syrup, brown sugar, or agave syrup instead.
CHIA SEEDS – These tiny seeds are packed with fiber, protein, and omega-3 fatty acids. They will add a thick and crunchy texture to complement the softer texture of the oats.
How To Make Chocolate Overnight Oats
Making overnight oats is an easy process that requires minimal preparation, and minimal ingredients. The only utensils you'll need are a bowl and a jar to finish the job.

Make your healthy chocolate overnight oats by following these simple steps below.
Full instructions are in the recipe card at the bottom of this post.
COMBINE – In a bowl, combine all of your ingredients: Rolled oats, milk, plain yogurt, cocoa powder, chocolate chips, honey, and chia seeds.
MIX – Mix the ingredients together until you feel everything is thoroughly saturated.
CHILL – Add your chocolate oats to a container or several depending on the size of your batch. Seal the container with a lid and let it chill in the fridge for at least 4 hours. Leaving your oats refrigerate overnight works best because it allows the oats to soak in all the ingredients and flavors. It also helps create a consistent texture throughout.
SERVE – In the morning remove your oats breakfast from the fridge, give it a stir, and breakfast is served! Add toppings such as fresh fruit, nut butter, or chocolate chips to enhance the recipe.
Add-Ons
Experiment with different combinations to find your favorite additions that suit your tastes and dietary requirements. These add-ons will add flavor, texture, and nutrition to your oats.
FRESH FRUIT – Adding fresh fruit is an easy way to add extra flavor. We use sliced bananas for this recipe because they go well with that rich chocolate flavor and nut butter.
NUT BUTTER – I like to add nuts or seed butter on the side of this breakfast. It introduces a new texture and flavor that you can dabble with throughout the meal. Use peanut butter, sunflower seed butter, almond butter, or cashew butter.
NUTS AND SEEDS – Adding nuts and seeds to your chocolate overnight oats is my favorite way to add protein, healthy fats, and texture. This is a great option that instantly makes the recipe feel like a larger meal. Experiment with chopped almonds, walnuts, sunflower seeds, or pecans.
CHOCOLATE CHIPS – If you're craving some sweets, chocolate chips added before or after refrigerating will add a nice crunch and sweetness to your recipe. Dark chocolate chips add a firm crunch texture.
SWEETNERS – If you're still seeking that sweetness consider adding a little extra honey, agave, or maple syrup. Your oats will already be sweet from the chocolate chips and honey so adding a small amount at a time is recommended.
PROTEINS – If you're like me, always looking for a way to add protein to recipes, try adding some chocolate protein powder to the mix. This will make it a double chocolate overnight oats recipe.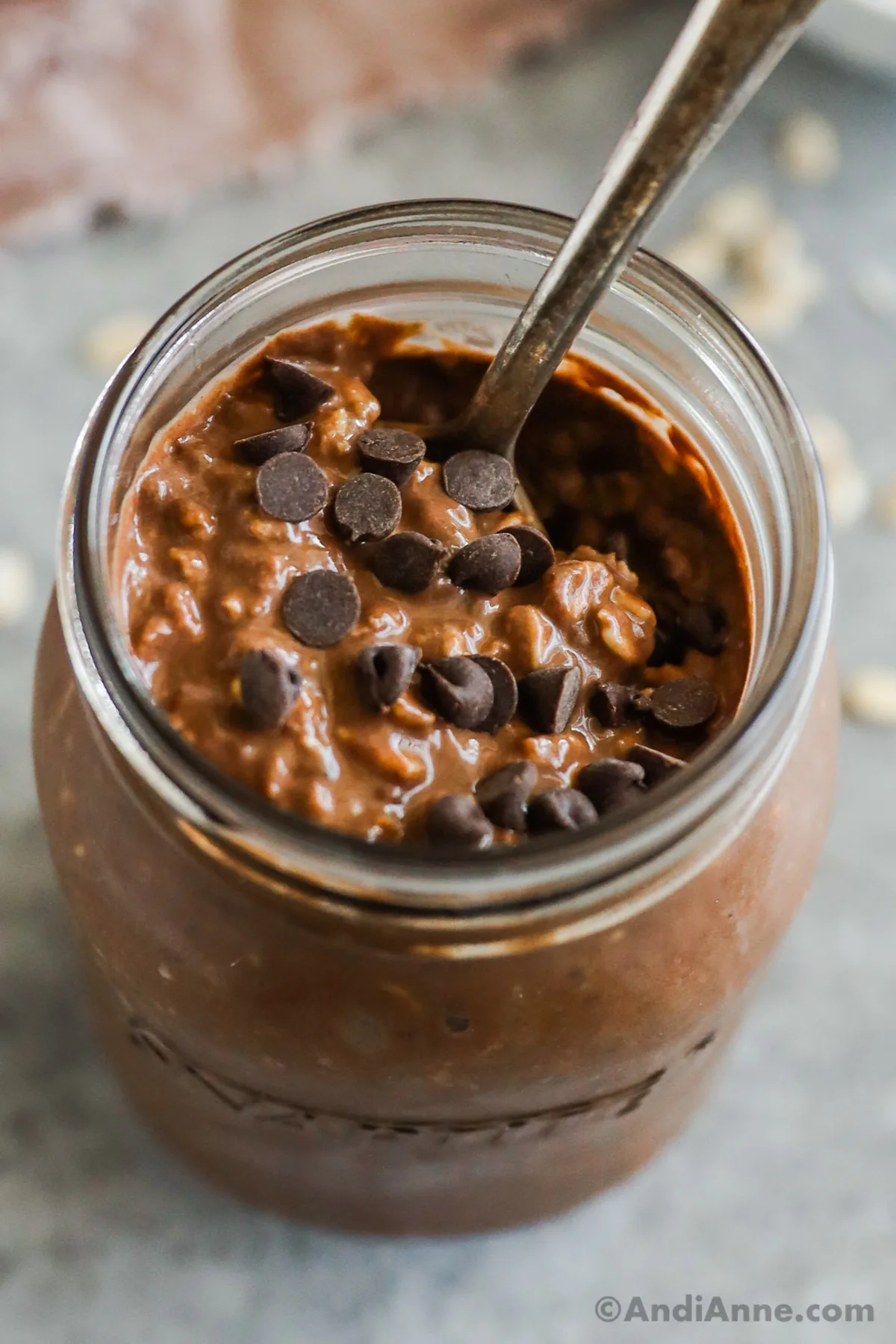 How To Store
Overnight oats can be filling so there are often leftovers. Follow these recommendations to ensure this recipe tastes just as good the second time around.
CONTAINERS – Store your oats in an air-tight container, this will ensure the texture and flavor are like it was just made. I like to use multiple containers so that I can grab and go.
FRIDGE – Store your healthy chocolate meal in the refrigerator, this will keep them fresh for a few days. Make sure to give them a stir when ready to eat.
FREEZE – If you're making an extra large batch, freeze your overnight oats so they last longer than they would in the fridge. Store them in airtight containers or freezer bags. I like to divide it up into individual portions because thawing a lump of frozen oats is no fun at all.
Recipe Tips
This is a fairly simple recipe to make, however here are a few tips to make sure your overnight oats turn out just the way you like them. Keep these things in mind before diving in:
USE ROLLED OATS – Rolled oats are recommended for this dish because of how they turn out after absorbing the flavors of all the other ingredients. Instant and steel-cut oats can be used but it will be a very different outcome.
SUBMBERGE – Make sure all of your oats are thoroughly mixed and covered by the other ingredients. If you're having trouble with this, add a little more milk to get everything saturated which will avoid dry clumpy parts.
LET IT SIT – Let your chocolate overnight oats sit overnight. This will render the best results, if you just can't wait try letting them sit for 4 hours minimum.
CUSTOMIZE – Experiment and customize to your liking. This is a very versatile recipe so play around with adding your favorite toppings, sweeteners, and/or fruits. I like to add a little vanilla extract to mine for extra flavor.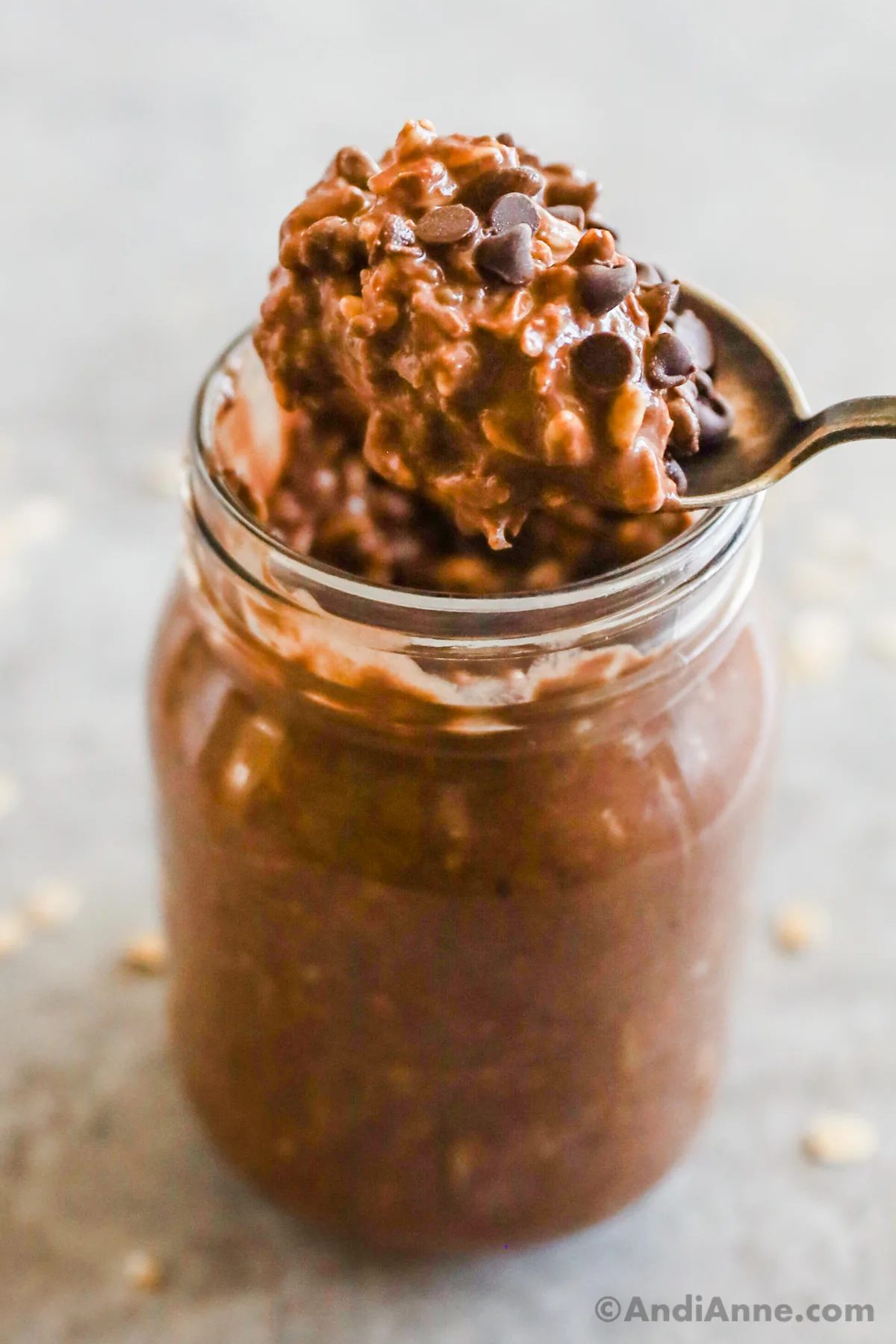 FAQs
Are overnight oats gluten free?
You can buy rolled oats that claim to be gluten-free, if you are celiac or allergic then you'll want to read the label of the package you purchase to ensure this is the case.
What exactly are overnight oats recipes?
Overnight oats recipes are raw or dry oats that have been soaked in the refrigerator overnight with liquid. The oats absorb the liquid and the flavor of all the other ingredients that are added.
Can overnight oats be served hot?
I prefer to eat overnight oats cold but yes, you can absolutely heat them up. Put them in the microwave for 30 seconds at a time, stirring until the desired temperature. Or warm them up in a pot on the stove.
Can I use instant oats?
Yes, you can however the outcome will be different. These oats are thinner and will not absorb the rest of the ingredients like rolled oats do. You may be left with a runny and/or soggy meal.
Can I use quick oats or steel cut oats?
Yes, you can use both in place of rolled oats (these are the large flake oats), however, the texture will be different. Steel cut oats will create a dense and chewy texture that isn't a personal favorite. Quick oats do not hold their structure as well and can produce a more mushy texture.
I prefer old-fashioned rolled oats because they are in between both of these texture-wise.
The flavor and texture in these overnight oats ingredients work exceptionally well together when mixed and left overnight. It's easy to make a large batch so that there are plenty of leftovers for the future when you might not have time to make a healthy snack.
I love this recipe because it's quick to make and serves as a satisfying, healthy grab-and-go meal that is both kid and adult friendly.
More Overnight Oats Recipes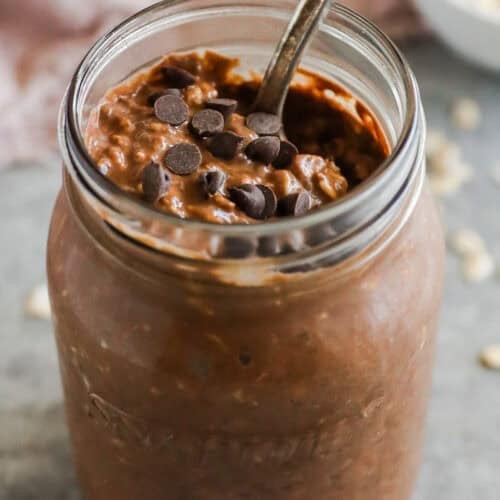 Chocolate Overnight Oats
With a handful of healthy ingredients you likely already have in your pantry, you can make a fabulously simple yet decadent breakfast.
Save Recipe!
Saved!
Pin This
Print It
Ingredients
1

cup

rolled oats

1

cup

milk -

dairy milk or plant-based milk like almond milk

⅔

cup

plain yogurt

-

plain greek yogurt works best

1

Tbsp

unsweetened cocoa powder

2

Tbsp

chocolate chips

1

Tbsp

honey -

pure maple syrup or sugar

2

tsp

chia seeds
Instructions
In a bowl combine all the ingredients: rolled oats, milk, plain yogurt, cocoa powder, chocolate chips, honey and chia seeds. Mix everything together thoroughly.

Pour the oats into a container and seal with a lid. Place in the fridge for a minimum of 4 hours, but preferrably overnight to let oats absorb all the liquid.

In the morning, take out from the fridge and give a quick stir. Add any toppings just before serving if desired. Overnight oats are eaten cold with a spoon.
Recipe Notes:
STORE IN THE FRIDGE: Once you've made your oats, store them in an airtight or sealable container in the refrigerator. This will keep them fresh and ready to eat whenever you need them. These will keep up to 4-5 days in the fridge.
SERVING LEFTOVERS: Simply give the creamy oats a stir before serving to redistribute any liquid that may have separated. Add any desired toppings and serve.
Nutrition
Calories:
409
kcal
|
Carbohydrates:
58
g
|
Protein:
13
g
|
Fat:
15
g
|
Saturated Fat:
7
g
|
Polyunsaturated Fat:
2
g
|
Monounsaturated Fat:
3
g
|
Trans Fat:
0.01
g
|
Cholesterol:
25
mg
|
Sodium:
88
mg
|
Potassium:
559
mg
|
Fiber:
6
g
|
Sugar:
27
g
|
Vitamin A:
281
IU
|
Vitamin C:
1
mg
|
Calcium:
310
mg
|
Iron:
2
mg