Banana bread overnight oats have a sweet cinnamon banana flavor reminiscent of banana bread. Rolled oats are mixed with yogurt, milk, mashed bananas, chopped walnuts, and cinnamon to create a simple healthy breakfast idea.
If you love overnight oats recipes as much as we do, then you must check out our 10 Overnight Oats Flavors and Recipes Guide!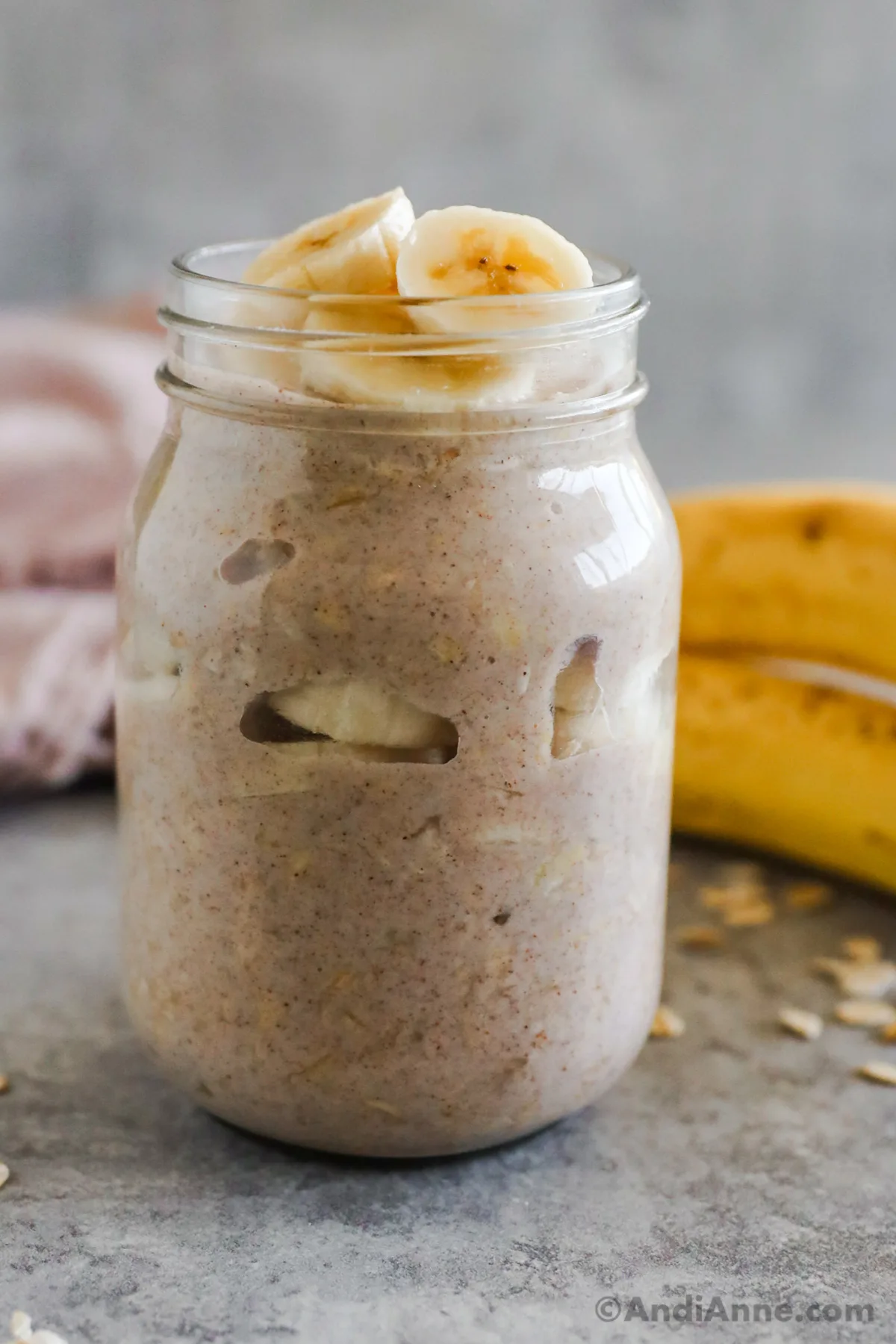 Banana Bread Overnight Oats
I'm a bit fan of easy no-fuss breakfast ideas and this one certainly fits the bill. Overnight oats are so easy to customize with different flavor combinations – the options are truly endless.
This recipe tastes just like banana bread! It has the sweetness of bananas, warming spices from cinnamon, and the perfect crunch from chopped walnuts. It's just so delicious!
These overnight oats can be whipped up at night and then stored in serving-size portions in small mason jars or other containers. At first, the mixture will look soggy and sloppy. But once they've had a chance to sit overnight, that's when the magic happens!
Overnight the rolled oats will absorb as much liquid as they can, creating a plump tender version with just enough liquid in between. It's really quite delicious and is served cold, straight out of the container, dished up with a spoon.
There are plenty of other overnight oat healthy recipes to try, like carrot cake overnight oats, banana bread oats, decadent chocolate oats, lemon blueberry overnight oats, rich and creamy strawberry cheesecake oats, classic peanut butter overnight oats, and warming apple cinnamon oats. It comes down to personal preference and variety.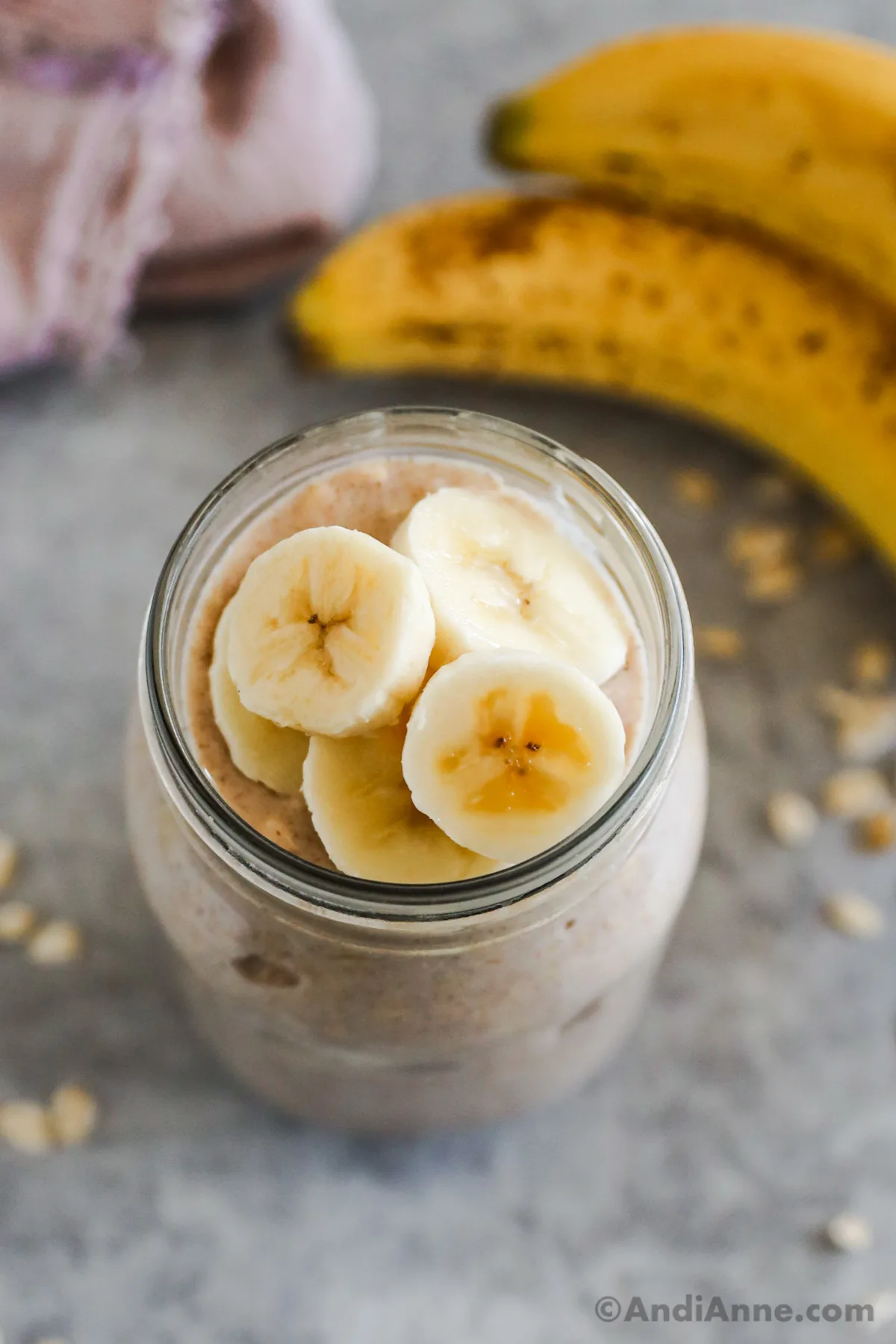 Recipe Ingredients
Here is an overview of all the ingredients in this banana overnight oats recipe. Full ingredients can be found in the recipe card at the bottom of this post.
ROLLED OATS – Rolled oats are the most important ingredient. They will absorb the milk and yogurt and plump up as they soak overnight. Personally, I only use large flake old-fashioned rolled oats. I don't like quick oats or steel-cut oats for this recipe, however, some people use them. The texture is just different.
MILK – You can use any type of milk including regular dairy milk or a plant-based alternative like unsweetened vanilla almond milk, or oat milk. Any style of milk will work.
PLAIN YOGURT – Yogurt adds a creamy texture. The overnight oats will be pretty sloppy without it. I highly recommend using plain Greek yogurt because it creates a thicker texture that just works better. You can also use a plant-based version like coconut yogurt.
BANANAS – Use ripe bananas with a few brown spots. These will be easier to mash and add to the oat mixture. You can also use half a banana for topping when you're ready to eat the oats.
CINNAMON – Cinnamon adds the banana bread flavor.
WALNUTS –Chopped walnuts can add great crunch and are typically used in banana bread recipes. Nuts are totally optional though. If you have a nut allergy or just want to skip them, the oats will still taste great without them.
HONEY – Honey is used to sweeten the recipe. You can also use pure maple syrup, brown sugar, agave nectar, coconut sugar, or monk fruit sweetener.
CHIA SEEDS – Chia seeds will create a thicker texture as they plump up in the mixture. They are optional and not required though.
VANILLA EXTRACT – A little bit of vanilla extract adds more flavor.
Additions
CHOCOLATE CHIPS – Add 1 or 2 Tablespoons to make this taste like chocolate chip banana bread.
FLAX SEEDS – Add a scoop of ground flaxseed for added fiber.
NUT BUTTER – Drizzle some warmed peanut butter, almond butter or sun butter overtop just before you serve.
Can I Use Quick Oats or Steel Cut Oats?
Yes, you can swap out rolled oats for quick oats (instant oats) or steel-cut oats. The texture will be different though!
Steel-cut oats can create a dense chewy texture (personally I don't really like it), and quick oats don't absorb liquid the same way and can get too mushy. My personal favorite is definitely to use rolled oat as I think it provides the best texture for overnight oats.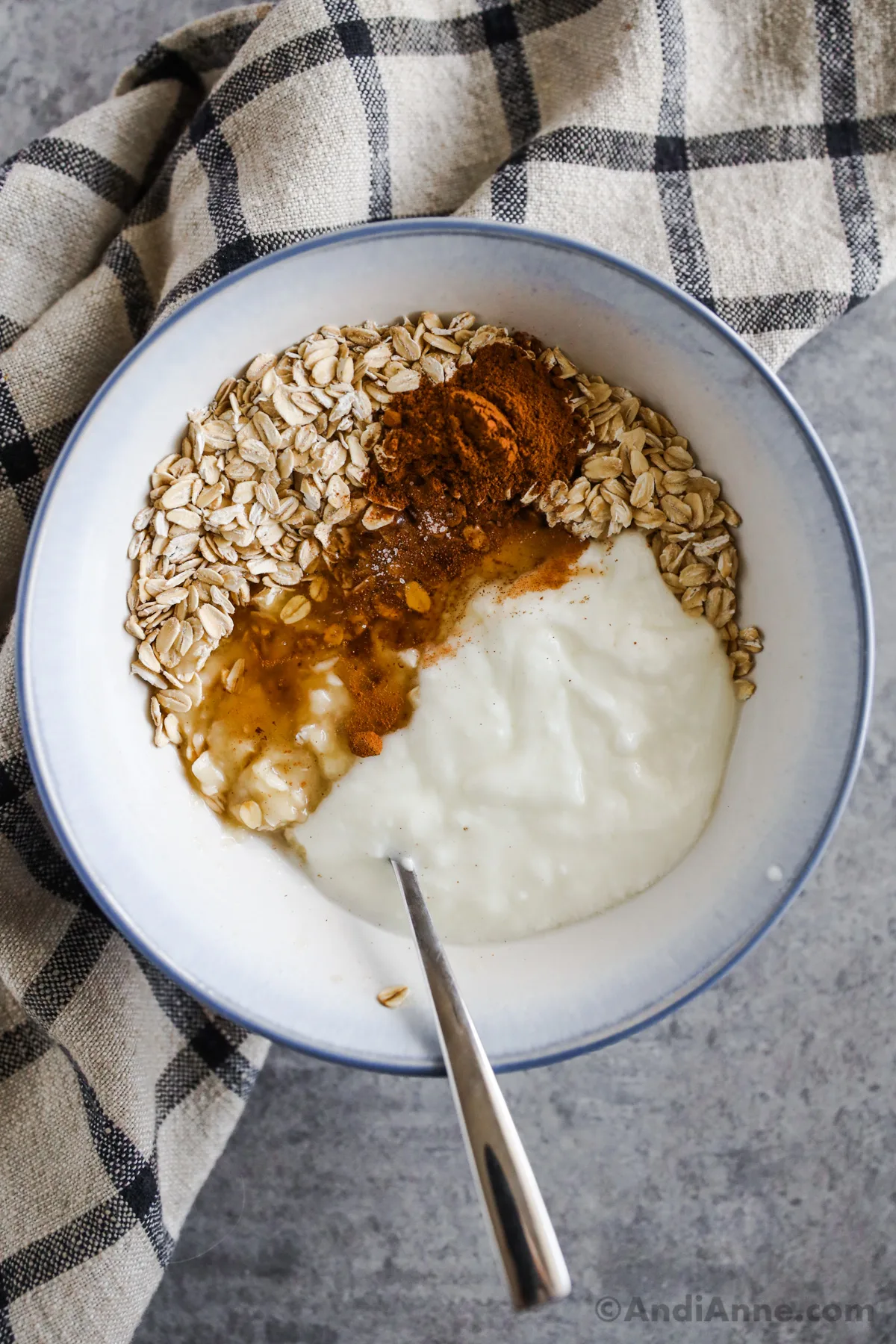 How To Make Banana Bread Overnight Oats
Overnight oats are incredibly easy to make. Here are the steps you need to follow with full instructions also in the detailed printable recipe card at the bottom of this post.
SOAK OATS – Add the rolled oats, milk, yogurt, mashed banana, chopped walnuts (if using), honey, chia seeds (if using), cinnamon, salt and vanilla extract to a bowl. Mix everything together evenly. Cover with a lid or plastic wrap and store in the fridge overnight or a minimum of 6 hours.
ADD TOPPINGS – In the morning, remove the container from the refrigerator and divide it into two servings. Add some sliced banana, chopped nuts, drizzled honey and a sprinkle of cinnamon. Serve and enjoy.
When You're Ready To Eat, Stir It Up and Enjoy – Overnight oats are pretty straightforward to eat. Take a spoon and stir them up – then take a bite. They're wonderfully satisfying and delicious.
HELPFUL TIP – Many people like to store overnight oats in small mason jars. These are great grab-and-go meal ideas that can be served as breakfast or lunch.
How To Store
FRIDGE – Keep oats stored in an airtight container in the fridge for up to 4-5 days.
EATING LEFTOVERS -Overnight oats need to be stirred before you eat them. This will mix up the ingredients and liquid that may have settled to the bottom as they sit in the fridge.
Do You Eat Overnight Oats Cold?
Yes! Most people eat them cold. Just grab a spoon and stir them up, then eat them straight from the container.
If you prefer a pudding-like texture, let the oats sit at room temperature for a few minutes before eating.
Microwaving the oats is always an option if you prefer them a little warm, but be careful not to overcook them, or they will become mushy. Aim for a warm, pudding-like texture that's still slightly chewy.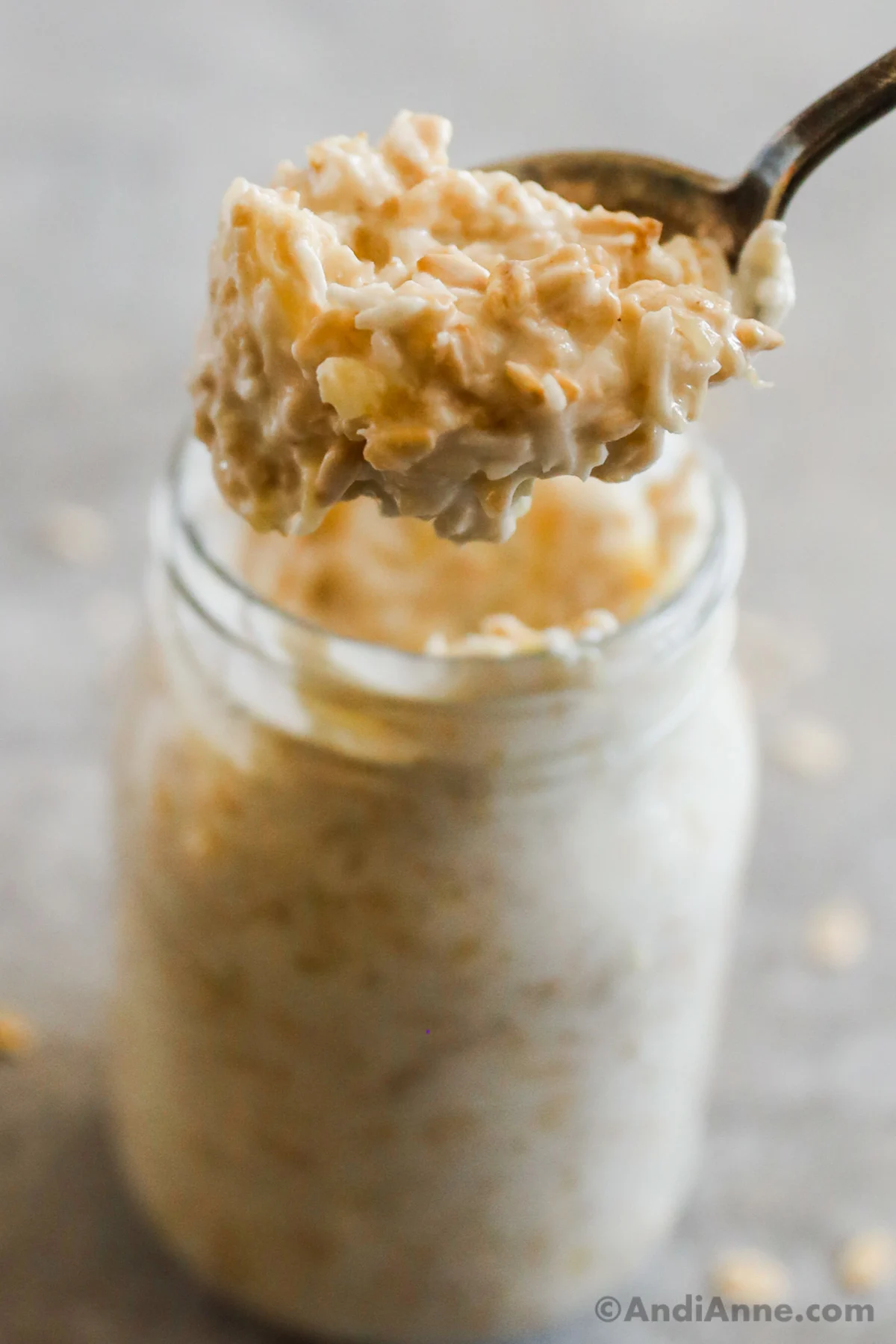 Can You Eat Overnight Oats Hot?
Typically overnight oats are eaten cold. But I get that this might seem strange when you're used to eating oatmeal warm.
I tested this recipe and yes, you can heat it up for about 1-2 minutes in a microwave-safe container (I recommend Pyrex or glass). The oats will be super chewy and the yogurt and milk will be warm.
It's not my favorite way to eat overnight oats, but it still works. Truthfully though, there's no point in making the oats this way when you could just cook them normally like our apple cinnamon oatmeal and add toppings afterward.
This banana bread overnight oats recipe is a fantastic grab-and-go breakfast idea for anyone short on time in the morning. It's an easy healthy meal to start the day.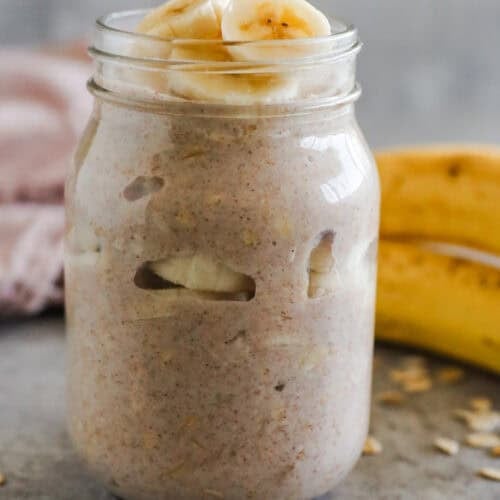 Instructions
In a bowl combine all the ingredients: rolled oats, milk, plain yogurt, mashed banana, chopped walnuts (if using), honey, chia seeds (if using), cinnamon, vanilla extract and salt. Mix everything together thoroughly.

Pour the oats into two containers like a mason jar and seal with a lid (see notes). Place in the fridge for a minimum of 4 hours, but preferrably overnight to let oats absorb all the liquid.

In the morning, take out from the fridge and give it a good stir. Add any toppings you want like sliced bananas and chopped walnutes. Overnight oats are eaten cold with a spoon.
Recipe Notes:
If you want, you can add sliced bananas halfway through adding the oats to the mason jar. Then add some more on top.
STORE IN THE FRIDGE: Once you've made your oats, store them in an airtight or sealable container in the refrigerator. This will keep them fresh and ready to eat whenever you need them. These will keep up to 4-5 days in the fridge.
SERVING LEFTOVERS: Simply give the creamy oats a stir before serving to redistribute any liquid that may have separated. Add any desired toppings and serve.
Nutrition
Calories:
395
kcal
|
Carbohydrates:
56
g
|
Protein:
14
g
|
Fat:
14
g
|
Saturated Fat:
5
g
|
Polyunsaturated Fat:
4
g
|
Monounsaturated Fat:
3
g
|
Trans Fat:
0.01
g
|
Cholesterol:
25
mg
|
Sodium:
379
mg
|
Potassium:
613
mg
|
Fiber:
7
g
|
Sugar:
23
g
|
Vitamin A:
303
IU
|
Vitamin C:
3
mg
|
Calcium:
313
mg
|
Iron:
2
mg