I'm always on the hunt for nut-free recipes that are school friendly and healthy. If you're like me, then you know this isn't always easy to find! That's why I'm on a mission to make as many as I can here on the blog. In case you don't already know, I have a severe nut allergy and that's why every recipe here on the blog is nut free!
Nut free snacks are great for all families. You don't have to have a nut allergy to enjoy them. It just seems like everything "healthy" is made with nuts these days. And if you have a nut allergy in your family like I do, that's really frustrating.
If you've tried my nut free granola bars, you know you're in for another tasty treat! All of my recipes are nut free, which makes them great snack for kids school lunches. But you don't have to save these just for the kids! I love grabbing one of these mini muffins in the afternoon when I'm craving something sweet.
Now before I go any further, I want to point out that these muffins have a little different of consistency than you might be used to…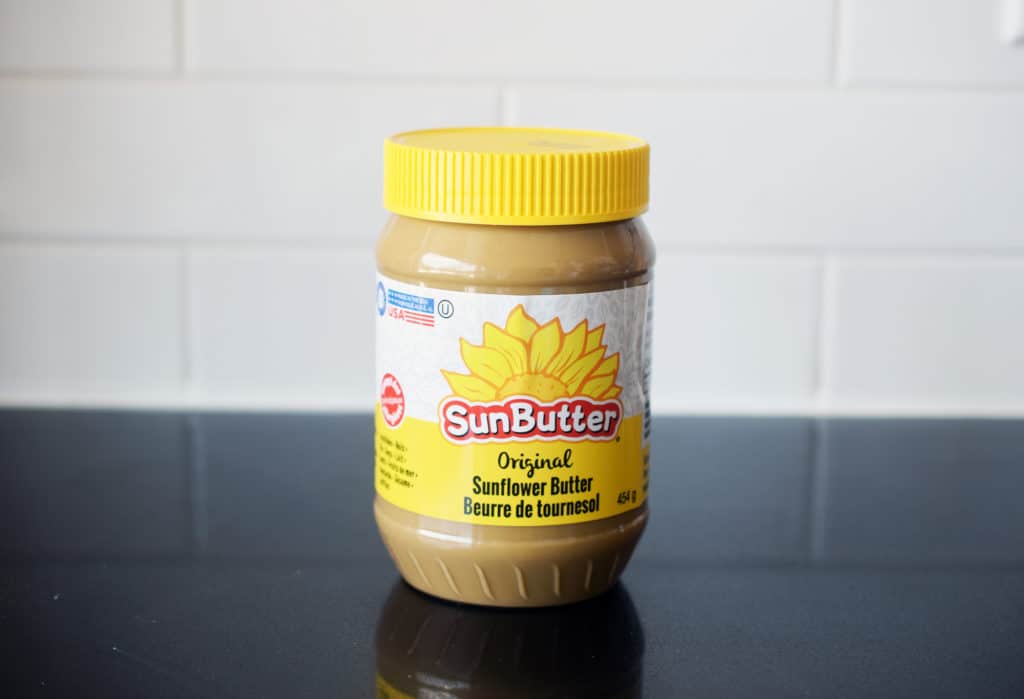 That's because there's is no flour inside these muffins. How does that work? Well, this recipe uses a secret ingredient to replace the flour – it's SunButter.
SunButter is made from sunflower seeds. I personally LOVE this brand because it's made in a nut free facility so there's no worry of cross contamination.
The SunButter provides a really unique flavor that might feel a little strange at first. The first time I took a bite, I was expecting the usual muffin consistency you get with flour. You won't get that here, but trust me, they quickly become addictive and I think your kids will love them!
Another one of my favorite brands I'm using in this recipe is Enjoy LIfe mini chocolate chips. These are also made in a nut free facility and free of other common allergies like gluten, dairy, soy, egg, mustard, and fish. Plus, they're delicious. I also love using their chocolate chunks in my baking.
Flourless Banana Chocolate Mini Muffins
Ingredients
1 cup SunButter
2 eggs
2 ripe bananas, mashed
1/4 cup maple syrup
2 Tbsp vanilla extract
1/2 tsp baking soda
1/2 tsp salt
1 cup Enjoy Life chocolate chips
Instructions
Preheat oven to 400F. Spray a mini muffin tin with cooking spray.
In a small bowl, mash the banana with a fork. Add to a food processor along with all of the other ingredients. Blend until smooth. Scrape down the sides once or twice while blending if needed. You can also use a blender for this step if you don't have a food processor.
Pour the mixture into the mini muffin tins. Fill each tin about 2/3 full using a large spoon. Sprinkle a few chocolate chips on top of each tin.
Bake for 8-10 minutes. If you're using a regular-sized muffin tin, you will need to cook these longer - probably 16-25 minutes. Check by poking with a toothpick to see. It should come out easily when the muffins are cooked. Let cool for 15 minutes.
Use a butter knife and scrape along the sides to help the muffins pop out. Store in an airtight container in the fridge for up to a week.
Notes
See more family-friendly recipes on our website: www.andianne.com
Nutrition Information:
Yield:

12
Serving Size:

1
Amount Per Serving:
Calories:

255
Total Fat:

17g
Saturated Fat:

4g
Trans Fat:

0g
Unsaturated Fat:

12g
Cholesterol:

31mg
Sodium:

235mg
Carbohydrates:

24g
Fiber:

3g
Sugar:

17g
Protein:

6g
Please note: This nutrition information is only an estimate and was created using Nutritionix