Strawberries and cream parfaits are a decadent dessert. Made with rich, velvety coconut cream, sweetened with just a hint of maple syrup, and piled high with ripe fresh strawberries. You'll be surprised at just how easy they are to make, with three simple ingredients.
This is one of my favorite guilt-free dessert ideas and I love to eat it as an afternoon snack or dinner dessert. Whether you're lactose intolerant, vegan, paleo, or are just looking to eat healthier, this recipe is great if you want to add more dairy-free alternatives to your diet.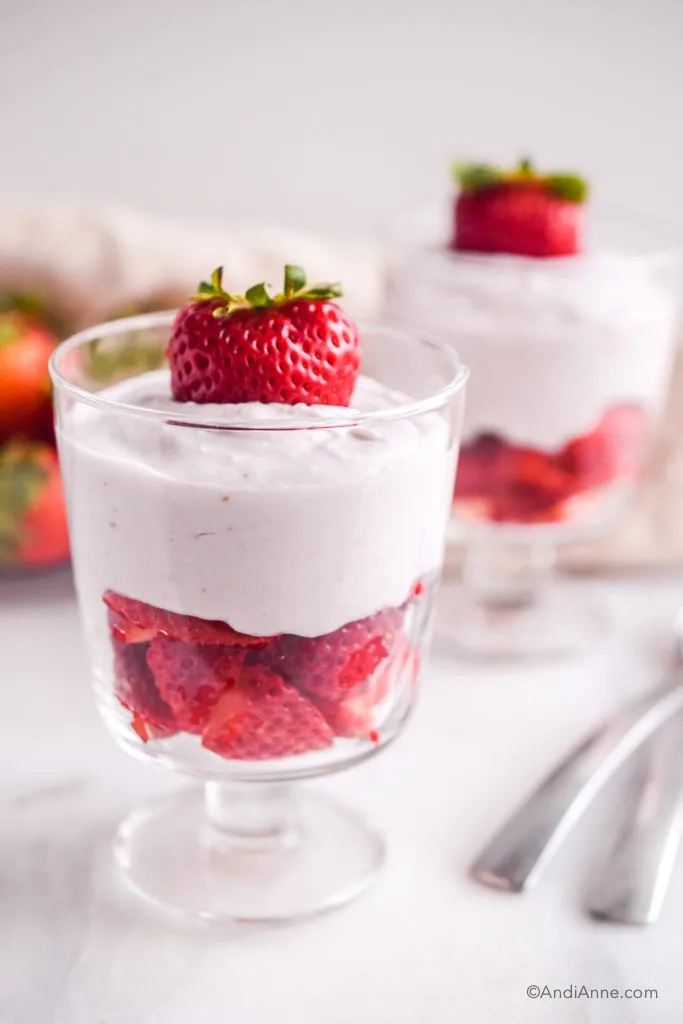 Strawberries and Cream Parfait
Does anyone else enjoy a quick and fast recipe that's also healthy as much as I do? There's not a lot of fuss here – just a can of coconut cream, some ripe strawberries, and a hint of maple syrup for sweetness. That's all you need to make the perfect indulgent dessert.
My daughter has a big sweet tooth, but what kid doesn't I feel confident giving this dessert over any store-bought ice cream treats as I know exactly what's in it. There's a small amount of maple syrup, no refined sugar, and it's made with a really good quality coconut cream which is an excellent source of healthy fats and protein. What's not to love here?
Is Strawberries and Whipped Cream Healthy?
Yes! Whipped coconut cream is a healthier alternative to any store-bought canned whipping creams. You're using clean and simple ingredients here. No preservatives, and no added refined sugar.
Coconut cream is a great source of healthy fats, protein, antioxidants, magnesium, folate and choline. It's a source of healthy fats and protein will provide your body with longer, more sustainable energy.
When you compare that to a can of whipping cream that uses refined sugar to sweeten it, this coconut cream is hard to beat. Coconut cream will give you longer lasting energy, while canned whipping cream will cause a blood sugar spike followed by a crash… and the craving for more processed sugar. It's like a rollercoaster.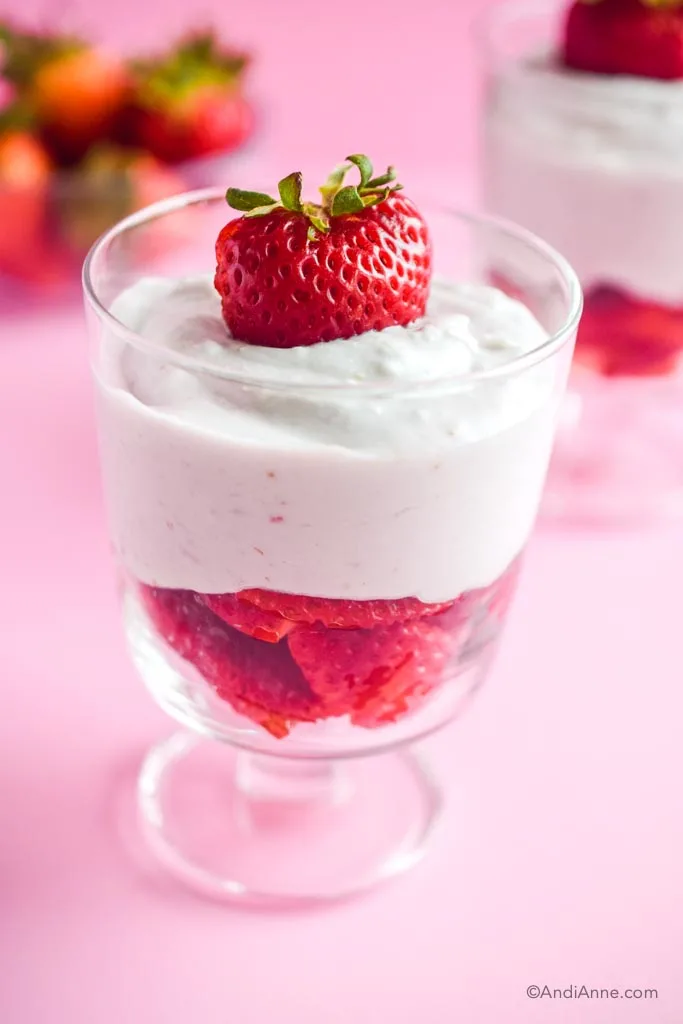 Ingredients For Strawberries and Cream
This dessert is incredibly easy to make with only three ingredients needed:
STRAWBERRIES – Be sure to choose fresh ripe strawberries that are brightly colored. If you don't usually buy organic, now might be an exception. Organic strawberries tend to taste better which can really enhance the flavor of this dessert.
COCONUT CREAM – Coconut cream will make the most decadent texture when blended with an electric mixer. The key is to chill it in the fridge before to help the liquid and solid of coconut separate. For this recipe, you'll only be using the solid portion.
MAPLE SYRUP – I used 2 Tbsp of maple syrup to sweeten this recipe. This part is optional. You could easily make this recipe without the sweetener. Just substitute for 2 Tbsp of water when pureeing the strawberries in the blender.
Where Do You Buy Coconut Cream?
Look for coconut cream in the "health foods" section of your grocery store. If it isn't there, you might have to visit an organic grocery store in your city, which is where I usually find it. If it's not available locally, you can also purchase canned coconut cream online.
Can You Use Coconut Milk?
Yes you can. However, it will need to be a full-fat canned coconut milk. Any coconut milk in a carton will not work.
Also, I've found that each brand will work differently – some will give you creamier results than others. So far I like the Native Forest Classic Coconut Milk and Earth's Choice Coconut Milk.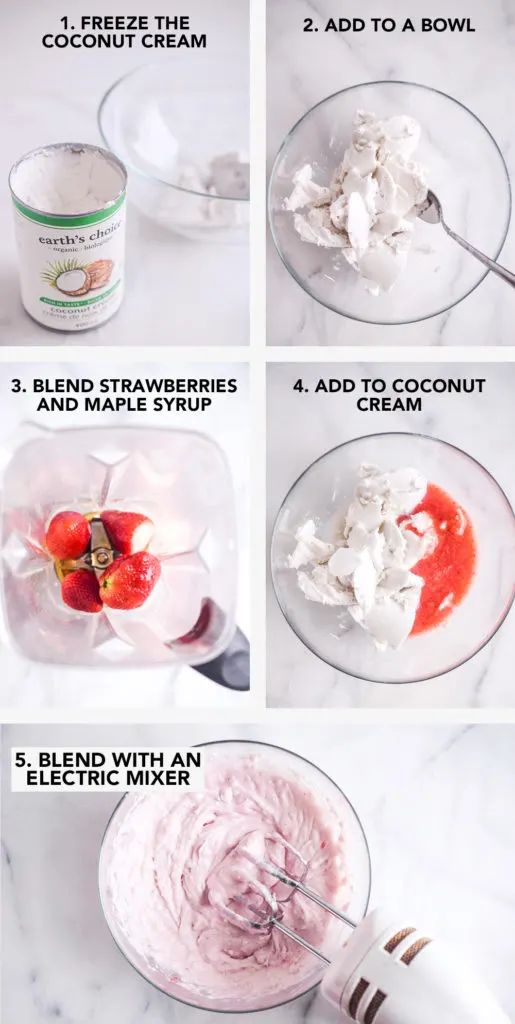 How To Make Strawberries and Cream
REFRIGERATE THE COCONUT MILK: Add the canned coconut cream to the fridge the night before you plan to make this recipe. This will chill the coconut cream and allow the coconut water to separate from the cream inside the can.
PUREE THE STRAWBERRIES: Add four large strawberries and 2 Tbsp of maple syrup to a blender. Blend on low for about 30 seconds, or until strawberries turn into a liquid puree.
MAKE WHIPPED CREAM: Open the can and scoop out just the cream portion that will be on top (You can pour the coconut water into a glass and use it in a smoothie later). Add the cream and strawberry puree to a bowl. Use an electric mixer to blend everything together until the cream begins to turn into light and fluffy peaks.
ASSEMBLE THE PARFAITS: Slice up three strawberries for each serving dish and place them in the bottom. Dollop the coconut cream on top with a spoon and top with a small strawberry.
The Best Way To Store
Once you've made the strawberries and cream dessert, you'll want to place it in the fridge immediately. Coconut cream will naturally want to melt so it's best to keep it chilled until you're ready to serve the dessert.
Can You Make These In Advance?
You can make the whipped coconut cream portion of the dessert the night before. Store it in the fridge in an airtight container. When you're ready to assemble the parfaits, stir the cream with a spoon then add to each dessert dish.
The sliced strawberries should be prepared 1 or 2 hours before serving in order to keep them as fresh as possible.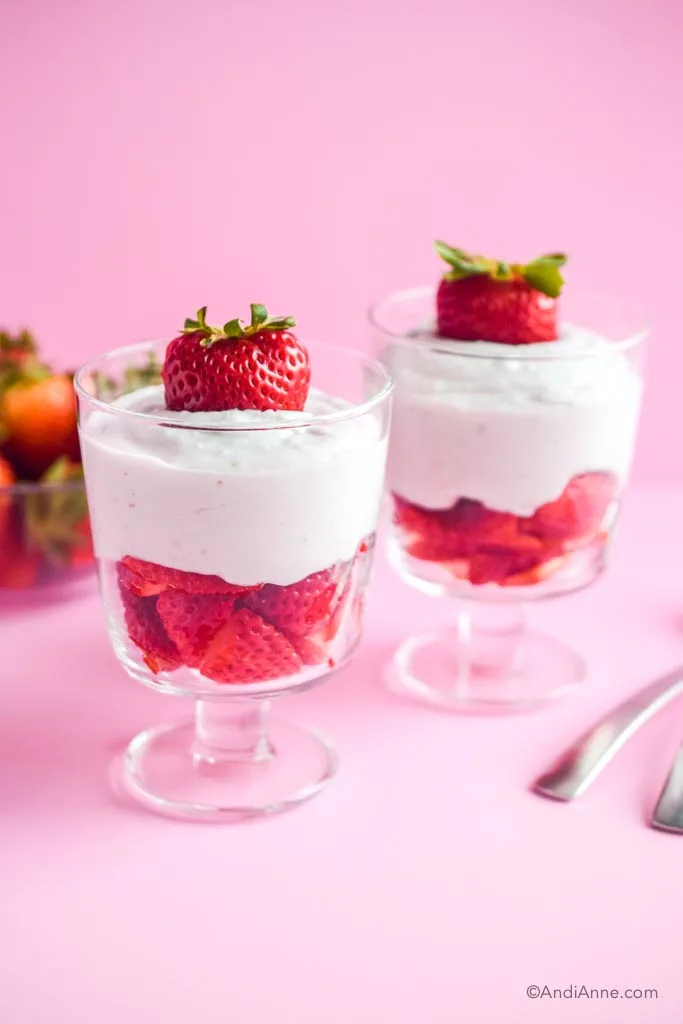 Tips For The Best Whipped Coconut Cream
There are a few tips and tricks you should know before making your whipped coconut cream.
This will only work with full fat versions of canned coconut milk or cream. The low fat versions and the cartons of milk will not work for this recipe.
Refrigerate canned coconut cream for 24 hours. This will ensure that the solid has fully separated from the liquid inside the can, which is a crucial step to making that perfect consistency.
Different brands work better than others and it might take a little trial and error with what options are available locally to you. I really like the Native Forest brand
Whipped coconut cream will melt if too warm, so it's important to keep it in the fridge until you're ready to serve.
More Dessert Ideas
Healthy Banana Splits – They're healthy and you can eat them for breakfast! What's not to love?
Banana Nice Cream – Dairy-free "nice cream" made with frozen bananas. This recipe is so easy and includes 6 flavors to try.
Chocolate Avocado Pudding – Totally decadent and delicious. Serve it will fresh berries and a dollop of coonut cream.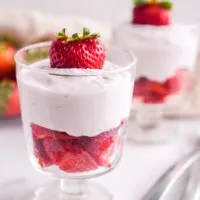 Instructions
Place the coconut cream in the fridge the day before and chill for a minimun of 12 hours.
Puree Strawberries
Rinse strawberries with cold water.

In a blender, add 4 large strawberries and 2 Tbsp maple syrup. Blend on low until strawberries are pureed (about 30 seconds).
Make Whipped Cream
Open the can of coconut cream and add scoop out the solid part of cream only to a bowl. Discard the liquid or save it for a smoothie.

Add pureed strawberries to the bowl.

Using an electric mixer, mix the cream until it comes together and forms soft peaks. About 1 minute.
Assemble The Parfaits
Slice up 10-12 strawberries and add to the bottom of each glass (this will be about 3 sliced strawberries per glass).

Divide the cream into each glass on top of the sliced strawberries. Top with another strawberry.

Serve parfaits immediately or keep chilled in the fridge until you're ready to eat.
Nutrition
Calories:
87
kcal
|
Carbohydrates:
16
g
|
Protein:
1
g
|
Fat:
3
g
|
Saturated Fat:
2
g
|
Sodium:
3
mg
|
Potassium:
215
mg
|
Fiber:
2
g
|
Sugar:
12
g
|
Vitamin A:
14
IU
|
Vitamin C:
67
mg
|
Calcium:
30
mg
|
Iron:
1
mg
The nutritional information provided is an estimate and is per serving.