This orange jello salad is made with just 4 ingredients, served cold, and tastes like a dreamiscle! Whether enjoyed as a side dish or a dessert, this orange jello salad is sure to be a crowd-pleaser.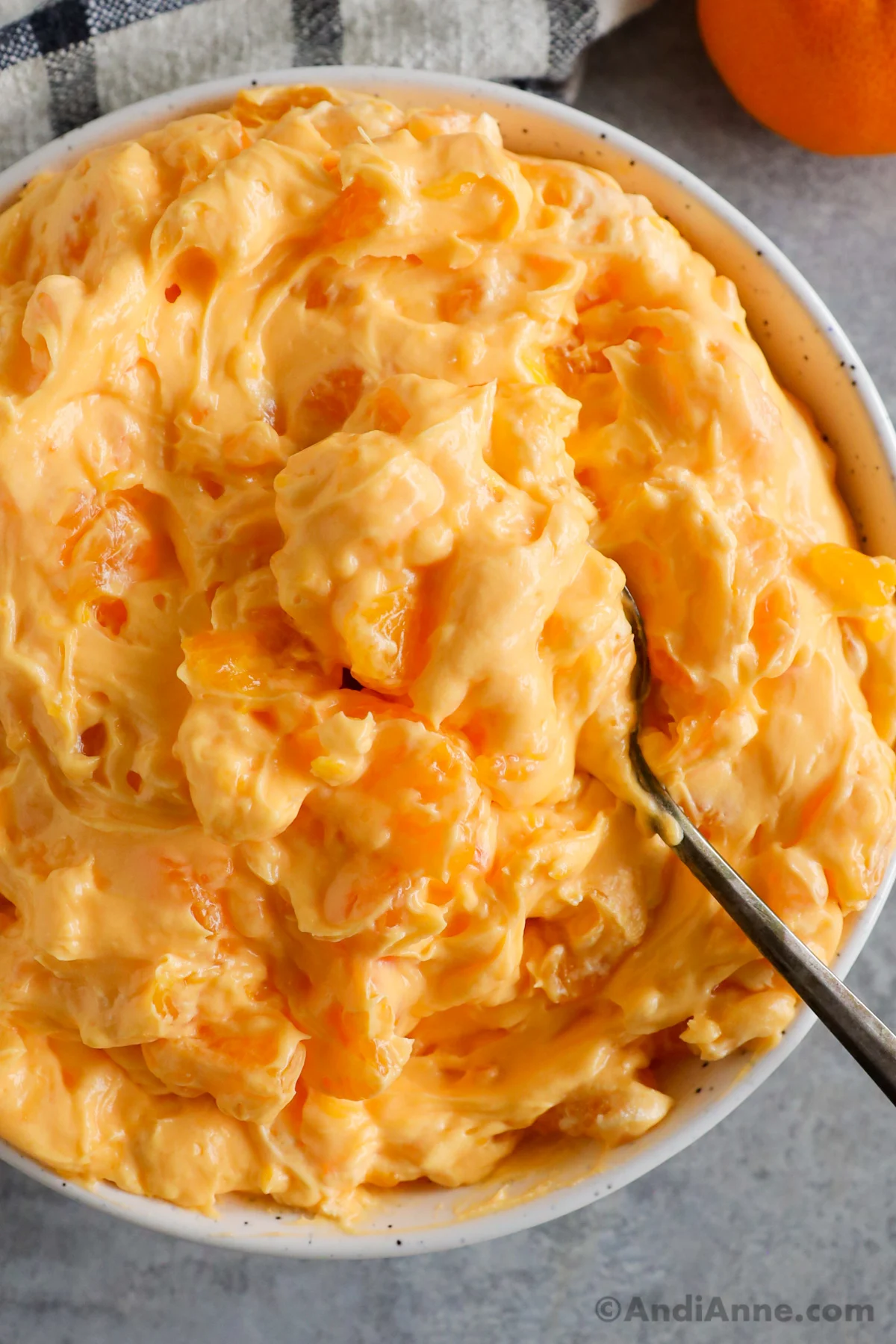 Mandarine Orange Fluff Salad
Making this orange jello salad has been a tradition in my family for as long as I can remember. As a kid, we always requested the "orange fluff" to be served alongside the turkey at Christmas dinner. It was as much a tradition as setting up the tree was.
This recipe is just the easiest thing you could possibly make – you only need 4 ingredients (plus water) and about 5 minutes time. It can be prepped in advance and stored in the fridge for up to 2 days before you plan to serve it. Side dishes like this one make life a lot easier when you've got a large dinner menu to prepare for the Holidays.
This recipe can certainly be served with turkey, ham or roast beef. But it can also be served as a fun treat during any weeknight meal. It's so sweet and delicious that it can certainly be served as a dessert too!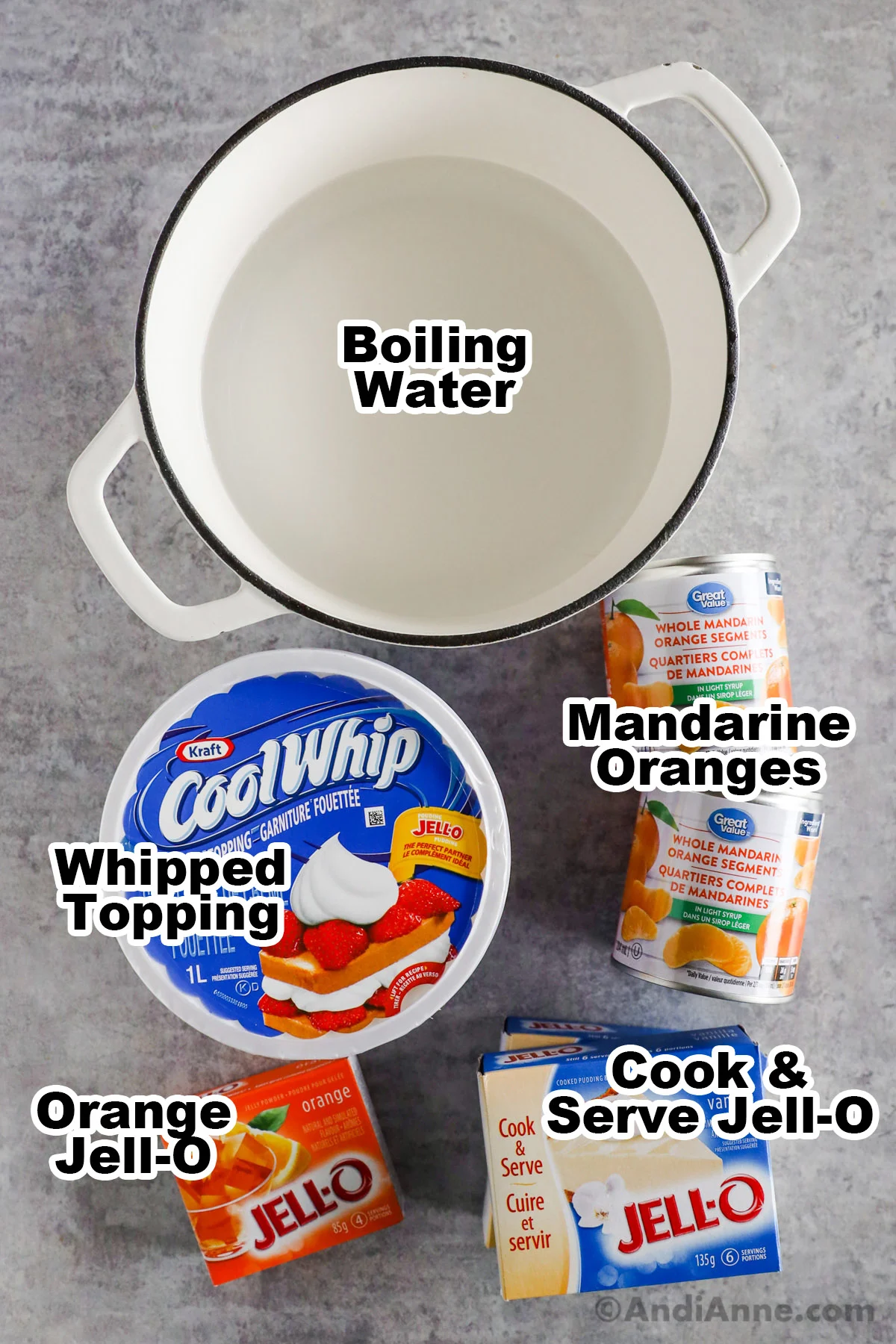 Recipe Ingredients
Only 4 ingredients are required to create this popular recipe! Here's what you'll need, and more details are in the recipe card at the bottom of this post:
ORANGE JELL-O: You'll need one packet of Jell-O.
VANILLA PUDDING: This recipe needs two packets of cook-and-serve vanilla pudding mix, not the instant pudding mix.
COOL WHIP: Make sure to thaw it in the fridge overnight before you use it. Frozen cool whip will not work – it's the wrong consistency.
MANDARIN ORANGES: Two cans of mandarin oranges drained from the liquid.
WATER: Water is mixed with the jello and pudding mixes.
Is Orange Jello Salad a Side Dish or a Dessert?
Traditionally this was served as a side dish with your dinner. But many people have also enjoyed it as a dessert because of its sweet ingredients. There's really no right or wrong way to do it. Whatever makes your family happy is the perfect way!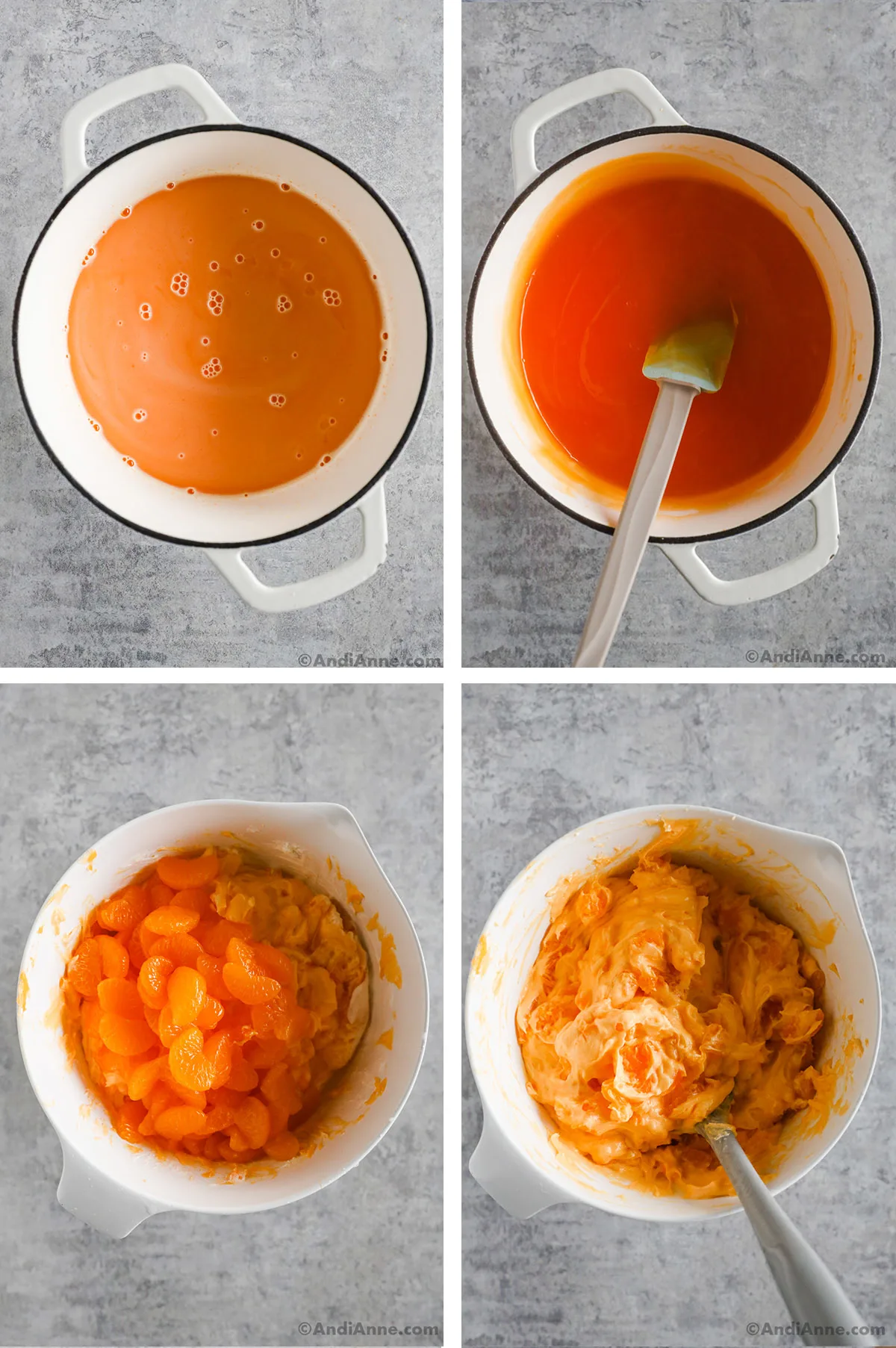 How To Make Orange Jello Salad
HEAT JELLO – Add the jello and vanilla packets to a pot with water. Bring to a boil, stirring often and slowly. Once boiling, continue stirring until the liquid begins to thicken. First the mixture will look cloudy, but as it thickens it will turn clear.
SET JELLO – Pour the liquid mixture into a bowl and place in the fridge to set into jello. This will take 2-4 hours.
ADD COOL WHIP – Once jello is set, stir in the cool whip whipped topping. I find that this works best using a potato masher as it keeps things still a little chunky which is perfect.
MANDARIN ORANGES – Now you can gently fold in the drained mandarin oranges.
TO SERVE – Cover the bowl with plastic wrap and keep the jello salad cold in the fridge until you're ready to serve it!
STORAGE – This will keep in an airtight container in the fridge for up to 4 days.
Do I Serve This Cold or Warm?
This orange salad is definitely served cold! Be sure to keep it in the fridge until you're ready to serve.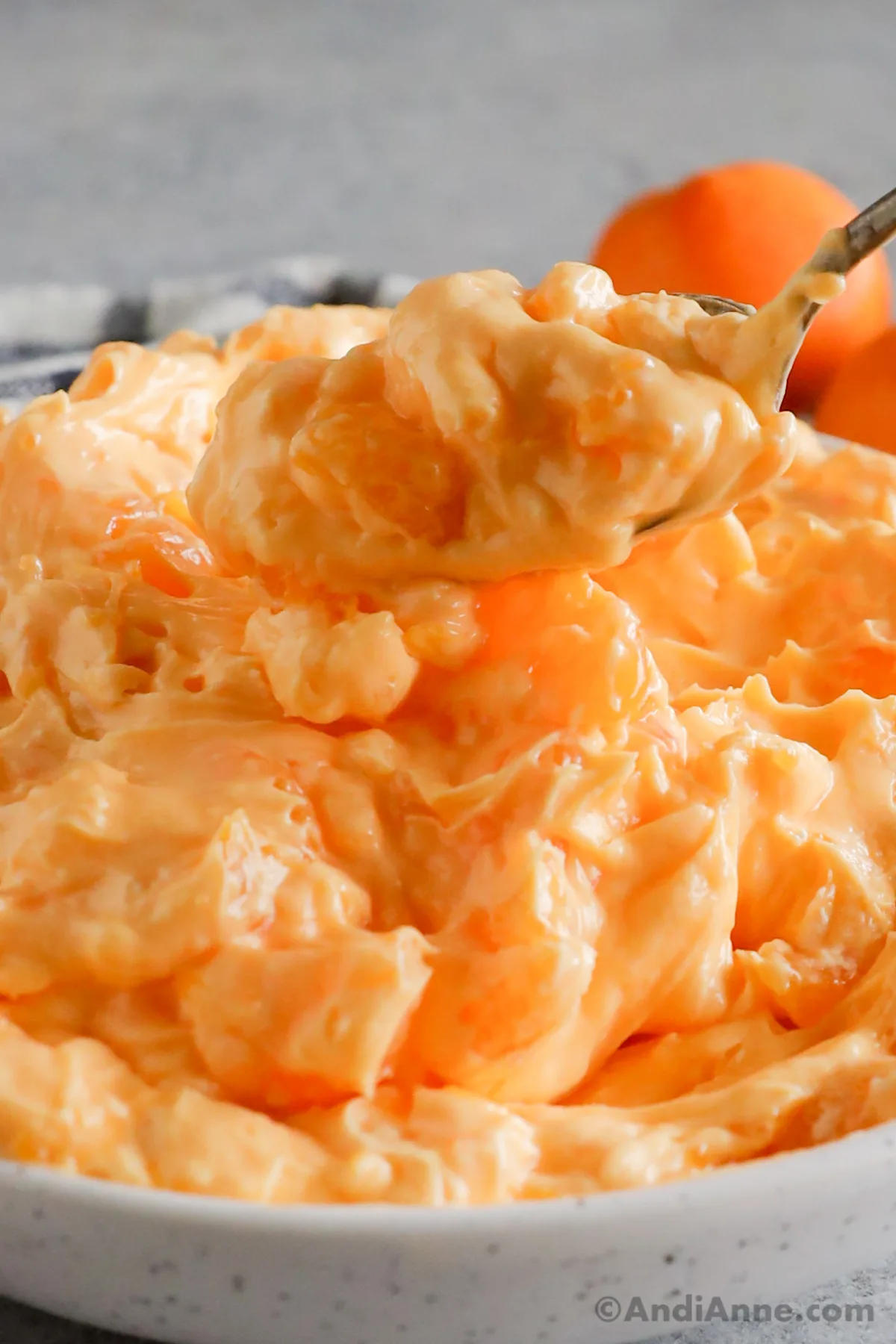 Recipe Tips
Do not use instant pudding! It won't work the same.
I do not recommend using homemade whipped cream. Overtime, the liquid will separate creating a runny consistency. Cool whip holds its texture better.
Drain the mandarin oranges of all the liquid. Add them to a strainer to do this. Otherwise, you'll get a runny salad.
A potato masher is the hidden trick for mixing ingredients. It works great when you're trying to mix up jello which has a tricky consistency to stir with a spoon.
This will not freeze well! The jello will break down and the texture will get strange once you thaw it.
When Should I Serve This?
Some people like to serve it in the Summer, others (like myself) are used to serving in the Winter. You can serve it at a special occassion Holiday dinner for Thanksgiving, Christmas or Easter. You can bring it to a church supper, potluck, family picnic or Summer barbecue.
Variations
Pineapple Tidbits – Drain the liquid and use it instead of mandarin oranges.
Maraschino Cherries – Add some for a change of flavor.
Mini Marshmallows – Another popular version is to add mini marshmallows
Sugar Free Jello – Great if you want less sugar.
Different Jello Flavor – Try strawberry or lime!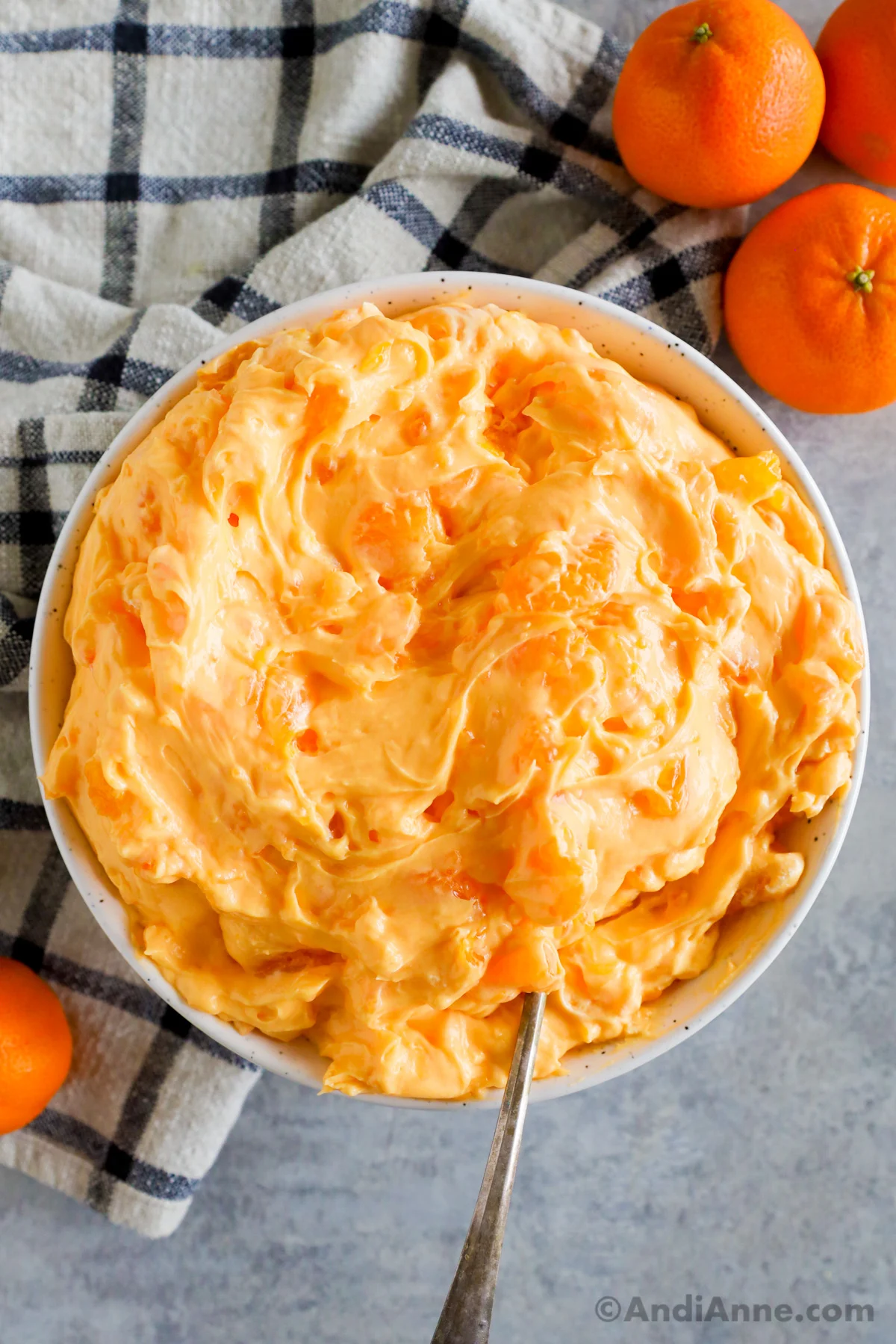 The tangy and sweet flavors of the mandarin oranges perfectly complement the light and fluffy texture of the jello and whipped topping. Whether served as a side dish or a dessert, this orange jello salad is sure to be a hit in your home!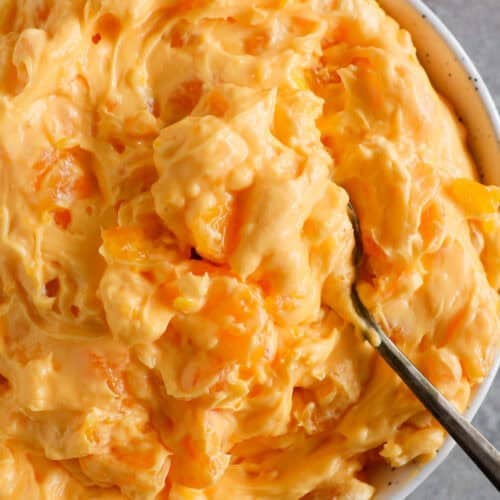 Ingredients
1

box

orange Jell-O

2

boxes

vanilla pudding

-

must be "cook and serve" style

4

cups

warm water

1

cup

Cool Whip

-

thawed

2

small cans

mandarin oranges

-

drained of liquid (approx 18 oz total)
Instructions
In a medium pot, add the orange jello powder, vanilla cook and serve pudding powder packet and the water. Stir everything together and bring the liquid to a boil over medium high heat. Stir contstantly and continue to boil until the mixture thickens and turns and deep orange color.

Pour the warm mixture into a bowl and place in the fridge until it sets into jello. This will take about 2-4 hours.

Once the jello is set, add in the cool whip. Stir everything together roughly (do not overmix). If you have a manual potato masher, this works perfectly!

Now gently fold in the the drained mandarin oranges.

Cover with plastic wrap and place covered in the fridge until ready to serve. Serve cold!
Nutrition
Calories:
117
kcal
|
Carbohydrates:
27
g
|
Protein:
2
g
|
Fat:
0.5
g
|
Saturated Fat:
0.3
g
|
Polyunsaturated Fat:
0.03
g
|
Monounsaturated Fat:
0.1
g
|
Cholesterol:
2
mg
|
Sodium:
116
mg
|
Potassium:
89
mg
|
Fiber:
1
g
|
Sugar:
25
g
|
Vitamin A:
760
IU
|
Vitamin C:
19
mg
|
Calcium:
21
mg
|
Iron:
0.2
mg