Peanut butter oatmeal balls are made with just 4 ingredients, they're no bake, and one of the easiest snacks you'll ever make! They're easy, fast to make, and totally delicious!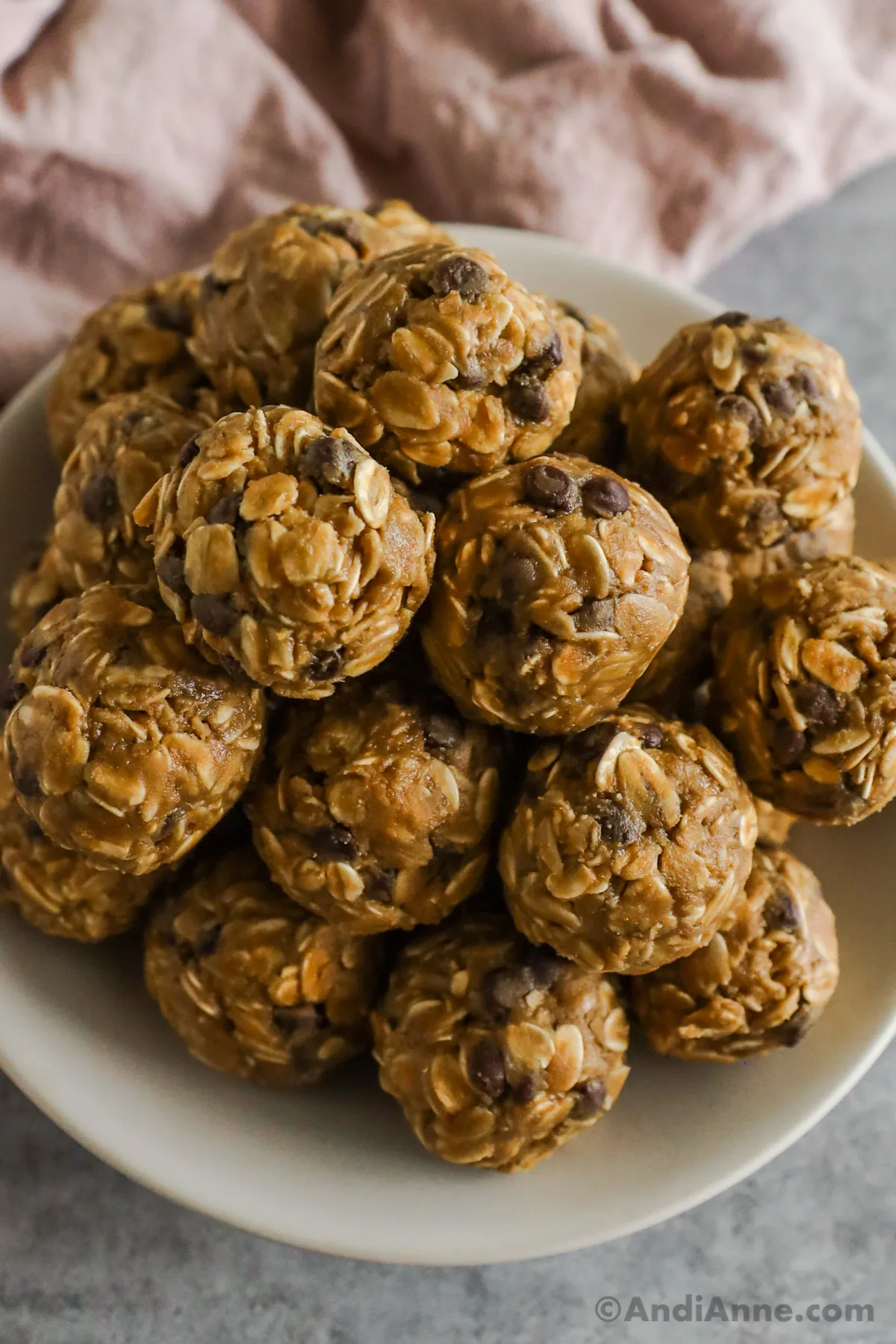 Peanut Butter Oatmeal Balls
These are a huge hit in my household! We store them in the freezer for an easy pick-me-up whenever someone is craving something sweet. My daughter has been asking for them in her lunch every day this week.
If you're looking for a simple homemade snack that is a good source of protein (peanut butter) and quick to put together, then this is it!
We buy MadeGood granola bars regularly from Costco for our daughter's snacks because they're made from minimal wholesome ingredients. But this homemade energy ball version is even better! These cost 1/3 of the price too! They're cheap, fast, and healthy… what's not to love!?
All you need are 4 basic ingredients here: peanut butter, rolled oats, maple syrup and mini chocolate chips. Actually, this recipe is very similar to my peanut butter oat bars recipe which you might also want to try. Just mix them together in a bowl, then roll them into balls. There is no baking required! It really couldn't be easier.
For more granola inspiration try my 10 no-bake granola bars, pumpkin oat energy balls, carrot cake energy balls, cookie dough energy bites, chocolate quinoa bliss balls, or my very popular 6 no-bake energy ball recipes.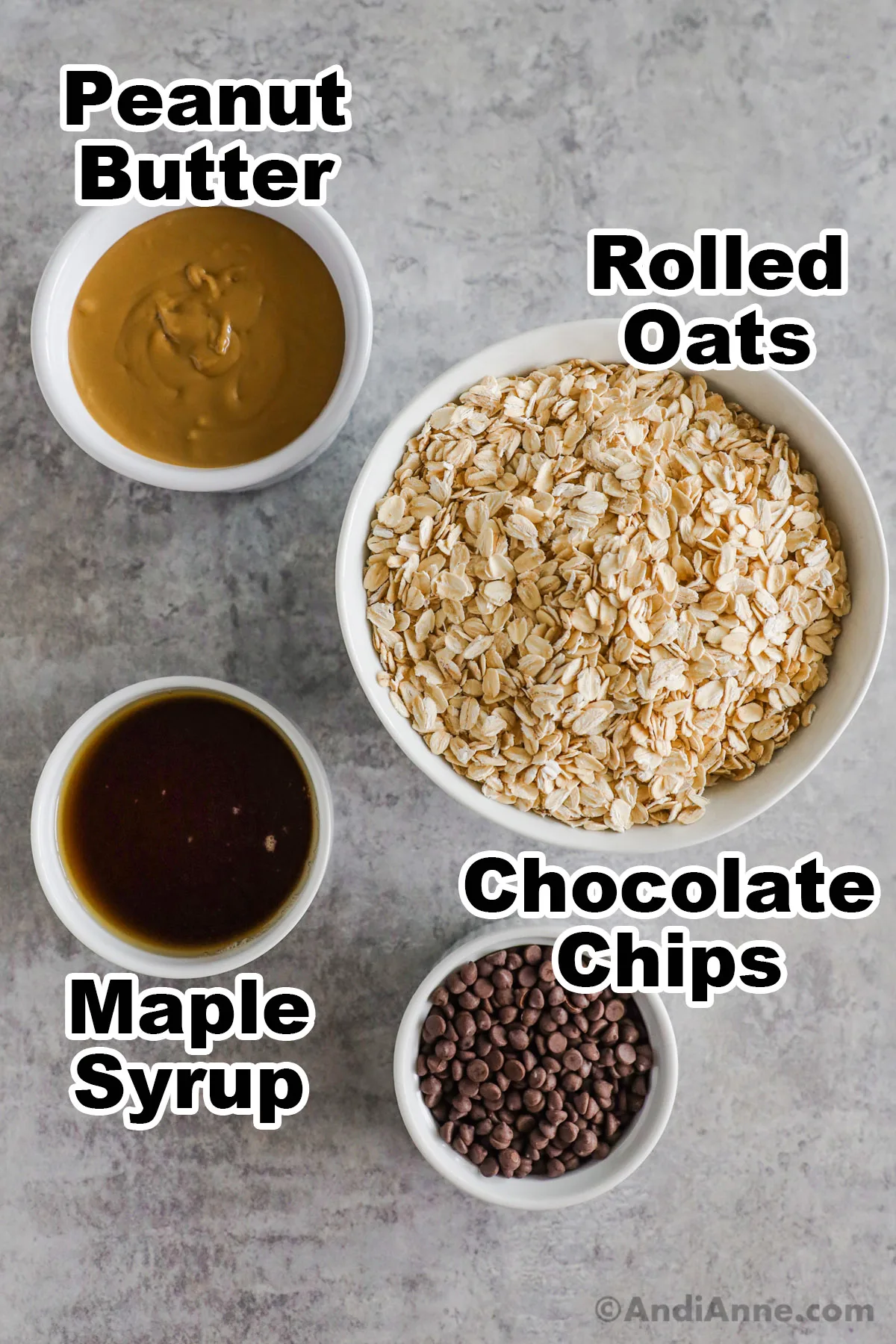 Recipe Ingredients
With just 4 simple ingredients, these energy balls can be whipped up fast. Here's an overview of what you'll need with the full instructions in the recipe card at the bottom.
OATS – You can use old-fashioned rolled oats (these are sometimes called large flake oats) or you can use quick oats. Personally, I like to use these sprouted rolled oats in all my baking and breakfast recipes. Certified gluten-free oats are available for anyone with an intolerance or allergy.
PEANUT BUTTER – Creamy natural peanut butter is what holds these energy balls together. I don't recommend using crunchy peanut butter as they may not stick together as well. You can also try this with any nut butter including almond butter and cashew butter. To make these nut-free, sunflower butter or pumpkin seed butter will also work!
MAPLE SYRUP – This will sweeten the recipe perfectly. Make sure to use pure maple syrup for the recipe. Honey or agave syrup or brown rice syrup will also work.
CHOCOLATE CHIPS – Mini chocolate chips are the best for these energy balls because they don't take up too much space in between the other ingredients. This allows everything to stick together so well. Dark chocolate chips or milk chocolate chips will both taste delicious.
Variations / Additions
While the base recipe is certainly delicious, there are some easy add-ons you can include. These can add extra nutrition or boost the flavor. My only recommendation is to not use too much. You want to make sure that the balls will still stick together nicely.
NUTS – Add some chopped nuts like chopped almonds or peanuts for a bit of a crunch. Just make sure they're not too big in size. You could even pulse them in a blender a few times to break them into smaller pieces.
SEEDS – Try small seeds like chia seeds, hemp seeds, and ground flaxseed for an added boost of energy, fiber, and protein. You can also use pumpkin seeds or sunflower seeds but I would use them sparingly to ensure the balls roll and stick together nicely.
PROTEIN POWDER – Add 1-2 scoops to the batter and mix it in. You can use plain or chocolate protein powder.
MOLASSES – Molasses is sticky and sweet, the perfect combination for energy balls. If you like the taste of molasses (it's not for everyone) you can use it in replacement of maple syrup.
BUTTERSCOTCH – Swap out the chocolate chips for butterscotch chips for a different flavor.
DRIED FRUIT – Raisins, dried cranberries, or chop up some dried mango or dried pineapple.
COCONUT – Shredded coconut would work well in this recipe! Choose an unsweetened version to avoid added sugar.
CHOCOLATE – Drizzle melted chocolate overtop of the balls for a more decadent treat.
M&Ms – Mini M&Ms could be used instead of mini chocolate chips! How yummy would that be!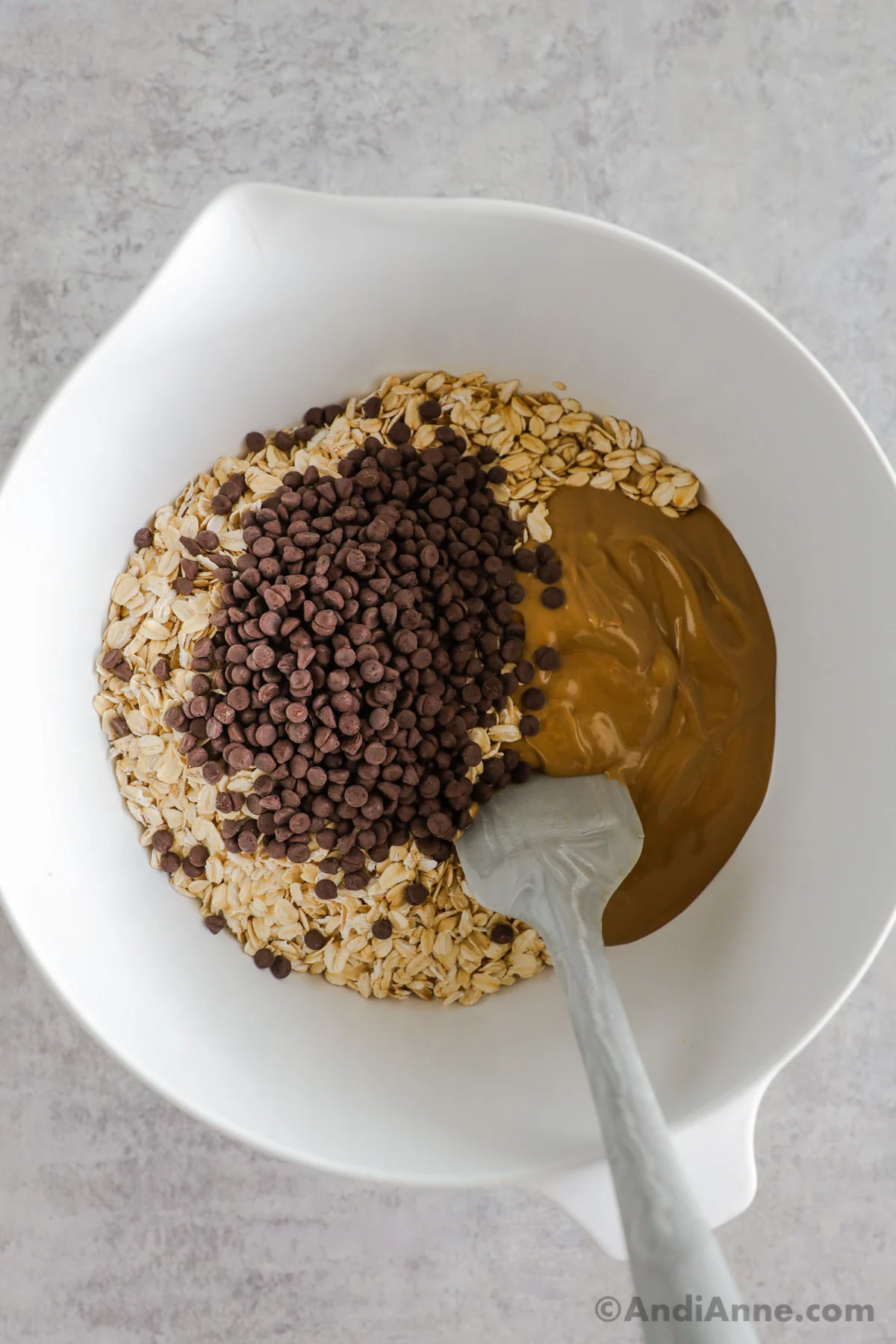 How To Make Peanut Butter Oatmeal Balls
Ready for the easiest recipe ever!? You'll have this energy bites recipe whipped up in under 10 minutes. The only time-consuming part is rolling them into balls. Here's on to make them:
MIX INGREDIENTS – Add the rolled oats, peanut butter, maple syrup, and chocolate chips to a large mixing bowl. Stir it together with a spatula or thick wooden spoon until all the oats are evenly coated with the mixture. Place the bowl in the fridge for 10 minutes.
ROLL – Use a 1 Tbsp measuring spoon to scoop out the oat mixture and roll each one into a ball. Place on a baking sheet lined with parchment paper or a cutting board. Repeat until you've used up all the oat mixture. Serve and enjoy, or place them in the fridge or freezer for later.
How To Store These Peanut Butter Energy Bites
My favorite way to store these balls is in the freezer. I LOVE the texture of them while frozen. I find they're still easy enough to eat after being in the freezer for a few days.
FREEZER – If you're going to freeze them, then you must freeze them on a baking sheet first so that they don't stick together. Freeze them like this for 2-3 hours. Once they're frozen enough, you can add them all to a large freezer bag so they won't stick together. This can be stored in the freezer for up to 6 months.
Fridge -These energy balls can also be stored in an airtight container or bag in the fridge for up to 4-5 days. They might stick together a little bit if placed on top of each other. You can add a piece of parchment in between each layer if preferred.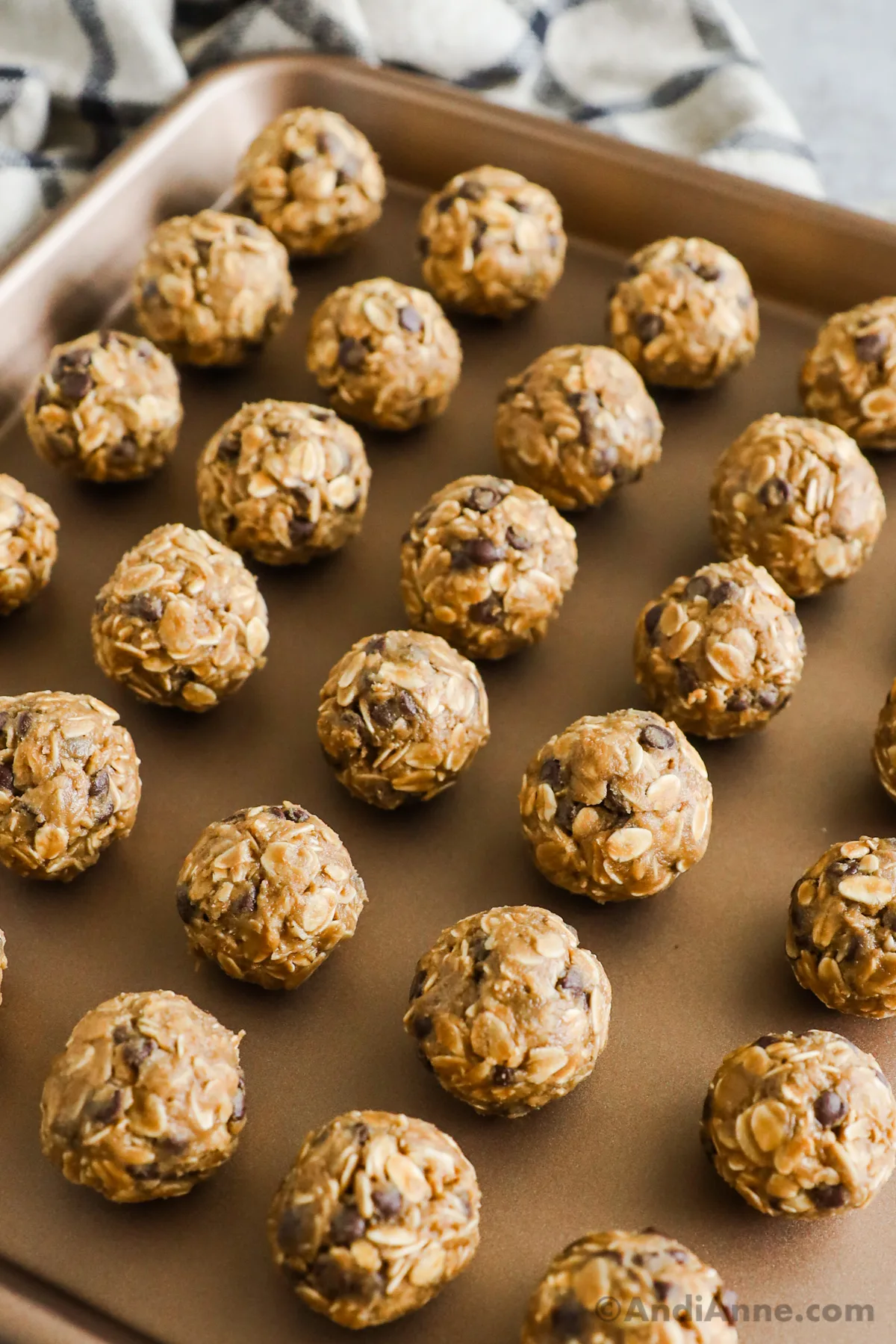 Recipe Tips
Swap peanut butter with nut butter, sunflower seed butter or tahini. This is what helps the energy balls to stick together.
If you're having trouble getting the balls to stick together, you can add a little more peanut butter to see if that helps.
Be sure to refrigerate the oat mixture for 10 minutes before forming the balls. This will firm up the texture and make it easier to roll.
Energy balls soften when they are at room temperature. This is why I recommend storing in the fridge or freezer. If taking one for lunch, store it in the freezer and pop one into your lunch bag. It will be thawed by lunchtime.
Use a small cookie scoop or 1 Tbsp measuring spoon to roll the balls into similar sizes.
Lay the energy balls flat while freezing. This will help them maintain their shape and keep them from sticking together.
Can You Eat Raw Oats In Energy Balls?
Yes, oats can be eaten raw, but it's recommended that they're soaked beforehand. Adding them to the other energy ball ingredients does just that. You can also eat raw oats (that are soaked) in my six overnight oats recipes.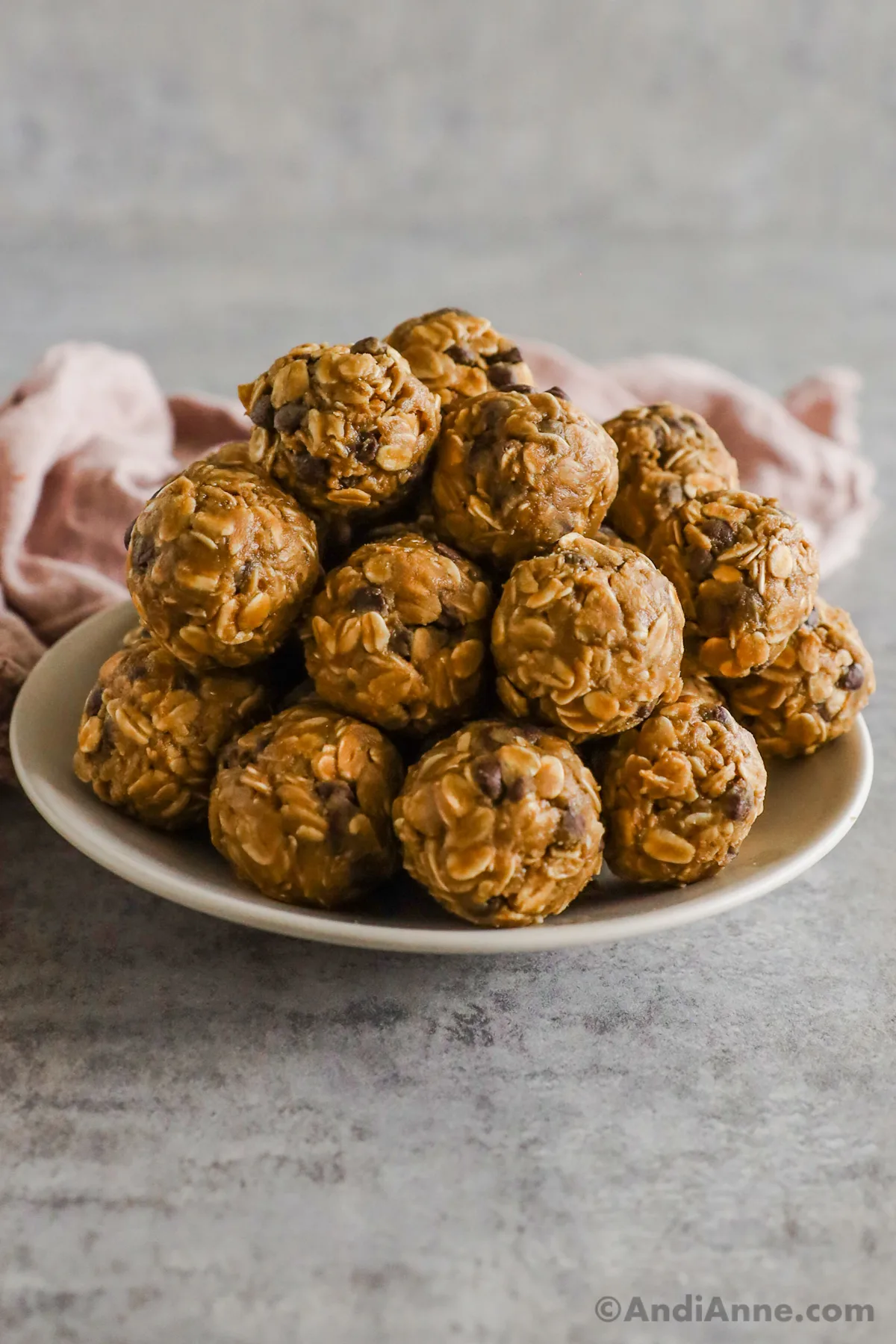 These peanut butter oatmeal energy bites are a healthy and delicious snack for kids and adults alike. Make a batch and store them in the freezer. Save them for afternoon pick-me-ups. Grab one or two and you'll be surprised how much they're curb that sweet tooth!
We love using rolled oats! They're inexpensive and whole grain, making them healthier than using refined flour. Try our 6 easy overnight oat flavors, 6 no-bake energy ball recipes, and our baked oatmeal breakfast cups for more oat recipes.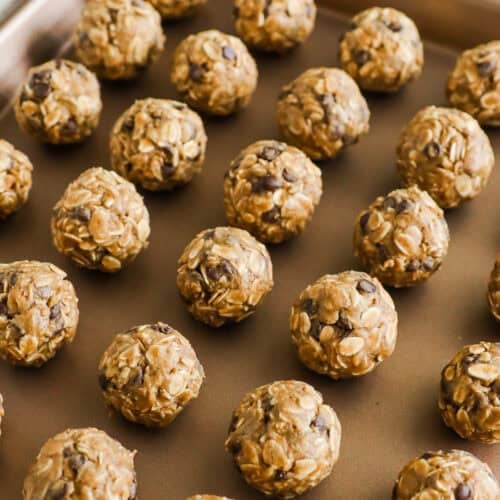 Peanut Butter Oatmeal Balls
Made with just 4 ingredients, these energy balls are no bake, and one of the easiest snacks you'll ever make!
Save Recipe!
Saved!
Pin This
Print It
Instructions
Add all ingredients to a bowl and mix together. Let refrigerate for 10 minutes.

Roll into 1 Tbsp balls. Keep chilled in the fridge or freezer until ready to eat.
Nutrition
Calories:
132
kcal
|
Carbohydrates:
15
g
|
Protein:
4
g
|
Fat:
7
g
|
Saturated Fat:
2
g
|
Polyunsaturated Fat:
2
g
|
Monounsaturated Fat:
3
g
|
Trans Fat:
0.01
g
|
Cholesterol:
0.5
mg
|
Sodium:
49
mg
|
Potassium:
108
mg
|
Fiber:
1
g
|
Sugar:
8
g
|
Vitamin A:
7
IU
|
Vitamin C:
0.02
mg
|
Calcium:
22
mg
|
Iron:
1
mg