This easy pumpkin bread is moist, light and fluffy and packed with flavor! I love making this loaf recipe in the Fall because it's the perfect treat.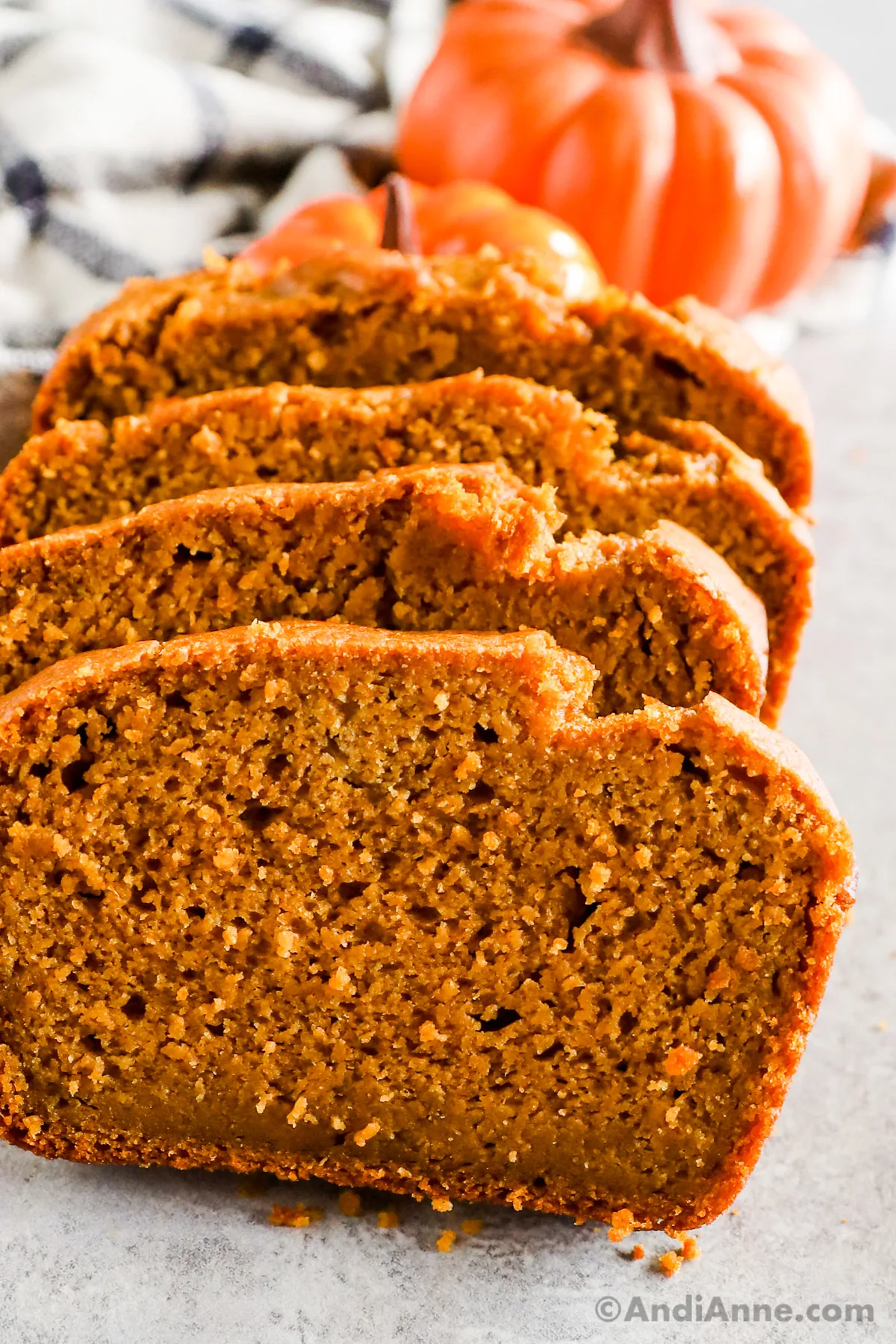 Pumpkin Bread
One of my favorite things to do in the Fall when the weather begins to cool is bake! Nothing beats the smell of an Autumn recipe baking in the oven.
This recipe is pretty straightforward and can be prepped ahead of time. In fact, you might want to consider making two batches and freezing the other one for later, because it's just that good!
You will need pumpkin puree for this recipe. I just use the canned pumpkin puree from the grocery store. Or you can also make you're own if you're up for it! Just be sure not to use pumpkin pie filling as it won't work the same and includes other ingredients that will affect the results of the recipe.
If you love pumpkin recipes as much as we do! Then you should try my light and fluffy pumpkin muffins with cinnamon sugar topping, pumpkin crinkle cookies, no-bake pumpkin oat energy balls, and the perfect brunch idea, baked pumpkin spiced oats.
Pumpkin Bread Video
Watch my easy tutorial video to see just how easy making pumpkin bread really is.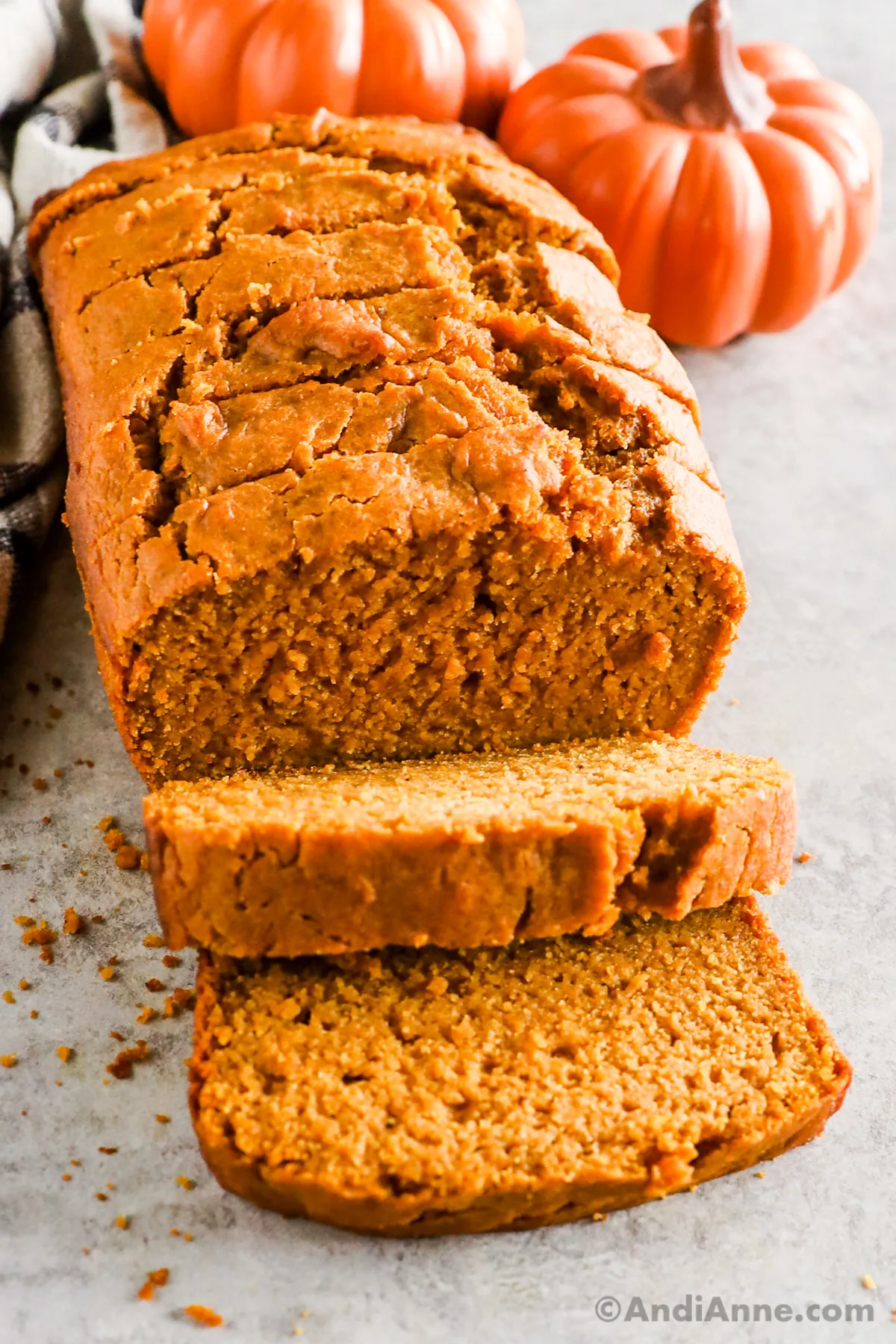 Recipe Ingredients
These ingredients are simple and easy to find. Full ingredient details are included in the recipe card at the bottom of this blog post.
FLOUR – I used all-purpose flour but you can also use whole wheat flour for added fiber. Half and half of each could also work. But if you want the bread light and fluffy then all-purpose flour will work best.
PUMPKIN PUREE – Pumpkin puree adds the perfect moist fluffy bread. Be sure not to use pumpkin pie filling.
PUMPKIN PIE SPICE – For the perfect Fall flavor, add pumpkin pie spice which is a combination of cinnamon, nutmeg, allspice and cloves. You can also make your own using these spices.
SUGAR – A combination of brown sugar and granulated sugar adds sweetness.
OIL – I used vegetable oil, but you can also use canola oil or another flavorless oil of your preference.
EGGS – Two large eggs help to hold the muffin batter together.
OTHER – This recipe also uses baking powder and baking soda to help make the bread rise and create that light and fluffy texture. It also uses vanilla extract and salt.
Helpful Tip – To prevent the bread from browning too quickly, move the oven rack to the lower third position so that it's receiving less heat on top. You can also cover the loaf pan loosely with foil at some point during the baking process if you think it's needed.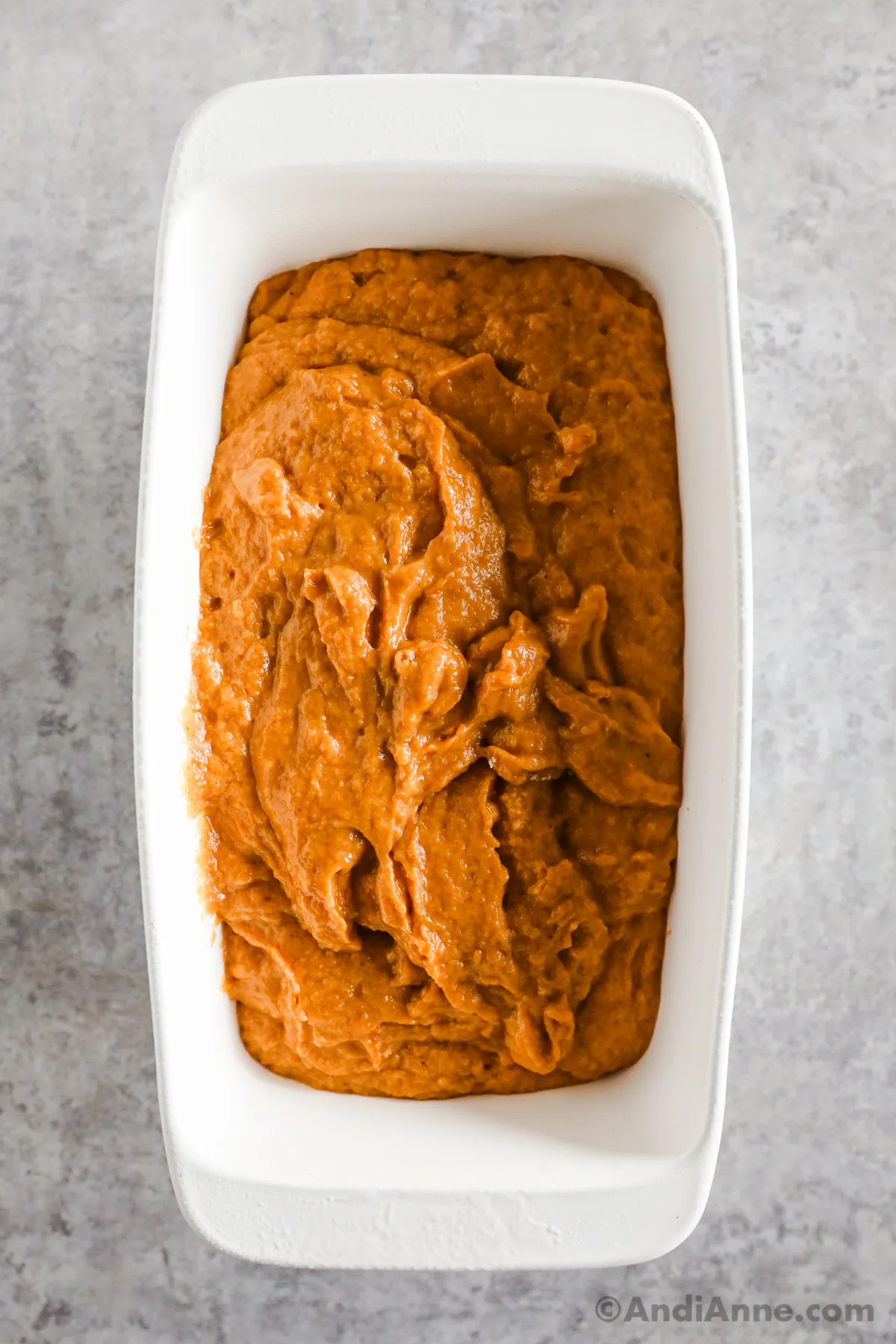 How To Make Pumpkin Bread
PREP – Preheat the oven and grease a loaf pan.
DRY INGREDIENTS – Whisk together the flour, pumpkin pie spice, baking powder, baking soda, and salt.
WET INGREDIENTS – First mix the pumpkin puree, granulated sugar, and packed brown sugar together. I like to do this with a hand mixer but you can also mix with just a spoon.
COMBINE – Add the dry ingredients to the wet ingredients and mix together.
BAKE – Pour the batter into a loaf pan and bake for about 60 minutes. Cover with foil if the top starts browning too quickly. The bread is done when a toothpick comes out clean when poked in the center.
COOL – Let cool for a few minutes then transfer to a rack to cool completely. Once the loaf is cooled completely, slice it and serve.
How To Store
Before storing your pumpkin loaf, make sure it's completely cooled. This will help prevent moisture buildup once your store the bread.
ROOM TEMPERATURE – This pumpkin bread can be stored in an airtight container out of direct sunlight for up to 3 days. I prefer to store mine in the fridge or freezer as I find that the loaf can get too moist at room temp.
FRIDGE – Pumpkin loaf can be stored in an airtight container for up to 1 week.
FREEZER – This is my favorite way to store any baked goods as we don't eat them as fast. Just place bread slices in an airtight freezer bag and store them for up to 6 months. Wrap a frozen slice in a paper towel and pop it in the microwave for 30 seconds to thaw.
Helpful Tip: Place a paper towel on the top and the bottom of the pumpkin loaf to help absorb any excess moisture and prevent it from getting soggy.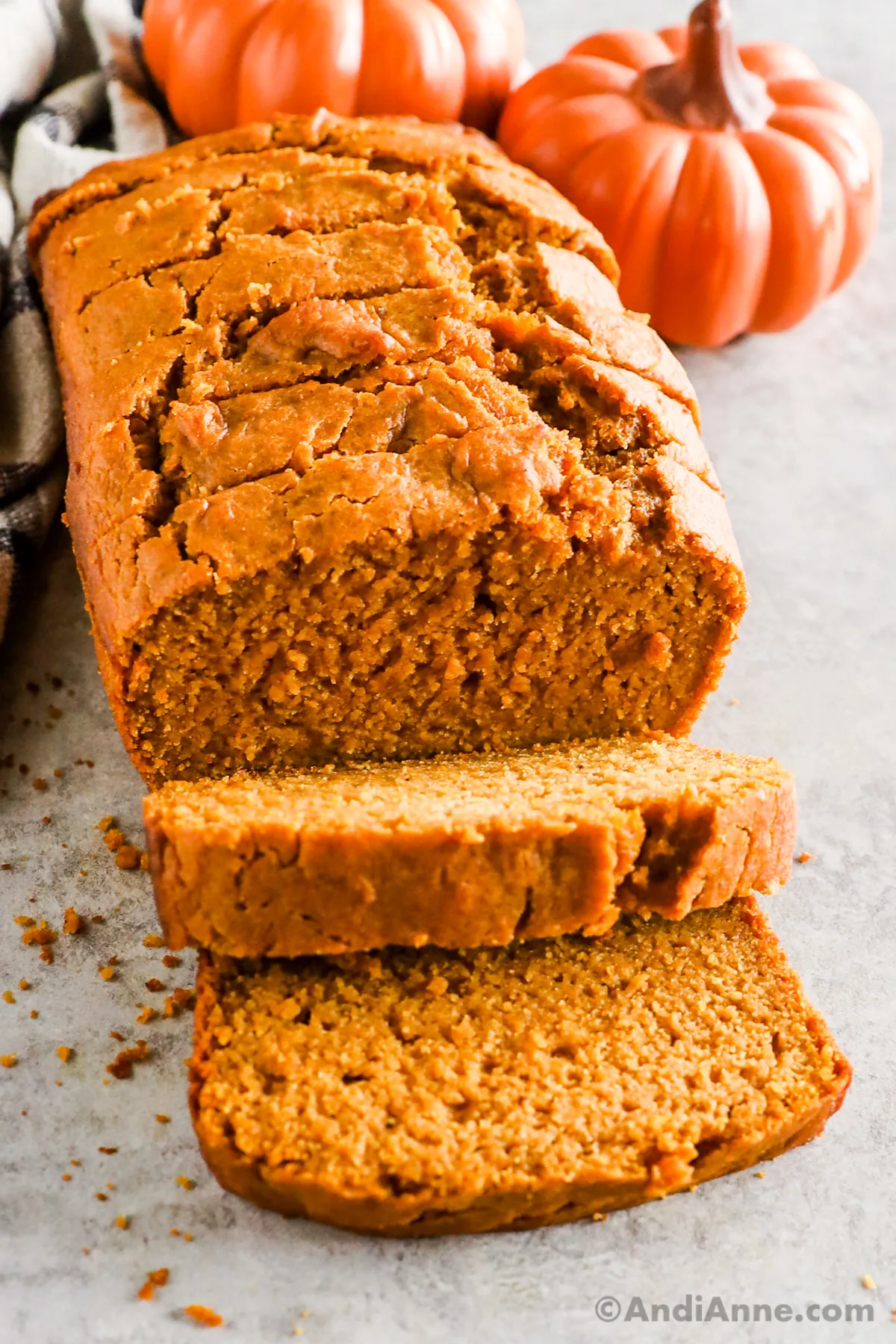 Recipe Tips
Check the loaf halfway through and closer to the end. Cover the loaf pan loosely on top with aluminum foil if you notice it's browning too soon.
Let the loaf cool in the pan then transfer it to a rack to cool completely.
A cooled loaf will slice easier than a warm one. Use a serrated bread knife for best results.
For more easy loaf recipes try my blueberry muffin bread, old fashioned brown bread, or peanut butter bread.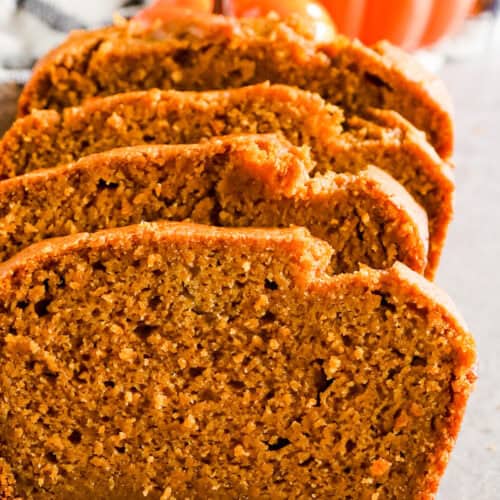 Pumpkin Bread
This easy Fall recipe creates an incredibly moist, light and fluffy pumpkin bread. It smells incredible while baking in the oven!
Save Recipe!
Saved!
Pin This
Print It
Instructions
Preheat the oven to 375°F. Lightly grease a baking loaf pan and lightly dust, shaking out any excess. Set aside.

In a medium bow, whisk the all purpose flour, pumpkin pie spice, cinnamon, baking soda and salt.

In a large bowl, mix the pumpkin puree, granulated sugar and brown sugar.

Beat in the eggs. Stir in the vegetable oil and vanilla extract. Add the dry ingredients to the wet ingredients, and stir together until batter is smooth.

Pour the batter into the loaf pan. Smooth the top with a spatula. Bake for 60 minutes, covering the top after 30 minutes with foil. Loaf is cooked until a toothpick comes out clean when poked with a fork. Let cool, then slice and serve.
Nutrition
Calories:
193
kcal
|
Carbohydrates:
42
g
|
Protein:
4
g
|
Fat:
1
g
|
Saturated Fat:
0.4
g
|
Polyunsaturated Fat:
0.3
g
|
Monounsaturated Fat:
0.4
g
|
Trans Fat:
0.003
g
|
Cholesterol:
33
mg
|
Sodium:
174
mg
|
Potassium:
156
mg
|
Fiber:
2
g
|
Sugar:
22
g
|
Vitamin A:
7675
IU
|
Vitamin C:
2
mg
|
Calcium:
58
mg
|
Iron:
2
mg