Seasoned roasted potatoes are made with hearty Yukon Gold potatoes, olive oil, and a bunch of yummy seasonings. It is an affordable and delicious side dish that goes with almost any main course. Perfectly seasoned and crispy on the outside, you'll love these with your meal.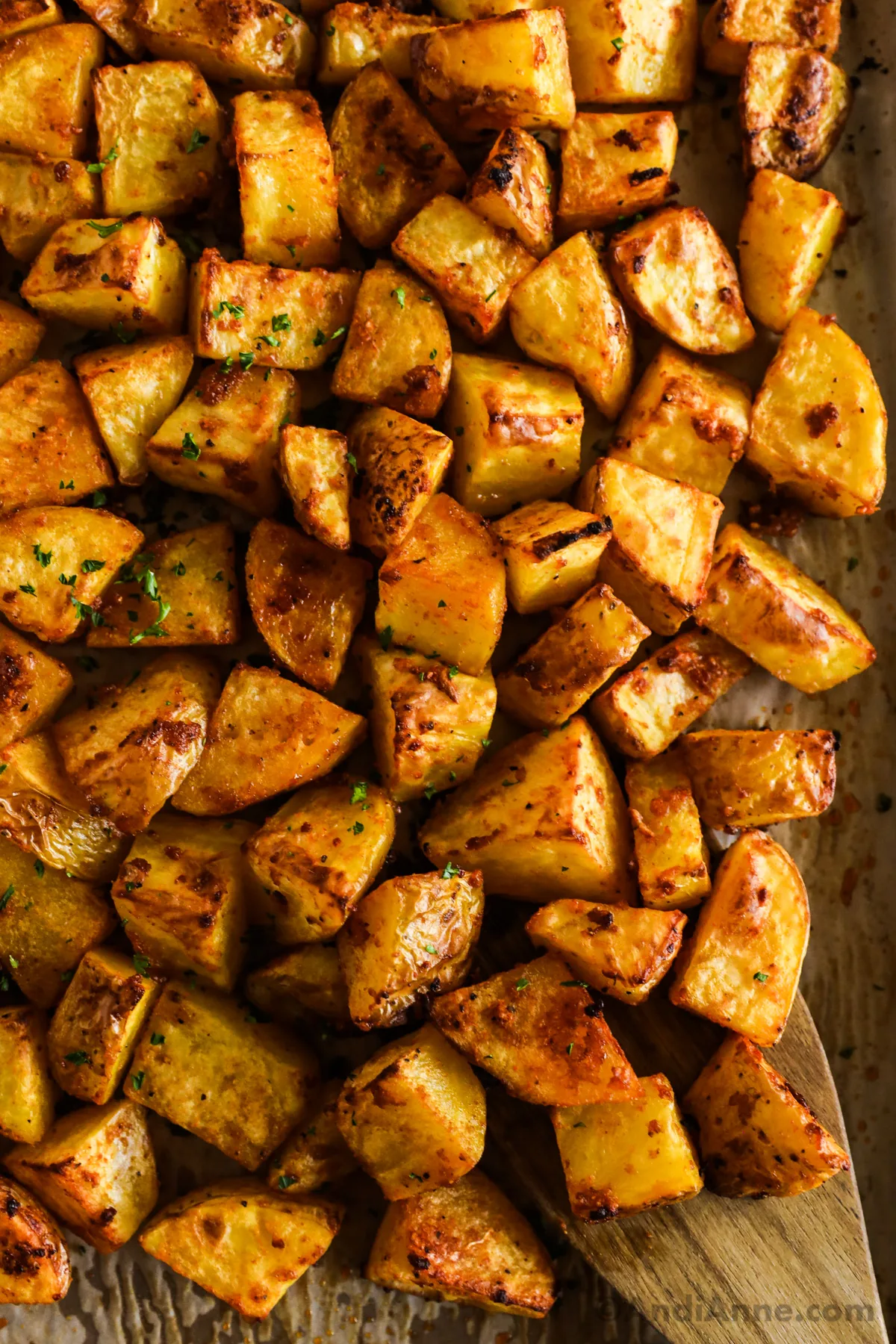 Delicious Potatoes Side Dish
This potato dish is great because who doesn't love roasted potatoes? A little bit of spices really makes all the difference in taste! I also added some minced garlic and it gets crispy as it bakes which adds yummy flavor and texture.
I used Yukon Gold potatoes. No need to peel off the skin if you're using the same. If you plan to use Russet potatoes, then you will need to peel the outside skin because it's tough. Baby potatoes will also work here!
I love simple recipes like this one because they're practical and can be used for almost any meal. These potatoes make a great sidekick to almost any main course you can think of.
Try serving them alongside marinated steak, sloppy joes, yummy ranch chicken breasts or with delicious dijon thyme baked chicken. It's a quick and easy addition to any weekday meal that everyone will enjoy.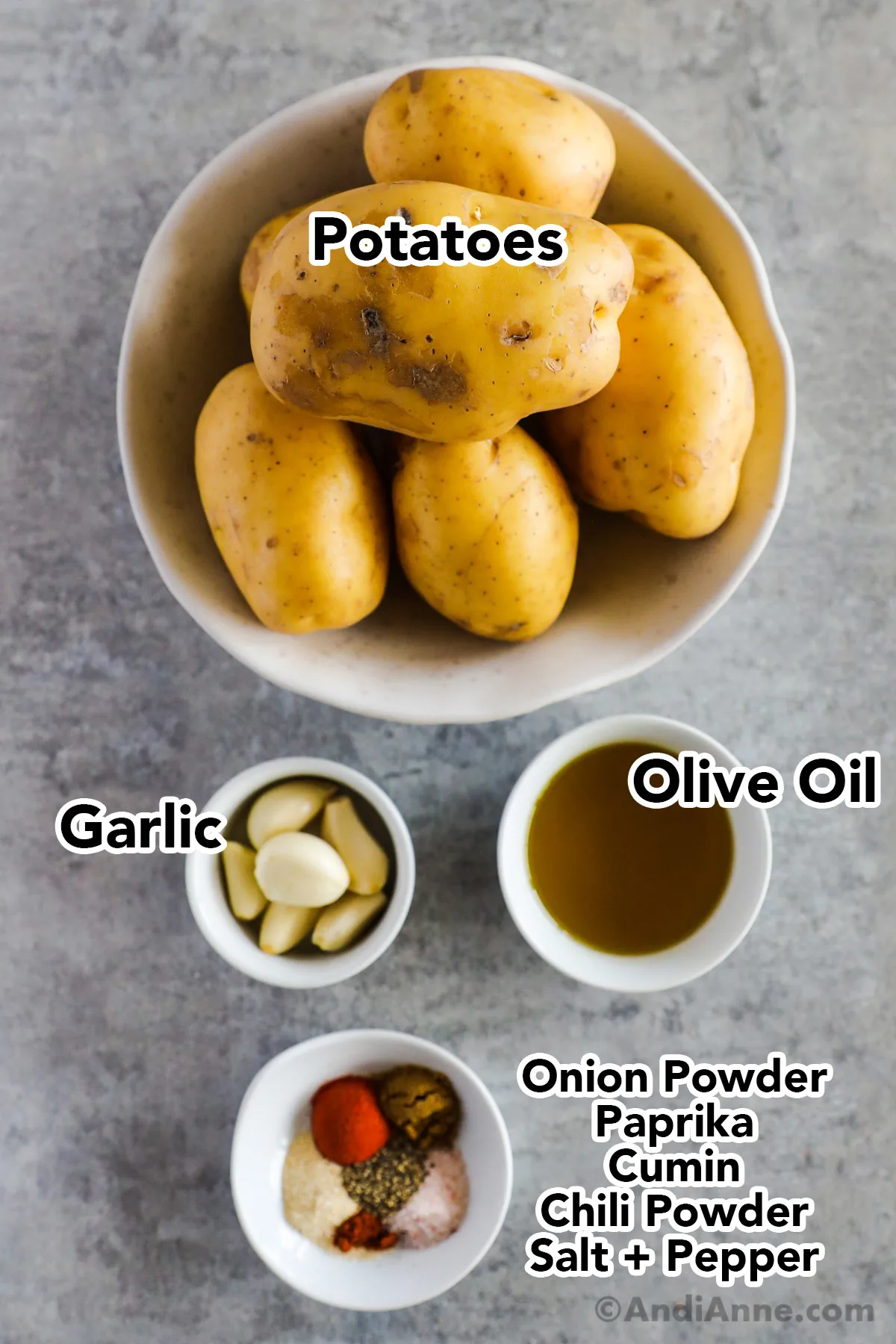 Recipe Ingredients
This is such a lovely way to serve potatoes! Here's what you'll need to make the recipe (scroll down to the recipe card for full details):
POTATOES – washed and chopped. I used Yukon Gold but you could use other varieties too.
OLIVE OIL – tossing your potatoes in olive oil will make them crispy and delicious. You can also use canola oil or vegetable oil.
GARLIC – The minced garlic gets a little crispy as it bakes. It's delicious! Feel free to add more or less if you like.
ONION POWDER – Adds great flavor!
PAPRIKA – Tastes so yummy when tossed with the potatoes.
CUMIN – Adds a bit of warmth in taste.
CHILI POWDER – This tends to be more spicy so add a little bit or a lot depending on preference.
SALT AND PEPPER – Salt and pepper are the most important seasonings in almost every recipe, including this one.
Can I use baby potatoes for this recipe?
Absolutely! Any size potato is great. If you're using small potatoes, you can just cut them in half. If they're really tiny, just poke a few holes in them with a fork or knife before roasting.
If you are using a mix of small and big potatoes, cut your big potatoes up so the pieces are about the same size as your tiny potatoes are.
Variations
POTATOES – you can use any kind of potato other than Yukon Gold for roasting, including red, russets, baby potatoes and even sweet potatoes.
SEASONINGS – The amounts and types of seasonings are totally flexible for this recipe! For a more holiday feel, take out the cumin and chili powder and add rosemary, parsley or thyme, for example.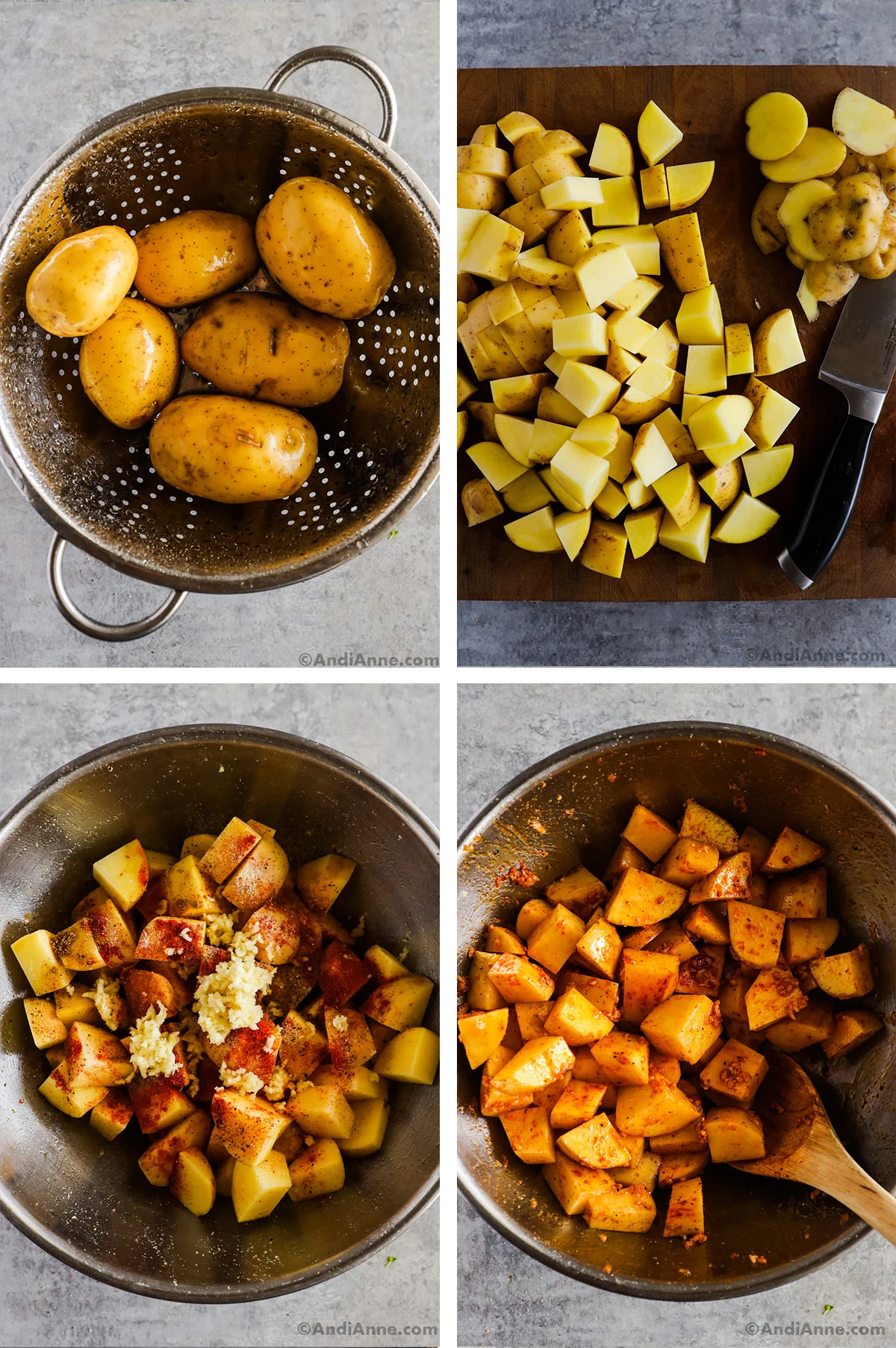 How To Make Seasoned Roasted Potatoes
Now, let's get to the details of how you make these delicious side dish potatoes. Here's what you'll need to make the recipe with full instructions in the recipe card at the bottom of this post.
PREHEAT – Preheat your oven to 425°F. Line a baking sheet with parchment paper. Set aside.
MIX – Add the chopped potatoes to a large bowl along with the oil, garlic and all spices. Toss everything together.
ASSEMBLE – Spread onto the baking sheet in a single layer. Drizzle any oil left in the bowl on top.
BAKE – Roast for 35-40 minutes, tossing halfway through. The edges will turn golden brown as the potatoes begin to crispen up.
How To Store Leftovers
REFRIGERATE – You can keep these potatoes in the fridge for up to 4 days.
TO REHEAT – Reheating in the oven, air fryer, or frying pan is always the best way to ensure a good texture for these potatoes! The microwave will make them a bit soggy.
For the oven (or frying pan) toss them in a bit of fresh olive oil and spread them on a baking sheet just like the first time you made them (or fry on the stove on medium-high heat) until they start to sizzle.
You can eat these leftover potatoes as they are or incorporate them into a whole new dish! Try them as part of this mushroom frittata or this parmesan ground pork recipe.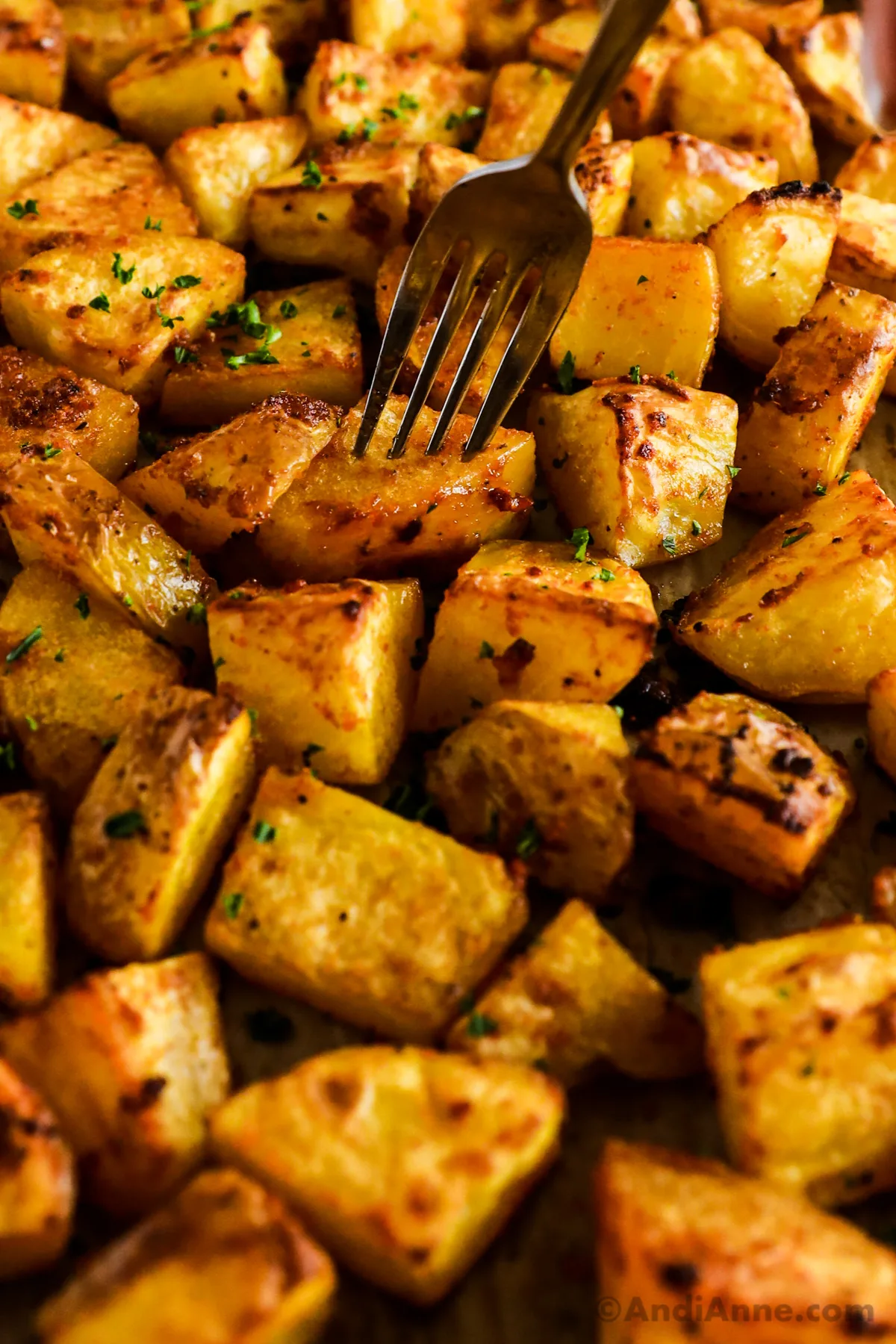 Recipe Tips
Adjust the seasoning amounts to suit the preferences of your family! All the measurements are flexible.
For extra golden potatoes, you can broil the potatoes for 2-4 minutes after roasting.
Don't crowd your potatoes on the baking sheet! Spread them out so they aren't touching. This will mean they roast and brown evenly and at the same rate.
If you find your potatoes are cooking too fast on the outside but are still firm inside, Try soaking them. Soaking potatoes in cold water beforehand removes the excess starch and might help keep your potatoes from crisping up too fast or burning.
Should I peel my potatoes before chopping them?
While you CAN peel your potatoes before you roast them, you certainly don't need to. I like the extra flavor and color that peel-on potatoes have. But if you prefer no skin, go right ahead and peel your potatoes
Bake vs. Roast
Just in case you're feeling confused about baking terminology, it IS possible to both roast and bake potatoes and it is a slightly different process! Roasting is done at higher temperatures (425°F) and baking at lower temperatures (350°F).
Roasting aims for crispiness, while baking a potato aims for softness. You could try baking these potatoes if you prefer a softer potato rather than crispy.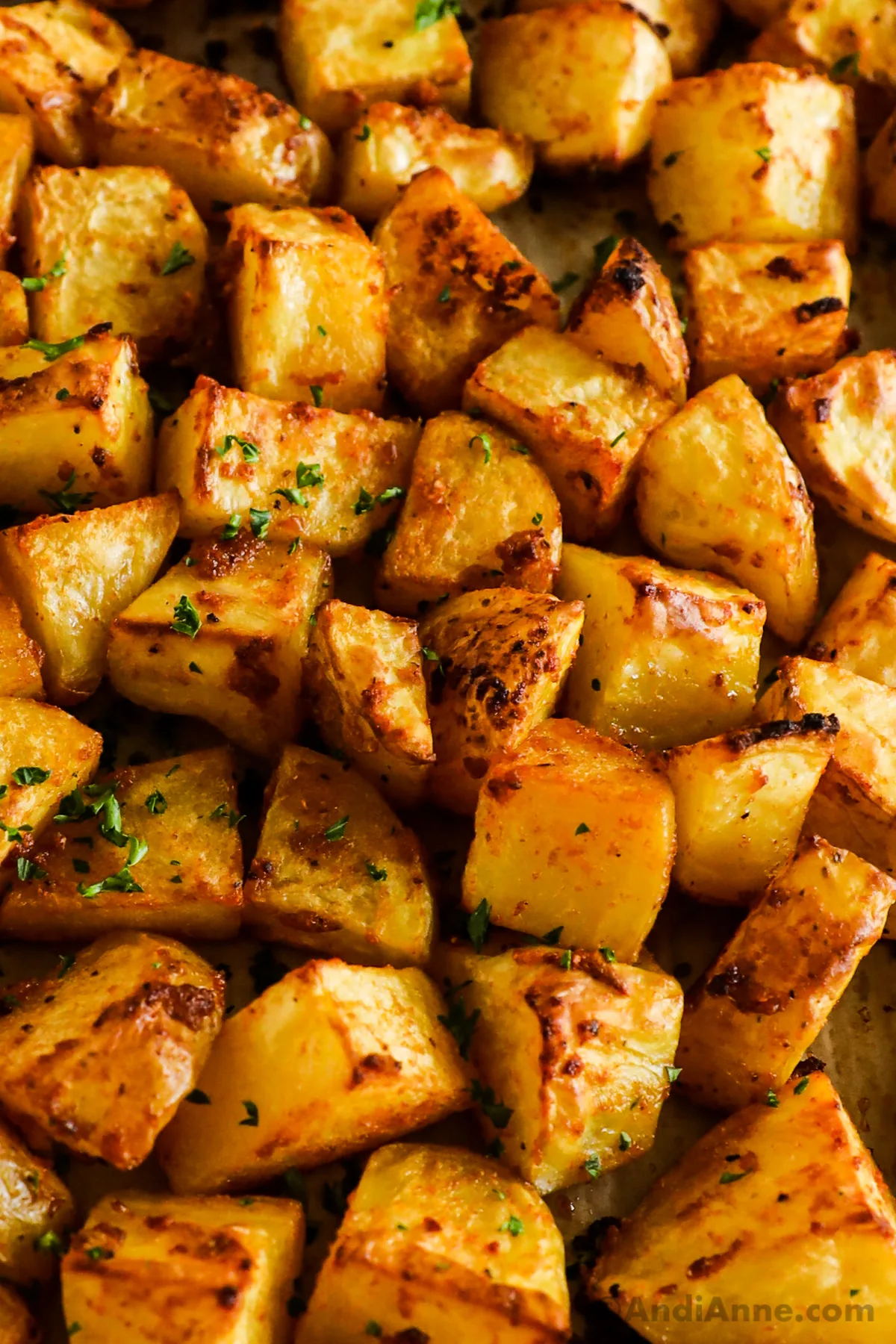 More Potato Recipes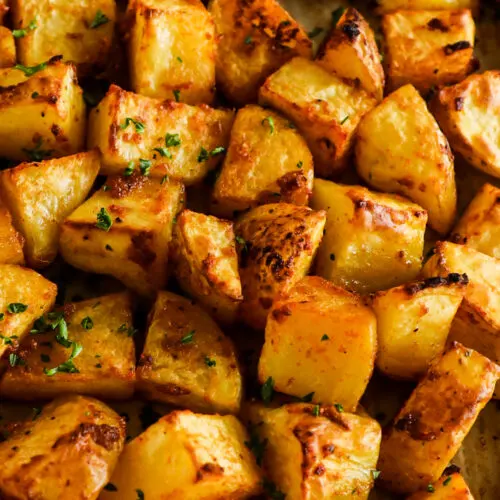 Instructions
Preheat the oven to 425°F. Line a baking sheet with parchment paper. Set aside.

In a large bowl, mix together the olive oil and spices. Add the chopped potatoes to the bowl and stir everything together to coat evenly.

Spread onto a baking sheet in a single layer. Drizzle any leftover sauce from bowl on top.

Bake for 35-40 minutes or until edges are golden brown and potatoes are crispy. Flip the potatoes every 15 minutes.
The nutritional information provided is an estimate and is per serving.