Sheet pan pancakes are the easiest way to make a big batch of pancakes. They're perfect for meal planning as you can eat them throughout the week for breakfast, or freeze them for later. Use your favorite toppings to create a variety of fun flavors.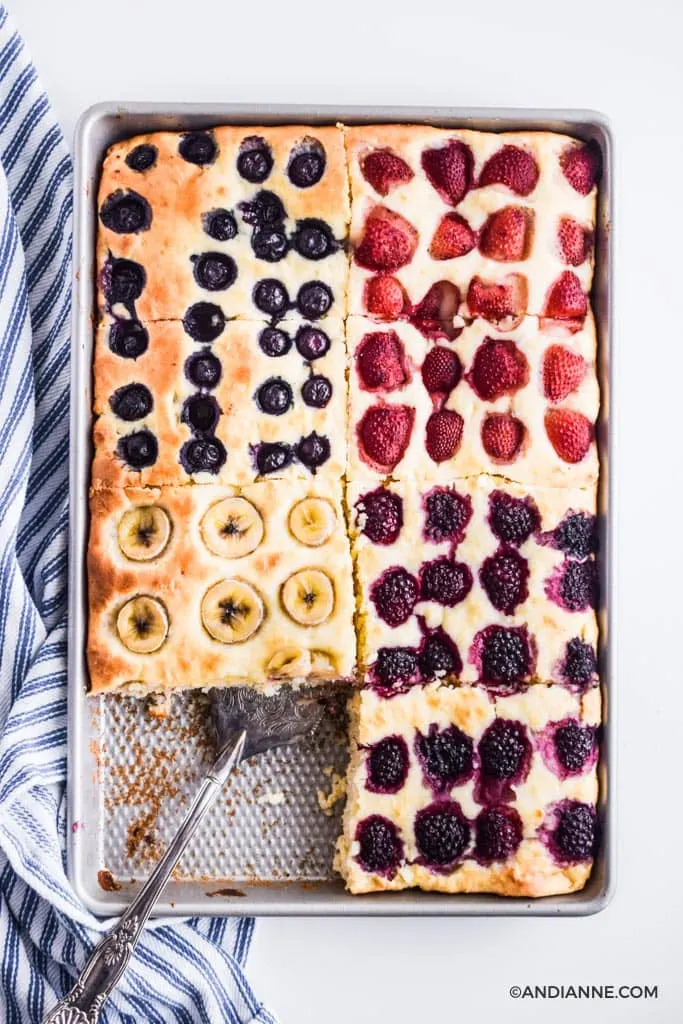 Sheet Pan Pancakes
If you've ever stood in front of the stove making pancakes for an hour, and wondered to yourself "Isn't there an easier way?" – Baking them in a sheet pan is the answer.
I am a huge fan of sheet pan meals for families. They help to save time time and still create a delicious meal. Think of the sheet pan as a convenient meal hack! From sheet pan eggs, to baking vegetables and salmon on a sheet pan for an easy healthy dinner. You can do so much on a sheet pan, including your pancakes!
I love this recipe because I can easily make a batch for a Sunday morning brunch, or pack them into a freezer bag and freeze them for later. If you plan on having your family eat one for weekday breakfasts, then it's easy to stack them in a container in the fridge for a grab-and-go meal.
What Pan Should I Use For Pancakes?
You want to use a sheet pan with at least a 1-inch lip on the outer rim. Otherwise, the liquid mixture will probably spill as it bakes in the oven. I recommend using a sturdier baking sheet for this recipe, I used the paderno proffessional baking sheet and I can definitely notice a big difference in how strong it is compared to the cheap dollar store versions I've had in the past. Plus the edge is enough to properly hold the pancake batter in place.
How Do I Stop Pancakes Sticking To The Pan?
The quality of your sheet pan will make a big difference with avoiding pancakes sticking to the pan. My baking sheet has a texture on the bottom which helps to prevent this. I also recommend lightly greasing your pan with non-stick cooking spray or a paper towel and some cooking oil. You can also line the baking sheet with parchment paper for easier clean up.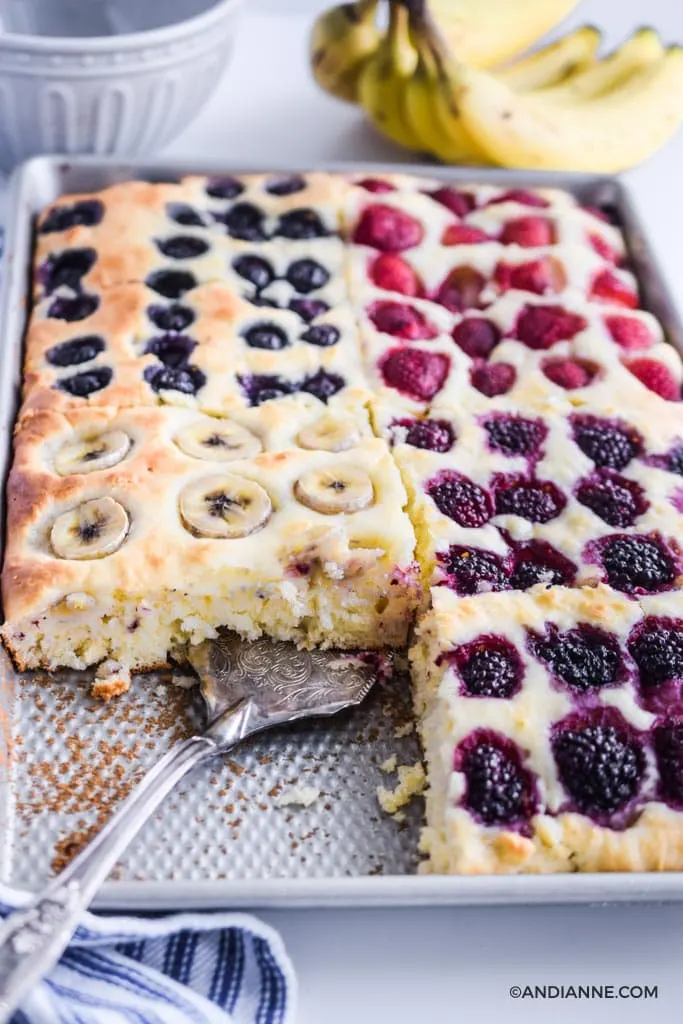 Sheet Pan Pancakes Ingredients:
This recipe works great for the sheet pan. It's simple, easy to put together, and delicious.
FLOUR – I'm using all-purpose flour today. You can also use whole wheat flour.
BAKING SODA – This will help the pancakes to rise and get fluffy.
SUGAR – I used coconut sugar. However, you can use any kind of sugar you'd like.
MILK – You can use dairy or non-dairy milk.
COOKING OIL – You can use any kind of cooking oil you'd like. I used melted coconut oil.
FAVORITE TOPPINGS – You can use any of your favorite pancake additions for sheet pan toppings. I used sliced frozen berries for mine. You can also use fresh berries, chocolate chips, nuts, seeds, dried fruit, nut or seed butter, jam etc.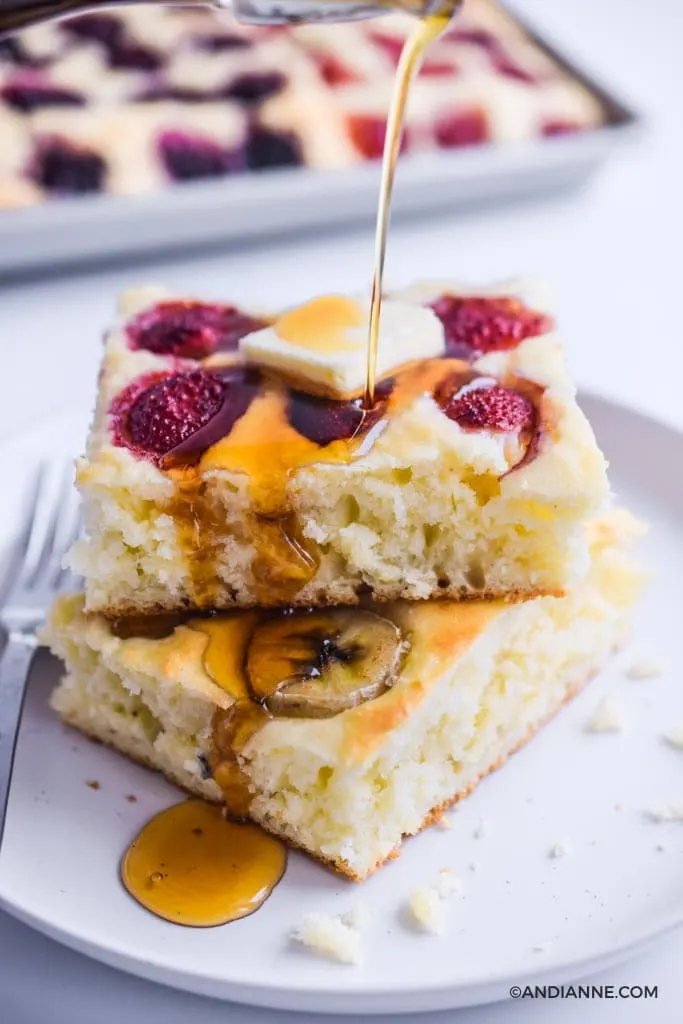 How To Make Sheet Pan Pancakes
Sheet pan pancakes are really easy to put together. Have your kids help measure the ingredients and put on the toppings!
DRY INGREDIENTS: In a large bowl, add the flour, baking powder, sugar and salt. Mix together.
WET INGREDIENTS: In a separate bowl, beat the eggs, then add milk, and cooking oil.
COMBINE TOGETHER: Pour the wet ingredients to dry ingredients and stir everything together.
POUR INTO SHEET PAN: Pour the batter in the prepared sheet pan and spread with a spatula.
ADD TOPPINGS: Add your favorites to the top of the pancakes before baking. I used sliced frozen berries and bananas.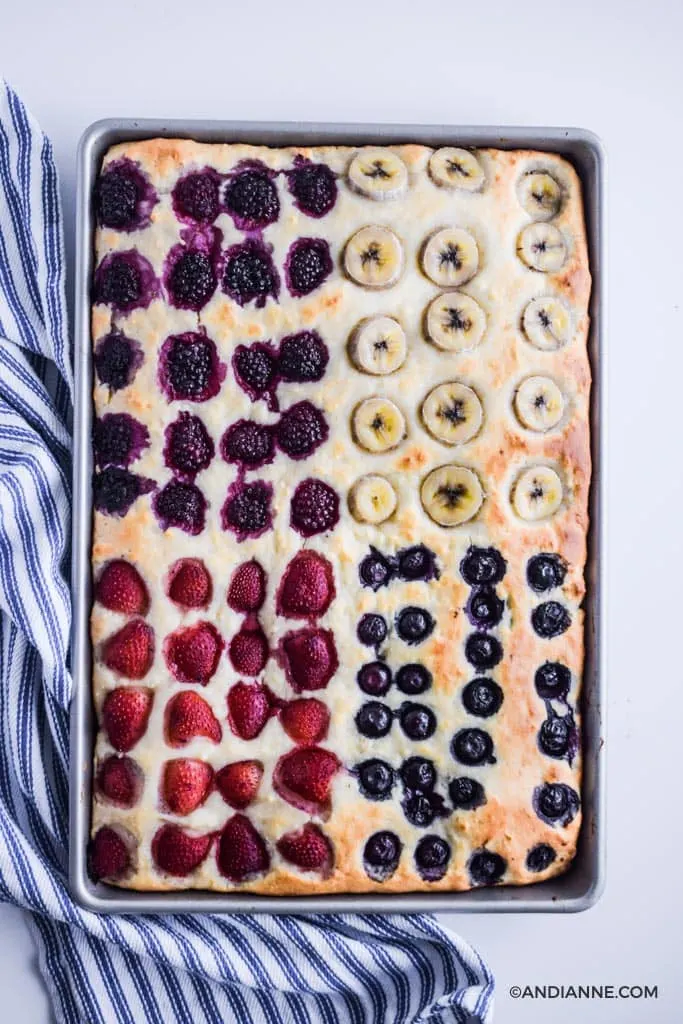 How To Freeze Sheet Pan Pancakes
I love to talk about freezer meals because they are a huge time saver for busy moms! And once you get a simple freezer meal routine going, you will have meals that are ready to go all the time. It's like the best-kept secret to save time and sanity in the kitchen. Learn how to make six healthy crockpot freezer meals here.
The process to freeze these sheet pan pancakes is simple. First, make sure you've sliced them into portion sizes. Let them cool completely on the counter. Once cool, place them in a good quality freezer bag and seal tightly removing as much air as possible. These pancakes can be stored in the freezer for up to three months if sealed well.
What Can You Eat Sheet Pan Pancakes With?
These pancakes are so versatile. You can easily customize these sheet pan pancakes to create your favorite breakfast combination. Here are some ideas:
Sheet pan pancakes with butter and maple syrup: The classic way to eat pancakes.
Spread with jam or peanut butter: Because these are square, they can be eaten like a slice of toast.
Grab and go breakfast: Pop a slice into the microwave to warm up then spread your favorite toppings for an easy breakfast as you head out the door.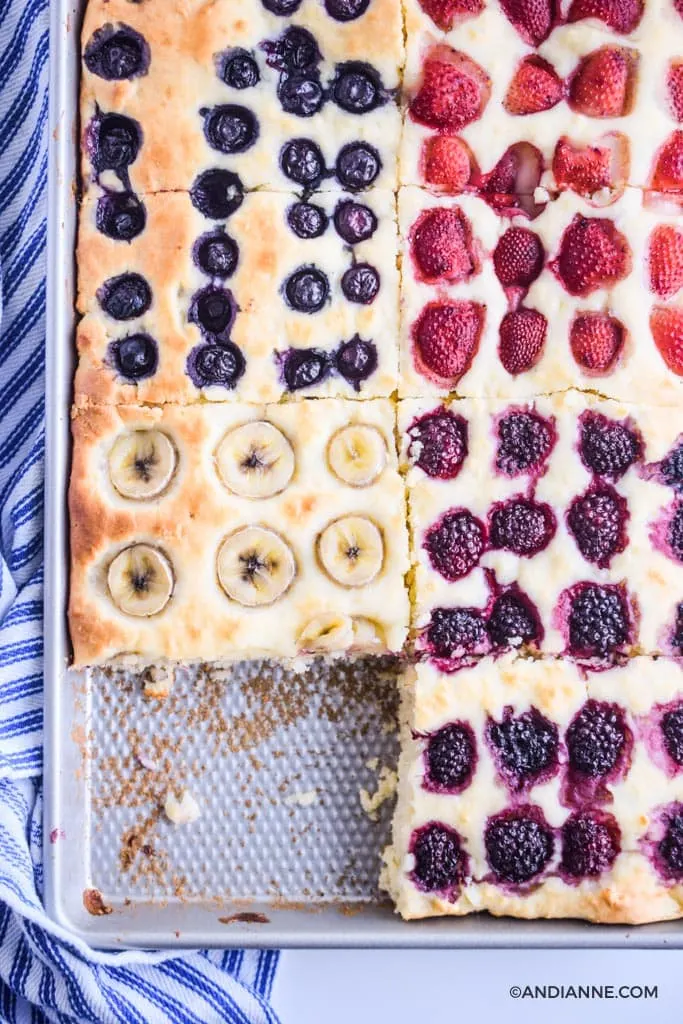 More Meal Prep Recipes: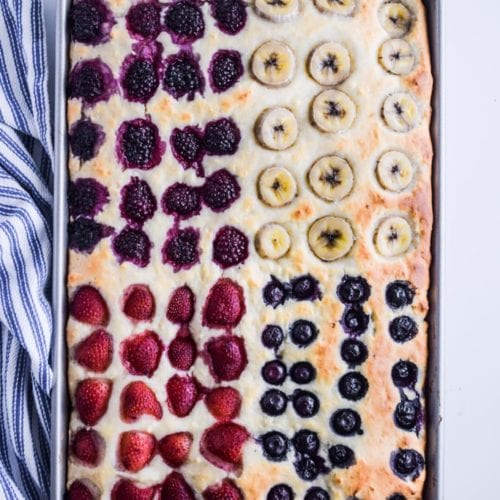 Sheet Pan Pancakes
Sheet pan pancakes are the easiest way to make a big batch of pancakes. Perfect for meal prep, sunday brunch and grab-and-go breakfasts.
Save Recipe!
Saved!
Pin This
Print It
Ingredients
3

cups

flour -

all purpose or whole wheat

2

Tbsp

baking powder

½

cup

sugar -

I used coconut sugar

½

tsp

salt

2

eggs

2 ½

cups

milk -

dairy or non dairy

½

cup

cooking oil -

coconut oil, avocado oil, olive oil etc.

Sliced berries for toppings
Instructions
Preheat oven to 425°F. Spray a baking sheet with non stick cooking spray and set aside.

In a large bowl, whisk together flour, baking powder, sugar, and salt.

In a small bowl, beat the two eggs with a fork. Stir in milk, and cooking oil.

Pour wet ingredients into dry ingredients and mix. The batter will be thick.

Use a spatula to scoop the batter onto the baking sheet.

Spread the batter out gently with a spatula.

Add sliced berries (fresh or frozen) and any other toppings you want.

Place in oven and bake for 20-25 minutes or until edges begin to turn a golden brown and inside is fully cooked when poked with a toothpick.

Let cool and slice into serving sizes with a knife. Serve immediately or store in a an airtight container in the fridge or freezer for later.
Recipe Notes:
Use any toppings you'd like: fresh or frozen fruit, bananas, seeds, nuts, dried fruit, cinnamon, nut or seed butter, nutella, chocolate chips etc.
To Freeze: After baking and cutting into squares, let the pancakes cool completely. Wrap each one individually in plastic wrap or parchment paper, then place all of them into one large freezer bag. Store in the freezer for up to 3 months.
To Reheat: Remove plastic wrap from the pancake, then wrap in a paper towel. Place in microwave for 30 seconds or until heated through.
Nutrition
Calories:
407
kcal
|
Carbohydrates:
5
g
|
Protein:
9
g
|
Fat:
18
g
|
Sodium:
513
mg
|
Potassium:
167
mg
|
Sugar:
16
g
|
Calcium:
276
mg
|
Iron:
3
mg