Mushroom Tomato Spinach Frittata
Disclosure: This post may contain affiliate links.
This mushroom tomato spinach frittata couldn't be easier to make! Chopped vegetables and cheese are added to a dish, then beaten eggs are poured on top. This is baked in the oven for a delicious, healthy breakfast or brunch. This recipe looks so beautiful too, your guests will be so impressed!
If you love a good egg recipe, then you'll LOVE this easy quiche-inspired idea using beautiful healthy vegetables, eggs, cream, and cheese.
Mushroom Tomato Spinach Frittata Recipe
This mushroom tomato spinach frittata recipe is a showstopping breakfast dish that is perfect for serving on weekends for brunch. Just like our sheet pan sweet potato omelet, this frittata is absolutely brunch-worthy, and simple to prepare, especially with our easy chop, dump, and bake method.
Low-Carb – Omitting the crust from a quiche makes this recipe low-carb and keto friendly.
Easy Meal Prep – Don't save this recipe for a special occasion. Instead, you can use it as meal prep breakfasts or lunches for the week. You can cut it into slices and store them in the fridge or freezer for later.
Perfect For Sunday Brunch – A frittata makes the perfect easy egg dish to serve for guests. We recommend serving it with our overnight french toast casserole or sheet pan pancakes.
Serve this delicious vegetable frittata recipe for your next family breakfast event. Your guests will be so impressed by how beautiful it is!
What's The Difference Between A Frittata and a Quiche?
These two are very similar, however with a slight difference. A quiche is baked in a pastry crust (or pie crust) while a frittata has no crust and is baked directly in a dish. A frittata can sometimes also be known as a crustless quiche. Frittata usually includes ingredients mixed in a bowl with eggs. This can be cooked on the stove in a pan or baked in the oven.
Recipe Ingredients
The secret to making a beautiful frittata is arranging the vegetables in the dish beforehand. The egg custard is then poured overtop, once baked it creates a feast for the eyes. Below is a list of ingredients needed for the recipe, with the full instructions at the bottom of the post in the recipe card.
Eggs – You'll need 8 large eggs for this recipe.
Vegetables – I used cherry tomatoes, mushrooms, and spinach in this frittata recipe. You can easily customize what veggies you add, just keep the egg and cream ratio the same.
Cheese – I used mozzarella cheese, but you can also use cheddar cheese or any other flavor you'd like.
Cream – This has a wonderfully thick and creamy consistency. Feel free to swap with canned coconut cream for a dairy-free version.
Spices – I used ground mustard, garlic powder, salt, and pepper.
Pro Tip: We find that buying a block of cheese can be more affordable than the pre-shredded versions. Typically, we like to purchase our cheese from Costco and slice it into smaller chunks freezing the extra for later. Then I shred it with the shredding blade of my rotary cheese grater.
How To Make A Mushroom Tomato Spinach Frittata
Here's how to make this quick and easy vegetable frittata (or crustless quiche):
Wash and Chop The Vegetables – Slice the tomatoes in half, dice the onion, and slice the mushrooms thin.
Place Vegetables In A Pie Dish – Add the onion, tomatoes, and spinach into the dish and toss them together so that they're evenly mixed. Next, arrange the sliced mushrooms on top evenly.
Add Mozzarella Cheese – sprinkle it over top of the vegetables.
Whisk The Eggs – Whisk the 8 large eggs in a medium bowl. Add the cream, ground mustard, garlic powder, salt, and pepper, and mix. Pour over top of the vegetables in a pie dish.
Bake – Add the frittata to the oven and bake for 40 minutes at 350°F. Check for doneness by poking a toothpick in the center of the frittata.
Common Questions
What is a frittata?
A frittata is a mixture of vegetables or meat and cheese, mixed with cream and eggs. It's
Can I use different cheese?
Medium and old cheddar cheese would work well for this frittata. You could also use white cheddar, and parmesan or feta cheese.
Is ground mustard the same as yellow mustard sauce?
While both are made from ground mustard seed, they are actually quite different. A jar of yellow mustard sauce also contains water, vinegar and other ingredients. I do not recommend adding it to the egg base as it will change the consistency of your frittata. But yellow mustard can be used as a sauce after the frittata is baked!
Can I add fresh garlic?
Yes, you could add minced raw garlic to the egg and cream mixture. Or sautee garlic with onions first and then add them to the baking dish with other vegetables.
Can I skip the cream?
A bit of cream or milk is required to create the right frittata consistency. The heavy cream can be substituted for half-and-half or milk. For a dairy-free option, almond milk, or canned coconut cream.
Recipe Baking Tips
Here are a few quick tips to make the baking process a breeze:
Spray The Pan First – An essential step, this will prevent the frittata from sticking to the pan.
Place The Pan On A Baking Sheet – Add the pan on the baking sheet directly to the oven. It helps to avoid spills while carrying the frittata and during the baking process.
Recommended Tools To Make This Recipe
Some tools I use and love to make this recipe:
Flavor Variations For Vegetable Frittata
We love spinach, mushrooms, and tomatoes in our vegetable frittata. But there are so many other ways to enjoy this easy breakfast style. Here are some more easy flavor variations to build your menu:
Kale – Instead of spinach you can try kale. Just chop it small into bite-size pieces.
Bell Peppers – Dice them and add in replacement of any vegetables.
Green Onions – An easy addition to any frittata, quiche or omelet.
Sweet Potato – Slice them thin in a mandolin slicer or shred them so they'll cook faster.
Ham – An easy addition. Chop into bite-size pieces first.
Bacon – Cook in a skillet and slice small, then add to the frittata.
Cheddar Cheese – Any cheese you prefer will work here, including cheddar cheese.
Storage Tips
This recipe is easy to make in the morning for a quick brunch idea to serve the family.
To Store – Add frittata leftovers to the fridge in an airtight container for up to a week.
To Reheat – This recipe can be heated in the oven at 350°F or in the microwave.
To Freeze – Yes, this recipe can be stored in the freezer! First, wrap each serving individually in plastic wrap or tightly inside parchment paper. Then place each serving inside a large Ziploc freezer bag. Seal tightly and remove excess air. This will keep in the freezer for up to 3 months.
A simple mushroom tomato spinach frittata is an easy healthy breakfast idea to serve for guests. We're sure you're going to love making this recipe any time you're craving a healthy egg dish.
More Breakfast Recipes
If you love the ease of a frittata, then you'll also these not-to-be-missed breakfast ideas:
Ingredients
1

cup

diced yellow onion

1

cup

cherry tomatoes

-

sliced in half

¼

cup

sliced mushrooms

1

cup

spinach

-

chopped into bite-size pieces

½

cup

shredded mozzarella cheese

-

optional

8

large eggs

½

cup

coconut cream -

or heavy cream

½

tsp

ground mustard

½

tsp

garlic powder

salt and pepper

-

to taste
Instructions
Preheat the oven to 350°F. Spray the quiche pan or pie dish. I like to use avocado oil spray.

Chop the onion and cherry tomatoes and place them in the dish.

Chop the spinach and slice the mushrooms.

Place the quiche pan on top of a baking sheet.

Add the spinach to the pan and mix with the onions and tomatoes. Arrange the mushroom slices on top.

Sprinkle with mozzarella cheese (this is optional – if you don't want to add cheese, just skip this step)

In a medium bowl whisk together the eggs, coconut cream (or heavy cream), ground mustard, garlic powder, salt and pepper.

Pour the egg mixture over top of the vegetables. Pick up the baking sheet and place it in the oven with the quiche pan on top. This makes it easier to carry and avoids any spilling.

Bake for 40 minutes or until a toothpick comes out clean when poked through the center.

Remove from oven and let cool. Slice and serve with your favorite toppings such as hot sauce, salsa, avocado, sour cream etc.
Recipe Notes:
How To Store In Fridge: This quiche can be stored in an air-tight container in the fridge for up to 1 week. These make great meal prep breakfasts or lunches! How To Store In Freezer: Let cool completely, then place individual slices into a freezer bag. Label bag with name and date, then seal tightly. These quiche slices will keep nicely in the freezer for up to 3 months. 
Nutrition
Calories:
148
kcal
|
Carbohydrates:
4
g
|
Protein:
8
g
|
Fat:
11
g
|
Saturated Fat:
7
g
|
Polyunsaturated Fat:
1
g
|
Monounsaturated Fat:
2
g
|
Trans Fat:
1
g
|
Cholesterol:
169
mg
|
Sodium:
113
mg
|
Potassium:
218
mg
|
Fiber:
1
g
|
Sugar:
2
g
|
Vitamin A:
728
IU
|
Vitamin C:
7
mg
|
Calcium:
73
mg
|
Iron:
1
mg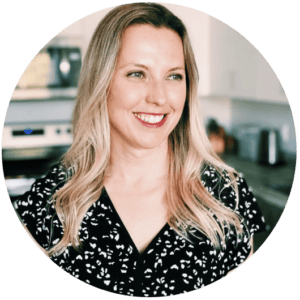 About Andi Anne
Welcome to Andi Anne! Here we focus on simple recipes that are easy to follow with lots of images to guide you along the way! We've created over 500 recipes for you to explore and try out in your own kitchen.