Need a quick dinner without a lot of work? Then you'll love this steak bites and potatoes skillet. With a few simple herbs and a tender cut of beef, it's so easy to make this dish. Garlic butter and Italian seasoning flavor the steak and potato medley perfectly.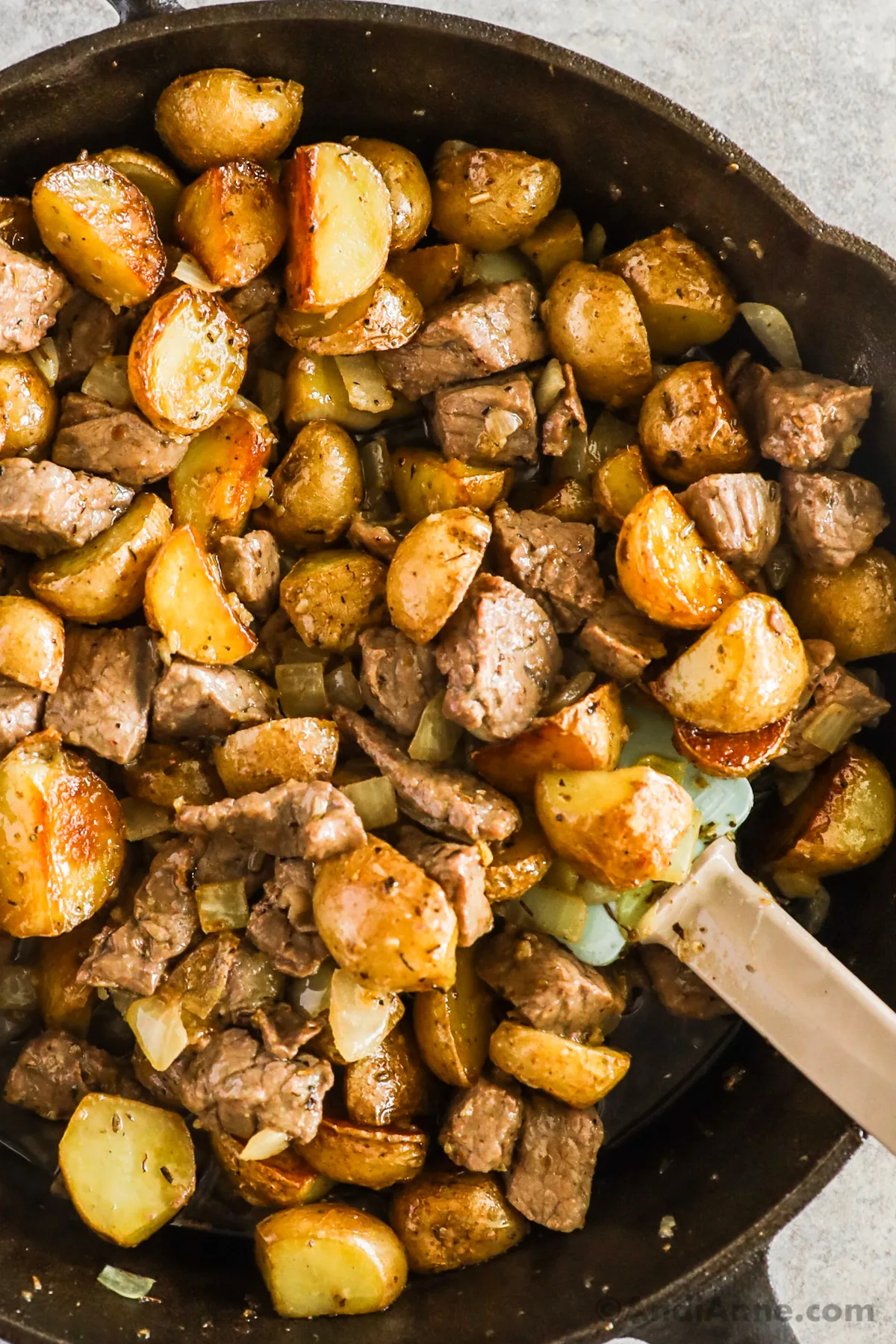 Garlic Butter Steak Bites With Potatoes
I love a quick dinner as much as the next person. Especially one that's filling and satisfying for the whole family. Skillet recipes like this steak and potatoes are perfect for any time of year, but certainly feel comforting in the colder months.
Although you can use any type of frying pan for this recipe, a cast iron pan will certainly give you the crispiest potatoes. I also prefer to use mini potatoes because the skin gets perfectly crispy and crunchy.
To make this recipe, the potatoes are cooked first in the butter and olive oil. These are tossed with Italian seasoning, onions, and garlic. Then they're removed from the pan while the steak is quickly seared on each side. The steak will cook fast so it's important to keep an eye on it.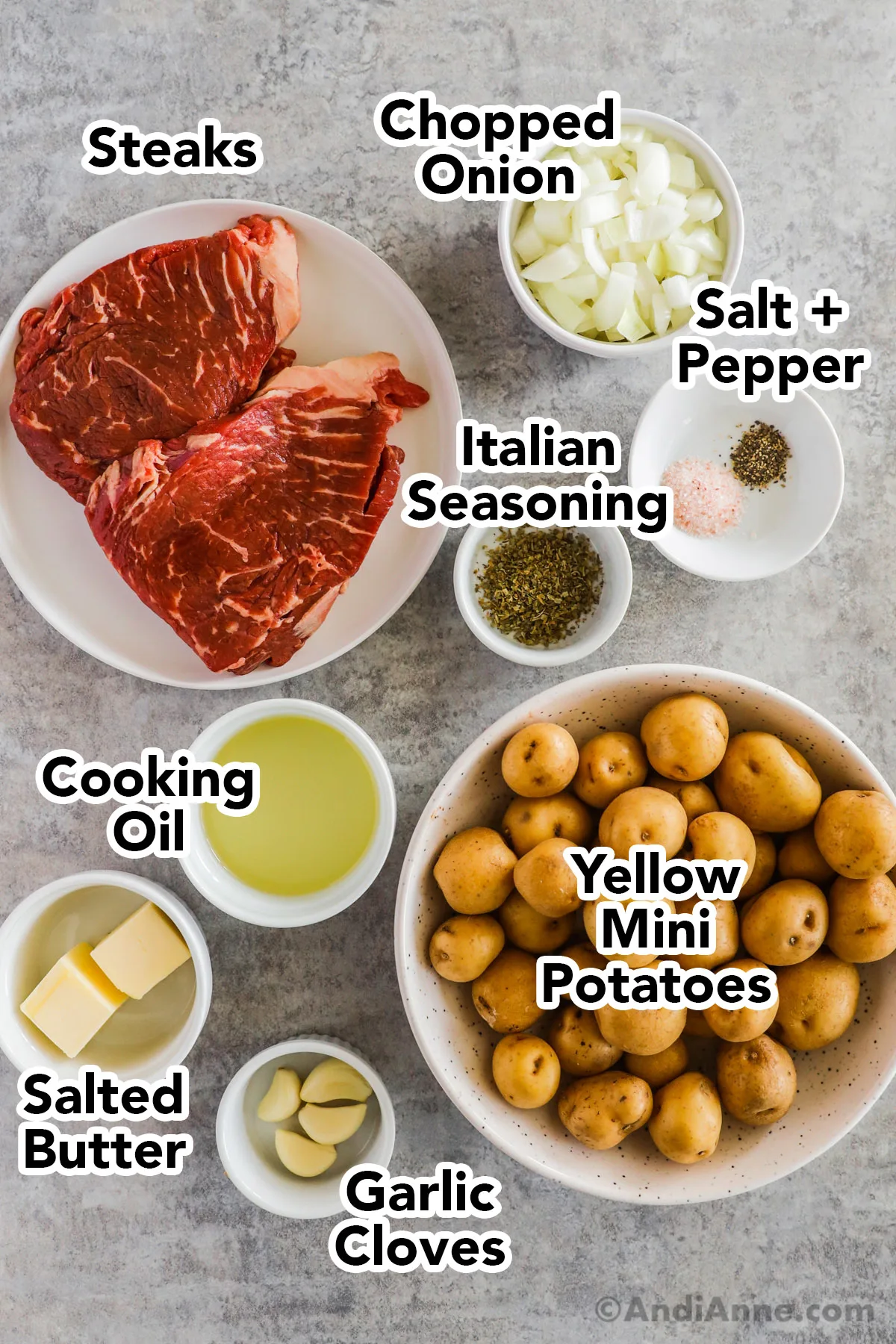 Recipe Ingredients
STEAK – Find a steak that is already tender like a rib-eye, sirloin, or a strip-loin. If you're using a different cut, you can also marinate the steak to help tenderize it before cooking. I like to leave the tender fat attached but will trim off any hard-to-chew parts before cooking.
POTATOES – Yellow mini potatoes are great because they tend to cook a little faster as they have less starch than say a Russet potato. But any potato will work in this dish. If you use a large potato, chop it small to cook faster.
YELLOW ONION – Yellow onion is quite sweet and when cooked in a pan, will caramelize better than a white or red onion.
ITALIAN SEASONING – Italian seasoning is an easy go-to that can be used in a variety of homemade dishes. I used it for this recipe. You could also use dried oregano, rosemary, and thyme.
GARLIC – We LOVE lots of garlic. You can use as many garlic cloves as you'd like here. 1/2 tsp of garlic powder will also work.
BUTTER – I used salted butter for this dish. It adds amazing flavor!
SALT & PEPPER – Before the steak bits go in the pan, make sure to season all sides with salt & pepper.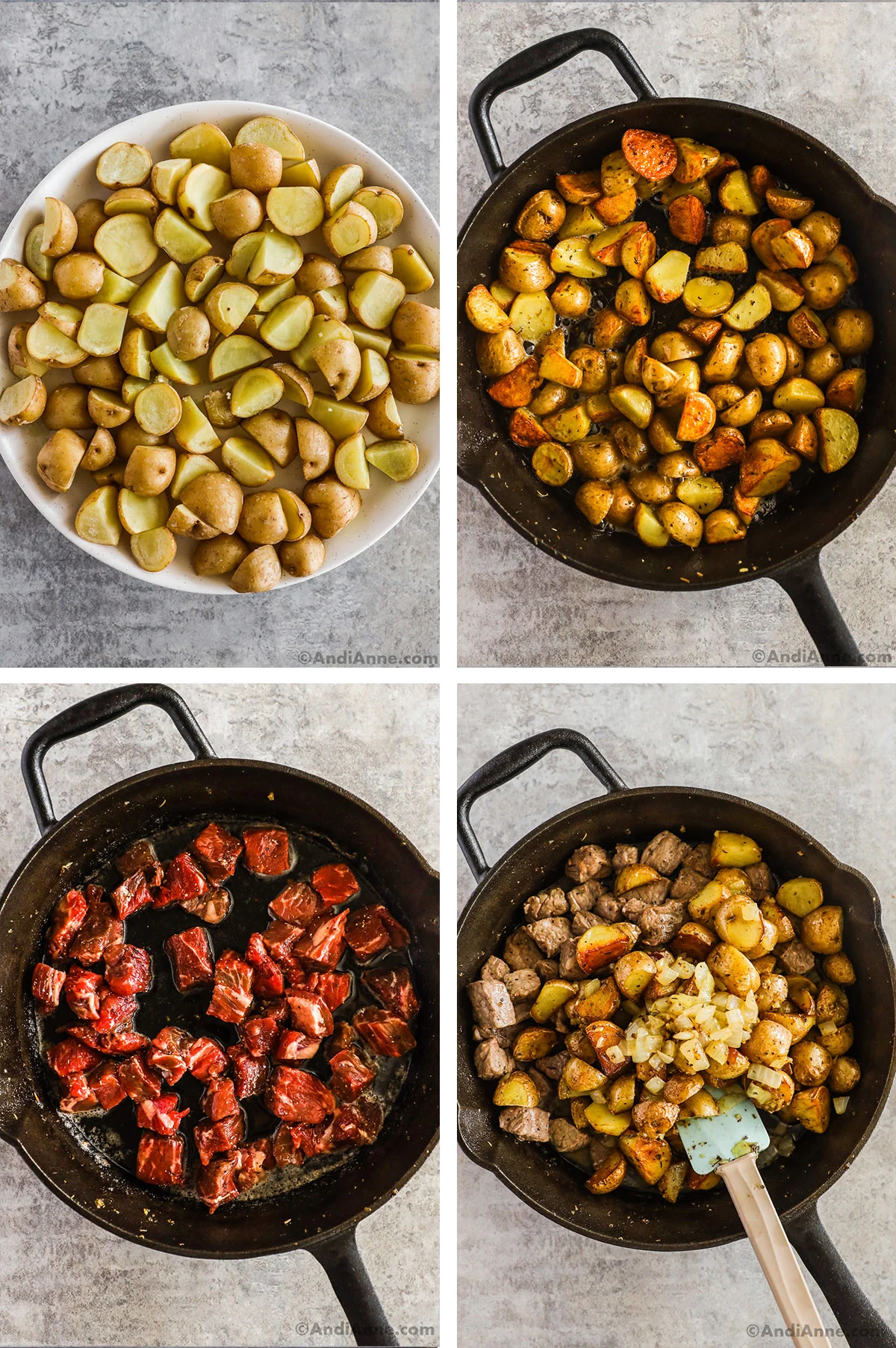 How To Make Garlic Butter Steak Bites With Potatoes
PREP – Wash and scrub the potatoes then slice them in half. Cut the raw steak into bite-sized pieces. You can include any fat trimmings to enhance the flavor or discard them (I always keep them). In a bowl, add the steak bites and season with salt & pepper by tossing.
MICROWAVE – To shorten the cooking time for the potatoes, you can microwave them for 7 minutes. No oil is needed. They just need to be cut or poked with a fork to release steam. It works like a charm!
POTATOES – Heat oil and butter in the pan. Add the potatoes and cook 5-7 minutes. Flip with a spatula as they begin to turn golden on each side.
ONIONS – Stir in the chopped onion and minced garlic. Cook 1-2 minutes. Now remove the potato mixture from the pan.
STEAK – Add the last half of the olive oil and butter. Add the steak and quickly sear on each side, no longer than 1 min per side.
ASSEMBLE – Add the potatoes back to the pan and toss everything together. Remove from heat and serve immediately.
Storing Leftovers
If you are like me, you try to make enough food to save and store for tomorrow's lunch. Here are some tips to keep that delicious flavor for later.
REFRIGERATE – Store in an airtight container or on a plate using cling wrap for up to 3 days.
REHEAT – Microwave leftovers for 2 minutes or reheat in a frying pan until heated through. These can also be reheated in the air fryer.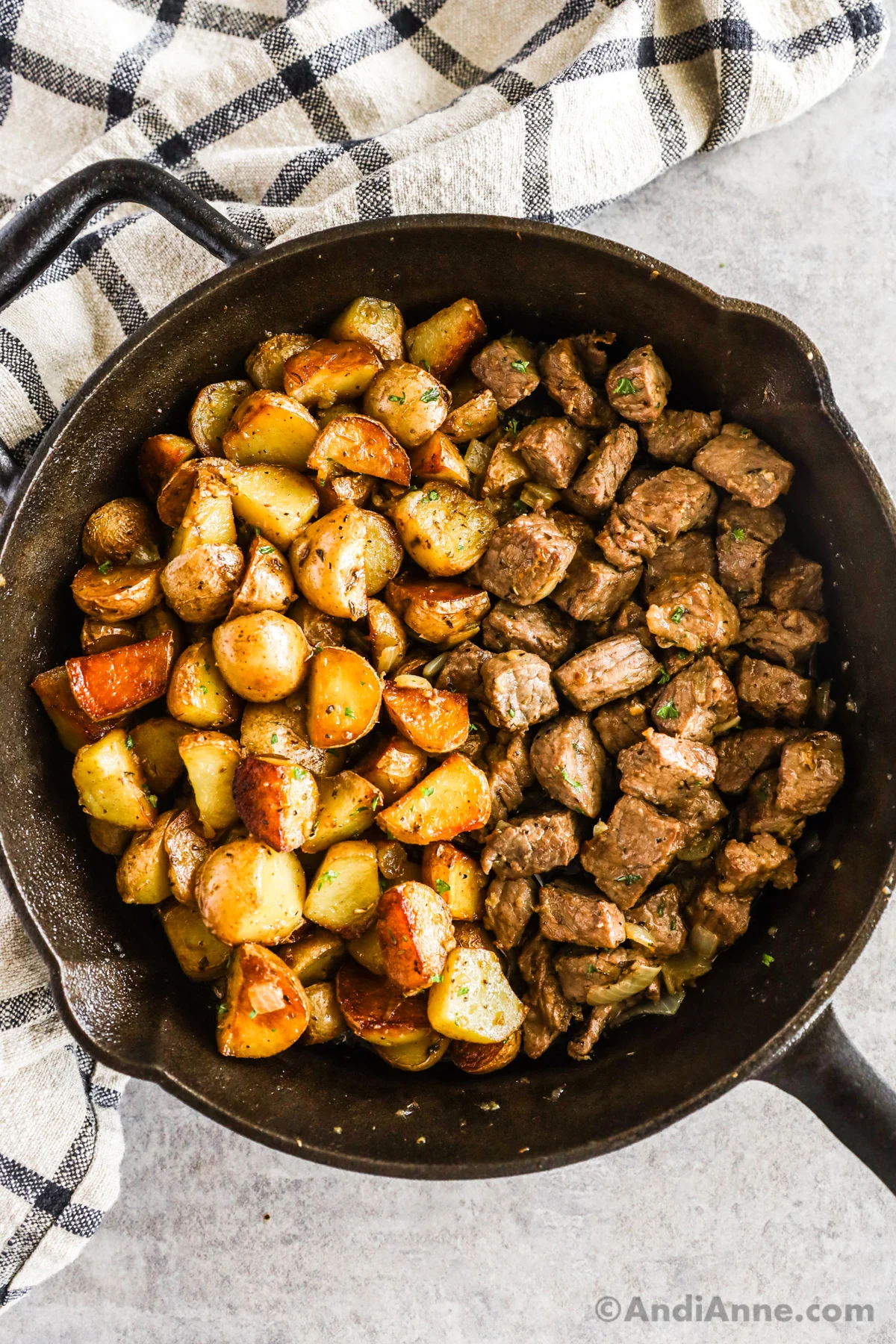 Recipe Tips
Do not overcook the steak! Overcooked steak is tough to chew and dense. Here are a few easy tips to avoid this:
Pat the steak dry before slicing. This will remove any excess moisture which can steam the steak instead of cooking it.
Season the steak bites with salt and pepper generously before cooking them.
Heat the frying pan with oil and butter until it's hot. Add the steak after the pan is already heated. This will sear the steak, trapping the juices in.
Only cook the steak until it has browned. This may only take 30 seconds before you need to flip to the other side. The steak may require only 1-3 minutes to cook to your desired doneness.
Do not leave the steak in the frying pan once it is cooked. Add steak to a plate immediately so that it doesn't continue to cook and toughen in texture.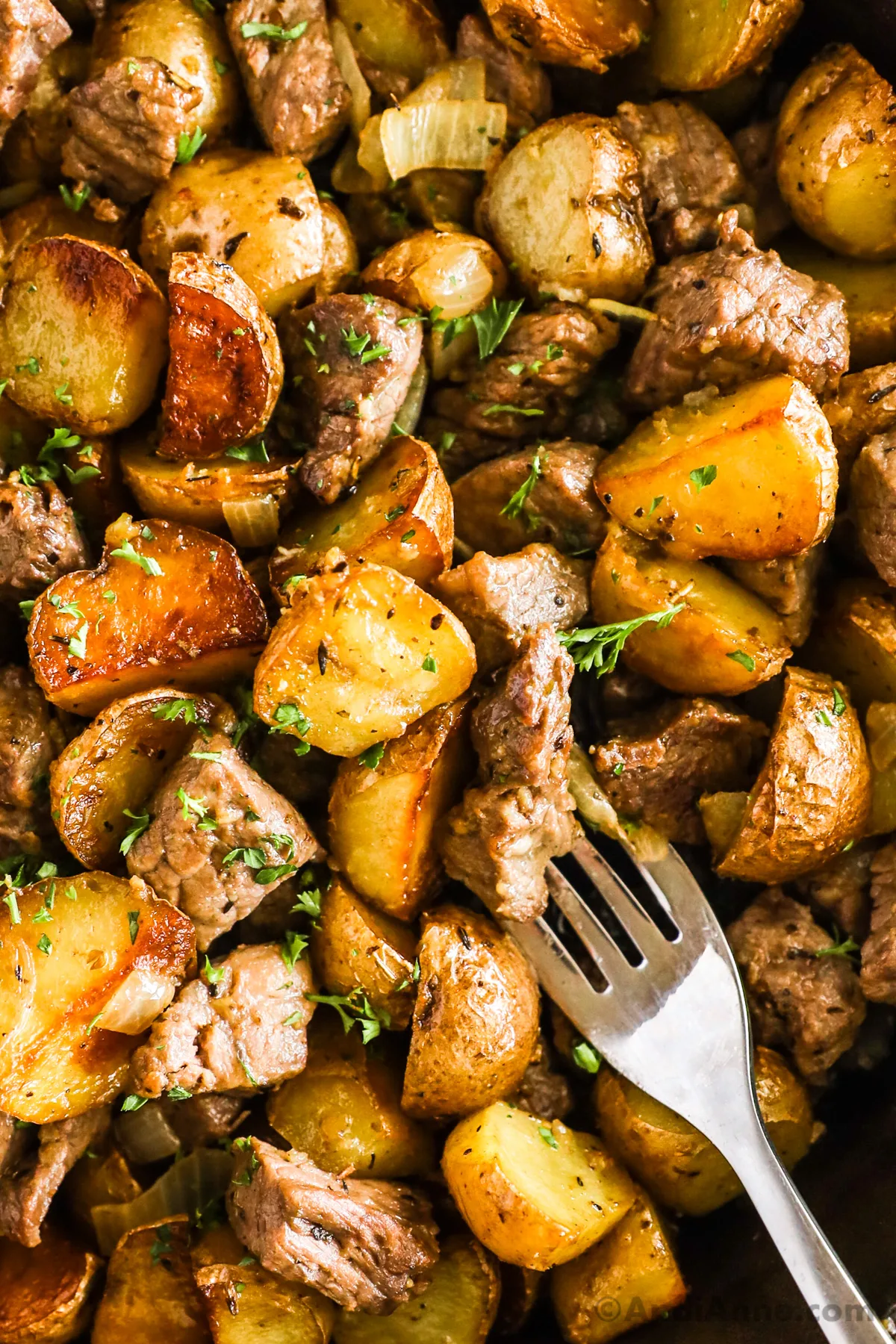 Steak bites and potatoes skillet is such an easy dinner idea, you'll wonder why you didn't try it sooner! Speed up cooking the potatoes by microwaving a few minutes before you cook them golden in the skillet. The steak bites cook fast and taste delicious with crispy potatoes and onions.
More Skillet Recipes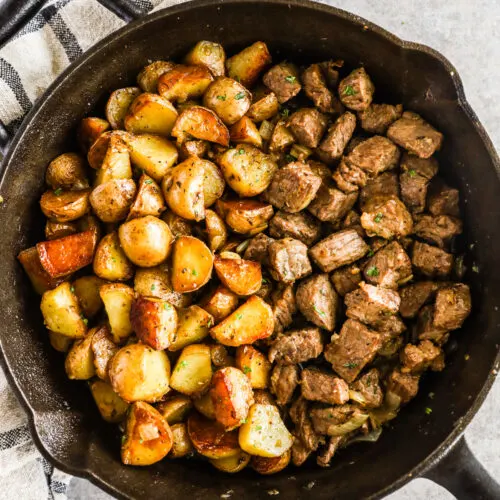 Ingredients
1

ribeye striploin or sirloin steak

-

cut into 1" pieces

½

tsp

salt

¼

tsp

ground black pepper

1

lb

yellow mini potatoes

-

halved

2

tbsp

salted butter

-

divided in half

¼

cup

olive oil -

or vegetable oil (divided in half)

1

tsp

Italian seasoning

1

cup

chopped yellow onion

2

cloves

garlic

-

diced
Instructions
Wash and scrub the potatoes, and slice them in half.

Slice the steak into bite size pieces. Season generously with salt and pepper. Let sit at room temperature for 15-20 minutes.

Add the potatoes to a microwave-safe dish in a single layer. Microwave for 7 minutes. They should be slightly tender when poked with a fork.

Place a large cast iron skillet on the stove at high heat for about 1-2 minutes. Your pan should begin to smoke a little. Reduce heat to medium-high then add half the oil. Work the oil all around the pan to cover any surface where the food will touch.

Now add half the butter to the pan. Let that melt then add the microwaved potatoes and Italian seasoning. Toss everything together and let that cook for 5-7 minutes while occasionally flipping with a spatula.

Now add the onion, then continue cooking for another 2-3 minutes until potatoes are golden and crispy.

Scoop everything onto a dish and set aside.

Using the same cast iron skillet, return to medium-high heat. Add the last half of the olive oil and butter. Add the steak pieces and sear each side just until browned, no more than 1 minute per side.

Remove the pan from the heat. Add back the potatoes and mix everything together. Serve immediately.
Nutrition
Calories:
526
kcal
|
Carbohydrates:
33
g
|
Protein:
19
g
|
Fat:
36
g
|
Saturated Fat:
12
g
|
Polyunsaturated Fat:
3
g
|
Monounsaturated Fat:
20
g
|
Trans Fat:
0.3
g
|
Cholesterol:
66
mg
|
Sodium:
499
mg
|
Potassium:
937
mg
|
Fiber:
5
g
|
Sugar:
3
g
|
Vitamin A:
261
IU
|
Vitamin C:
34
mg
|
Calcium:
53
mg
|
Iron:
3
mg
The nutritional information provided is an estimate and is per serving.