Strawberry chia jam recipe is the perfect healthy alternative to store-bought jam. It's made with three simple ingredients and doesn't require any preserving methods.
You can make this jam from start to finish in under 20 minutes!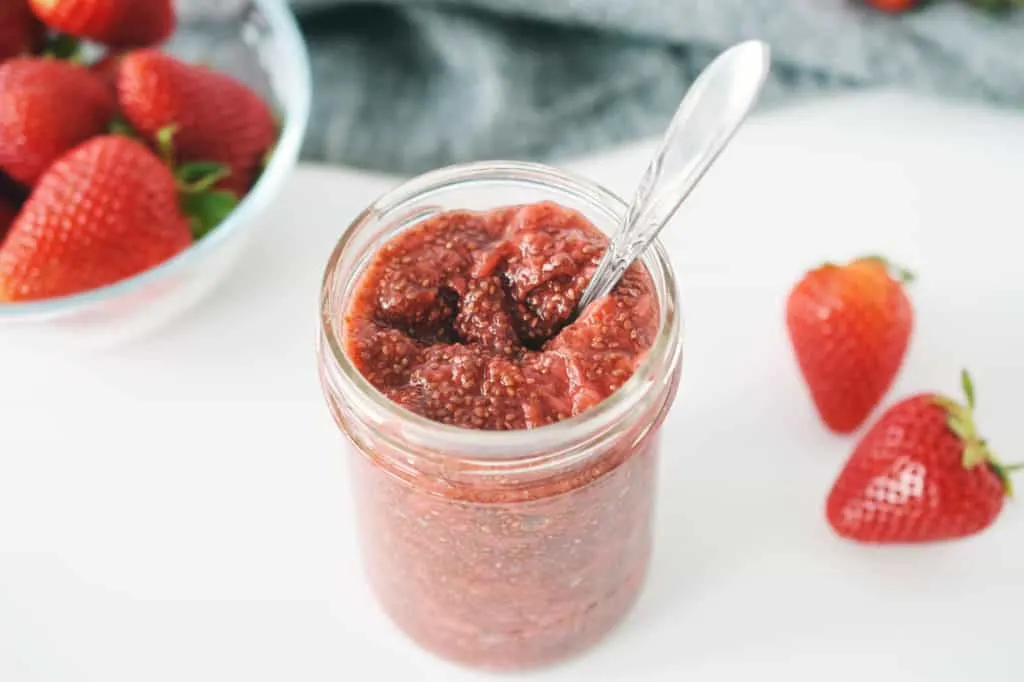 WHAT IS STRAWBERRY CHIA JAM?
chia jam is like a healthier version of the jam you're used to. Typical store-bought jams and jellies are loaded with waaaay too much sugar. We all know that we should eat less sugar and that it isn't very good for us. And the jam is one of the 10 ways that sugar is sneaking into your diet.
This jam works a little differently – you're not using pectin as a thickener to create it. Instead, the chia seeds do all the work.
And there's no need to do the traditional preserving method which can get really tedious and time-consuming. This jam will last about 10 days in the fridge – but mine is usually long gone before then.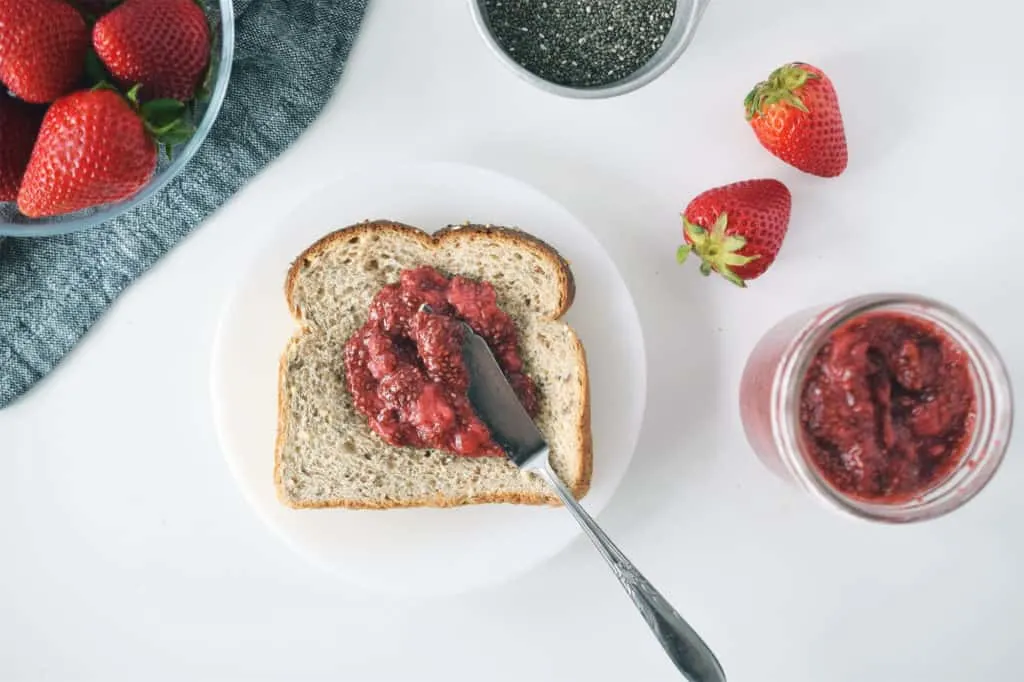 WHAT ARE CHIA SEEDS?
Chia seeds are high in fiber and a great superfood. If you've never used them before, you might be surprised when you add them to water… Chia seeds soak up 10 times their weight in water and will produce a gel coating when soaked. This is great for digestion as it helps you feel fuller longer because they immediately expand in your stomach when you eat them (1)
ARE CHIA SEEDS HEALTHY?
Yes! Chia seeds are among the healthiest foods on the planet. They are really high in fiber which is great for your digestive system. They can help to give you more energy, balance blood sugar, aid in weight loss and even improve brain function. Basically, they're a wonderful superfood that we should all try to eat regularly.
WHERE DO YOU BUY CHIA SEEDS?
You can buy chia seeds at your local health food store. I like to purchase mine from the bulk section because they tend to be cheaper. They may also be available in the "health foods" section at your regular grocer. If you can't find them there you can also purchase online here.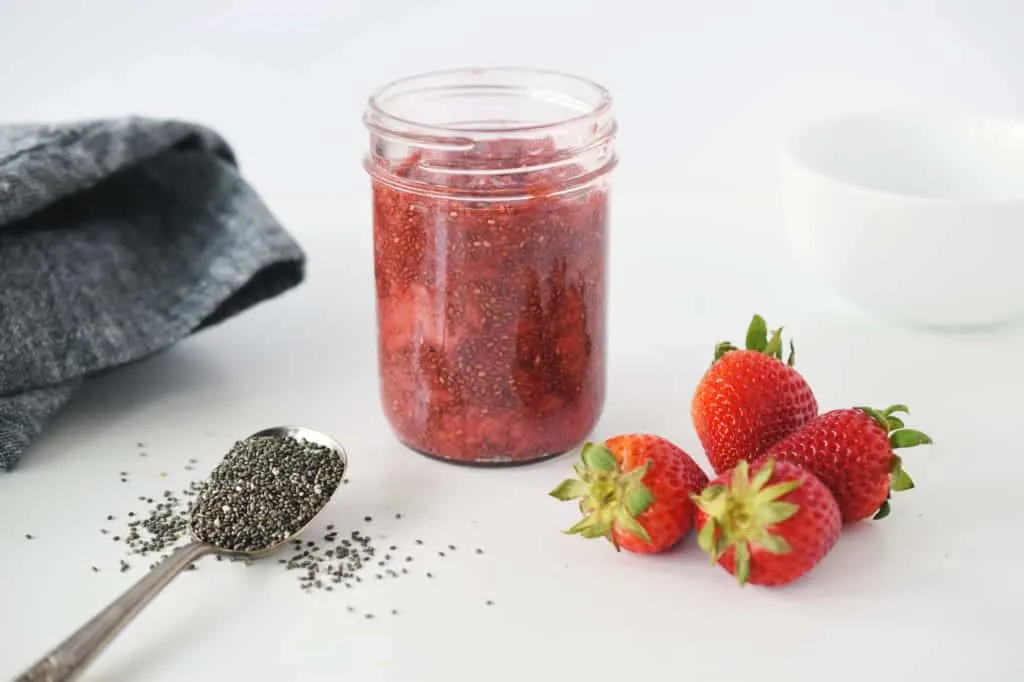 HOW TO USE STRAWBERRY CHIA JAM
The options for using strawberry chia jam are endless.
Spread it on toast or a bagel with pumpkin seed butter.
Make a peanut butter and jelly sandwich.
Add it to chia pudding.
Use it on top of desserts, on crackers, on oatmeal, with yogurt, with cheese, and anything else you can think of.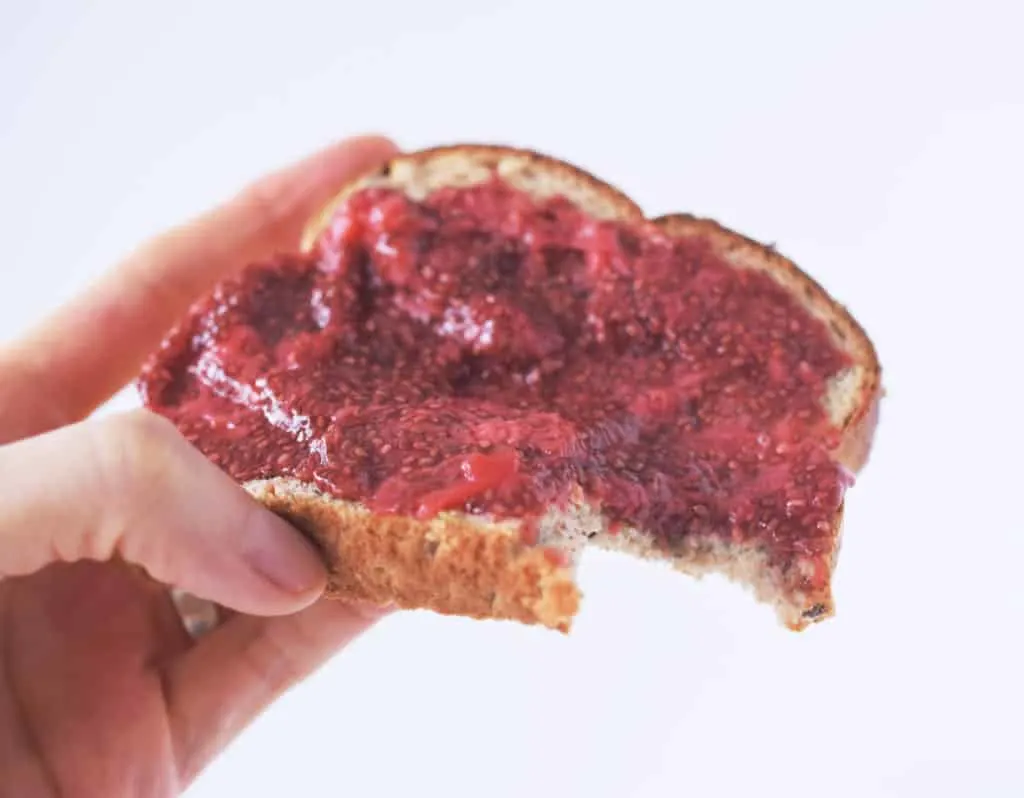 CAN YOU USE DIFFERENT BERRIES FOR CHIA JAM?
Yes absolutely! Basically, any fruit that you would use to make normal jam, you can use here. Blueberries, raspberries, apricots, mangoes, and blackberries would all be delicious!
You can also use fresh or frozen fruit to make your chia jam. I would strain any berries that have lots of seeds (like raspberries) before making the jam – but that's just my personal preference.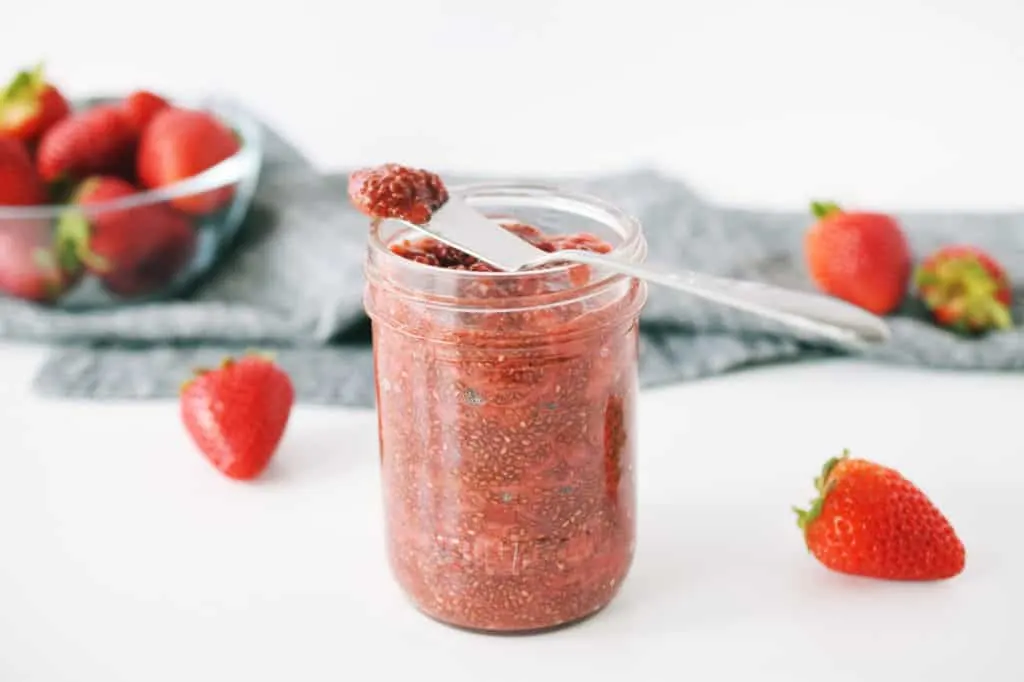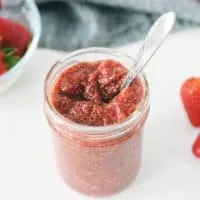 Strawberry Chia Jam
Strawberry chia jam is the perfect healthy alternative to store-bought jam. It's made with three simple ingredients and loaded with healthy fiber. You can slather this delicious recipe on toast, oatmeal, yogurt and so much more.
Save Recipe!
Saved!
Pin This
Print It
Instructions
Add the berries and maple syrup to a saucepan.

Bring to a boil and reduce to low and let simmer for 10-15 minutes or until the mixture begins to thicken. Stir occasionally, and mash the berries with a fork along the way.

Remove the pot from heat and stir in the chia seeds. The mixture will start to thicken at this point. Let cool a bit, then add to a mason jar. Once the jam has fully cooled, seal with the lid and store in the fridge for 1-2 weeks.
Nutrition
Calories:
54
kcal
|
Carbohydrates:
10
g
|
Protein:
1
g
|
Fat:
1
g
|
Saturated Fat:
1
g
|
Trans Fat:
1
g
|
Sodium:
2
mg
|
Potassium:
90
mg
|
Fiber:
2
g
|
Sugar:
6
g
|
Vitamin A:
7
IU
|
Vitamin C:
21
mg
|
Calcium:
42
mg
|
Iron:
1
mg
The nutritional information provided is an estimate and is per serving.