These Swedish meatballs are made with extra lean ground beef and a gravy sauce that's full of flavor. This recipe is gluten-free, dairy-free, paleo and keto friendly! If you love traditional Swedish meatballs but can't eat them due to dietary restrictions (like myself) then you'll definitely want to try this recipe!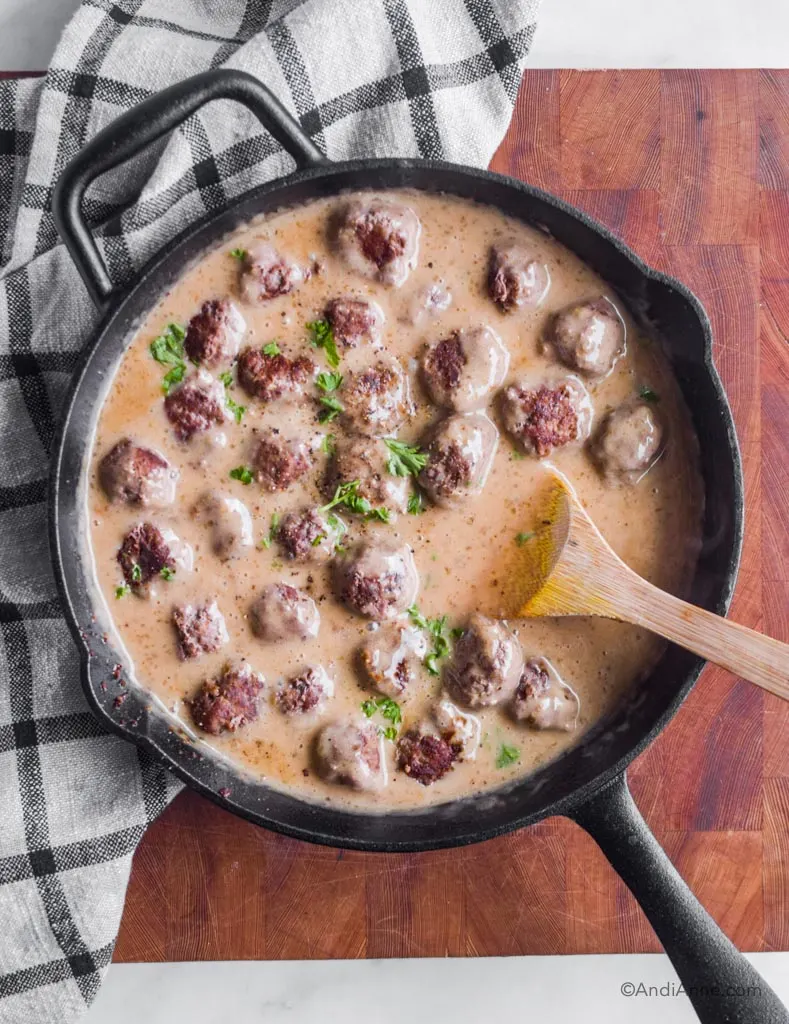 Swedish Meatballs
I have a Norwegian background – my dad was born in Norway and moved to Canada when he was a young boy. We've always celebrated our Scandinavian background with a variety of recipes. I remember going over to my grandpa's house and eating lefse, krumkake, gjetost cheese and pickled herring.
In my teenage years, my family went to Norway for a month-long trip. It was a very big deal for us – we met many distant relatives, we ate a variety of delicious recipes and my father still talks about this time so fondly.
Now that my grandfather has passed and my father is in a wheelchair due to his MS, I am very interested in recreating some of these traditional recipes. My goal is to use healthier ingredients that can suit our diet changes. My father is diabetic and I am on a candida-free diet.
This means using gluten-free ingredients, dairy-free and sugar-free when possible. I plan to share more of these recipes on my blog with anyone who is also looking for traditional Scandinavian recipes but with dietary restrictions.
This brings me to Swedish meatballs. This is a wonderful classic recipe that many people know and love – but with a healthier twist.
Today I've made the meatballs without any bread crumbs or grains. The sauce is thickened with arrowroot powder – a wonderful substitution to flour when you're making any gravy sauce.
I'll walk you through the steps to make this recipe below, and you can find the full recipe card at the bottom of this post.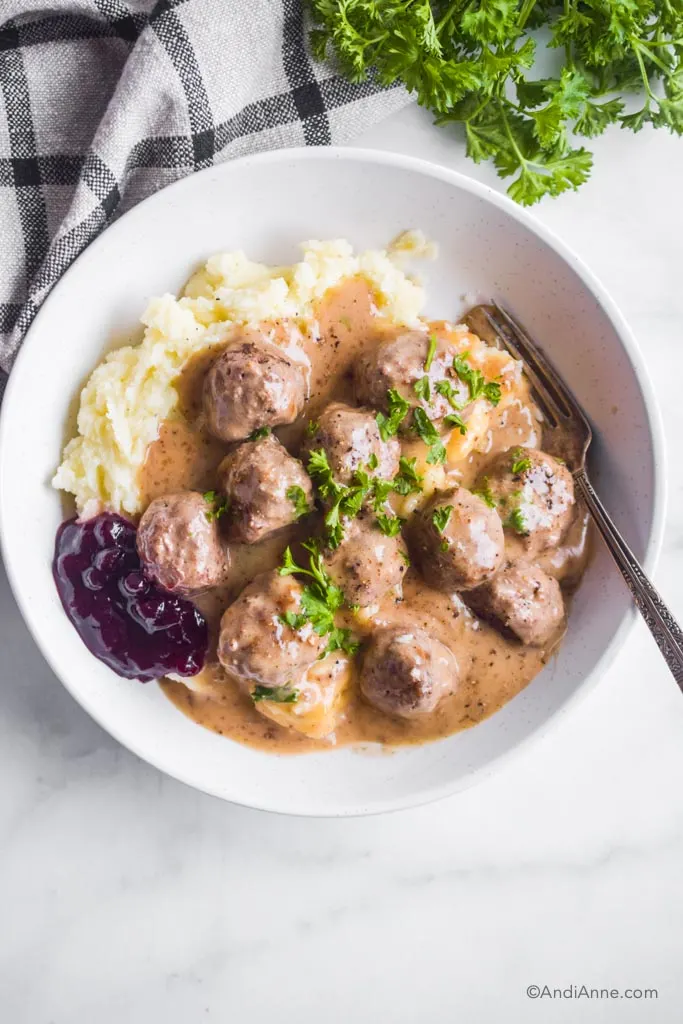 Swedish Meatball Ingredients
This recipe is made in two main steps, the meatballs and the gravy sauce. Here's an overview of what you'll need including some substitution ideas:
Meatball Ingredients
Extra Lean Ground Beef – I highly recommend using extra lean ground beef. You'll get less grease which will make these meatballs healthier.
Arrowroot Flour – Instead of using flour or breadcrumbs like classic meatball recipes do, this recipe uses arrowroot flour. It's a great multi-purpose ingredient to have in your pantry that also happens to be gluten-free! You can use arrowroot flour to thicken soups, pies and gravies in replacement of traditional flour.
Spices – To add flavor to the meatballs, you'll need garlic powder, onion powder, allspice and nutmeg.
Egg – You'll need one egg to help hold the meatballs together.
Sauce Ingredients
Coconut Oil – I used coconut oil to make the sauce. You can also use avocado oil or any other cooking oil you prefer.
Arrowroot Flour – To thicken the sauce you can use the same arrowroot flour that you used for the meatballs.
Beef Broth – You can use beef broth or chicken broth to add flavor to the sauce.
Coconut Cream – This will add a creamy consistency to the sauce without using dairy. Look for a can of coconut cream, not coconut milk.
Sauces – You'll also need gluten-free soy sauce, worcestershire sauce, and dijon mustard.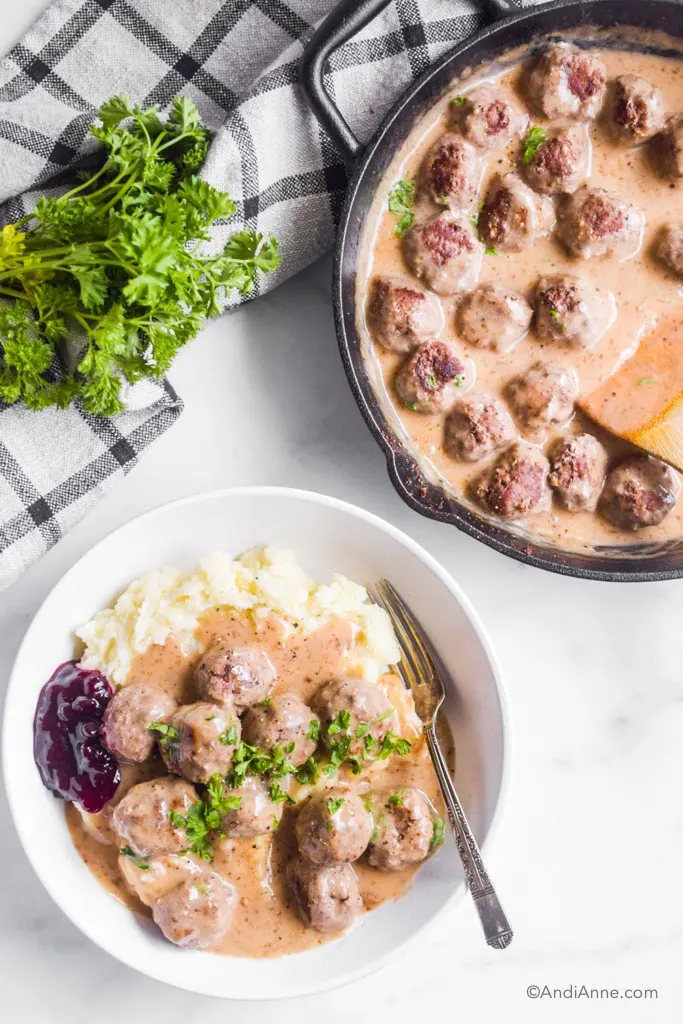 How To Make Gluten-Free Swedish Meatballs
Make Meatballs – In a large bowl, assemble the meatball ingredients. Add the extra lean ground beef, arrowroot flour, spices and egg. Mix together thoroughly and break apart the ground beef with a wooden spoon.
Cook Meatballs – Heat the frying pan with cooking oil, add the meatballs and brown on all sides. Once cooked, add them to a plate and drain excess grease from the pan.
Make Sauce – The gravy is prepared in steps in the frying pan over low heat. First you'll mix the coconut oil and arrowroot flour, whisking frequently. Next you'll add the beef broth slowly, whisking again. After that, the coconut cream and sauces are mixed in. The sauce is cooked for a few more minutes to help thicken.
Serve – Add the meatballs back into the sauce and heat for a few minutes, then serve.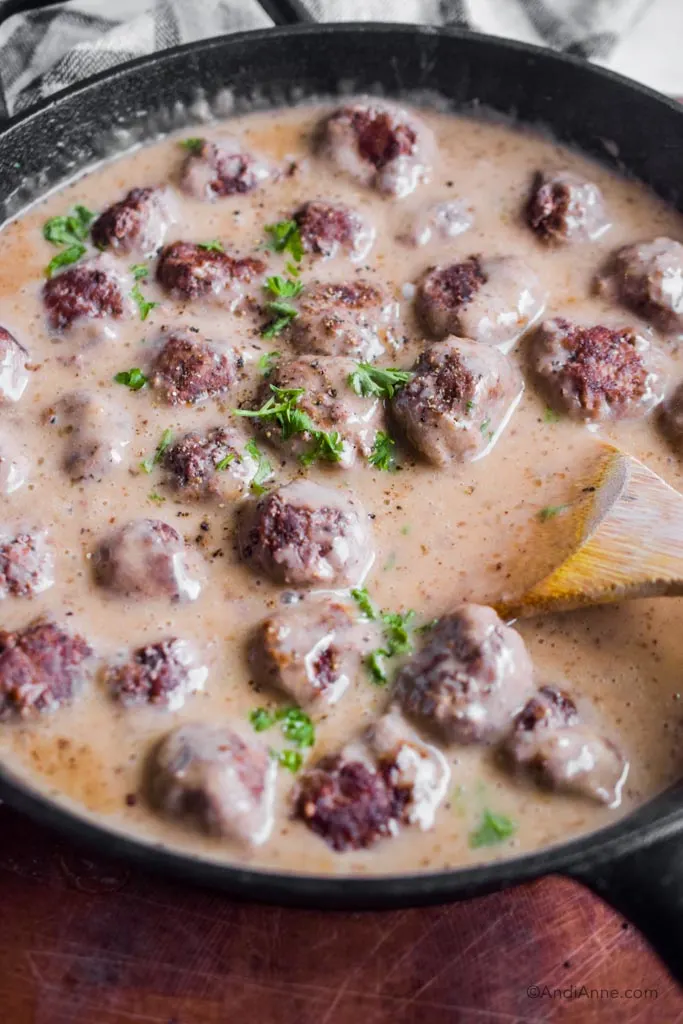 What To Serve Swedish Meatballs With
Mashed Potatoes – Traditionally, Swedish meatballs are served with simple mashed potatoes. You can make them dairy-free by adding coconut cream instead of milk while mashing.
Mashed Cauliflower – For anyone following a keto diet you can substitute mashed potatoes with mashed cauliflower.
Other Options – You could also serve swedish meatballs on a bed of rice or quinoa, with pasta or mashed sweet potatoes.
Lingonberry Jam – Swedish meatballs are traditionally served with lingonberry jam. I was able to find some online and wanted to create the true experience for my father. You can also use cranberry jam or a sugar-free blueberry jam as a substitute.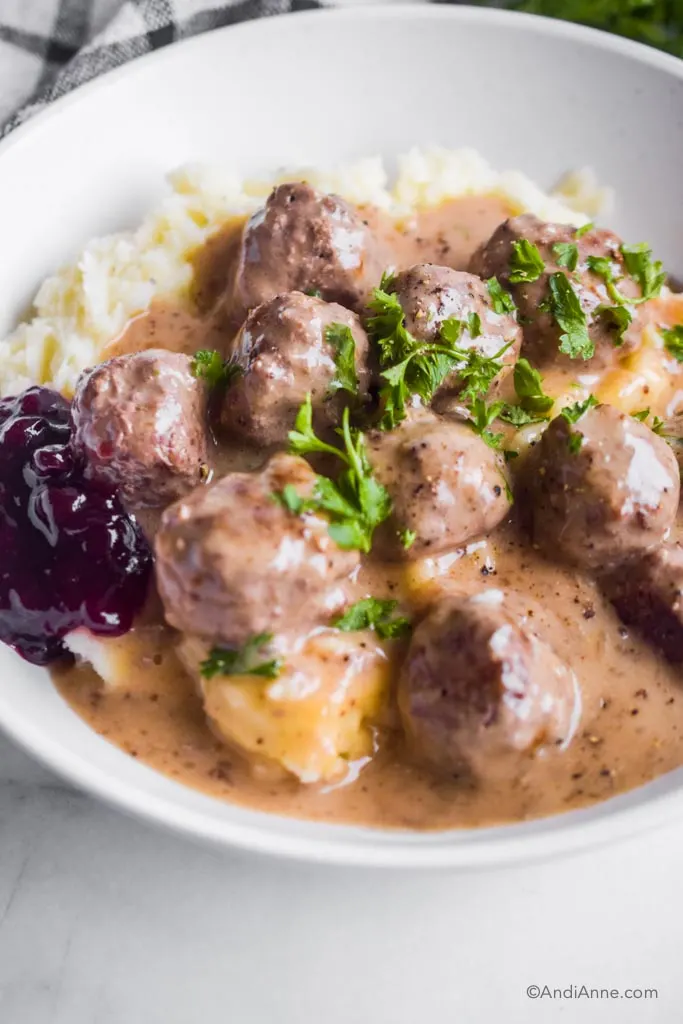 More Meatball Recipes
Here are some more meatball recipes to try:
FOLLOW ALONG: Subscribe to my newsletter and follow along on Youtube and Facebook and for the latest updates, recipes and content! If you love this recipe, give it a star rating ★ below.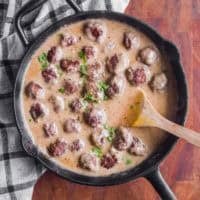 Swedish Meatballs (Gluten-Free, Dairy-Free)
These Swedish meatballs are made with extra lean ground beef and a gravy sauce that's full of flavor. This recipe is gluten-free and dairy-free.
Save Recipe!
Saved!
Pin This
Print It
Ingredients
Serve It With:
2

russet potatoes

-

boiled and mashed (optional)

¼

cup

lingonberry jam -

optional
Instructions
Meatballs:
Add the ground beef to a large bowl. Break it up with a spoon.

Add in the arrowroot flour, garlic powder, onion powder, allspice, nutmeg and egg. Mix together and continue to break up the pieces.

The ground beef will look evenly mixed and crumbled.

Use a spoon or cookie scoop to roll the ground beef mixture into meatballs. Repeat until all of the ground beef has been used.

Heat a skillet over medium-high heat with a bit of coconut oil. Add the meatballs in a single layer.

Cook and brown on each side. You can flip them with a fork as you go.

Once the meatballs are browned, add them to a plate with paper towel.

Drain and scrape off any excess grease and ground beef bits from the frying pan.

Lower the heat and add 3 Tbsp of coconut oil and arrowroot powder to the frying pan. Whisk together frequently – you might need to remove the pan from the heat source if it's too hot.

Add in the broth slowly, stirring frequently. The sauce will begin to thicken at this point.

Now add the coconut cream, soy sauce, dijon mustard, worcestershire sauce, salt and pepper. Mix together and let the sauce simmer until it reaches a desired thickness. The sauce should resemble a runny gravy consistency.

Add back in the meatballs and heat for 2 minutes.

Serve alongside mashed potatoes (or anything else you prefer) and lingonberry jam (or blueberry jam). Enjoy!
Nutrition
Calories:
455
kcal
|
Carbohydrates:
26
g
|
Protein:
28
g
|
Fat:
27
g
|
Saturated Fat:
21
g
|
Polyunsaturated Fat:
1
g
|
Monounsaturated Fat:
4
g
|
Trans Fat:
1
g
|
Cholesterol:
98
mg
|
Sodium:
499
mg
|
Potassium:
865
mg
|
Fiber:
2
g
|
Sugar:
4
g
|
Vitamin A:
211
IU
|
Vitamin C:
6
mg
|
Calcium:
36
mg
|
Iron:
5
mg