This cauliflower soup recipe is rich in flavor and loaded with healthy ingredients. Easy to make, this soup is full of goodness including roasted cauliflower and onion in a simmering broth. Nothing tastes better than a warm cozy cup of soup!
Lately I've been making a batch of this soup for my lunches. It's so easy to whip up in the afternoon and eat throughout the week. I like to eat my lunch with two hard boiled eggs (a great protein source).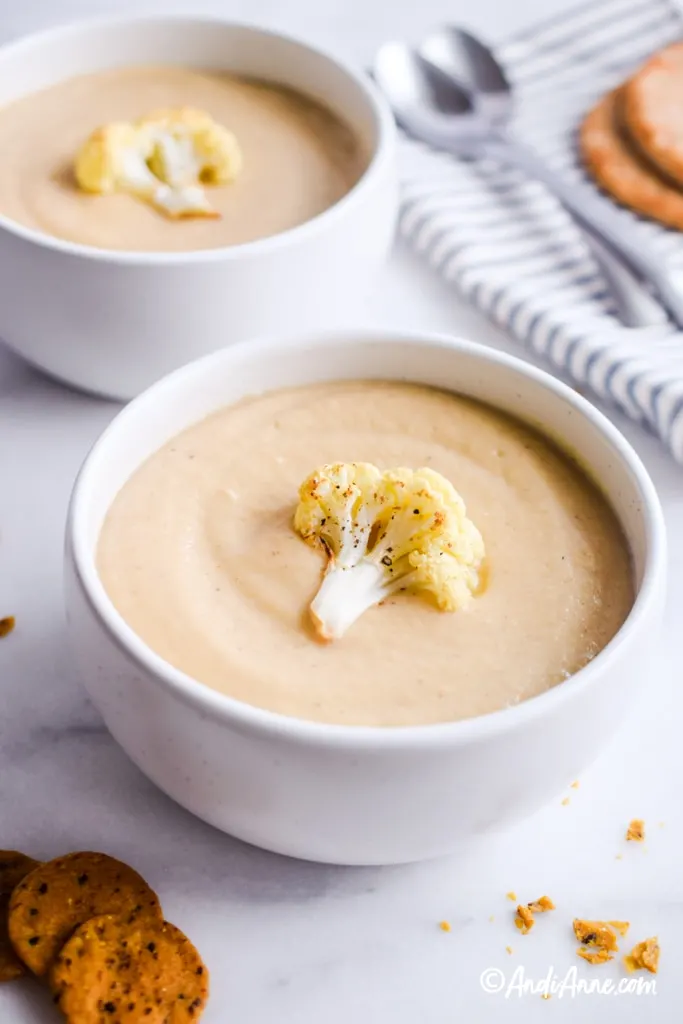 How To Make The Cauliflower Soup Recipe From Scratch
Roasted Cauliflower
Roasted cauliflower is the base of the entire recipe. By roasting the cauliflower you will create a rich, caramelized flavor.
Wash the cauliflower, then carefully cut out the stem.
Cut the cauliflower in half, then cut into smaller pieces that will be placed in a single layer on the baking sheet.
Drizzle olive oil on top of the pieces and generously season with sea salt and pepper.
Roasting the cauliflower will take about 30 minutes, and will be finished when the cauliflower starts to turn golden around the edges.
ONION – The onion can be roughly chopped as it will be blended later on.
VEGETABLE BROTH – You can use water or vegetable broth for this recipe. However, I find the vegetable broth adds more flavor to the soup.
BUTTER – this is the secret ingredient to a rich and creamy flavor. The butter gives this soup that perfect finishing touch that makes your want to enjoy more and more of the soup.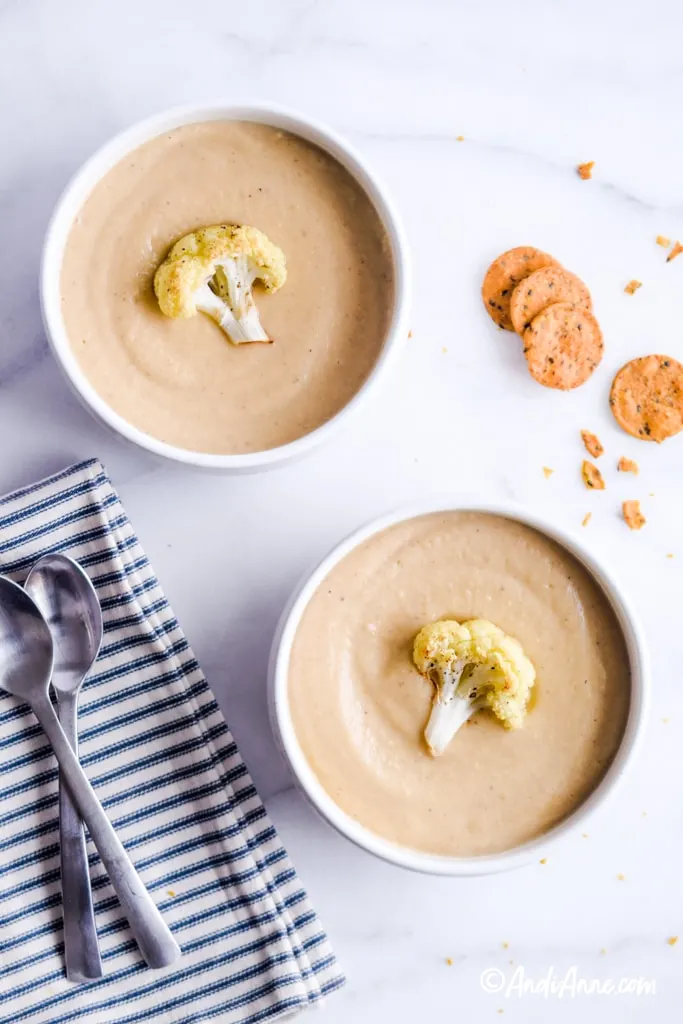 How To Thicken Cauliflower Soup
You might be wondering if you need to thicken the cauliflower soup recipe. But actually, the cauliflower is a wonderful thickener itself. Raw cauliflower works great in smoothies for this reason – but we'll save that story for another day. So there's no need to thicken this soup more because the cauliflower will do the job for you.
Soup Leftovers
The leftovers of this cauliflower soup recipe can easily be stored in an airtight container in the fridge for up to a week. I find there are about four servings so it probably won't last much longer.
This cauliflower soup can also be frozen. You can pour it into a silicone soup container which will freeze it into portion sizes, then add to a freezer bag for easy lunches for the family.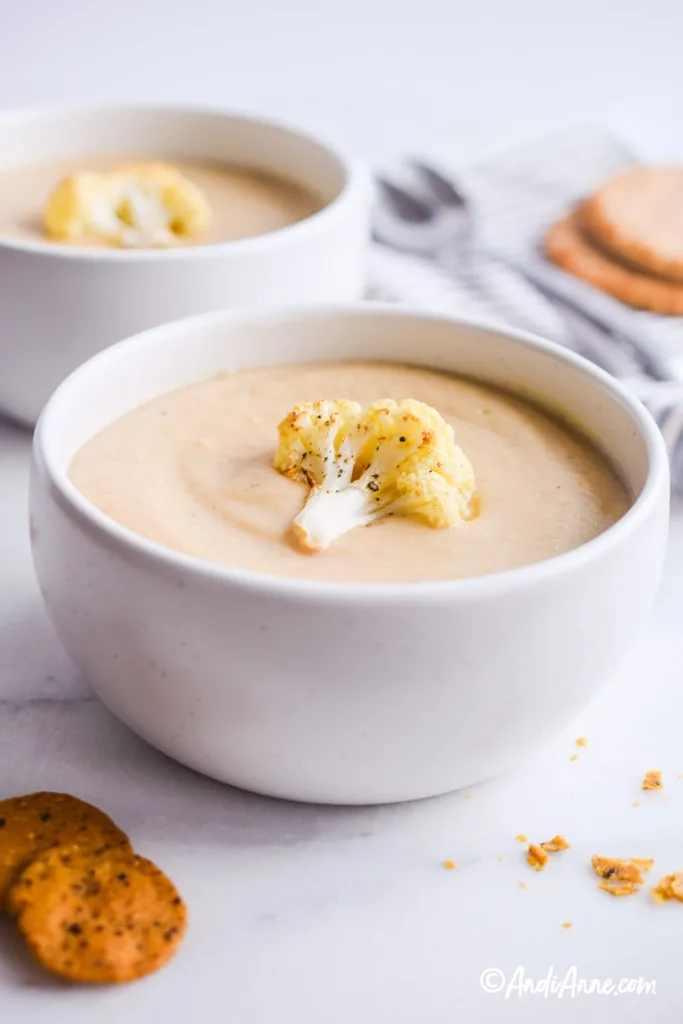 More Soup Recipes: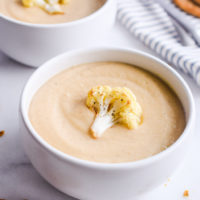 Cauliflower Soup Recipe
This cauliflower soup recipe is rich in flavor and loaded with healthy ingredients. Nothing tastes better than a warm cozy cup of soup!
Save Recipe!
Saved!
Pin This
Print It
Ingredients
1

cauliflower head

-

stem removed and chopped in to small pieces

sea salt and pepper

1

onion

-

chopped

3

garlic cloves

-

minced

4

cups

vegetable broth

2

Tbsp

salted butter
Instructions
Roast The Cauliflower:
Preheat the oven to 425°F. Line a baking sheet with parchment paper.

Wash and chop up the cauliflower, first removing the stem. Cut into small uniform pieces. Place in a single layer on the baking sheet. Drizzle with olive oil, salt and pepper.

Bake for 30-35 minutes, or until edges of cauliflower begin to golden. Remove from oven and set aside.
Make the Soup:
In a large pot over medium high heat, add the onion and oil. Cook until onion becomes translucent, about 2-3 minutes.

Stir in the minced garlic and cook for 1 minute.

Pour in vegetable broth and add roasted cauliflower. Generously season with sea salt and pepper. Let the soup simmer for 10-15 minutes.
Blending The Soup:
Remove soup from heat source and let it cool. Using a ladle, pour just enough soup into the blender so that the container is 1/4 full or half full (Never fill a blender with hot liquid all the way to the top). Add half of the butter to the blender.

Seal container with lid and start blending on lowest setting (or use pulse option). Slowly Turn up to highest setting until creamy and smooth, then turn off.

Pour soup into a medium sized bowl, then repeat the blending process with rest of soup. Once all soup is added to the bowl, give it a quick stir and add to scoop into serving bowls.
Nutrition