Zucchini Cheddar Beer Bread is a perfect way to use up a surplus of fresh garden zucchini. It's simple to make and uses your favorite beer as a main ingredient. You will LOVE the smell of this incredible recipe as it bakes in the oven! Nothing beats a fresh loaf of homemade bread topped with butter and served alongside a main dish.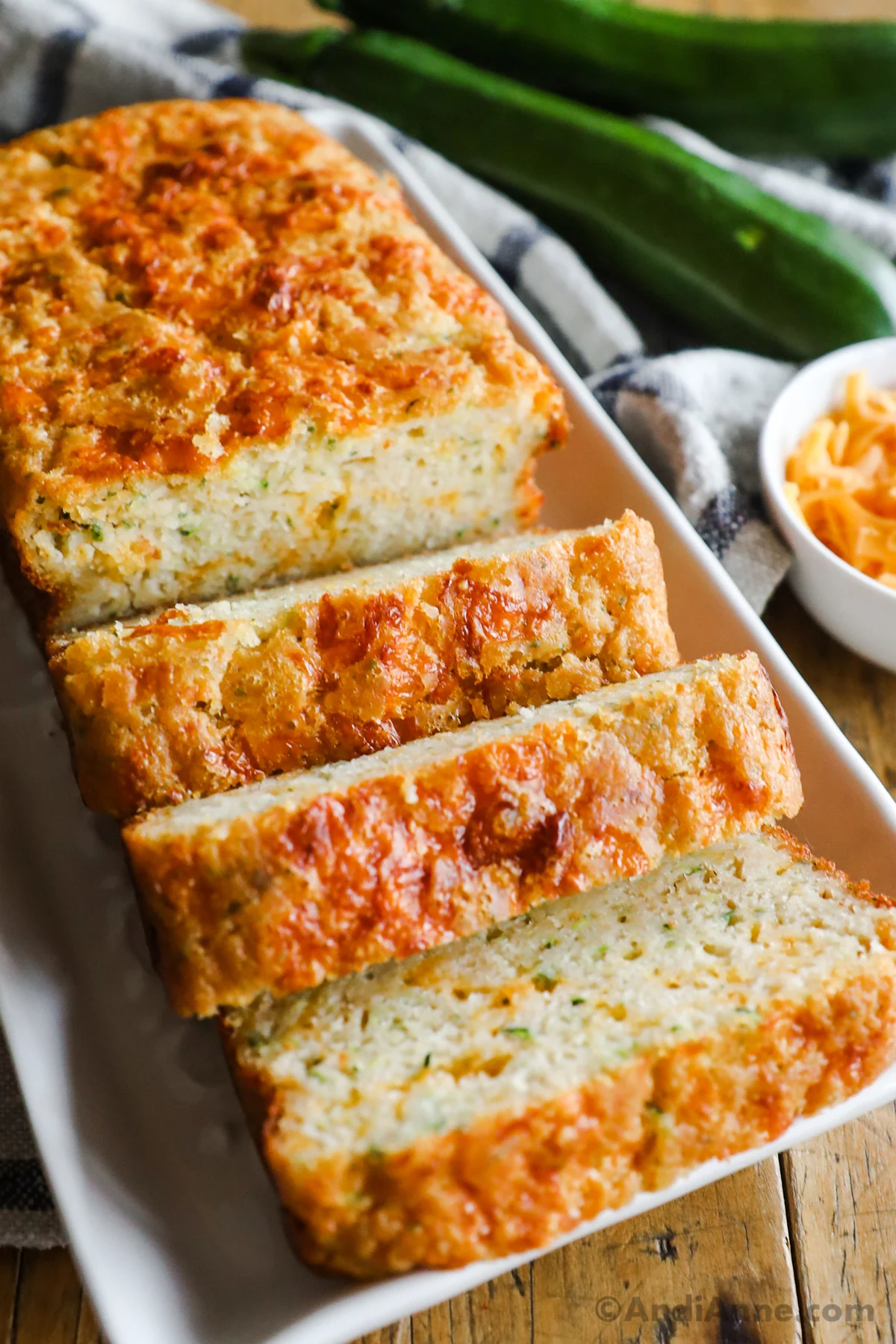 Cheddar Beer Bread With Zucchini
If you have a garden, chances are you planted a row of zucchinis. And if you're like me, you harvested so many that you don't know what to do with them. Well, this recipe is a perfect way to use them (or try our whole wheat zucchini bread). And if you didn't plant a garden, you can find zucchini super cheap at the farmer's market!
Fall marks the end of the year when temperatures begin to dip and we begin to yearn for roasts, stews and homemade soups. Zucchini Cheddar Beer Bread pairs wonderfully with meals like my Turkey Stew or Sweet Potato Beef Stew.
So, grab your favorite beer and let's bake some bread!
Cheddar Zucchini Beer Bread Video
Watch my easy tutorial video to see just how easy making pumpkin bread really is.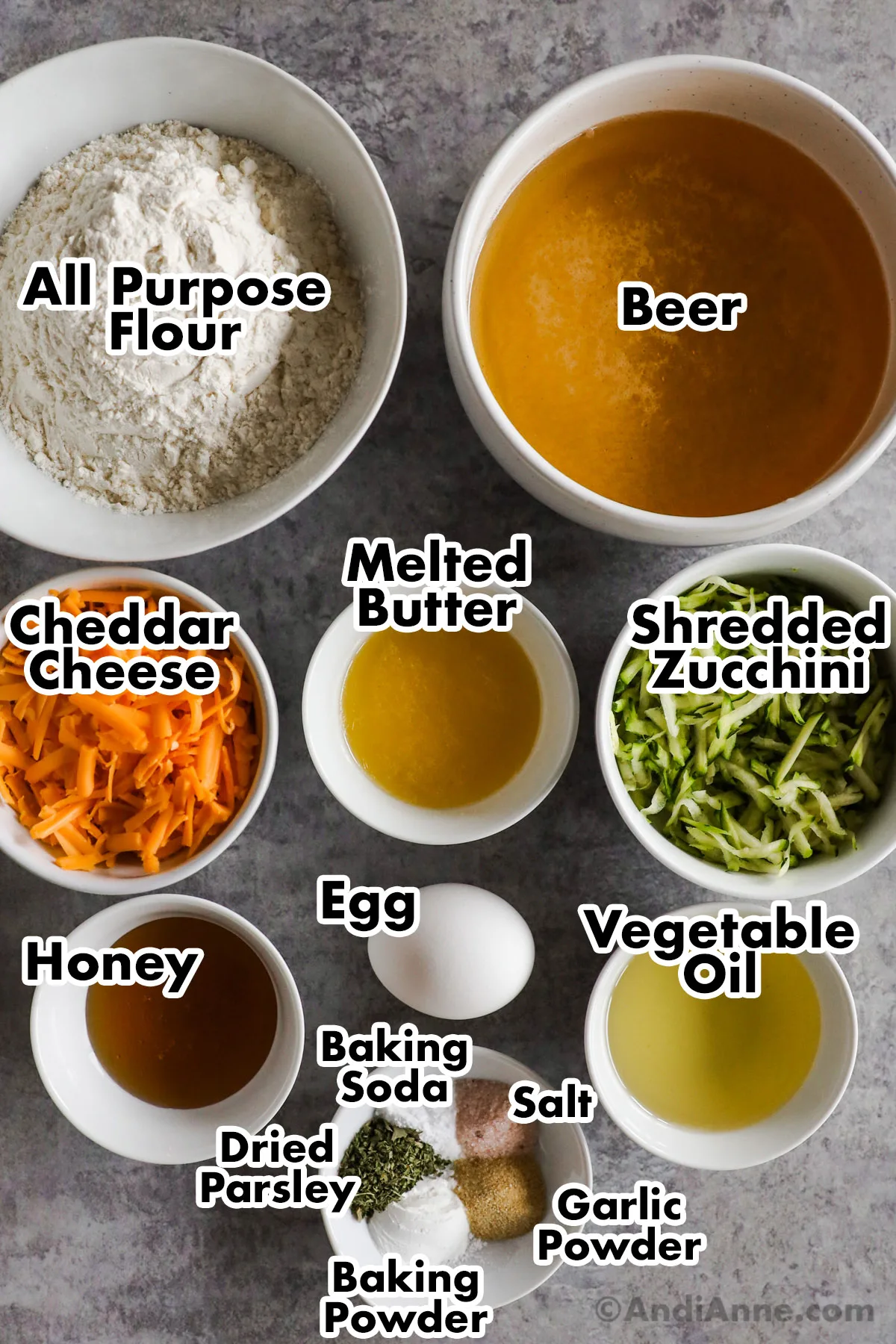 Recipe Ingredients
Here is a list of items you will need to make this recipe. I have noted a few alternatives below that won't affect the end result. Full detailed ingredients are in the recipe card at the bottom of this blog post.
CHEDDAR CHEESE – I prefer a sharp, aged cheddar cheese that offers a nutty more pungent cheese flavor, but any cheddar will work for this recipe.
ZUCCHINI – Fresh from the garden or purchased from the store, you will want to grate enough to equal ¾ of a cup.
CHIVES – Another item you might have in your garden is fresh chives. But green onion will work just as well.
EGG – Fresh or store-bought, don't forget to grab a dozen while you're out.
HONEY – I like to add a little sweetness when baking bread. Honey is what I used but you can easily substitute this with 2 Tbsp of granulated sugar.
BEER – If you prefer, you can use a non-alcoholic beer or equal amounts of seltzer water or club soda. The darker the beer, the more flavor it will add to the bread.
FLOUR – All-purpose flour will be just fine for this recipe.
VEGETABLE OIL – We use oil in bread recipes to help tenderize and make mixing easier. It also allows for even slicing. You can use olive oil instead, but vegetable oil has very little flavor which is perfect for baked breads.
SALTED BUTTER – Brushed over the top before baking, this will help form a beautiful brown crust and add that crispy texture we all love.
BAKING POWDER & BAKING SODA – Will make the bread rise as it bakes.
GARLIC POWDER & SALT – Adds a little more delightful flavor to the loaf.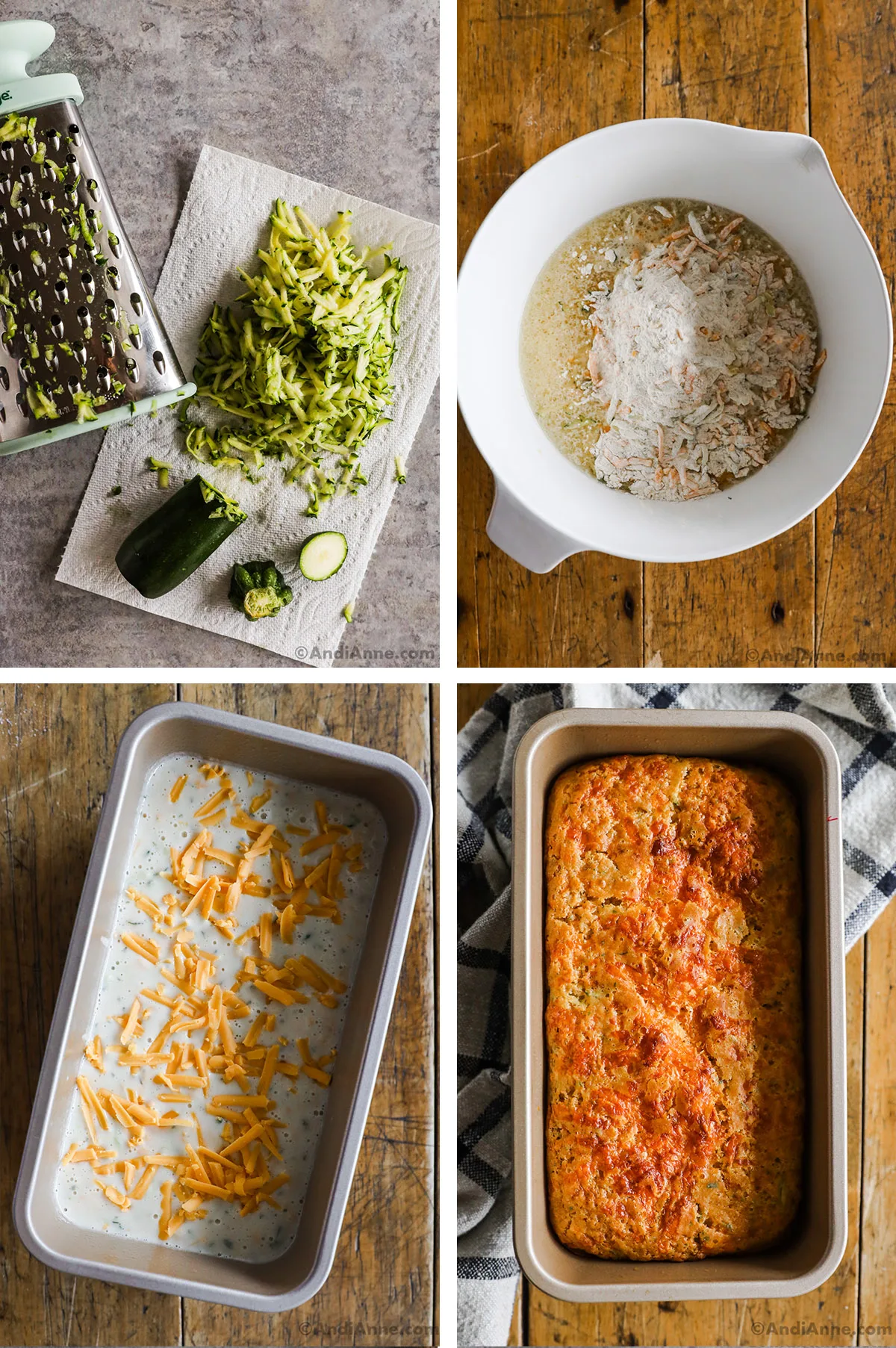 How To Make Cheddar Zucchini Beer Bread
Below is a quick overview of the steps to make and bake the bread. For the full detailed instructions and recipe card, navigate towards the bottom of the page.
PREP – Preheat your oven to 350°F and lightly grease a 9"x5" loaf pan with non-stick cooking spray. Grate the zucchini and make sure to squeeze out as much excess moisture as you can. Grate the cheese and set aside.
WHISK – Together the flour, baking soda, baking powder, garlic powder, and salt. Add the shredded cheese, grated zucchini, and chopped chives. Then, in a separate bowl, whisk together the egg, vegetable oil, honey, and beer.
COMBINE – Now pour the first bowl into the second and mix together until well combined.
BREAD PAN – Pour the bread batter into the greased pan and smooth out the top using a spatula.
BAKE – Put the pan into your pre-heated oven and let that bake for 55-70 minutes, or until a toothpick comes out clean from the center of the loaf. Let it completely cool then run a knife along the edges to release the bread from the pan.
SERVE – Slice your bread and serve with butter.
How To Store Leftovers
FREEZE – Like any bread, you can easily freeze and store for up to 3 weeks in a plastic bag with most of the air removed.
COUNTERTOP – The bread can be kept on the counter for up to 3 or 4 days in a plastic bag or sealed container.
FRIDGE – Stored in the fridge inside a plastic bag or sealed container, the bread will keep for up to 1 week.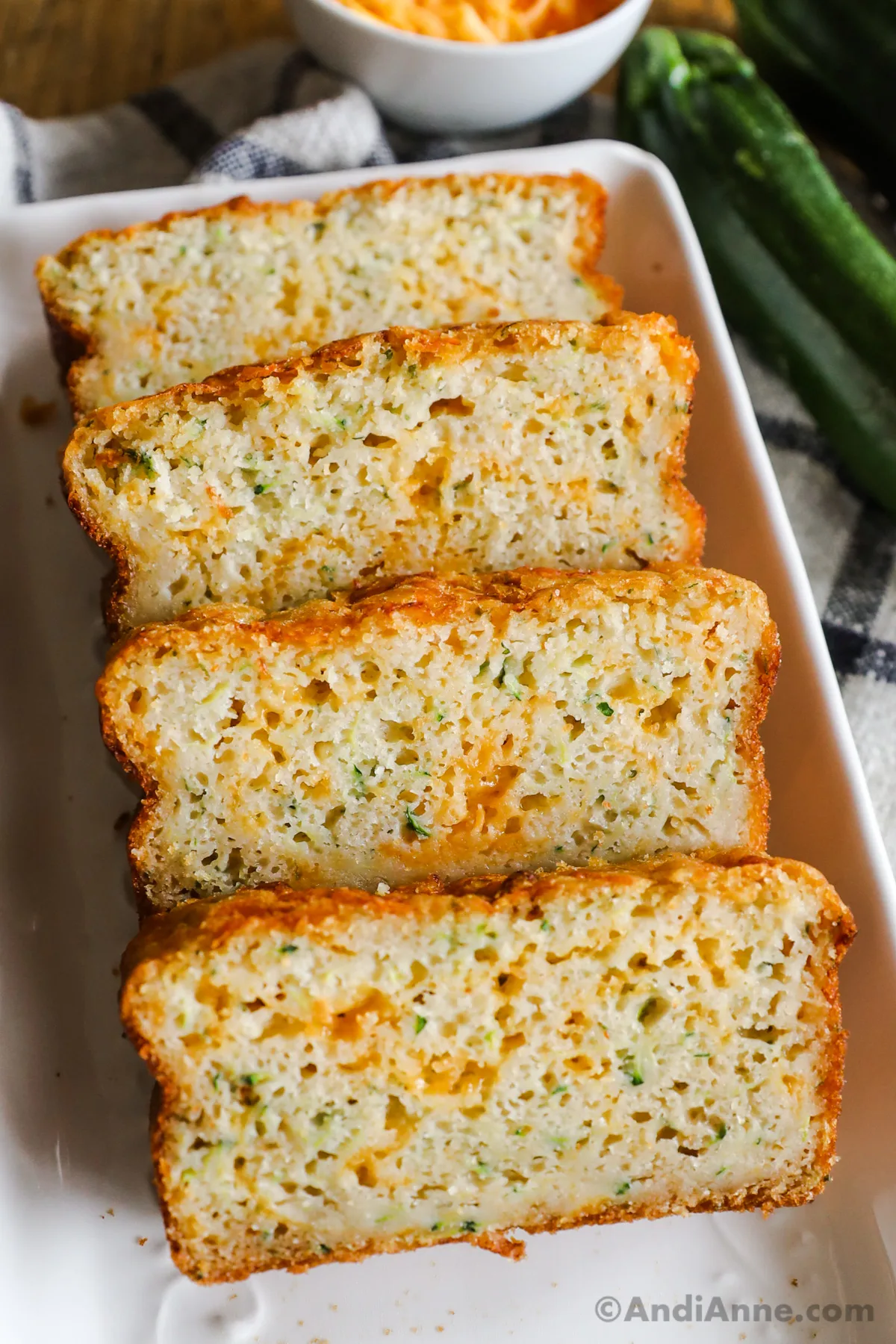 Recipe Tips
To help the bread rise during baking, make sure your beer is at room temperature before adding it. Pour the beer into a small bowl and let it sit on the counter for one hour.
Don't over-mix. When adding the wet ingredients to the dry, try to do only 5 or 6 turns with your wooden spatula. Just enough to moisten the dry ingredients.
To prevent the bread from browning too much or too quickly, move the oven rack to the lower third so that it's receiving less heat on top. You can also cover the top of the pan with aluminum foil while baking to help slow down browning.
Commonly Asked Questions
Will There Be Alcohol in The Bread?
As the bread bakes, all the alcohol in the beer will evaporate leaving only the flavor of the beer.
What Is the Best Beer To Use?
Using a lighter beer such as a lager or pilsner will result in a lighter-colored, mild beer-tasting loaf. While darker a darker beer like a stout or porter will result in a darker-colored loaf with a stronger flavor. An IPA will give your bread more of a bitter taste.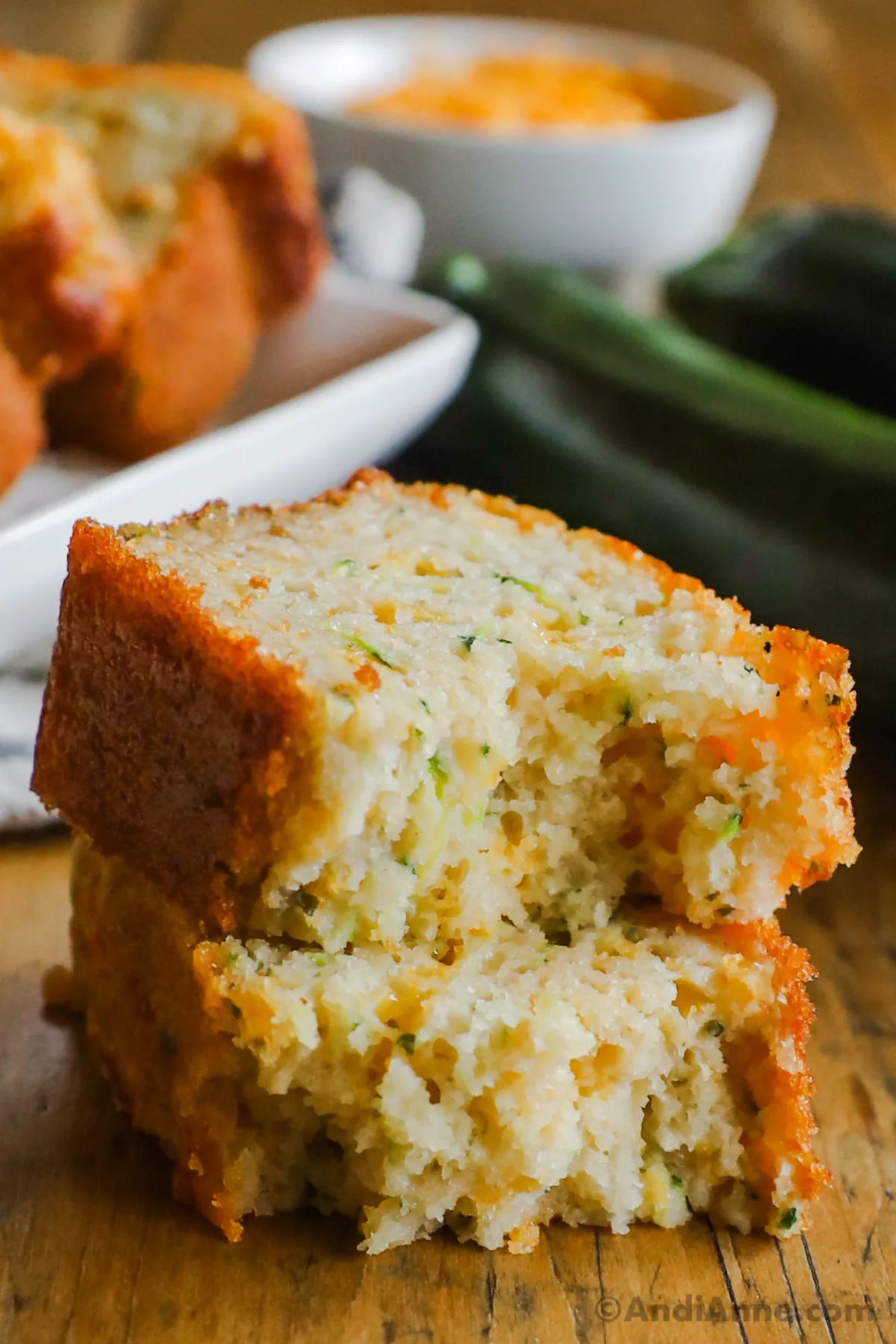 As we near the end of summer temperatures begin to cool and the leaves are an array of golden yellow, orange, and red, we start to crave warm, wholesome rich dishes once again. It's at this time of year that vegetables are abundant, and we search for quick and easy recipes to use them up.
Zucchini Cheddar Beer Bread will not only please those hungry stomachs but will also allow you to turn your hard garden work into palate-pleasing recipes.
More Quick Bread Recipes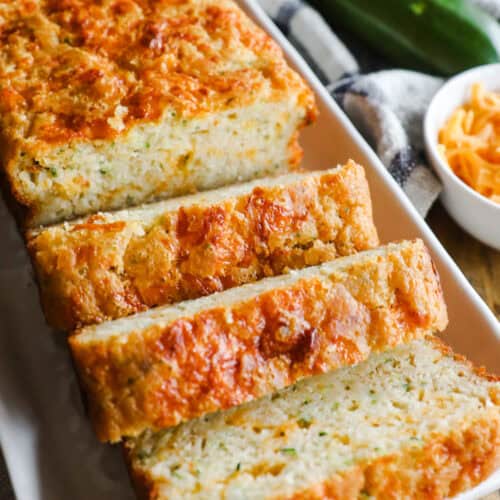 Cheddar Zucchini Beer Bread
This quick bread recipe is simple to make and uses your favorite beer as a main ingredient. You will LOVE the smell of this incredible recipe as it bakes in the oven!
Save Recipe!
Saved!
Pin This
Print It
Instructions
Preheat the oven to 350°F. Lightly grease a 9×5 loaf pan with nonstick cooking spray.

Grate the zucchini using a cheese grater, and squeeze out as much excess liquid as possible through paper towels.

Whisk together the dry ingredients in a medium bowl: all purpose flour, baking powder, baking powder, dried parsley, garlic powder and salt.

Add in the shredded cheese and grated zucchini. Mix together.

In a separate large bowl, mix together the beaten egg, vegetable oil, honey and beer.

Pour the dry ingredients into the wet ingredients and stir until combined. The batter will be runny.

Pour the batter into the prepared loaf pan. Sprinkle the top with ¼ cup cheese. Bake for 55-70 minutes, or until top is golden brown and a toothpick comes out clean.

Let the bread cool completely in the pan. Use a spatula or knife to run along the edge to help release the loaf. Slice using a bread knife and serve.
Nutrition
Calories:
192
kcal
|
Carbohydrates:
22
g
|
Protein:
6
g
|
Fat:
8
g
|
Saturated Fat:
5
g
|
Polyunsaturated Fat:
0.4
g
|
Monounsaturated Fat:
2
g
|
Trans Fat:
0.1
g
|
Cholesterol:
37
mg
|
Sodium:
323
mg
|
Potassium:
77
mg
|
Fiber:
1
g
|
Sugar:
4
g
|
Vitamin A:
261
IU
|
Vitamin C:
2
mg
|
Calcium:
114
mg
|
Iron:
1
mg